Backlink analysis is one of the most effective ways to stay on top of your competitors and build a winning backlink strategy.
Without a thorough backlink analysis, your link building initiatives will be much like taking a shot in the dark.
As a link building agency, the first task we perform whenever we take on a new client is a backlink analysis.
This is important because it gives us three crucial insights that we need before implementing a link building strategy.
These are:

The client's existing backlinks.

The pages and types of pages that generate the most links.

Potential issues we need to resolve.
In this article, we will discuss:
➡️ Why a backlink analysis is important.
➡️ How to carry out this analysis.
➡️ What you should do with the data you obtain from your analysis.


What is Backlink Analysis?
Backlink analysis is a complete audit of a website's backlink profile.
This involves using a backlink analysis tool, which we will discuss shortly, to see the bigger picture.
It provides a full overview of all the links pointing to your website and opportunities for improvement, such as broken links, which we will explain later.
An analysis highlights the quality and quantity of your backlinks. It also indicates what content on the site attracts the most links.
This helps website owners to spot issues and backlink opportunities to maximize their off-page SEO and rankings on search engines.
You typically perform a backlink analysis on websites you own, but you can also check out competing sites to get a good idea of your competitor's backlink profiles, too.
Both analyses are useful parts of any search engine optimization (SEO) strategy.
Without an effective analysis, it's difficult to build an informed strategy, and you won't have much insight into how to perform better than your competitors.

What to look for when performing a backlink analysis
A backlink analysis can help you discover:

Spammy links: You can use a backlink analysis to find links from private blog networks (PBNs) and link farms. This is important because low-quality websites linking to your site can affect your rankings.

Broken links: When an external link is broken, no page on your site receives the subsequent link juice. A backlink analysis will help you identify and fix broken links, maximizing the authority each backlink passes on.

Popular content: When you know what types of content attract links, you can create similar content to generate even more.

Pages that could benefit from links: Sending links to a web page can help its rankings increase. Backlink analysis can highlight the pages that would benefit most from these links.

Competitors' links: Find out how your competitors' backlinks compare to yours. You can see which pages generate links and the sites they have referrals from. This will help you to outperform your competitors.
When to Perform a Backlink Analysis
Now that you know what a backlink analysis is and how it can benefit your business, let's look at some instances where your analysis would be useful.
We always perform a backlink analysis before starting a link building campaign. But this isn't the only time you might want to do one.
Here are some other occasions when backlink analysis is helpful.
Before link building
Conducting a backlink analysis before starting new link building campaigns is important.
The results will help you identify a starting point from which to measure your efforts.
Analysing your backlinks can also highlight the most effective steps toward building links.
For example, you'll discover which types of content have a high chance of generating more links.
Periodically, to measure the impact of your link building strategies
Once your strategy is up and running, you should perform further analysis to measure the impact of your strategy.
You can compare your initial starting point with your current results to determine whether your link building strategy is still relevant.
Aim to check vital SEO metrics every month to ensure you generate links as expected.
After a ranking decrease
Bad backlinks can cause your website rankings to decrease.
If your metrics are trending downward, a backlink analysis can identify potential issues and help you turn things around.
When you receive a manual penalty
There are certain instances where you may receive a manual penalty in your Google Search Console dashboard.
This is when a human reviewer decides your website has broken one of Google's guidelines.
If your website receives a manual penalty for its link profile, perform a backlink analysis to find bad or spammy links and remove or disavow them.
Before buying a website
It's helpful to perform an analysis before buying any website, so you can make an informed decision about whether or not to go through with the deal.
You can see potential issues—for example, if the site has a lot of bad links—and opportunities, such as many broken links you can easily redirect or fix.
If you haven't done one before
Even if you aren't in one of the situations above, it is still useful to perform a backlink analysis if you haven't done one on your website before.
It's never too late to carry out your first backlink analysis.
Regardless of where you are in your link building journey, you'll gain greater insight into what you are achieving and where you can improve.
How to Perform a Backlink Analysis
Now for the nitty gritty. How do you perform a backlink analysis?
Firstly, you need an SEO tool that provides effective insights for backlink analysis.
At LinkBuilder we use Ahrefs. But plenty of other options are available such as Moz, Majestic, and Semrush.
If you're looking for a backlink analysis tool, read our full guide on choosing the best one for your needs.

1) Start with a website overview on a backlink checker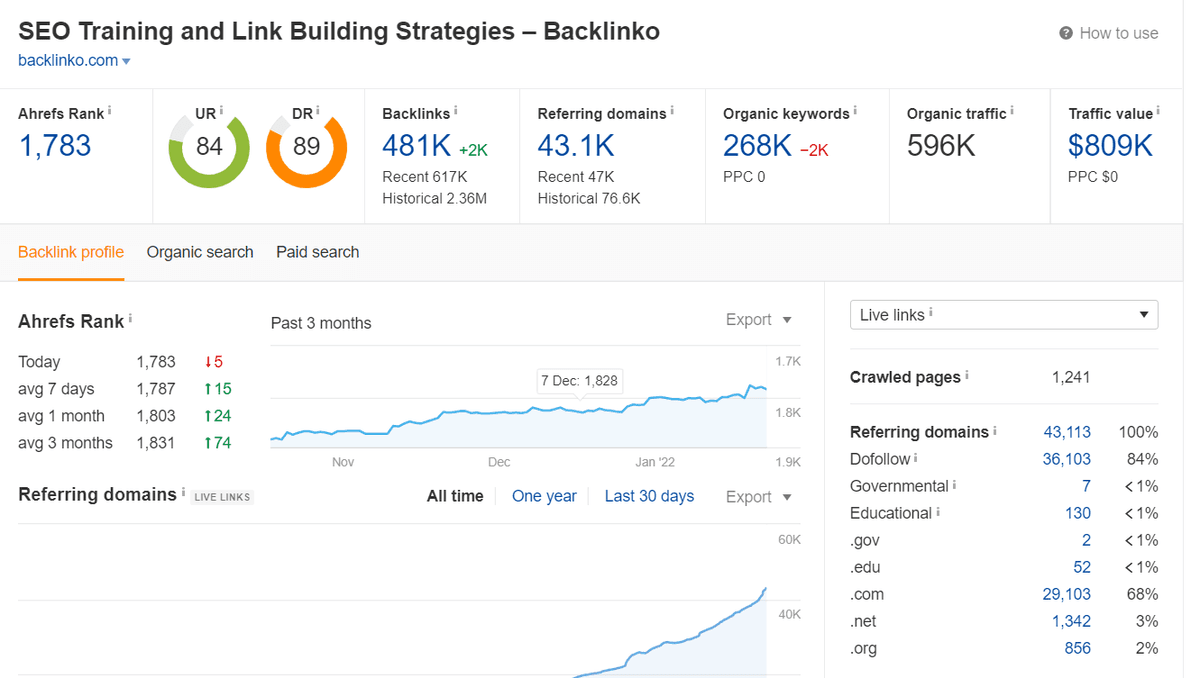 The first step is to get an overview of your website's backlinks. This will show you all the basic backlink data you need.
Metrics to look out for include:

Referring domains: A referring domain is a site that links to your website. Unique domains linking to your site multiple times are only included once in your results.

Referring pages: This is the number of pages with backlinks pointing to your website.

Lost links and new backlinks: This shows the total number of backlinks you gain or lose over time.

Country code top-level domain (ccTLD): This is the top-level domain code of the links pointing to your website. This is useful because it highlights links from a particular country. For example, .in is for India, and .uk is for the United Kingdom.
Most SEO tools also provide a domain authority metric. In Ahrefs, this is domain rating (DR), and in Moz, it is domain authority (DA).
These SEO metrics consolidate all the information the backlink analysis tool has about your link profile into a single score out of 100.
This metric is a simple way to get a quick overview of your website's backlink profile.
While the backlink data mentioned above won't necessarily inform your link building strategy, it shows where your site is currently at and helps you measure your progress.

2) Discover Your Top-Performing Pages
One of the most useful parts of an analysis is discovering website pages that have the most links on your website.
On Ahrefs, for example, you can access this report by clicking the "Best by links" option in the "Pages" section of the sidebar.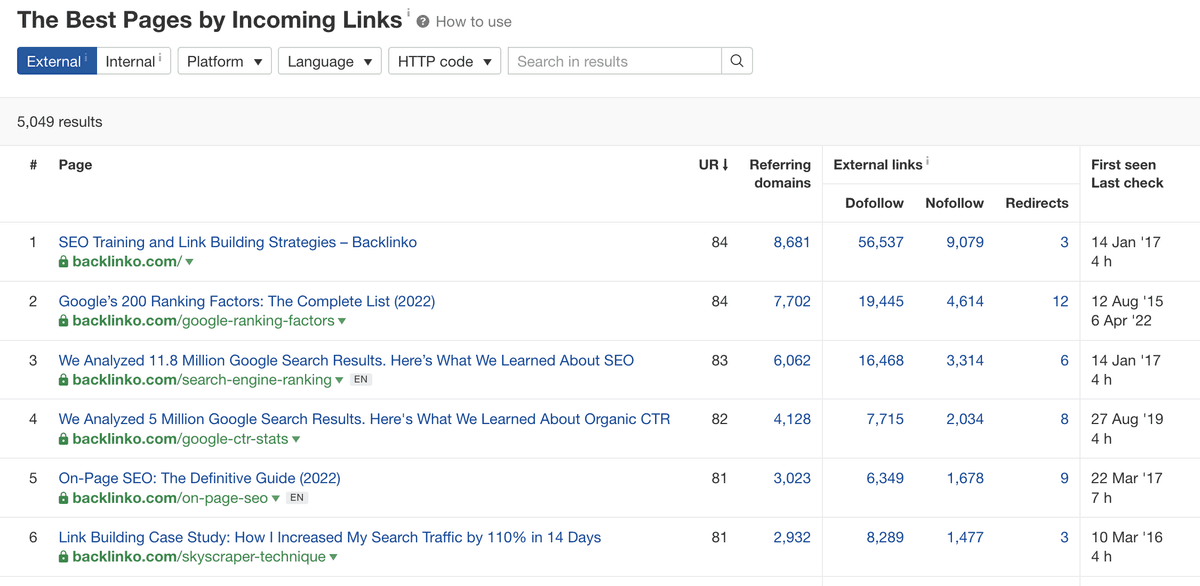 This report highlights which pages on your website have the most backlinks pointing to them.
It also shows the number of dofollow and nofollow links that point to each page.
What Are Dofollow and Nofollow Links?
A nofollow link is a link that the website owner has told search engines not to follow.
These are much less valuable backlinks than regular dofollow links, as they don't pass on link juice.

Seeing which pages attract links is useful for three main reasons:

Creating similar content
Certain types of content are more likely to generate links.
Original research, statistics pages, tools, and thought leadership articles tend to attract more backlinks than informational content.
When you know the type of content that attracts links, you can create similar content to generate more.
For example, if you see that a statistics page on your website has a lot of links, you could create similar pages on different topics.

Use content as linkable assets
A linkable asset—or skyscraper content—link building strategy is when you reach out to website owners asking them to link to content on your site.
Pages with existing organic links are good linkable assets because you know people are happy to link to them.

Share page authority (PA)
Pages with many backlinks sometimes have more authority than those without links.
Share this authority with other pages on your site by linking to other articles from the most linked pages.
It's a good idea to identify high-value, top-linked pages that could benefit from a rankings boost and then add links to these articles.
3) Find pages that could benefit from backlinks
If you are planning a link building campaign, the next step of your backlink analysis should be to identify pages that are most likely to benefit from backlinks.
Linking to the right pages will maximize your campaign's impact on your site.
Several factors suggest a page will benefit from links.

High-value pages
High-value pages are most likely to generate revenue for your business.
For e-commerce stores, it could be product or category pages; for SaaS companies, it could be sales pages; and for affiliate websites, it could be reviews or "best of" type content.
When you generate backlinks to these pages, you make them more likely to rank.
This leads to more potential customers seeing the content.

Pages ranking outside the top five
Pages that rank for your target keyword at the bottom of page one or on page two of search engine results can be good candidates to build links to.
This is because you know Google trusts these pages enough to show them in the results.
A link or two may be all the page needs to jump up the rankings. And at this stage, a slight increase in rankings can result in significant organic traffic increases.
Compare that to generating links to a page that currently ranks on page five. Even if it moves up 30 places, it still won't be on page one.

Pages with fewer backlinks than your competitor's site
Here's where a competitive analysis can really help you develop link building strategies that put you ahead of the rest.
When competing pages have more links than yours, they have a ranking advantage.
Building backlinks to a blog post, for example, will help level the playing field.
Look for pages on your site that are outranked by competing content with several links you think you could match or beat.
It's important to be realistic here. If the page has thousands of links, it will be tough to reach a similar number of backlinks.
Instead, build links to pages where the difference between your page and your competitors' is just a few links.

4) Identify Broken Backlinks
Finding and fixing broken links is an important part of backlink analysis.
Doing so ensures that all your backlinks give your website the maximum authority possible.
What Is a Broken Backlink?
A broken backlink is a link that directs people to a page on your own site that doesn't exist.
Anyone who clicks on the link typically receives a 404 error.
This is an issue because these links don't pass on authority to any particular page on your website.

Broken backlinks typically occur because either:

The link points to the URL of the content you have deleted.

A typo was made when adding the link.
It's easy to find broken backlinks on most backlink analysis tools. On Ahrefs, for example, head to the "Broken Backlinks" section.
This will show you all the broken backlinks that point to your website.
It highlights the page that the link points to and the error that appears when people click on the link.


With this information, it's easy to see if the problem is that the page no longer exists or if the link has a typo.

How to fix broken backlinks
Fixing broken backlinks isn't easy, as you don't control the links pointing to your site.
But you do have some options.
If the error occurred because you deleted a page, you can either recreate the page or set up a redirect so anyone who goes to the old URL will be redirected to a page of your choice.
If the error is due to a typo, you can contact the website owner and ask them to fix it.
If they don't accept this request, you can set up a redirect from the page with the error to the correct page.

5) Find Spam Links
Spam links come from low-quality domains like PBNs or link farms.
These backlinks can result in manual penalties or rankings decreases, so it's a good idea to check for them during your backlink analysis.
No one signal tells you that a link is spammy. But there are some tell-tale signs you can use to identify toxic backlinks.
Here are three of the most commons.

Irrelevant country code domain
Look out for linking domains with a country code that doesn't match your website or audience.
An example of this is when you target an English-speaking U.S. audience but have a lot of backlinks from sites with a .cn (China) country code.

Suspicious domain names
Sometimes the linking domain name itself will be suspicious.
Look for signs like the name not making sense, domains hinting at offensive or NSFW content, or domains from niches unrelated to your website.

Anchor text
Link spam will often have anchor text that doesn't relate to your website. This makes the anchor text report a good way to find suspicious links.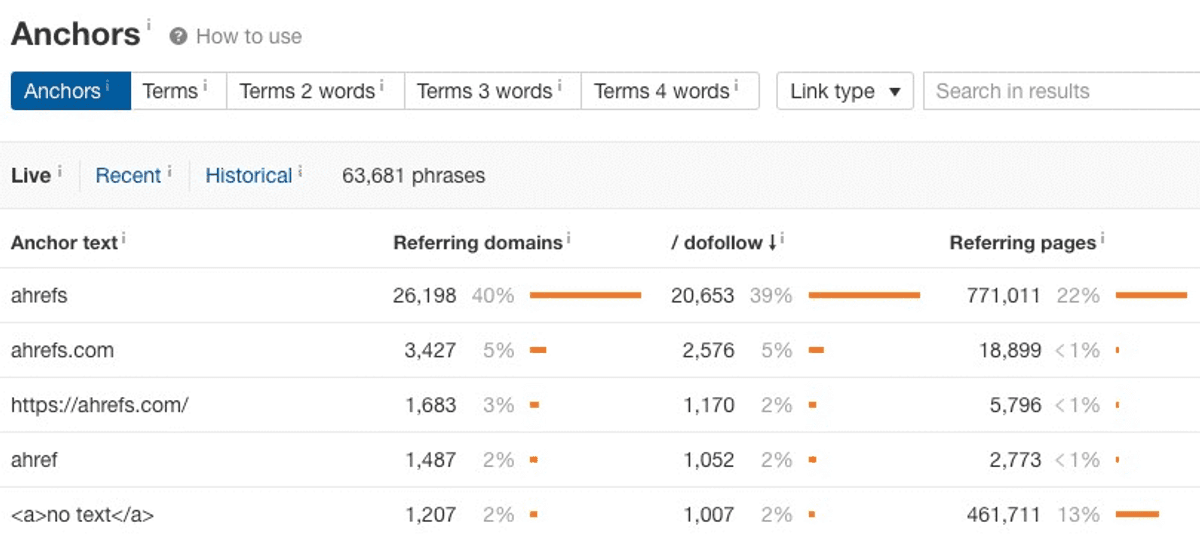 What Is Anchor Text?
Anchor text is the text that is hyperlinked to your website.
The anchor text that other websites use to direct readers to your site needs to be relevant and useful.
However, you can't always control what anchor text a website uses, and you shouldn't always use keywords in your text either.
If you feel that the anchor text on a particular website that links to yours is not helpful to your site, you can ask the website owner to edit the link.

To dive a little deeper into anchor text, the signs to look for are similar to those you look for when trying to find suspicious domain names.
Look out for anchor text that is:

Nonsensical.

Irrelevant.

NSFW or adult.
What to do about spam links
Once you've identified links that you think are spammy, you need to check out the pages to confirm that this is the case.
Click on the links in your backlink checker to assess whether the link is spam.
Signs to look out for include:

Poorly written content.

Templated or low-quality website design.

No "About" or "Contact" buttons.

Other articles on random topics with lots of external links.
If the website ticks even just one or two of these boxes, it may be worth taking action to remove the link.
Google's disavow tool makes removing spam links a straightforward process.
Simply create a list of all the domains you want to disavow and upload them to Google.
Read Google's official instructions to find out more about the process.
6) Analyze your competitors' backlink profiles
The final step is to perform the above process for websites that compete with yours.
This can provide great insight into the strategies your competitors are using. You can see what works and then apply this to your own strategy.
Some of the things you can discover from analyzing a competitor's site include:

The types of content that attract links by looking at the pages with the most links.

Which websites link to your competitors by looking at the sites they have incoming links from.

Content that ranks without many links. Creating similar content could be a good opportunity to rank without link building.
We have a complete guide to analyzing your competitor's backlinks that you can read to learn more.

What to Do Next?
Once you've performed the above steps, you'll better understand your link profile.
You can use the data you have gathered to inform your link building campaigns and other content to measure your progress and success.
If you need guidance about the next steps, we have plenty of articles to help.
This page contains some of the most effective strategies you can use to generate links from high-authority pages. Meanwhile, this page shows how we use guest posting to land impressive links for our clients.

Wrapping up on Backlink Analysis
A backlink analysis, using a quality backlink checker, is an effective way to determine your incoming links and your competitor's performance.
It can also assist you with your overall link building activities by identifying reputable sites to approach for link opportunities.
Understanding your site's performance can help you find areas of improvement and pave the way for a successful link building journey.
We'd love to tell you more about the link analysis we perform here at Linkbuilder.io to ensure our client's websites perform at their best. Visit our website to get in touch with us and find out more.