Link building is an essential part of the SEO puzzle for Ecommerce site owners.
Ranking highly on Google for relevant terms is to ecommerce stores the equivalent of having a physical shop on a busy high street: you'll get a ton of sales simply because you're in the right place at a time people want to spend money.
Ecommerce sales are expected to rise exponentially over the coming years.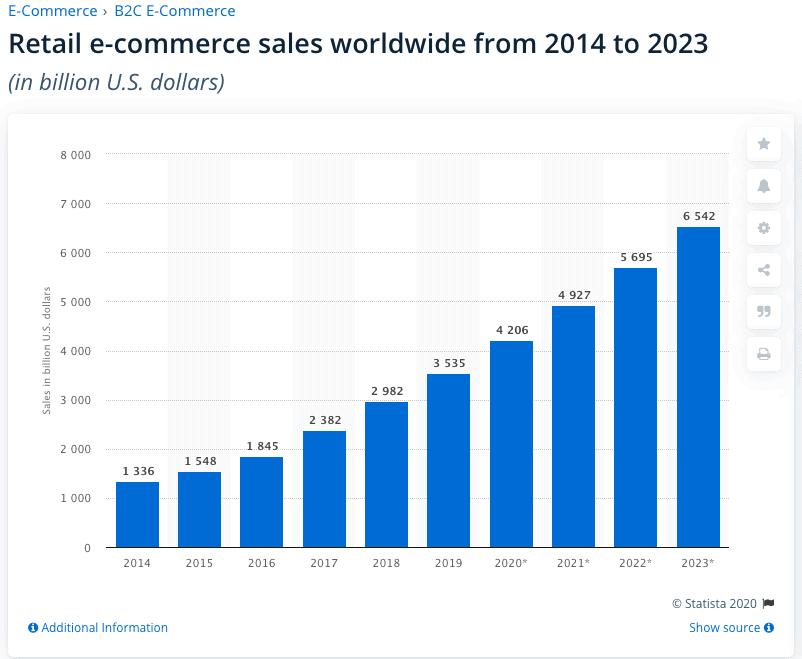 To rank well for competitive, profitable terms, you need to get creative with your link building strategies 💡
The power of your backlink profile has a direct influence on where your site shows up on search engines.
Wayfair - an Ecommerce Giant
Check out the graphs below for online furniture seller Wayfair. As its backlink profile has grown, so has its organic traffic. It now gets over 20 million organic visits per month, according to Ahrefs.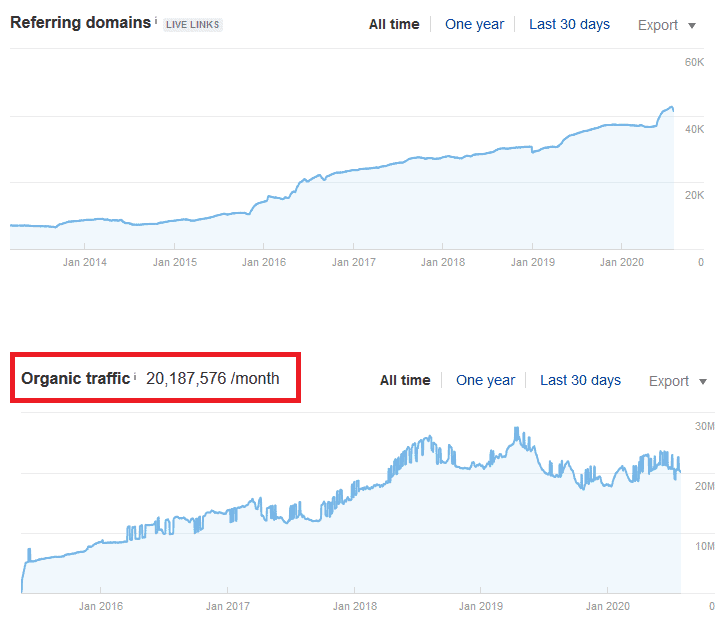 Of course, Wayfair is a World renowned website that's been around for years and has a huge team in place. Therefore, we thought it would be more interesting to look at an Ecommerce company who's grown in more recent times...
Made In Cookware: SEO and Link Building Strategy
A newer site where you can see a similar correlation is Made In Cookware. Founded in 2017, it saw sharp growth from September 2018 until September 2019 as its backlink profile increased. It now gets over 33,000 organic views a month, according to Ahrefs.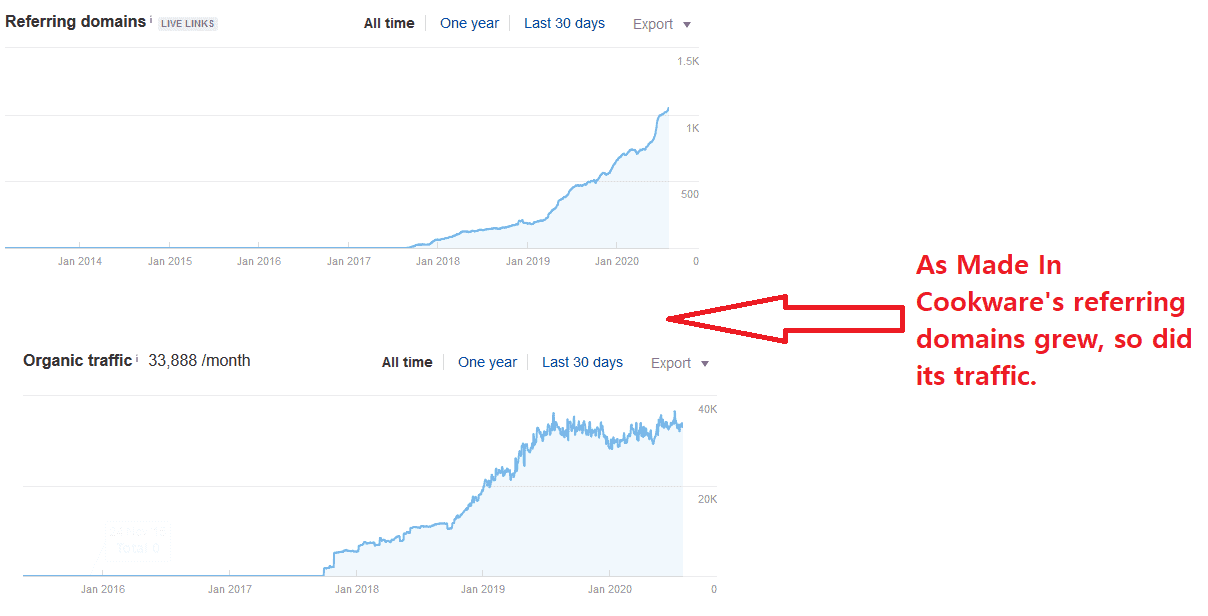 Made In Cookware is a small but growing ecommerce store that sells quality direct-to-consumer cookware.
Since it formed in 2017, organic traffic has grown to 35,000 monthly visits with an estimated value of $17,800, according to Ahrefs. It ranks for over 31,000 keywords that people looking for new cookware are likely to be searching for.
🗝 Relevant Keywords They Rank For
Saucepan
Carbon Steel Cookware
Blue Carbon Steel Pan
Carbon Steel Pan
Knife
Frying Pan
Carbon Steel Skillet
Ceramic Pans
👉 What's So Impressive About Made In Cookware?
The company experienced rapid growth in organic traffic during its first two years.
The website ranks for both broad terms like "saucepan" and specific terms like "blue carbon steel pan."
It has an active blog that attracts plenty of backlinks and ranks well for relevant non-product-based keywords.
The website has backlinks from relevant high DR sites such as Bon Appetit, The Spruce Eats, Wired, and Business Insider.
Made in Cookware achieved this despite not being a household name.
How to Build Links for Ecommerce: 8 Proven Strategies
Looking at its backlink profile on Ahrefs suggests that Made In Cookware has used many of the strategies we will outline below to build links.
These are methods that tackle some of the traditional challenges facing ecommerce stores—such as not having much linkable content.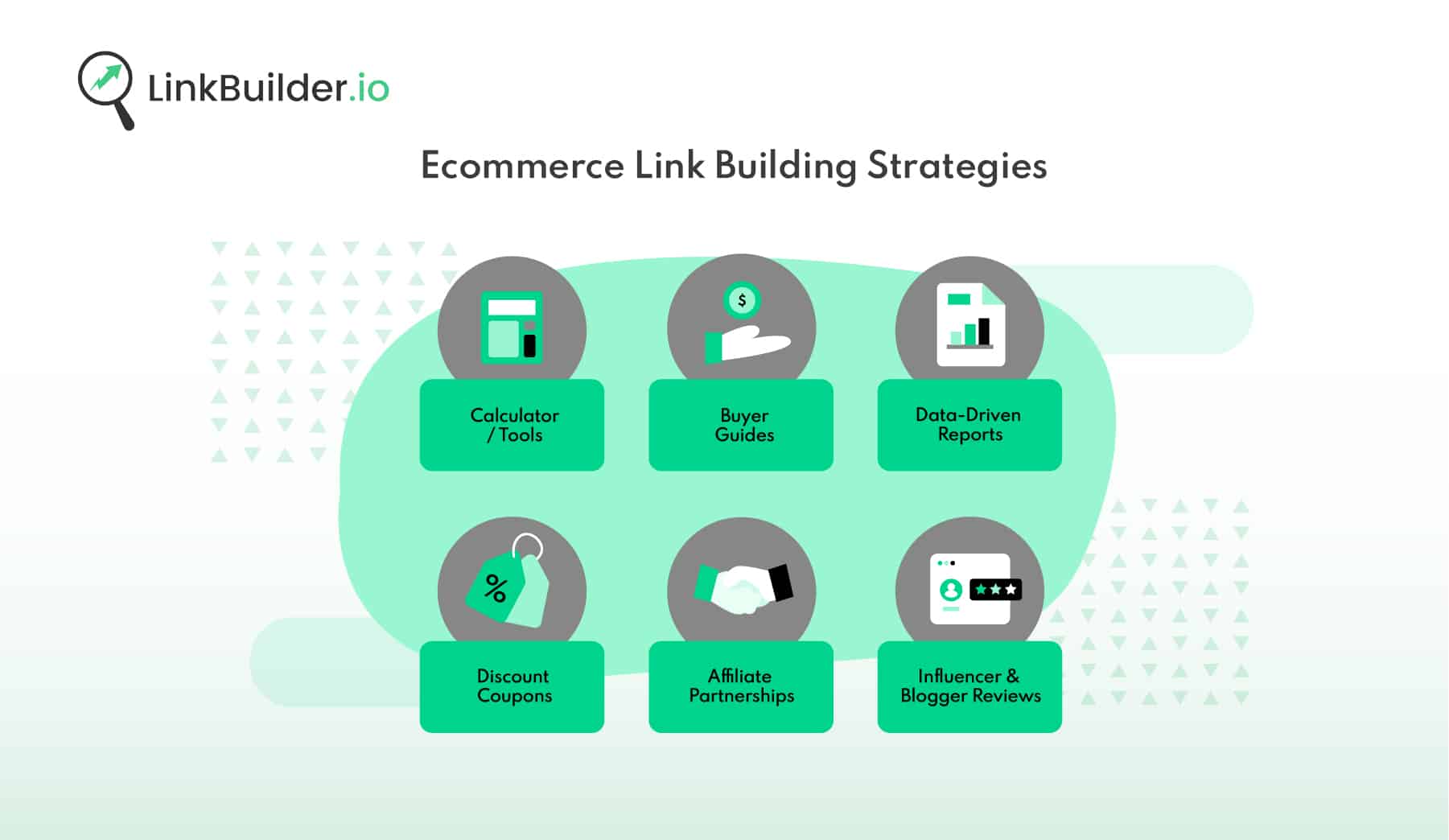 Here are eight strategies you can use to build backlinks for ecommerce.
1) Create Linkable Assets
An excellent way to get links is to add a blog section to your site with interesting content assets, and then perform outreach to get people to link to your articles. You can pass on the positive effects of the referral towards higher converting pages by linking out to them.
The key is to find the type of content that is likely to attract links. You can do this by searching for a competitor in Ahrefs and seeing which pages have a lot of referrals in the "Top Pages by Links" section. Do this for a few different competing sites until you have a list of potential assets.
Now you have some ideas, you need to create content that is better than any competing pages. Doing this increases the chances of people linking to your resource over ones made by your competitors.
Strategies you can use to improve on existing content include going more in-depth, adding media, or introducing new research.
The final step is to perform outreach to encourage people to link to your page. Use Ahrefs to find a list of websites that link to similar content and send them emails highlighting your resource.
2) Types of Linkable Assets
⚒️ Tools & Widgets
These are extremely powerful assets that can attract a ton of referrals when combined with targeted outreach. We got links for this Keto calculator by reaching out to websites that were directing users to outdated or broken calculators and suggesting using ours as an alternative. This is a classic broken link building strategy.
📘 In-Depth Guides
In-depth guides on topics related to your niche can result in backlinks. We built quality links to this guide to pre-workout supplements, which resulted in it rising up the SERPS and hitting around 15,000 organic visitors per month.
📂 Reports and Original Research
This report conducted by MyProtein provides insight into health supplement spending habits in the UK. It has 16 referring domains, according to Ahrefs.
🔖 Top Lists Award
Creating a list of the best sites and blogs in your industry can result in backlinks if you share the list with the sites you include. This list of the top blogs for men resulted in tens of backlinks for one of our clients. We actually turned it into an award that people were happy to show off and link to from their own site, and gave them a badge of honour they could link to. It resulted in lots of powerful links from bloggers homepage.
3) FAQ Pages
FAQ pages are resources that provide solutions to problems in your industry. They are a type of linkable asset, but they tend to attract links in a slightly different way.
With FAQs, instead of performing outreach — although you can do that — the aim is to rank the page high on the search engines for many long-tail keywords on a single topic. Then, when people search for these queries, they will see your post.
The high visibility of these pages and their problem-solving nature means people are likely to share them on forums or social media, or use them as references for blog posts.
Check out this post from Made in Cookware as a good example.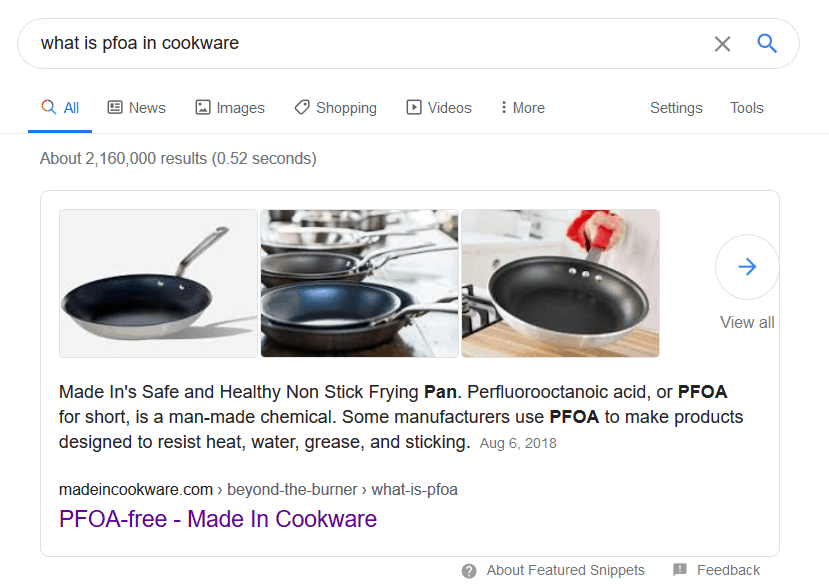 It answers questions that are related to PFOA coated cookware, and it currently has backlinks from 21 referring domains. It ranks for 160 keywords, including the questions:
What does PFOA stand for?
What is PFOA?
What does PFOA mean?
What is PFOA free cookware?
What is PFOA in cookware?
What is PFTE free?
4) Niche Edits
Niche edits can be effective for ecommerce businesses. You start by searching Google for content relevant to your product and then reach out to the webmaster asking them to insert a link to your site in the content.
The downside is that you will almost always have to pay for these links. However, the speed at which you can typically acquire links via this method can make the ROI positive.
Example 💡 - An ecommerce store that sells portable fans could reach out to websites with articles about staying cool in summer or the best portable fans.
Want to Know More? 🧠 - Our article on niche edits has everything you need to succeed with this particular link building strategy.
The number of links you can get is only limited by your budget and the number of websites you can find willing to
sell you links
.
You should be careful when approaching publishers and blogs. Avoid buying links from spammy sites that have too many paid links as being associated with them could harm your Google ranking.

In order to find suitable sites for this strategy, check out our guide on link prospecting.

5) Digital PR
Digital PR is a great way to get links from high authority sites. But it can be hard to pull off, as you'll need a story that can generate attention from the press as well as the ability to build relationships with journalists and bloggers.
Here are four ways Ecommerce brands can build backlinks via digital PR.
💡 Release Interesting / Crazy Products
Releasing an eye-catching product is an excellent way to get press attention and ultimately backlinks. This "Garbage Watch" from Vollebak is made entirely from pieces rescued from landfills. The page received backlinks from some top sites included many with extremely high DRs.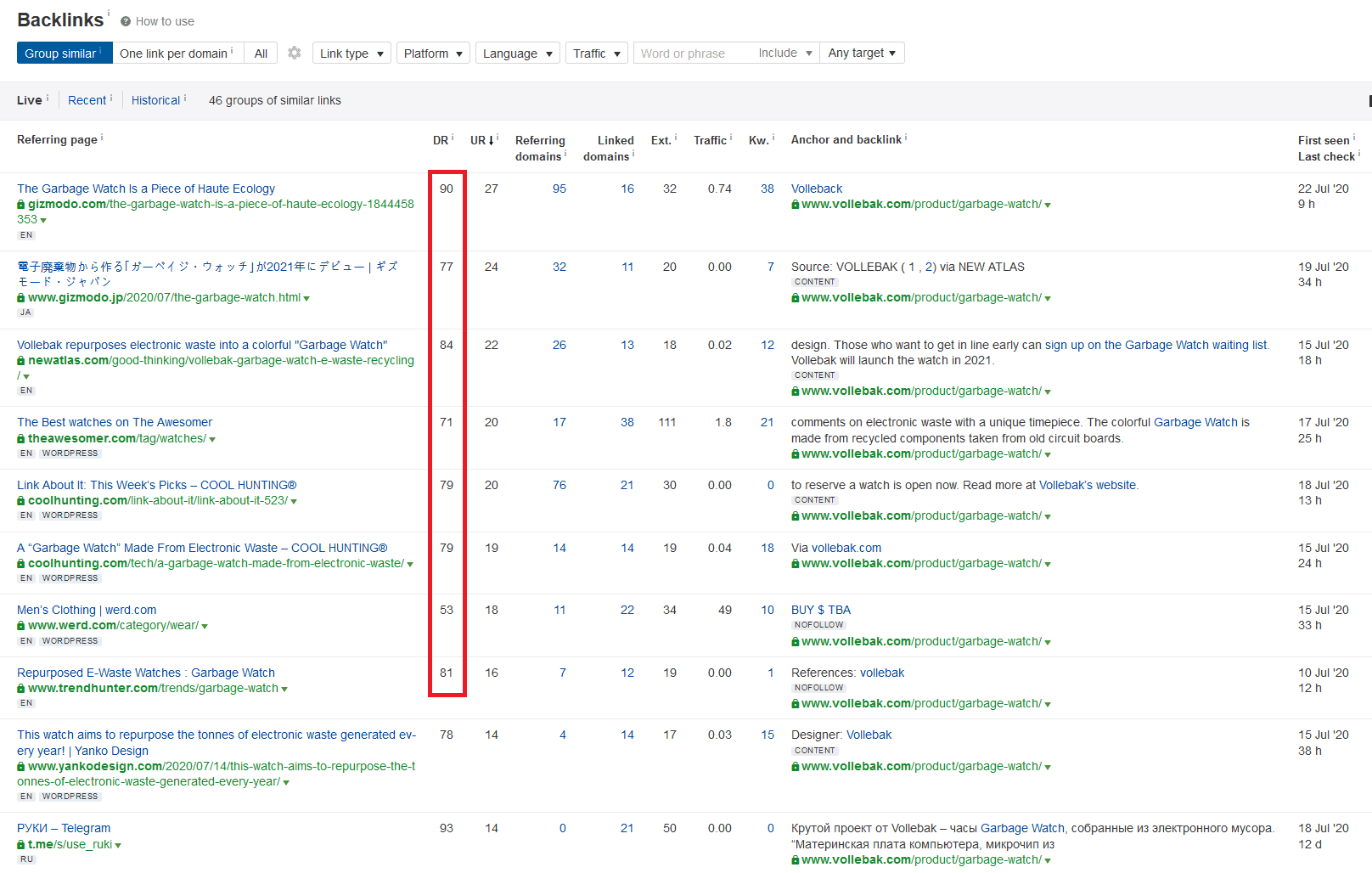 🎁 Charity Work and Donations
Warby Parker's Buy One Gift One scheme is an excellent example of this that has resulted in a ton of backlinks, including from Wired and The New York Times.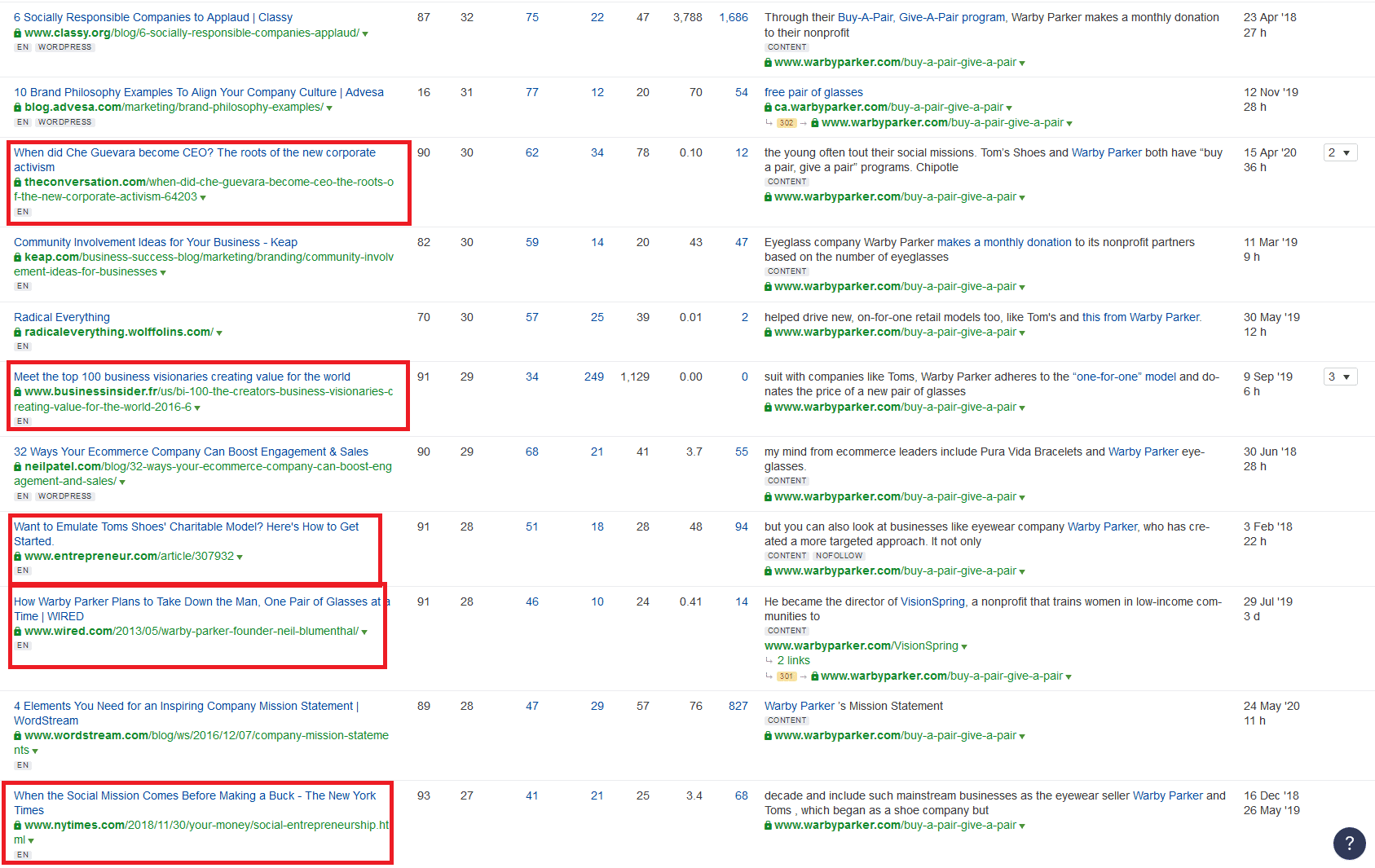 Promoting your own charity or community outreach efforts to relevant publications could result in backlinks.
For example, all the companies featured in this article — many of which are quite small — received referrals from Business Insider because they donated part of their earnings to COVID-19 related causes.
🙂 Gimmicks
This post (web archive) by home pizza oven maker Ooni advertises for Pizza Taster testers. It's a real job/competition so it isn't wholly gimmicky, but there is no doubt that the company knew naming the role "Pizza Testers" would be a good PR move.
It worked, and the page has 283 Dofollow links, including those from high DR sites like CNBC and Business Insider.
👥 Roundups
Getting your product featured on website roundups is an excellent way to get backlinks. Just search for sites and blogs that cover your industry, then contact those that have published roundups related to your product to ask about featuring in future articles.
You may have to pay for placement, or send your product out to the relevant fashion bloggers - But it'll certainly be worth the exposure, potential customers and of course the valuable backlinks.
The product page for Men's Brown Captain Boots by Thursday Boots is included in roundups from relevant high DR sites such as Real Men Real Style, Complex, and Forbes.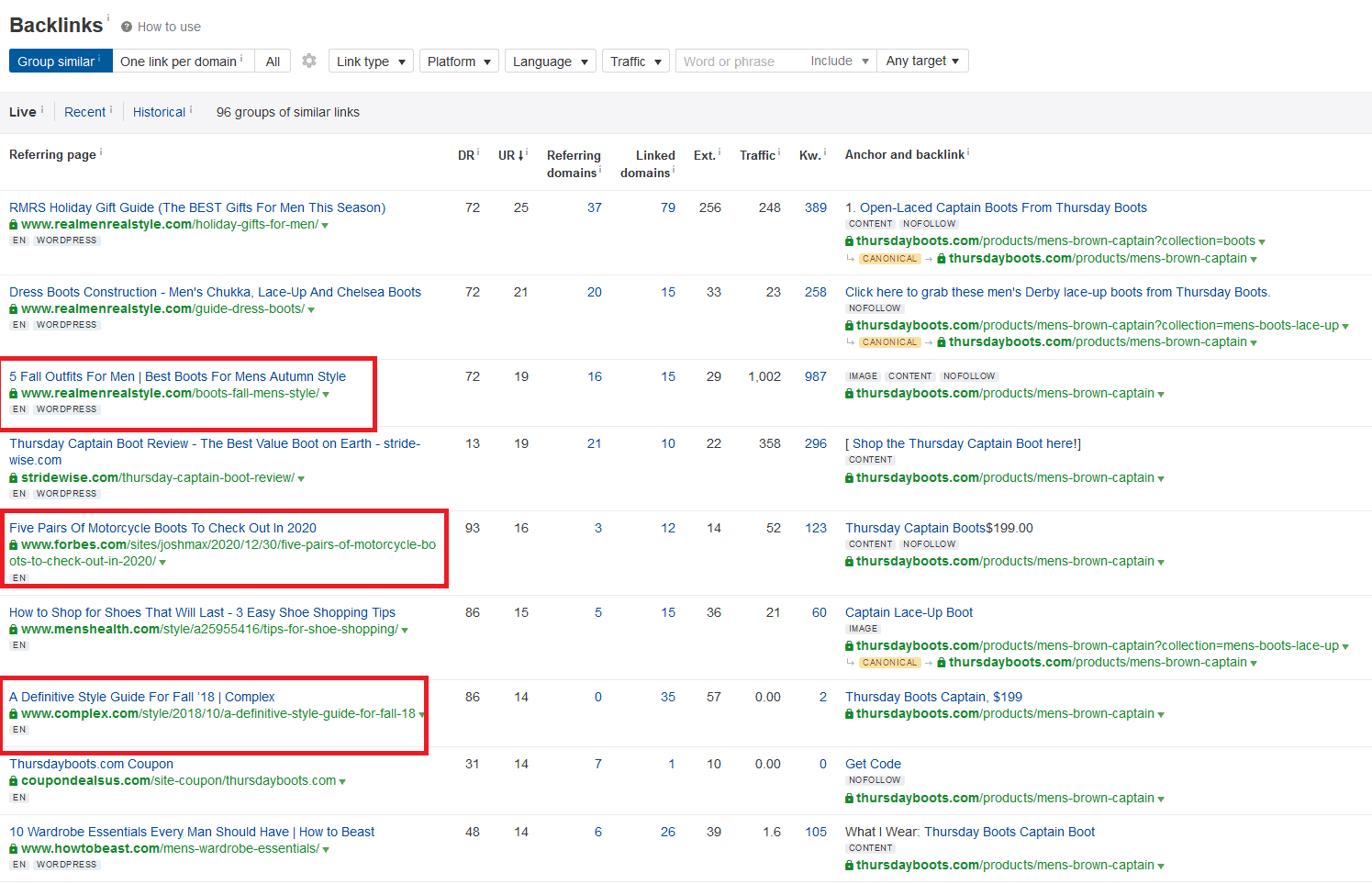 📰 HARO
Services like HARO and ResponseSource are a fantastic way for new Ecommerce stores to gain traction, where journalists from large publications come looking for input and inspiration from business owners.
You'll also be able to filter requests for your specific industry, so that you only answer requests relevant to you E.G. Fashion and beauty.
UncorkedVentures.com is an example of a solopreneur who has done this extremely well. He actually came on our radar after we featured his tactic within our link building expert strategies guide.
They've earned links from MarketWatch, BusinessInsider, Entrepreneur, Cloudways and literally dozens of other DR80+ websites, just by running a strong and consistent HARO link building strategy every single day. We strongly recommend adding this strategy to your process, and taking 45 minutes each day to answering any relevant journalist requests.
💵 Discounts
Discount codes can be an effective way to get backlinks. You just need to be willing to honour the offers.
Rothy's is an ecommerce store that does this well. In the first image below, you can see that its discounts program is one of the most linked-to pages on the website.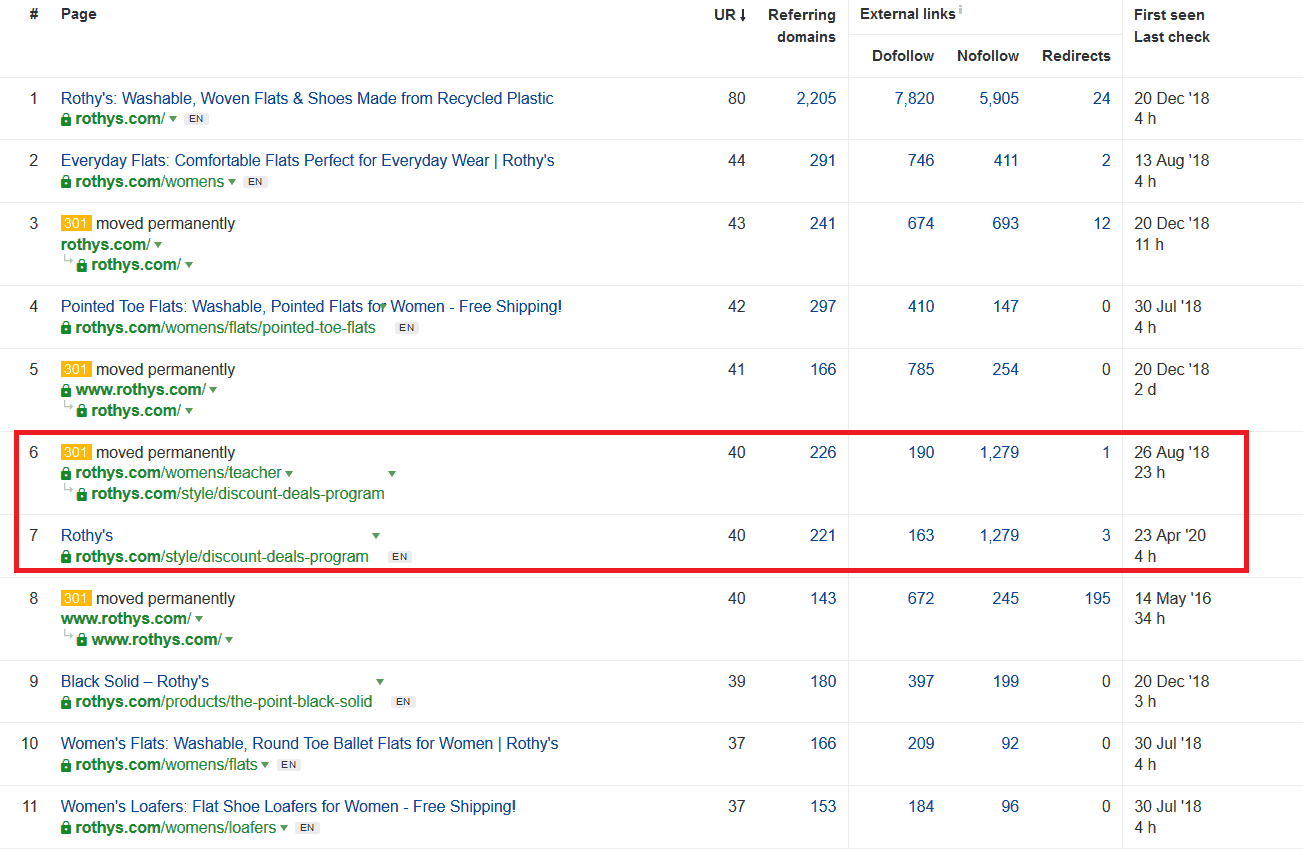 When you look at where the links are coming from, you can see the page attracts referrals from websites related to each of the professions that qualify for the discounts, as well as general deals websites. Many of the sites have high domain ratings.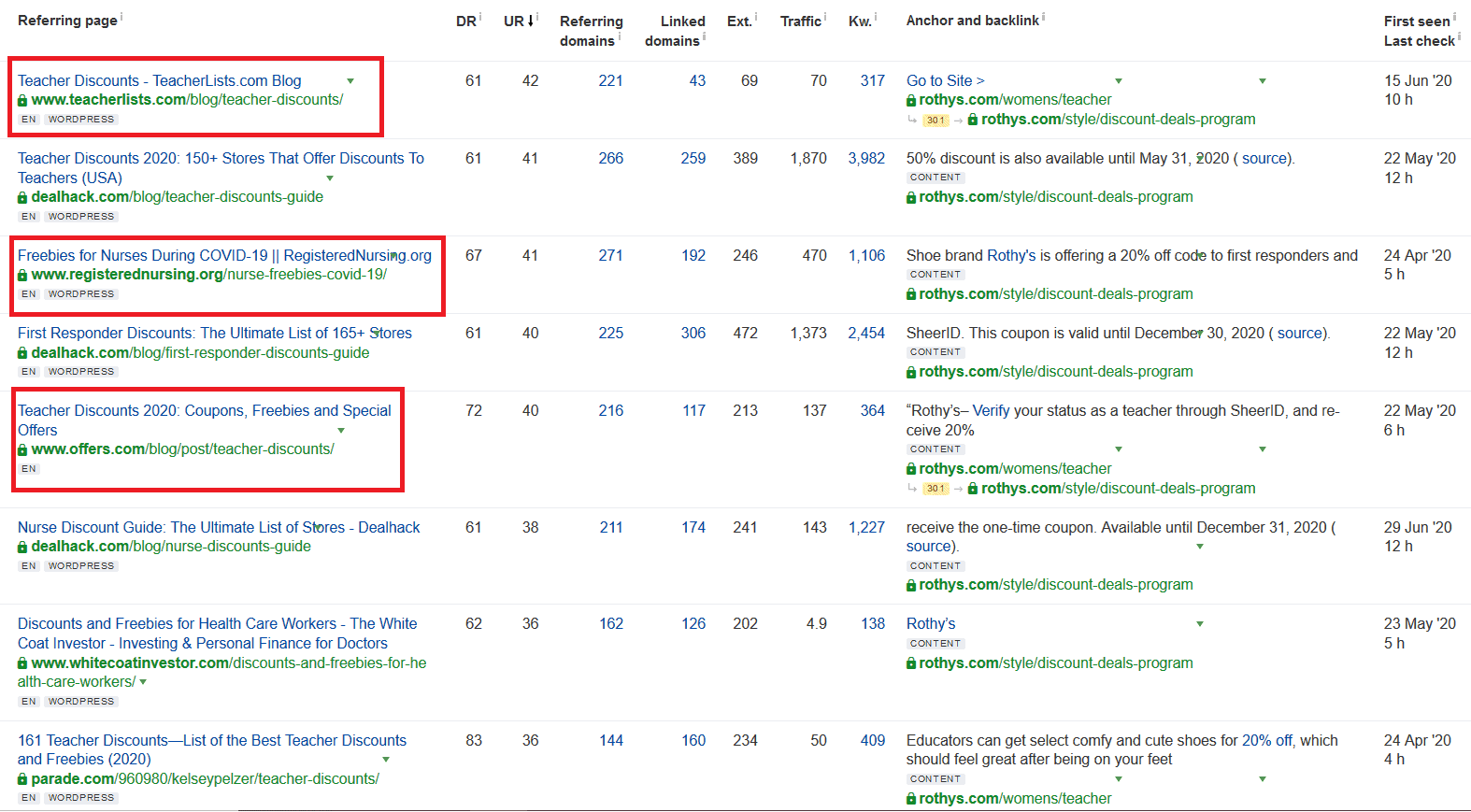 6) Developing Affiliate Partnerships

Developing affiliate partnerships is not only an excellent way to increase sales and get more people coming to your site, but it is also a good way to get links pointing to your site.
Choose the right affiliate partners, and you can end up with links from high-quality sites. Another benefit is that these links will often go to your product pages.
The tricky part of this strategy will be developing an affiliate program and then recruiting the correct affiliates. You'll need to show potential partners that your program has the potential to pay well — whether because of high percentage pay-outs, large volume, or a website that converts visitors into customers at a high rate.
The good news is that if you can prove your program is profitable, it shouldn't be hard to find partners willing to link your site. By consistently producing returns for publishers, you will encourage them to keep writing about your brand.
Men's clothing brand Taylor Stitch has a good affiliate program which may be a factor in high DR publishers seem happy to create articles about the brand's products — even when the story is as simple as a new product release or a sale.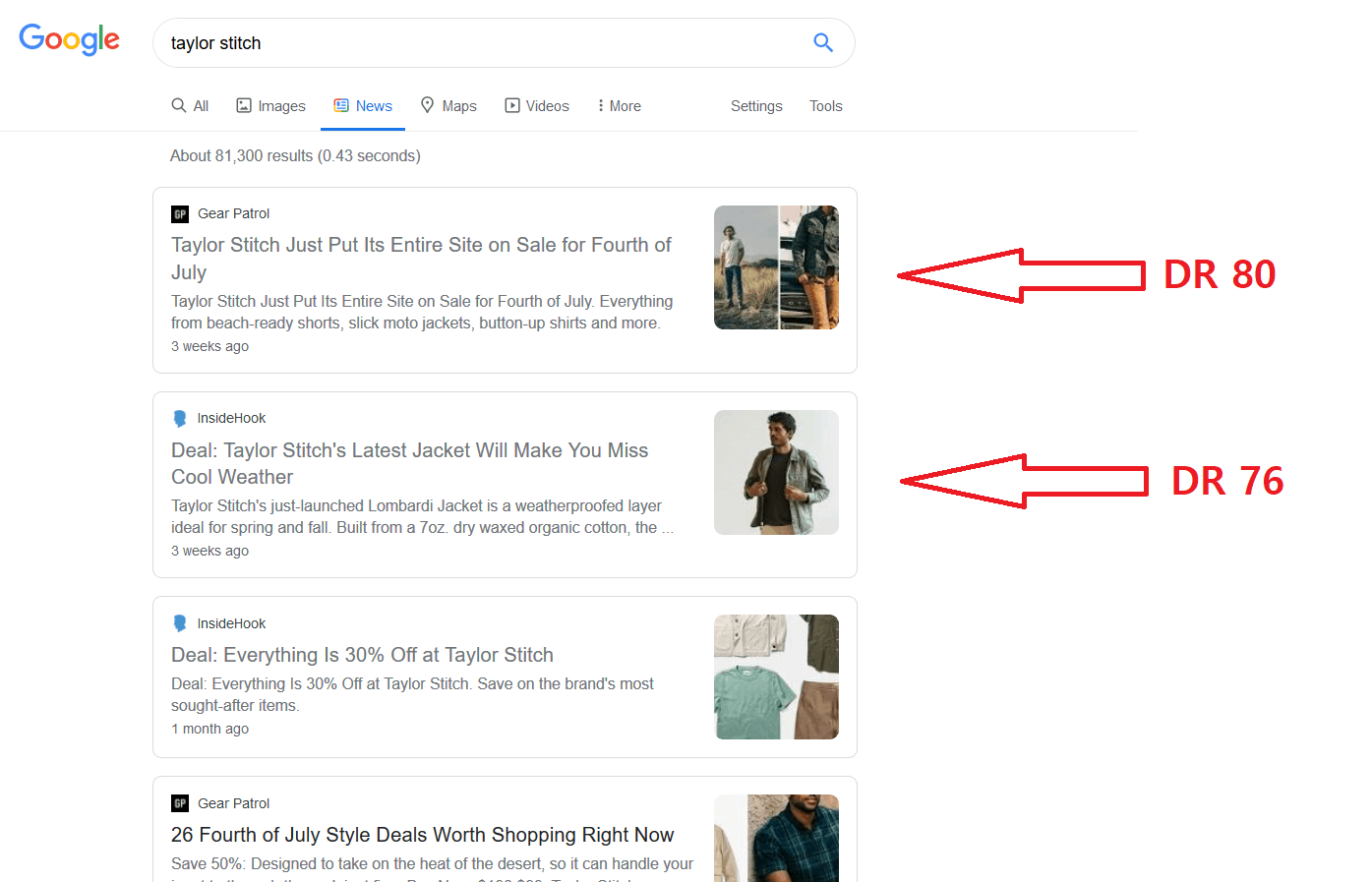 A Note on Affiliate Links 🔗
Affiliate links tend to be marked "Nofollow" which means they might not directly affect your rankings much. But, they will increase your exposure and result in more people coming to your site. This can ultimately result in more natural backlinks.
7) Influencer Product Reviews

Sponsored product reviews are a good way to get links back to your site. Just contact bloggers or websites in your niche and ask if they would like to review your product.
What they ask for in return will depend on the website. A smaller blogger may be happy to receive your product for free in exchange for a review. This may be a great deal for you, depending on the cost of your product. On the other hand, a larger publisher may require you to pay.
There are several things you should be aware of. To comply with Google regulations, sponsored reviews and posts should be marked, and the link should have a "sponsored" tag.
Below you can see how lifestyle website GearPatrol publishes its sponsored reviews. Note the "In Partnership with G-Shock" branding at the top of the page.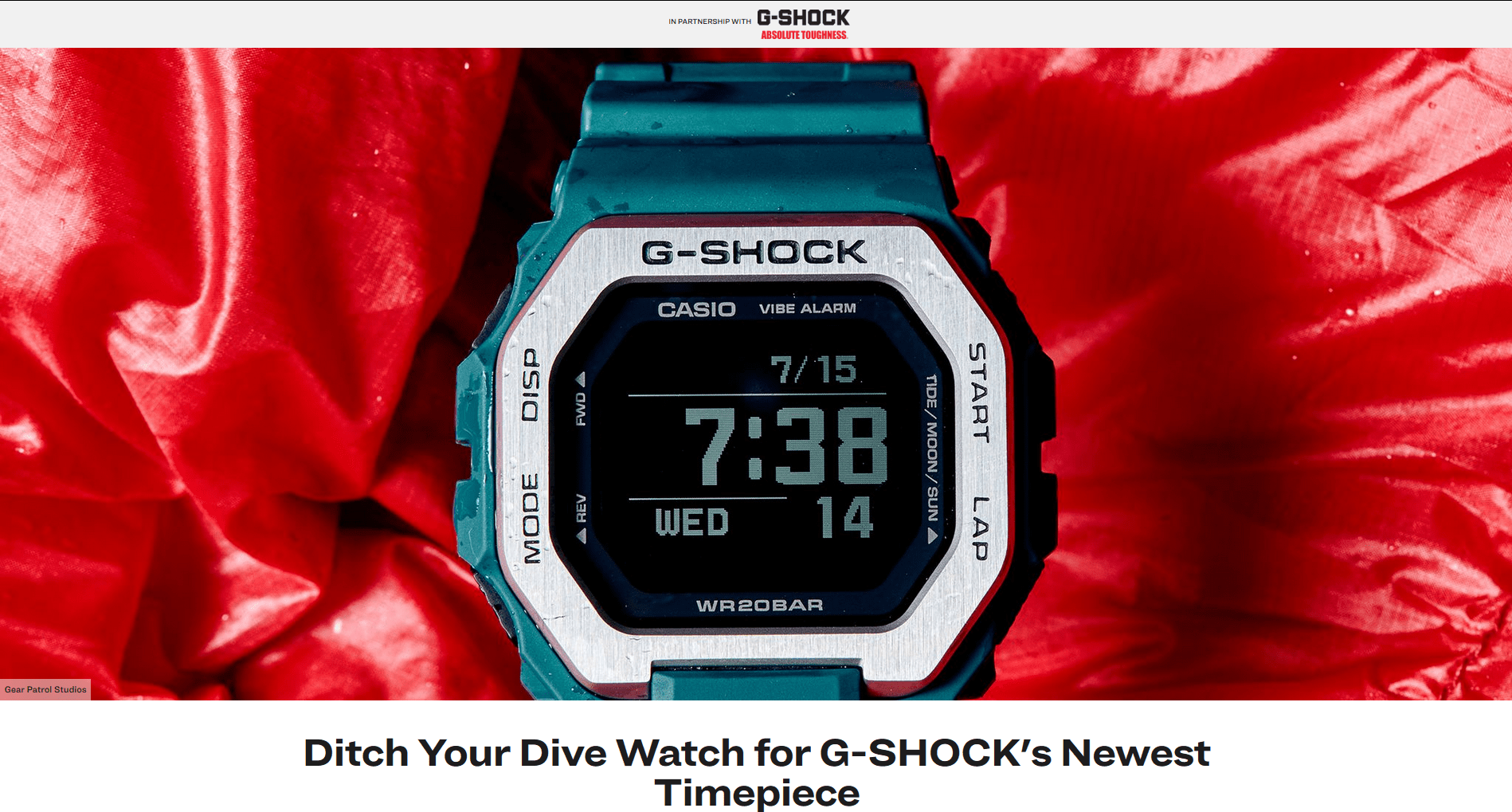 If you want "Dofollow" links, you can certainly find sites willing to review your product and include these.
However, you should be careful that the site in question doesn't mention the fact that you've encouraged them to review the product. The review should feel natural and uncoerced, which is definitely allowed.
Example of Dofollow Product Reviews
Think about all the hundreds of websites that review new Nike running shoes whenever they're released 🏃‍♂️
Nike has absolutely no need to pay those websites to review them, and I'm certain they very rarely pay for any reviews. They simply don't need to, because people are going to do it off their own back without any encouragement. Study those types of reviews, and try to replicate the style of them for your brand.
8) Unlinked Brand Mentions
When people mention your brand in a blog post, they typically link to you. Occasionally people will forget to add the link. If you can find out when this happens, you can reach out to the website owner and ask them to add a link to your site — often, they will be happy to do so.
Setting up a Google alert for your business will tell you whenever someone publishes a webpage with your brand name in it. You can adjust the alert settings based on the type of source, language, region, and how often you want to receive an email.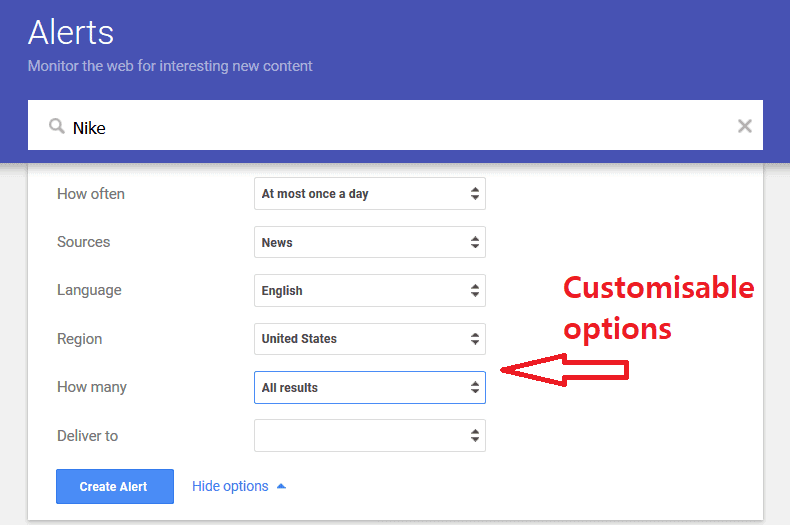 Looking out for unlinked mentions is an easy way to get links, although it only works for brands well-established enough to have people talking about them.
Ecommerce Link Building Case Study: How We Built Over 350 Links to Perfect Keto

Ecommerce store owners often come to us for help with link building. One company was PerfectKeto, a business we ultimately built over 350 links for.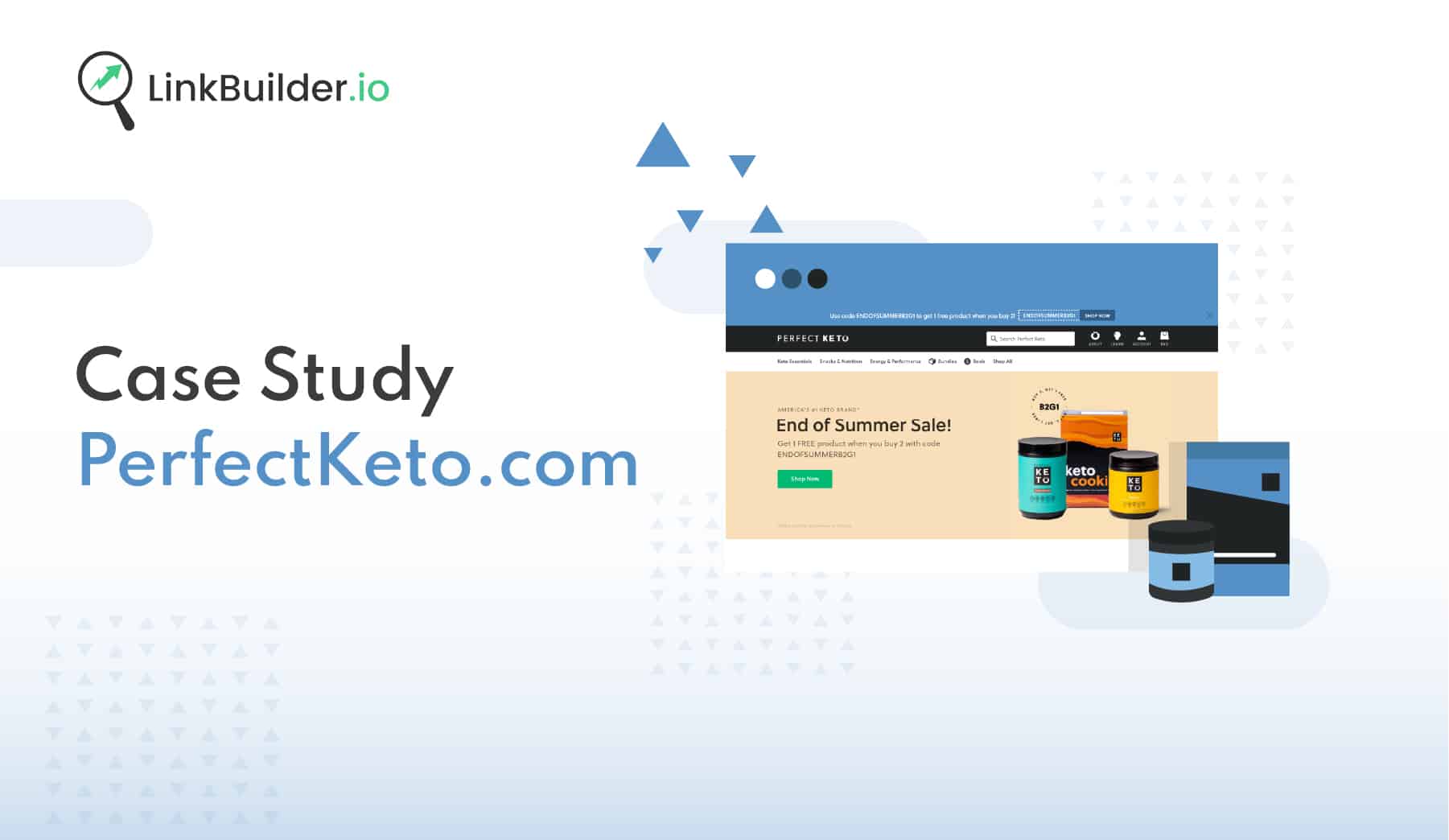 Our Method
When PerfectKeto approached us, they already had a well-designed website and some great content. However, the company had no link building strategy. We implemented one that consisted of the following parts:
Identify content to build links to: We studied key competitors to discover the type of content that generates links in the industry. We then identified similar content on PerfectKeto.com. We also considered whether the pages had high organic potential and whether they converted well.
Outreach: We then created an outreach persona based on an employee at PerfectKeto before creating email templates and identifying lists of websites and bloggers to contact. One of the most effective strategies was discovering pages linking to outdated keto calculators and suggesting that the sites linked to ours instead.
This strategy resulted in us building over 350 links, including 83 to a single page. Organic traffic for this page leapt from between 2,000 to 4,000 views per month to over 30,000. We are especially happy with these results as the health niche is notoriously competitive.
You can learn more about the exact tactics we used to drive traffic to Perfect Keto by clicking here.
We provide link building services to ecommerce stores that can seriously increase organic traffic. Reach out to us via our contact page to set up a no-obligation strategy consultation.