The online gambling industry will be worth around $150 billion by 2027. This figure includes online casinos, sports gambling sites, and poker. This revenue indicates that the industry is massive, with many major gambling and casino companies listed on global stock exchanges.
Building backlinks for online casinos and gambling websites can be challenging. While it's not impossible to build these links, there are regulatory restrictions and negative perceptions that you may have to deal with.
Additionally, the gambling and casino niche is highly competitive in terms of link building. Many of these websites actively engage in link building to improve their search rankings, and they often have large budgets to put behind this endeavor. In fact, we've seen many major casino brands spend millions per year on link building.
In this article, we will discuss:
💰 What gambling and casino link building is.
💰 How to build backlinks for online casino gambling websites.
💰 Our top tips for link-building success in this industry.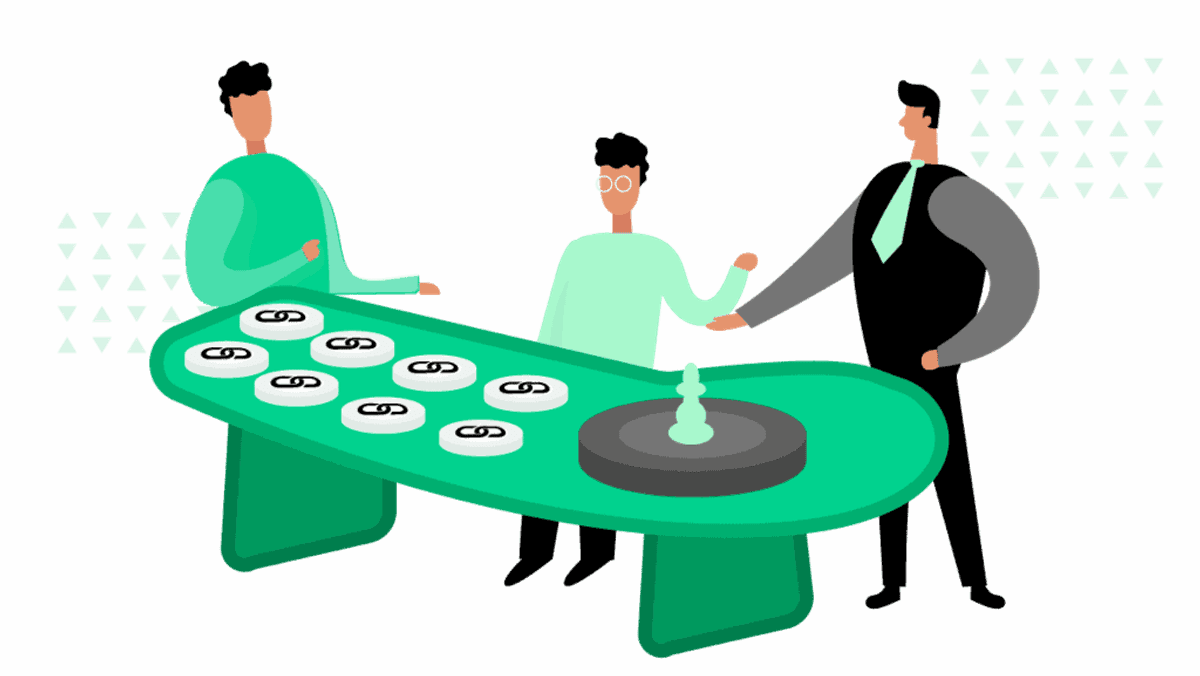 What Is Casino Link Building?
Put simply, this is the process of acquiring links from external websites that point to online gambling sites or casinos. It involves getting website owners to include links to your casino on their site.
Building backlinks for casino and gambling brands can:
✅ Improve search engine rankings.
✅ Boost organic and referral traffic.
✅ Increase brand awareness.
✅ Help reach new audiences.
✅ Turn website visitors into paying customers.
✅ Generate a diverse, relevant, and quality backlink profile.
Is casino link building effective?
Backlinks are still considered a crucial factor in search engine algorithms, as they signal to Google that the gambling site is credible, authoritative, and relevant.
Although search engines now place less emphasis on backlinks than they did in the past, they still analyze backlink profiles when determining how to rank a website.
For this reason, link building for gambling and online casino sites is still an effective search engine optimization (SEO) strategy.

Is building links to gambling sites difficult to do?
Building quality backlinks to casino and gambling sites is challenging for several reasons, including:

Online gambling laws and regulations: The gambling industry is highly regulated in most countries. Some regions even have strict laws in place regarding the promotion of gambling services. It's difficult to build links in a niche where there are so many legalities to consider.

A bad reputation: Casino and gambling sites are often associated with negative consequences such as addiction and financial problems. This makes many webmasters hesitant to link to these websites, as they are concerned about endorsing or promoting a potentially harmful activity.

Budget: This industry is highly competitive, as so many casino brands are pouring massive budgets into their link-building activities. If you don't have the budget to compete, it may become difficult to build links to your gambling brand.
Is casino link building white-hat SEO?
White-hat link building is using ethical and sustainable SEO practices to acquire links. White-hat links can be acquired through guest blogging, editorial outreach, and broken link building.
Link-building tactics for casinos often fall into a grey area. There are legitimate and ethical ways to build links to a casino site. Still, in this particular industry, there's a higher probability that spammy, manipulative, and deceptive practices are employed to gain links. This is largely due to the fact that it's such a competitive space.
Are gambling links paid links?
In our experience, all the major players in this niche almost always pay for links.
We've worked to build links on behalf of major casinos, and there's often a premium charged when bloggers and website owners realize what they will be linking to.
If you are going to build casino backlinks, you will need a significant budget to drive an effective volume of high-quality links that will have a long-term impact on organic search rankings.

Why are paid links so prevalent in the gambling niche?
As mentioned above, the gambling and casino industry is highly competitive, with endless websites competing for visibility in search engine results—this makes paying for links necessary if you want to improve your rankings.
There are also limited opportunities for natural links in this space due to the existence of negative perceptions related to gambling activities.
Many website owners are hesitant to link to casino websites voluntarily due to these negative perceptions, which is another reason why casinos typically pay for links.

5 Things You Should Know before Developing Your Casino Link-Building Strategy
As we've been offering casino link-building services for many years, we've identified some undeniable trends that you should know about before you attempt to build your own gambling links.

🤑 Cash is king
As we've mentioned, almost all casino companies pay for links, and they have big budgets to do so.
They also avoid direct footprints by using third-party email addresses rather than branded email addresses when they do their outreach for paid links.

🎯 PR campaigns
Some gambling brands will execute certain public relations (PR) strategies to earn links from online publications. These strategies include things like press releases, newsjacking, and editorial outreach.

🥊 Aggressive anchor text
Larger gambling companies will use surprisingly aggressive anchor text strategies, especially if they have a well-established brand.
According to the popular SEO tool Moz, aggressive anchor text strategies involve relying on repetitive and keyword-rich phrases rather than opting for a more natural placement of links.

🌏 Home page links
Some big gambling brands will pay for home page link rentals, which is when people pay a monthly fee to have their link placed on a website.
🕵️‍♂️ Variety of niches
Casino and gambling companies go after a surprisingly large range of niches, as there are simply not enough quality websites out there around casinos and gambling. Keep reading to find out more about the large variety of websites you can target in your casino link building.

How to Build Quality Backlinks to a Casino or Online Gambling Site
Regardless of the niche you're building links for, your first priority should always be quality.
Low-quality links from a spammy website may broaden a backlink profile and drive a little link juice, but they won't help you rank well. In contrast, quality backlinks from authoritative and relevant websites are what search engines prioritize when determining how to rank your website.
As mentioned above, building quality links in this particular industry will be challenging, but some techniques work well.

Create high-quality content
Developing content that is informative, valuable, relevant, high quality, and directly related to gambling is a powerful approach to link building.
Your gambling-related content can include:
🎲 Articles or blog posts.
🎲 Guides and how-tos.
🎲 Videos.
🎲 Infographics.
🎲 Interactive content.
If your content is truly valuable and sharable, it can attract natural links from other sites organically.
Additionally, having good content on your casino website gives the website owners you will target a good overall impression of your brand.

Guest posting
An idea for a gambling-related guest post could be a roundup of the best online gambling sites, including a link to your website. We already know that people ask Google what are the best sites where they can win real money—why not create content answering this question?

Resource page link building
You can identify resource pages on other websites that list gambling or casino-related resources and reach out to the owners of these sites and request that they include your backlink.
This is where having good quality content on your own website comes in. You must showcase the value and relevance of your website as a resource worth linking to.

Influencer collaboration
Partnering with influencers, affiliates, or popular gambling-related websites can assist you in acquiring links. This can involve sponsorships, collaborations, or affiliate programs.
The key here is to establish genuine relationships that provide value to both parties.

Building relationships within the gambling community
Engaging with the gambling community can lead to natural link opportunities, whether through forums, social media, or even industry events.
Networking with industry professionals, website owners, and bloggers—and providing them with something of value—can help you gain relevant links.

The Types of Websites You Can Build Casino Links From
Now that you know which tactics work best in this particular niche, it's time to start thinking about the types of websites you're going to target in your link-building strategy.
There's a broad range of sites and categories that you can consider building links from, provided there's some kind of natural link back to your gambling website.
Here are some categories we often see casinos go after, along with category ideas.
If you use software like Ahrefs or SEMrush and scan through the backlink profiles of major online casinos, you'll see content—and backlinks—around many of the categories below.

💵 Casino and gambling
Casino game blogs and strategy sites: Think about all the different real money games available—like roulette and blackjack—and find blogs by searching for strategy terms.

Poker websites: There are many poker sites with news and strategy blogs out there.

Sports betting bloggers and influencers: There's a wealth of gambling blogs online that you can target.
🎮 Gaming
Video game blogs: There are many of these available, ranging from retro game blogs to browser and even Xbox game blogs.

Card games: There's a phenomenal volume of these sites, such as Cardgamesplanet.com.

Other physical games: Like chess and backgammon.
✈️ Lifestyle and leisure
Entertainment: This topic can easily be tied to the attraction of casinos.

Travel: Many people associate travel with casinos, they're often tourist attractions.

Comics: Lots of slot games are based on comics.

Hobbies: Gambling is a hobby for many people.

Movies: Think Casino Royale and all the other classic casino films over the years.

Celebrities: Many celebrities love to gamble and visit casinos. There's an unlimited number of great stories to tell here.
⚽️ Sports
US sports: Like baseball, American football, and basketball.

European sports: Like football and rugby.

Sports betting: Sports that are traditionally more tied to betting, like snooker and billiards. A lot of content, like sports gambling guides, can be tied back into the gambling element.
📰 Business, news, and finance
Stocks and finance: As we've mentioned, casino companies are major players in the global stock exchange.

Careers: The industry employs hundreds of thousands of people worldwide, offering a genuine career path for many.

Business: It's a constantly evolving industry with conferences, innovation, and overcoming hurdles.

Crypto: Cryptocurrency is strongly associated with casino industries, with many Bitcoin casinos now on the market. The nature of investing in cryptocurrency can often be seen as a gamble, so it may attract many of the same people.
💻 Technology
Mobile and app blogs: If your gambling brand has an app, this is a great type of website to target.

Computer technology: Anything that ties into the software and systems online casinos use.

Design blogs: Think about the actual design and structure that go into casino games.

General technology: For example, there's plenty of technology that goes into top online gambling apps.

Virtual reality: Many online gambling apps include VR elements.
💡 Websites will often have crossover categories which cover many of the ideas listed above. See the example below."

Our Advice for Building Quality Casino Links
When you're outright paying for links as many gambling companies do, it's imperative to stay safe.
You need to ensure you're buying links on sites that aren't overcrowded with other links and don't have obvious link footprints.
You should also ensure that those sites are high quality, which means they generate organic traffic and that most of the content is generated for their readers rather than for the sake of SEO.
✏️ Here's the quality checklist we use for gambling and casino link building:

Domain rating (DR)
The sites you target should have a minimum domain rating (DR) of 20 or higher.

💡 What Is Domain Rating (DR)?
DR is a metric developed by Ahrefs that shows the relative strength of a website's backlink profile and how likely it is to rank in search results. A domain rating is a score between one and 100.
Traffic and movements
Check that the website has over at least 1,000 organic traffic, according to Ahrefs.
To investigate traffic movements on a website, from Ahrefs 'Overview' go to 'Organic Search'.
You should be cautious of any sudden drops in traffic as it may indicate a Google penalty. This isn't always the case, but it should factor into your decision-making process.

💡 What Is a Google Penalty?
Also known as a manual action, a Google penalty is applied when a human reviewer checks your website and finds that you have unnatural and spammy links in your backlink profile.
These penalties can cause serious damage to your rankings and traffic until they're resolved. It can sometimes even be impossible to recover from a manual action.
For this reason, it's important to act cautiously when you do things like buying backlinks.

It's worth noting that traffic swings can be quite normal, and if the site still gets strong traffic it shouldn't be removed from your list of target websites.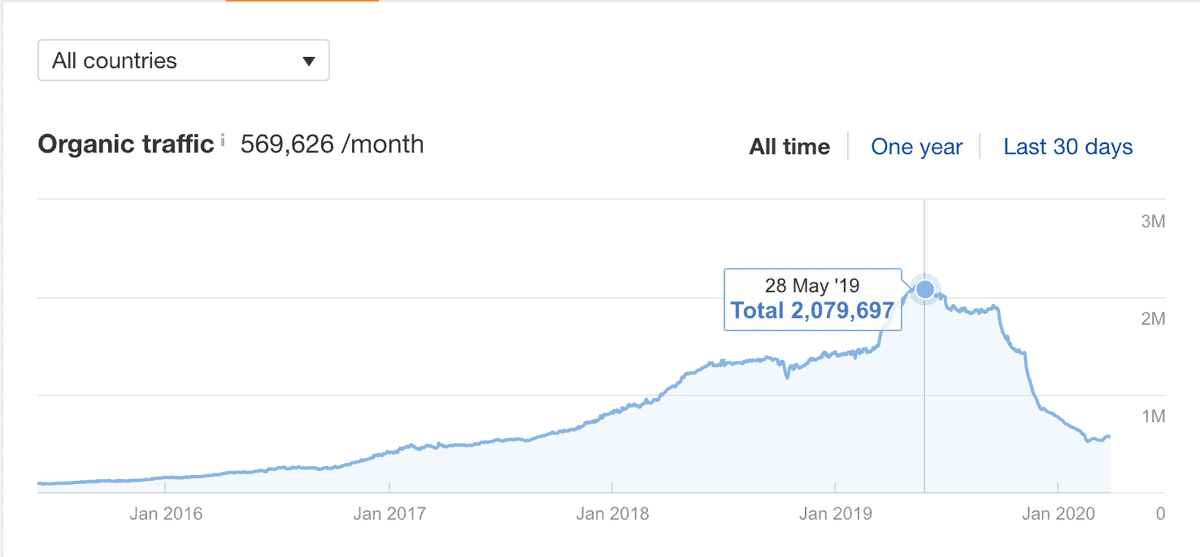 Check for an existing link
Before you add a website to your list of targets, you should first check that they haven't already linked to your site.
The fastest way to check this is to use Ahrefs. Check the 'Linked Domains' tab and type in your website.

Measure linked domains vs. referring domains
Using Ahrefs, you should look at the website's referring links versus referring domains. You can do this at scale using the batch analysis function on Ahrefs.
If the number of linked domains is over four times greater than referring domains—for example, linked domains are 1,201 and referring domains are 300—this may be cause for concern.
For example, it could suggest that the website is selling lots of sponsored posts and may be penalized by Google for this in the future.
Additionally, the more a website links out, the less valuable its links become.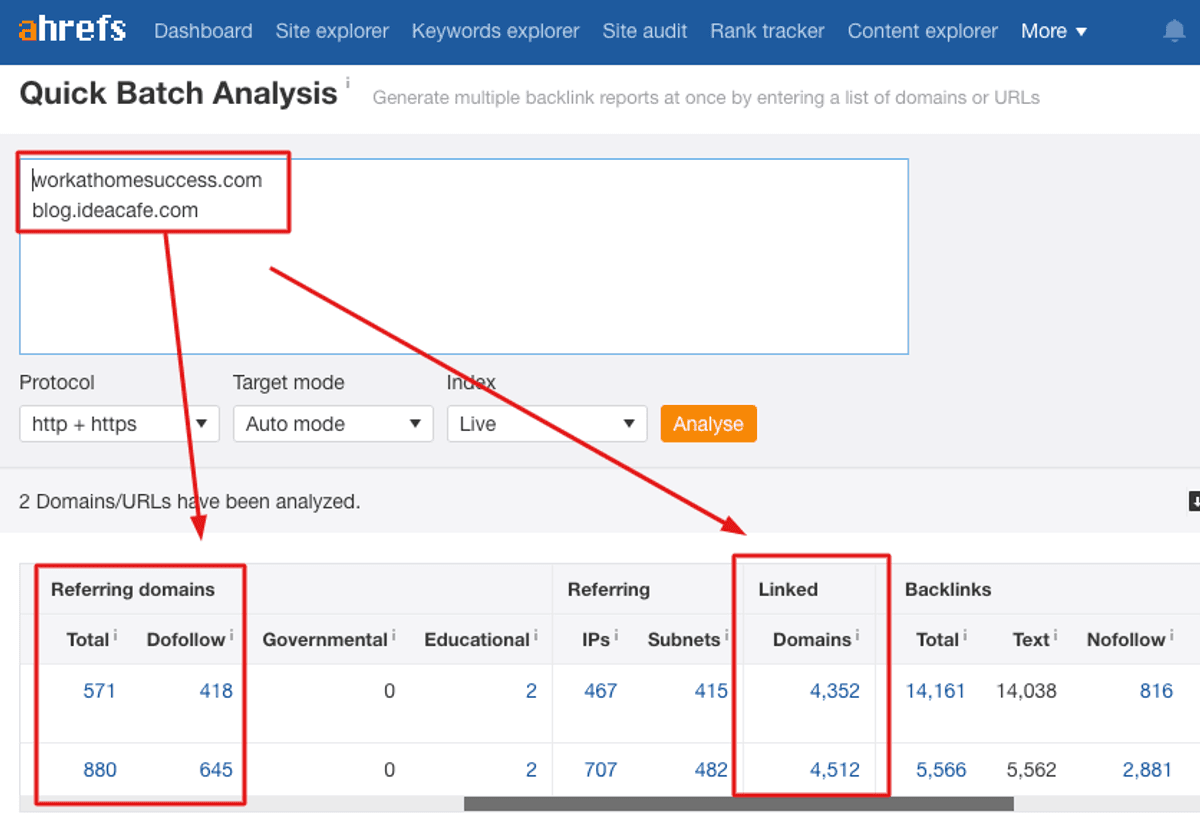 The number of casino links
You should check how many 'casino' domain names the website is linking to.
This can also be done from the 'Linked Domains' function in Ahrefs by searching 'casino'.
If it's 35 or over, it's worth removing it from your list of websites to target, as it's an indication that they're selling links to many other casino sites.

Post markings
If the website marks posts as 'sponsored' or 'advert', you should exercise caution. Again, the fastest way to check this is to go to 'Linked Domains' and find a casino article. From here, you can easily check if it's marked with anything along those lines.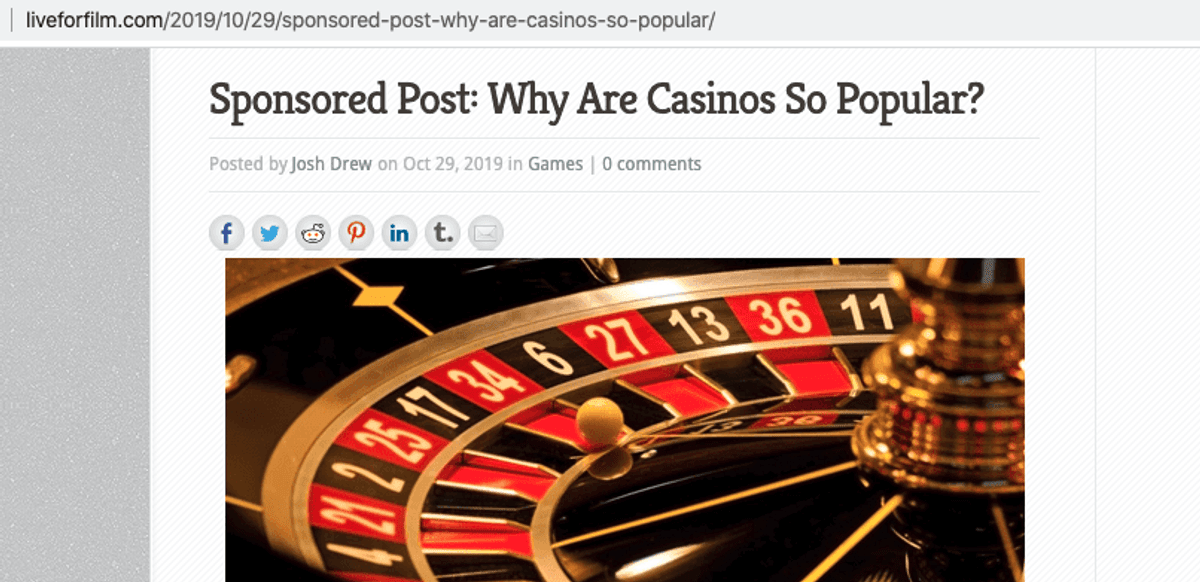 Sense checks
Review the website by browsing a few pages manually. Consider whether the website has any blatantly spammy-looking articles that don't fit in with the theme of the website.
You can get a good sense by looking at their home page as to what articles or topics they are writing about.
If they have spammy-looking sidebars or banners, that's another indication that it is a poor-quality site.
Lastly, you should ensure the website has a decent design that engages readers.

An advertising page
You should investigate further if the site has an obvious advertising page. This isn't a problem in itself as most sites have these—but, if they mention advertising to help with SEO or openly sell links for a price, this should raise a red flag.

Sponsored posts
Too many sponsored posts show that other people are paying to have their content on the site, causing it to lose credibility in Google's eyes.

How to Beat the Competition
Here is our top advice for what you should do if you want to beat the competition when it comes to casino link building.

Analyze the top-ranking competition; investigate exactly how they're building links and what the context of those links is.

Cherry-pick competitor link opportunities where it makes sense.

Carefully select your target websites based on strong metrics.

Invest in writing staff who understand how to make a link fit seamlessly and naturally into an article, without it feeling forced.

Figure out a sensible anchor text strategy with a healthy blend of branded, natural, and partial match anchors, based on top-ranking competitors.

Negotiate prices with webmasters who can potentially link to your website. You'll need to have a strong negotiation plan in place to save money in the long run.

Use an alias or unbranded email address in your outreach to reduce the footprint you leave when buying links.

Be mindful of link velocity—which is the rate at which you acquire links—and stay within a safe range. Too many, too quickly could result in a Google penalty.
What you shouldn't do
Through our casino link-building services, we've also learned what should be avoided.
Be sure that you don't:

Jump on trends—like getting home page or category links from the same site everyone else is. Many casino affiliates do this, and they often get penalized as a result.

Overdo it with aggressive anchor texts—like relying solely on keywords, especially if you're a smaller or up-and-coming brand.

Use a company email for outreach. This one seems obvious, but it's a clear footprint that could land you in hot water.

Underestimate the budget required to compete in this space. Even once you've achieved a strong ranking position, you'll still have to continually invest to stay there.
Wrapping Up on Gambling and Casino Link Building
Compared to other industries, building links for a casino or gambling site can be challenging. It's a highly-competitive industry, with many brands spending large amounts of money on their link-building activities.
Additionally, with so many website owners and bloggers being wary of promoting what is perceived to be a potentially harmful activity, it can be hard to earn natural, high-quality links.
However, if you follow the steps in this guide and act with caution, you'll be well on your way to acquiring quality links that help you outperform the competition and earn a top spot in search engine rankings.
One thing you need to know about LinkBuilder is that we never shy away from a challenge. As a result, we've seen great success in building links to casino and gambling sites. If you'd like to learn more about our casino link-building services, visit our website. Also, keep an eye on our link-building blog for more insight and guidance on building links in highly competitive industries.