Have you come across the term "backlink profile" but are not sure exactly what it means?
This guide will help you fully understand how to understand and analyze your backlink profile.
What Is A Backlink Profile?
Your backlink profile is the total collection of backlinks pointing to your website. These links live on other websites and point to yours.
A backlink profile details the types of links as well as their anchor text, domain quality, and relevance.

To get the most out of your search engine optimization (SEO) and backlink strategy, you need to be able to analyze your backlink profile and ensure it is well-maintained and well-structured to help you rank higher.

Key Points 💡
A backlink profile is the combination of all the backlinks—or inbound links—that point to your website.

This profile includes the quality and quantity of backlinks pointing to your website.

Google assesses your backlink profile when determining whether your website has enough authority to rank high in search results.

There are ways that you can improve and optimize your backlink profile, which starts with being able to analyze it.
What does a good backlink profile look like?
We have highlighted some key indicators of a good backlink profile below.

A strong backlink profile will have many organic, high-authority links that are relevant.

These links should not be spammy links, and the anchor text associated with them shouldn't be spammy either.

The majority of your backlinks should come from websites that are relevant to your topic or niche.

Your backlink profile should include minimal low-quality or low-authority links.

Lastly, a good backlink profile should include a variety of backlinks.
A strong backlink profile tells Google that your website is to be trusted.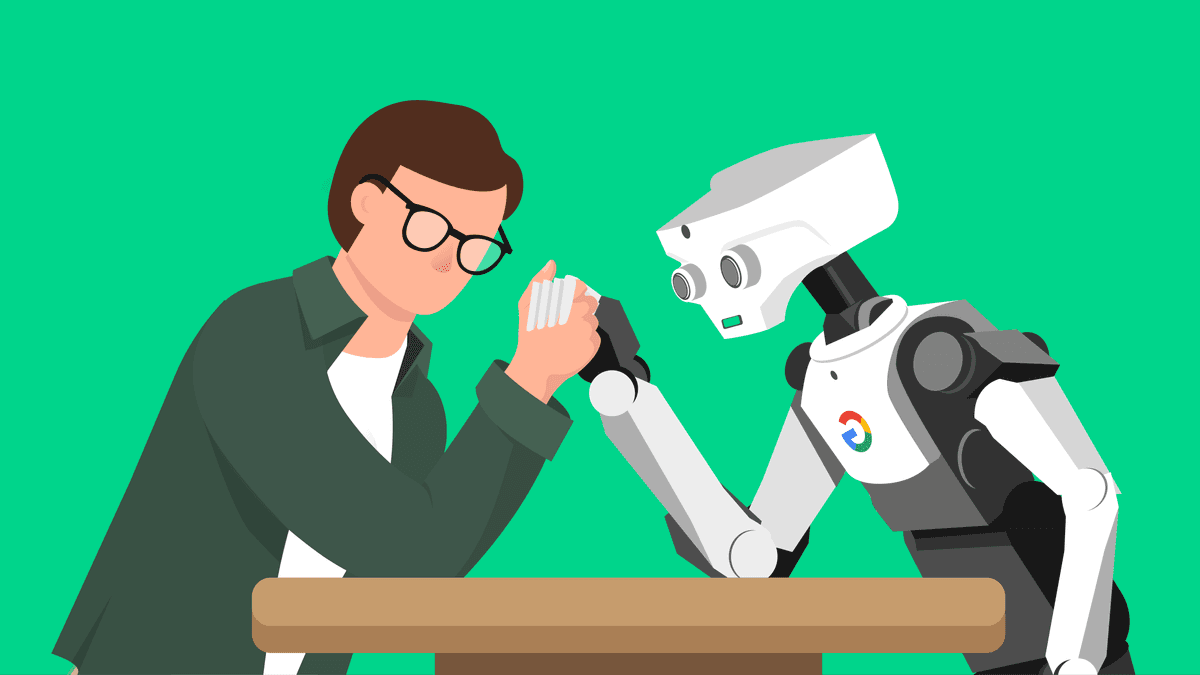 Don't panic if you've received spam links from low-quality sites over time. This is inevitable.
However, you can take action if this happens by, for example, disavowing the links to prevent a Google penalty.

What does a bad backlink profile look like?
A bad or poor quality backlink profile will:
Contain zero to few high authority backlinks.
Have mostly backlinks from sites that aren't relevant to your brand or niche.
Not have much variation in the types of backlinks it has.
Have too many exact match or partial match keyword anchor texts.
Include toxic backlinks.
Aim for high-quality backlinks and varied anchor text
We've said it before, and we'll say it again: When it comes to backlinking, quality should always be your focus.
When it comes to Google, the search engine dislikes low-quality links, and having too many of them in your link profile can lead to a penalty imposed against your site.

Avoid over-optimized anchor text
It's amazing how many of our clients still ask us to use exact-match anchor texts at every given opportunity.
It simply does not work.
Google has clamped down massively on people trying to manipulate rankings through this practice of over-optimized anchor texts.
Instead, you should try to aim for various types of anchor text, including:
Naked URLs: These are links that, instead of hyperlinking normal content, are the URL itself.
Branded anchor text: This involves using your brand name as the anchor text.
Keyword anchors: These are anchor texts that use keywords related to your industry or niche.
Link Relevance
Sometimes, certain links fall under the same category. For example, if many of your backlinks come from eCommerce stores, they would be classified as 'shopping' links.
Relevance kicks in when your website becomes associated with a specific industry. This industry would form a category. It's how search engines understand your website based on your backlink profile.
If your brand sells financial advice, would shopping links really be relevant to you? Would they make your backlink profile stronger? These links wouldn't make much of an impact on your search rankings.
In other words, if you want to rank higher in search results, you'll want more links in your backlink profile that relate to financial advice and financial services.
Below - see a major website's inbound link types based on various categories.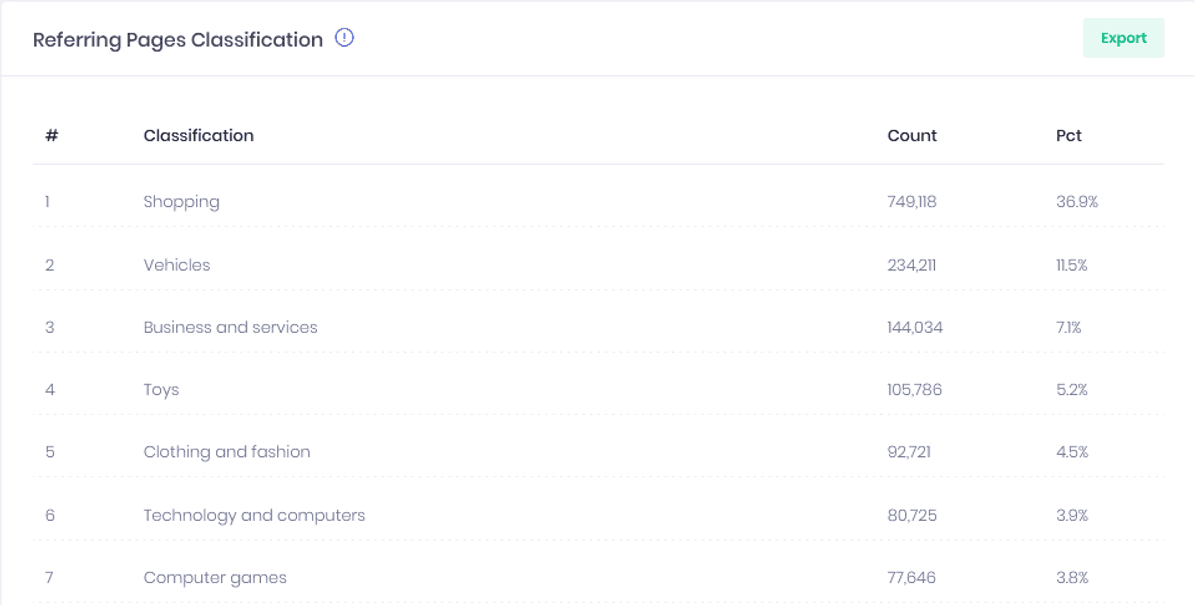 Where to Find Your Backlink Profile
It's difficult to get a comprehensive backlink profile for your website. SEO tools have limited abilities and, therefore, may not be able to find every single backlink pointing to your website.
The most popular tools to see your backlink profile include:

Google search console (free)
Ahrefs
Majestic SEO
SEM Rush
Google crawls over 25 billion websites daily, and roughly 550,000 new websites are added to that pool every day. It would be impossible for any tool to keep track of all of this.
As a result, your backlink profile is essentially the data that you can gather using the tools we'll mention shortly, but it won't be a full view of every backlink you have unfortunately.
Backlink Profile Analysis
Now that you know what a backlink profile is and what a healthy profile looks like let's dig deeper into how you can analyze and manage your backlink profile.
Now that you know what a backlink profile is and what a healthy profile looks like let's dig deeper into how you can assess and manage your backlink profile.
Step #1: Analyze your referring domains
Using backlink analysis tools like Ahrefs, SEMrush, or LinkMiner, your first step is to analyze the URLs that make up your incoming links, also known as referring domains.
👉 We put together a handy list of the best backlink checker tools.
Here is an example of the type of profile analysis you can get by using LinkMiner's tool. We have sorted our profile by one link per domain: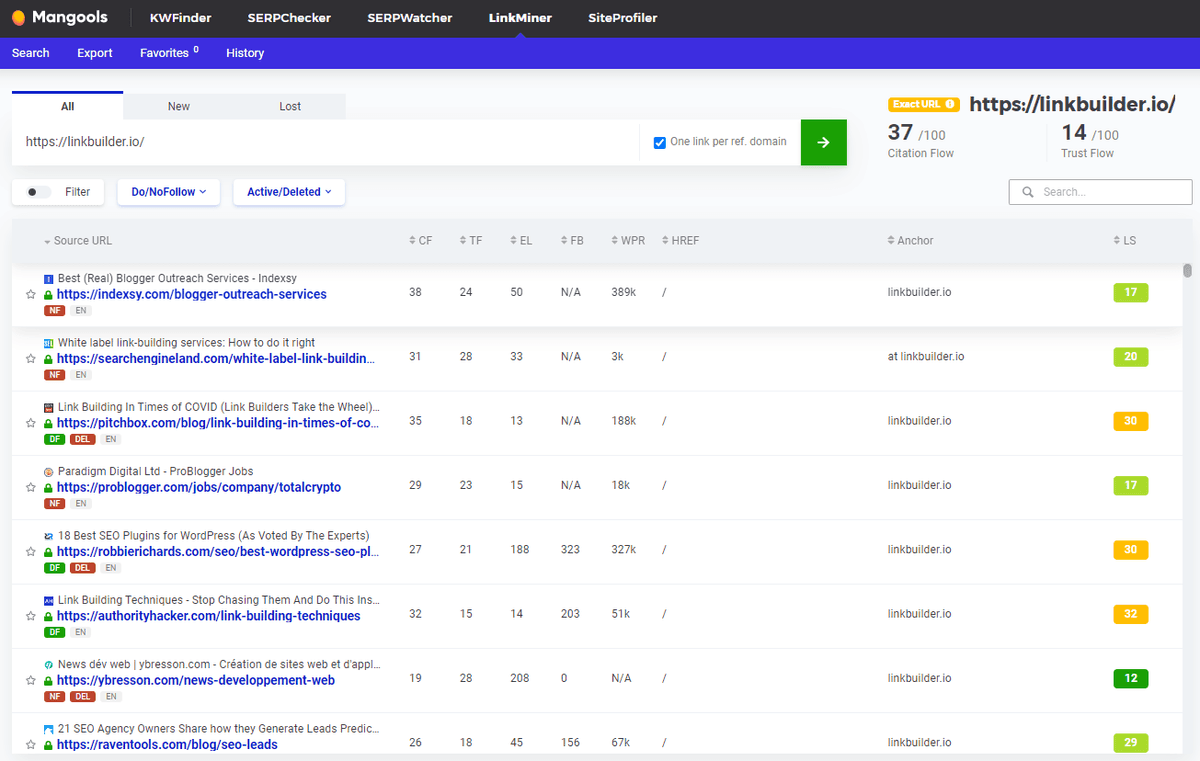 You can also use Google Search Console to analyze your backlink profile: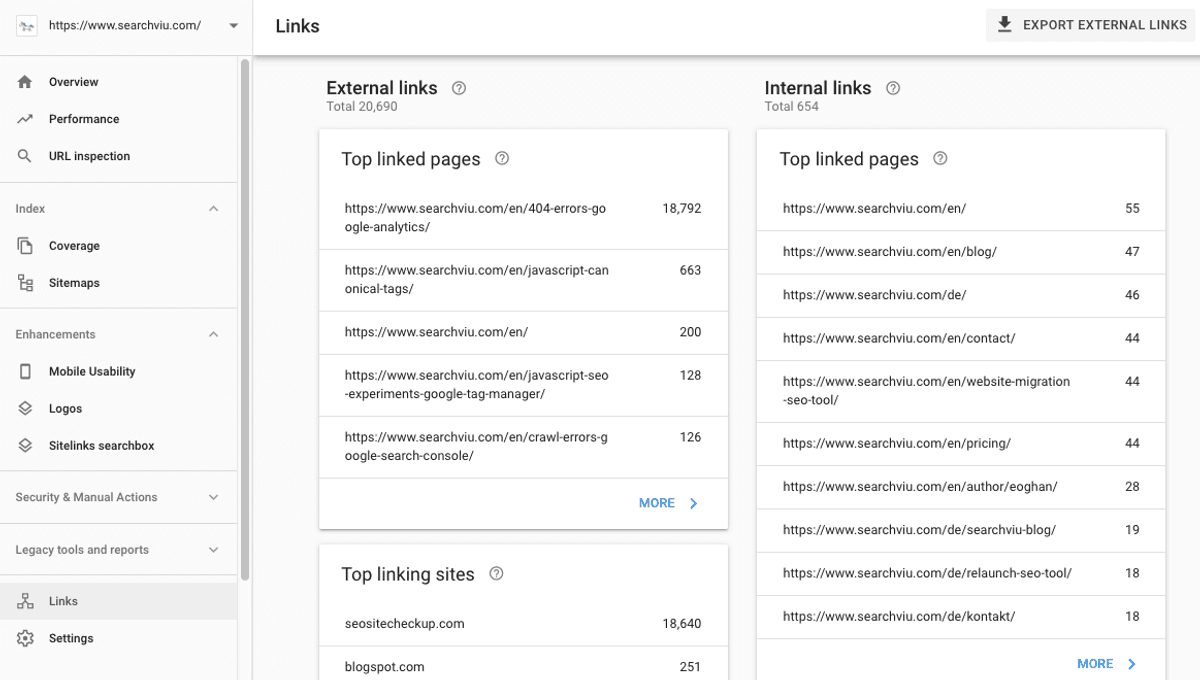 In terms of SEO metrics, the total number of referring domains is better than the link count, as multiple backlinks can come from one domain.
Step #2: Check the number of backlinks
How many backlinks do you need to rank highly in search engine results pages (SERPs)? The answer is it's not an exact science. However, a higher number of backlinks generally indicates better search engine performance.
Looking at the total number of backlinks from each referring domain is also a good metric to analyze when auditing your backlink profile.
Step #3: Take a look at varying anchor texts
As we mentioned above, you'll need a variety of anchor texts to build a good backlink profile.
By inspecting the variation of your anchor texts, you may discover keywords or phrases that are being overused in your backlink anchor text.
Again, Google can penalize you if they find that you have a high percentage of a specific anchor text, so you'd want to avoid this at all costs.
Step #4: Take a look at backlink velocity
Backlink velocity refers to the speed at which you are receiving new backlinks in your profile.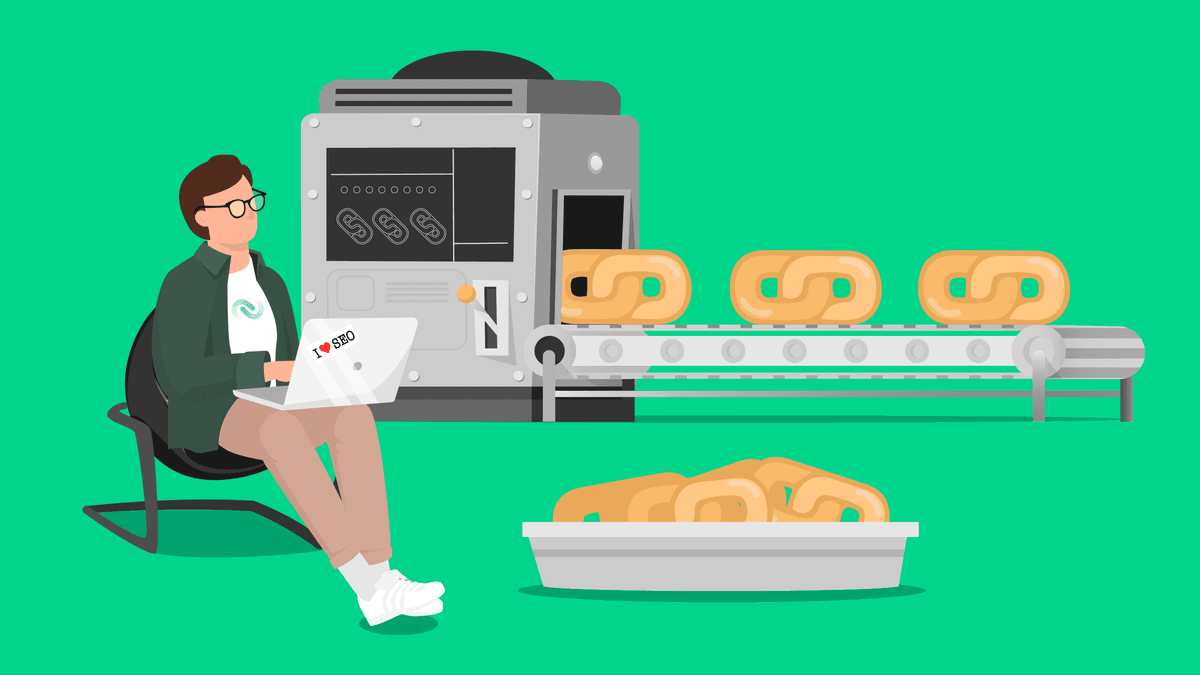 Receiving too many backlinks too often can result in a Google penalty, so you'll want to grow your backlinks at a slow and steady pace rather than all at once.
Check how often you receive backlinks pointing to your website when auditing your backlink profile.
Step #5: Revise your backlink quality
We'll say it louder for those at the back: When it comes to backlinking, quality far outweighs quantity as a metric.
The domain authority (DA) and page authority scores for a website where the link to your site lives indicate the quality of the backlink.
You'd want to analyze your backlink profile and check the quality of any links pointing to your website, also known as incoming links.
The quality of a link is determined by its relevance, type, and accompanying anchor text.
If you're currently struggling with a low SERP presence, having too many low-quality backlinks could be causing the issue. You may want to consider removing them from your backlink profile.
Step #6: Decide what to do next
If, after your audit, you've discovered that your backlink profile isn't what you want it to be, you need to consider what actions you're going to take.
For example, you may want to disavow low-quality or spammy links or contact webmasters to remove your links or attribute them to nofollow.
You may also want to reevaluate your backlink and SEO strategy to include some of the more effective tactics when it comes to link building, like writing high-quality content as guest posts and various outreach practices.