You need to track the links you generate when running a link building campaign. Otherwise, you'll never know if your link building strategy is paying off.
Backlink monitoring tools tell you this information. They provide data into all the links that point to your site, and often give insight into your competitors backlinks.
As a link building agency, we have plenty of experience with these tools. And this article will highlight some of our favorites.
We've included dedicated software designed for tracking links, plus general SEO tools with backlink management functionality.
Why backlink monitoring is important
Know when someone links to your site
Understand the quality of the link
See how many links you attract over time
Realize when a website removes a link
Know if a linking page is being indexed by Google
The 9 Best Backlink Monitoring Tools
1. Linkody
Linkody is a dedicated backlinks monitoring tool with all the features you need to track campaigns.
It offers functionality including:
Email alerts that notify you when someone links to your site
A dashboard with essential data like new and lost backlinks
Access to metrics from top tools like Moz, Alexa, and Majestic
A tool for creating link disavow files to upload to Google
With these tools, it's easy to track the progress of your campaigns and check your link building efforts are paying off.
We find the link profile analysis tool especially useful. We use this to ensure the sites we work on have a natural backlink profile and take steps to diversify when necessary.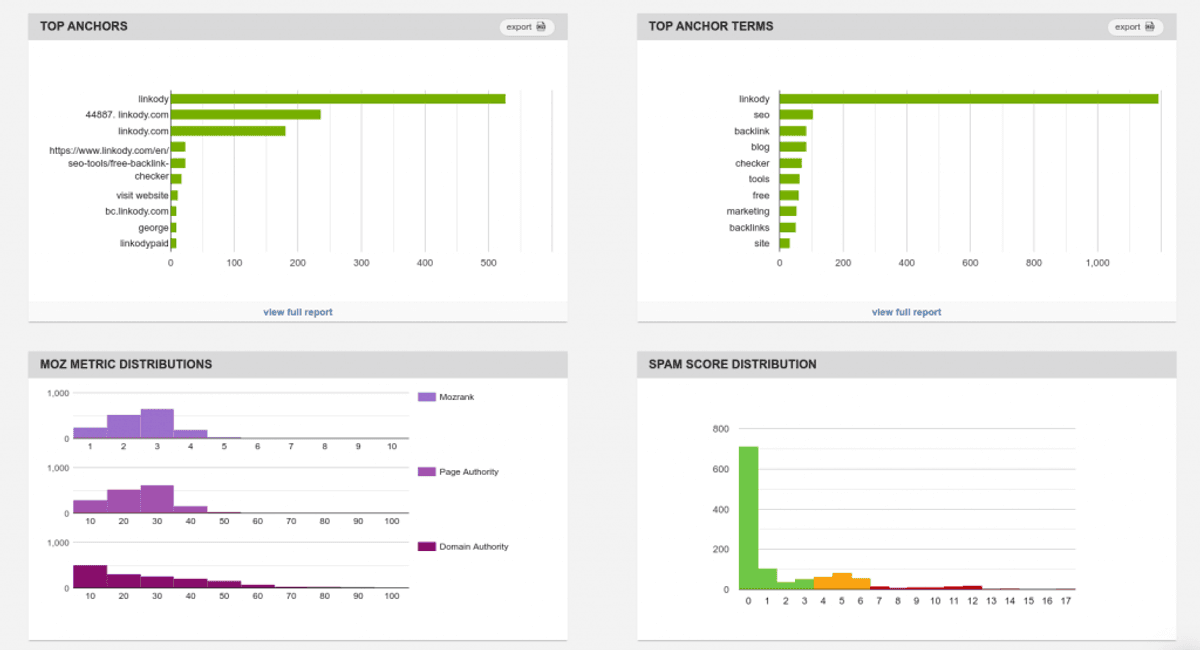 This feature lets you check:
The anchor text people use to link to your site
The spam score of the links that point to your site
The page and domain authority of websites that link to yours
The great thing about Linkody is that it's easy to use. Its functionality and tools make it perfect for anyone who wants to track links.
But the service also has some features that are super useful for agencies. For example, you can track links for multiple sites and create reports that use your logo from within the platform.
Below is an example report that shows website backlinks on Forbes.

Linkody plans start at $14.90 per month for two domains and one user, making it a very affordable tool.

2. Monitor Backlinks
Monitor Backlinks is powerful backlink tracking software. It has all the features you'd expect, alongside more advanced tools.
Their platform allows you to:
Track links that point to your website
Monitor competitors for link building opportunities
Create disavow files to upload to Google
Measure link building efforts with backlink reports
The tool will also tell you when you lose a backlink. This is essential if you pay for links and want to check that websites don't take down the links you buy.
A major highlight of Monitor Backlinks is its keyword rank tracking feature. With this tool, you can see which keywords you or your competitors rank for and track changes in your link building profile over time.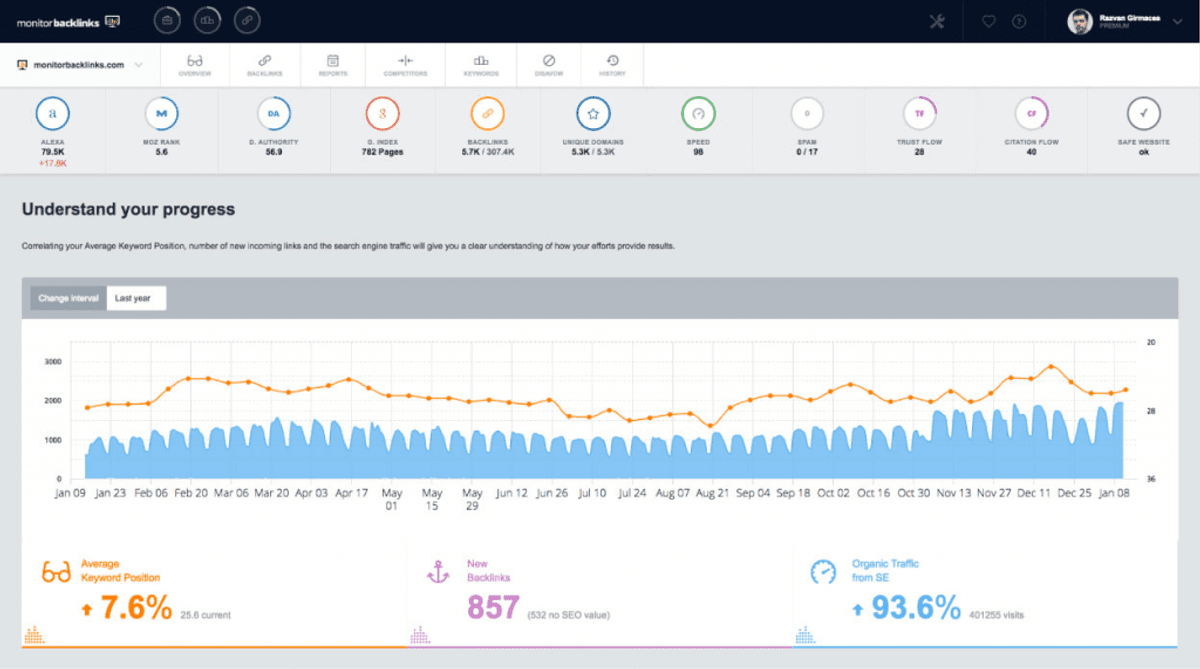 Use this alongside the backlink tracking features to see how your link building strategy is paying off.
Monitor Backlinks is straightforward to use, thanks to its user-friendly interface. Pricing starts at $20 per month for a single domain and they offer a 30-day free trial for people who want to test the platform out.
3. Majestic
Majestic stands out due to its in-house metrics. These four ratings give you fast insight into the quality of your links and link profile.
Trust Flow shows the quality of links that point to a URL or website. A high score means quality links.
Citation Flow shows the number of links that point to a website. A high score means a site has many links.
Visibility Flow is a score based on the number of high-quality editorial links a website has.
Topical Trust Flow shows how relevant a site's links are.
Companies can use these metrics to check the progress of their own link building efforts, or to decide which websites to build links on.
Majestic also has a useful tool that shows information about where the link is placed in a page. It shows the text around the link anchor, highlights images, and estimates where the link appears on the page. With this tool, you can quickly tell quality editorial links from directory links.
The platform has plenty of features for analyzing your (or your competitor's) backlink profile. You can see metrics like the types of links, anchor text, and the follow to nofollow ratio.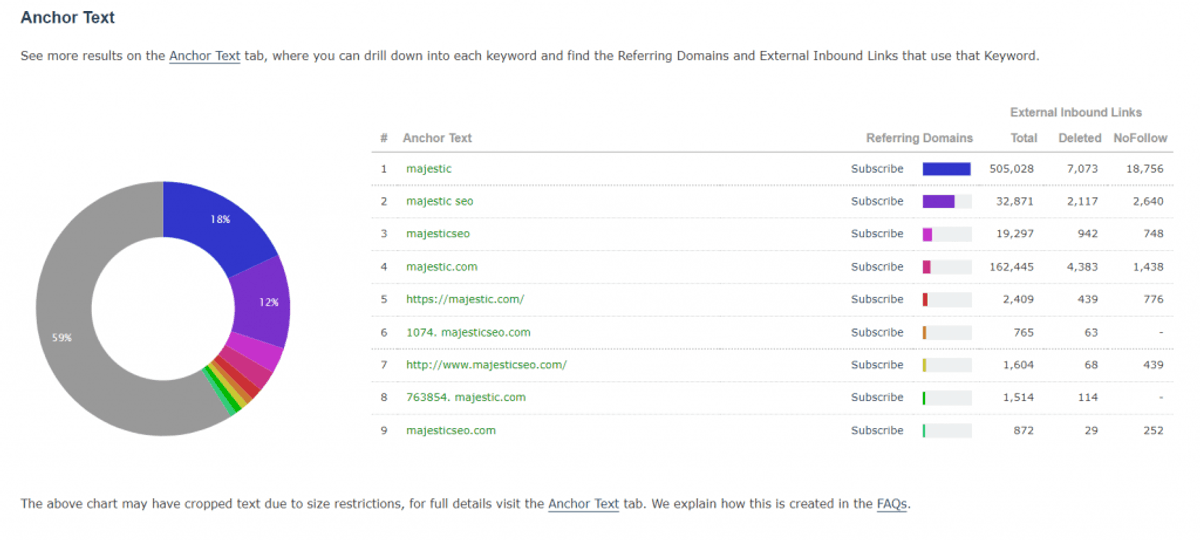 Majestic pricing starts at $49.99 per month for a single user.
4. Linkio
Linkio is software that focuses on backlink outreach. But it also has plenty of tools to help businesses track their link building campaigns.
The tool can:
Provide information about each link, such as its anchor text, the surrounding content, and whether it is follow or nofollow.
Show metrics about each link from third-party tools. Stats from Moz are included and you can integrate Ahrefs metrics if you have an account.
Check link quality by showing which pages are indexed in Google.
Monitor your links and update the data when changes occur.
We especially like the anchor link percentages tool. This shows the percentage of your links with branded, keyword, hybrid, URL, or natural anchor text.
It is an easy way to check your profile and take steps to ensure it stays natural when building links.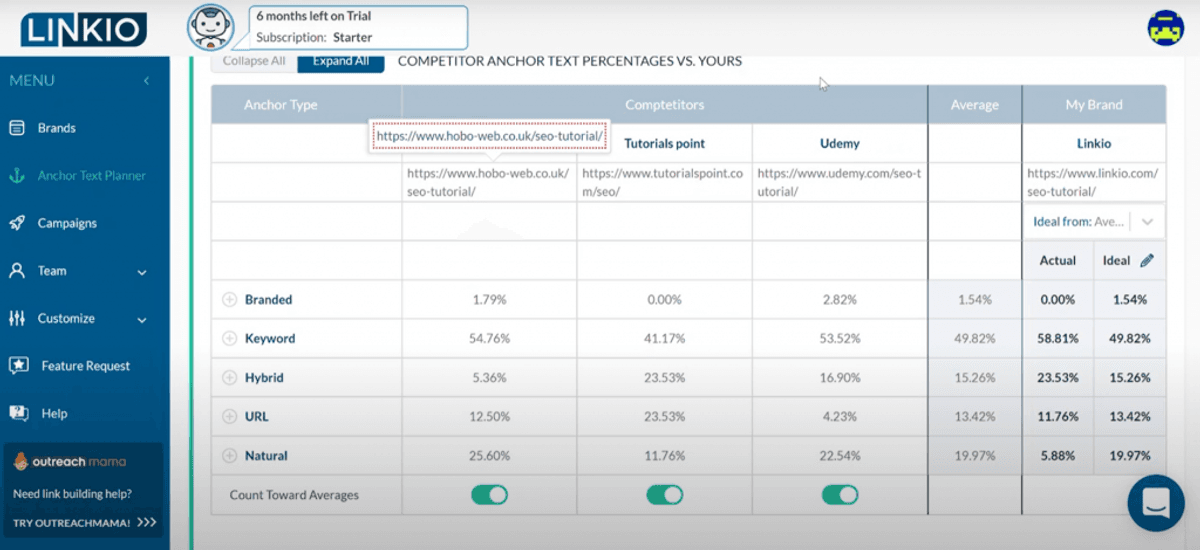 The biggest reason to sign up for Linkio is its outreach automation capabilities.
The platform's automation tool can help you build prospect lists and automate outreach to these targets.
This can be a lifesaver if you need to prospect a large number of websites quickly. Linkio also provides access to keyword tracking and anchor text suggestion tools.
The software starts at $19.99 per month, which lets you use the tools on three websites and analyze up to 10,000 backlinks every month.
5. Link Research Tools
Link Research Tools is a collection of backlink analysis tools that provide in-depth insights into your links and link building campaigns.
Each tool is a crawler. Configure them by choosing the website, pages, or subfolders you want to target. The tool will then provide you with a report with all the information it found.
The backlink crawler provides plenty of insight. It highlights:
Anchor text and link profile data.
LRT Power score, which measures the strength of a website based on the number of links.
LRT Trust score, which shows how trustworthy the domain is based on the quality of links.
When you gain or lose a link.
We especially like that the platform will highlight what it considers to be high-risk links. It will even warn you when you receive a link from a site it thinks is part of a PBN and suggest follow-up actions you can take.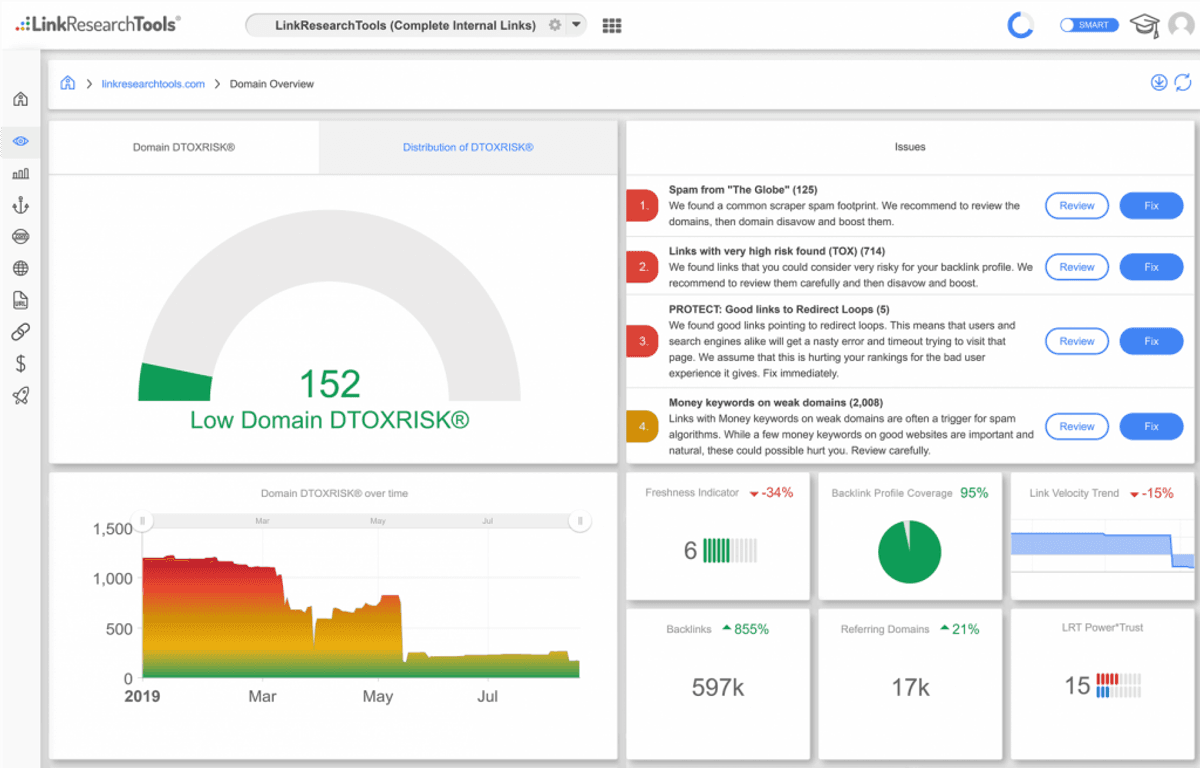 You can run these reports on your own site, or choose to analyze your competitors. The latter will help you spot backlink opportunities.
One of the best things about Link Research Tools is that the platform doesn't just provide this information. It also gives users actionable recommendations that they can use to improve their website, fix issues, and take advantage of opportunities.
While the software is powerful, Link Research Tools is expensive. The cheapest plan is $499 per month for a link crawl budget of 1 million.
6. Ahrefs
Ahrefs is a complete suite of SEO tools. Along with keyword tracking and competitor research, the platform offers impressive backlink monitoring features.
The backlink overview shows how many referring domains and pages point to your site. You can even see the number of new and lost referring domains by month. It's easy to track how your link building efforts are paying off, and you can check this data against your site's traffic.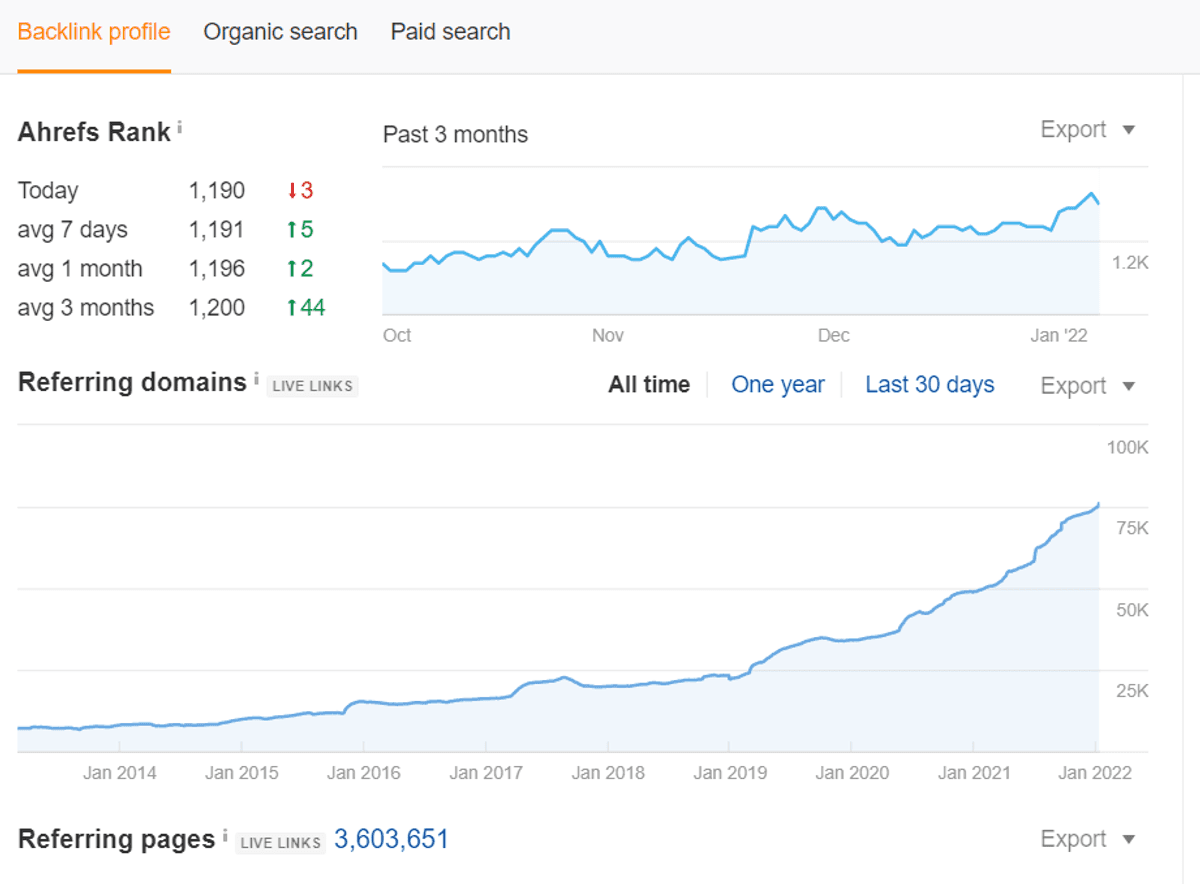 You can also see in-depth data about your links. The backlink checker shows metrics about the referring page, including its domain rating, the anchor text, and the domain traffic.
You can sort this data based on the date the link was acquired, or only show links gained in a specific period. It is an easy way to analyze the quality of your new links.
Ahrefs has plenty of other backlink tools.
You can:
See your competitors' backlinks.
See websites that link to multiple competitors but not your site.
See which pages on your website attract the most links.
Check for broken backlinks, which is when a link points to a page on your site that no longer exists.
The biggest reason to use Ahrefs is if you want a complete suite of SEO tools and powerful backlink monitoring capabilities.
Pricing starts at $99 for a single user, and you can take advantage of a free 7-day trial.
7. Moz
Moz is similar to Ahrefs in that it is a complete suite of SEO tools. Moz's backlink tool is called Link Explorer, and it provides a ton of insights into your or your competitor's backlink profile.
Use the tool to see:
How many links point to your website.
Links lost and gained over time.
Information about your link profile, such as follow vs. nofollow ratio, the anchors used, and the authority of the domains that link to you.
We especially like the link profile comparison tool, which lets you compare your site to competitors and spot opportunities for improvement. Just choose two domains and see how their link profiles differ.
The same tool works for pages and subdomains, so you can compare any part of your website with your competitors.
Another useful feature is Spam Score. This Moz metric analyzes your backlink profile and gives it a quality rating based on how spammy the sites are that link to you.
Use this to discover potentially damaging links and then disavow them.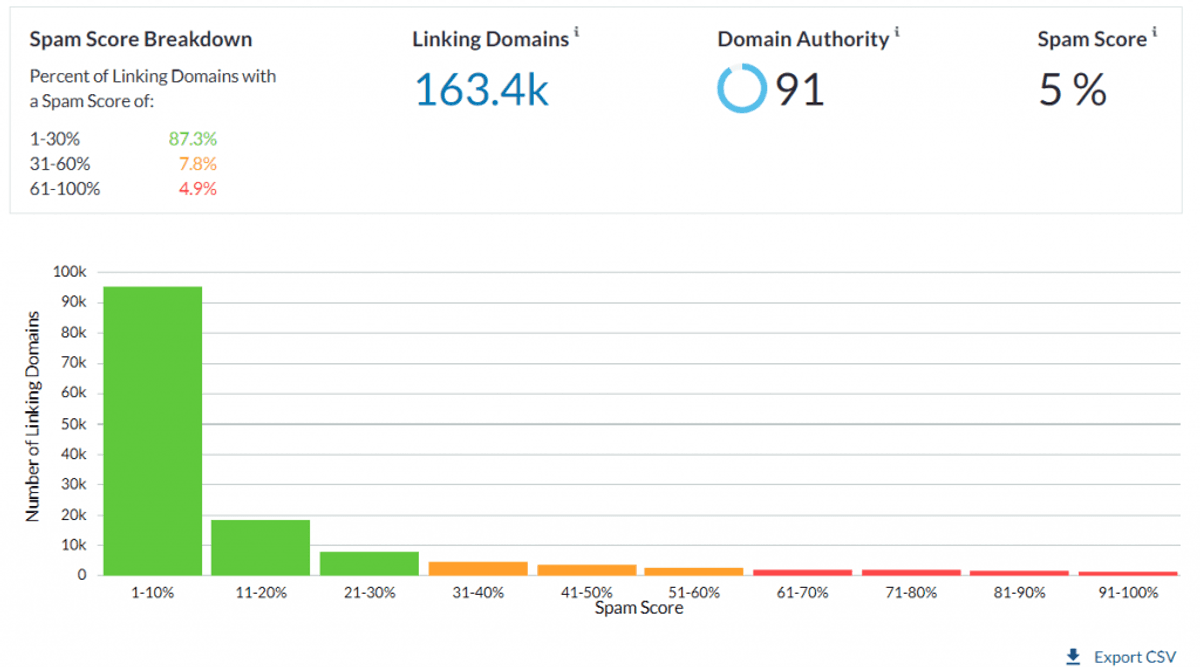 Moz Pro pricing starts at $99 per month. This plan lets you create three campaigns. There is also a free account you can use to test out all the tools using a free account.
8. SE Ranking
SE Ranking is an all-in-one SEO software with potent backlink monitoring functionality that can provide plenty of insight into your backlink profile.
The backlink monitoring tool makes checking your links easy. Use this tool to check your site for links or upload them from Google Search Console. SE Ranking will also regularly check these links and notify you of any changes via email.
With SE Ranking it's easy to see which links are valuable and keep an eye out for spammy links. You can check things like:
Whether links are in text or images
Anchor texts on webpages
Target URLs
Whether links are follow or nofollow
Whether links are marked as sponsored or user-generated content
Data about linking domains and pages
SE Ranking's backlink management feature is handy for tracking costs associated with links. You can assign a manager to each link you generate and record how much it costs. Include placement fees as well as fees for creating guest posts.

This is useful for tracking how much you're spending on links, and you can use the other metrics SE Ranking provides to see if the efforts are paying off.
SE Ranking starts at $31 per month to track keyword rankings for 250 terms. You can also grab a 14-day free trial to test the software.

9. Mention

Mention is a tool that helps brands monitor discussions about their company. It can check mentions on social media, news sites, websites, and blogs.
It works like this:
You choose a keyword or set of keywords to monitor
The software monitors the web for mentions of this term
You receive emails or notifications at a frequency you choose
You can then check more information about the campaigns in the dashboard.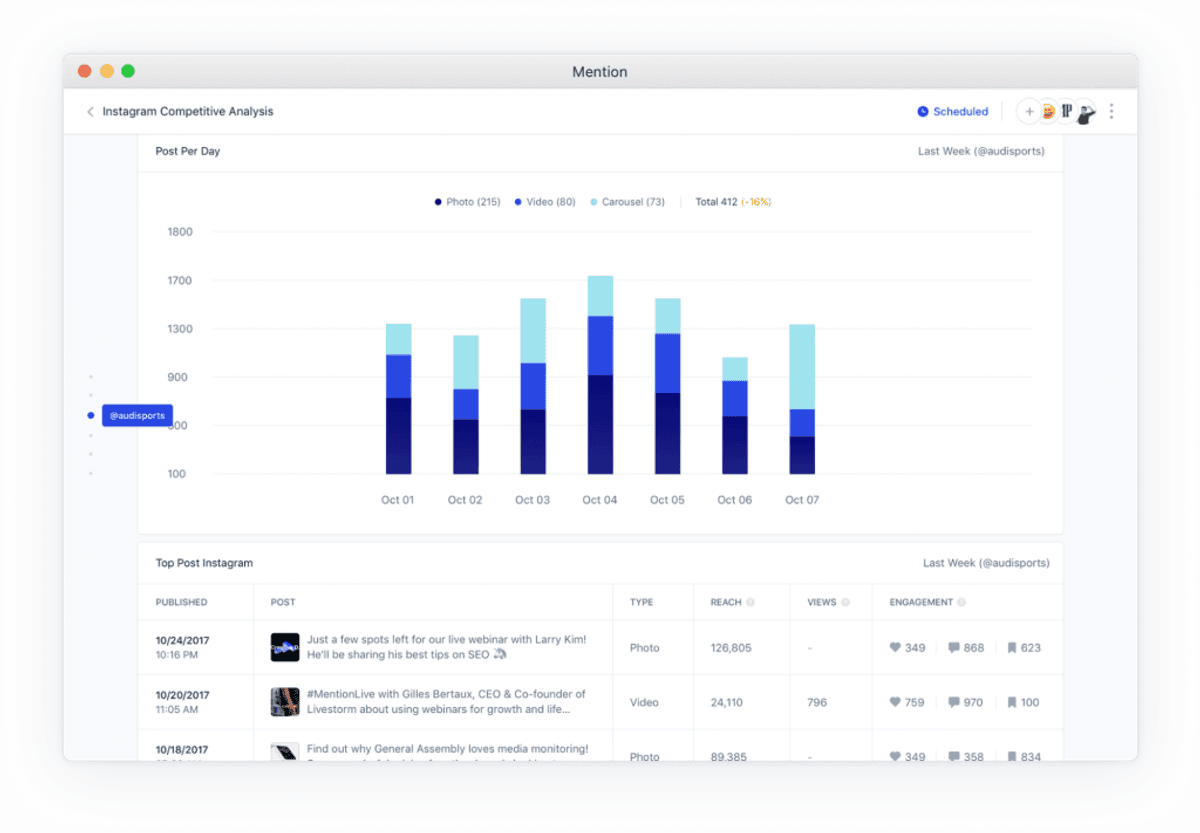 This isn't technically backlink monitoring. The tool monitors all mentions of your site, whether it comes with a link or not.
But you can use this information to look for opportunities to generate backlinks from unlinked brand mentions. This is when you contact websites that mention your site to ask them to add a link.
In many cases site owners will be happy to do so. Even if they aren't, it can be a good opportunity to build relationships with people in your industry.
Pricing for Mention starts at $29 per month for two alerts. You can also try the tool out with a free plan for a single alert.
The Best Backlink Monitoring Tool Depends on Your Needs
The best tool for you depends on what you will use it for. Many people in SEO will already have access to a tool like Ahrefs or Moz. If this is the case, you may find that the monitoring features these sites offer are enough.
If you need tools for specialized link building, one of the platforms we've covered might be right for you.