The internet is full of offers for cheap link building services. Take a look at any freelance marketplace and you'll see plenty of people offering suspiciously affordable products.
Link Building Scams Are Prevalent
They're not all link building scams, but many are. And you need to be aware of what you are getting yourself into if you plan to outsource your link building to one of these cheap services.
That's because building the wrong type of link will at best have little effect on your site, and at worst can destroy your search Google rankings.
Google lays its rules out clearly in its Search Guidelines. They specifically warn against using any kind of link scheme.
This includes activities like:
Buying and selling links.
Excessive link exchanges.
Using automatically generated links.
Building low-quality directory or bookmark links.
If the service you choose uses any of these methods, it could leave you at risk of a Google penalty.
With that in mind, here are five types of link building scams to avoid.
5 Link Building Scams That Hurt Your Search Engine Ranking
1) Use of PBNs
Private Blog Networks (PBNs) are networks of websites used as a quick way to build a large number of links to another site.
PBNs can be an effective way to increase your ranking, but only until Google discovers the network. When it does, it will reduce any effect generated by the links and give a manual penalty to linked sites.
PBNs are often used by website owners to boost their own sites.
But link builders love PBNs too because they allow them to rapidly build links to a client's page while putting in almost zero effort.
The challenge with spotting PBN websites is that they can appear to be valuable links.
If one of the sites is built on an expired domain that was once home to a legitimate site, it can have very high domain metrics on tools like Ahrefs. The screenshot below for a site we found called IndyPosted shows a great example of a spam site with good metrics.
Despite the high metrics, there's no value in getting links from these sites if they are now part of a PBN. And they may harm your search engine rankings.
How to Spot Link Building Services That Use PBNs
There are several tell-tale signs that suggest a service is using a PBN.
Look out for promises like:
Links from a high number of sites.
Guaranteed placement on high DR sites.
A specific number of links.
Links going live in a short time frame.
Low prices.
No ability to approve or reject sites.
Be very wary if the service you are considering shows any of these red flags.
Beware Deceptive Domain Metrics!
Don't rely on metrics like DA and DR when measuring a site's quality. Also check out its content, traffic, and the keywords it ranks for. We have a full guide you can use to spot spammy websites here.
This is probably the biggest issue out there right now.
Not all scams occur when you buy a link building service. This next example can happen even if you do your own outreach.
Let's say you have reached out to an automatically generated list of sites. A few days later, you get a reply saying that the website will link to your page for a fee.
This isn't entirely unusual.
Website owners know the value of links and often charge a placement fee to cover the effort they have to go through to place the post. If the link is good quality and likely to affect your Google Search results, it can be worth taking a site up on the offer.
But how do you know if the fee you are quoted is actually worth it? And that the site isn't simply a link farm (a website designed to earn money by linking to other sites)?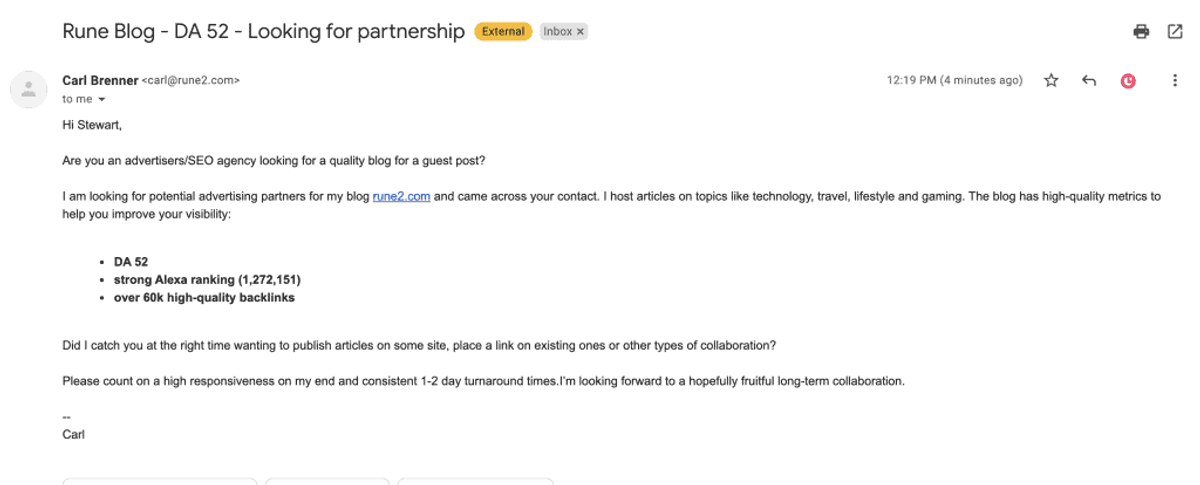 How to Spot a Link Farm
The good news is that link farms are easy to spot.
Look out for:
A basic template design.
A lack of contact information or details about the people running the site.
Articles that either don't have an author or are labeled as "Guest Author."
Articles on a wide variety of unrelated topics.
Very little original, non-guest-post content.
Suspicious outbound links in many of the articles.
Ranking for exceptionally spammy keywords
Sites that show these signs should be avoided. At best you'll waste some of your cash, and at worst they'll damage your site's search results.
Oftentimes, there will be hundreds of these sites on the same network.
Below is an example of a site within a link farm - You can see it's ranking for spammy keywords.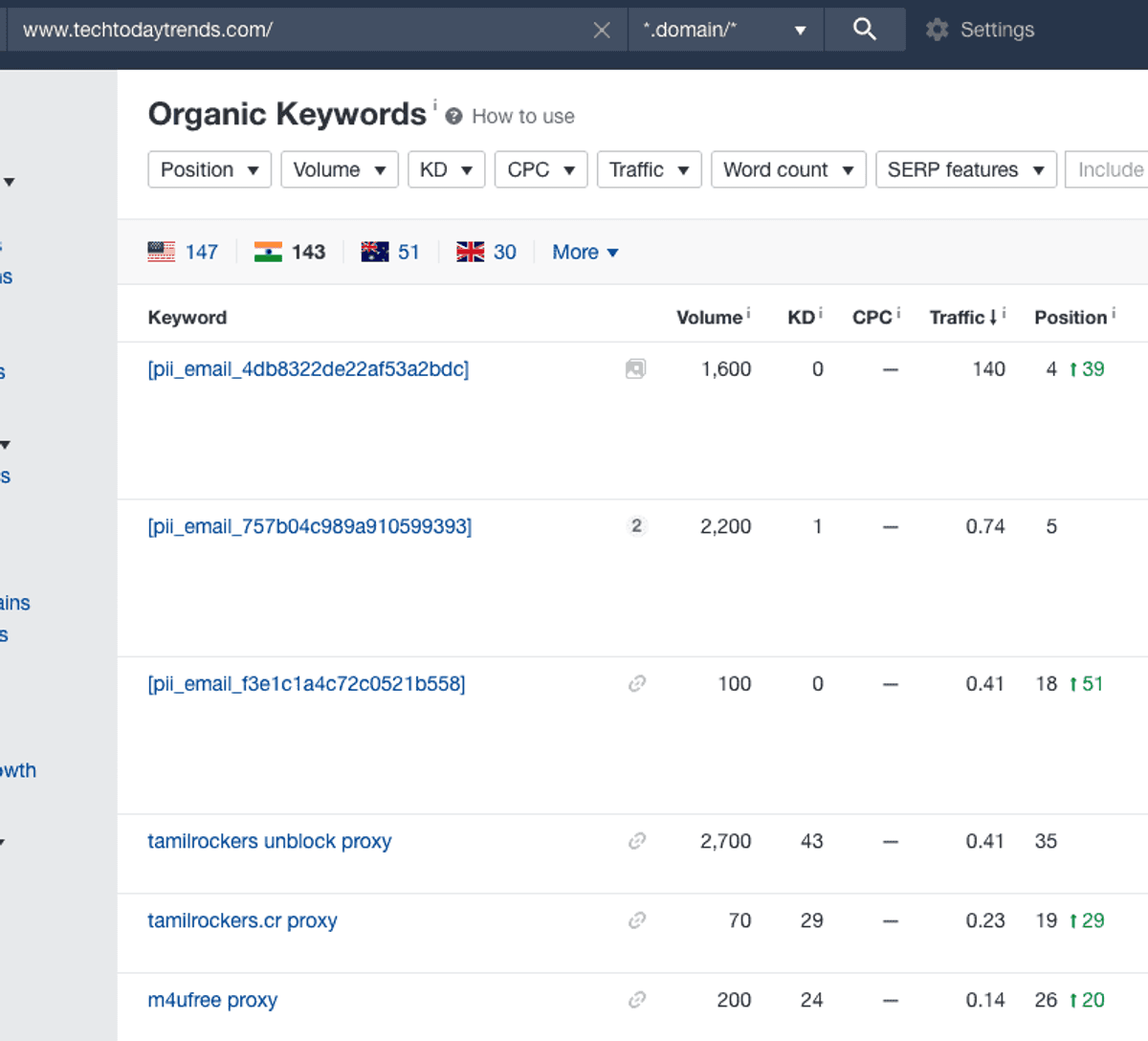 The #1 Telltale Sign
Many link farms will rank well for random error queries such as "[pii_email_4db8322de22af53a2bdc]" or various proxy or pirate movie searches.
The website owners do this to artificially inflate the organic traffic score, so it looks like this traffic is actually generating a good volume of traffic.
Additionally, they'll get a whole ton of links from Web 2.0s including Google, which artificially bloats the DR (domain rating) score as well.
That's another reason why you can't always trust metrics!
3) Low Quality Directory, Comment, or Forum Links

Spam link building services love methods that help them build links to a page without putting much effort in. It lets them keep your money while seemingly providing results.
The previous point on PBNs is one way they do this. Another is by generating low-quality links on forums and directories.
Link building services know they can use these methods to guarantee a high number of links in a short time frame.
There's not necessarily anything wrong with directories in general. But this type of link will have at best a minimal effect on your Google Search ranking, and at worst Google will penalise you for building unnatural links.
How to Spot Link Building Services That Use Directory Links
This type of service tends to be easy to spot. In fact, they will often mention exactly what they are doing.
The issue is that they will also suggest that this type of link has value, when this is not the case.
Here are some tell-tale signs:
Guaranteed links.
Very low cost.
High number of links in a short time frame.
But Wait! It Says the Service Is White Hat.
One thing you'll notice about link building scams is that they often claim to use white hat SEO tactics. Remember that the term "white hat" is ambiguous at best and anyone can claim that what they are doing is white hat—whether it is or not.

Never take this term at face value. Instead, analyze the service they claim to offer. That's the only way to know for sure if you are happy with the service. Read more about the differences between white, grey, or black hat here.
4) Fake Guest Posts
Guest posting is a common way to generate links. When done well, it can be effective. But some link building scams will take your money in exchange for placing guest posts on sites that offer little value.
Often these services will just be placing guest posts on PBNs. Occasionally they claim to place guest posts on legitimate sites.
How to Spot Fake Guest Post Services
These can be harder to spot, as guest posting can be a legitimate link building strategy. While publishing guest posts on PBNs is always a bad idea, the line between a good and bad guest post on a third-party site is a little less clear.
Be very wary of any services with the following red flags:
They claim to have a relationship with websites or blogs: This may mean the sites are at risk of becoming guest post farms.
They charge a very low fee: Pitching and writing guest posts is expensive. If the fee doesn't cover the cost, something is amiss.
Fast turnaround time: This suggests some kind of relationship with bloggers that allows guaranteed placements.
If you find a guest post service that you want to try out, consider asking the operator to reveal the page they will place the guest post on. You can then perform your own checks on the domain.
👉 We've put together a list of reputable guest post services.
5) Unproven Link Builders
Sometimes you'll come across a service that ticks all the boxes. It seems to offer an outreach-based service for a reasonable price and has generated impressive traffic results.
The only issue is that the service's homepage doesn't provide any specific details about their previous campaigns. They claim results but can't prove them.
In this case, you may have found an inexperienced link builder or agency. These people will often make big claims about their service and experience without backing it up.
Maybe they have full intentions of building white hat links for your site. They might even be good at it. But without a track record of success, hiring them is gambling with your budget.
And if the service or website is claiming big results despite not actually having achieved them, it's not a good sign for the relationship going forward.
How to Spot Unproven Link Builders
Let's split this point into two categories.
The first is link builders who are upfront about their lack of experience. Maybe they have worked in an SEO agency and have some idea about what they are doing. They just haven't yet gone out and done it on their own.
In this case they might be worth gambling on, especially if you have a limited budget and they are willing to provide a discounted service as you're one of their first clients.
Just be sure to discuss their strategy so you know exactly what they plan to do before you hire them. And be aware that it might not work out.
However, if the link builder claims results that they haven't achieved this is a huge red flag that you should avoid.
Here are some ways you can spot the second type of service:
No link building service will give away all their secrets in case studies. But they should be able to provide some specifics about their results. Ideally, you want to see examples of the links they have generated. If they aren't willing to share this, even in private, that's a huge warning sign.
Anyone can create a fake SEO recommendation, so check if the testimonials on the website mention specific brands. It's a huge flag if they don't, especially if they won't provide further details in private.
Check their website. As a link building service, they should have plenty of great links pointing towards their site. You wouldn't hire a web designer with an ugly website or a writer with a page full of typos, so don't hire a link builder with a site that hasn't attracted any links.
Our #1 Tip When Choosing an Agency
The SEO industry isn't regulated. There are no certifications you need to start a business in the field. This means it's open to chancers who want to make money but have no skills or experience. Always ask for testimonials and case studies before hiring an agency so you can make an informed decision.
How to Choose a Trustworthy Link Building Service

We've covered some of the scams you should look out for when choosing a link building service.
The next question is: what signs suggest an agency is trustworthy?
Here are some factors you should look out for:
Case studies with specific details: At LinkBuilder we have a large library of case studies that name clients, detail exact strategies, and show examples of the links we have generated.
Links pointing to their own website: Our domain has plenty of high-quality links pointing to it. Anyone with a subscription to Ahrefs or another SEO tool can confirm this themselves. Or just check out the screenshot below.
Realistic guarantees: At LinkBuilder we are confident in our process, so we guarantee a minimum number of links each month. But we never guarantee links on specific domains or pages. That's because we use authentic outreach that is different for each client. The sites that link to our clients only do so when they like our proposal.
Displays of expertise: The LinkBuilder blog contains plenty of articles that demonstrate our knowledge. Anyone visiting our website can find out more about the strategies we use by reading these articles.
An appropriate price: Building links is expensive. At LinkBuilder we have a dedicated team of full-time link building specialists. We also need to pay freelance writers, designers, and programmers to create linkable assets and guest posts. The price you pay should reflect what is required to generate quality leads.