If you're interested in link building, it's important to understand the various metrics available to you. Domain authority (DA) and domain rating (DR) are two valuable metrics for link-building campaigns.
These two measurements are typically used to help identify the right websites to target for your link-building outreach efforts. However, they aren't the only metrics you should be analyzing.
DA and DR technically indicate a website's domain strength. This is determined by the number of backlinks that point to a website.
If you acquire quality backlinks with high authority, this should result in a high domain strength score.
The thinking behind websites with high domain ratings and domain authority scores is that Google's algorithm might consider them authoritative sites, making them more likely to rank well in search results. These scores are a vote of confidence for your website.
In most cases, the theory behind DA and DR is accurate. The most authoritative sites on the web typically have high DR and DA scores.
It's worth noting that DA and DR are not metrics Google considers when ranking websites in its search results. Instead, these metrics have been created by SEO tool developers to help digital marketers with their SEO activities, like link building.
In this article, we will explain:
➡️ The definition of the domain rating and domain authority metric.
➡️ How you can use these metrics to determine page authority.
➡️ How to use these metrics to build high-authority backlinks.

What Is Domain Authority and Domain Rating?
Domain authority (DA) is a metric invented by an SEO tool called Moz. When calculating the score, the Moz algorithm considers both your total number of linking root domains plus the quality of these links.
What Are Quality Links?
Quality backlinks are those that are relevant, valuable, and appear naturally in online content.

There are several free tools you can use to check your DA score.
This metric also rates the relevance of a website for a particular topic, niche, or industry and how likely it is to rank in search results as well as how many backlinks it has. However, it doesn't guarantee that you will rank well.
Another metric created by SEO tool developers is domain rating (DR). Ahrefs uses this metric to determine the strength of a website's backlink profile based on the quality and total number of links it includes.
Using the DR metric for link building is a great way to see the number of links pointing to a website you are considering targeting in your next link-building campaign.
However, it's worth noting that these two metrics determine a website's domain strength based on its backlink profile and not much else.

The problem with these link-building metrics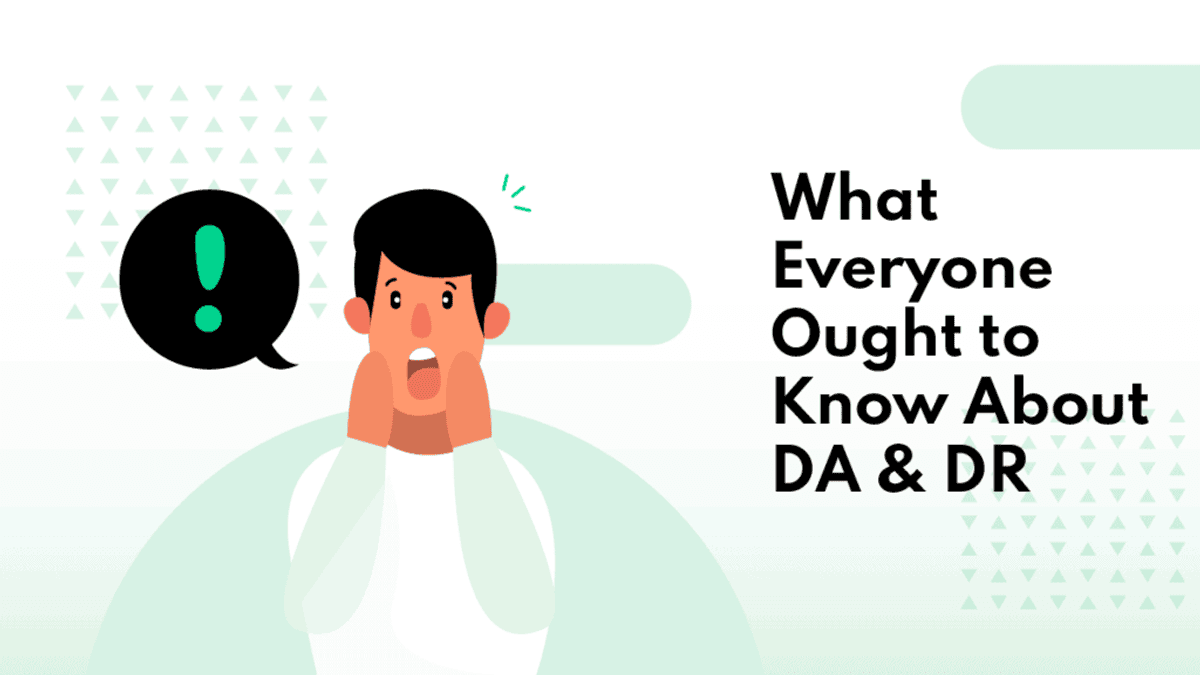 While DA and DR are useful metrics when analyzing the authority of a website and identifying sites to target for link-building purposes, they have limitations and are open to manipulation.
Some SEO pros manipulate these metrics to sell links on low-quality websites.
For example, you can change your score by redirecting old sites to your website, increasing your DA score overnight. You can also buy expired domains and do the same thing.

What Is an Expired Domain?
This is a domain that has not been renewed by the owner at the end of their contract. Domains become available for re-registration about 30 to 90 days after they expire.

However, manipulating these scores is a risky business. The unnatural links you'll acquire can signal to Google that you are violating its Webmaster Guidelines and this could result in a penalty—also known as a manual action. This penalty can significantly decrease your rankings.
So it's essential to consider a wide range of metrics and rating factors rather than focusing solely on DA and DR

How We Manipulated our own DR Score
In the name of SEO science, we ran an experiment to prove once and for all that DA and DR can be easily manipulated.
Here's what we did:

We paid $300 to a freelancer on Fiverr who promised to achieve a DR score of 60 for our sister website, PPCGenius.io.
📈 Within one week, the DR increased from DR 30 to DR 60.
The links were low-quality. They were spammy links from single-page domains with a respective DR score of 0.1
This leads me to believe that Ahrefs and Moz are placing a much greater weighting on homepage links, and having these can therefore artificially inflate your DR or DA scores.

📹 You can see exactly how we did this in the video below:
There are plenty of sites with a high DR score, which are low-quality with spammy links pointing to them. A link from one of these sites is unlikely to improve your rankings. It could even hurt them. This will be especially painful if you have paid a link-building service for one of these high DA or DR links.

How low DR sites can still rank
Having a low DR or DA is not a barrier to ranking well on Google.
A hen party planning business called Flock Events has a DR score of just four. However, it's ranking at the top of Google for many competitive keywords, such as:
#1 Hen Party Scotland
#1 Hen Party House Scotland
#1 Party House Scotland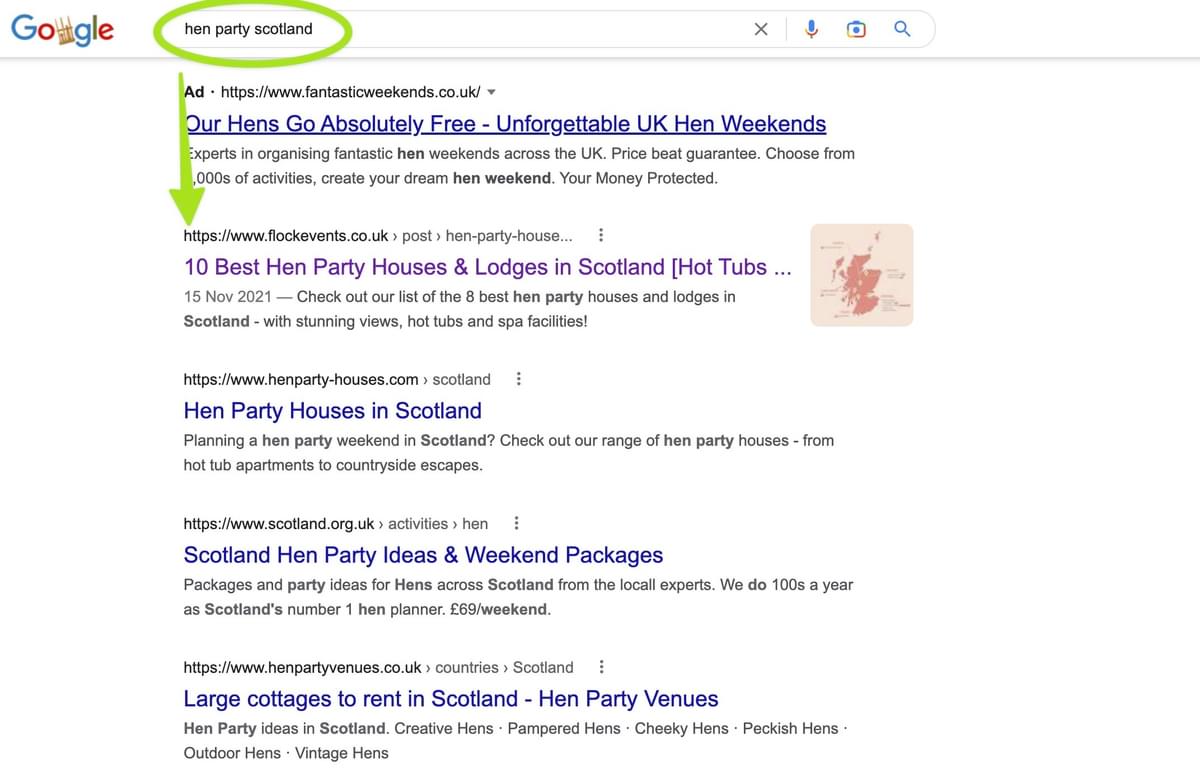 How is this possible? 🧐
Because we focused on just building six to seven high-quality, relevant links from wedding-related UK websites. That's right, just five links can get you the second spot in search results.
This, and some great content, is all it took for us to get this new website ranking.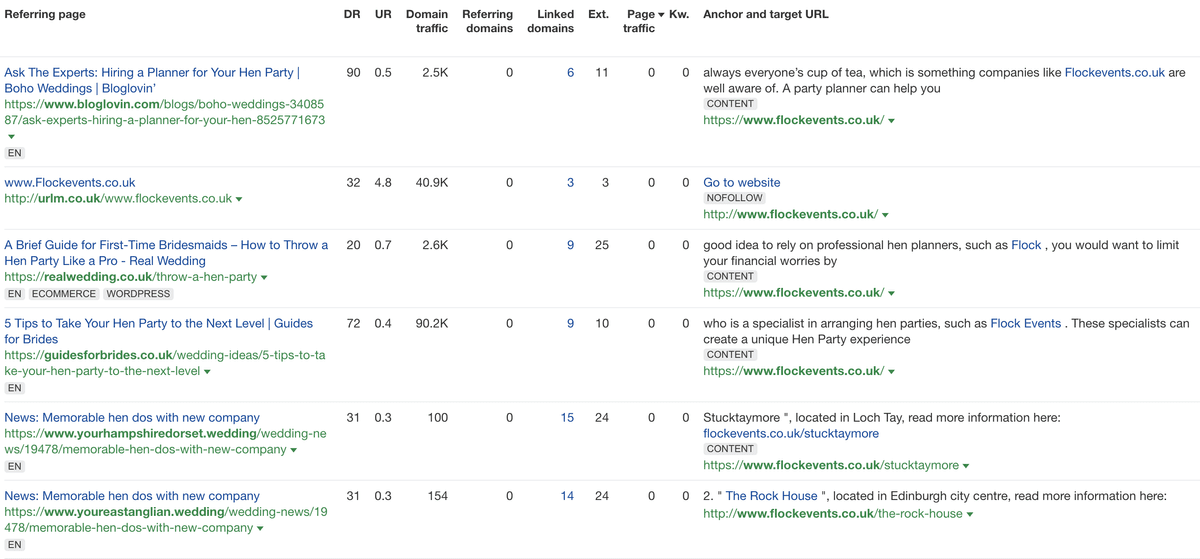 This proves your DR or DA score does not determine your search engine ranking. Instead, the quality of your links and your content is what search engines analyze.

DA and DR fluctuate wildly
Another reason to rely on DA and DR metrics to measure your link building success is that these scores fluctuate significantly from one metric to the next.
Let's take at how our own website LinkBuilder.io performs according to the various 'authority scores' from the three most popular SEO tools:

Domain Authority (Moz): 29

Authority Score (SEMRush): 40
Domain Rating (Ahrefs): 61
🧐 This doesn't make much sense, right?
There's an obvious discrepancy in the scoring system across all of the major SEO software platforms.
According to Moz, we have a domain authority score of only 29. Despite this, we rank exceptionally high in Google search results for most core keywords related to link building.

🧐 We Look Beyond DA and DR
Here at LinkBuilder, we go beyond DA and DR when assessing sites in our link-building campaigns.
Yes, we use these metrics—but we also consider organic traffic, content quality, anchor text ratios, and more to ensure we get an accurate overview of a site's value.
This ensures our clients only get high-quality links from sites with real traffic.

How to Find High-Quality Websites for Your Link Building Campaign
If you don't only use DA and DR, what else should you consider when choosing which websites to target when building links? Here are a few factors that typically indicate quality sites you can include in your outreach efforts.

Design
Guest post farms and private blog networks (PBNs)—both black-hat link-building techniques—often use a basic blog template without applying any custom design. These sites will typically only use stock images.

Good sites to target usually look like the owner has put some effort into the design. Look for custom elements, quality logos, and unique images.

Content
Low-quality content is a tell-tale sign of a bad site. If the majority of the recent articles are thin and poorly written, it probably means:
👎 They are low-quality guest posts used to build backlinks.
👎 The owner is trying to hide that their site is a PBN by uploading original content—like a blog post or two—at the lowest possible price.
Quality sites worth targeting in your campaign will have original, well-written content that complement the overall theme and design.
Outgoing links
Sites that are only used for link building usually have unnatural outgoing links. These links add little value to the content and generally look like they don't belong in the article. You want to avoid these websites entirely in your link-building efforts.
Here's an example of a link placement to a casino website, which just appears very unnaturally 'stuffed' into the article: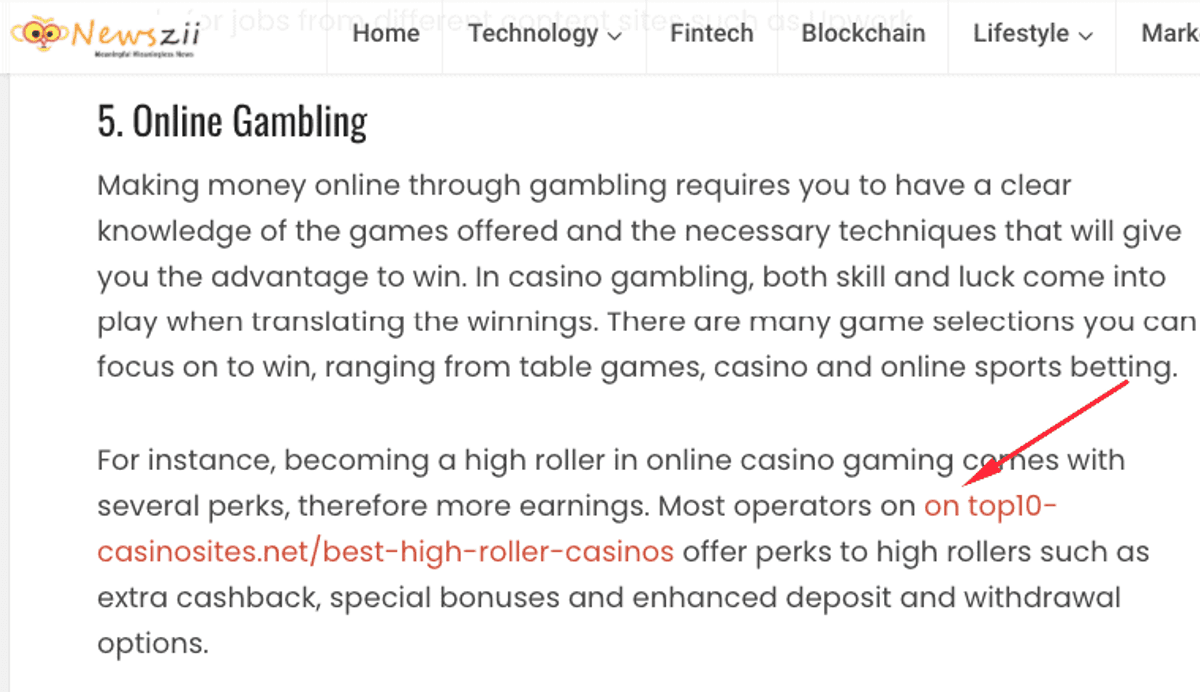 Good sites often link out to other websites. But when they do, the link adds value to the content. It may point the reader to a helpful resource or strengthen the author's argument by referencing a statistic or report.

Topics and categories
PBNs and backlink farms often publish basic content on tons of random categories, such as:

Business.

Marketing.

Health.

Education.

Finance.

If there doesn't appear to be any content creation strategy to achieve a goal—for example, to rank well on a search engine or please an existing readership—the content may have been written purely for backlinks. This is an indication of a site you definitely don't want to target when building links.
Good sites to target will usually write articles on a particular theme or topic. Each piece of content will have a target audience in mind and be written to appeal to them.
Company information
PBN owners don't typically want people to know who is running their site. A missing about us or contact web page, or pages that contain vague information, are big red flags.
Owners of good sites will make it easy for people to contact them. They will have an about us page with photos and profiles for the website's owners and contributors. They also have contact pages and maybe even active links to social accounts.
Other SEO Metrics to Consider
In today's online world, there are so many readily available link-building metrics to consider other than DA and DR.
Here are some link metrics you can use to analyze an entire domain and identify authoritative, high-quality websites to target in your link-building campaign.

Organic traffic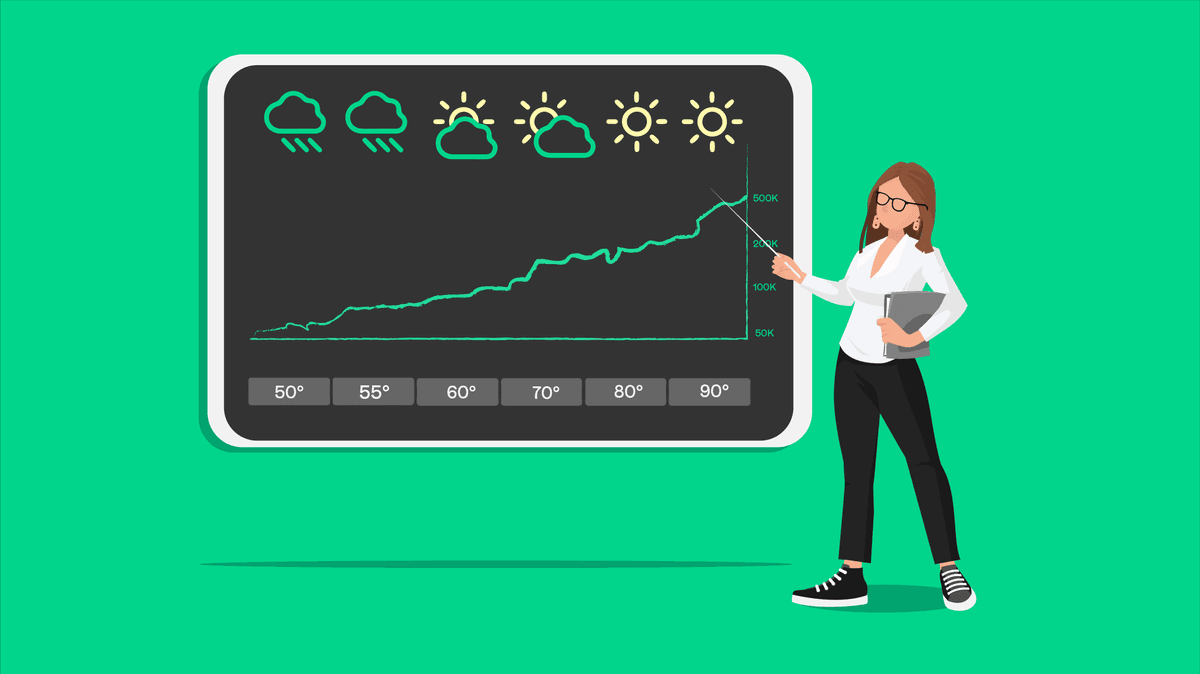 Organic traffic indicates that Google's algorithm likes the site and considers it an authority in a niche.
A website with organic traffic has a recurring audience that is clearly interested in the content on your website.
PBNs and link farms rarely have more organic traffic than other websites.
Also, look for organic traffic trending downwards as a sign that Google has penalized a site.
The easiest way to check how much organic traffic a website receives is via Ahrefs, but you can use many other reputable free tools.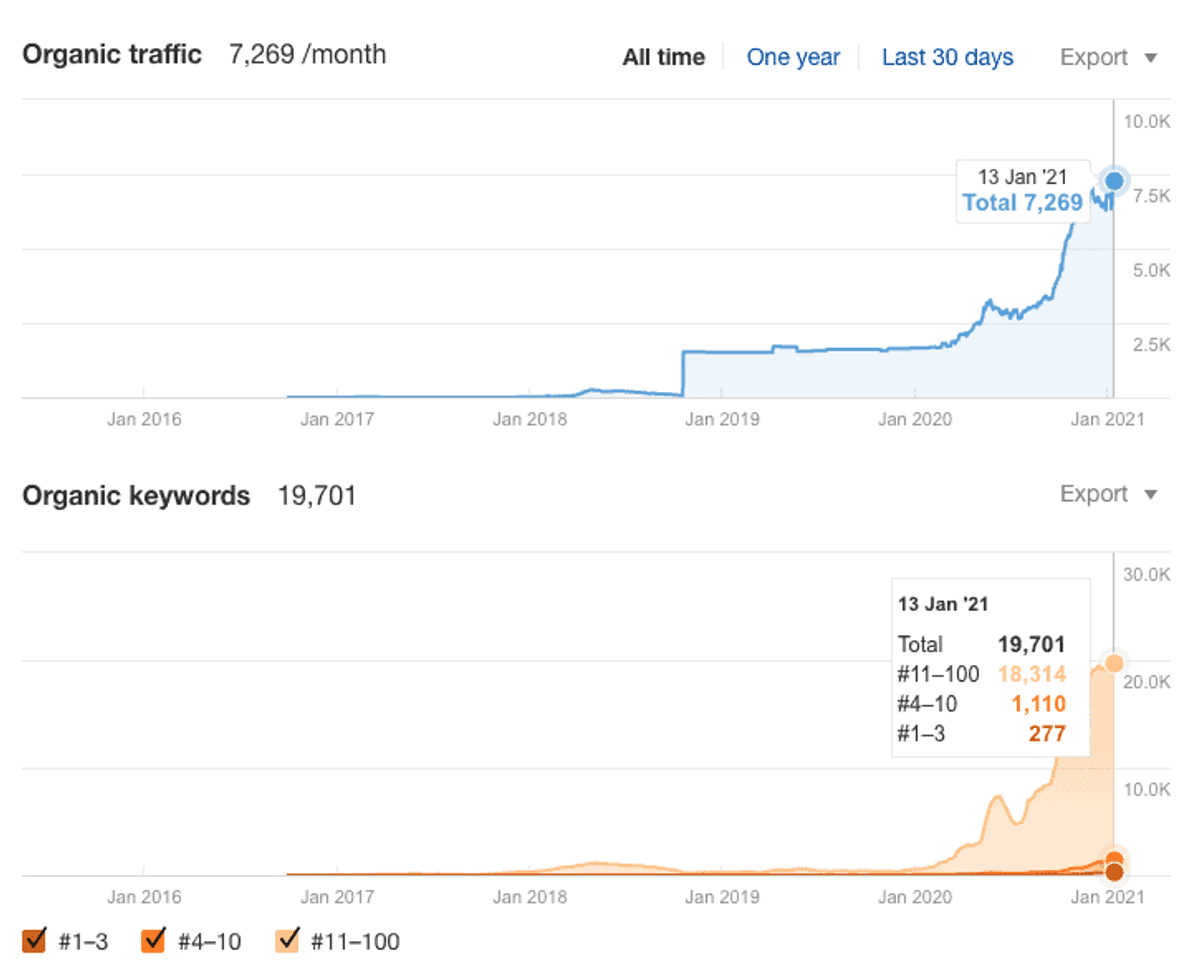 Keywords
Occasionally, a poor-quality site will get traffic from noncompetitive keywords. They target them because they are high-traffic keywords with little competition—even if they are completely irrelevant.
Look for keywords related to adult content, movies, piracy, coupons, and torrents—topics legitimate businesses wouldn't value.
Below is a tech site with decent traffic volume, but all the keywords are nonsensical. This is an example of a website not to target for link building.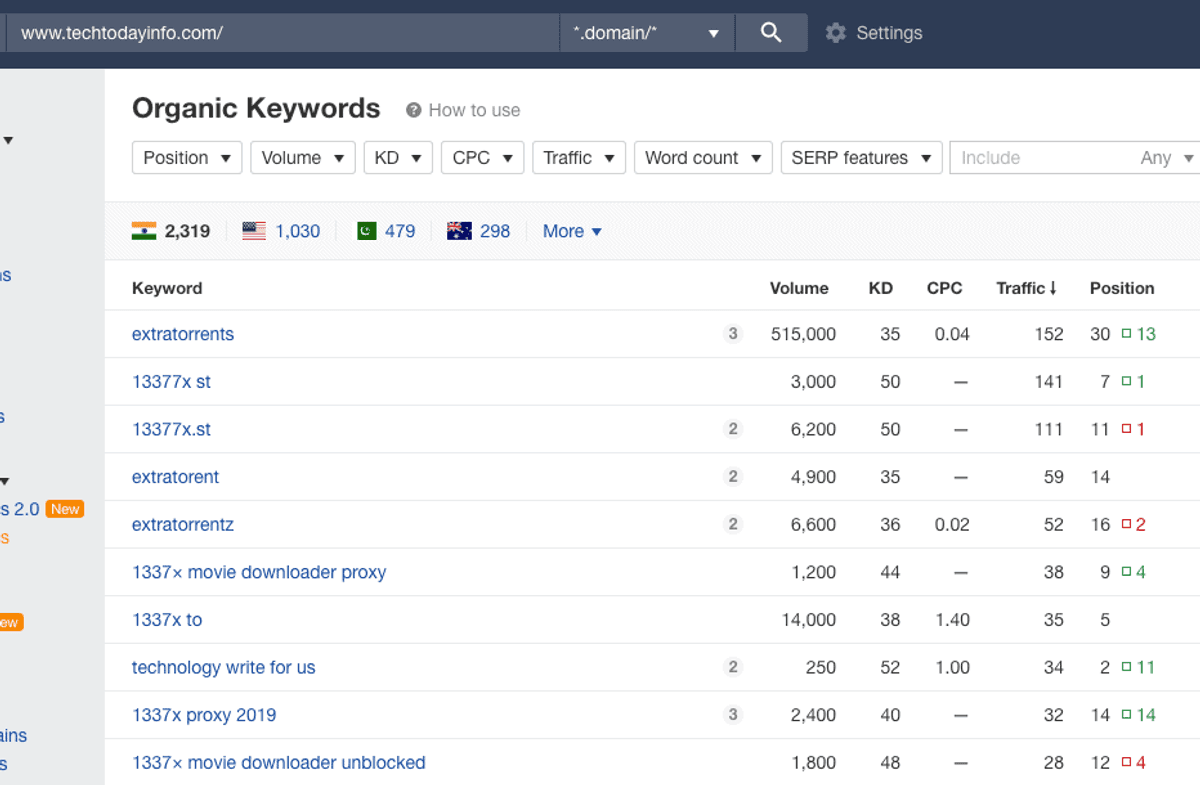 If a site is ranking for difficult keywords, it's a good sign that Google's algorithm trusts it.
For example, at Linkbuilder.io, Ahrefs says we only receive 1,000 organic monthly visitors (the real number is much more). However, the quality of our traffic is high, and we rank for some very valuable keywords.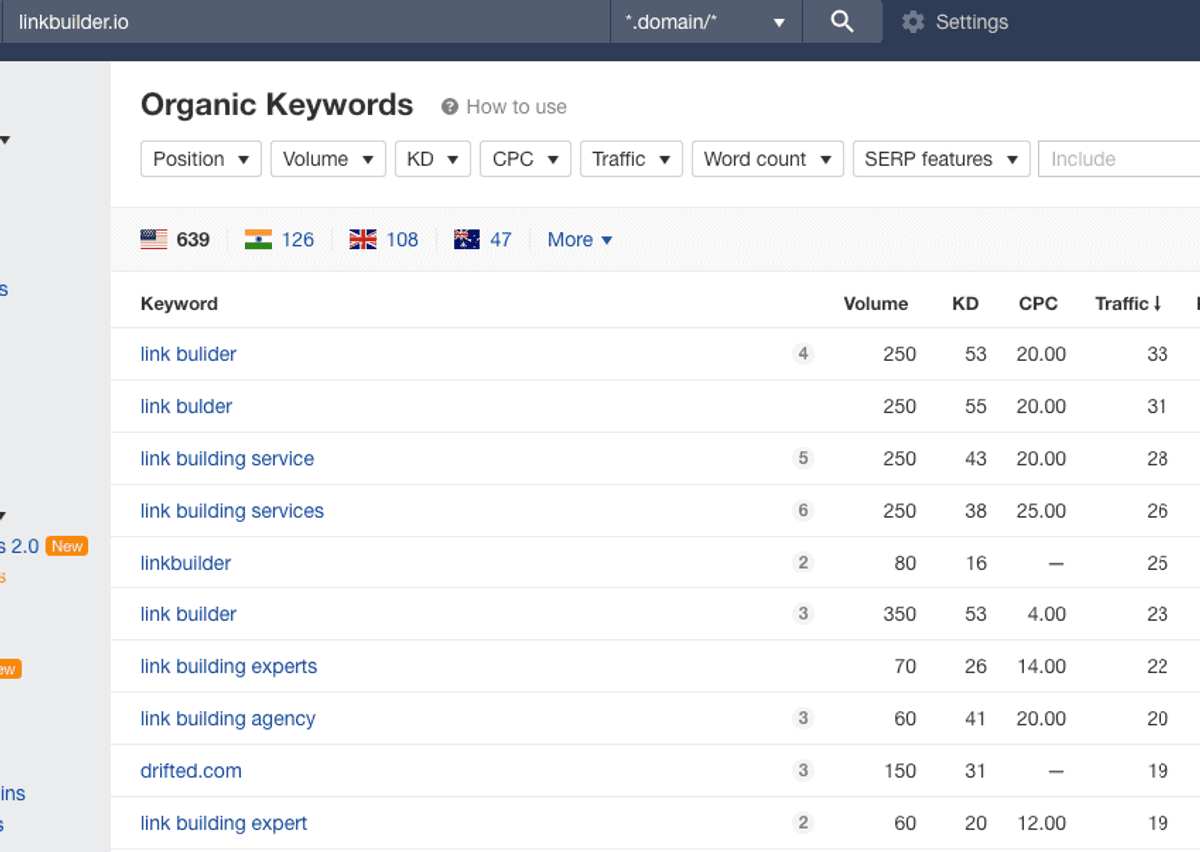 We want to build links from sites that rank well, regardless of their DR score.

Traffic value
This is another way to see the value of the keywords a site is ranking for. A high traffic value suggests the site is hitting good, competitive terms.
If the traffic value is less than $5,000, that's solid. But again, it's very important to check what types of keywords the site is ranking for. You should be wary of a traffic value lower than this amount.
Anchor text
When people link to a web page organically, the links are relevant to the article and they fit the content seamlessly, for example:

Branded anchor text: Nike, Ahrefs, Linkbuilder.

Natural anchor text: Click here, check out these ideas, or in this article.

Exact keywords: Link building agency, best sweaters, SEO tool.

Naked URL: https://linkbuilder.io
Check our detailed guide to anchor text for more information on this topic.

Inbound links vs. outbound links
A high volume of recent outgoing links but few incoming ones is a strong sign that a site is being used purely to provide backlinks.
Outgoing links and anchors
Good websites typically link to easy-to-find quality content that adds value to articles.
PBNs and link farms will typically show many keyword-based anchors on their outbound links because this is what people buying links usually request.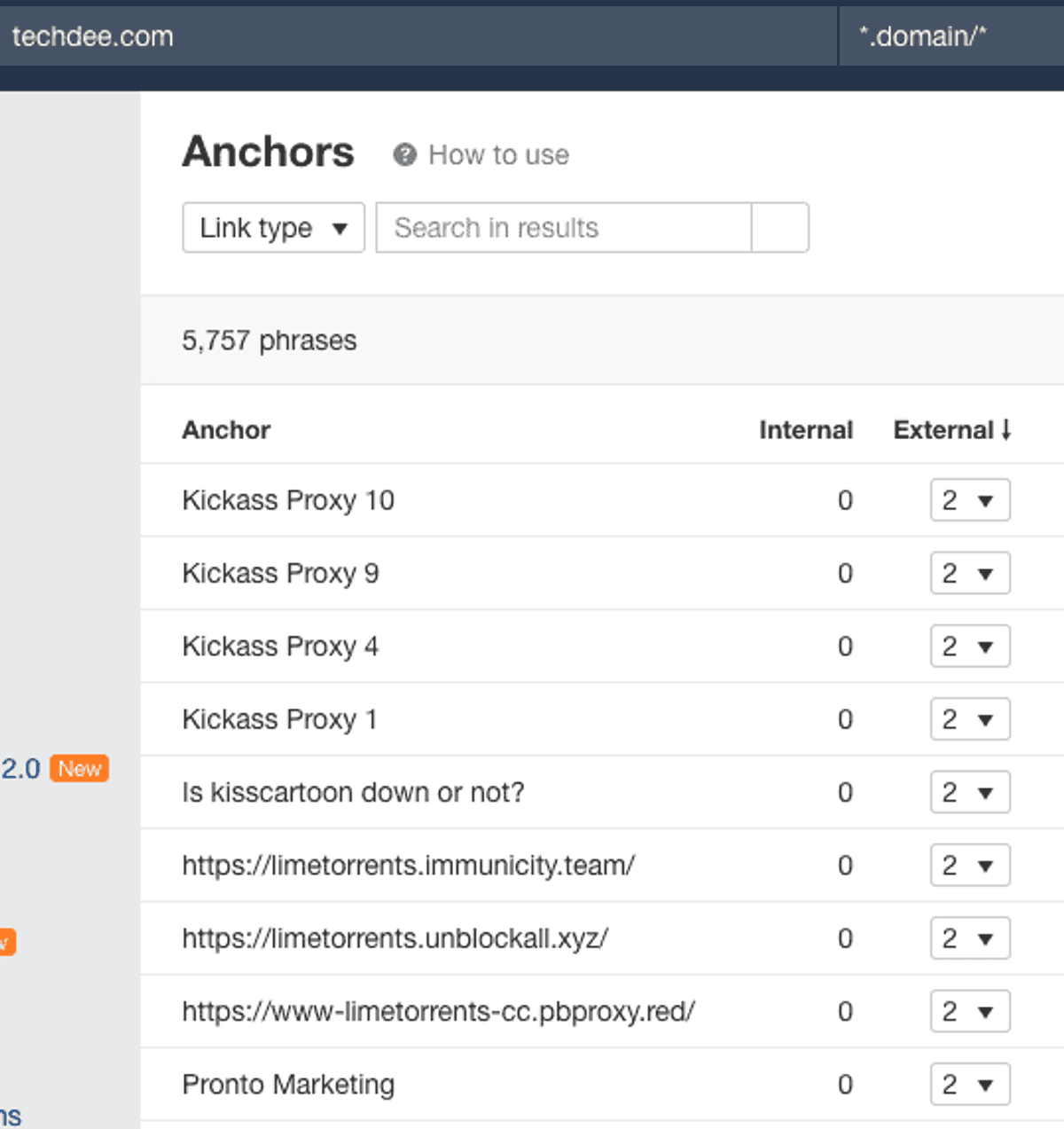 The links may also be dropped randomly into the middle of a sentence without providing much value.

Examples of Sites You Shouldn't Target for Link Building
Let's look at some real-world examples of the types of websites you should avoid when building links.

Remember, there's no such thing as a free lunch when it comes to link building, and any cheap offers are cheap for a reason.
Check out our article on link building costs for a better idea of how much you should expect to pay for good links.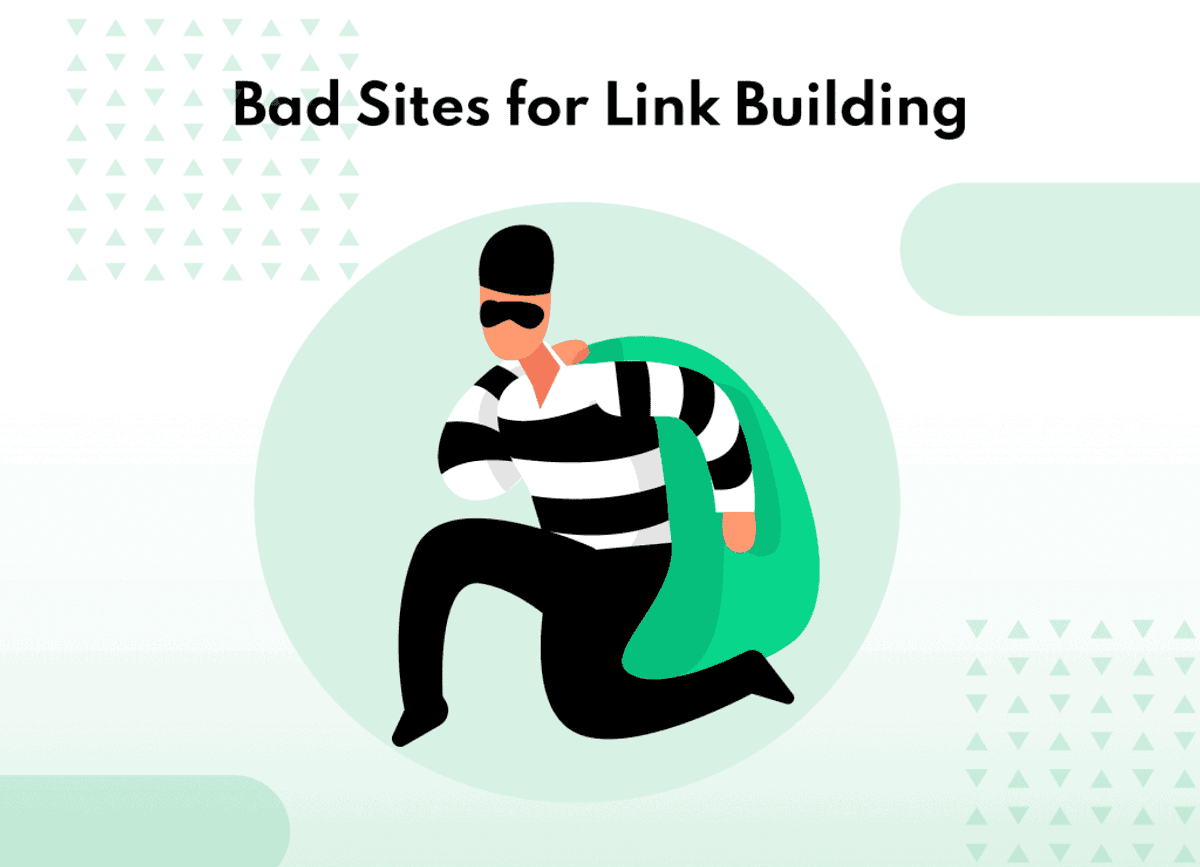 Indy Posted!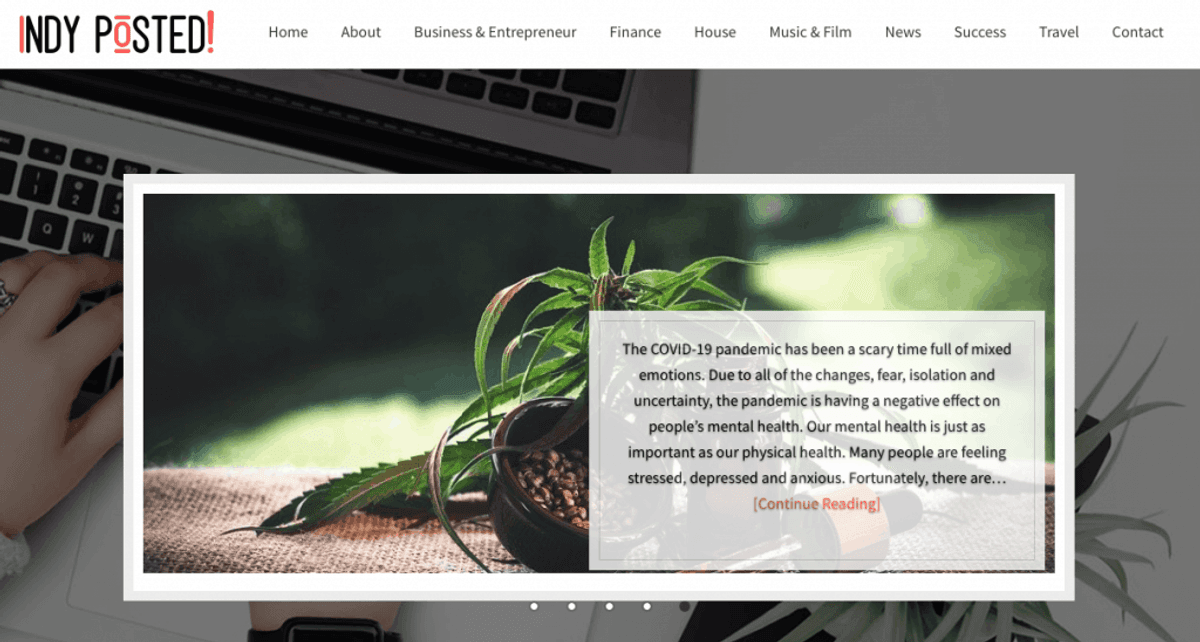 Indyposted.com is a DR 38 site with almost 2,000 referring domains, including two high-value .gov and .edu sites. It's been around since at least 2014.
But this is where the positives end.
The biggest red flag is that despite the relatively high DR, the site gets almost no traffic. Just 53 visits a month according to Ahrefs.
Things get even worse when you look at the website. It has a seemingly random selection of poorly-written articles covering topics like slot games, health, sales tax, and finding online steroids.
This is especially strange considering the About Us page suggests the site will cover topics like music, film, finance, and business. The only value of these posts is for link-building.
And while it's good that the site has an About page, it doesn't provide any contact information or real details about who owns it.
The site also has social buttons, but these don't lead anywhere—a clear sign that the owner has thrown a theme up without much thought about how it affects user experience.
Ultimately, it's quite clear that someone has taken over an expired domain and repurposed it for link building. You definitely do not want a link from this website or one like it.
Unique News Online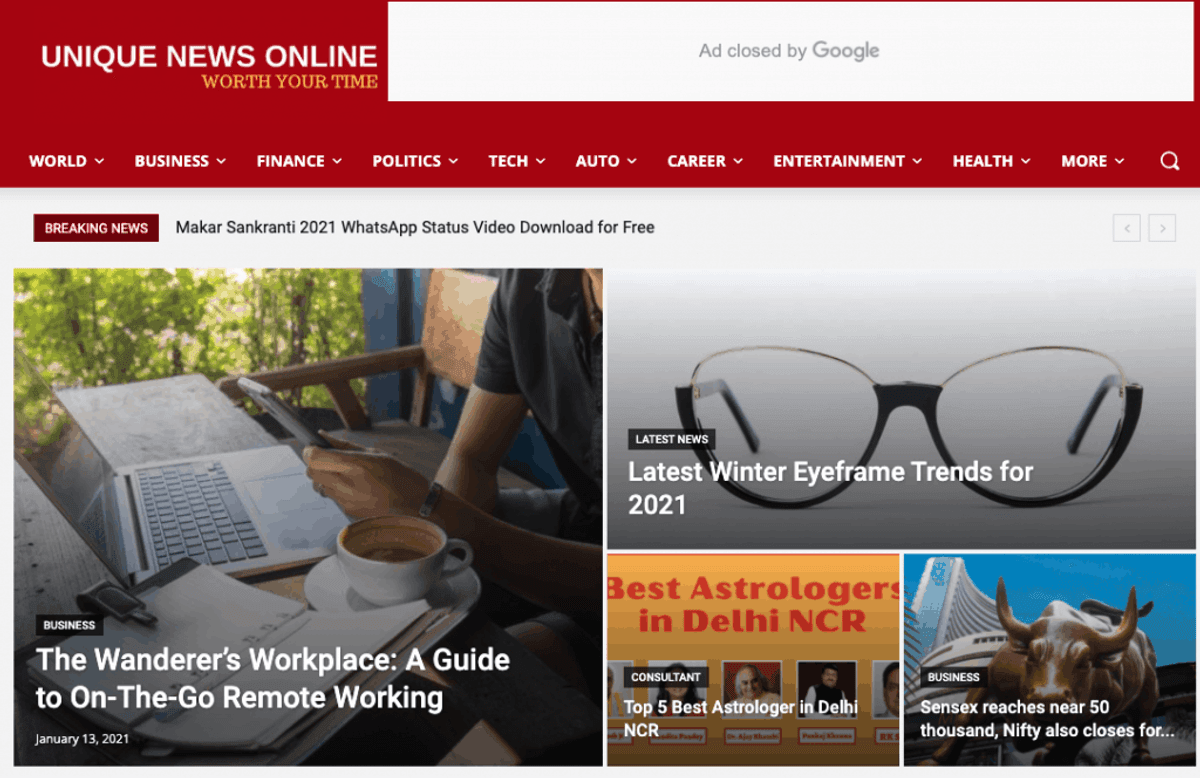 At first glance of metrics, Uniquenewsonline.com seems like a good link outreach proposition. But this just shows the importance of checking multiple factors before placing a link.
The site has a DR of 42 and over 50,000 organic hits every month according to Ahrefs. While this is down from the 100,000+ it was getting earlier this year, it's still a good sign—it's more traffic than any of the good sites in our examples below.

The first warning sign is the suspicious traffic pattern. The site was only registered in May yet went from zero organic traffic to over 100,000 visitors in September. It then crashed back down to 57,000 in December.
The high traffic stats are likely artificially inflated because the site has a photo that shows up in search engine results pages (SERPs) image stacks for the query 'good morning' and 'good morning image'. These queries get over one million searches per month.
But people click on the image stack far less than they do for actual website results, meaning the site probably doesn't see the traffic Ahrefs suggests it does.
The website also ranks for keywords related to sites that let users stream and download pirated movies. These terms are low value and a clear sign of spam.
There are other negative signals too. The site's linking domains are spammy and unnatural with random anchors.

Backlink growth also happened rapidly and in a way that appears unnatural. This is a clear sign of a shady link building campaign.
These SEO and domain signals suggest that the site is of poor quality. Heading to the home page confirms this suspicion.
The site publishes content on a huge variety of topics at a fast pace. There are also plenty of posts that are clearly written just for backlink purposes.

Cupertino Times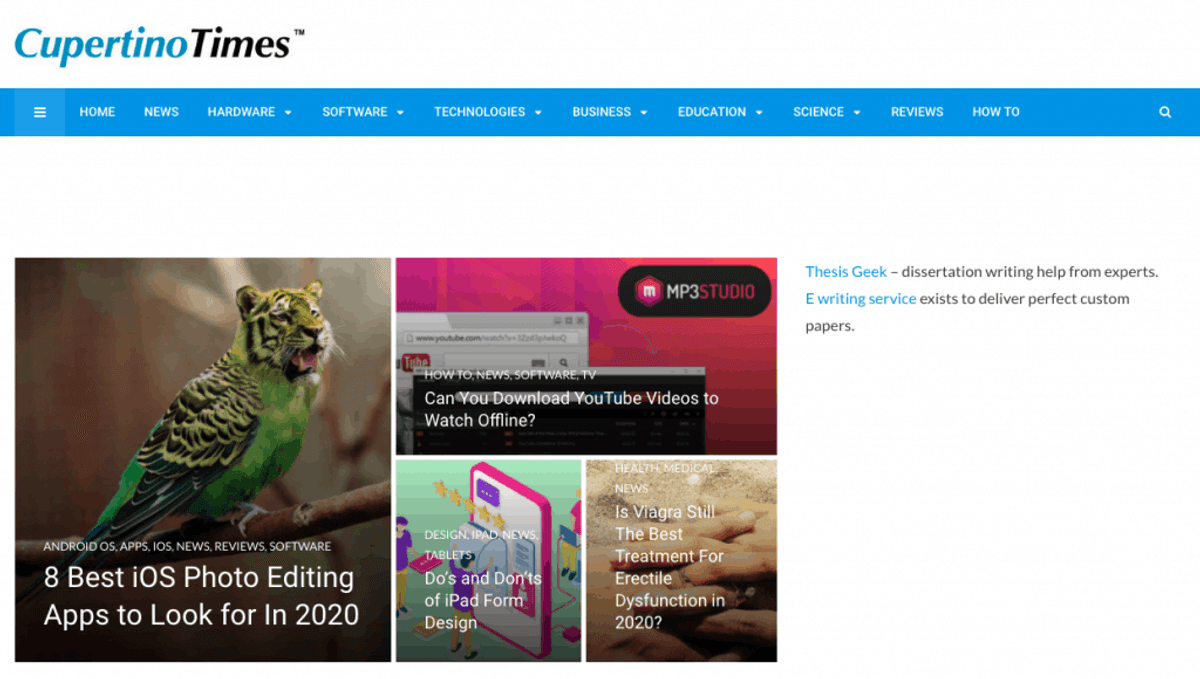 Cupertinotimes.com has a name that seems authoritative. It also has a DR of 42, a long history, and around 3,000 organic visits per month, according to Ahrefs.
But the homepage has a clear red flag—it uses a very basic WordPress theme.
The site also publishes articles on many different topics. There's tech, movie streaming, health, business, and more. These are very competitive niches for such a low-key blog. Of course, clicking on any of these posts reveals plenty of suspiciously placed links.
What's more, there are a lot of guest posts written by an account called "Guest author."
The good news is there is both a Contact and an About page. This is something you should always look for in a website that you want to target in your link-building outreach.
The bad news is the contact web page is entirely blank. The about page contains little useful information besides links to their sponsored post and a guest post guidelines section.
So if the site's content quality is so low, why does it get 3,000 visits a month? Exploring its keywords in Ahrefs shows that most of them are low quality and low competition.
The majority of the traffic comes from a small selection of pages, which is a bad sign considering the site publishes multiple articles every day.

Newszii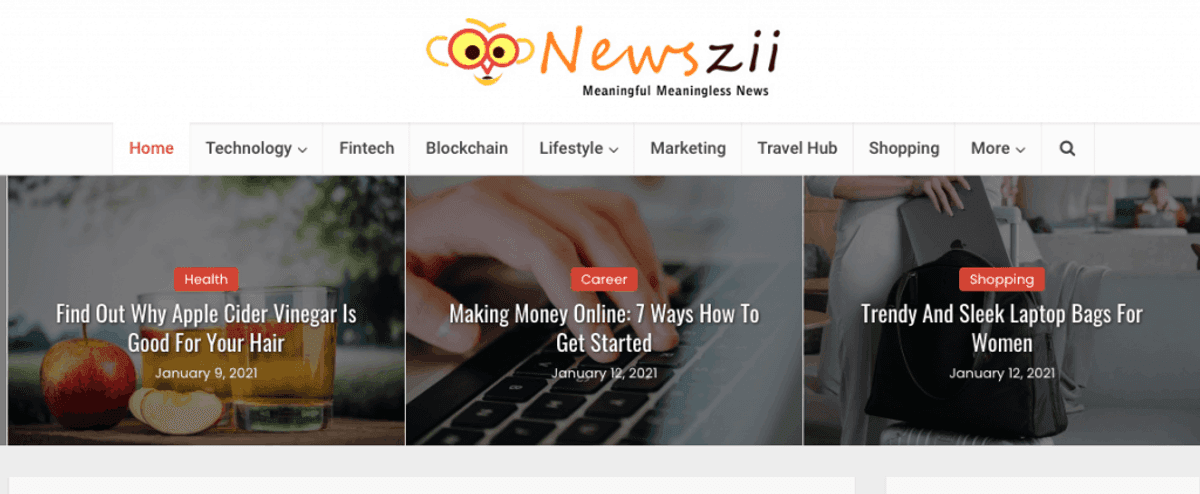 Newszii.com is a DR 53 site that doesn't look too bad at first but shows plenty of red flags when you dive a little deeper.
First up are the posts themselves, which seem to fall into two categories.
The first is super-thin SEO content. These pages are mostly images and headings with a short introduction. The posts provide almost no value at all other than hiding the second category, which comprises poorly written articles with suspicious links.
Perhaps the biggest red flag is the 'write for us' button clearly highlighted at the top of the home page. On this page, the website clearly states that it offers dofollow links on sponsored posts.

The website is advertising that it will give dofollow links to those who pay for them. This is a clear violation of Google's policies which state that sponsored posts should be nofollow links.
The site also publishes posts on many topics, which, as mentioned earlier, is a significant red flag.
Looking at search traffic in Ahrefs shows some mixed signs. The positive is that the site gets around 3,000 organic views on Google. The negative is that it mainly ranks for questionable adult terms—the type of content most businesses don't want to be associated with.
The final red flag comes from our unique position as a link-building agency: people contact us multiple times every week, trying to sell us links to this site.

Florida Independent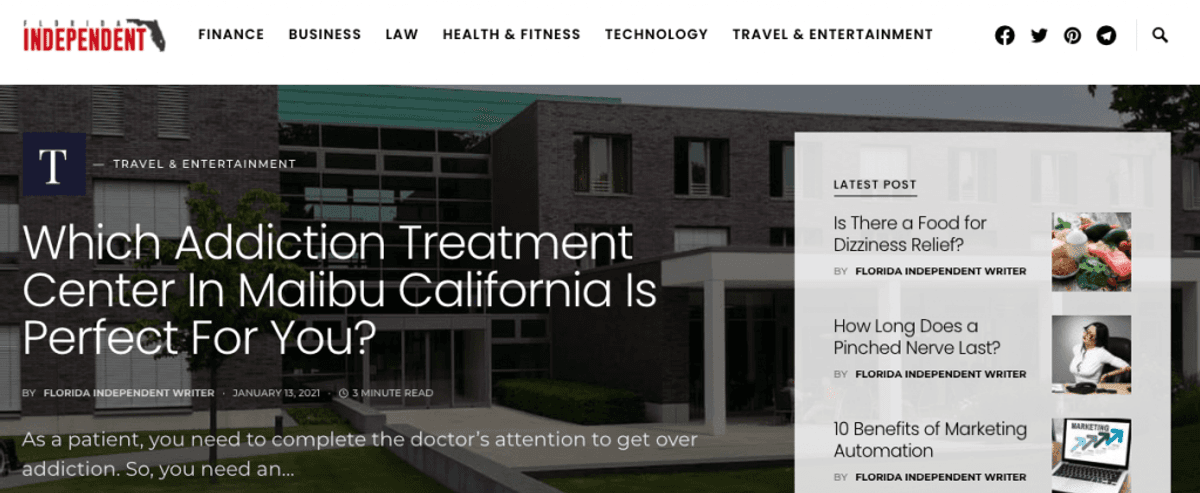 FloridaIndependent.com is a DR 62 site with backlinks from The New York Times and The Guardian. It has growing traffic and ranks for some good terms.
A backlink from this site must be worthwhile, right? Unfortunately not. The site seems to be a classic case of an SEO specialist building a spammy site on a previously authoritative domain.
First, take a look at the links from The New York Times and The Guardian. As you can see in the image below, they are from 2010 and 2011.
They also point to pages that no longer exist. If you click the link, you get redirected to the site's home page. This is a warning sign that the site has been built on an expired domain.

The site was probably once an authoritative news site that top-tier publications were happy to reference. But it's now no more than a backlink farm. Just take a look at the most recent content:
It has all the red flags we typically look out for:
🚩 Posts on a variety of topics.
🚩 No author names.
🚩 Posts on controversial subjects.
🚩 Posts with keyword match backlinks.
The site has an About Us page and a Contact page, but neither provides any real information about who owns the site. The primary use of these pages seems to be to provide a way to contact the site about becoming a contributor.
It's evident that the main reason the site exists is to sell backlinks.

Ocean Up
Our final example of a site you shouldn't target for link building is Oceanup.com. It seems like the site used to be a fairly well-respected celebrity gossip site. It has good organic traffic and a DR of 47.
The current owners have even put some effort into creating gossip-related content. The first posts displayed as widgets on the home page consist of celebrity news stories.
Beyond this, most of the content seems to be guest posts for backlink purposes. Pretty much every post we could find contains a suspiciously placed link.
Our favorite by far is the post in the image below:
That's right. An article about digital marketing mistakes you should avoid on a backlink farm—at least they didn't discuss the effects of bad links. Unfortunately, the site's high DR means many people are probably still happy to buy links from the site.



Examples of Good Sites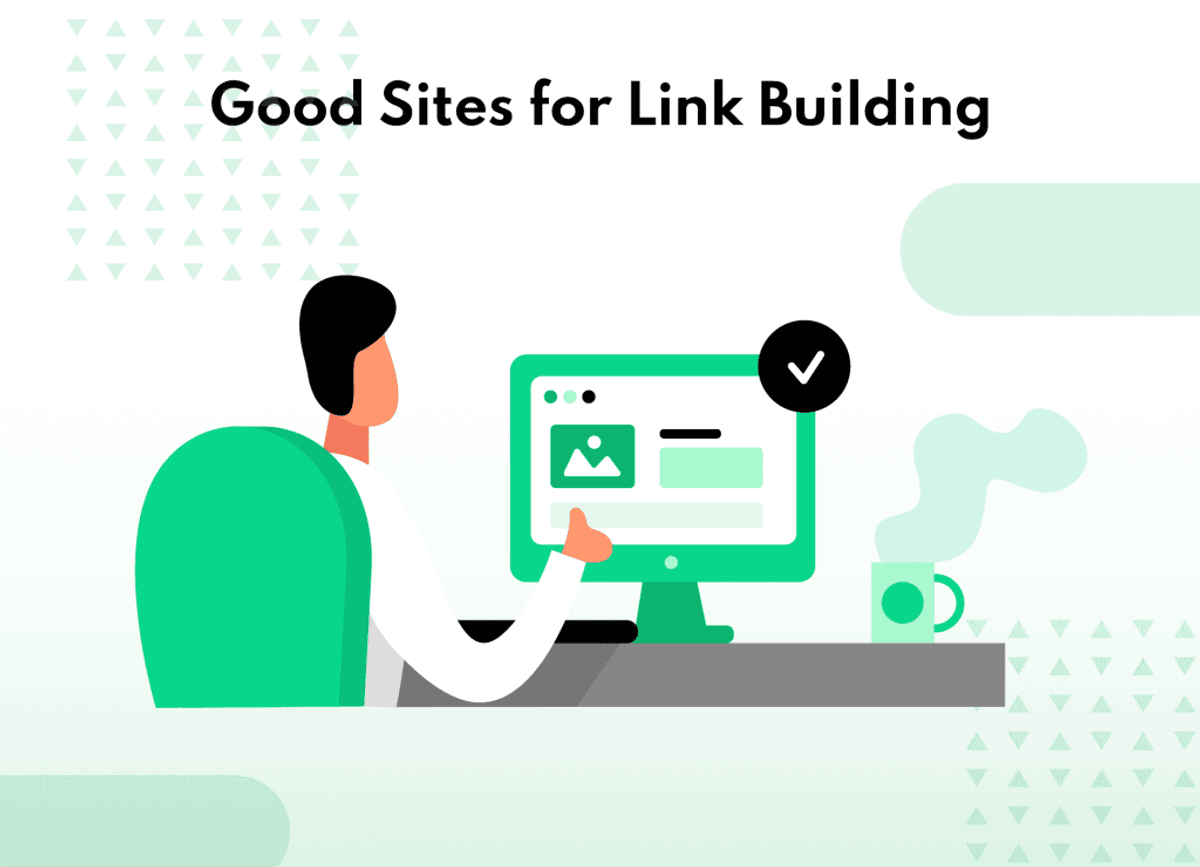 We all know the major publications and blogs that we'd love to get links from, but there's not much value in saying, "Go get a link from Forbes magazine, it's a great site."
Therefore, we've focused on some of the lesser-known sites that are still highly valuable, which should ultimately make up the bulk of your link profile.

Analytics Insights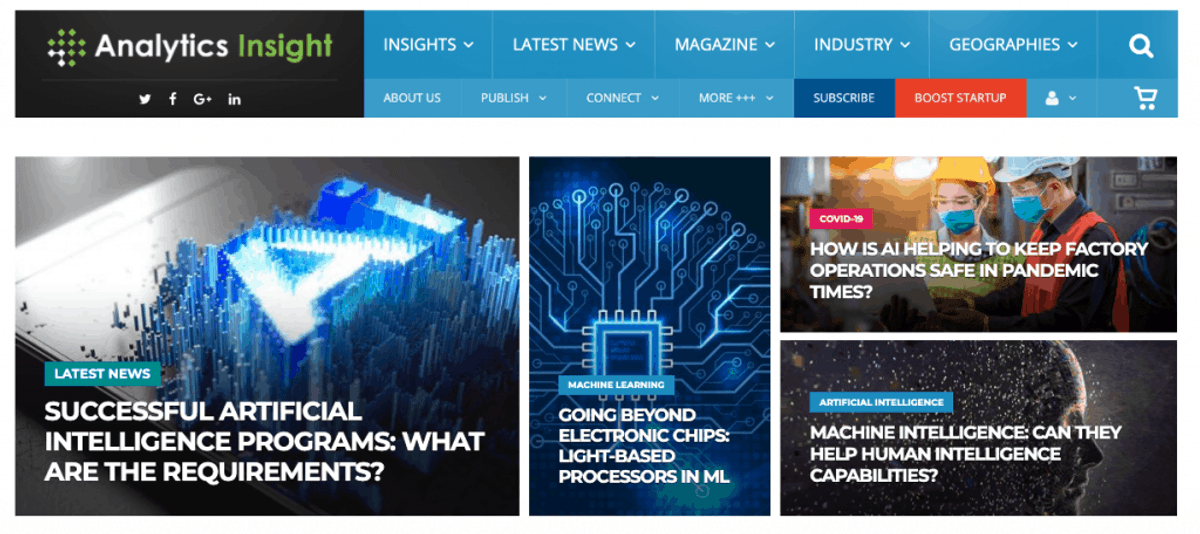 The design of analyticsinsights.net isn't anything special. But there are plenty of reasons why it's clear that this is a good site to earn links from.
When you land on the home page, you can see that all the content is based on a clearly defined topic. The articles are newly published, well-researched, and written by subject matter experts.
There is also plenty of information about the people behind the site. There is an About page, a Contact page, a Media page, a Careers page, and more. The reader is in no doubt about who is behind the website.
The site also has an offline presence via its magazine. It has a podcast, a Twitter account with thousands of followers, and a LinkedIn company page.
The site's SEO metrics are also excellent. It has a DR of 80, almost one million monthly organic users, and it ranks for competitive keywords like 'cloud technology' and 'data mining tools'.

Industry Today

Industrytoday.com is a website and virtual magazine about manufacturing and industry news in the U.S. It publishes fresh, in-depth content on these topics with clear editorial oversight.
While there is some SEO-focused content, it's all high-quality and would provide value to people who visit the site from search engines.
The site gets around 10,000 organic visitors per month, according to Ahrefs, and has a DR of 71. It also hits high-quality search terms. In fact, Ahrefs rates the traffic value as $16,000. The site is also trending upward year on year.

It wouldn't surprise us if the site also gets a lot of direct traffic from industry and manufacturing professionals who want to stay up to date on trends.
The site's footer has clear contact details, including an address, a phone number, a contact form, and an email address. It also has active Twitter and Facebook accounts.
If you have the chance to get links from root domains like this, you'll have a superb backlink profile.

Estate Agent Today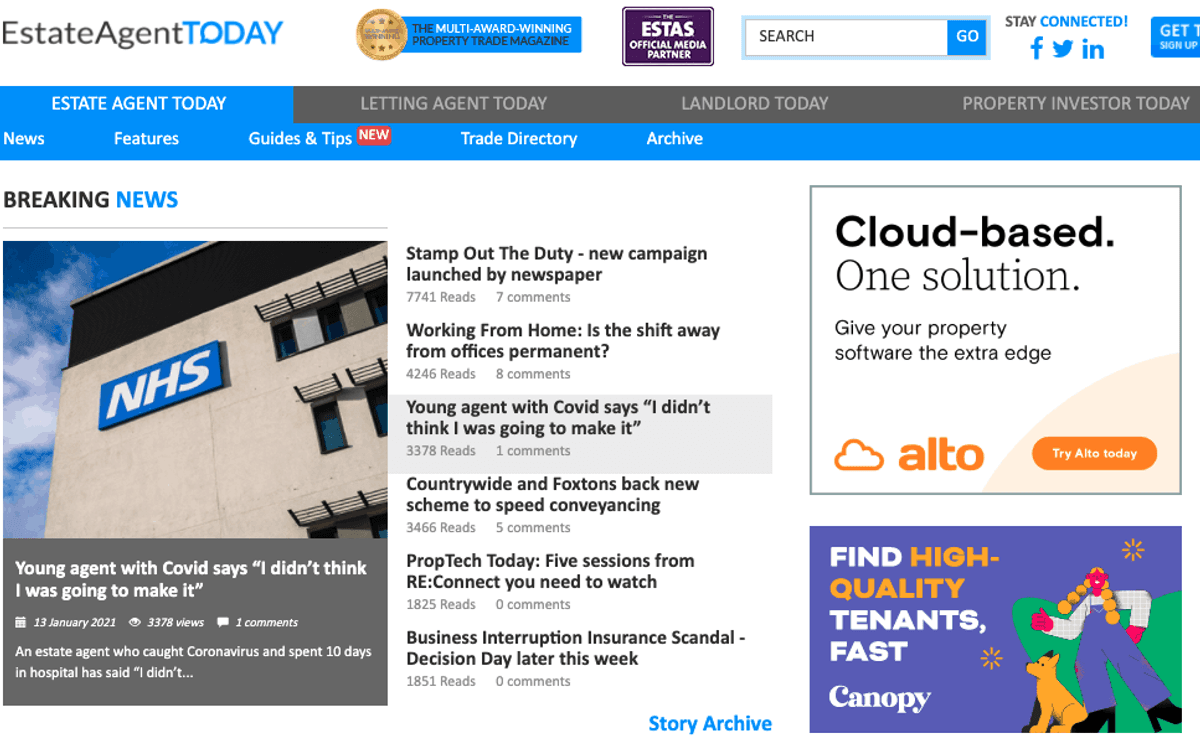 Estateagenttoday.co.uk is a UK-based real estate industry site. It doesn't have the most modern design, but don't let that fool you. This is a great site to target for link building.
When you land on the home page, you can see that all the articles are clearly about real estate. Click on one, and you'll find well-written pieces about the latest industry news or interviews with experts.
None of the posts we clicked on linked out to other sites, which is another clear sign a site isn't being used as a backlink farm.
The site provides a phone number, contact form, and social media profiles. Another nice touch is that each of the articles mentions who wrote it. Click on the author's name and you'll see some information about them. This is a great sign that the website has nothing to hide.
Another positive signal is the banner at the top of the page that shows the awards the site has won. Indeed, it wouldn't be hard for a backlink farm owner to add a similar button to their site. But when combined with all the other positive signals, it builds a trustworthy picture.
Ahrefs agrees that the site is a good one. It has a DR of 71, over 20,000 organic visits a month, and a monthly traffic value of $51,000.
This site seems like a place where a niche audience would get much value. If you can get a backlink opportunity from a site like this, we think you should take it.
Wrapping up on Link Building Metrics
One of the most important aspects of building links is analyzing and reviewing potential websites that you'd like to target in your outreach campaign.
Many link builders rely heavily on DR and DA to determine whether a website is worth approaching for a backlink. However, this shouldn't be the only metric you consider.
There are several other factors to think about, like the overall design, content quality, and anchor text that the website uses.
If you follow the steps outlined above when you analyze a website, you should be able to avoid gaining links from the types of low-quality sites discussed earlier.
We've helped hundreds of clients earn high-quality backlinks on authoritative, relevant, and reputable websites to reach the number one spot on Google. If you'd like to learn how we tackle link building, visit our website.