"Niche Edits" are links which have been growing in popularity over the last couple of years.
The name is a little misleading, though, so we'll clear up the definition.
Niche edits are links that have been added to an existing piece of content.
Here's a simple example

It's really that simple.
Imagine you have an Ecommerce business which sells fitness equipment.
We found an article on a separate fitness blog all about how to get fit, it was published a year ago and it we can see that it's actually ranking quite well.
We reach out to the website owner, suggesting that they add a link to our fitness equipment website, because it fits perfectly with the reader's goal to get fit.
So yes, this isn't any groundbreaking or new whatsoever. In essence, it's actually the same approach you would use when launching a traditional 'SkyScraper' outreach campaign. You're showing
So what's the main difference?
Niche edits are paid links.
People will say that niche edits encompass any link that's added contextually to a piece of existing content. However, in most SEO circles when people talk about niche edits, they're talking about paying a webmaster to have him or her add a link.
Other than the act of paying for a link, there's absolutely no fundamental difference to these types of links vs earning a link through a resource campaign or a skyscraper campaign. It's a link which aims to enrich an existing page on a relevant topic.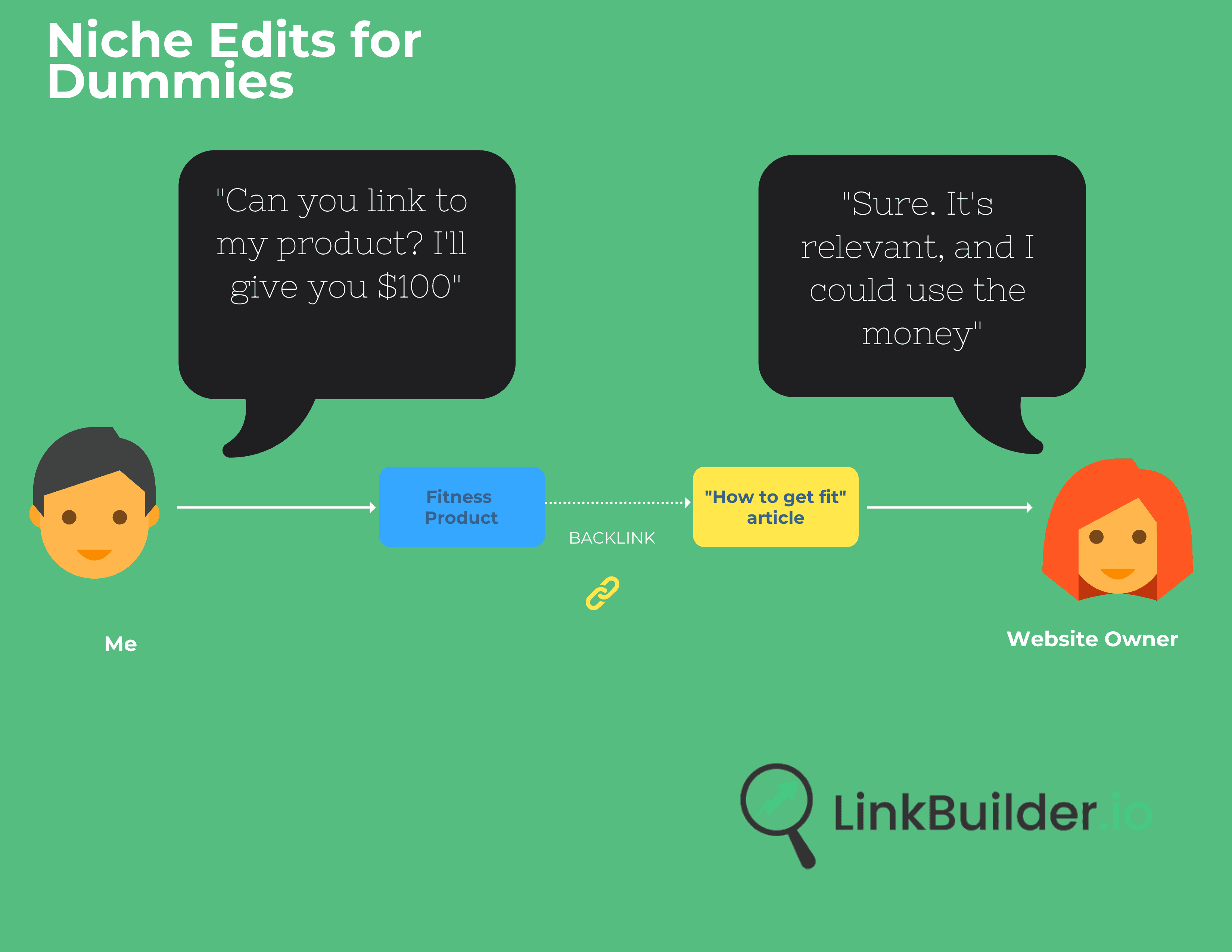 Advantages of Niche Edits
To be honest, there are a ton of advantages to leveraging niche edits.
Money Talks 🤑
With Amazon affiliate commissions dropping and ever-increasing competition, many webmasters are recognizing that they can earn extra income through link building.
Years ago, less people were doing email outreach and it was easier to stand out. People would give you links for free.
Unfortunately, now that website owners now that they can get paid to insert links to their content, they now won't add links unless you pay them.
That's an uncomfortable home truth, but it's just the way things are.
Speed & Scale 🚀
Link building this way is way faster than many other methods such as guest blogging. It doesn't involve creating new content to provide to the webmaster, and you won't need to create some incredible piece of content to attract linkers.
When you're putting money on the table, people react faster, and you're able to build links faster to lots of pages.
Offering a cash incentive is also so much easier than building out complex outreach campaigns aimed at pulling on the heart strings of the recipient. You don't have to impress them with an immaculate outreach email, and you don't have the stress of failed outreach campaigns that took countless hours to piece together - Which can happen even if you create a beautiful piece of content to share.
Great for Difficult Pages 😖
It's a great way to build links to difficult pages. You might have some service-based pages on your website, or even just informational pages that aren't particularly impressive but still attract the perfect users you're looking for.
Attempting to launch a traditional, white-hat outreach campaign for those pages is probably destined to fail - Who the heck would link to your service page out of the kindest of their own heart? Unless they're a friend or you have mystical powers of persuasion, it's not going to work well.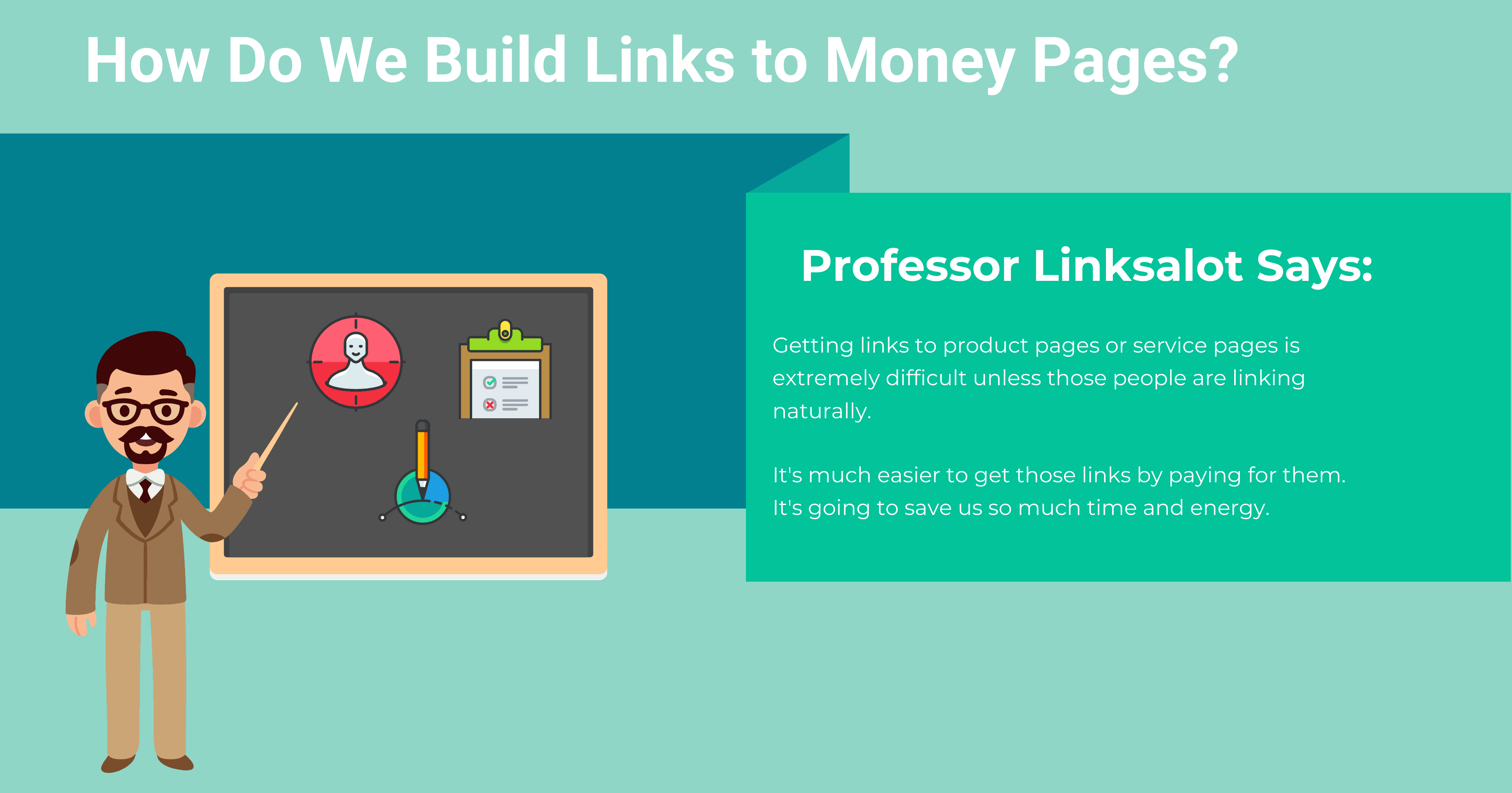 Disadvantages of Niche Edits
Of course, there are a few downsides as well...
Quality Ceiling 🕵️‍♀️
To land links on the very best sites, offering a cash payment just isn't going to fly. Some people just cannot be bought, and I genuinely applaud those people.
Tons of great publications have strict quality guidelines, and will not accept a cash payment for the type of link we're talking about. Sure, even the New York Times will run sponsored content on their website, but it's clearly marked as such, and all outbound links are set to nofollow.
Unfortunately, if you want to land links on the best websites, you'll often need to come in with a value proposition, such as a PR-style pitch showing them an incredibly insightful, data rich piece of content which nobody has covered before. If you're trying to earn links through a tool like HARO, then again you can't pay those journalists. Most of them have integrity, and attempting to bribe them could create a PR disaster.
Some sites are also just generally spooked about accepting cash payments for links. They don't want to be met with the wrath of Google, and even if their risks of being punished are extremely small.
People Get Sloppy 🥱
Sometimes, people get extremely sloppy when doing this type of link building. They end up paying for links in bad neighborhoods, which are essentially sites that have sold their soul to the link builders of the World.
Quality checks become more and more infrequent, and people end up focusing on quantity rather than the quality of links.
How To Do it Well
First off, it's important to say that when done properly, this strategy carries no risk of a Google penalty because it is impossible for Google to distinguish the difference between a paid link and an unpaid link.
Don't use Branded Email 📧
When pitching for paid link insertions, don't use a branded email account. This is to protect your brand, and to maintain 'plausible deniability' in case somebody did call you out down the line. Only reveal the site you'd like to build a link to after you've agreed a price with someone.
Negotiate Price Clearly 🏷
When it comes to price (stage 1), I recommend negotiating to 50% of their original asking price, and letting them know you can issue payment immediately via PayPal, and get them to share their PayPal information immediately.
Webmasters are inundated with convoluted and confusing emails all day long. Deliver them a clear and concise email showing them exactly what page you want the link on, and what page you want them to link to, along with the sentence and preferred anchor text.
Look for Pages with Lots of Links 🔗
Use a tool like Ahrefs to find the 'top content' on the site you're seeking a link from. You'll get a lovely list of content pages on that site which have a ton of backlinks and social shares.
You can actually then leverage the power of links flowing into that particular page, and gain some of the benefit that page has.
In addition to this, you can also use Ahrefs organic traffic tool to figure out the most highly trafficked pages on your target website, and try to get a link on those pages as well.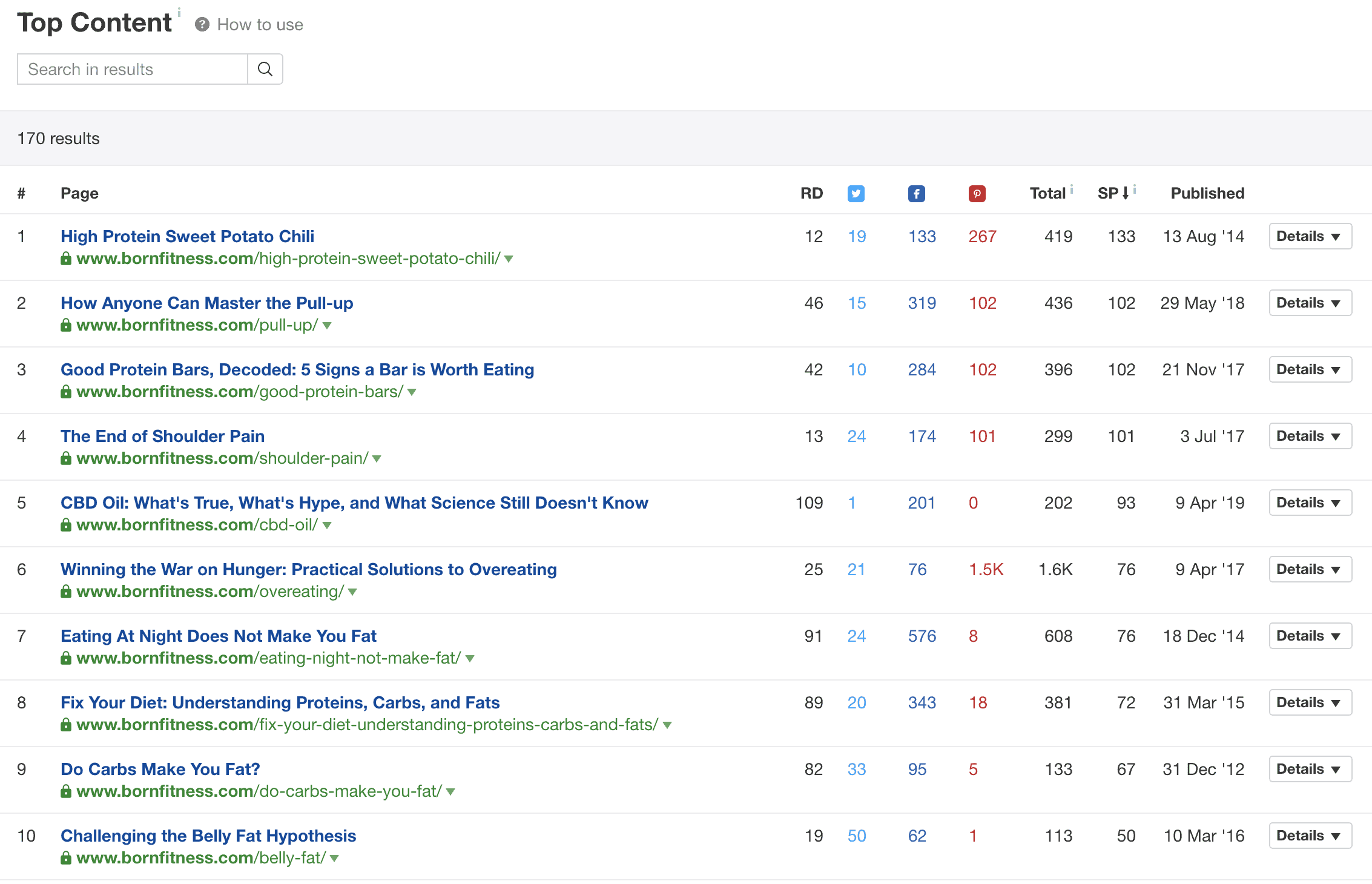 Wrapping Up
So that's the essential guide on niche edit links! As with anything, you don't want to overuse this type of link building, but it's very hard to deny its effectiveness.