Broken link building can yield higher conversion rates than many other tried-and-true link building strategies.

In this guide, we take a closer look at what broken link building is, how it works, and why it can be so effective. We also outline an easy and effective broken link building method that guarantees results no matter what niche you're in.
These strategies have been taken from our own process and they work wonders!
What You'll Need:
A blog section on your website where you can post content.
Key Takeaways
A broken link no longer takes the user to the website it references and will give them a 404 error on the webpage.

A broken link building campaign involves finding pages in your niche with dead backlinks.

Broken link building focuses on creating high-quality content and then conducting outreach to other websites to win an inbound link. It's considered a white hat technique because the site owner chooses to link to your content because they like it.

Although broken link building can be time-consuming, it's still an effective way to gain several high-authority links to boost your website's Google ranking.
What Is Broken Link Building?
Broken link building refers to the process of finding pages in your niche with dead backlinks.
Once you've identified these pages, you reach out to the websites' owners and recommend that they link to your content instead.
It's a win-win situation—the webmaster replaces a broken link on their site (thereby improving their site quality and user experience) and your page potentially wins a new backlink.
Broken link building is a white hat technique because it involves creating high-quality content and reaching out to external websites with the aim of winning an inbound link.
The website owner only links to your content if they like it.

The Process Involves a Few Steps:
1️⃣ Find broken links from web pages in your niche.
2️⃣ Identify or create content that will replace the original page.
3️⃣ Reach out to webmasters and convince them to replace the broken link with yours.
A broken link no longer takes the user to the website or resources it references. Instead, it takes the user to a 404 error page like the one in the image below.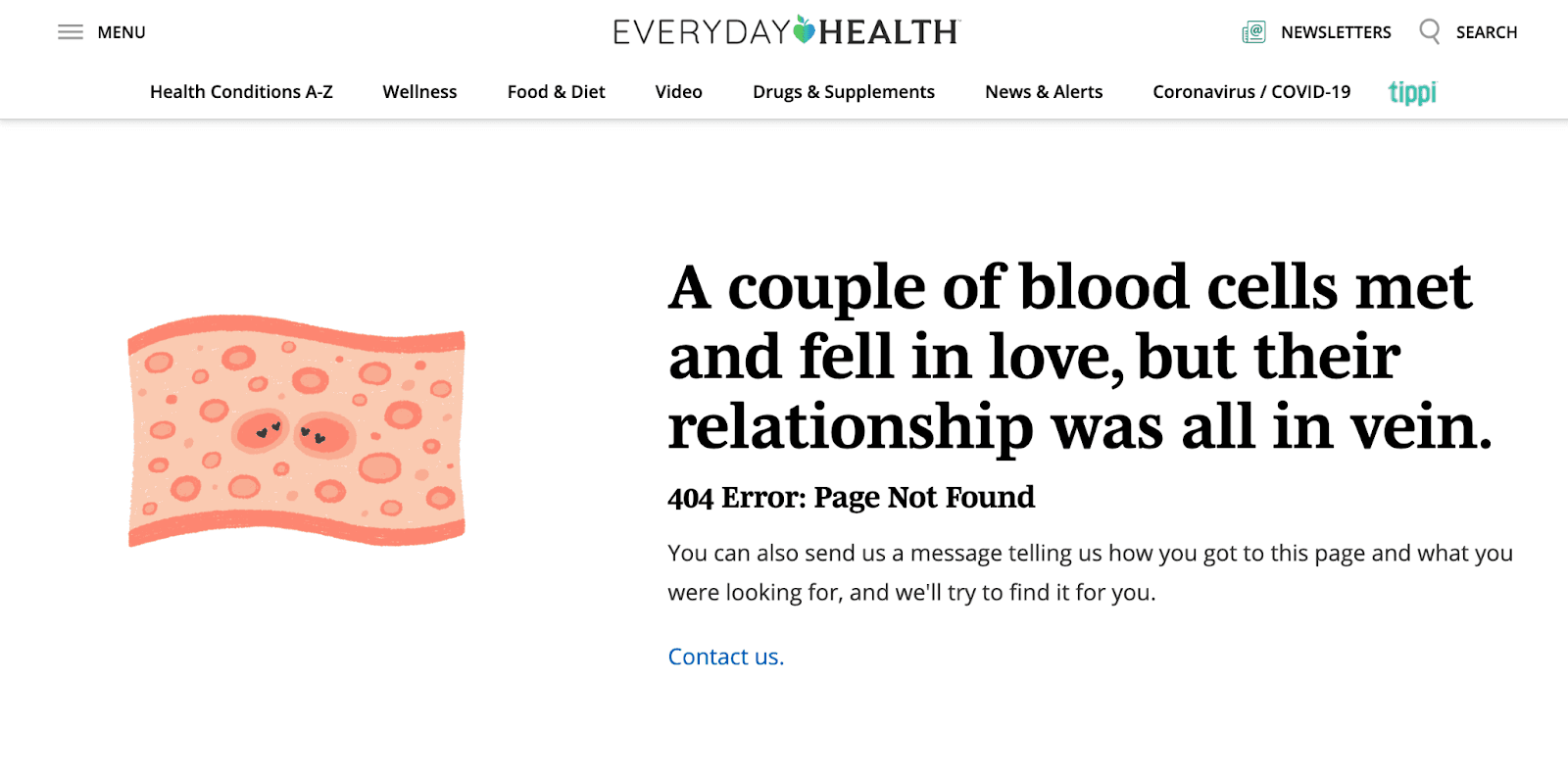 Links can become broken for various different reasons. Some of the most common ones are:
🚫The destination website took down the linked page.
🚫The link wasn't implemented correctly from the get-go.
🚫The URL of the linked page was changed.
🚫The destination website has been updated or no longer exists.

Are Broken Link Building Tactics Effective?
It depends on who you ask.
Some people say that the link building process works, while others find it tedious and unreliable.
With the right mindset and strategies in place (more on this in the next section), broken link building can drive great results.
It can lead to quick wins when webmasters replace the broken link with yours and it can help you expand your network of contacts.
By building relationships with experts or other content creators in your niche, they will be more likely to reach out to you in the future.
And, last but not least—if a link to your content is chosen by a few different high-authority web pages, you'll be able to gain several links to boost your SEO rating.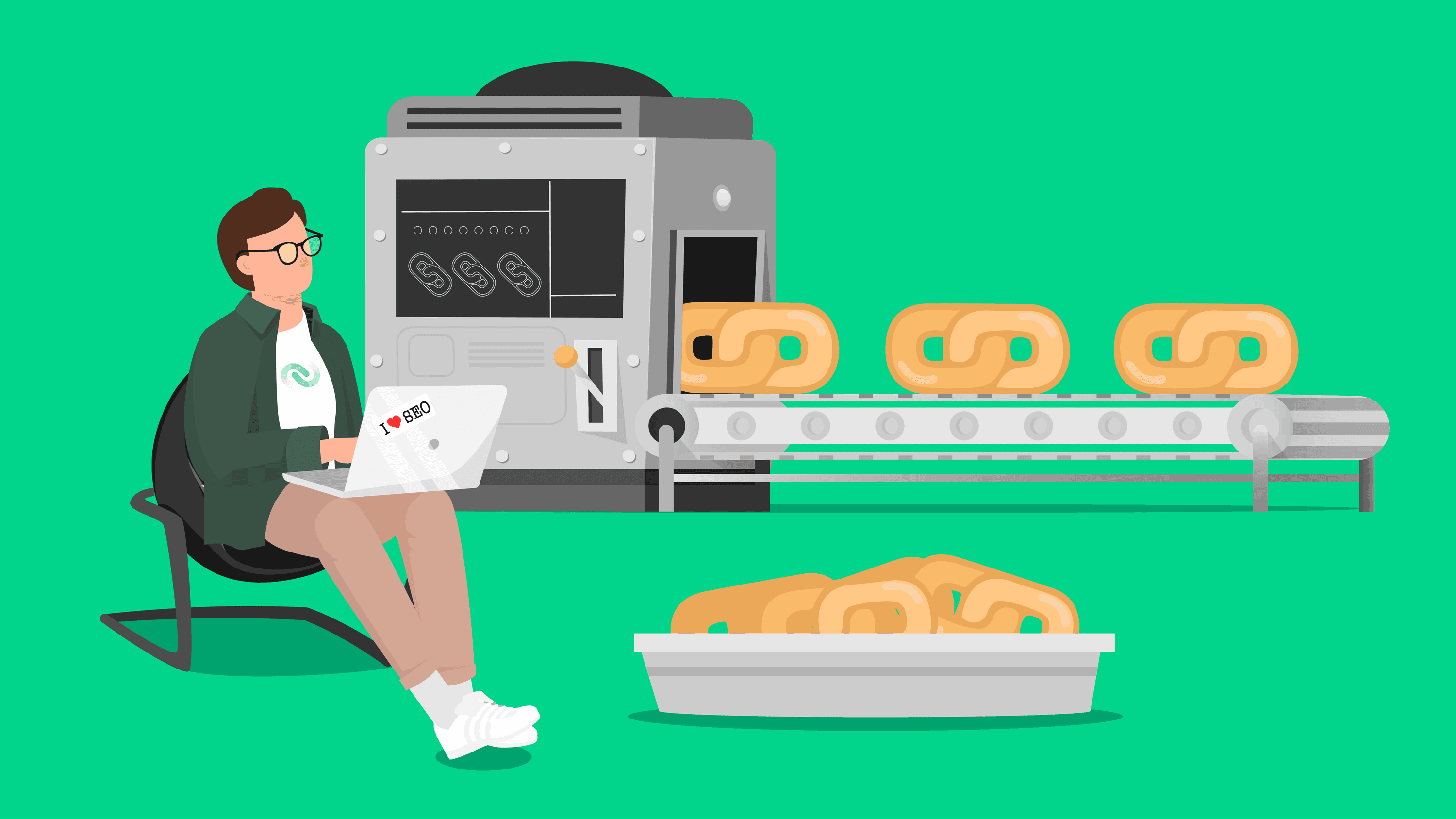 How to Find Broken Link Building Opportunities
The fundamental issue with broken link building is that we have to find broken pages!
We're going to look at a few different ways of identifying these pages now below.
The following two factors determine which strategies I use:
The time I have for the search.

My level of despair or enthusiasm—call it what you like.
Strategy #1: Nerdy Time Traveling
⏰ Required time: Hours and probably many of them.
😎 Level of enthusiasm: I feel lucky today!
This strategy is really simple: find places with lots of links and then check for broken link building opportunities.
A great place to start is with resource pages. A resource page is a collection of useful links. If you've never seen one before, they typically look like this: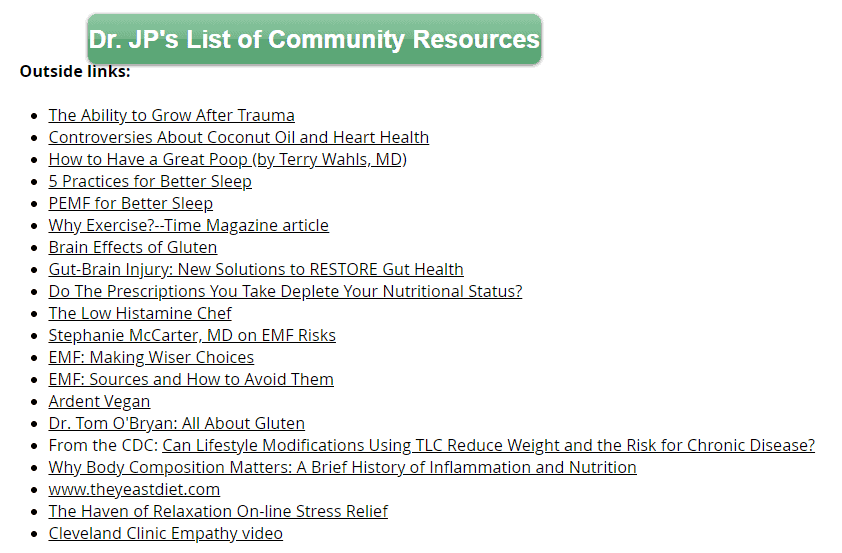 📚Here's a good guide on how to find resource pages for your outreach from Snappa Blog.


For this strategy, you'll also need a Chrome extension called LinkMiner.
Once you open a resource page and click on the extension, it will show you if there are any broken links on your page. It will look like this: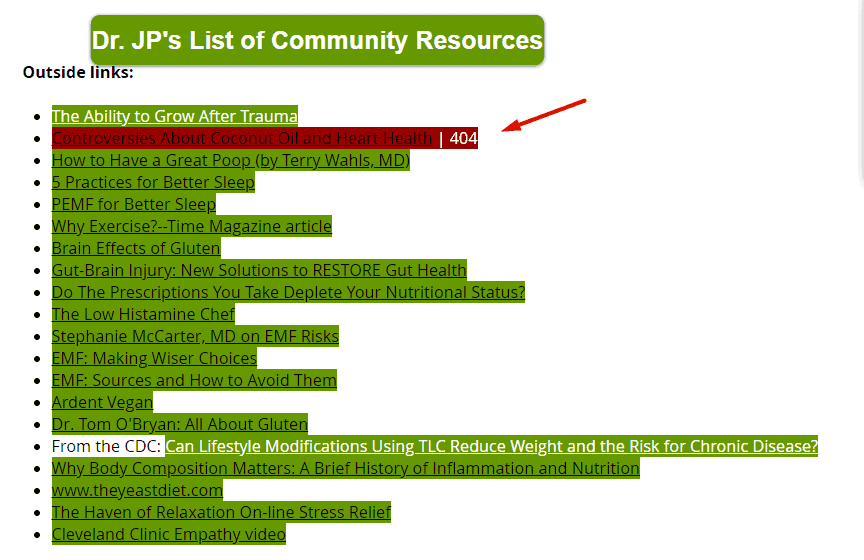 Gotcha coconut oil page!
Next, check the number of referring domains (RDs) to that broken page and see if it's a good fit for your campaign.
Repeat this process for every resource page you have until you find what you're looking for.
Why is this strategy useful?
Not only do resource pages have collections of useful links, but they're all in one convenient place. This means you have a great chance of finding a dead link among a huge list of relevant links.

Usually, high-quality and authoritative articles are uploaded to resource pages. This means that there's a good chance of finding a great broken link with lots of RDs to increase your Domain Authority (DA) score and rankings.

LinkMiner is a free extension and it's easy to use.
Why is this strategy not so good?
Sometimes LinkMiner is wrong. For example, that coconut oil broken link (see screenshot above) actually isn't broken at all.

It's time-consuming—unless you are lucky enough to find a great 404 within the first few minutes.
Pro Tip
Look for resource pages from previous years—just choose a date range in Google Search Tools.
I often look for resource pages from 2008-2018 2000s.
Why? Because:

There's a greater possibility that some of those old links might be broken.

There's also a good chance that some of those old links were authoritative ones with lots of RDs.
That's why I call this strategy Nerdy Time Traveling. You have to travel in time to find great 404s and you definitely need to be a nerd to complete this process!
Strategy #2: Tricky Star Chasing
⏰ Required time: Aiming at 40 minutes max.
😟 Level of enthusiasm: Oh, sh*t! I should've done it already!
Now, you're going to find dead links among the most popular websites in your niche. For this strategy, you'll need Ahrefs. I don't know how to do it without Ahrefs.
Let's say you're looking for broken links in the health niche. The first step is to find a popular website that specializes in health content.
Let's use EverydayHealth as an example.
Now, go to Ahrefs Site Explorer, and check "Broken Backlinks" for this website. It will look like this:

Checking broken backlinks.
As you can see, Ahrefs found 19,594 broken backlinks on EverydayHealth's website—sounds like a gold mine to me!
So, what do you do next? You start checking all 19,594 broken backlinks hoping to find a perfect one.
Well, that's how I used to do it. 🤦🏻‍♂️
However, I recently read this guide on broken link building by Ahrefs and realized how close I was to a perfect method. Ahrefs suggests that you:
👀 Go to "The Best Pages by Backlinks."
👀 Choose "404 not found" from a dropdown list of HTTP codes.
👀 Filter results by the number of referring domains to the page. It will look like this: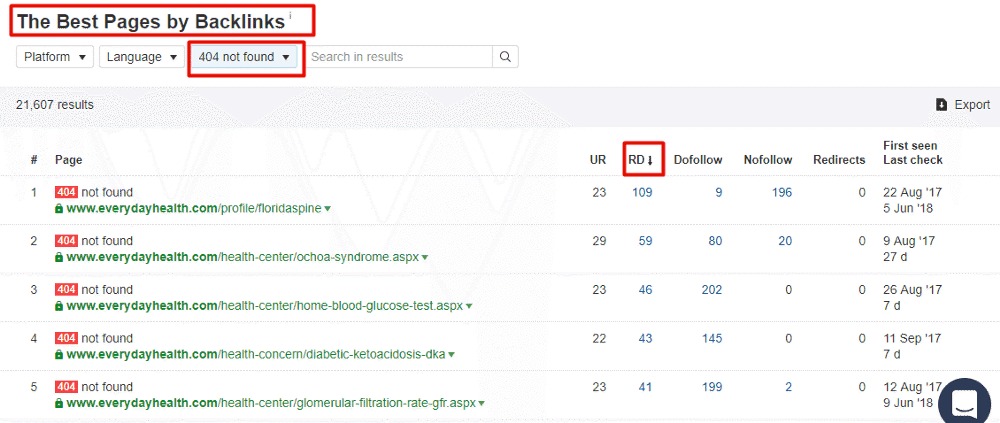 Checking broken backlinks in a smarter way.
This is a really simple and smart way to find broken links. You can't imagine how happy I was to discover this technique!
Why is this strategy useful?
This is the quickest way to find broken links that I know of.

It's the ideal strategy for finding broken links for any general topic (for example, healthy living), rather than a specific link for content on say, low carb diets or weightlifting.
Why is this strategy not so good?
It might be challenging to find a broken link on a specific topic. For example, yesterday I was looking for broken links on strength training. Even the popular websites didn't have anything! However, certain sectors, like the health industry, have hundreds of opportunities for broken links on general topics.

Not everybody has access to Ahrefs. And if you don't have Ahrefs, you'll struggle to find broken links from top websites.
I call this method "Star Chasing" because what we do here is chase stars (big websites) hoping to find their flaws (broken links).
And it's tricky because we want to take advantage of other websites' 404s.

Strategy #3: Meticulous Hell Exploring
⏰ Required time: It doesn't matter now.
😩 Level of enthusiasm: Total despair.
In the first two strategies, we looked at how to find broken links on resource pages and popular websites.
Now, we're going to take a closer look at how to find broken links with even more precision!
We've already checked the top websites' backlinks in the previous two strategies, but what about their outgoing links?
Rather than leaving Ahrefs, continue your research by checking "Outgoing links" and then clicking on "Broken links." It looks like this: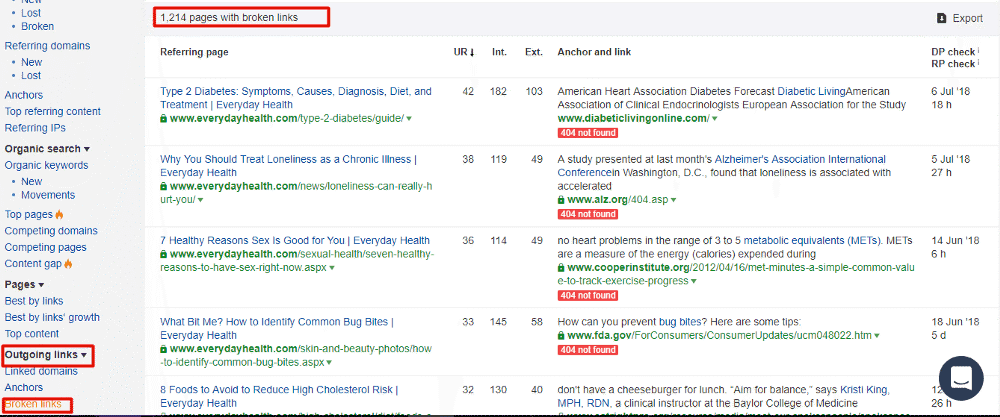 Making the most of top websites' broken links.
You see that EverydayHealth is linking to 1,214 broken pages.
Take a look at those 404s—they're coming from authoritative websites and you know what it means—lots of RDs!
There's one more recommendation in that Ahrefs guide I value about how to deal with lots of outgoing broken links.
They say that you should export all broken outgoing links, then copy-paste them to the Quick Batch Analysis tool, and then see which of them have the most RDs.
It's important to note that you should only use a maximum of 200 links for one check.
Here's why:
If the website has several outgoing broken links (let's say, more than 10,000), there will be a lot of repetition and useless links to affiliate programs and old projects for that same website.
Not only will this be time-consuming to sort through, but you'll also keep finding broken links for similar or irrelevant topics.

Pro Tip
What works for me is to check the first five to ten pages manually for great broken links.
If there are no useful broken links at the beginning, you're unlikely to find something even if you bulk check all of them.

The other way to explore broken links using this strategy is to check the backlinks of everything. Did you find a great resource page? Check its backlinks for more broken links.
Similarly, if you've managed to find a useful 404 page with lots of RDs, you can always look a little more—check the backlinks of the broken link for more broken backlinks.

Recreate the Content for Your Blog
Once you've identified a page with a broken link that's highly relevant to your niche, the next step is to recreate the blog post.
Remember, the broken link will just take you back to the page with a 404 error. To get an idea of what the page used to look like, we recommend using the Wayback Machine.
This web archive tool will show you what the page looked like over time, how it changed, and what content it originally included.
This is a really great way to make sure that the page your writer recreates fulfills the same purpose and covers similar topics.
Now, there are two different ways to recreate a page.
1️⃣ Simply Copy the Dead Page
This is the "lazy" approach and we wouldn't recommend it because it could be seen as plagiarism.
All your writer would do is copy the original content from the page and add an attribution at the end.
This attribution would explain where the original content appeared and explain that it has since been removed from the original webpage.
2️⃣ Create a New and Improved Page
With this approach, your writer would use the original page as inspiration but make the new one better with original copy and images.
There are a few different ways your writer could improve the original page, including:
✅ Updating any old statistics or resources in the copy.
✅ Simplifying any difficult concepts and making the content easier to understand.
✅ Using graphics and visuals to illustrate important points.

The Outreach Process
Once you've created a replacement page, it's time to start reaching out to webmasters and convincing them to replace the broken link with your URL.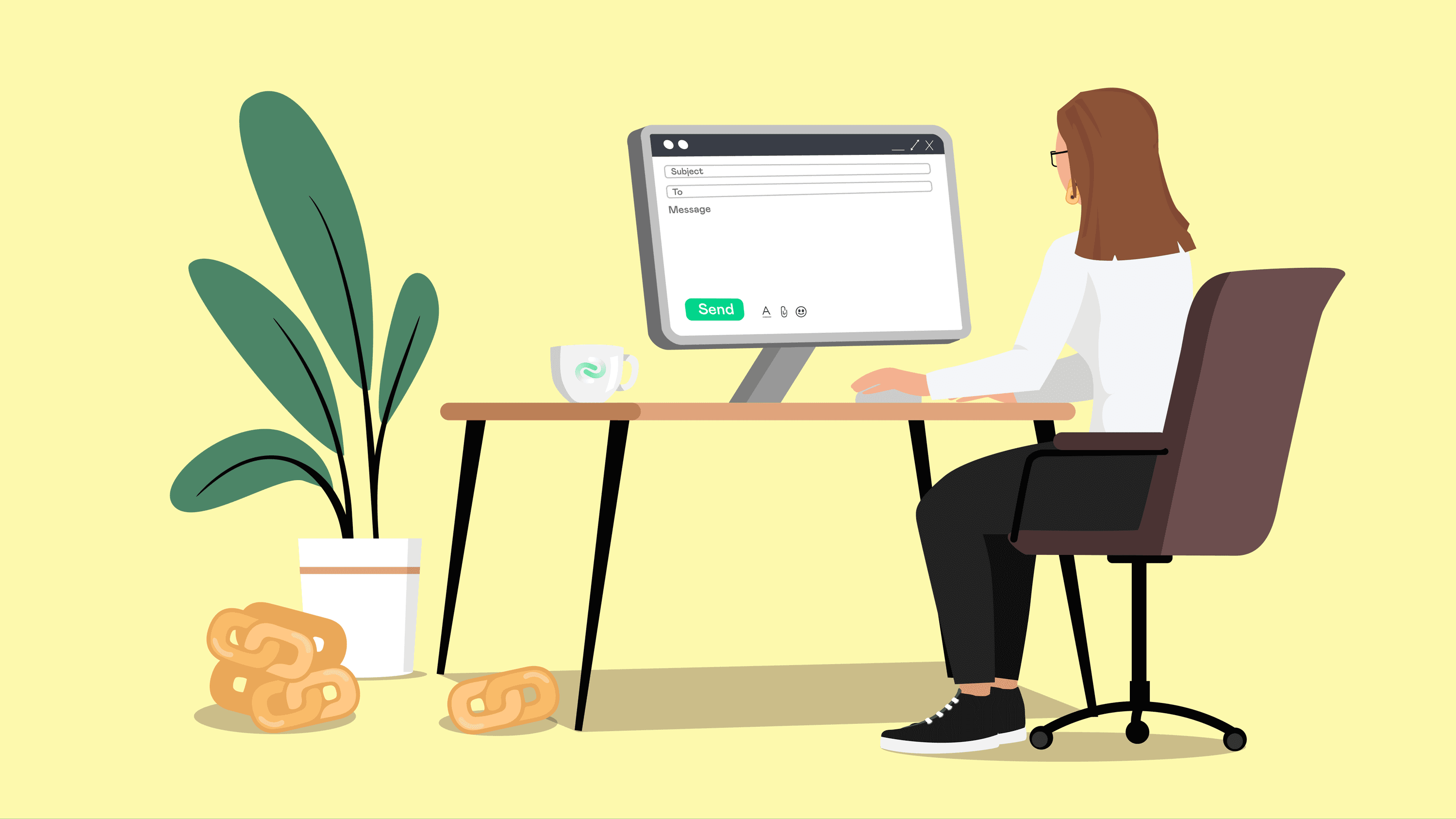 The only problem is that webmasters get requests like this all the time.
A poorly worded mass email will be ignored. Unless you know what you're doing, you're unlikely to get a single reply or build a backlink.
As experts in using outreach to generate links, we've created a highly personalized outreach approach that helps us drive results for our clients.
Here's a Breakdown of How We Personalize Outreach at LinkBuilder:
✍️ Personalized Subject Lines
This is the first chance you get to catch the webmaster's attention—which is why we use subject lines that are specific to the site we're targeting.
To show them that our email isn't part of a generic campaign we will:

Include a name.

Ask a question.

Mention a recent piece of content they worked on.
🔍 Research
We make sure to check the target website to make the email as specific as possible.
By finding out who the individual is behind the blog and the type of content they produce, we're able to make a more appealing offer.
Pro Tip:
Look at the web page's author or about us page to find contact details for the site's webmaster, editor, or blogger.

There might be a contact form you'll need to fill out. Make sure that this is as detailed as possible and that you include a way for the site owner to contact you.
💰Include Your Value Proposition
This is where you let the webmaster know that a link on their website is broken and explain why they should use yours instead.
It's crucial that you look at the content they've published in the past and explain why you think your article will add value to their audience.
You should also include links to other content you've produced so that the webmaster can see that your work is high quality and worthy of the backlink.
🔁 Follow-Up
Most webmasters receive multiple outreach messages every day. If you don't get a reply, it doesn't mean that they aren't interested.
Always follow-up three to four days later to make sure they haven't missed your email.
📹 To see a summary of the exact process I use to build hundreds of high-authority links, check out this video.

Happy Broken Link Building!
As we've seen in this guide, there are many different ways to find the perfect broken link—all it takes is some time and motivation.
The next step to winning the backlink is nailing your outreach strategy to show webmasters how your content can add value to their site.
If you need help with the process or want it done consistently at scale, our link building agency is here to help.