A reliable backlink checker is one of the most essential SEO tools for link builders.
But what makes a backlink checker so important?
A website's backlink profile is an essential factor when determining its:

Domain authority (DA): This is a measure of how likely it is that a website will rank on search engines.

Search engine ranking: This is how high a website is listed for any given term on a search engine.
Key Takeaways
A reliable backlink checker is one of the essential SEO tools for link builders.

A website's backlink profile is an important factor in determining its DA and search engine ranking.

A good backlink checker will help you find link building opportunities and avoid spammy links that could damage your rankings.
Backlinks are valuable in SEO because they show that a website has confidence in your content. They act as signals to search engines, vouching for the quality and authority of your content.
But not all backlinks are equal. While quality backlinks increase your domain authority, backlinks from spammy or suspicious websites will offer little or no ranking benefits.

That is why it's crucial to have the best backlink checker possible.
The best backlink checker tools will help you monitor the health of your backlink profile, spot spammy links, and find new link-building opportunities by discovering your competitors' strategies.

What Should You Expect From a Backlink Checker? the Best Backlink Checker?

There are hundreds of backlink-checking tools out there, but let's make life simple.
The perfect backlink checker should be able to:

Perform deep analysis on competitor link profiles.

Perform in-depth backlink audits.

Highlight new link-building opportunities.

Uncover toxic/spammy backlinks.

Identify negative SEO attacks.

Monitor new and lost backlinks.

Monitor link acquisition rates.
The Best Tools to Check Backlinks
Let's get into the list, which has been tried and tested by our expert link building team.
1) LinkChecker PRO
Price: Starts at $25 per month. Free trial available by request.


Free version: NO.
Unlike Ahrefs, Semrush, and Moz this tool doesn't have its own index - you need to import backlinks by yourself. But with LinkChecker PRO your backlinks are checked daily, and you know whether referring pages are in Google Index or not.
What LinkChecker PRO offers
You will have up-to-date data about your backlinks:
Backlink Status: Found / Not Found / Undefined

Dofollow / Not Dofollow

Indexed by Google / Not Indexed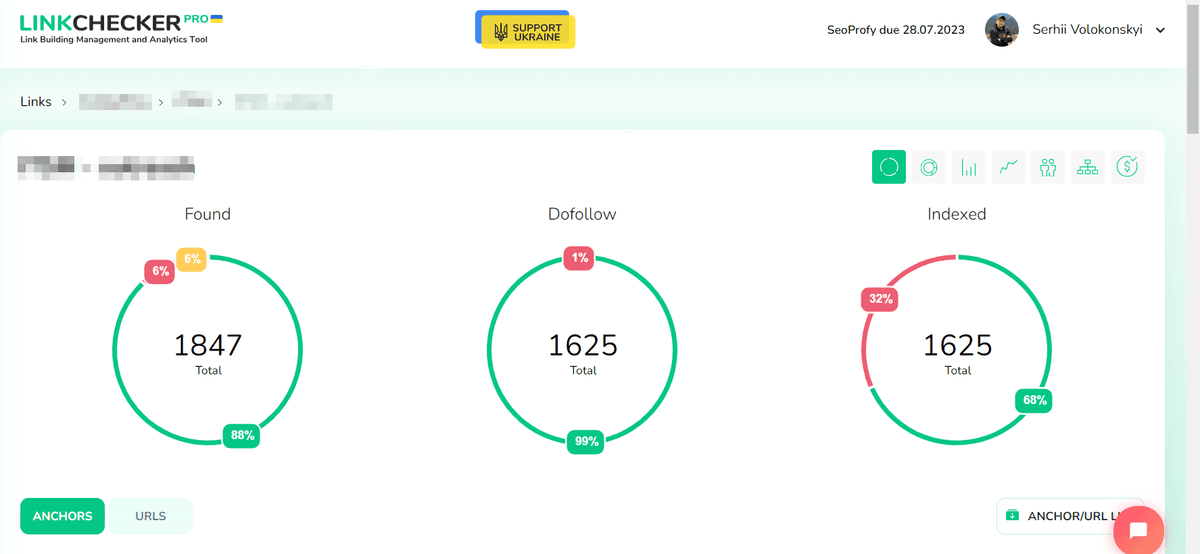 LinkChecker PRO backlink checking tool takes into account the following parameters to help you understand and fix issues with backlinks:
Rel Attributes: rel="nofollow", rel="sponsored", rel="UGC"

Robots Meta Tags, X-robots Tags with such rules: Noindex, Nofollow, None

Robots.txt rules for Googlebot

Attribute rel="canonical"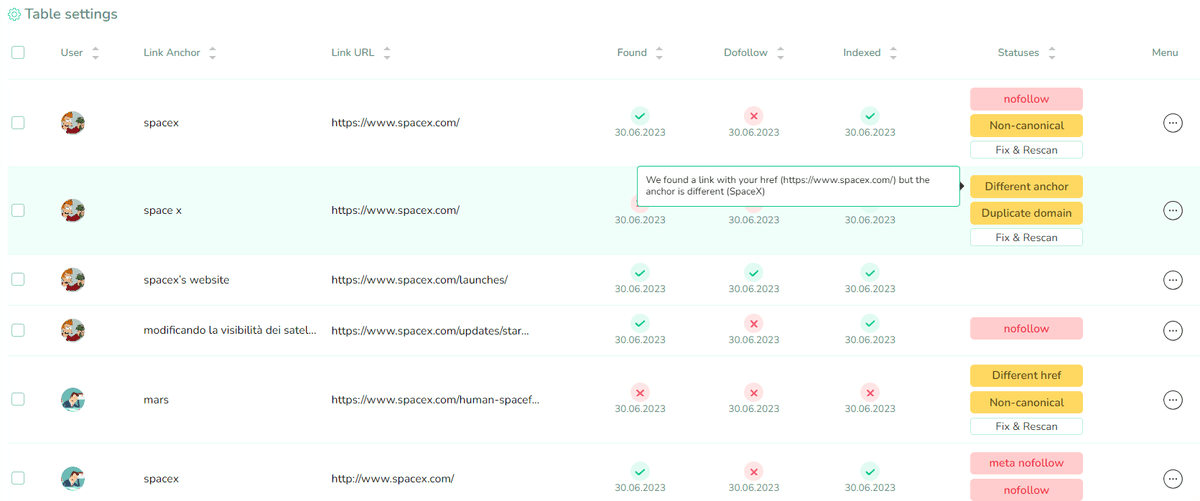 Optionally you can use these awesome features:
External Links Tracking: Know if someone adds new links to your content

Anchor Text Plan Checker: Know if your backlink has an unplanned anchor or URL

Alerts: Receive alerts about new or all problematic important backlinks from guest posts, PBNs, etc.
Also, LinkChecker PRO has a batch analysis that helps you to choose the proper domains and pages for link building.
The most important feature - unlike Ahrefs 200 URLs/Domains per analysis LinkChecker PRO's batch analysis gives you opportunities to analyze thousands (even 100 000!!!) of URLs/Domains in one analysis.


You can get these popular metrics if you connect your own accounts to LinkChecker PRO:
Ahrefs Metrics (Regular Ahrefs Account Needed): Domain Rating, Traffic, Traffic Value, Keywords, Referring Domains, Linked Domains

Majestic Metrics (Regular Majestic Account Needed): Trust Flow, Citation Flow, Trust Ratio

MOZ Metrics (MOZ API Needed): Domain Authority, Page Authority, Spam
Without connecting Ahrefs/Majestic/Moz accounts you can get info about:
Indexability and Crawlability of Webpages: Robots Meta Tags, X-robots Tags, Robots.txt

Google's Index: Indexed Page / Not Indexed Page

IP Address, Country, Host Organization

McAfee Webadvisor Data: Website Category, Security
2) Ahrefs
Price: Starts at $79 per month. Free trial available.
Free version: Yes, with very limited functionality.
Ahrefs' Web Crawler constantly crawls the web to fill its database with new links. It also checks the status of the previously found ones.
Every 24 hours the crawler visits more than 6 billion web pages. It also updates Ahrefs' index every 15–30 minutes. Ahrefs is home to 12 trillion links, making it the largest database besides Google.
All this link data makes Ahrefs one of the most accurate backlink-checking tools.

What Ahrefs offers
Usually, our first question is, "How many backlinks and referring domains are pointing to my site?"
Put any URL into Site Explorer and Ahrefs will not only give you its external backlinks and referring domains, but also a credible estimate of the domain rating and the site's organic traffic.
Once you've performed a Site Explorer search on a domain or URL, you can use other Ahrefs tools to further analyze its backlink profile.

Comprehensive backlink report
After using Site Explorer, you can access the entire backlink overview of the website or URL by going to "Backlinks."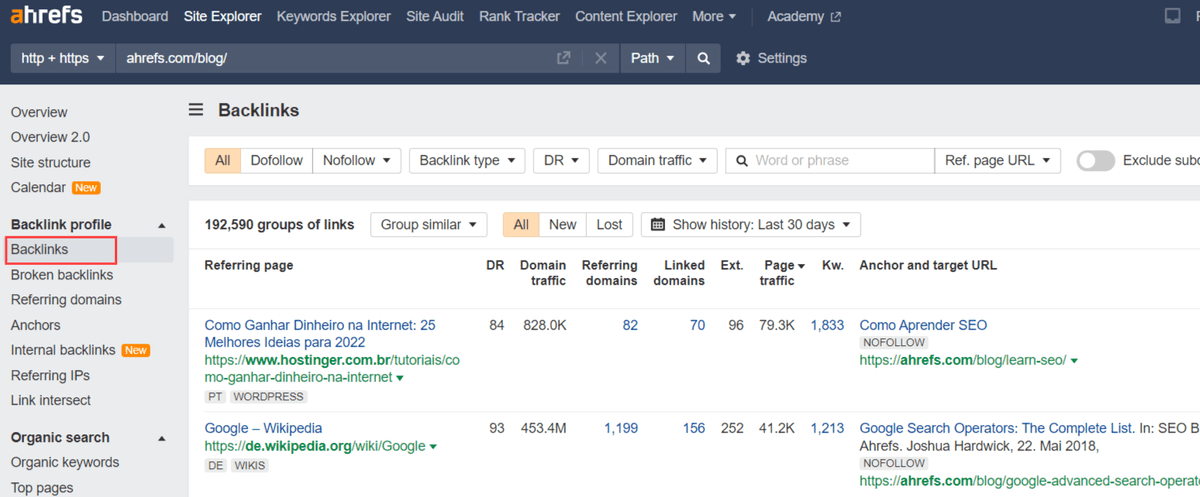 What makes Ahrefs' backlink report so useful is its great filtering and sorting system.
For example, if you want to search for a competitor's high-quality backlinks, you can:

Open the "dofollow" filter and choose to show only the value-passing links.

Set the language filter to exclude foreign language links.

Sort by the Traffic column to see the links that receive the most traffic.

Set the Traffic filter to a value greater than zero to exclude low-quality pages with little or no traffic.

Filter the backlink type for "In content," so that you only see links that are contextual.

You can also use the backlinks section to search your competitors' backlinks for link building opportunities.
For example, if you're looking for opportunities to get backlinks from resource pages, simply type "resources" in the backlinks search. This will show you which resource pages are linking to your competitors.
And if they are willing to link to your competitors, they'll probably be interested in linking to your site.
The versatility of the backlink report makes it a useful tool for monitoring the health of your backlink profile. It can be used to:

Find broken links.

Find low-quality backlinks coming from "spammy" websites.

Spot over-optimized anchor text.
Monitor backlink profile changes
The New Backlinks function shows you the number of links a site has gained or lost over a period of time.
With Ahrefs' web crawler continuously updating its link profile, you should be able to accurately monitor the daily changes in backlinks to your website.
Each day's backlinks are displayed using a calendar view at the top of the report.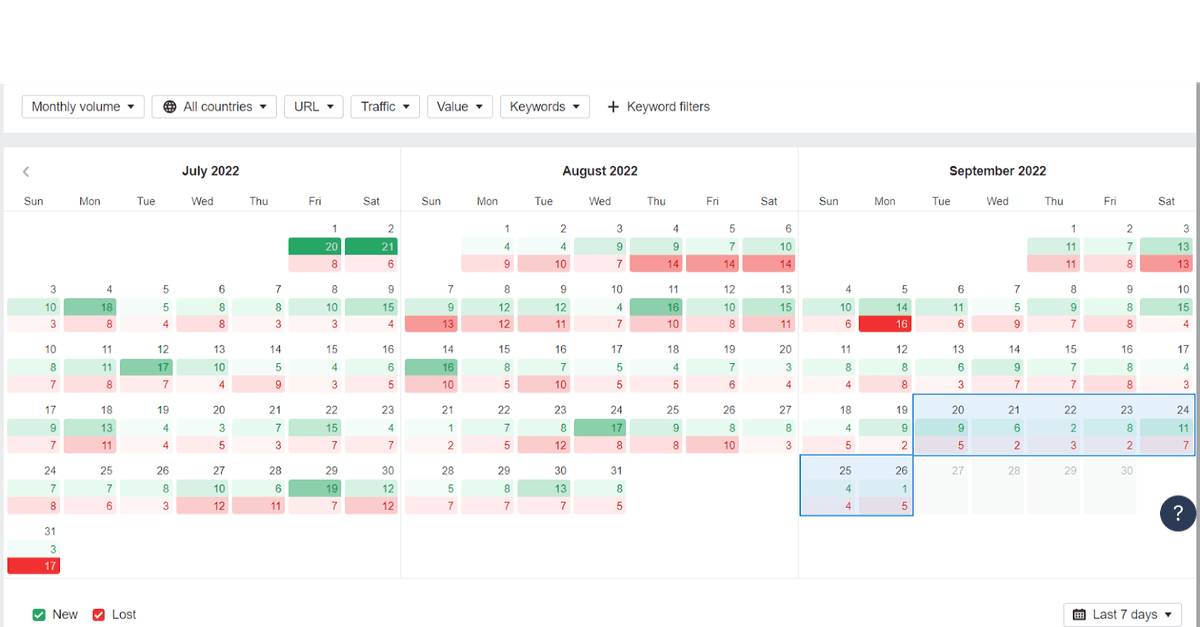 Ahrefs makes backlink monitoring easy by letting you set an email alert to notify you of new and lost backlinks.

Find competitors' backlinks
The referring domains report offers a list of domains that have one or more backlinks to the target site or URL.

You can use it to find your competitors' serial linkers (domains that link to the same website repeatedly).
By identifying your competitors' serial linkers, you are finding people that are interested in linking to topics similar to your own. Building relationships with them can lead to beneficial link building opportunities.
An easy way to find them is to look for referring domains with 10–50 links to the competing site.
Sort by the "Links to target" column with the "dofollow" filter on.

You can delve deeper by looking at the actual backlinks from each site. Hit the down arrow under the "Links to target" column to do this.
The Referring domain report is also useful for finding potentially spammy backlinks. You can choose to disavow these links—this is when you tell Google to not count them towards your rankings.
To do this, sort your referring domains by Domain Rating (DR), from lowest to highest.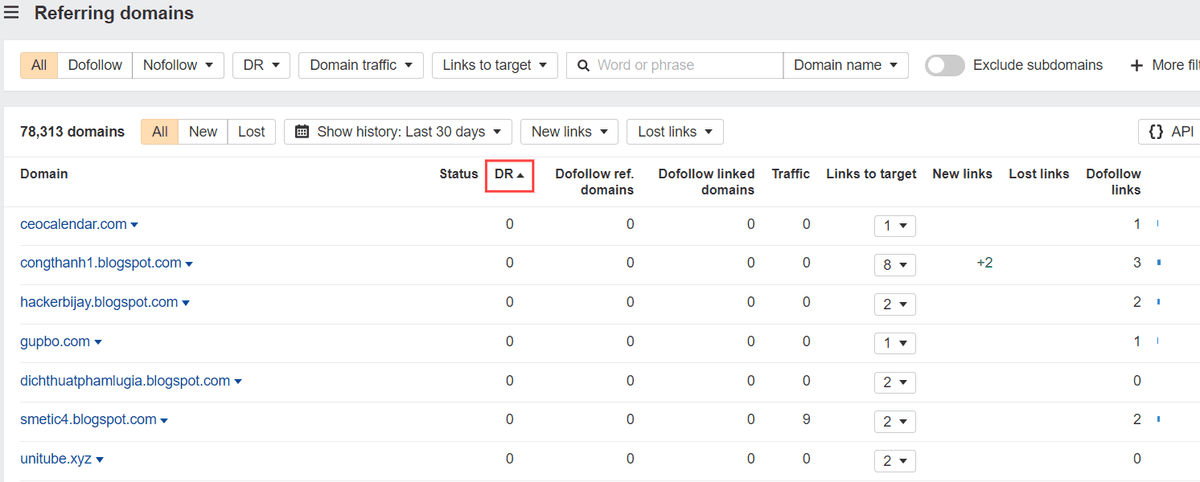 Low DR doesn't necessarily mean that the site is spammy, so you'll need to investigate each backlink manually. Look for "spammy" signals, like:

Spammy sounding domains, like xcoinage.surf

Lots of foreign domains, like those ending .cn or .ru

Sites that obviously don't belong to your niche.
Once you have spotted a suspicious site, click the "Links to target" arrow.

The first thing you should do is to look at the anchor text of the link. If it looks suspicious, incoherent, or doesn't coincide with your niche, it's likely a spam link.
You can also click on a suspicious link to check if the content on that page is of low quality.
The referring domains graph is a useful visualization for monitoring your competitor's backlink acquisition rate; are they growing or losing backlinks?

Look for spikes in backlink acquisition, and find content that they produced or improved during that period of time. This is useful for identifying content ideas you could use on your own site.
The referring domains graph is also useful for pinpointing possible negative SEO attacks.

Find link opportunities
Want to know who's linking to your competitors, but not to you?
The Link Intersect tool builds a list of viable link opportunities by finding pages that link to your competitors, but not to you.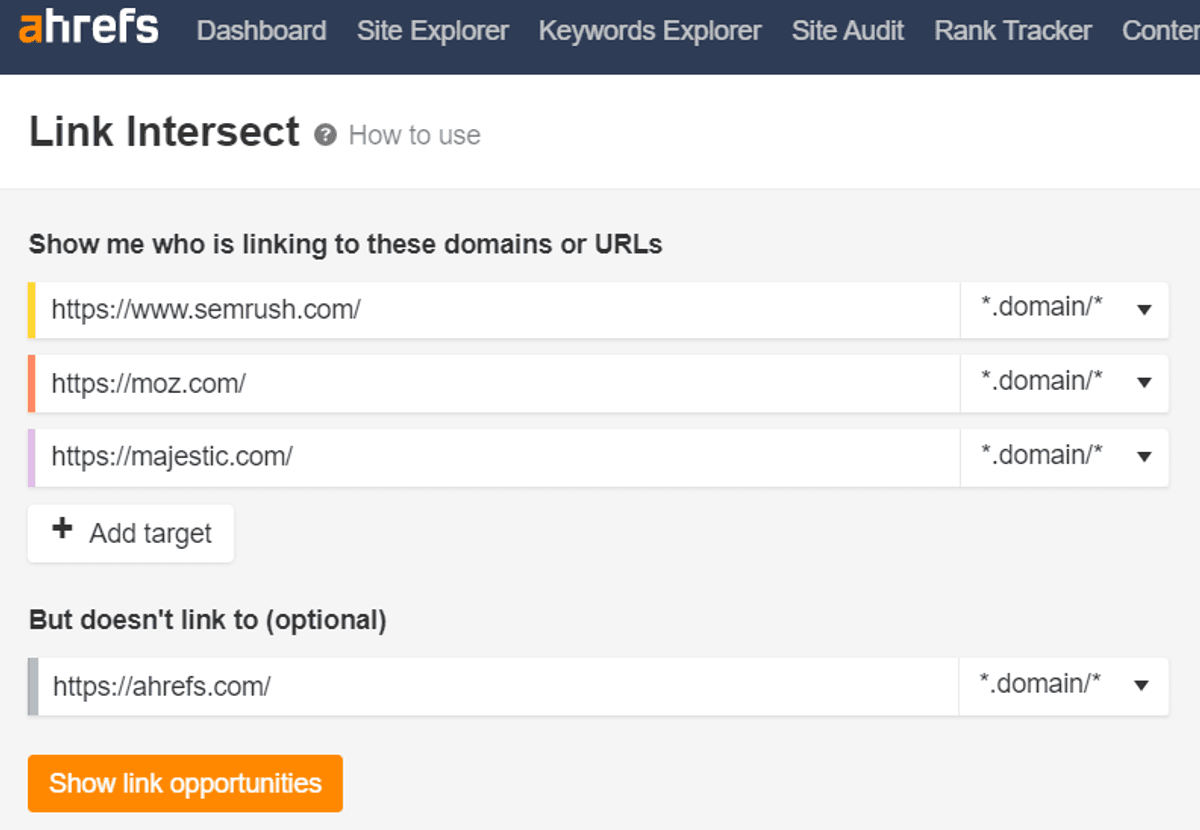 This lists all the possible backlinks your competitors have accumulated. You can enter up to ten competitors.

Compare your domain against competitors
Using the Domain Comparison tool, you get a side-by-side view of how your site weighs up against your competitors on Domain Rating, backlinks, referring domains, and more.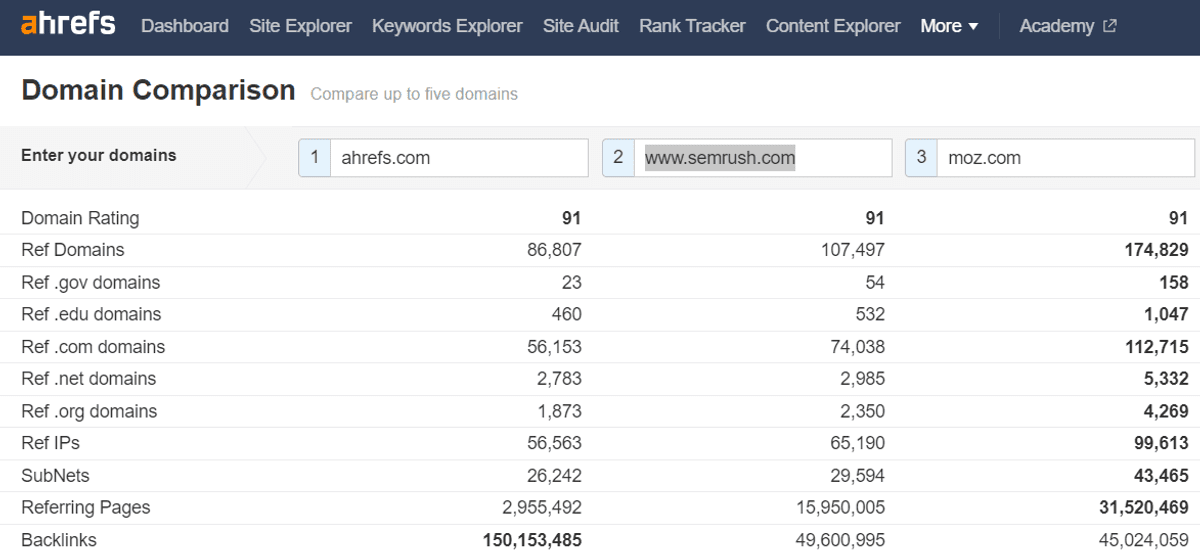 See how competitor pages perform
By using the "best by links" report, you can see which of your competitor's pages is performing the best and getting linked to the most.
This is incredibly useful for giving you ideas on what they're getting right and where you can improve.

Find which pages attract links
Ahrefs tells you which pages have received the most visitors over the last day, week, or month thanks to your backlinks.
In other words, it shows who has made the biggest efforts to promote your content.

What are the downsides of Ahrefs?
Ahrefs only letdown is on link quality.
They don't really have a system to flag potentially spammy or harmful links, like Moz's Spam Score.
Ahrefs instead provides all the relevant data so that you can do a manual review of backlinks.
Let's go through some of the other backlink checker tools.
Though Ahrefs gets our badge of approval, these other mentions are all great backlinking tools that have their own merits.

3) Semrush
Price: Starts at $119.95 per month. Free trial available.
Free version: Yes, with limited functionality.
Semrush's backlink checker is very similar to Ahrefs in many ways. In fact, many people prefer it.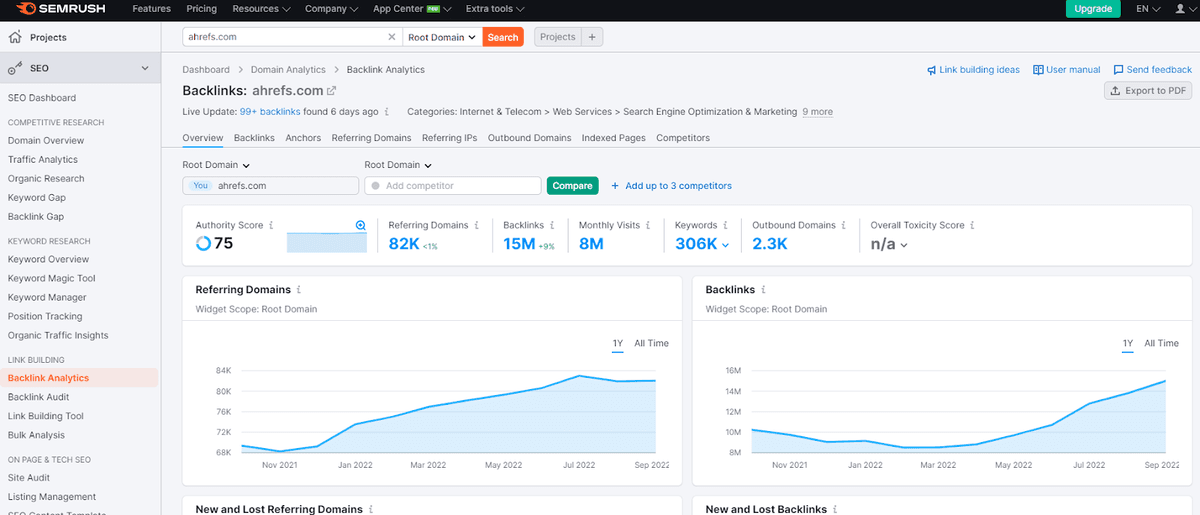 It has a massive index of backlink data, and lots of features, including:
Authority Score. This is Semrush's name for domain authority metrics.

Breakdown of anchor text.

Number of links received over time.

Dozens of filters to refine your search.
What Semrush offers
Semrush's backlink tool has a few cool features that Ahrefs doesn't.
For example, Semrush actually breaks a site's referring domains into different categories.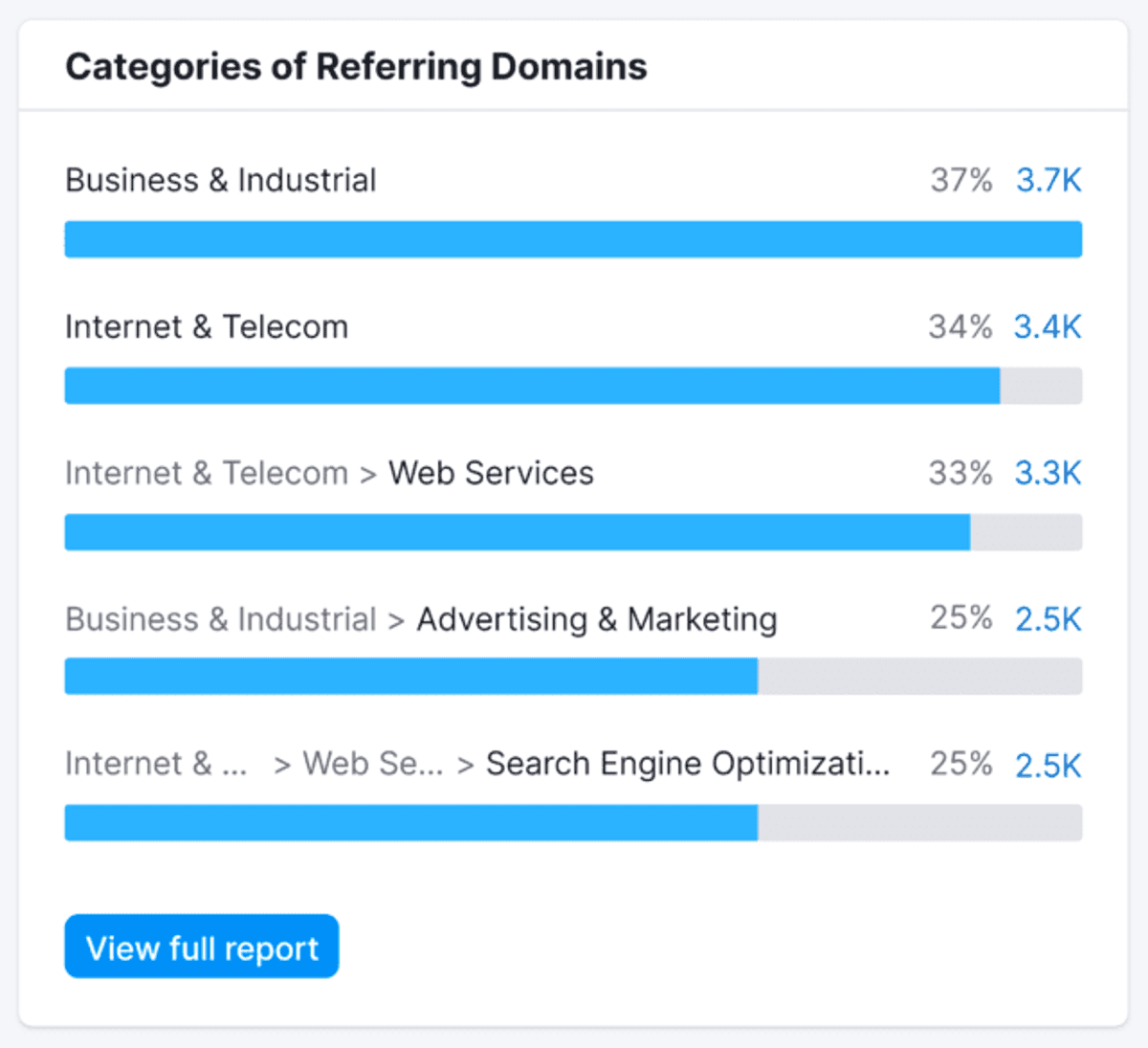 It also shows you a list of sites that have similar profiles to yours.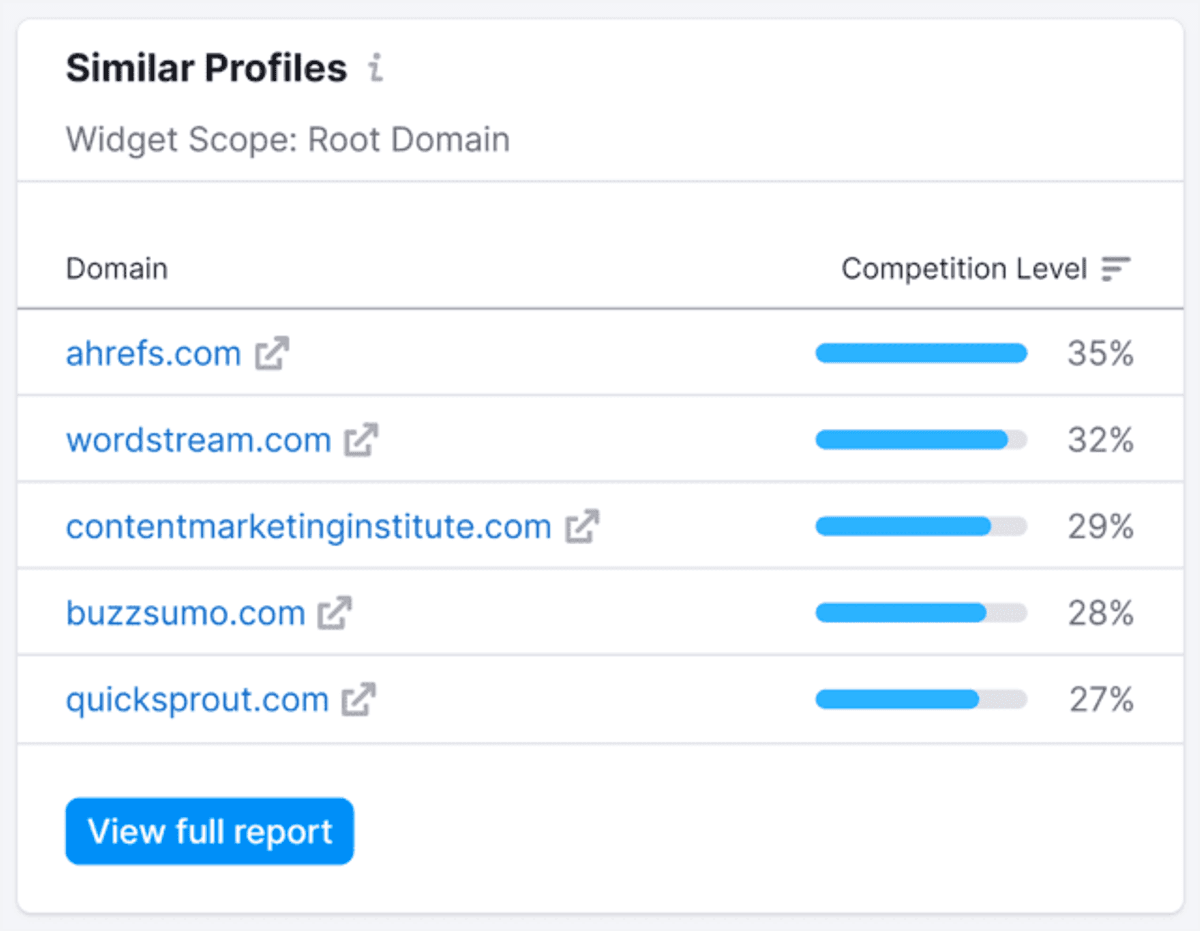 This is incredibly useful for launching a new link building campaign because if they have similar profiles to you, they're most likely getting links from the same places you want to.

4) Moz
Price: Starts at $99 per month. Free trial available.
Free version: No.
Moz's Link Explorer tool is an incredibly useful backlink checking tool.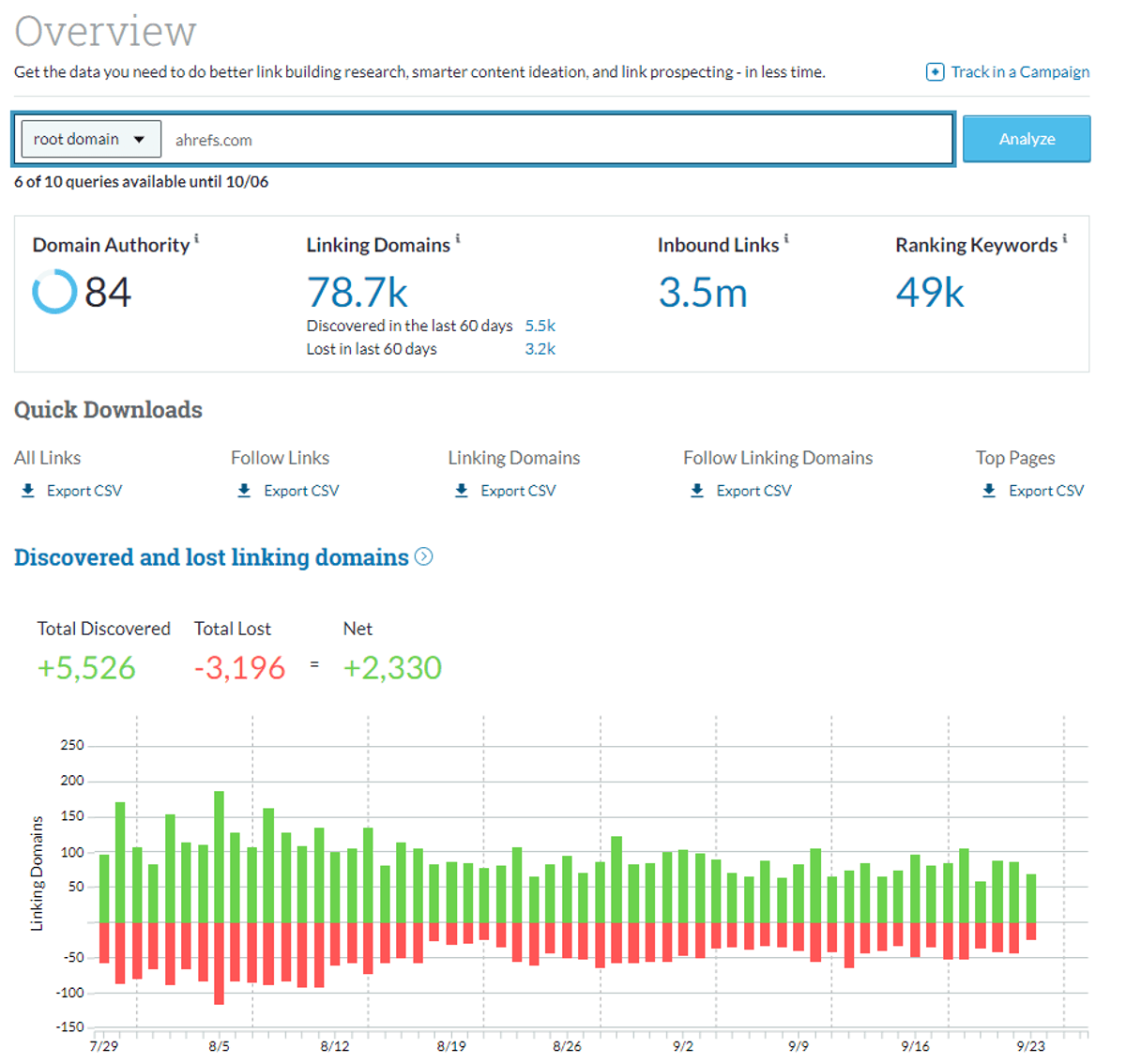 When using Link Explorer, for each backlink you'll be able to view:

Anchor text.

URL.

Domain authority (DA).

Page authority (PA).

The number of unique external linking domains.

The date the link was first seen.

The date the link was lost (if applicable).

Link target.

Spam score.
What Moz offers
The Spam Score is a useful feature. It measures the percentage of websites with similar characteristics to those that have been penalized by Google.
This helps you to make easy calls about the quality of your backlinks based on the Spam Score of the sites they originate from.

5) Majestic
Price: Starts at $39.99 per month. No free trial.
Free version: No, but some free tools are available.
Majestic's backlink checking tools brilliantly display information by using clear visuals.
Not only that, but Majestic also uses several unique metric scores to simplify the way we understand the quality of a backlink or the health of a backlink profile as a whole.

What Majestic offers
When entering a URL into the site explorer, you'll see this overview, getting metrics like:

Trust Flow.

Citation Flow.

Topical Trust Flow.

External Backlinks.

Referring Domains.

Referring IP Addresses.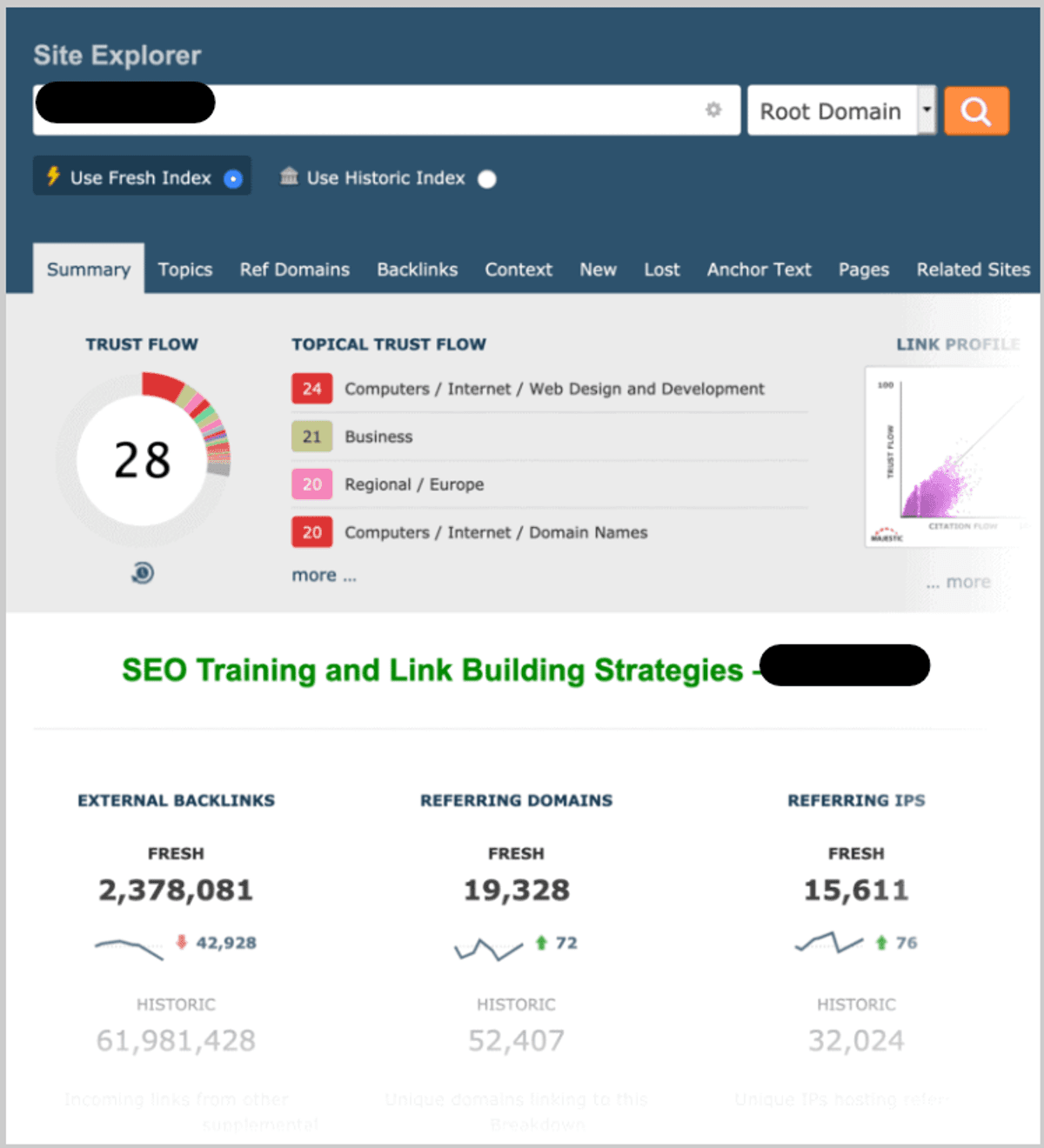 You get an immediate analysis of your fresh vs. historic backlinks and referring domains, as well as a breakdown of the relevance of the domains linking to you (Topical Trust Flow).
Its topic report gives a breakdown of what a site is about. It does this not based on the content it has, but on the types of sites that link to it.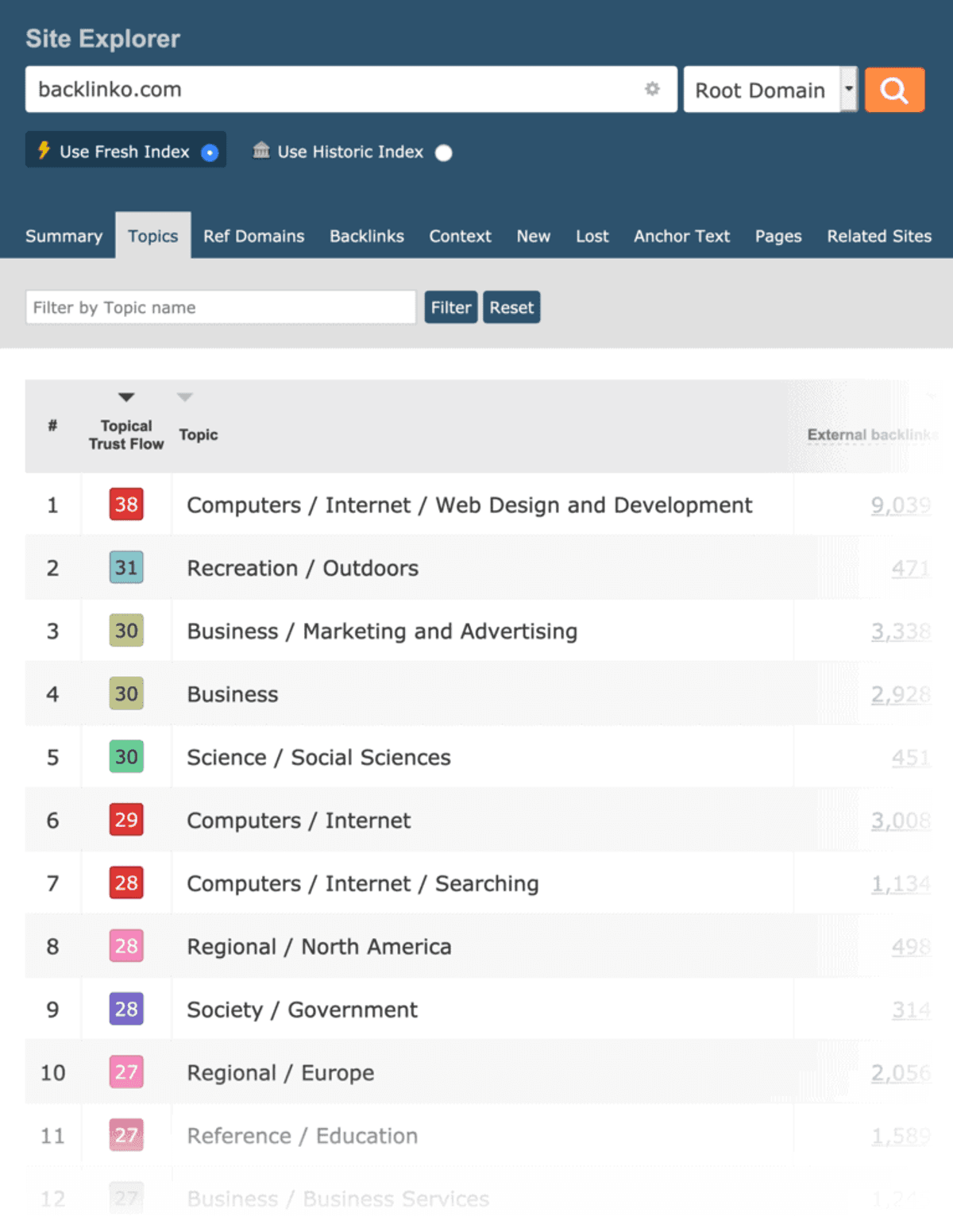 Majestic's backlink breakdown is very detailed: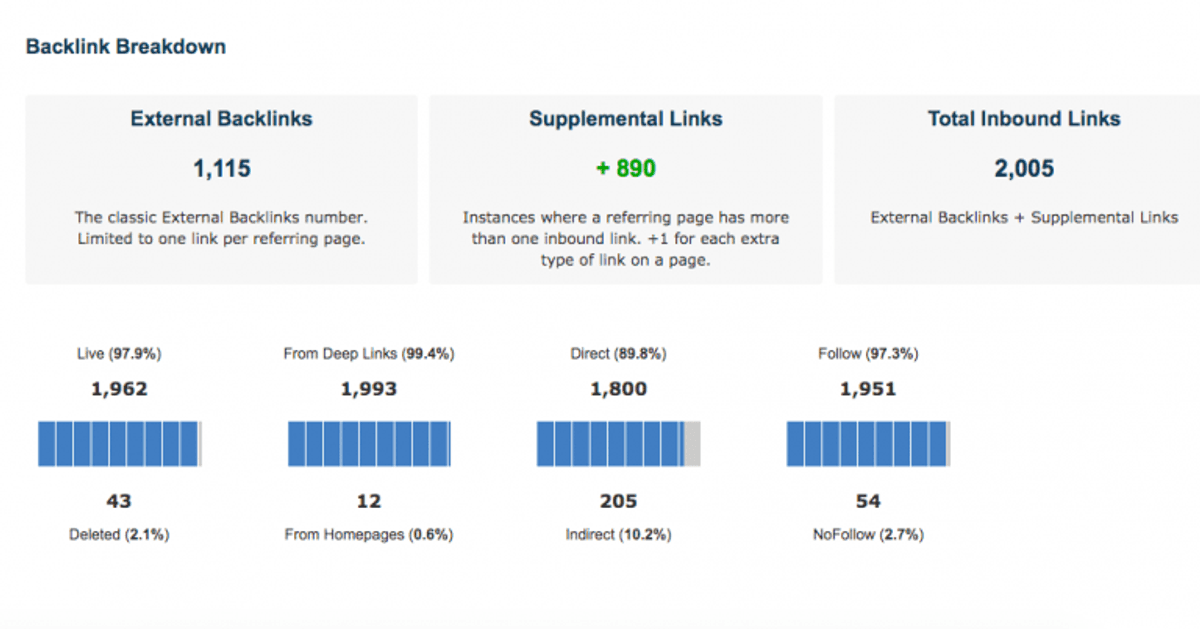 Though Majestic offers a lot of unique insights and metrics, it isn't very user-friendly or easy to interpret the information it provides if you're a first-time user.
Most SEOs we know use it primarily for the trust flow and citation flow metrics.
Tools like Moz have some more 'newbie friendly' features that can help uncover spammy websites and some of their scoring systems are incredibly useful.
However, Ahrefs is undoubtedly the best overall tool for backlink analysis.
It has so many features that allow you to dive into all areas of backlink analysis and really helps you to perform a competitor analysis well.
Aside from identifying potentially spammy backlinks for you, Ahrefs covers all the requirements of a great backlink checker. It can:
Perform deep analysis on competitor link profiles.
Perform in-depth backlink audits.
Highlight new link-building opportunities.
Identify negative SEO attacks.
Monitor new and lost backlinks.
Monitor link acquisition rates.
There are lots of backlink checkers to choose from. Some may seem more suitable to your needs than others. If you want one tool that can do it all, we recommend Ahrefs.