If you're wondering why you might benefit from link building, then you've come to the right place.
As a link building agency, we've ran 100s of link building campaigns and seen clear data from our SEO-savvy clients to show that link building has a huge impact on search engine traffic.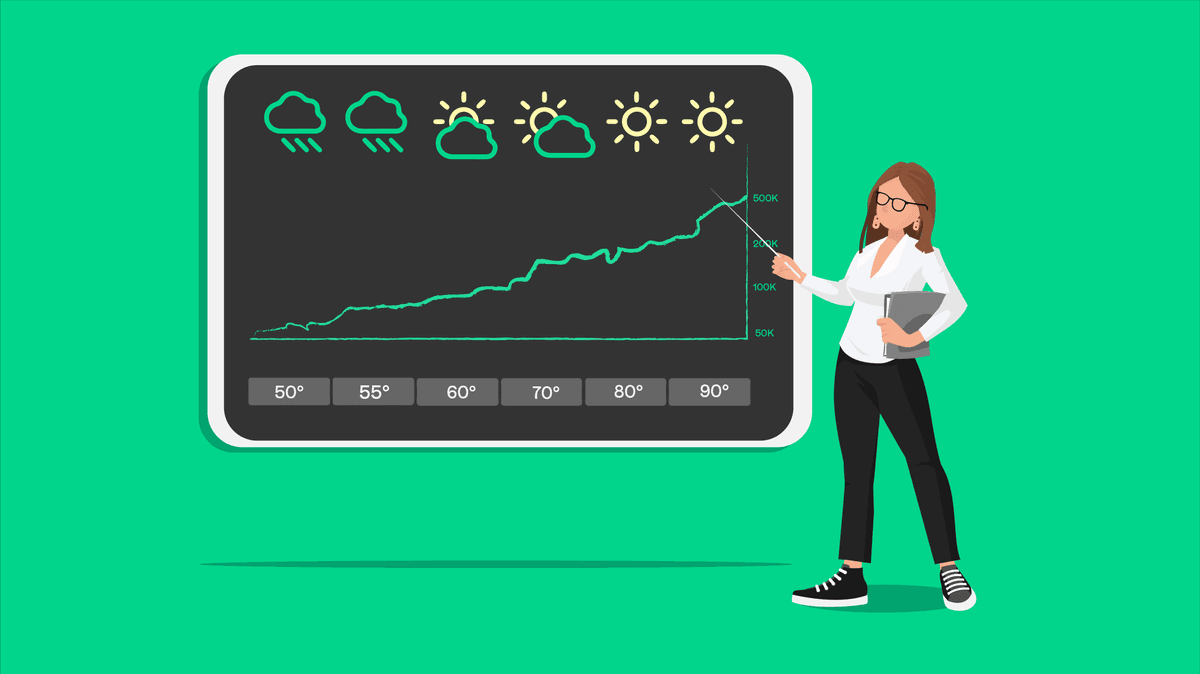 The Benefits of Link Building
The benefits of link building have been clear across the SEO community for a long time now.
Having high quality links to your website results in better search engine rankings and more traffic.
Therefore, link building is an essential part of any search engine optimization (SEO) strategy.
What is Link Building?
It is the process of proactively finding ways to increase the number of backlinks to your website from third parties.
Links help search engines discover new web pages and determine which ones should rank higher in SERPs. The more you have, the higher you rank.
But the benefits of building links don't end there.

Below, we highlight the 9 primary benefits of link building:

1) Better rankings
Search engines consider the number of links your site has when ranking it on SERPs.
This is the main benefit most website owners have in mind when they start a link building campaign. Having more links can help you rank for more competitive terms.
Expert research backs this up:

Backlinko found that the number one pages in Google's results have nearly four times more backlinks than those in positions two to ten.

Ahrefs says that backlinks are "arguably the most important ranking factor". Its study of more than a billion web pages found a clear correlation between the number of backlinks a page has and the amount of organic traffic it receives.

Authority Hacker says backlinks are "the most strongly correlated factor for SEO success".
2) More traffic
Appearing at the top of the SERPs will increase your website's traffic.
According to research from FirstPage, the average number one spot on Google gets 39.6% of clicks. That's more than double second place, which gets 18.4%. Position ten gets just 2.1%.
Research from Ahrefs shows a strong correlation between the number of links that a website has and its traffic. It also found that just over 90% of all web pages get zero traffic from Google. Most of these zero-traffic pages had fewer than four backlinks each.
The impact of backlinks on traffic can be seen in our work with SnackNation. We've built over 400 amazing links for them. Within two years, the company's monthly traffic grew from 235,000 to over 700,00 visitors per month, with a whopping traffic value (monthly) of over $1,000,000.

3) Increased referral traffic
One of the secondary benefits of link building is that you'll gain referral traffic via the links themselves.
How much depends on the amount of traffic the linking article gets. If it ranks number one on Google for a popular search term, you could receive substantial referral traffic.
Once you've built a link to a page that generates referral traffic, you'll continue to receive it as long as the link remains active.
Compare this to other traffic sources like PPC ads, which stop providing traffic once the campaign has run its course, or social media posts that are eventually pushed down people's feeds.
4) Links improve domain authority
Backlinks act as third-party indicators of your domain's credibility. Domain authority is the term used to describe that credibility.
It considers the number of links your site gets and the level of domain authority those referring sites have.
Your domain authority score will usually be higher with just one backlink from a high authority site than it would be with lots of links from low authority sites.
The level of credibility a domain has is given different names by different SEO tools:
Domain Rating (DR) on Ahrefs

Authority Score on SEM Rush

Domain Authority (DA) on Moz
These tools assess the quality of a domain's backlinks and give it a score out of 100.

Google has stated that domain authority scores are not a ranking factor.
However, higher domain authority scores have been found to correlate with higher rankings. Also, authoritative sites seem to find it easier to rank new pages more quickly.

5) Boost your perceived authority
Building links makes your content more authoritative for your audience—for example, a link from the New York Times will make an article seem credible.
It's also important to point out that links get links. If your site ranks high on Google, has a high domain authority and features lots of quality backlinks, visitors will know that it is credible. This will make them more likely to link to it and your site will get even more links.
This means that sites with a lot of links tend to enjoy a credibility snowball effect.

6) Helps build relationships in your niche
Good link building campaigns involve reaching out to experts or other creators of quality content in your niche. This is more of a by-product of link building than a benefit, but it's still worth a mention.
This helps you grow your personal network of contacts. It also helps to raise the profile of your website amongst others in your niche and makes it more likely that they will reach out to you too.
Expert roundups and guest posts are a great way to increase your exposure and authority. Here's one we recently created where we asked link building experts to share their best strategies.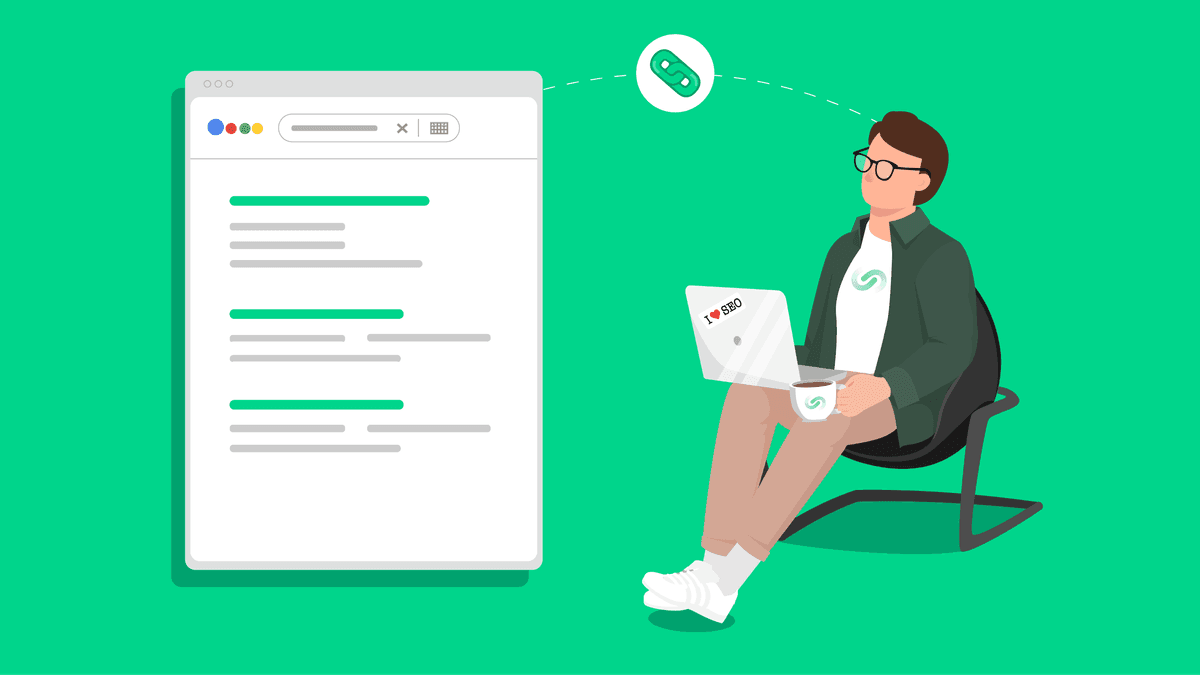 7) Boosts sales and revenue
The more links you have, the more traffic your website gets. And the more traffic your website gets, the more people will see your products and services.
This means you will make more sales, and more sales mean greater revenue.
Links from publications and reviewers are especially useful here. That's because they will:

Be highly relevant to your niche

Attract people looking to buy your products
Below is a great example from from Respona's website, where they mention our company as their #1 recommended link building service. They're showing our old website design, but that's OK!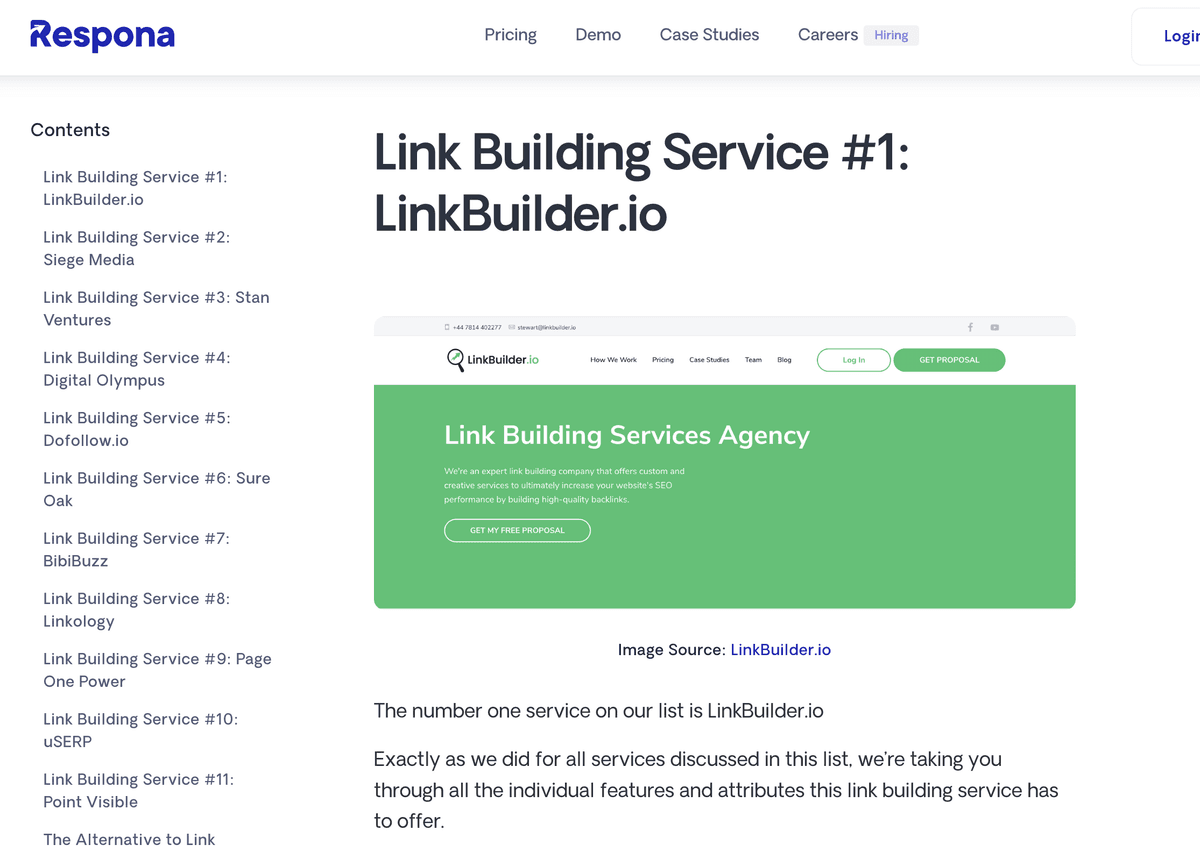 Obviously, having them talking about us on their list is going to help convince other people that we are in fact a reputable company and one that they should seriously consider as part of the purchasing process.
The same thing would apply to just about any conceivable product or service. If bloggers are talking about you positively, it's always going to help you get new customers.
8) Become a thought leader
One of the benefits of link building is it can help you become a thought leader, and thereby break into new markets and become a trusted and credible source within the industry.
For example, if you wanted to provide services to the dining industry, you could create a free guide to the services you offer aimed at casual restaurant chains.
You could send this guide to an industry publication. If they like it, they may link to it on their website.
Not only will this improve your site's authority and increase traffic to the page, but it will also generate sales leads.
Below is an excellent example from SiteMinder.com. The company provides eCommerce software to the hotel industry. It has produced a complete guide to marketing to support customers in this sector.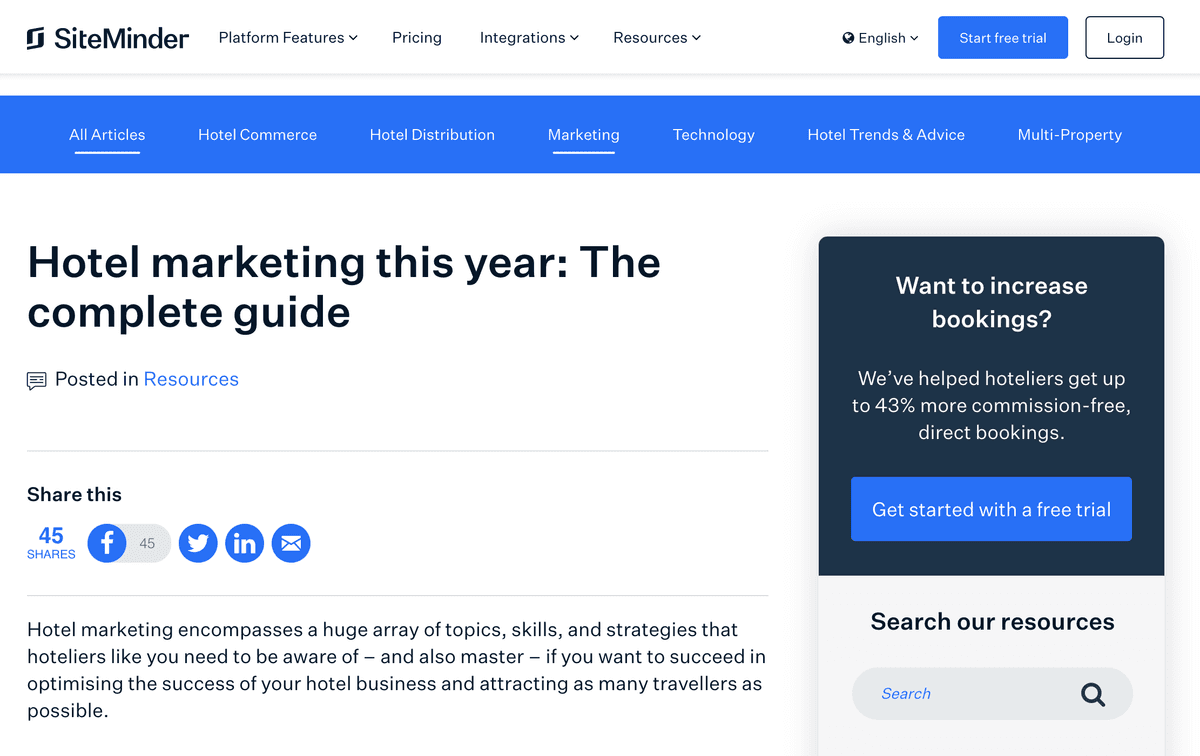 This guide gets more than 700 backlinks from 151 domains, most of which are related to the travel and tourism industry. This is an incredible achievement, and means they're definitely seen as an industry-leading source of information.
Many visitors from those sites will likely be interested in eCommerce software, and a proportion of them will click on the free trial offer and eventually convert into customers.
SiteMinder was already established in this industry. But you can see how it could easily create a similar guide for an adjacent sector like bars and restaurants and start bringing in new leads.

9) Link building encourages good content
An excellent white hat link building strategy involves creating good-quality original content that is valuable to readers.
That's because white hat techniques aim to get people to link to content because they see value in it. With this in mind, you'll be encouraged to put more effort into making your content as good as it can be.
On the other hand, black hat techniques like direct link exchanges, spam comments and articles on private blog networks don't require good-quality content to get a link.
Good-quality content has many secondary benefits. For example, it increases your brand value and encourages people to buy your products and services.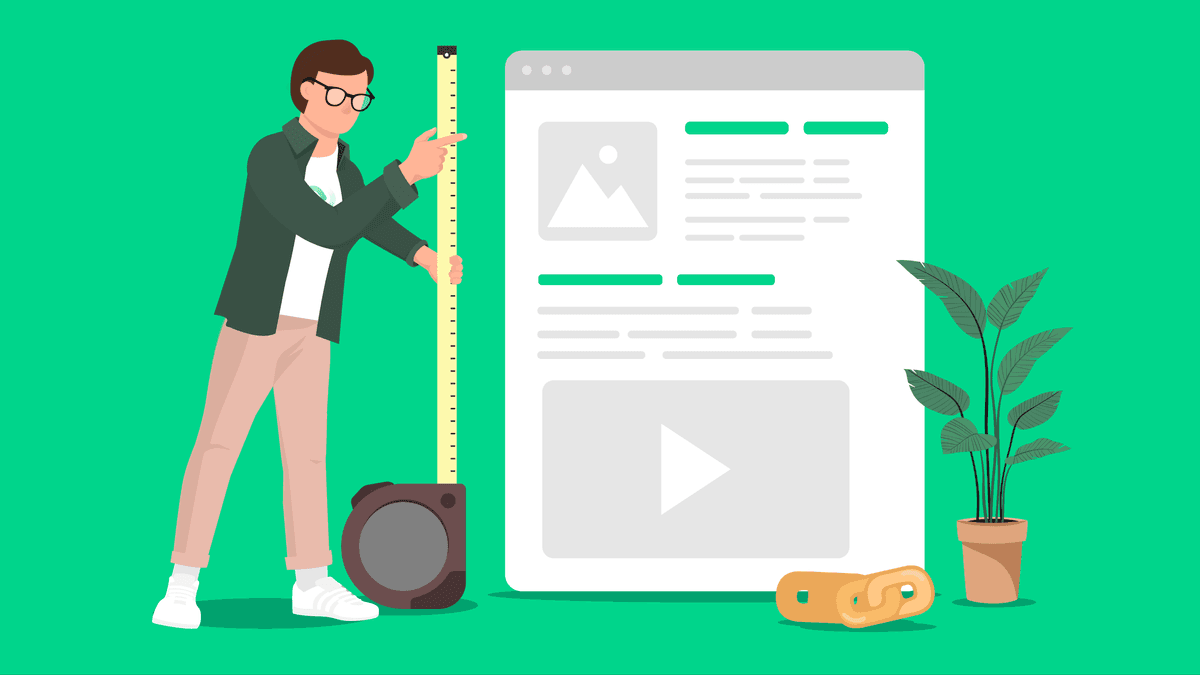 Start link building to rank higher in search engines
In this article, we've explored the benefits of link building beyond the obvious, which is ranking higher on SERPs.
Google's primary purpose is to help searchers find the best information to answer their queries.
That's why simply buying links or using black hat techniques won't work well—they usually don't have the user in mind.
Instead, you should focus on producing quality content and reaching out to other experts in your niche to ensure that you enjoy all the benefits we've covered.

At LinkBuilder.io, we have various link building packages to help you get started.