Internal link building often gets much lower priority for website owners and bloggers chasing those shiny external links.
As a link building agency that focuses on external links, I feel responsible for sharing the magical power of internal link building, and show how it can actually go hand in hand with external link building to improve the authority and ultimate ranking of your most important pages.
Why is Internal Link Building Important?
Internal linking helps Google understand how important a particular page is on your website.
We can help Google understand how important a particular page is on your website by increasing the number of internal links to a page. This passes more authority to that page.
💡 I'm extremely excited about internal linking after we took one of our stagnant websites and started putting a massive emphasis on the linking structure.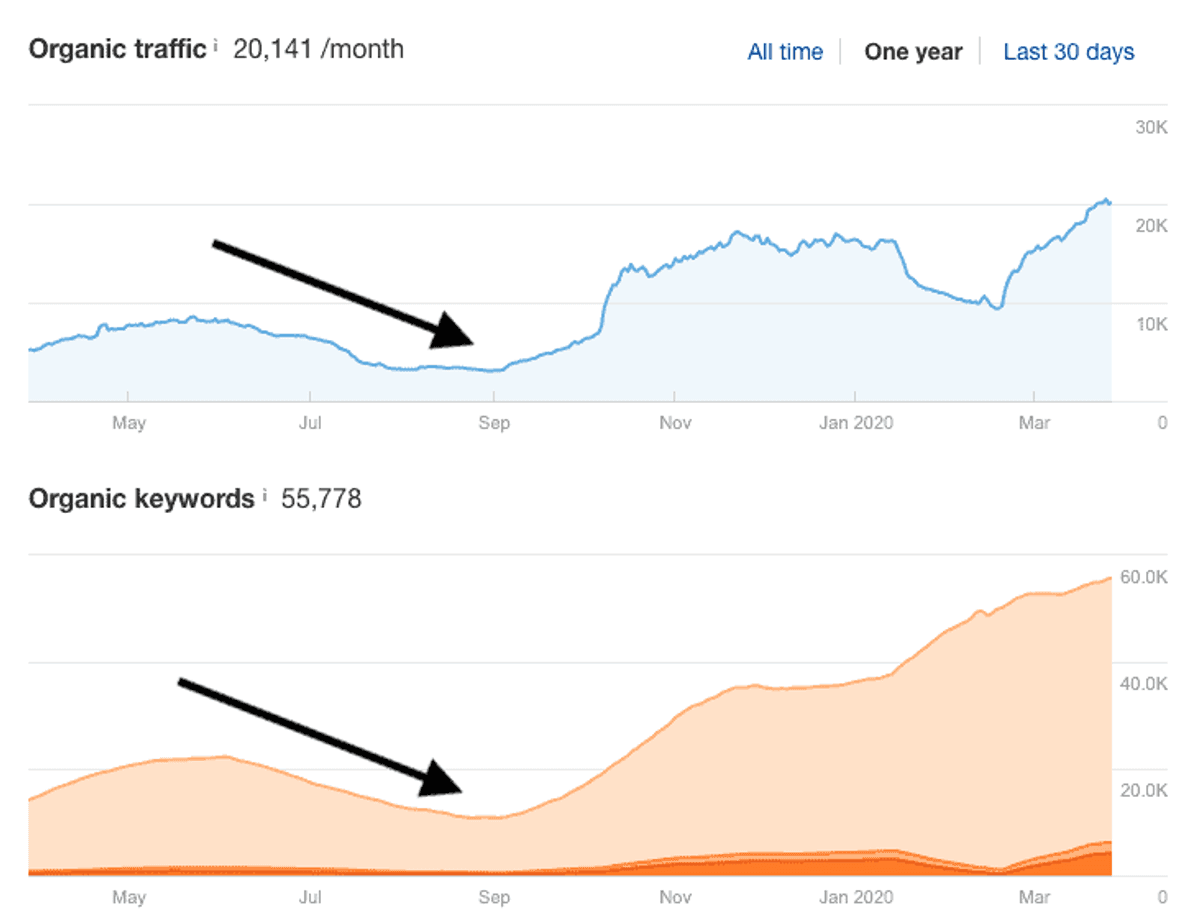 We did very minimal external link building on this site (because it already had great external links), and instead placed a massive focus on internal linking to see what would happen. Over the course of 6 months traffic more than quadrupled, with no new pages being updated (although we did update older pages).
3 Fundamentals of Internal Link Building
Your most important pages should have the greatest share of links
Pages that get many links from other websites should be passing that authority to important pages on your website
Build topical hubs that can funnel authority through to pages deeper in your website. Great example of this would be on E-commerce sites, where category pages funnel authority down into product pages
Leveraging Pages With Lots of External Links
We will talk about this first, since it's most closely related to what we do - building links from external websites.
If you've been working hard on link building campaigns to earn links from external sources, you can leverage this to benefit other important pages on your website.
You can easily find out what pages are receiving the most external links using a tool like Ahrefs.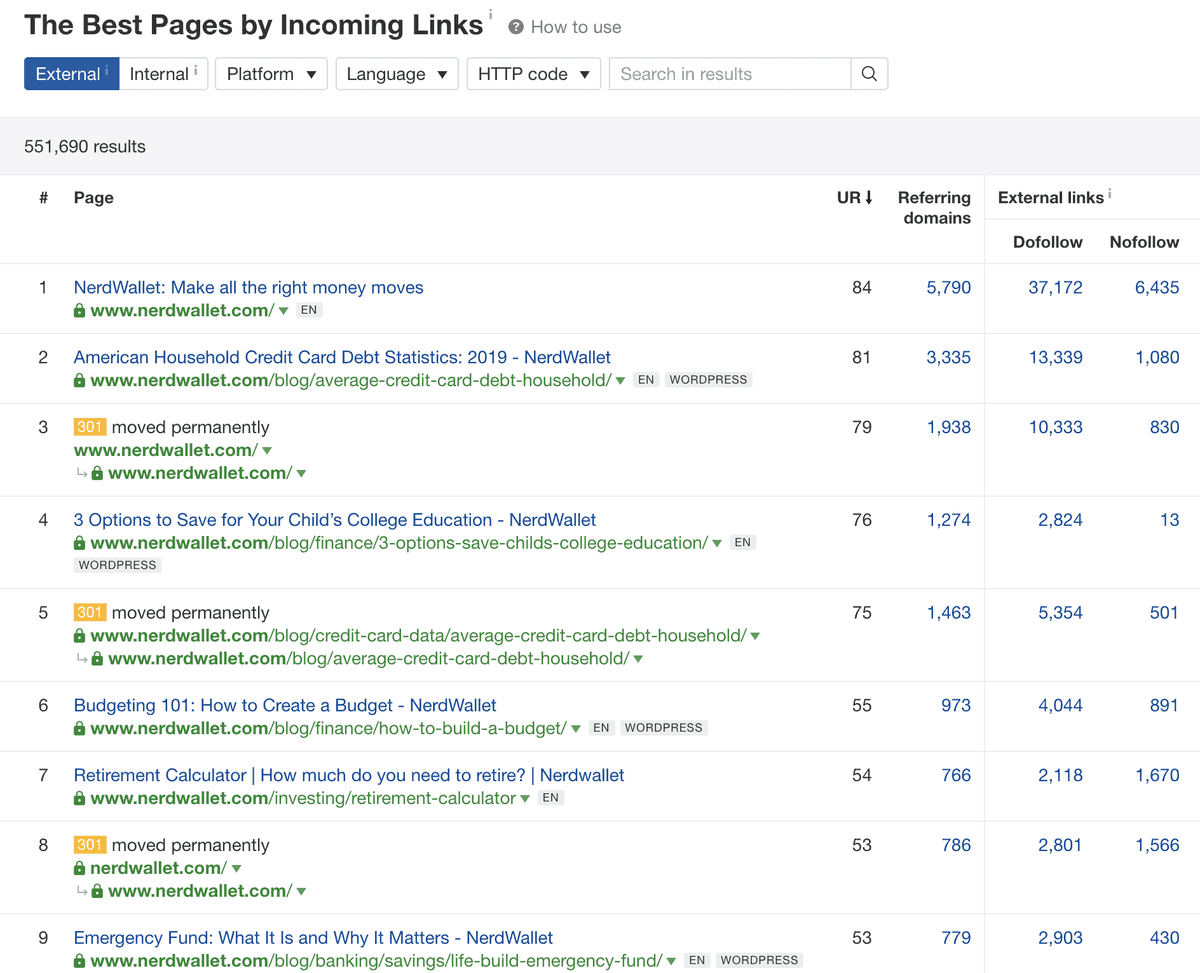 This is a perfect way to pass authority to pages that are difficult to earn external links for, like service pages or software pages.
I love this graphic from Ahrefs which perfectly explains the process of passing link juice from highly linked pages into money pages:
Simply add an internal link from highly linked pages to your most important pages.
Basic Principles to Follow
Use aggressive anchor texts when linking internally
Link more often to your most important pages.
Make sure the internal link has some relevancy in the context of the page
Go and update old pages with internal links and fresh content - something which is often very overlooked
Think on a Page by Page Basis
Google evaluates its ranking of a web page on a page by page basis.
You can have an incredibly authoritative domain, but if it doesn't have internal links it won't rank!
Authority sites only work well because they have a good structure set up which passes the high authority they have to important pages. They're authority sites because they have good SEO!
Click Depth
Click depth refers to how many clicks it takes to reach a page on your website from the homepage. It plays an important role in internal linking.
For example, let's say our website is all about insurance. We might have a super important page on the website that compares 2 companies that sell pet insurance.
To get to that page we have to take the following route:
Homepage - Insurance Blog
We navigate to 'Pet Insurance'
There's a sub-category in there called 'Pet Insurance Comparisons'
The article was published 2 years ago, so now we have to scroll down and click to older posts to find it.
Finally, we land on our page - Doggy Care vs. Puppy Power
The page would have a site depth of 5 (Including the homepage in this instance).
💡 So how can click depth help me?
Well, if you have a very important page that has a high click depth, that's a problem! You can decrease the click depth by moving it up a couple of levels. So in this example, we could easily link to our comparison page on level 3, and link to it directly from the pet insurance page. If this article was actually generating lots of revenue for us and we wanted to give it even more authority, we could link to it directly from the homepage.
Topic Clusters & Relevancy
This strategy is important for creating lots of highly related content, and have it link internally to content within that topic.
Think about how E-commerce websites are organized - They have hubs around different categories.
Below is a great image from Ahrefs guide on internal linking which shows how you can create content silos: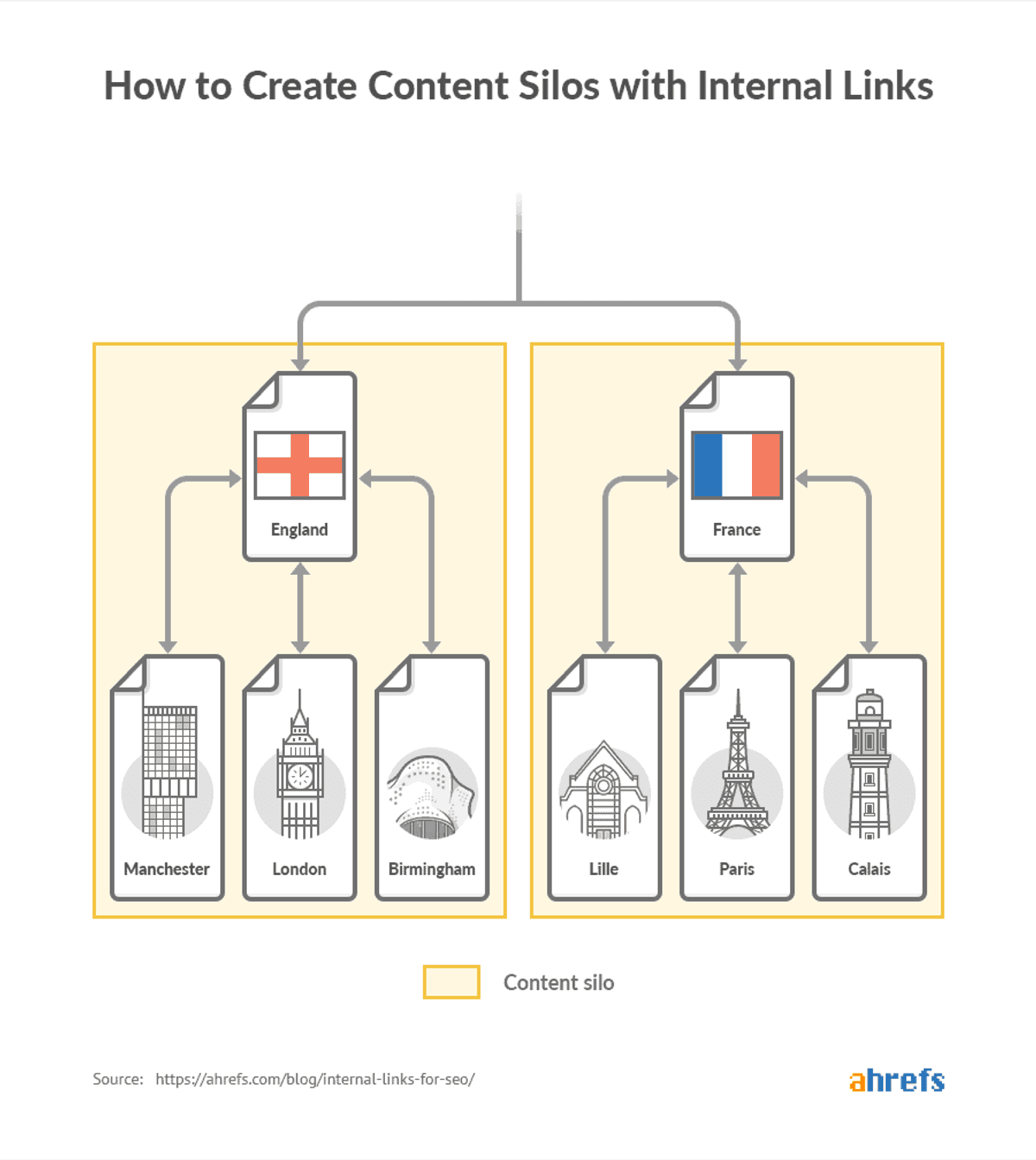 Relevancy is becoming increasingly important both for internal and external linking. It's something Google looks for much more now, and it plays a vital role in SEO.
It's important that links come from pages that are topically related. Google will see that you have re-inforced this page from all of these other pages around the same topic.
This is incredibly important for link builders too - You need to ensure backlinks have some relevancy!
Tools = Power 🧠
Some of these concepts can seem overwhelming. We always talk about things like 'authority' as if it's some kind of hard and fast number or figure.
Google is constantly monitoring this stuff, but so are all of our favorite 3rd party SEO tools, which is why we should leverage them!
When you think about it, those tools are trying to mimic Google and to attribute a score to a page based on how they think Google will be reacting to that page.
Ahrefs
This is a fantastic tool for checking which pages have the most external links & internal links. They can then help you to adjust your internal linking strategy accordingly.
Sitebulb and Screaming Frog
These tools will give you even more insights into your internal linking structure, and they'll show you the click depth of a particular page as well.
Key Summary Checklist
Your most important pages should have more internal links
Ensure the click-depth to important pages is lower
Update old blog posts to improve click depth and add more internal links
Create topical hubs of content, and link internally between pages in that hub (focusing more on the most important pages!)
Be aggressive with internal anchor text
Figure out which pages have the most external links, and link from those pages to important pages on your site
If you have pages with lots of internal links pointing to them, make sure those pages are in turn linking to important pages
Use tools like Ahrefs & Sitebulb to analyze everything
Make sure you don't have orphaned pages - These are pages with zero internal links. You probably won't rank for any of these pages!