Guest posting is one of the most effective and popular link building tactics.
But doing it right is time-consuming, difficult, and requires a range of skills.

Because of this, many website owners often prefer to outsource it to a guest post service.

Guest posting services explained
Guest posting (or guest blogging) is when a website contributes a piece of content to another website.
The idea is that the site owner gets free content for their website, while you get a backlink.
The other benefits of guest posting are:
Gaining a backlink from the website you contribute to.

Generating referral traffic from that website's audience.

Building relationships with other content creators in your niche.

Increasing your credibility in your niche.
Guest posting services allow you to outsource all aspects of guest post writing and placement to a specialist link builder.

The 8 Best Guest Post Services Around
Here's our list of the very best guest post services on the market based on our own knowledge of the industry.
However if you want a more in-depth, data driven look at quality guest post services, I'd recommend checking out this amazing piece on Gotch SEO where they spent $1 million on links.
That's right, us.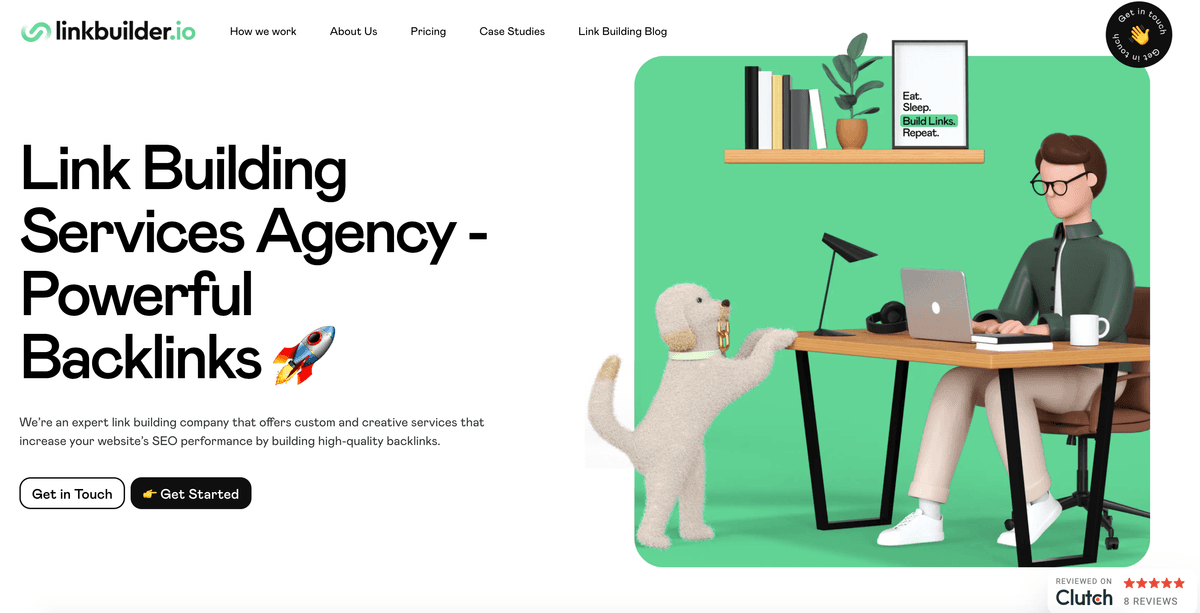 We think we offer the best guest posting services around. No one else provides a better balance of service, quality backlinks, and value for money.

Why Linkbuilder.io is good
We believe that guest posting needs to be done using white hat techniques so that it delivers long-term value for clients.
Which is why:
We don't sell one-off guest posts.
We use guest-posting as part of a broader link building strategy.
This strategy includes building other types of links as well.
This allows us to generate high authority backlinks that provide websites with a sustainable rankings boost.
What do you get with Linkbuilder?
Because all of our services are bespoke, no two link building strategies are ever the same.
That's why our offerings are structured based on the number of links we provide.

Our cheapest package includes 8 high-quality links for $2,999 per month.

Our most expensive package includes 40 links for $14,999 per month.
We also offer Authority Links packages. These provide very high authority links by leveraging our established relationships with well-known SaaS and B2B websites.
Our links and guest posts drive incredible rankings.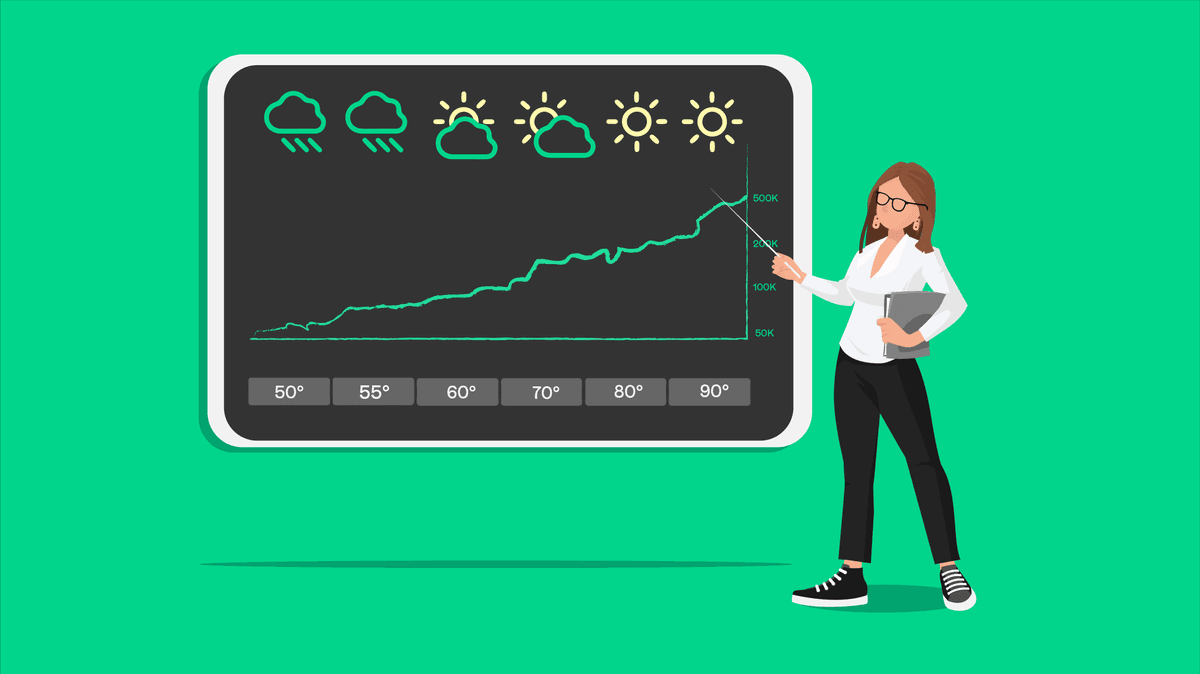 These sites are guaranteed to:

Be DR 60+

Have at least 10,000 monthly visitors with high traffic value
Here's how we ensure the links we build are high quality:

We draw on our strong relationships with content editors and SEO teams

Our experienced prospecting specialists find guest post blogs relevant to your niche.

We come up with original content ideas that are aimed at each specific website.

Our link building strategists perform personalized outreach to websites—they don't send generic mass emails.

Our professional writers create high-quality guest post articles.
ONLY outreach is a link outreach agency focused on acquiring links from picky bloggers.
They offer blended monthly packages with guest posts being one of the 2 deliverables (along with high traffic link inserts).
Why ONLY Outreach is Good:
Only Outreach specializes in DR 30-85 link building on authority blogs and niche sites, using unique tactics to deliver a steady flow of links.
They:
focus on creating good content that bloggers would covet
avoid working with websites that show up on popular link seller lists
have a customer service first approach that lets clients see into their workflow
When they create guest posts, they write with the intention to rank, which means targeting attainable keyword targets on niche-relevant sites.
Instead of articles that only do the bare-minimum to score a link, ONLY outreach works to develop a network of high performing blog posts pointing to your site.
What Do You Get With ONLY Outreach?:
With ONLY Outreach, customers get custom dashboard reporting, monthly outreach campaigns, content creation, anchor text planning, guest posts, ghost posts and link insertions.
They provide four tiered pricing packages designed to fit most businesses' growth needs.
The Starter package begins at $1499 and offers 8 links on average

The Pro package is $2999 with 15 monthly links,

the Plus package is $4999 with 25 monthly links,

and the Plus Ultra package is $6999 with 35 links per month.
All packages come with a discounted first month to help set up the outreach pipeline before active link building begins, and businesses can also request custom packages for higher competition niches.
How to Order Guest Posts From ONLY Outreach?:
1) Create a dashboard account
On the home page click "SIGN UP." Then fill out the form to create your free account.
2) Book a free consult
Their helpful consult provides an overview of the services but more importantly asks you questions, learns about your goals and competitors and helps build towards a proposal.
3) Select a package and get started
Choose one of their 4 packages and get started on a monthly subscription
4) First couple months
The first week, you'll get a plan of action along with timelines.
The first month, you'll see them setting up the campaign, doing the initial prospecting and starting outreach by week 3.
By week 4, they'll share a live link tracker with you and then weekly, they'll give you updates on their progress.
3) BlueTree.ai
Blue Tree is an SEO-focused content marketing agency.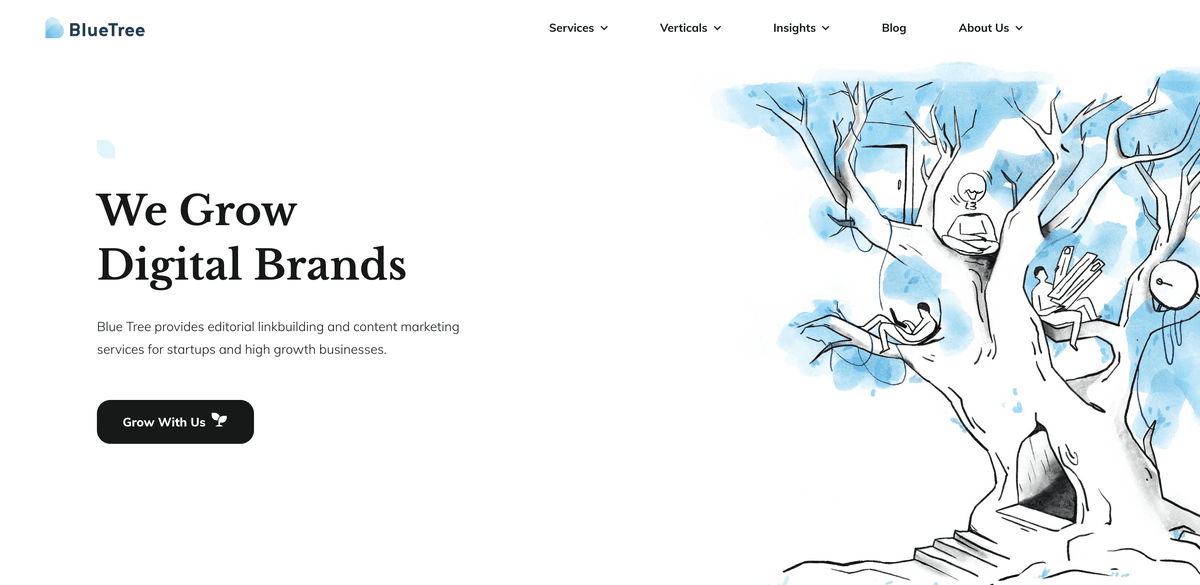 They offer an excellent guest posting service—but it comes with a hefty price tag.
Why is BlueTree good?
BlueTree places white hat links using high-quality content. They:
Believe guest posts should be written for people—not for links.

Don't use AI writers.

Don't work with link farms.
They also believe that link building should be a secondary benefit of guest posting. They use guest blogging as a means to build their clients' brands and nurture trust with their audiences.
What do you get with BlueTree?
BlueTree offers three guest post packages:

5 links per month for $4,500.

10 links per month for $8,500.

15 links per month for $12,000.
This may seem expensive but links are placed on websites that are DR65+ with a minimum of 5,000 monthly visitors—so you'll get some really powerful links.
Plus, the more expensive packages provide ongoing strategy and account management support.
How to order guest posts from BlueTree
Visit the company's website and fill in a contact form.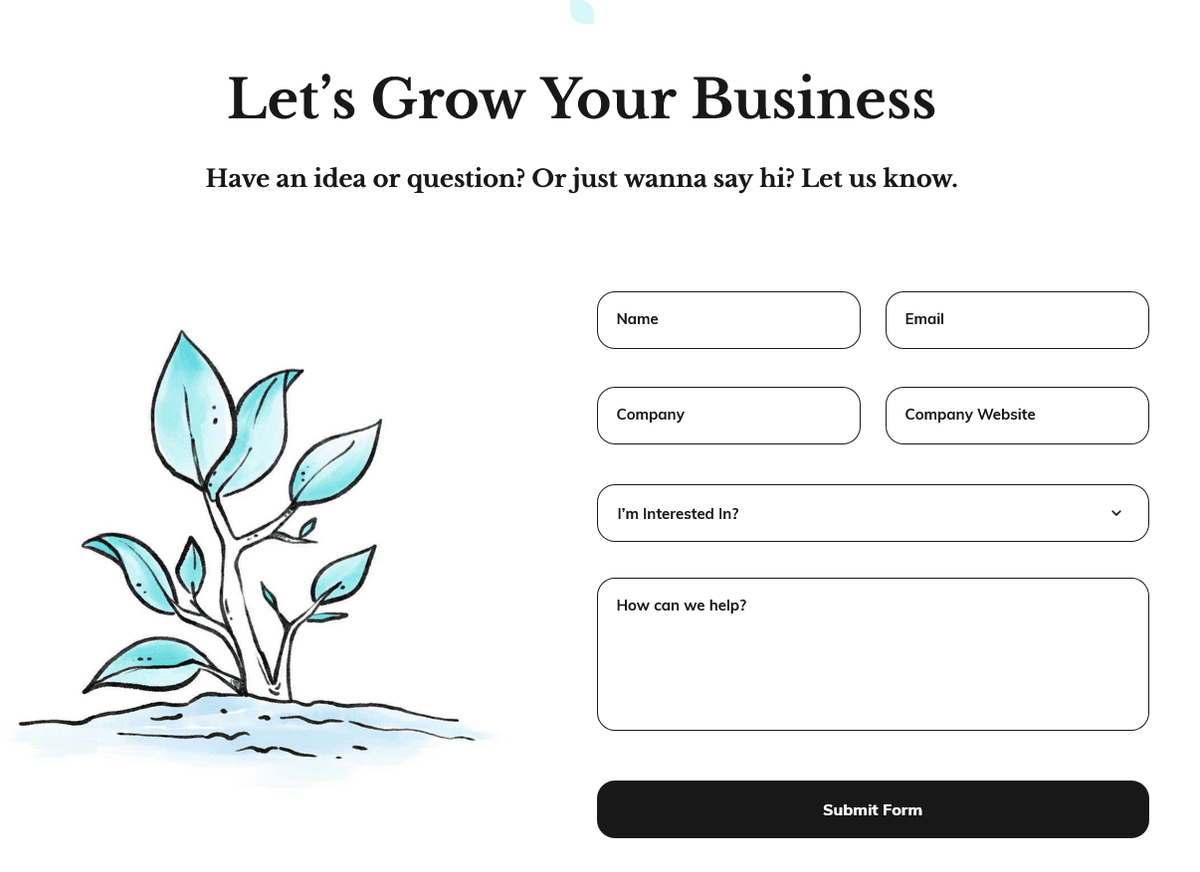 A five-step plan

BlueTree then has a five-step plan for all of its clients:
They'll get in touch and arrange a meeting to understand your business, brand, and strategy.

They prospect suitable, high-authority guest post blogs.

Their SEO team pitches ideas to blog editors.

The content is created.

Once the post is live they check that the links have been correctly placed.
4) NO-BS
NO-BS is a link building platform that allows users to choose from a database of guest post websites they would like their content to appear on.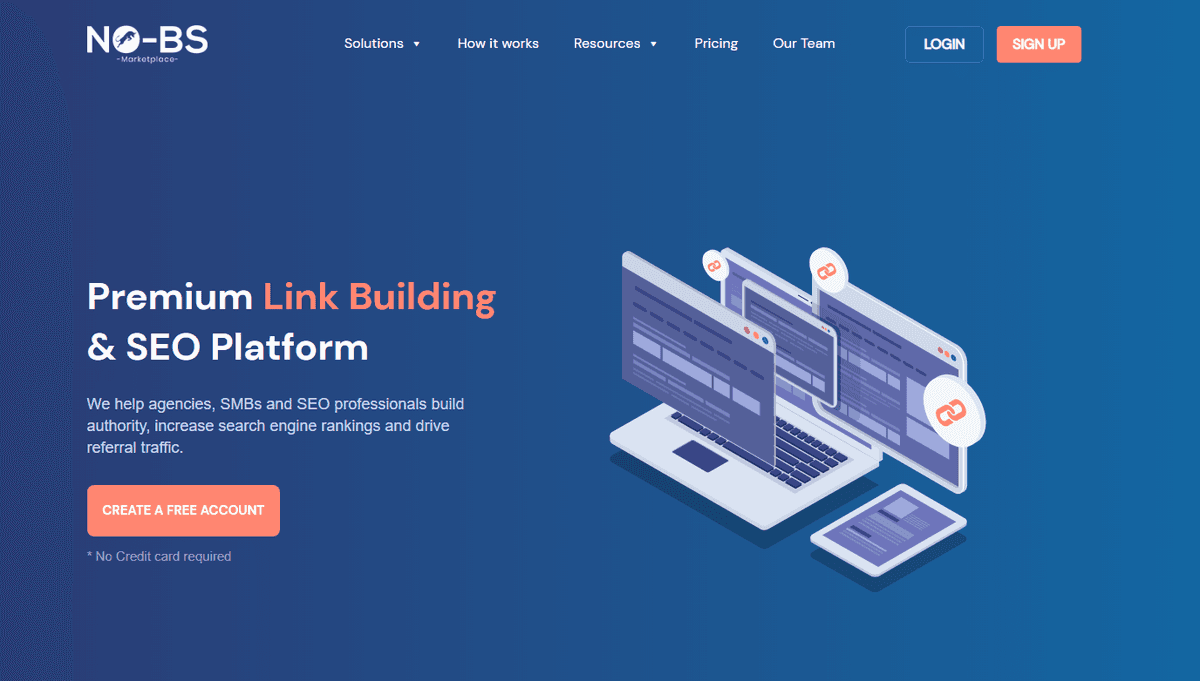 It also allows users to choose what keywords, anchors, and links they want to include in their content.
This makes it a good choice for people with an existing understanding of link building principles.
Why is NO-BS good?
NO-BS focuses on building natural, contextual links based on high-quality content.
This has allowed it to develop relationships with more than 10,000 guest blogs.
The company prides itself on the trust and credibility that it has built with these publishers.
Clients have a choice of speaking to an account manager for strategic support or using the platform independently.
NO-BS believes that giving clients this level of control provides them with greater transparency.

What do you get with NO-BS?
NO-BS charges per link and its different price packages are based on the domain authority (DA) of the guest blogs they build links on.

A link with a DA of 20 costs $130.

A link with a DA of 40 costs $220.
This may seem inexpensive, but bear in mind that you don't get the same strategic support that you do with other guest posting services. They're also generally lower authority links.

How to order guest posts from NO-BS
1) Create a free account
On the home page click "SIGN UP." Then fill out the form to create your free account.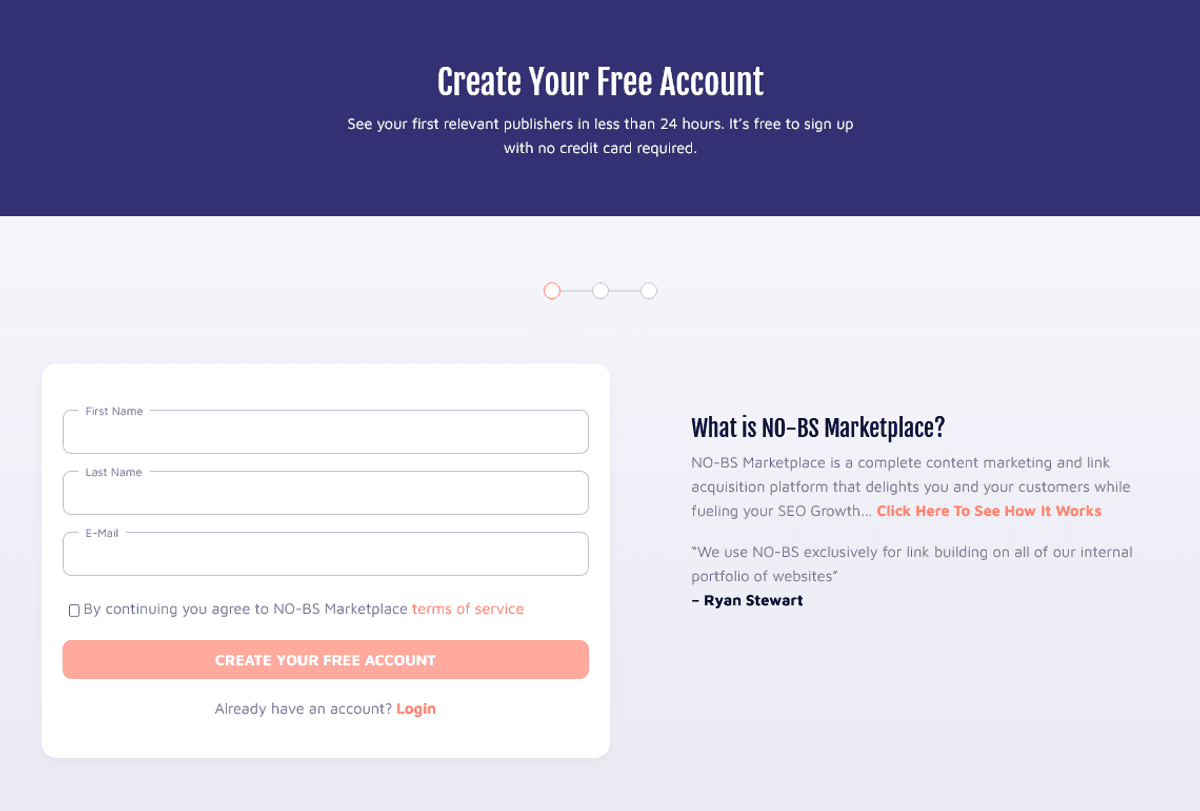 2) Create a project
Here you enter information about your website, niche, and the kinds of websites that you want to target. Make sure you select "Guest Posts" if that's what you are after.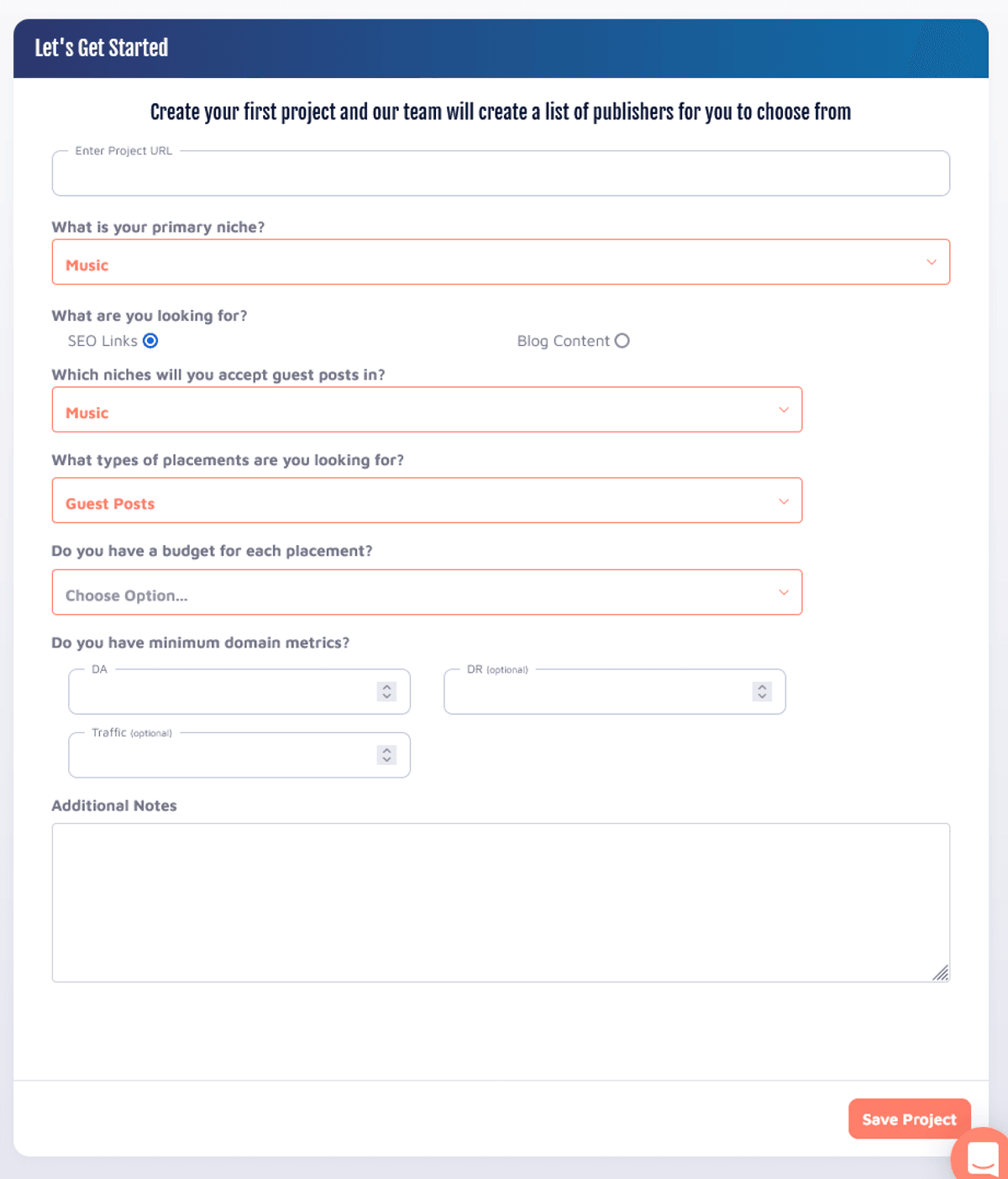 3) Choose a publisher
You now have to wait a few hours while the NO-BS team finds publishers suitable for your website. Or you can choose them yourself from their database. You'll need to have your account verified, otherwise they won't tell you the names of the websites on the list.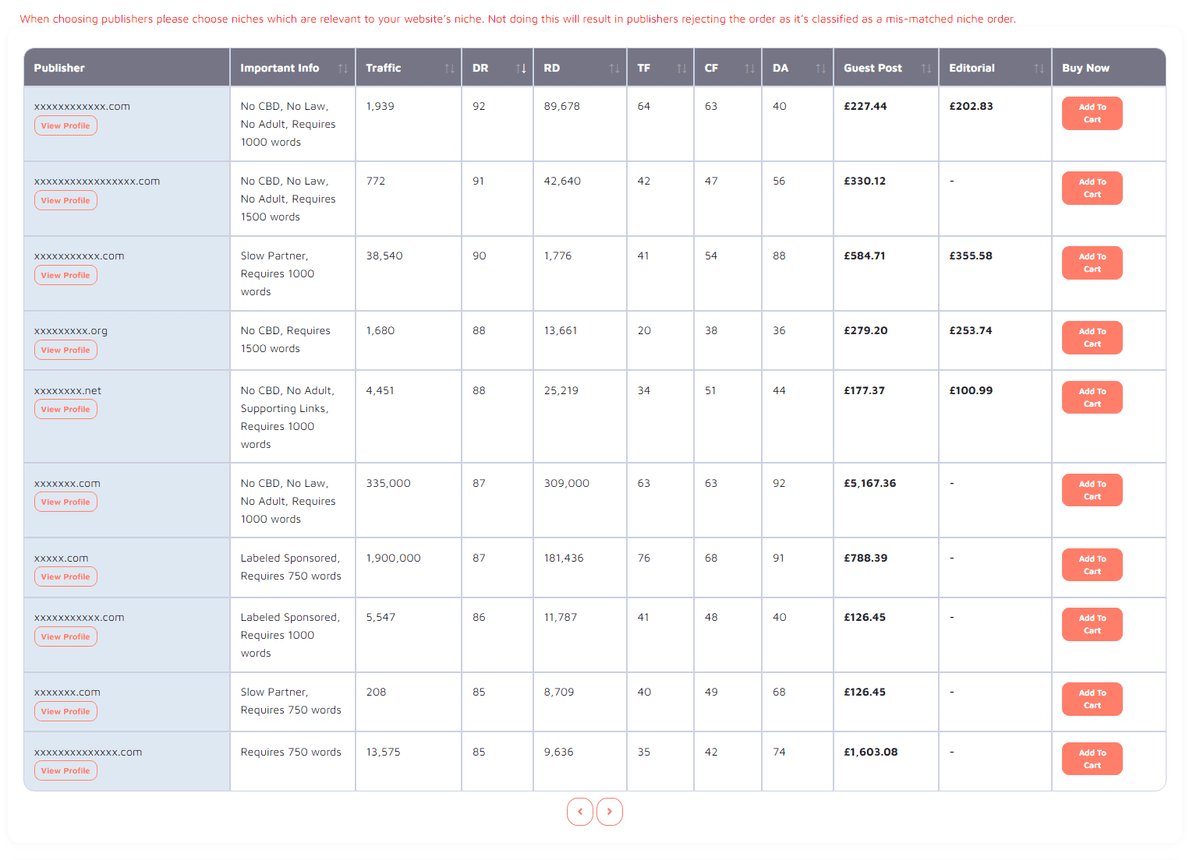 4) Choose your content
Here you get to specify link placement and certain content elements. At the end you're given a total price for the link. If you're happy, add it to your cart and then check out.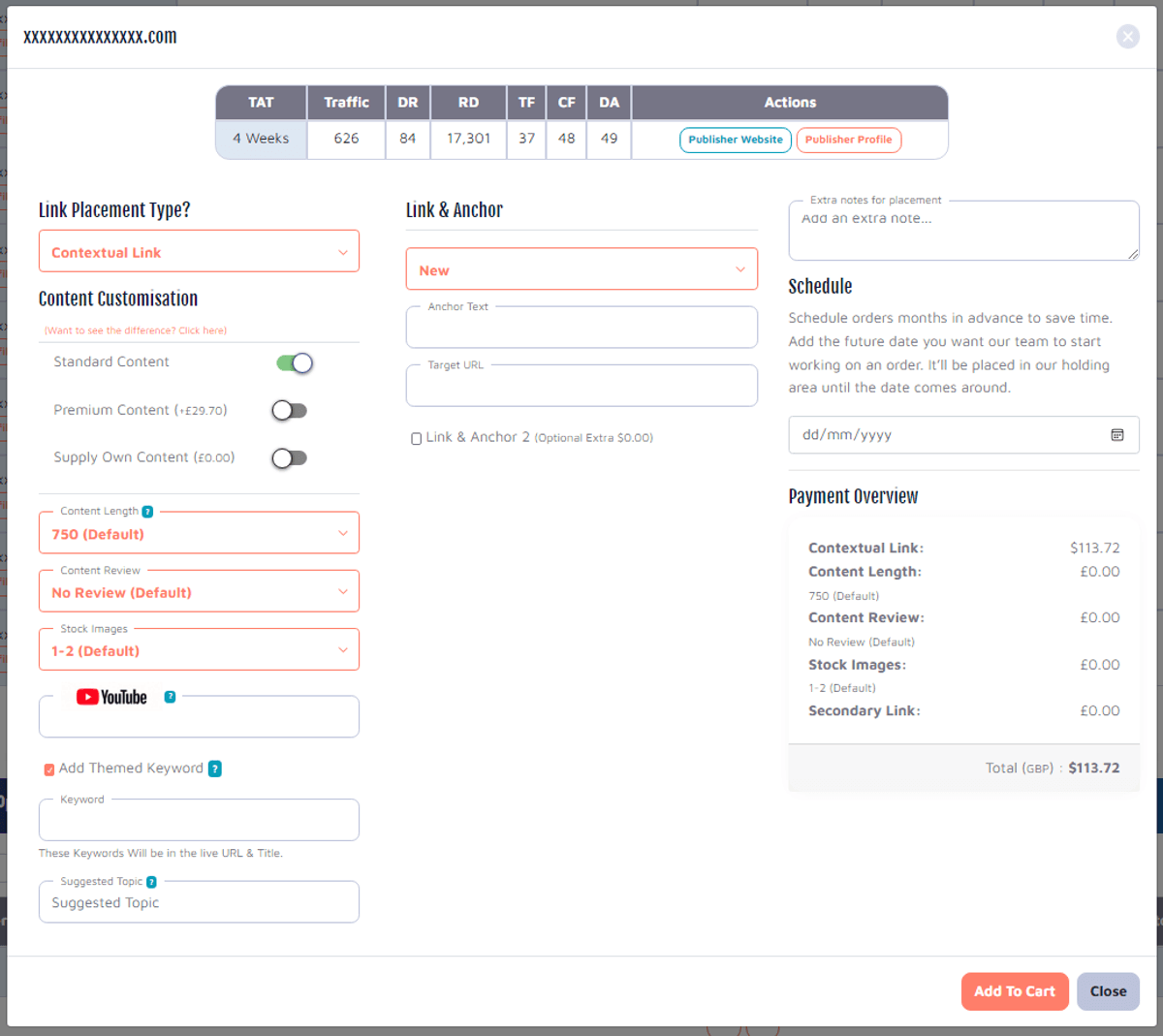 5) Track your order
Finally, you can follow the progress of your order while the guest post is written and the article placed.
On the home page click "SIGN UP." Then fill out the form to create your free account.

5) Searcharoo
Searcharoo's founders believe that quality link building services were overpriced in the past.
They aim to change this by providing premium links, with high-quality content for a reasonable price.
They are a great option for affiliate marketing websites, and we've heard some great things about their services.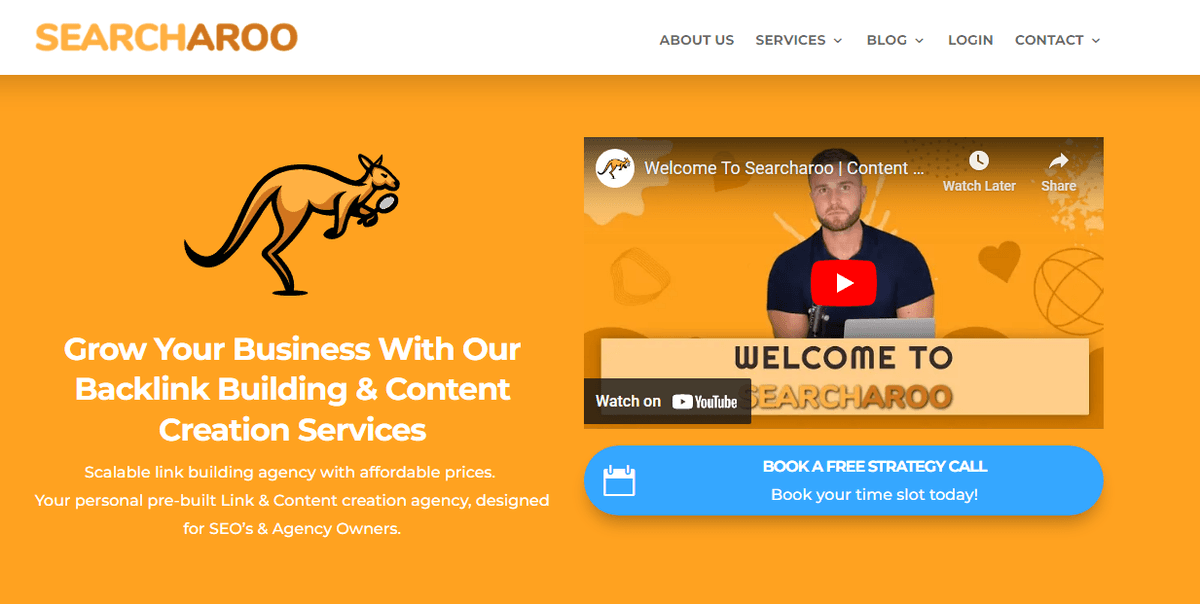 Why is Searcharoo good?
Searcharoo provides:
Excellent customer support.

White label link building.

Scalable service.

Years of SEO expertise.
What do you get with Searcharoo?
Searcharoo charges per guest post. The higher the domain rating (DR) the more you pay:
$160 for a DR30-44 placement.

$240 for a DR45-59 placement.

$320 for a DR60+ placement.
This includes at least 500 words of professionally written copy and a turnaround time of 4 weeks.
They'll also check to make sure no duplicate links are placed.
The company also offers guest post packages starting at $1,000 for 7 links.
Clients have the option to add tier two links to their order to bolster their article.
How to order guest posts from Searcharoo
1) Register
On the home page, navigate to "LOGIN" and choose to sign up for an account.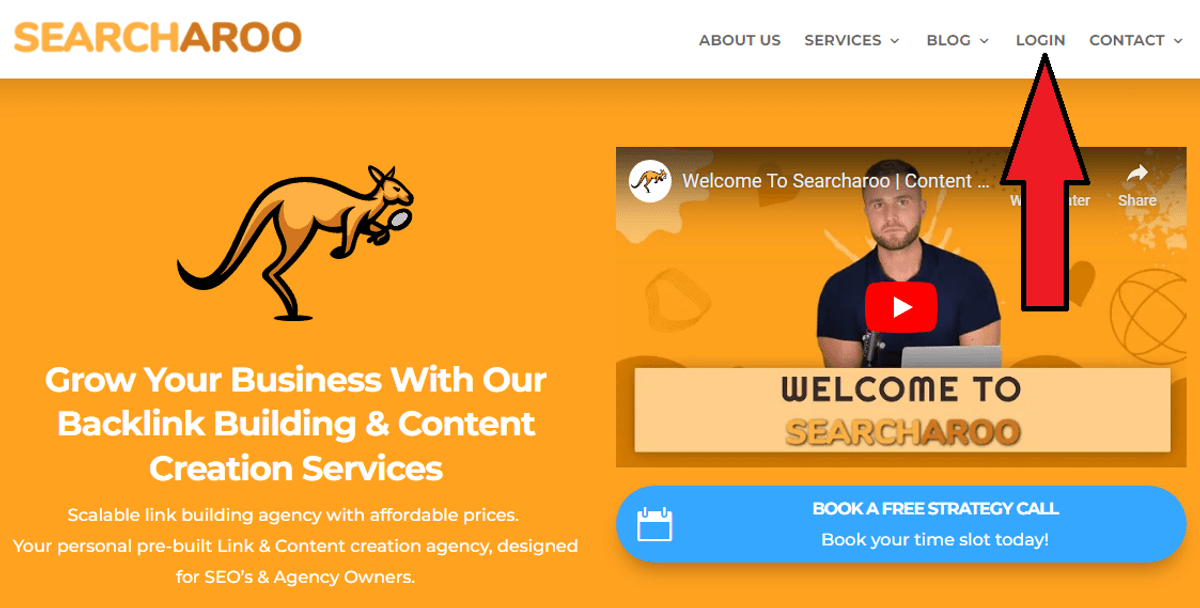 2) Sign up

On your account page navigate to "Guest Posts."
3) Define your article
Choose the level of authority and amount of traffic that you want to target, as well as the length of the article, the type of link, and how many blogs you want to produce.
4) Add tier two links
Decide if you want to build tier 2 links, and if so, how many.
5) Pay and track
Check out and pay securely via Stripe. You can now track your orders via your dashboard.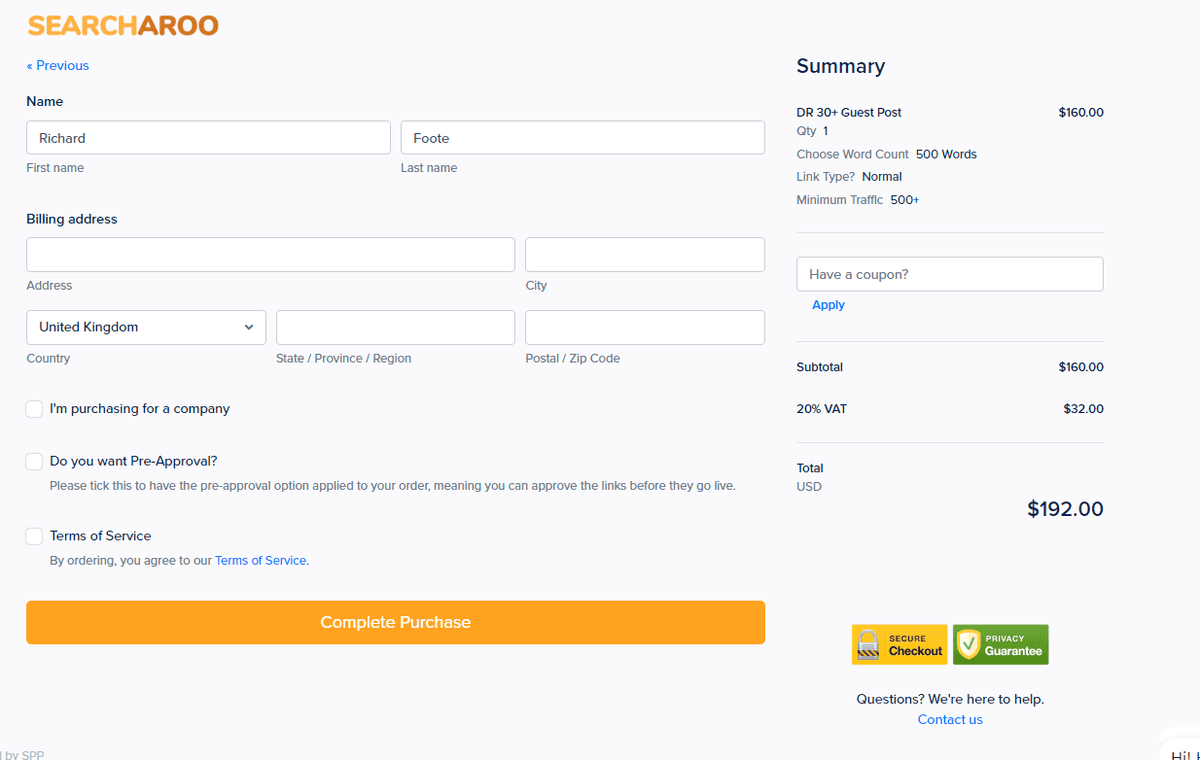 6) Loganix
Loganix is a digital marketing agency that provides a full range of SEO services.
It was founded by well-known SEO entrepreneur Adam Steele.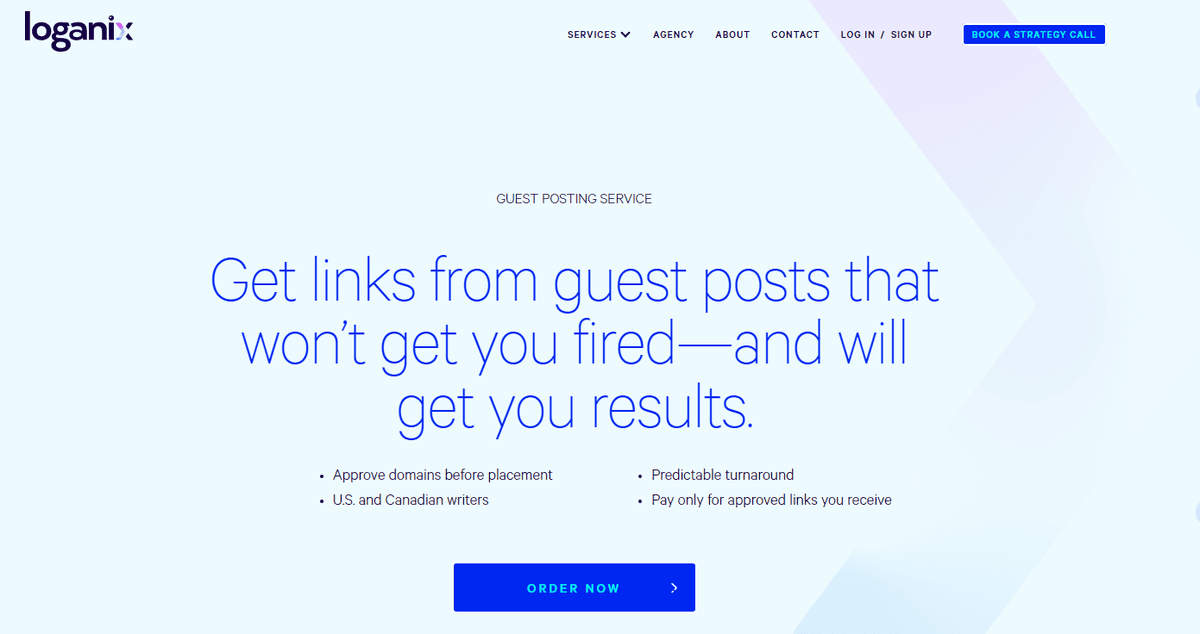 Why is Loganix good?
Loganix's guest posting service isn't the best value for money as you can't choose how authoritative your links are.
But they do provide a very reliable service and guarantee that your links are placed. In other words, they will build a link of equal value if your requested link is rejected by a site owner.
They also have excellent native English-speaking writers, who produce high-quality content.

What do you get with Loganix?
Loganix charges per link. But unlike other agencies, it bases its pricing structure around the number of monthly visits the publisher gets, not around the site's authority.
They charge:

$200 for a website with 100+ monthly visits.

$300 for a website with 500+ monthly visits.
How to order guest posts from Loganix
1) Choose a package
Decide which type of websites you want to target and how many. Then share the URLs you want to target. Then, checkout and pay.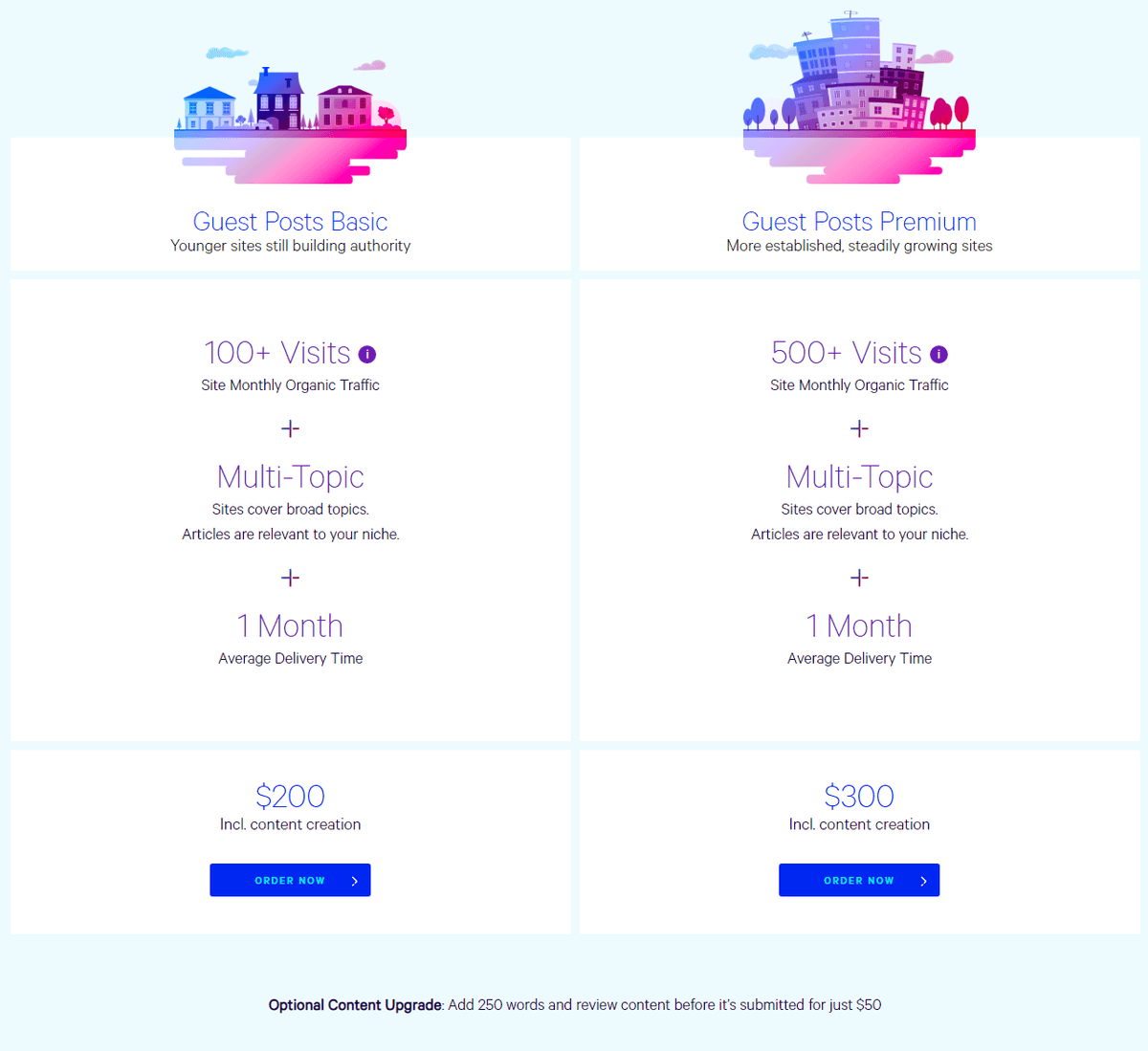 2) Approve placements
Loganix will then curate a list of guest posting opportunities for you. Approve the ones you like and ask to replace the ones you don't. Loganix will then start creating your content.

3) Report
You'll get an email alert when your links and guest posts are placed, along with a report.

7) Page One Power
This is a link building agency that focuses on producing great content.
They are pretty expensive but the quality of their content and service level is good.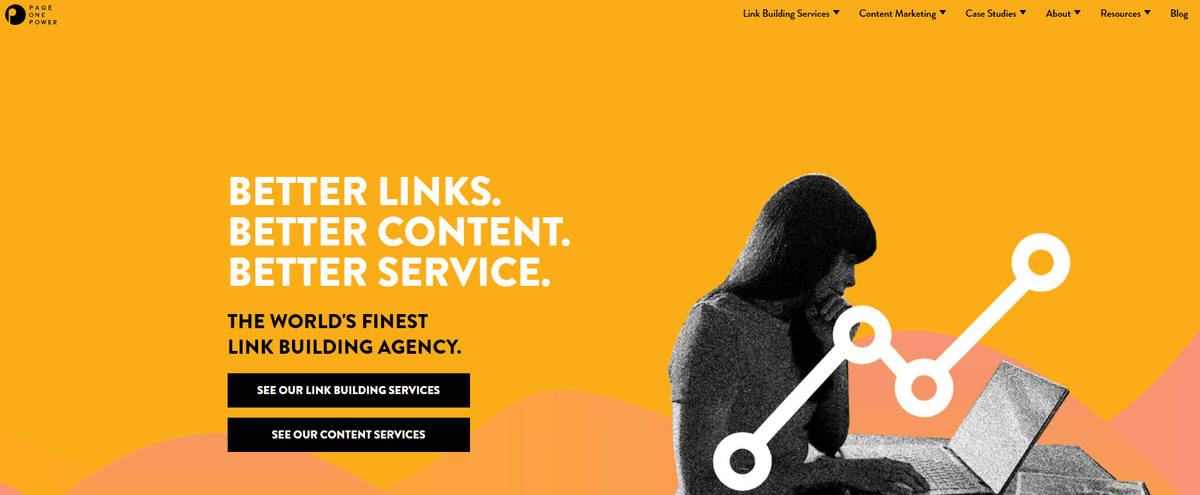 Why is Page One Power good?
These guys don't have any sort of platform and are completely service-based.
They are a good choice for large enterprises that need a strategic partner to handle all aspects of their link building.
What do you get with Page One Power?
SEO specialists work with you to develop a customized link building strategy
Page One Power offers four service packages. They are based on the level of service you get, rather than the number of links or the quality of the websites that publish the backlinks.
The packages range from $4,000 per month for the Benchmark package to $50,000 per month for the Enterprise package.
How to order guest posts from Page One Power
1) Choose a plan
Pick a plan based on the scale of your business and the maturity of your website.
2) Book a call
Choose one of Page One Power's three consultants and book a call with them.
3) Discovery call
During the call the consultant will discuss your website, goals, challenges, and opportunities.
4) Proposal
The consultant will review your website and competitors. They will then present you with a proposal.
I 8) FatJoe
Fat Joe is a platform for outsourcing various marketing activities like link building, SEO, content, design, and video creation.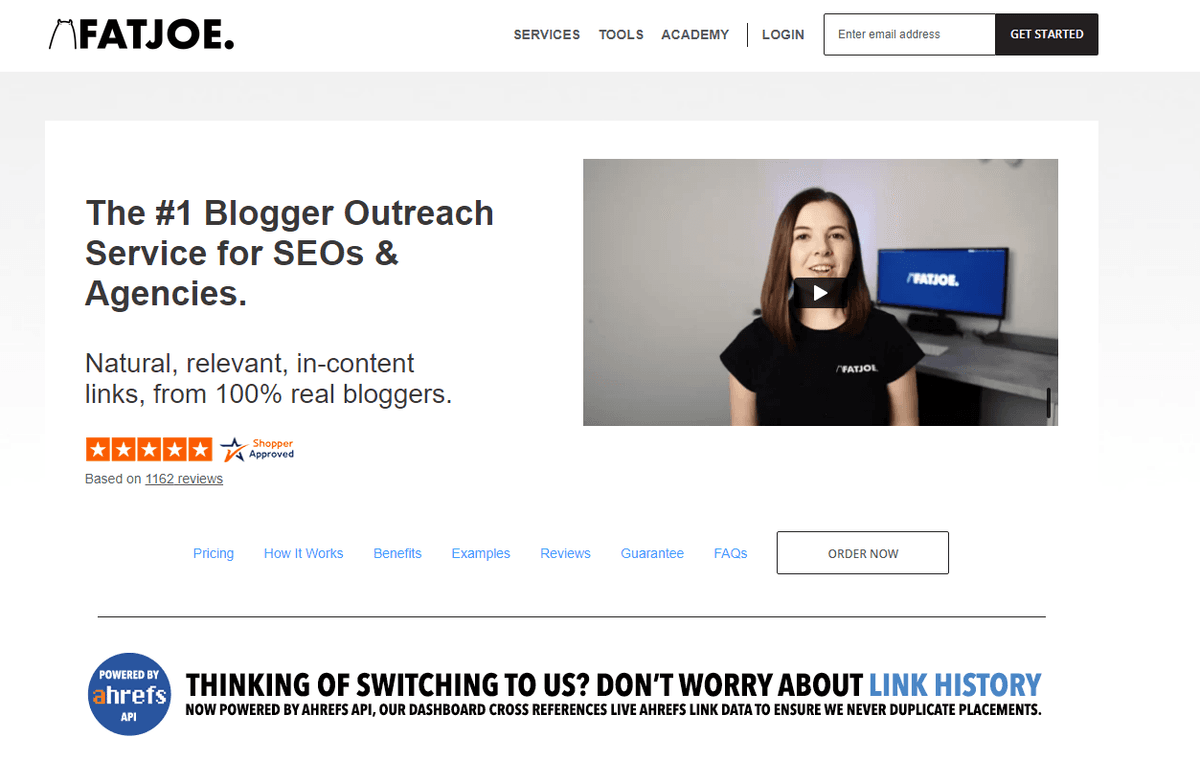 Why is Fat Joe good?
Fat Joe doesn't charge much for placing guest blogs on low-authority sites.
This means if you're a small local site and your competitors aren't sophisticated enough to build links, they might be a good choice for you.
However, the cost per link increases significantly for higher DA sites. This means they are not so good for more competitive niches.
What do you get with Fat Joe?
Fat Joe's packages start from as low as £60 for DA10-19 link. This includes:
Outreach.

500-word article.

1 anchor text and URL.

Tracking and dashboard tools.
The top package is £320 for a DA50+ link with 1,000 monthly site visitors. It pretty much includes the same level of service as the bottom-tier package.
How to order guest posts from Fat Joe
1) Order
Go to the order page and choose the DA of the websites you want to target.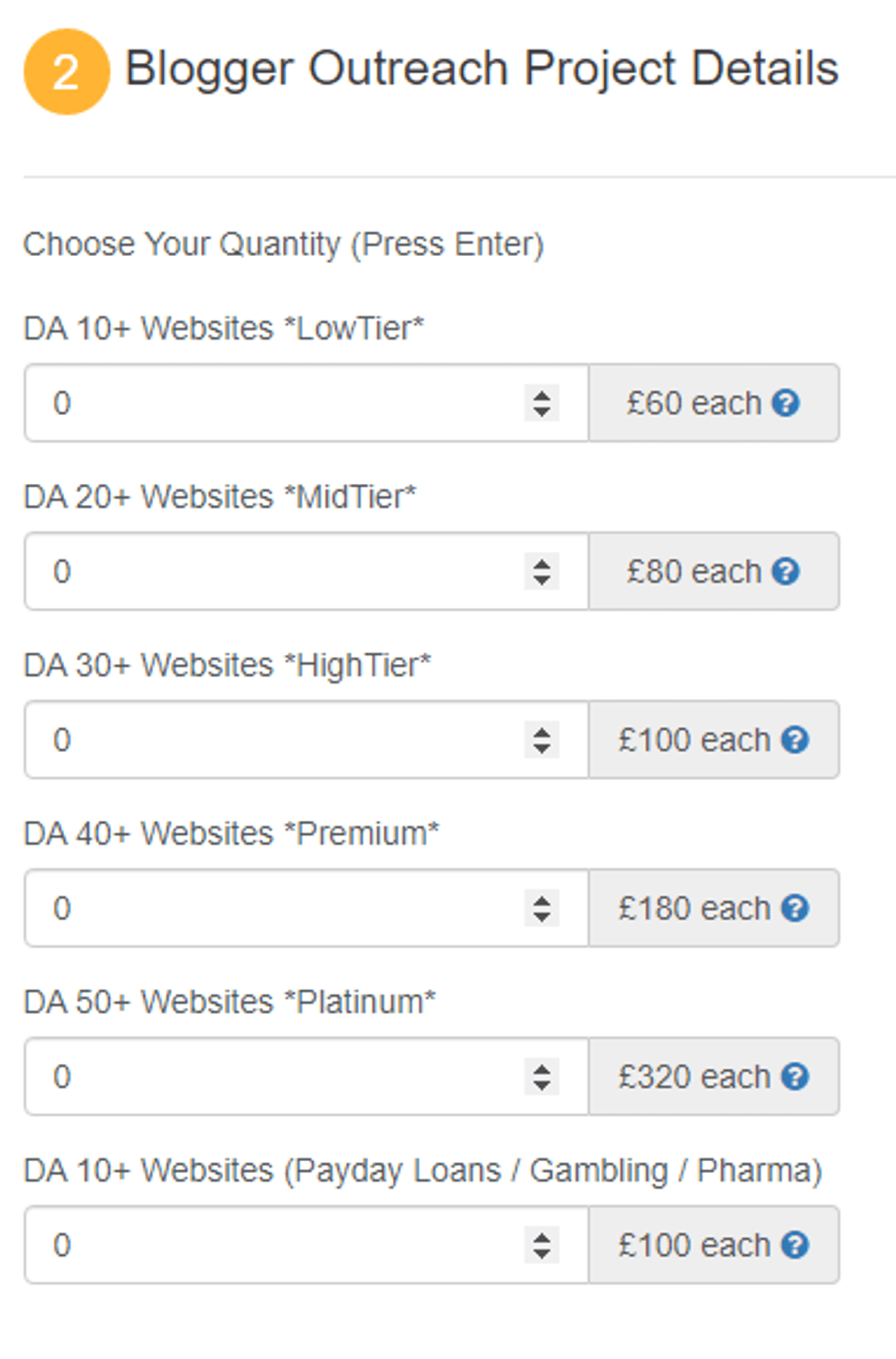 2) Define your article.

Choose your wordcount, anchor text, and target URL. You can also add comments—although special requests are not guaranteed.

3) Open an account.
Set up an account and pay for your links.
4) Track
Manage your orders and buy extra posts via your dashboard.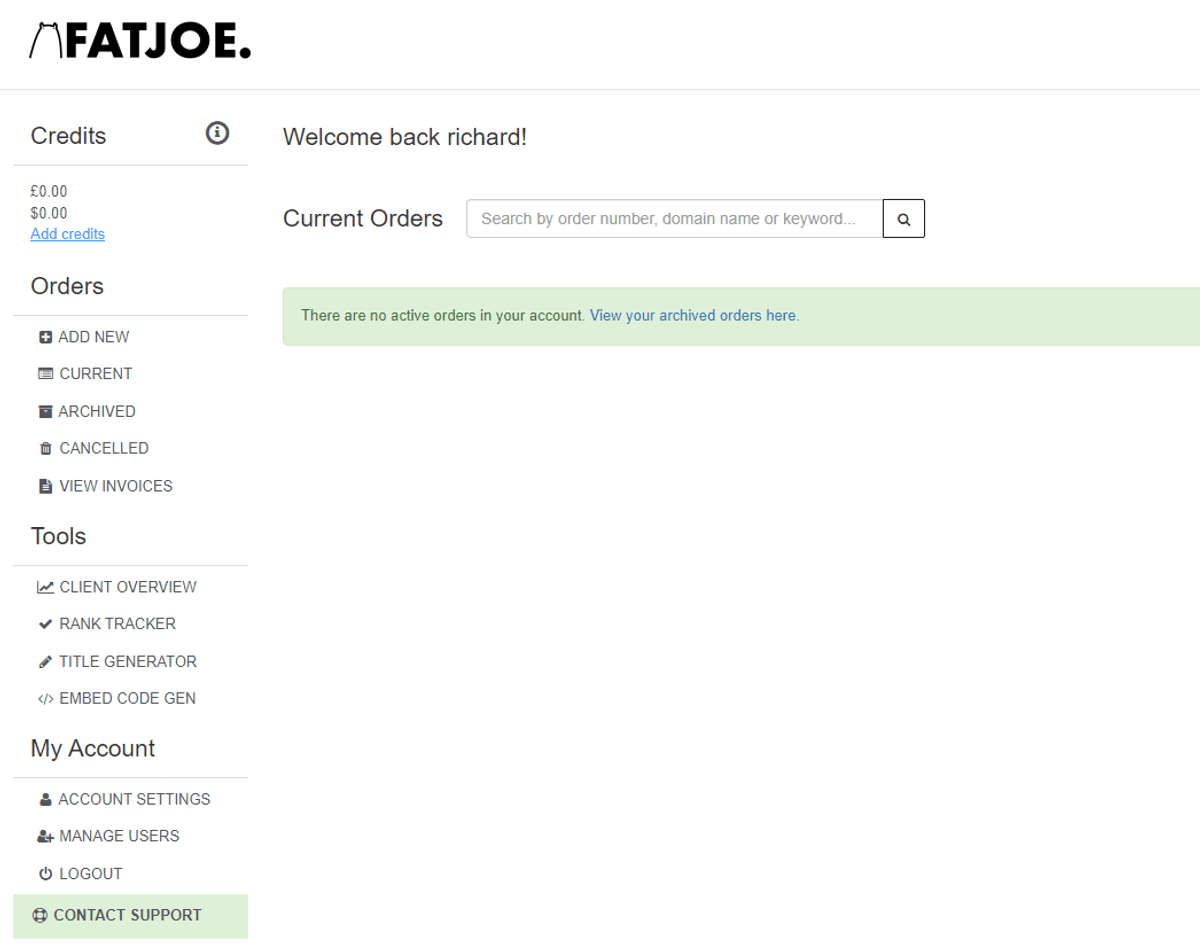 Outsource Your Guest Blogging with Linkbuilder.io
Guest blogging is our favorite way to generate high-quality backlinks and referral traffic.
It's something anyone can do—but it's hard work. The companies listed in this article will allow you to build quality links with minimal effort on your part.
They'll provide you with sustainable backlinks that will contribute to your website's rankings for many years.