Improving your link profile requires you to attract links from authoritative pages. The issue is that it can be hard to convince website owners to place such links on aged pages which have already built up a ton of authority and rankings.
This is where tier 2 link building can help.
Instead of getting links from pages with existing authority, why not increase the authority of the pages that already link to your site?
This will help 'power up' the pages which are already linking to you, and in turn pass that benefit through to your website.

What is Tier 2 Link Building?
Tier 2 link building is when you build links to pages on other domains that already point to your site. It's an alternative to regular (or tier 1) link building, which is building links directly to your site.
The reason it works is that links from authoritative pages are more powerful than links from non-authoritative pages. And a page's authority is calculated in part by its backlink profile.
By improving the backlink profile of a page that links to you, you also increase your own page's authority.

Example in Action
Here's a traditional Tier 1 link...
This post on the Serpstat blog contains a link to our website.
We got this by answering a HARO query. The link on the page goes directly to our homepage, making it a tier 1 link.

All very straightforward.
Now this is where tier 2 links come into play...
The post on Serpstat has a good number of high quality links pointing to it, including links from Prowly (DR 76) and Muck Rack (DR 79)

These are tier 2 links, because they're pointing to a page which links to us.
These links have increased the Serpstat blog post's Ahrefs URL Rating (UR). This means we benefit from a link from a site with a UR of 20 rather than one with a UR of just 6—which was the UR of the post in the days after it was first published.
Of course, we didn't actually build any of these tier 2 links on purpose, they just occurred naturally. Or maybe Serpstat built them to help their article rank.
But if we had decided to also build links to the post we would increase its UR further, improving our page's authority.

Why Not Just Build Tier 1 Links?
The obvious question around tiered link building is "why bother?"
Building links is difficult and time-consuming. It may be better to focus all your efforts on building links to your own domain.
While this is true, if you're able to help power up your existing link profile with tier 2 links, then of course that's something you should take advantage of.

You definitely don't want to build tier 2 links instead of tier 1 links. First-tier links will always take priority.
But it's a good idea to take advantage of tier 2 linking opportunities when they arise.

Powering up Guest Posts
If you're publishing lots of guest posts and earning links from totally new pages, then it can take a long time for those pages to get indexed and actually become effective.
To help maximize the power of your guest posts you should therefore:
Ask editor's to add internal links to your guest post
Build some tier 2 links from lower DR sites where the ease & cost makes it efficient to do so
Place the occasional tier 2 link from your future guest posts, especially back to high DR pages where are linking to your website
Does Tier 2 Link Building Really Work?
As with anything in SEO, it's hard to prove that a tactic works. Google doesn't tell the world how its algorithm works, and even if it did, it's always changing.
However, there are plenty of reasons to think that tiered link building is a worthwhile strategy.
For example:

Google's search algorithm considers links when ranking pages.

The algorithm is increasingly emphasizing the quality and authority of the links a page has, as measured by third-party SEO tools.

You can increase a page's authority on these tools by building links to it.
All of this suggests that tiered link building can have a positive effect on your site.
The Benefits of Tier 2 Links

There's some clear and obvious benefits from building tier 2 links.
Tier 2 links help boost the authority of pages that link to your site.
Tier 2 links will help increase the PA and UR metrics of pages linking to your site, passing this on to your page.
More referral traffic will undoubtedly end up on your website, because the pages linking to you should see increased rankings and visibility if you're actively building tier 2 links to them
Second-tier links will help you build relationships with other website owners. If you're showing them that you're happy to build some free links to their pages, then they're going to love that and it may create some future linking opportunities.
How to Build Second-Tier Links
When building tier two links, you need to choose a suitable page and an appropriate link building strategy.
1. Choose the Right Page
The first step to a good second-tier link building strategy is choosing the right page to target.

As a starting point, we like to build our tier 2 links to pages on high domain authority sites for two reasons:
Those pages are much more likely to rank if they're on high authority sites
It's typically easier to generate links to sites with recognizable brand names.
We also avoid nofollow links. While the consensus is that these links do pass some authority, follow links are just typically more valuable overall.
Which Page The Link Goes to on Your Site
Another critical consideration is the page on your site that is being linked to.
To make the most of your efforts, build links to pages that point to content that you want to move up the search rankings.
You won't get much value if the pages reference articles targeting low-value keywords or those that already rank highly for their chosen term.
SEO Potential
Consider the SEO potential of the page you build links to. If your efforts push a page to the top of the SERPs for a high traffic keyword, you will end up with more referral traffic.

But be wary of building links to sites that target keywords you may want to rank for yourself. Every link you build to a competing page will make it harder for you to rank in the future.
2. Build Links to the Page
Once you have the right page, it's just a case of building links to it.
There's a couple of simple strategies I would recommend here:
Niche edits from low-cost opportunities
Guest posts from low-cost opportunities
Our strategy at LinkBuilder
At LinkBuilder, we use reliable sites for tier 2 links where we know our links are going to get indexed and thus pass the required juice onto our tier 1 links.
Keep in mind that if you only build super low-quality tier 2 links, they're unlikely to have any impact.
3. Add Links from Your Upcoming Guest Posts
Guest posts are a great way to build second-tier links. The way it works is to insert links to published articles that link to your site in guest articles you are currently writing.
There are many reasons why guest posting is a good strategy for second-tier links. These include:

You typically write guest posts in your area of expertise. It's easy to reference relevant topics that you've already published posts on.

Sites that allow guest articles often have strict requirements about the number of times you can link to your own domain. Linking to other sites is, therefore, an easy way to squeeze out some extra value.

If you are already writing a guest post, adding tier two links requires little extra effort.

The links come from high-quality websites that you have picked out during your outreach efforts.

You can choose the exact anchor text you want to use.
Note: If you want to be super cautious, you may not want to build tier 2 links from every guest post you're publishing, incase your worried about leaving a possible footprint.
4. Link From Your Own Websites (Occasionally)
Another easy way to build links to a piece of content is to do so from your site or other sites that you own.
Some people don't like building links this way as they worry that Google may think it's a link scheme. But as long as you don't overdo it and add links in a way that offers value to your reader, you shouldn't have any problems.
Here are some ways you can link to the site from your website:

Consider adding a "Media" section to your website where you list other sites that mentioned yours. If the sites that link to you are well-known, you'll also impress people who visit the page.

Link to the article within an article you're writing. Do this in places where it adds value to the reader.
5. Share on Social Media
This is definitely a good way to help with indexing and social signals are a positive.
The downside is that social media links aren't very authoritative and are normally nofollow. However, you will get the benefits of extra traffic going to the second tier page, which can result in traffic coming to your article.
Sites like Reddit and LinkedIn are great for this!
You'll also increase the exposure of the piece. If people see your post and like it, they may be more likely to reference it. This will help you build second-tier links organically.

6. Expert Roundups
An excellent way to build tier 2 links is to get featured on roundup posts. These are a type of post in which journalists ask many different experts for their expertise on a particular topic.
You can actively find these on platforms like HARO or by keeping an eye on #journorequests on Twitter.
It can generate tier 2 links because the other people featured in these posts will often link to the article from their website.
You'll not only get the tier 1 link from the website that featured your input but also the tier 2 links.
Here's an example of this in action. I searched for an expert roundup of SEO tools. This one from Databox was the first I found.
Ahrefs shows that three of the featured experts linked to the post from their own websites.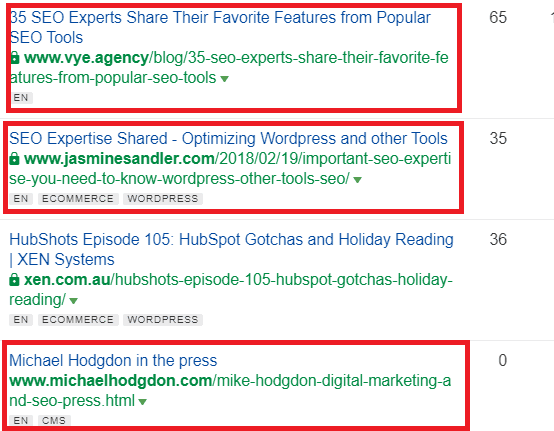 There's no guarantee this strategy will work, but it often does. And even if you don't get tier 2 links, these roundups are a great way to get first-tier links.
This is a perfect example of why link diversity is key.
If you've just published a guest post on a new website, chances are that post will have very few internal links point to it. After all, it's a completely new article.
It may have a few image or navigational links, but in most cases there's no chance the editor will have pointed links to that new post from other articles on their website.
99.9% of link builders won't even think to ask webmasters to add internal links to their guest posts.
However, doing this is an incredibly easy way to give the page a boost. After all, internal link building is a sure-fire way to help Google crawl a page and instruct Google that the page provides a relevant source of information on a certain subject, even if that link is internal.

Internal links are key 🔑
This very simple strategy of requesting internal links to your guest posts will compound over time, and you'll get far better results from your link building investments.
Of course, if you've landed a link from an existing / aged page that's getting a bunch of traffic and visibility already, then this step isn't really necessary.
What about Tier 3 Links?
Tier 3 links are those that point to pages that include your tier 2 links. Tier 3 links work in much the same way as tier 2 links—by building the authority of all the pages involved. The issue is that these links are even further away from the ones that actually go to your site.
Therefore, tier 3 links are best used only if you can generate them with minimal effort.
These links are also often used in grey hat link building—link building strategies that don't necessarily adhere to Google's recommended best practices. Website owners use tier 3 links from networks of blogs and websites they own to build authority on their main site.
This is not something we recommend.

Taking Action
Tier 2 link building is something that should be included in every link building project to varying degrees.
Of course, we're not saying you need to build tier 2 links to every single article that you've been linked from, but you'll definitely want to pick out the best opportunities for tier 2 links and incorporate them in.
Ultimately, it's a very effective method of maximizing your link building ROI and getting the most out of every link pointing to your website.