Tier 2 link building is a great way to bolster your existing backlinks.
This is because tier 2 links tend to be easier and cheaper to place than backlinks that point directly to your website.
This article lists some of the techniques you can use to build tier 2 backlinks.

Key takeaways:
Tier 2 link building is when you build backlinks to pages that point to your website.
Newer websites are likely to gain greater rankings boost from tier 2 link building than older ones.
Links from websites with a DR between 20 and 50 will provide the biggest ranking boost from tier 2 link building.
What is Tier 2 Link Building?
Tier 2 link building is when you build backlinks to pages that point to your website.
Improving the backlink profile of these pages helps make the links to your site more authoritative.
Increasing your site's domain authority can result in more traffic and an improvement in rankings.
To understand tiered link building properly, you first need to understand a concept called link equity.

What Is Link Equity?
High-quality backlinks help web pages rank. If one of your pages has a strong backlink profile and links to another page, some of your page's ranking power will be passed on to the page you've linked to.
This page now has a higher ability to rank. In addition, any page it links to will also benefit from a rankings boost.
That's link equity. It's sometimes known as link juice because it seems to flow from page to page, improving rankings on its way.
If a page that links to your website has lots of equity, then your rankings will benefit. You'll also pass on some of that equity to pages you point to.
Link juice also improves your domain rank on Google. The search engine's PageRank algorithm ranks each page on your website and then combines them to rank your domain.
This means the more link juice you have flowing into your website, the higher its domain rank.

Pumping link juice
Building secondary backlinks involves pumping more link juice into the pages that link to your website. The aim is to increase their page rankings so that the links become more valuable.
Doing this ensures that some of the additional link juice is passed on to your site, and you get a secondary rankings boost.
Because secondary link building is one step removed from your own website, there is a lower risk that you could experience a rankings penalty and other negative aspects of link building.
This means that you don't have to use as many costly and time-consuming techniques to place second-tier links.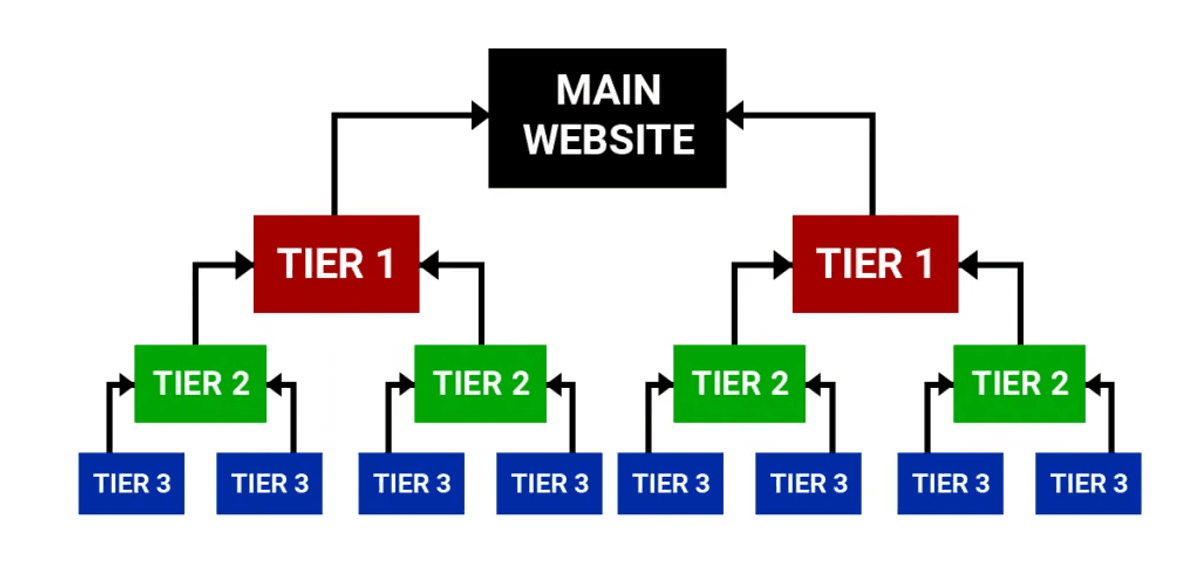 This allows you to focus more on the number of links and less on the quality.

⚠️ Spammy Links Are Never OK
Tier 2 links are easier to place, and you don't need to be as stringent in where you place links.
While you should still avoid spammy techniques, less nefarious practices like social media mentions, forums, and press releases are fine for secondary link building.

Where to Build Tier 2 Links
Below, I've listed some of the techniques you can use to build second tier links. I've left out black hat tactics, like public blog networks (PBNs), but even some of the ones I have listed are controversial, and we don't use all of them here at Linkbuilder. They are mentioned so that you know all of the tactics available to you.
Your other websites
If you have several websites, then you can use these to build secondary links.
For example, maybe you have a personal website. If you place a guest post linking to your main site, then mention the article on your personal blog. This will be relevant as you'll be promoting your own work.
It's important not to overdo this, as search engines will think that it is a link scheme.

💡 What are link schemes?
Link schemes are when link builders set up websites, relationships, and processes for the sole purpose of selling backlinks.
They usually result in poor quality links and Google often finds them out sooner or later. When it does, it ignores the backlinks meaning you've wasted time and money on them.

Directory links
This is usually considered a spammy link building technique. But if you target relevant, high-quality directory sites, it can be effective—especially for tier 2 link building.
There are three ways to check if a directory is spammy:
1) Check if Google has indexed it: Find this out by typing the directory's URL into Google and seeing how many search results appear. If Google brings up thousands of results, then it means it recognises the site and it's probably good quality.

2) Use an SEO tool: Type the website's URL into an SEO tool like Ahrefs. A good quality site will have a high DR, a decent backlink profile, and plenty of monthly users.

3) Check if it has strict guidelines: A good directory will have submission guidelines. Try to find them on the site or type the website's name into Google along with "submission guidelines."
A good example of a high-quality directory is Best of the Web. It is well-moderated and has stringent guidelines for its listings.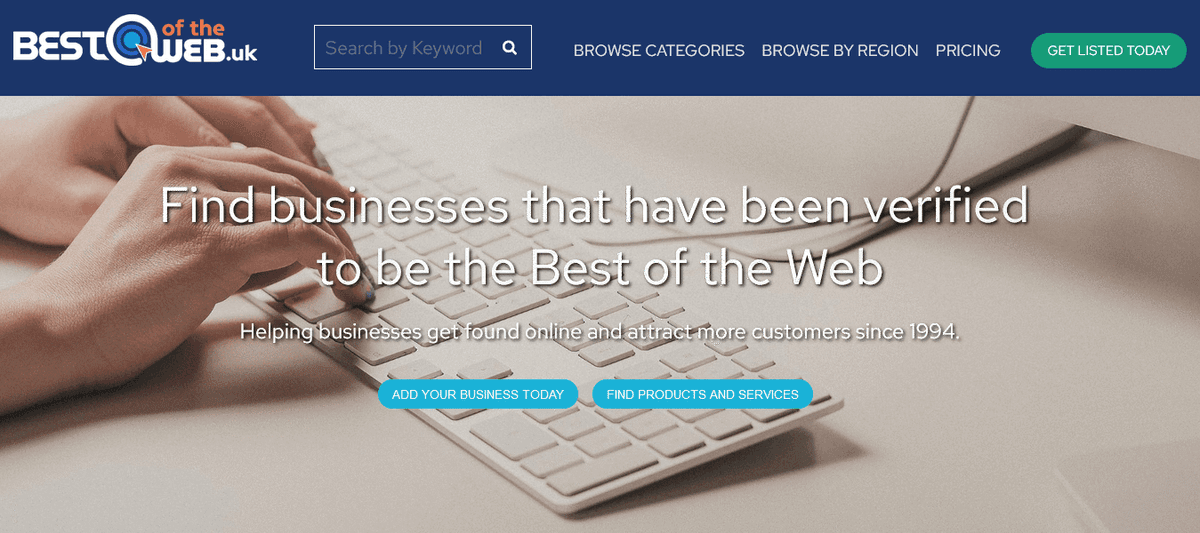 Social bookmark links
Social bookmarking sites aggregate topics and threads. They help people to engage with others in their niche or industry. This means they're a great place to get relevant links that will drive traffic to your website.
As with social media posts, most bookmarking links are nofollow, so they probably won't give you a rankings boost. You'll need to submit the page that links to your website and follow the site's rules.

Press release links
If the page where your backlink is placed is interesting to others in your niche, it could be worth announcing it to the media. For example, maybe you presented some important research in a guest post on a popular site.
The wider industry would probably be interested in it. But the guest posting site wouldn't want you to reuse the piece of content they published—but they'll be happy for you to link to the article and drive traffic to it.

Guest posts
You can add tier 2 links to guest posts that you write. Most guest post sites limit the number of times you can link to your website. But you should be able to add tier 2 links without any issues. They are a great way to get extra link equity from your articles.
Because you are already writing these articles, this is a quick and easy way to place links. Plus, the sites you link from will be relevant and have high Domain Authority (DA).

Social media
Social media links are usually marked as nofollow by Google, which means that you won't improve the PageRank of your second-tier links. But the search engine treats these links as a positive. It also helps Google index content quicker. However, the biggest benefit is that you'll drive traffic to your tier 1 links and give them increased exposure.

Link exchanges
A link exchange is when two websites agree to link to each other to improve one or both sites' rankings. Google's guidelines allow a small number of relevant link exchanges to take place. That's because websites in the same niche will naturally link to each other, but these backlinks should only make up a small percentage of your website's link profile.
The safest way to exchange links is to do it indirectly—in other words, don't link to the same page that links to you. This is easy with second-tier links because you won't even link to the same website!
Forums
Tier 1 forum links are difficult to place. Forums usually have rules against building links or promoting your own content. And if the moderators don't call you out, the forum members soon will.
It's important to make sure the links you place on forums are super relevant and helpful for the people using them.
This is made easier with second-tier links, as you won't be directly linking to your own website.

When to Build Tier 2 Links
Before you start building tier 2 links, consider whether it's a good idea. Here are a couple of factors to think about:

How old is your website?
Older websites with lots of backlinks will usually have plenty of second-tier backlinks that have been built up naturally.
However, if your site is relatively new and you have built around 100 links then it is worth building some second-tier links.

How good are the links you have?
If you have links that are super-relevant from very high DR websites, you will have a strong link profile and may not need to build second-tier links. But links from websites with a medium DR—say between 20 and 50—may well benefit from a boost.

How to Find Tiered Link Building Opportunities
Choosing which pages to target with second-tier links can be quite tricky. Here's a quick guide:
1) Keep building your tier 1 links until you have 100. By this time you should have a decent range of backlinks with different DR scores.

2) For tier 2 backlink building we want to target websites with a DR between 20 and 50. This is the sweet spot. Websites in this bracket have a high enough Domain Authority to rank, but are also easy to get links with. That's because they have lower editorial requirements, have fewer backlink regulations and charge less for placing links.
3) You can use an SEO tool like Ahrefs to find these links. Type the name of your website in the bar at the top and then click on "backlinks."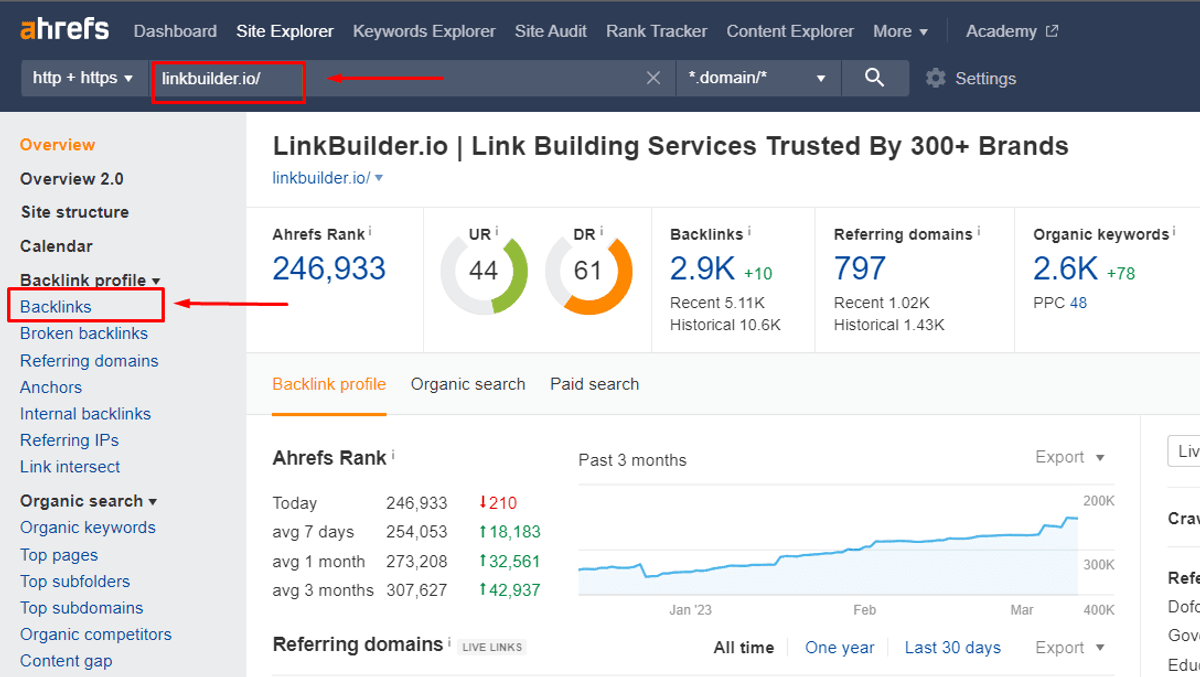 4) Go down the list and find backlinks from websites that have a DR between 20 and 50, and with relatively few linked domains.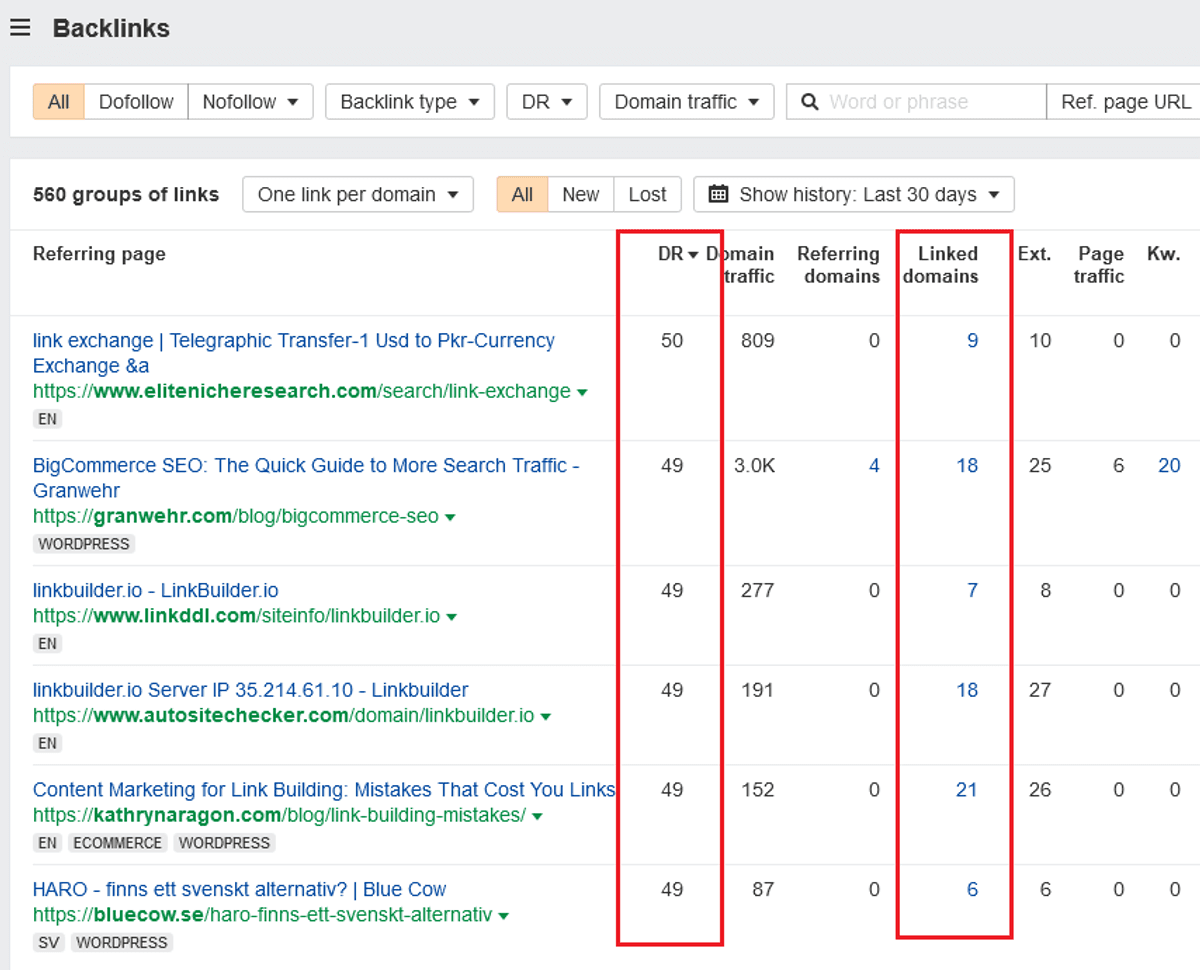 5) Click on the linked domains and check that they don't also link to your competitors. Otherwise, you'll give their rankings a boost too!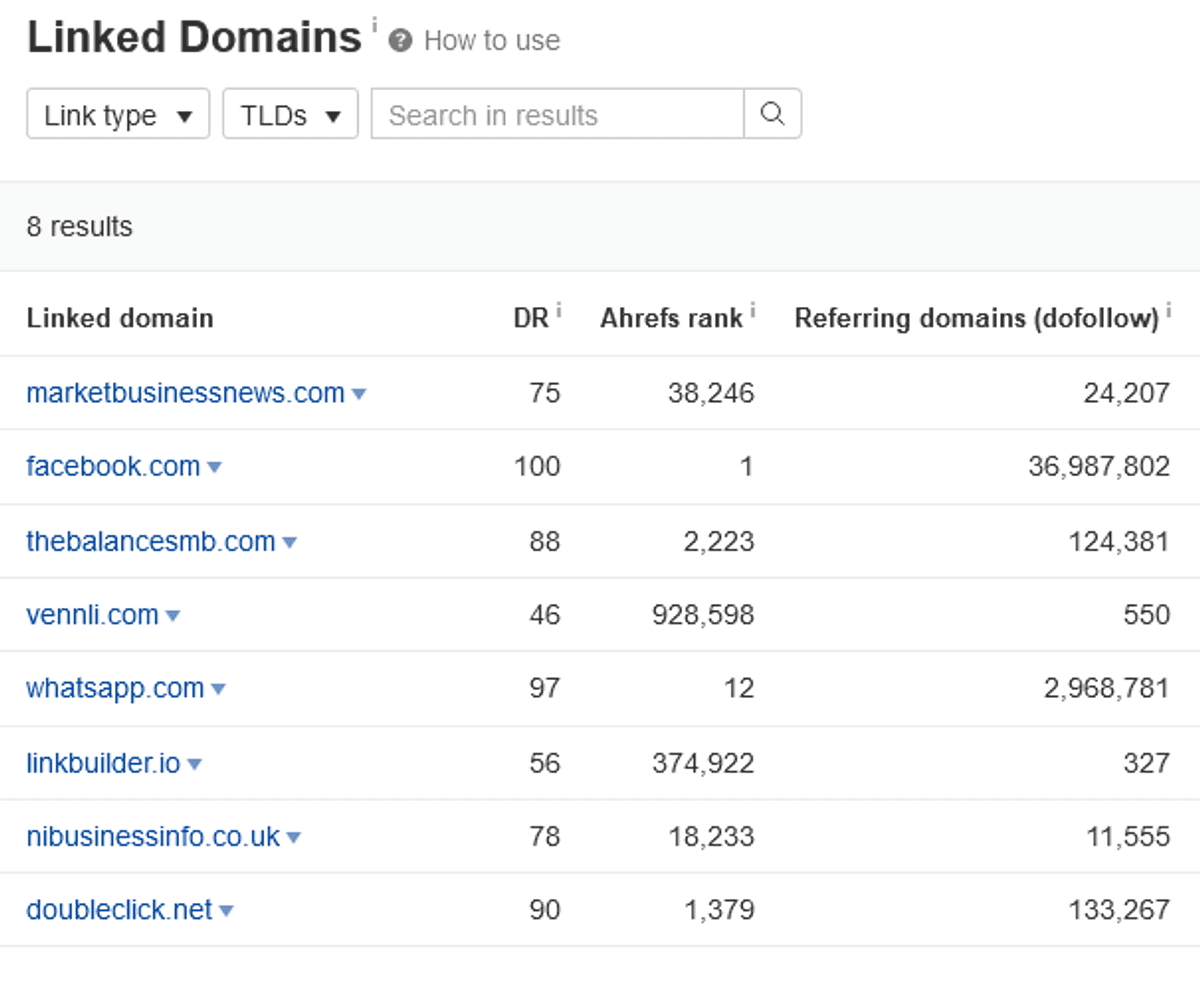 6) Finally, look at the page and decide what tier two links you can build to it.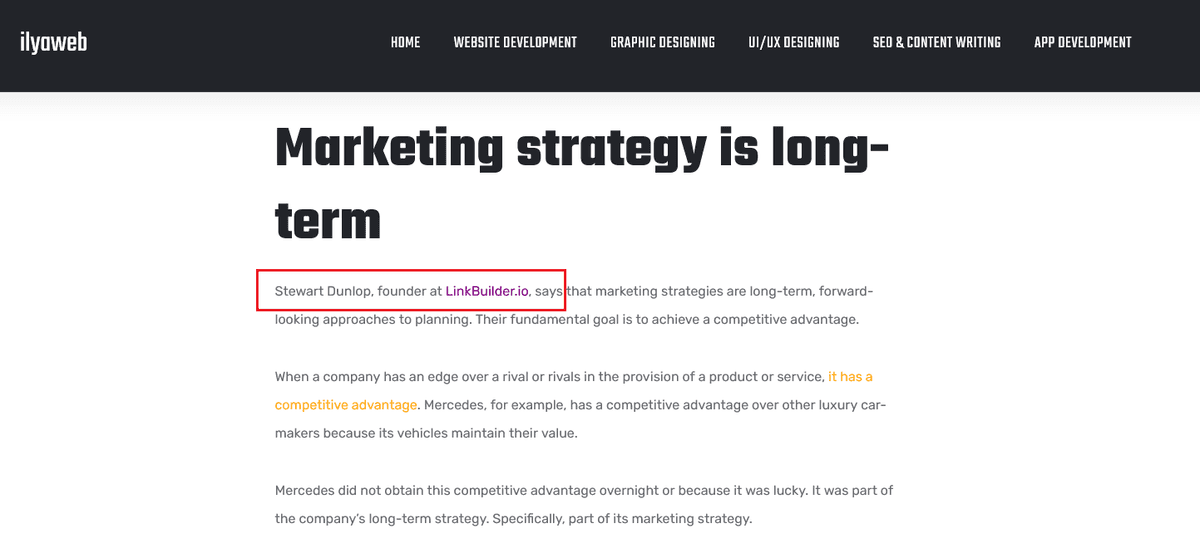 ⚠️ Avoid Sharing Too Much Link Juice
Link juice is shared among the backlinks on a page. This means it's best to avoid building tier 2 links to a page with too many outbound links as your efforts will be less effective.
Start Tier 2 Link Building Today
Building tier 2 backlinks is a great way to improve the effectiveness of your backlink profile and ultimately, your rankings. It's also easier and more cost-effective than building first-tier links.
Many website owners only focus on building first-tier links. Broadening your link building strategy to place second-tier links as well will give you a competitive edge.