A critical foundation within a link building strategy should be directory backlinks.
It's one of the oldest strategies in the book—because it works.
It's also very natural if done right - Just think about the number of businesses that are listed on directories like the Yellow Pages.
We're going to examine the different types of directory backlinks & and show you how to do it effectively.

Key Takeaways
Directory backlinks are links that originate in a web directory, which is sometimes called a link directory.

Although they don't have as much influence as they once had over SEO rankings, directory backlinks can still impact your search rankings.

A web directory is a website that lists or catalogs other websites. It's a place where, for example, you can find links to local businesses.

Some link builders and marketers still believe that using directory backlinks is an effective way to boost search engine rankings.
Firstly, What Is Directory Link Building?
The process of web directory link building involves adding your website's link—or links—to a directory submission site, which is a bit like a database of websites.
Think of it like an old-fashioned phonebook where you can find the details of local businesses simply by flipping through a few alphabetized pages.
In the past, this link building tactic was misused by people trying to get as many backlinks as possible.
With the right approach, directory link building can still be an effective way to win links from robust domains.
A web directory can cut through the noise
Also referred to as an off-page optimization practice, directory link building involves submitting your site link to a specific web directory section, much like the one below.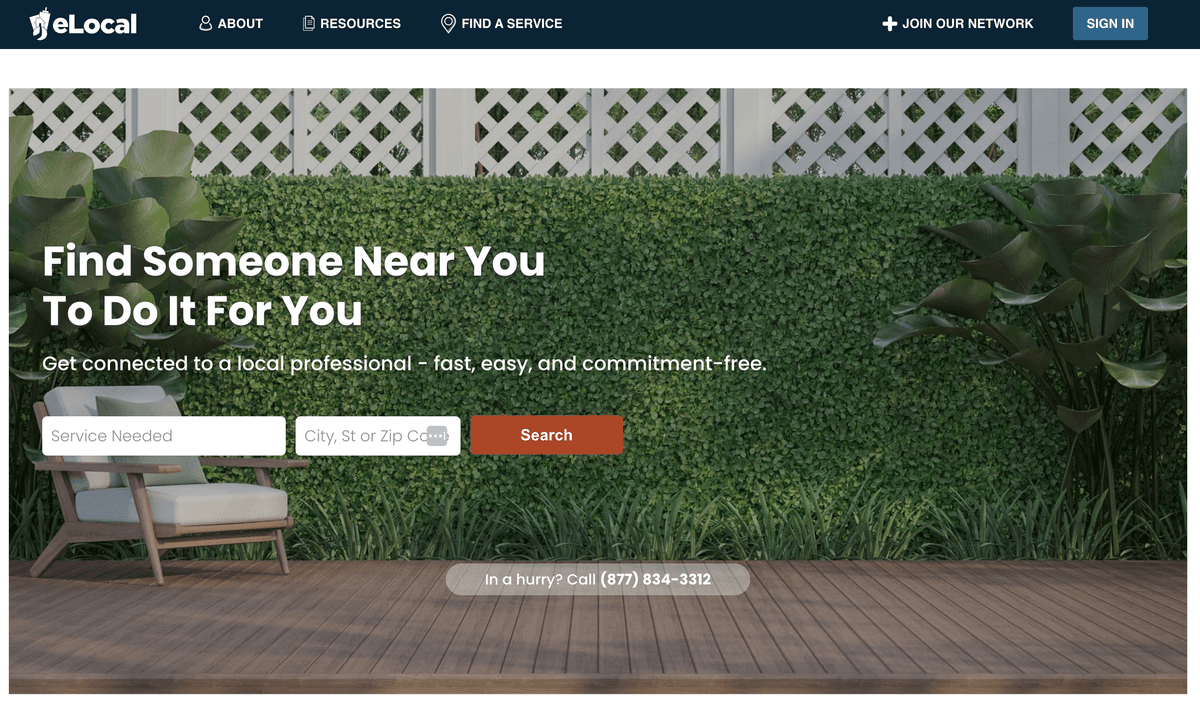 Directories usually index businesses by niche, location, or category.

Directories allow users instantly access your business details, including your contact details, website URL, and physical address.
After completing your directory submission, you will need to wait for it to be approved before you gain the backlink to your website.

Top 3 Benefits of Directory Backlinks
Now that you know what directory link building is, let's take a look at some compelling benefits of incorporating directory backlinks into your link building strategy.
Having your links listed on a directory can boost your site's credibility and build trust. For example, we're listed on Clutch.co, which is a directory for digital marketing agencies. Customers can see our reviews on there, and that's a big positive in the eyes of Google.
Backlinks can positively impact your website's authority - Good directory links can provide some SEO benefit.
Traffic! a directory backlink can act as a continuous source of referral traffic from people who are searching for specific services. Again, we get a ton of referral traffic just by being listed on Clutch.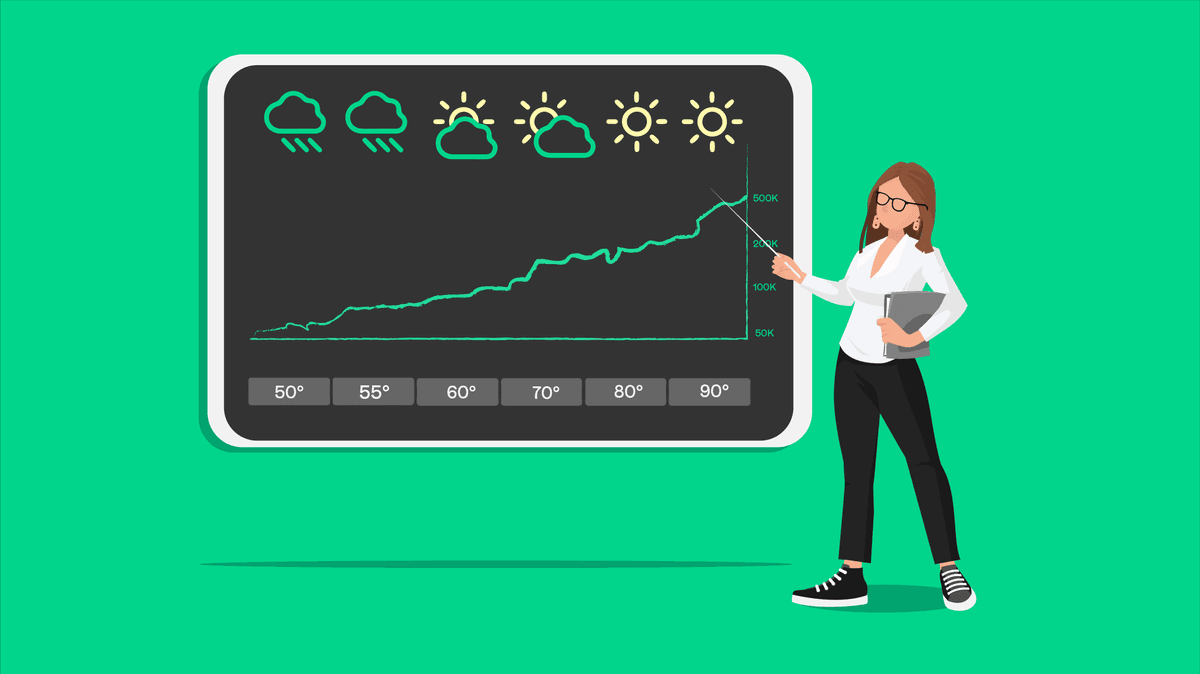 Are Web Directories Still Relevant in 2022?
There's a lot of debate around how relevant it is to use directory backlinks as a part of a link building strategy in 2022.
But there is reason to believe that they are still effective.
According to the SEO tool Moz, directory submission sites are still a ranking factor, particularly for local businesses.
From our own experiments, we found that just by earning some high-quality & relevant directory links was enough to get local businesses ranking on Google!
Key Point
Traffic and trust are the two criteria to remember when selecting the directories in your link building strategy.
You don't want to submit backlinks to just any directory, many of them are low-quality (more on this below). You want to list backlinks on websites that create trust and can send traffic to your site.
When it comes to utilizing web directories for backlinks, it's all about quality.
How to Identify a Good Directory
In the past, directory backlinks were all about quantity over quality.
The directory link building game was about getting as many links out there as possible in the shortest amount of time.
This has given web directories a bad name, made many of them seem 'spammy,' and even had a chunk of them removed from Google's search results.
When it comes to building backlinks through online directories today, quality is what matters most. Ask yourself these two questions if you're considering using a directory:
Would it add to my credibility to be linked on these directory websites?
Is my target audience likely to find me here?
If the answer to either of these is "no," it's time to move on. However, if it's "yes," then go ahead and sign up for it.
Let's say, for example, that your company has a great blog, you could list it on this directory, which could boost your brand's image: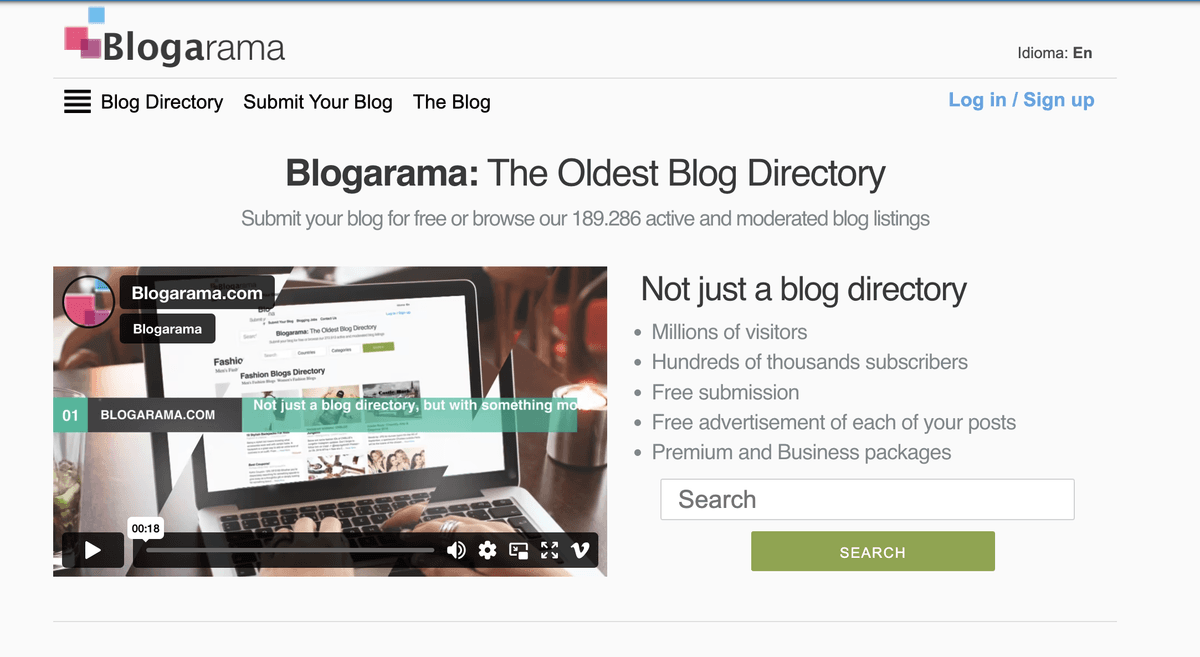 The Criteria for a Good Quality Web Directory
When determining the quality of an online directory, use these criteria to weed out the bad.
If the directory is too general and does not have a specific and relevant niche or location, it won't be useful to have your link on the site.
You'll want to avoid a directory if the website doesn't filter out low-quality backlinks or spam, and just about anyone can get their link listed.
Look for directories that have human editors rather than bots that do all the work. A high-quality directory will have real humans reviewing every link submission.
Evaluate the overall design and visual appeal of the website. If it looks like a mess and contains excessive spelling issues, it's not the kind of site you want your backlink to be associated with, as it negates the trust you want to build.
Take Foursquare, for example. You can see in the image below that the website is well designed, and it is a relevant niche directory for a local business.
This would be a high-quality link directory to get listed on.
5 Types of Directory Backlinks
Although many link directory websites have gone extinct, plenty of high-quality web directories still exist.
If you want to get listed on these online directories, you must understand the different types of backlinks that exist and the value they provide to marketers and link builders.

1) General Web Directories
These directories, like the name suggests, are usually quite general regarding the types of businesses they list.
This is because these websites accept links from just about any site, regardless of the topic, industry, or quality of the page being linked to.
Rather than humans, the website uses bots to accept link submissions.
However, one of the perks of having your backlinks submitted to general web directories is that your brand will be grouped with similar businesses.
This adds credibility to your brand. If you're a beverage brand and you get listed in the same place as Pepsi, you'll automatically look good.
The downside is that these general directory websites can often be full of spam links, largely due to the bots that run them. So, again, you'll want to watch out for the quality of these sites.
Users can search for anything, from insurance firms and loan facilities to vets and lawyers.
You don't want your backlink listed in too many general online directories. Google can pick this up as a spike in the backlinks you are receiving (more on this later).
A common example of a general directory would be the online version of the yellow pages (yes, they still exist).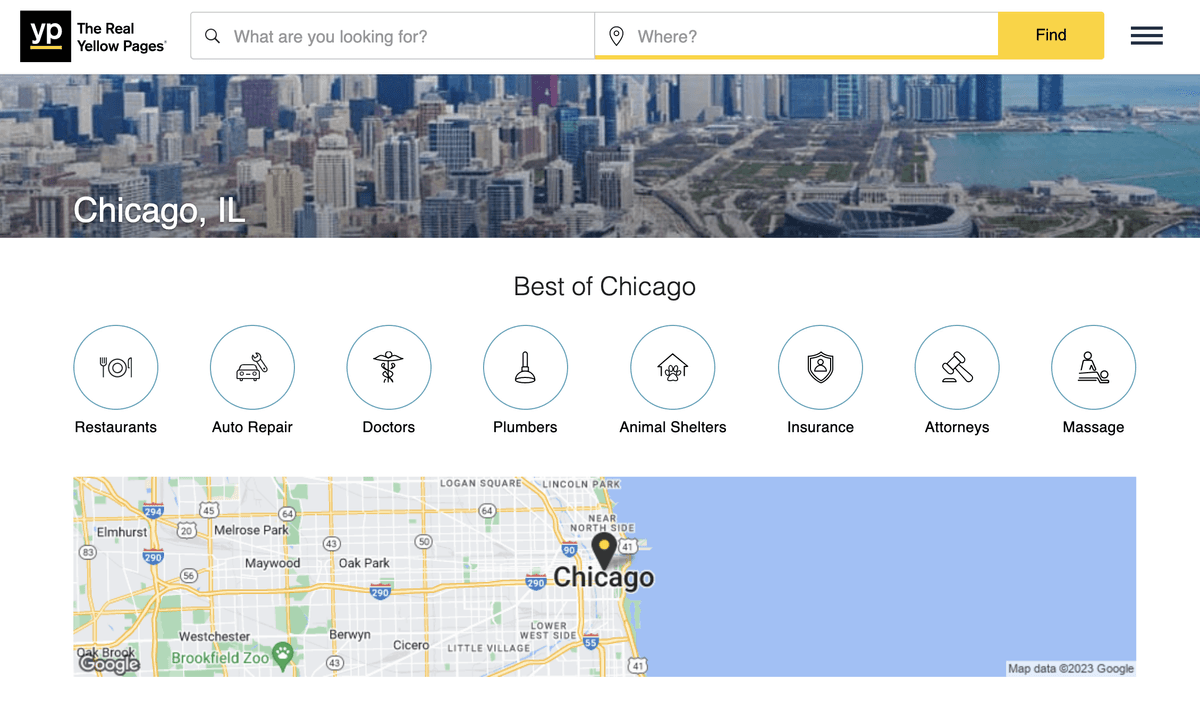 2) Business directory listings
These types of directory backlinks are a little more specific than the type mentioned above, as they are specifically for businesses.
The listings are submitted by actual companies that supply products or services—not just any website on the internet.

A common directory for business listings includes the Better Business Bureau (BBB).
Upon visiting this website, it's easy to tell that it is run by humans due to the quality of the site (check) and that it provides users with a trustworthy source of business listings (check).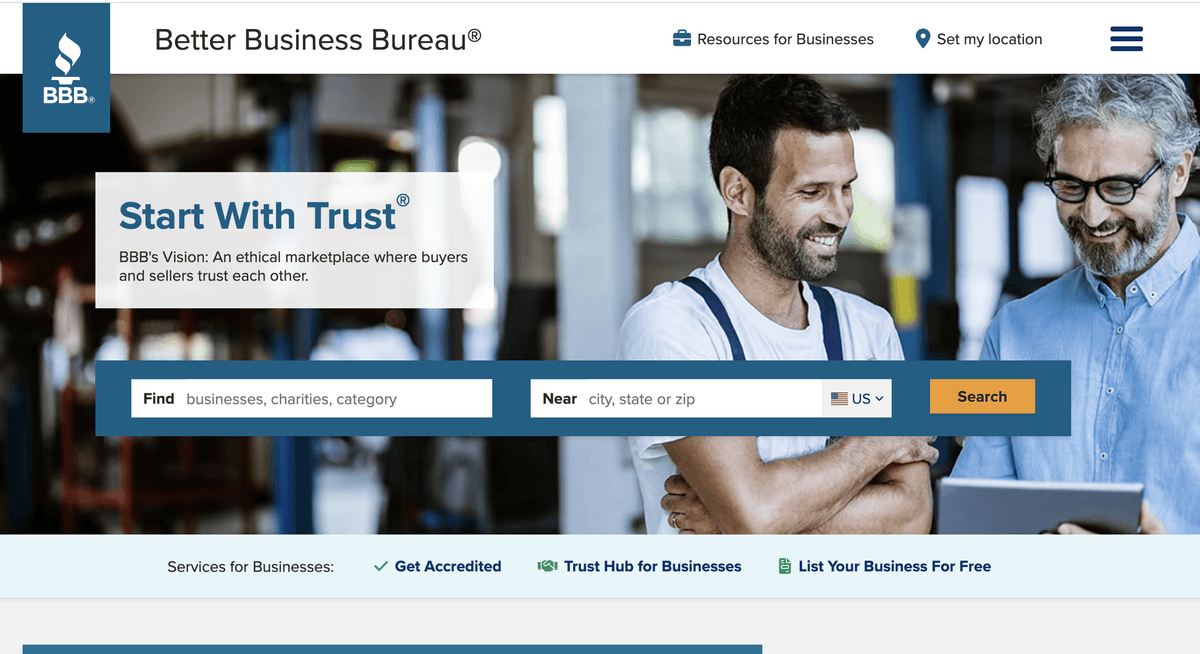 3) Niche relevant directories
Backlinks become powerful when you list them in online directories that focus on a certain relevant niche.

These directories have a specific topic or theme that all their directory listings relate to, like a certain industry or type of business.
While these directories can be harder to find, they give the most value to marketers and link builders due to the level of quality they provide.
These are the types of directories you really want to target.
Take for example Hitched.co.uk, a popular directory for wedding-related businesses and services.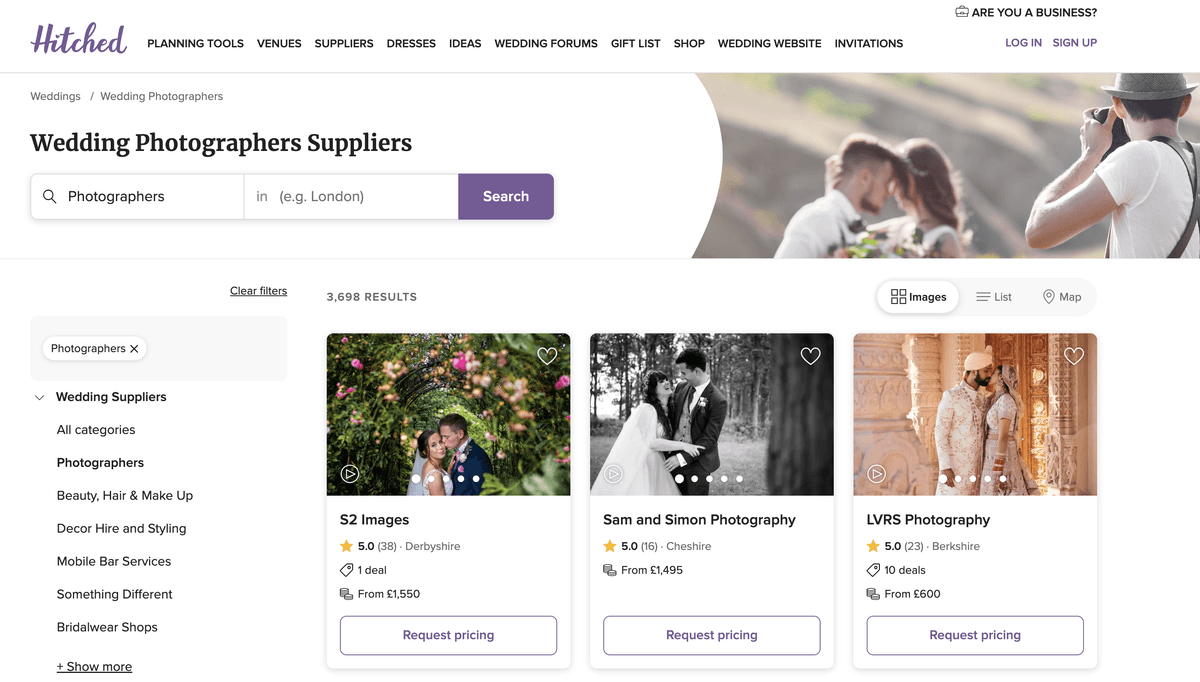 Niche-specific directories are our most favorite style of directory backlinks by far!
Stewart
CEO - LinkBuilder.io
4) Paid directories
The difference between most other directories and paid directories is that they don't allow just anyone to list themselves on the platform.
Instead, they require you to pay a fee for your backlink to be listed in their web directory. This takes the cost-effective nature of directory backlinks and turns it on its head.
Also, the fact that the website is receiving money means it is well designed and well run.
As you can see below, the costs involved usually include a monthly or yearly subscription to the directory website, which ensures your directory listing remains live.
One example would be Clutch.co, where you can pay a sponsorship fee to be listed high on their directory pages.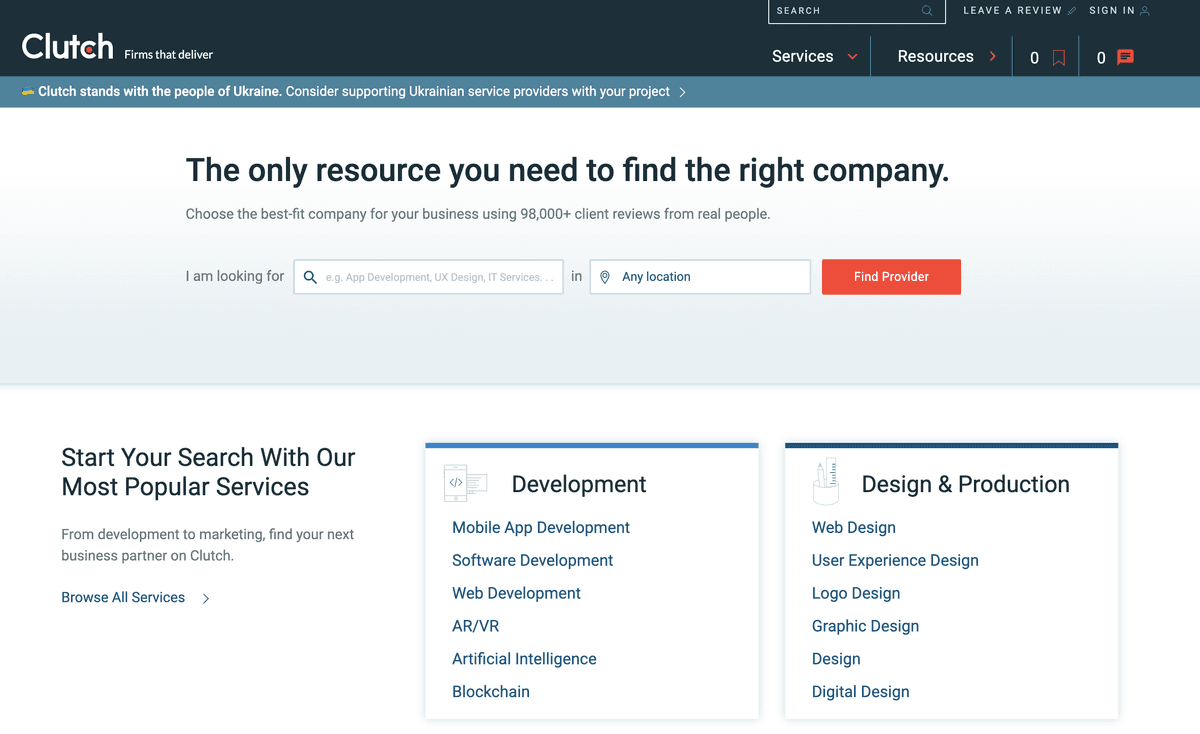 8 Tips for Building Great Directory Backlinks
You now know what directory backlinks are and how they can be used to improve your SEO and search rankings.
Now it's time for us to share some actionable tips to help you use this link building strategy the right way.
1) Confirm the Domain Authority (DA) and indexing status of the directory
The first thing you need to do is separate the good from the bad by analyzing the domain authority (DA) of the online directory you want to submit to.
You can use a tool like Moz's Domain Analysis Tool or the Ahrefs Website Authority Checker to determine the directory's Domain Authority and PageRank on a scale of zero to 100.
Here's an example from Ahrefs Website Authority Checker on the Hotfrog website example displayed above.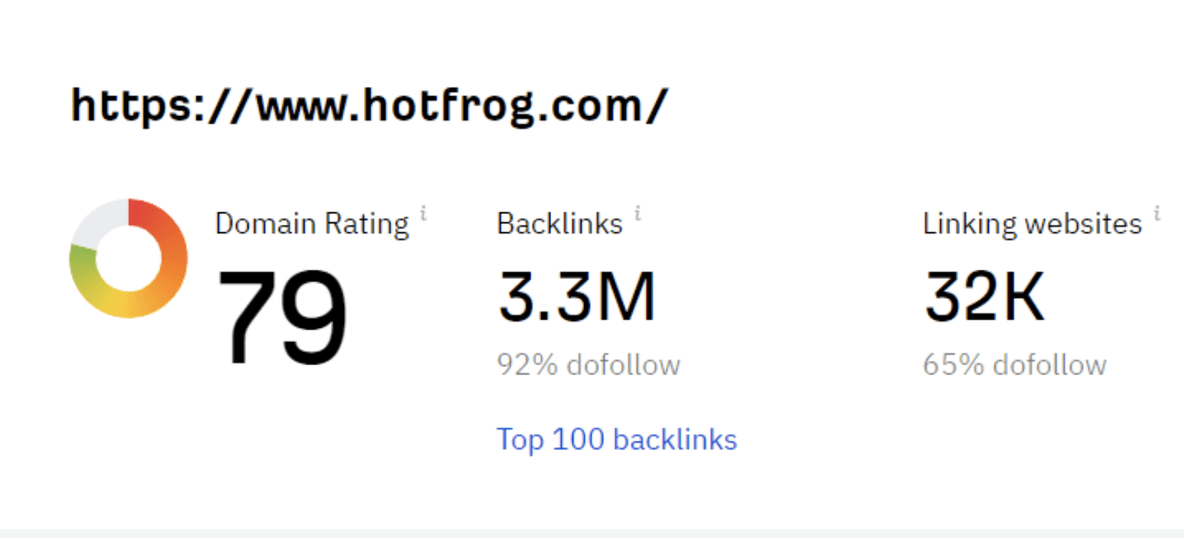 Search engines take a website's Domain Authority (DA) into account when ranking it, so you want to ensure you are choosing directories with decent scores.
Remember, Domain Authority is the likelihood of your website showing up in search engine results.
2) Check out existing listings
Once you identify the directory you want your backlink to appear in, you can start checking out the listings that are already on the website.
Browse for listings of companies similar to yours so you can make an accurate comparison. You wouldn't want to compare listings for beauty brands with your construction company.
Think about what is appealing about each listing and what isn't. This should give you some insight into creating your own.
If you like listings that have plenty of information about the business being backlinked, you may want to consider this approach when submitting your listings.
If you think that listings that are short and sweet look better in this specific directory, then your listing should reflect this.
By looking at other directory listings, you'll get an idea of what yours will look like once it's been approved by the directory.
3) Use keywords in your listing title
While it is crucial to check any guidelines a directory may have around using keywords in your listing, it's worthwhile to include them in the title of your directory submissions.
This will usually become anchor text, which is an important ranking factor for search engines.
4) Think about your web directory description
Some directories allow you to write a reasonably long description along with your backlink.
While including keywords in this description is important for SEO, you will also want it to provide value to the user who finds your listing.
It also needs to sound organic, so a description containing a string of keywords separated by commas will not look very natural.
It will also look messy and may make consumers think it is irrelevant to what they're searching for.
Keyword stuffing is the quickest way to make your listing look 'spammy,' which detracts from your credibility.
5) Keep it unique
Each online directory submission should have a unique title and description.
This is important because search engines hate duplicate content and will often discredit listings that that repeat content.
It's worth putting the effort in and creating titles and descriptions that vary from one directory submission to the next.
In doing this, you avoid any issues with optimization, manipulative link building, or duplicate content.
6) Use a staggered approach to directory backlinks
As mentioned earlier, Google is smart enough to pick up when backlink traffic spikes for your website.
So, if you submit backlinks and have them approved by multiple directories at once—and these backlinks gain traction quickly—search engines will notice this.
This could lead to your listing being excluded from search engine page results as Google will think this is spam, which completely negates your efforts.
We recommend spreading your submissions out between three and six months to avoid getting penalized by Google.
7) Regularly review your business listings
Often, marketers and link builders will achieve directory backlinks and then walk away thinking their work is done. However, this is not the case.
If your business information goes out of date—for example, if you change your email address—then consumers will become frustrated because they can't find the basic information they need and will often move on to your competitors.
Additionally, if Google finds and flags inconsistencies in your listings, they may remove them from search results.
This could compromise all the hard work you have put into building your directory backlinks.
We recommend using an organized spreadsheet and regularly visiting your listing on various directories to ensure they are not outdated.
Visit your listings at least once every three months to ensure they're as up-to-date as possible.
8) Wrapping Up
Although there has been some debate about directory submission backlinking, there's reason to believe that it's still a viable practice to include in your link building strategy.
While they don't carry as much influence over search rankings as they once did, directory backlinks are a cost-effective and relatively straightforward way to send referral traffic to your website and generate trust among consumers.