When it comes to search engine optimization (SEO), nothing trumps high-quality backlinks from high authority news sites & publications.
This type of backlink can improve your rankings on search engine results pages (SERPs), boost brand awareness, drive traffic to your website, and (bonus) increase your local SEO.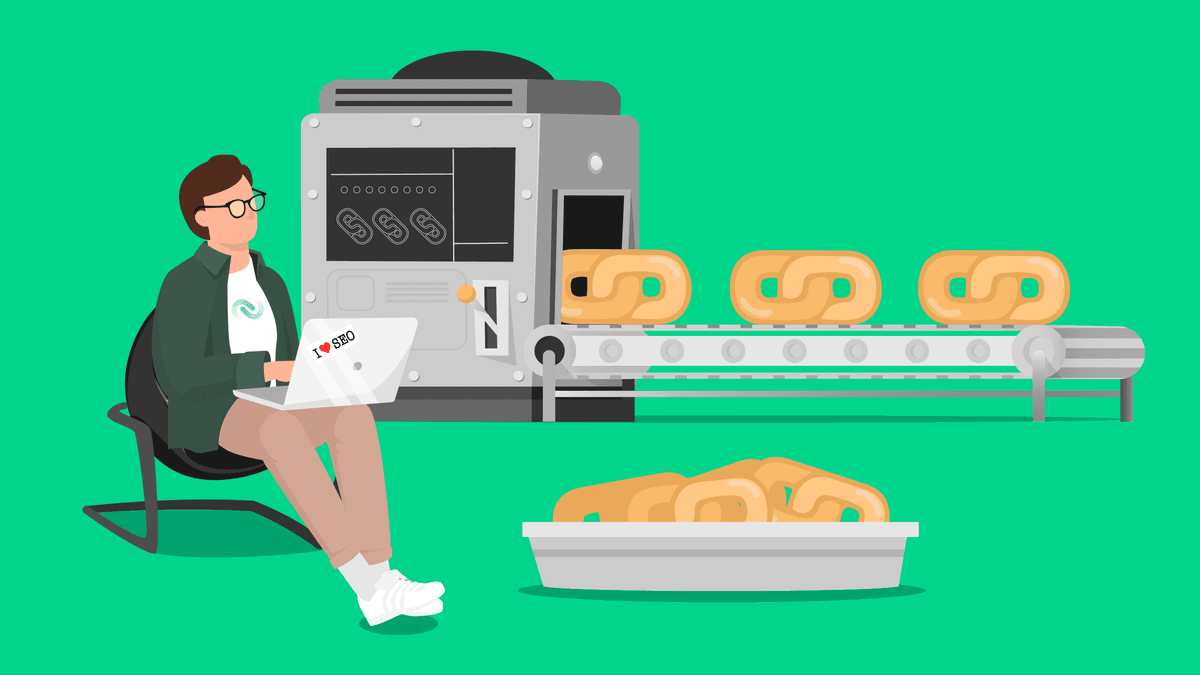 For those who don't know, high-quality backlinks are:
✅ Natural.
✅ Relevant.
✅ Valuable.

It's striking SEO gold to have several of these quality backlinks pointing to your website.
Reputable news outlets tend to be high-authority sites that people trust. If you think about it, backlinks from top news sites like CNN or BBC tick all Google's boxes for killer links.

If targeting news websites isn't already a part of your link-building strategy, you're missing out. It's an opportunity to give your business solid exposure and build a backlink profile that Google's algorithm loves.

You may think that obtaining a backlink on news websites is difficult, but with a little work and dedication, it's not impossible.
Why You Need These Backlinks from News Websites
In the past, building loads of backlinks from all over the web was an effective SEO strategy, as this is what Google prioritized when ranking websites.
However, these days it's more about the quality—rather than the quantity—of the backlinks that matter.
One powerful way to get backlinks is to work with news agencies that run high-authority websites.
Here are the 4 main reasons to build these types of links:
1) Get exposure and grow brand awareness
Google receives over 80,000 searches per second. And it has been proven that over 50% of U.S. consumers research products and services using a search engine before purchasing.

For this reason, if you're not ranking high enough in Google's search results, you're missing out on an opportunity to connect with these customers.
Working with news media networks can help you get exposure and improve your brand awareness.
2) Rank higher
When Google's algorithm chooses how to rank a website, it analyzes your backlink profile by searching for authoritative backlinks.
This is why building backlinks are so important—they're one of the most significant ranking factors that Google considers when determining search result ranking.
If a reputable news site quotes your business as a reliable source and links to your website, you can expect your organic traffic and search rankings to improve.
3) Quality links that meet Google's requirements
Remember, high-quality links appear naturally relevant, and being mentioned in a news article is likely natural.
High-quality links are also relevant. If a news site mentions you, it will likely be because your link is relevant to the content they are publishing.
Lastly, a quality link needs to be valuable. By linking to your brand in a news article, the author provides the reader with value because visiting your website may help them solve a problem or achieve a goal.
4) Authority breeds authority
When Google's algorithm crawls your website, it looks for healthy metrics like high domain authority and traffic.

What Is Domain Authority?
Domain authority is a metric that describes how relevant a website is to a specific niche or industry. This relevance has an impact on how search engines rank websites.
Having a backlink that points to your website that is placed on another high-authority website improves your own authority.
Not only will Google trust your website, but consumers will too.

How to Get Quality Backlinks from News Websites
Now that you know why you need to get backlinks from top news sites, let's unpack some ways you can achieve this.

Google News
Using Google News can result in your backlink being placed on other sites like news outlets.

You must publish news on your website to get featured on Google News. The platform will then crawl your article and rank it for relevant search queries.

The best part is that even if a news site doesn't link to your article, you still benefit from getting published on Google News, which will naturally bolster your metrics.
Here is an example of how a website like Search Engine Journal is featured on Google News.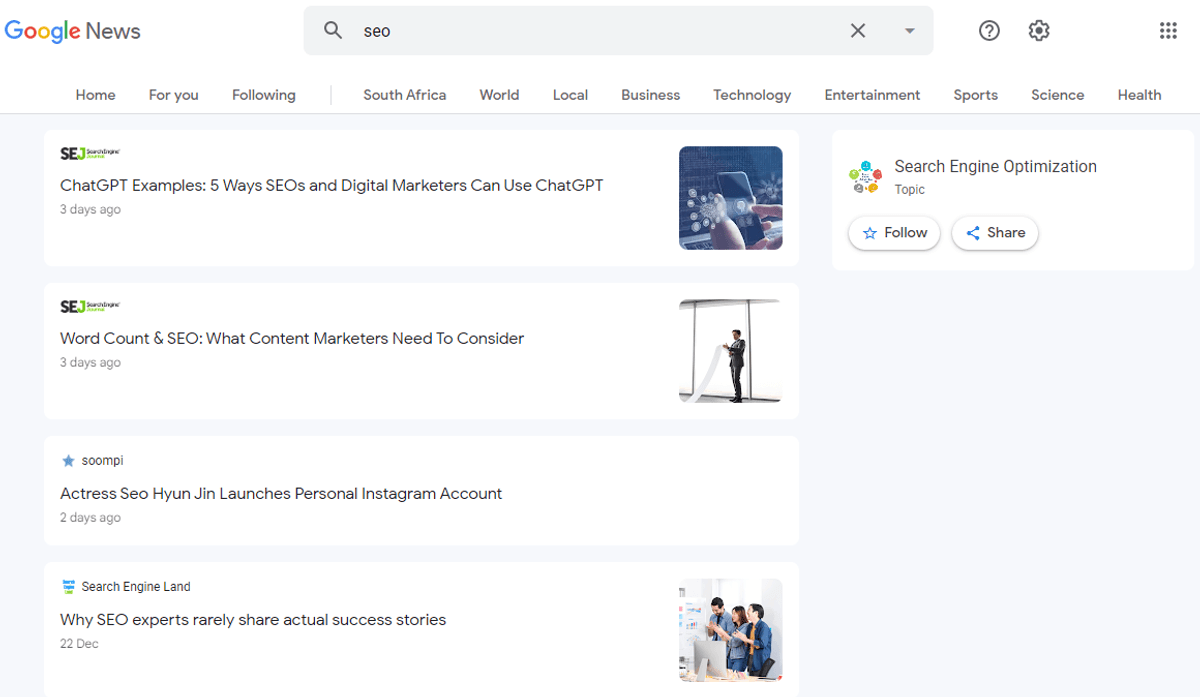 According to Google, if you want to rank on Google News, your content needs to be:

Relevant.

Prominent.

Authoritative.

Fresh.

Location-based.
Proactive PR
Press releases are one of the main techniques used in PR campaigns. They're also an excellent way to gain backlinks, as press releases help you gain exposure and provide opportunities for other websites to link to your page.

Having a public relations (PR) strategy in place that compliments your backlink strategy is how SEO magic is made.
Publishing releases is known as proactive PR, as you actively seek the public's attention.
News outlets often pick up on releases and publish them on their platforms.
They may publish your content in full or quote it in an original article. Either way, you're getting your backlink published by an authoritative source.
Top tips to get your press releases right
Rule #1: Newsworthiness
The first thing you must ensure when writing and publishing press content is that it is newsworthy.
No one will be interested in your content—and they certainly won't link to it—if there is no value in what you publish.

Rule #2: Don't disguise blog posts as press releases
You can't simply write and distribute a blog post as press content. This is not enough for a news website to pick up on it.

Rule #3: Ditch the sales pitch
A press release needs to be valuable. Using it to sell your product or service purely doesn't give the reader any value and it won't picked up by a news website. Journalists are also wary of providing businesses with free advertising.

Rule #4: Use a distribution network
If you're unsure how to get your press release out there, you can sign up for services offered by distribution platforms to disseminate your content.
Here is an example of a distribution platform called PRWeb: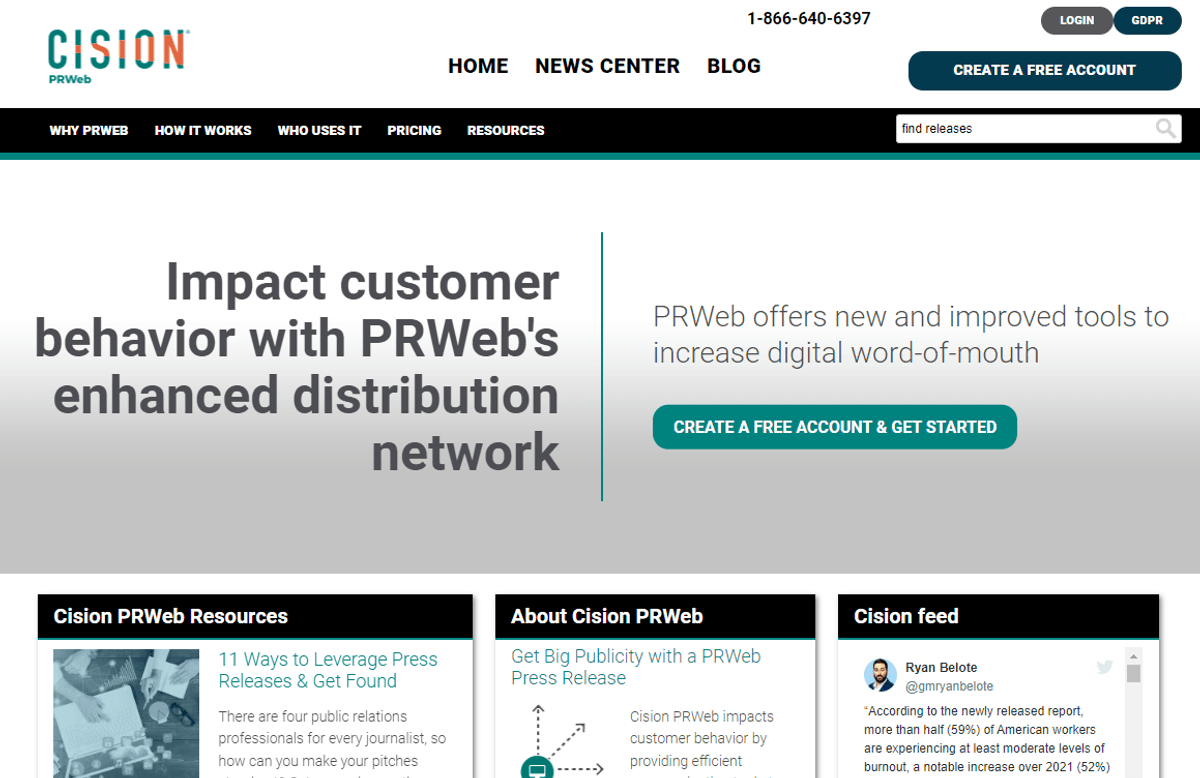 Rule #5: Only distribute high-quality content
If you want your press releases to be picked up by a news website, it needs to be quality content that looks professional.

Reactive PR
If proactive PR is taking the initiative to get content out there to build links and create a buzz around a new topic, reactive PR is piggybacking on a newsworthy event that has already taken place.
For example, if you are a cybersecurity company and a business has recently been busted for an online scam, you could publish content sharing your opinion or expertise.
Producing top-notch content as part of your reactive PR strategy is an excellent way to build quality backlinks. You significantly improve your chances of having your content picked up by a news website.

Here are some key aspects you need to consider when carrying out reactive PR for link building:
Topical relevance: Your content must be relevant to a topic that is currently garnering attention. It would be best to find ways to make your brand relevant to the topic.
Speed: You need to react to a newsworthy opportunity quickly if you want to make it into the press. Your content can easily be drowned out by other companies taking advantage of the same topic.
Quality content: Much like the point we've made before, for reactive PR to be truly successful, you'll need to write high-quality content.
The trick with reactive PR for link building is always being on the lookout for opportunities to gain coverage.
However, the success of your reactive PR is primarily based on whether a journalist or news outlet picks up on your content. For this reason, building relationships with journalists and news outlets is a good idea, which leads us to our next point.

Try HARO
Help a Reporter Out (HARO) can provide you with new opportunities to get your link featured on a news website.
HARO is a free service used by reporters to get relevant information and comments from businesses related to a topic they are writing about.
This service connects people that need reputable sources for their writing, such as journalists and bloggers, with companies that want exposure and links.
You can use HARO as a link-building technique to secure backlinks from authoritative websites like news outlets.
Here is a quick step-by-step guide on getting set up on HARO:
First, visit the HARO website and select 'I'm a Source':

Choose the type of subscription you would like to sign up for: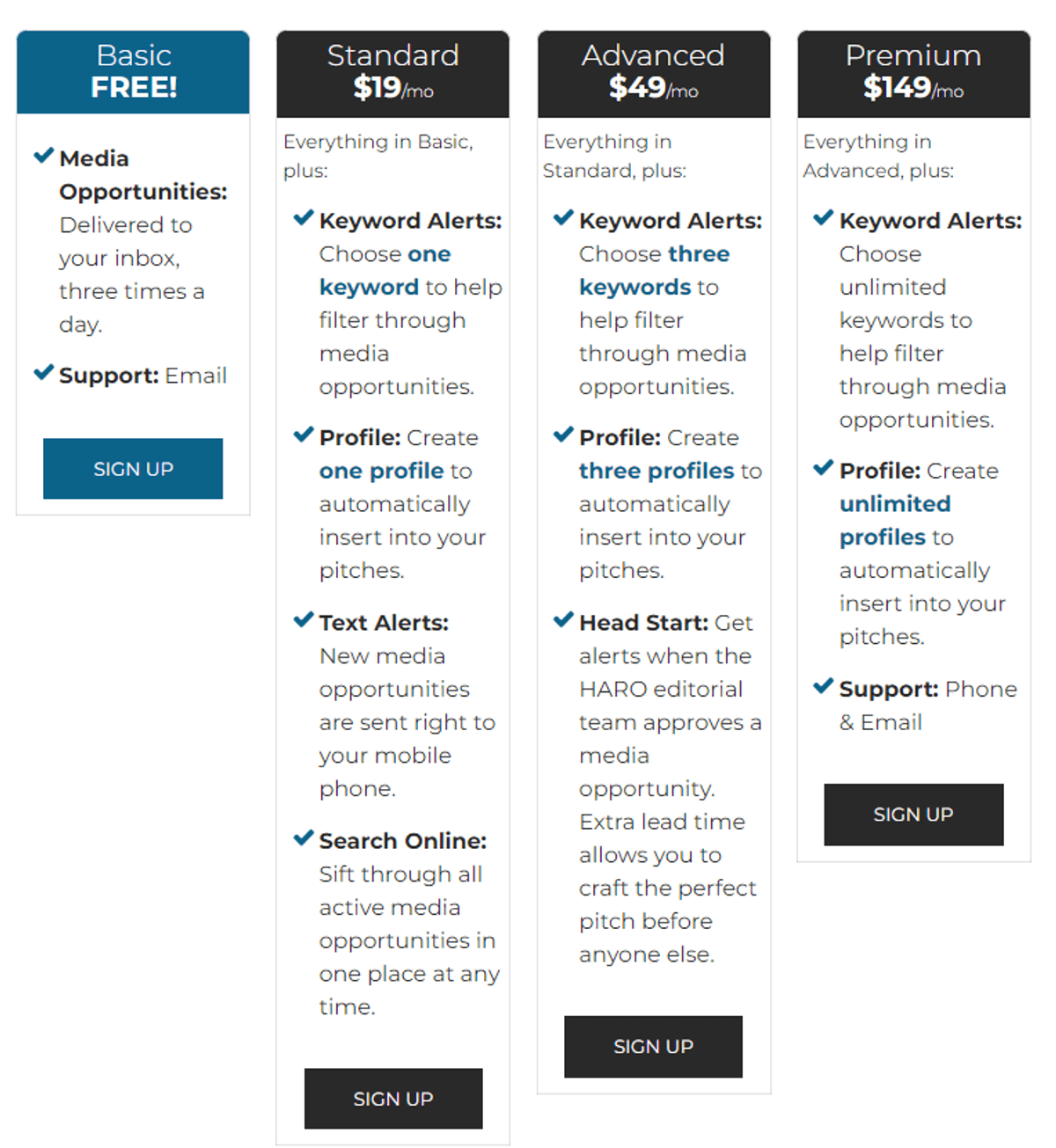 You'll then need to watch for any requests from reporters or bloggers wanting you to contribute to their work.
Once you've connected with a journalist, you need to send them a brief and compelling pitch.
Here are some factors to consider when writing your pitch:
Be prepared to move quickly and pay attention to the query's deadline.
Choose a subject line that summarizes your pitch.
Make sure your pitch is easy to read and skimmable.
Your pitch should present a unique idea or insight and provide valuable content.
Never use Google to prepare your answers!
On that last point, here is an example of a writer tweeting about how she received three answers to her requests that quoted existing content she wrote herself.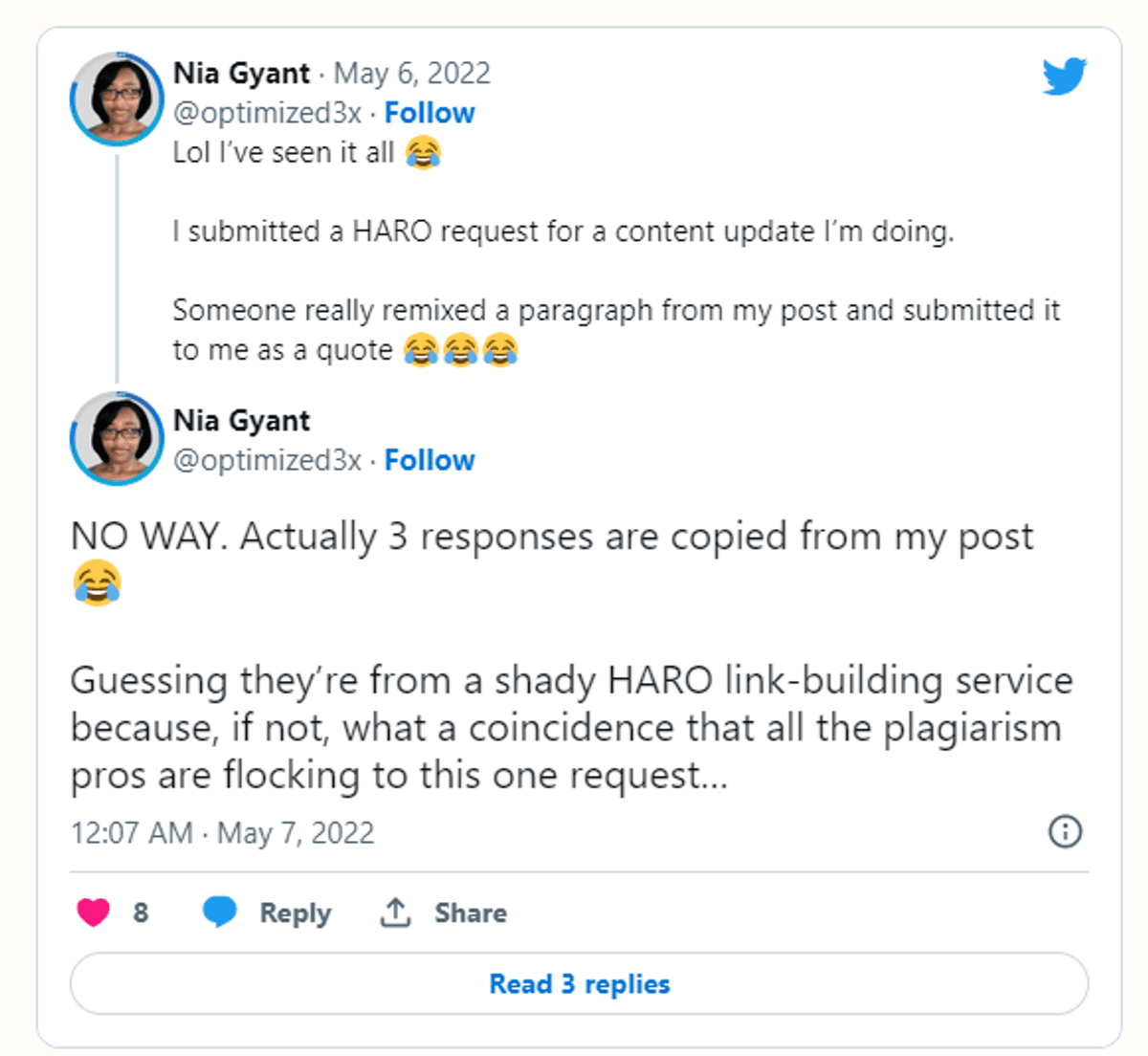 We repeat: Never use Google to formulate your contribution to the writer's work.
If you follow these steps and provide the type of information a reporter is looking for, there's the chance that your brand's name and link could be included as a primary news source.

Dos and Don'ts for Link Building with News Outlets
In addition to the advice above, here are a few more pointers regarding securing backlinks with news organizations.
Do:
✅ Put time and effort into building relationships with journalists, news outlets, and site owners.
✅ Create content that is well-written, easy to read, and provides value to the reader.
✅ Choose to target news publications in your area to build local SEO.
Don't:
❌ Use comments on news stories as a way to build backlinks. Google isn't a fan of this, and your link could be flagged as spam.
❌ Rely on getting backlinks from news outlets as your only link-building strategy. There are many other avenues to explore, too, such as writing for a guest blog, leveraging social media, and chasing broken links.
❌ Choose quantity over quality. While any additional backlinks you gain over and above high-authority links will likely benefit you when it comes to your rankings, aim for more backlinks from quality sources.

Secure Powerful Links and Improve Your Search Engine Rankings
Landing a backlink on other websites is one way to get search engines to show your site on the first page.
However, while achieving a high-authority backlink on a news site involves some work, it is one of the most effective ways to reach other sites' audiences as their website's domain authority is usually significant.

Gaining a backlink in this type of publication is invaluable — you're getting their site visitors interested in your offer.

At LinkBuilder, we use a combination of the methods outlined in this article and several other proven techniques to build enviable backlink profiles for our clients.
People do not buy goods and services, they buy relations, stories, and magic.
Seth Godin
Coordinator of The Carbon Almanac and founder of Akimbo