What makes certain SaaS companies stand out from the others?
How are some SaaS brands able to crack an increasingly competitive industry?
That's what we're going to explore in this piece from an organic traffic point of view, and how brands like HubSpot have grown from 500,000 monthly visitors to over 7,000,000 monthly visitors in just 4 years.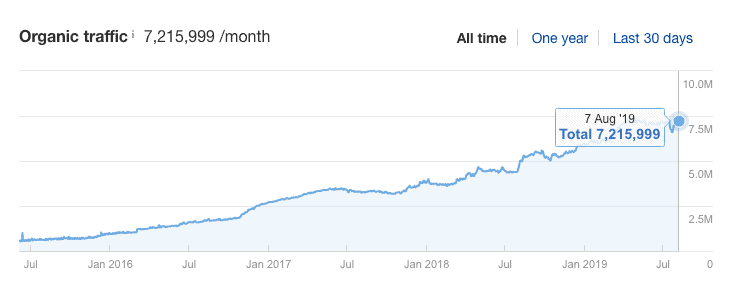 SaaS (software as a service) covers a very wide array of companies - marketing automation, sales CRM, SEO tools, document signing - you name it. The business model is essentially the same across the board, charging customers a recurring monthly or annual fee for use of the product.
It's an insanely hot industry right now, on course to grow by approximately 20% per year until 2023, with hundreds of large acquisitions per month.
Organic Traffic for SaaS Companies
Many successful SaaS brands follow a very similar pattern of gaining success. They drive organic inbound traffic to their website in order to build a readership base that will convert into a paying customer. There are some incredible examples of brands who have done this in competitive spaces, such as GrooveHQ in the support desk space.
💡 HubSpot focus heavily on organic search traffic - It saves them a huge amount on ad spend as you can see below.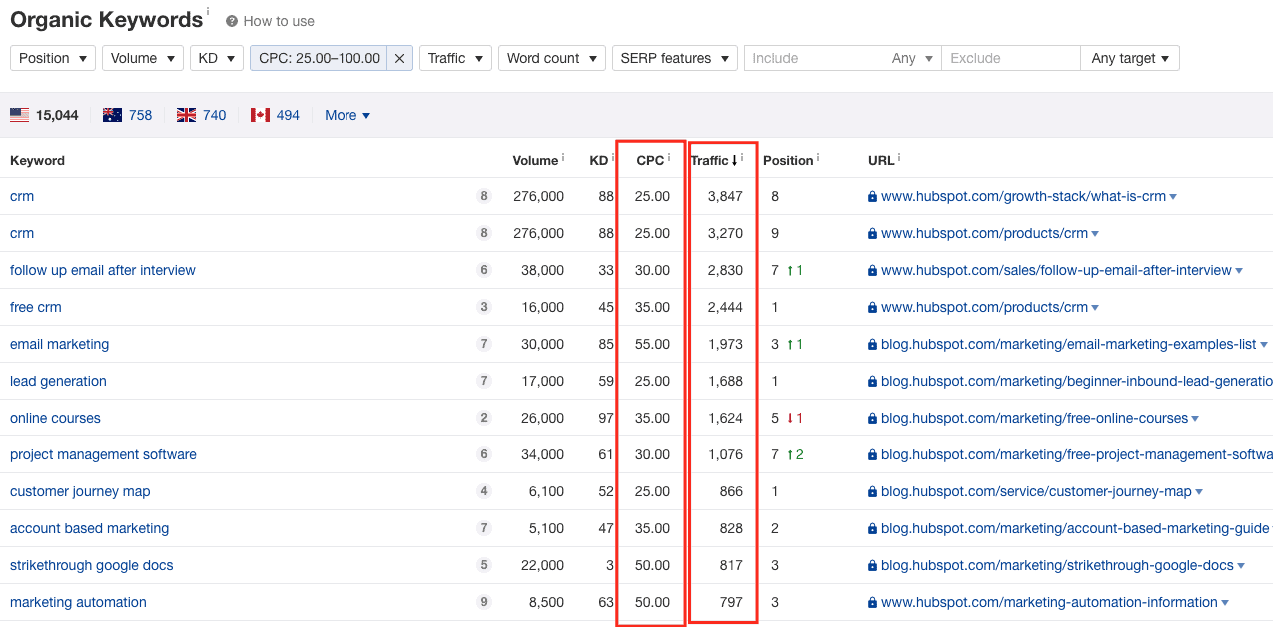 However, as we'll soon see, there's also a ton of companies that don't do this very well - They don't have a cohesive SEO strategy and they invest far too much in paid advertising when they could easily attract more organic customers through their website.
Why Link Building & Outreach is Important
Backlinks provide the SEO 'juice' for companies in the SaaS space to help outrank their key competitors.
By building high-quality backlinks to targeted pages, you're feeding Google a major trust signal (links are essentially upvotes, after all) that they should give your website or page preferential ranking over a competitor.
Links aren't the only important signal (content and page structure equally so) but they're a major piece of the puzzle, and it's so easy for companies to get a competitive advantage over you if they're link building are you're not.
At LinkBuilder.io, we've helped dozens of companies in the SaaS to turbocharge their SEO performance, including FollowUpBoss.com, SkedSocial.com, Drip.com and many more.

3 SaaS Brands That Crush SEO & Link Building
First, we're going to look at 3 brands who are performing extremely well in terms of their organic traffic and highlight some key reasons that make them stand out.
1. HubSpot - CRM
This is one brand on the list that everyone's heard of. Pretty much the undisputed king of inbound marketing and CRM software, at least from an SEO point of view.
👆 Examples of Top Ranking Keywords
Marketing
Advertisement
Brand Guide
CRM
Resignation Letter
Best Time To Post on Instagram
To Do List
Free Email
URL Shortener
Marketing
Advertisement
The point is - these guys rank for just about everything...
🔑 What's So Impressive About Them?
They get more organic traffic than any other SaaS company out there - More than 7M visitors per month, up from just 500,000 visitors in 2015.
Their biggest source of traffic is organic search.
HubSpot is earning over $500M in revenue per year through their marketing & sales products
They're such a highly authoritative blog that they rank for just about any given category - Whether that's real estate, marketing, sales, photography, web design etc.
They run an incredible content strategy that has a highly focused methodology and keyword research behind it (I've seen it first hand). They're also masters at creating highly linkable content assets, as we'll see further down this article.
2. FollowUpBoss - CRM (for Real Estate)

👆 Examples of Top Ranking Keywords
Real estate leads
Real estate lead generation
Real estate CRM
Real estate coaching
Real estate landing pages
Real estate team structure
Best CRM for real estate
🔑 What's So Impressive About Them?
Generating over 30,000 visitors per month to blog content
Outrank all of their major competitors in the Real Estate CRM Space
The value of their organic traffic per month is easily in excess of $40k (if they were to spend on Google Adwords to achieve the same)
Drive an incredible amount of traffic via organic search into their blog, which translates to hundreds of new customers
They attract traffic from keywords they know real estate professionals are searching for
Combine SEO-focused content that drives organic traffic, along with inspirational content (e.g. stories of real estate teams who have incredible sales records)
Built a ton of relevant backlinks through relevant real-estate websites, but also sales/marketing blogs, bringing their expertise in real estate to a wider audience
3. GetVero - Marketing Automation

👆 Examples of Top Ranking Keywords
Welcome email
Email marketing best practices
Promotion emails
Retention email
Persuasive email example
Transactional emails
🔑 What's So Impressive About Them?
Generating over 20,000 visitors per month to highly targeted blog content that converts
Rank for a ton of informational keywords that other companies are paying Google Ads over $20 per click for!
They've breached the incredibly competitive email marketing space against some other companies with mammoth budgets
The blog is incredibly well written with actionable strategies
Actively create 'Epic' content pieces they know will earn links, attention & traffic
They've built a ton of backlinks through the quality of their content and by actively marketing their content in the industry
See exactly how it's done...
Follow Up Boss is company is actually one of our highly performing clients. You can see a case study detailing exactly how we built links for them in this article.

3 Incredible SaaS Brands Who Could Easily Improve
Next, we'll take a look at 3 companies I've handpicked who are undoubtedly incredible brands with incredible products, but who deserve to be attracting more organic traffic to their website.
1) Nimble - CRM

Nimble is definitely in the top 10 when it comes to CRM products. They clearly have a phenomenal product that's passed the test of time. Obviously, to become this successful you also need an incredible marketing team in place, so kudos to them?
However, in my opinion, when it comes to the specific matter of organic search traffic they're, lagging behind rivals in the space.
Nimble vs. Key Competitors
They're only receiving approximately 20,000 organic users per month, which is a drop in the ocean compared to Hubspot (7M organic visitors per month) and SalesForce (3M visitors per month).
OK, perhaps it's unfair to compare them to those behemoths...But if you take a brand like Prosperworks (Now Copper.com) - They have substantially fewer branded searches on Google each month (around 16,000 vs. the 38,000 people searching for Nimble CRM), and still get almost double the volume of organic traffic.
🚀 What Could Nimble Do Better?
Focus more on content quality and depth - Many of their blog posts are far too brief to even compete. Take a look at one of their top-performing pages ranking in position 4 for the word 'Sales Playbook'. It's only 650 words in length and not particularly detailed. Compare that to Hubspot's article ranking in position 1, and you'll notice the difference - It's triple the length and far more conclusive. Nimble quite clearly has the domain power to compete, that's not an issue, but a lack of depth in their content is hurting them organically.
Engage in link building & outreach - Nimble does have some decent content on their website that I'd consider 'Bookmarkable' and 'Linkable' - But they need to establish an outreach strategy to help drive more links and get them positioned on top. We'll shortly go into that in more detail.
2) Olark - Live Chat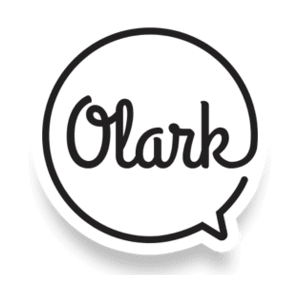 Olark is one of the OG's of live chat & customer support software?
If you look at any top 10 list or search for the best live chat software, they're guaranteed to be there.
They also have an incredibly strong domain rating of 91 and over 92,000 referring domains linking to them. This is an extremely trustworthy website which 'should' be able to easily rank for a ton of target keywords.
Olark vs. Key Competitors
Livechatinc organic monthly traffic - 1,200,000
Zendesk organic monthly traffic - 280,000
Freshdesk organic monthly traffic - 70,000
Olark organic monthly traffic - 40,000
🚀 What Could Olark Do Better?
Develop a content strategy to target more keywords - Competitors such as LiveChatInc are miles in front here - Not only do they rank incredibly well for the keywords you'd expect like "Customer Service Experience" and "Customer Support" but they also have 'outside the box' pages like their typing speed test.
Olark's blog, on the other hand, doesn't have any real visibility for major keywords. Their content is more focused on random 'fun' pieces rather than keyword-researched guides. In fact, their blog is probably only picking up perhaps 1,000 organic visitors per month. As an SEO this seems crazy to me - They have an incredibly powerful domain sitting there, and if they focused even a modest amount of budget into developing some excellent guides and content in-line with their competitors, they would attract significantly more traffic from search engines.
Create more linkable assets - Olark doesn't really have any content or linkable assets that I'd want to link to. Compare that to LiveChatInc with their typing speed test, Zendesk with their data-driven infographics, and even Freshdesk with their incredibly helpful customer service resume guide.
3) Customer.io - Marketing Automation

I've heard truly incredible things about this product. They're a marketing automation company competing against some incredible brands in a tough space. They're even featured number 1 on Neil Patel's list of Marketing Automation tools ?
One thing I can't wrap my head around, however, is why these guys aren't investing more into driving organic traffic. The fundamentals look incredibly promising to me - They actually do rank pretty well for the small number of blog posts they've put out there in the last 5 years, and the domain is a very powerful one with over 6,000 sites linking it to it (Which speaks volumes as to how good this product is).
For example, this article they published back in 2015 actually ranks in the top 4 for "Welcome email template". That's very impressive for a 4-year-old article, especially given the tough competition in the space. It's a website screaming out for some TLC in this department.
🚀 What Could Customer.io Do Better?
Publish and develop more blog content - According to their blog, the last time they published an article that wasn't related to product updates was April 2018! What I would say is that blog content they published before then was fairly solid, but just lacked consistency and volume which is key.
Build links to key posts & pages - This is always the missing piece of the puzzle beyond just having the content & pages in place. You need to actively be building links to specific pages in order to outrank the competition. There's plenty of good starting points and good content to promote that I'm sure people would love to link to.
We Know Our Stuff…
At LinkBuilder.io, we've built over 1,000 backlinks in the SaaS space in a number of verticals – CRM, Team Management, Lead-Gen Tools, Marketing Automation & even two social-media scheduling brands.

Link Building Strategies That Work For SaaS
Once a brand has nailed its content strategy, they need high-quality backlinks and a solid link building strategy to compound their efforts and get the ranking results they deserve. If you're not actively building links and reaching out to bloggers, you're at a disadvantage to your competitors who are.
Here are some actionable ideas on how to build great backlinks...
1) Building Linkable Content Assets
This truly is the backbone of most link building outreach campaigns. You need to have content that's worth showing people, and they must be adequately impressed to want to link to it.
🏆 Examples of Awesome Linkable Assets
💡 How to Come Up With Linkable Topic Ideas
First off, we want to come up with some ideas on topics we think might be popular, then we need to validate the idea.
Let's run with the keyword "Chatbots" - An incredibly popular topics for marketers right now. We can plug the concept into Ahrefs Content Explorer to figure out whether it's a highly linkable idea getting much traction.
Here's what we found with some of the top results:
And we can cross-check this on Google, to confirm that there are a ton of articles on Chatbots that people are truly linking to: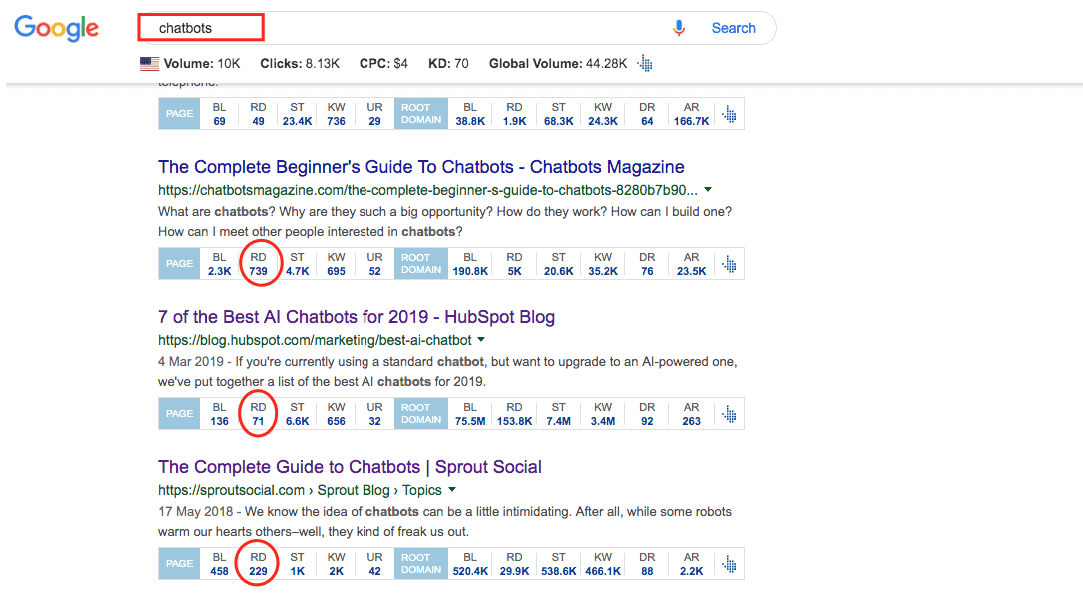 Voila!
Now we know that Chatbots are an incredibly popular topic, worthy of building a linkable asset around. The next step is to build your linkable asset, develop outreach campaigns and watch the backlinks flow.
Great content is the secret sauce
If you have incredible content, the opportunities for outreach are unlimited. All you need is the right approach to get your content in front of the right people, and the backlinks will come. We know from experience.

2) Guest Posting
This is an incredibly popular link building strategy in the SaaS niche used by a plethora of brands to land links on top sites related to business, technology, startups, and marketing.
It's used by most SaaS companies with a strong SEO & content strategy in place. Say what you want about Neil Patel, but he's an incredible marketer and regularly uses guest blogging to amplify his brands.
The premise is very simple - Reach out to other companies or publications that are publishing content, and enquire to see if they'd like to receive a contribution from you.
🔎 Find Your Targets
We call this phase 'Prospecting' and there are a number of methods you can use for efficiency and scale when prospecting for the website's that you'd like to write for.
We can run detailed search operators to find opportunities, we can reverse-engineer competitor link profiles and we can even reverse-engineer individual authors to figure out exactly which sites they're successfully landing guest posts on. We use all of these techniques and more to identify sites that'll be open to the idea.
The idea is to build out a list of website targets, just like this: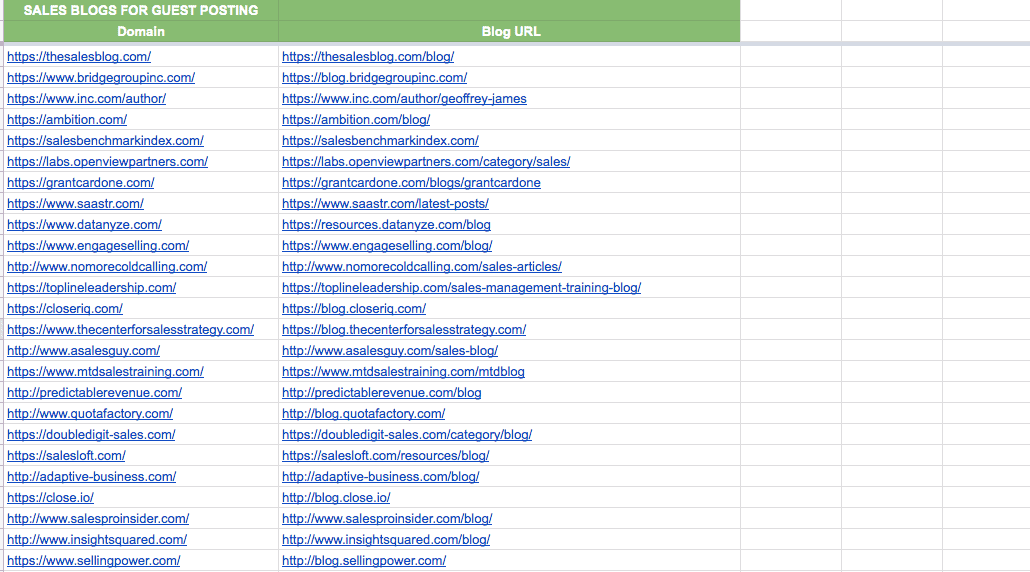 🚀 Launch Your Outreach, Wait For Opportunities
When you've launched out your campaigns (we use an outreach CRM called Pitchbox for this), the idea is that everybody wants us to write for them, just like this guy:

Now, all we need to do is establish a content creation process for writing your guest posts, scale that process out and submit them at scale. It's easier said than done, but a good system works wonders.
Guest Posts = Powerful Links
3) Resource Pages
There are literally thousands of resource pages on the internet. These are essentially pages that aim to give readers as many resources on a particular topic as possible.
Here's a classic example: 70 Best Ecommerce Marketing Resources
They're perfect for targetting either SaaS products directly, or perhaps an informational piece of content.
💡 Tip - It's easy to reverse-engineer competitor resource page links
We use tools like Ahrefs to find out what resource pages are linking to our competitors, and try and win the same links.
In the example below, we looked specifically for resource pages linking to the ActiveCampaign homepage (a marketing tool) from pages that specifically feature the word tool within them.
We found 61 great link opportunities from this very quick search, that we can instantly export and for outreach.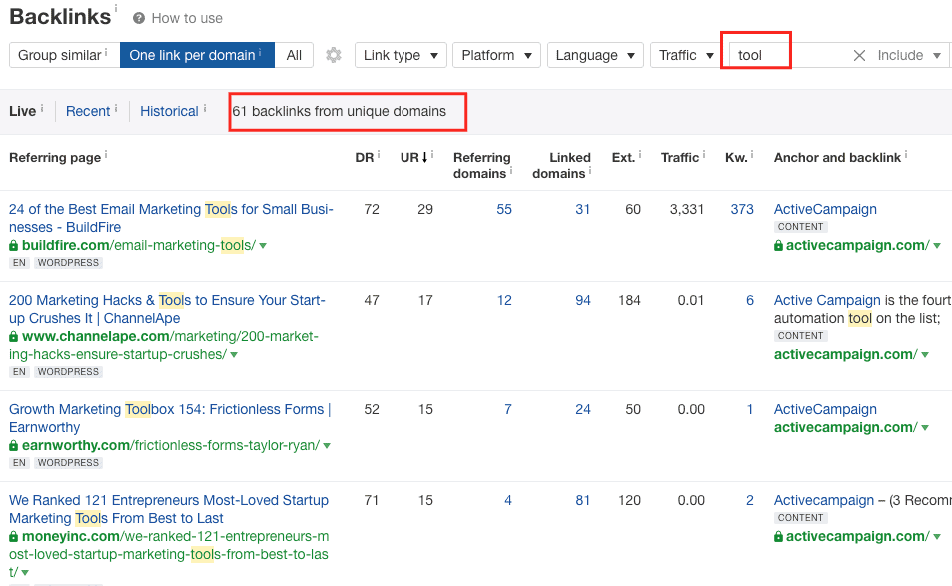 It's a super scalable approach that can yield a ton of links and referral traffic, primarily because the people you're reaching out to have already shown a strong willingness to link out to relevant resources & brands that they like.
If you're a SaaS company reaching out to a marketing blog, it's a perfect opportunity to put your product on the map. If you can build trust with a serious blogger, you can build trust with their reader base as well.
🚫 Broken Link Building - The Next Level
The internet is full of broken pages. Many resource pages are linking out to resources that no longer exist, and when the user clicks through on them, they're taken to a dead page. This is a perfect opportunity to reach out and notify a website that they're linking to a dead page, but not to worry, you have something even better for them that they can replace the broken link with?
These Pages Can Generate Serious Referral Traffic…
Articles like "The 30 Best Tools For Startups" and "The Best Marketing Automation Tools" can generate real customers and real leads for businesses.
We've worked with SaaS clients who generate hundreds of paying customers each and every month just from being featured on resource pages like this. Don't underestimate their value.

4) Roundups
Have you ever seen a page like "50 Marketing Professional's Share Their Favourite Software"? That's a classic roundup page.
Roundups are a seriously awesome source of links, especially to help build out homepage links. People love reading roundups, and people love writing roundups.
💬 Journalist & Media Requests
If you were a journalist tasked with writing a mega-roundup like the one we mentioned above, would you manually search out 50 marketing experts? Probably not. Or at least if there was a time-saving option, you'd certainly consider it?
That's where media request services come in - Like Helpareporter.com.
In 2019, this is probably the most common source of getting positioned on roundups and articles where expert opinions are required. Writers, bloggers & journalists commonly use services like those listed below to get super-fast and detailed responses from a number of credible sources, without having to do more than setting up a request.
Here are some of the services you can use:
Helpareporter - Industry leader, but also the most competitive in terms of people on there.
SourceBottle - These guys also have an awesome Twitter page you can follow for requests
JournoRequests (now ResponseSource) - Again these guys have a cool Twitter integration - Just search for #JournoRequests and you'll see what I mean. Awesome for anyone who's spending time on Twitter.
Qwoted - New organization, I love the layout of their requests and they all seem really high-end.
YEC - This is a particularly awesome opportunity, although it's only accessible to entrepreneurs with $1M+ annual revenue, and it's a private members-only club. However, once you're inside there are some incredible free media & PR opportunities.
Private FB Groups - This one's a little bit vague, and not very actionable, but we're in a number of B2B groups where authors from some super high-trafficked websites lurk. They're constantly looking for input and collaboration from others, which leads to backlinks.
📰 Even reporters from the New York Times use these services - see below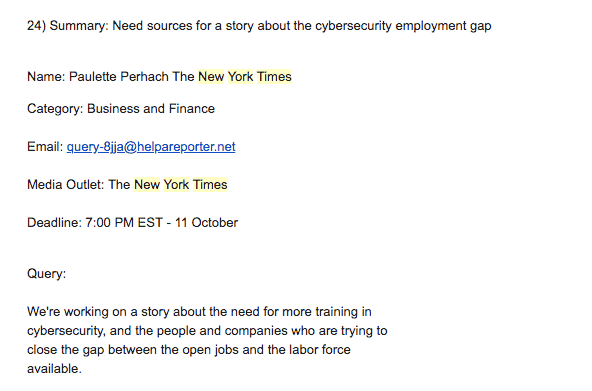 👥 It's All About Connections
All of the strategies we've described are simply different ways of approaching people. The thing that ultimately leads to backlinks is establishing a connection with someone.
The key is to use a number of different approaches and to do it at scale, with consistency and quality. For more inspiration, check out our roundup of link building experts to see an even larger range of strategies.
Results & Potential
There's no point in engaging in SEO if it's not going to drive real business.
But successful marketers understand the value of driving traffic which is ready to buy and traffic which is in a process of self-education.
Organic Traffic Is An Incredible Source
All of the businesses we work generate the majority of their customers through organic traffic and referral traffic (Which comes hand in hand).
That's not to say they don't run paid ads. Any successful business tends to have a strong paid strategy in place, but that should account for a much smaller proportion of your traffic source.
At the end of the day, we're focused on generating an ROI through all of this. And there's no better ROI on customers finding you for free through search engines or referral links.
Check out some examples of our work in the SaaS space below, where we've helped elevate organic traffic through link building, and help our clients overcome their over-reliance on paid ads.
Case #1 - Website in the SaaS Marketing niche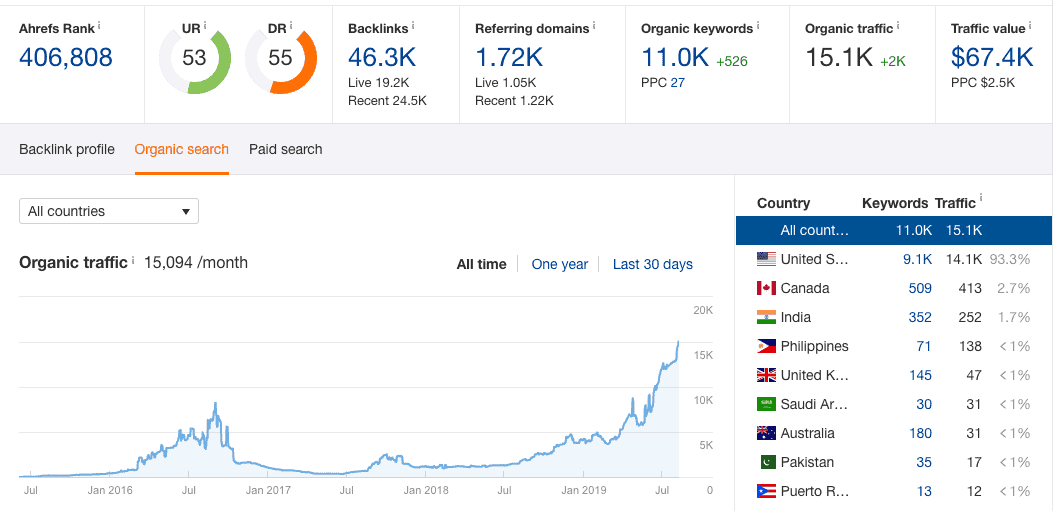 We started work with them in December 2018, growing traffic from around 3k visitors/month to 15k visitors/month.
Case #2 - Website in the CRM niche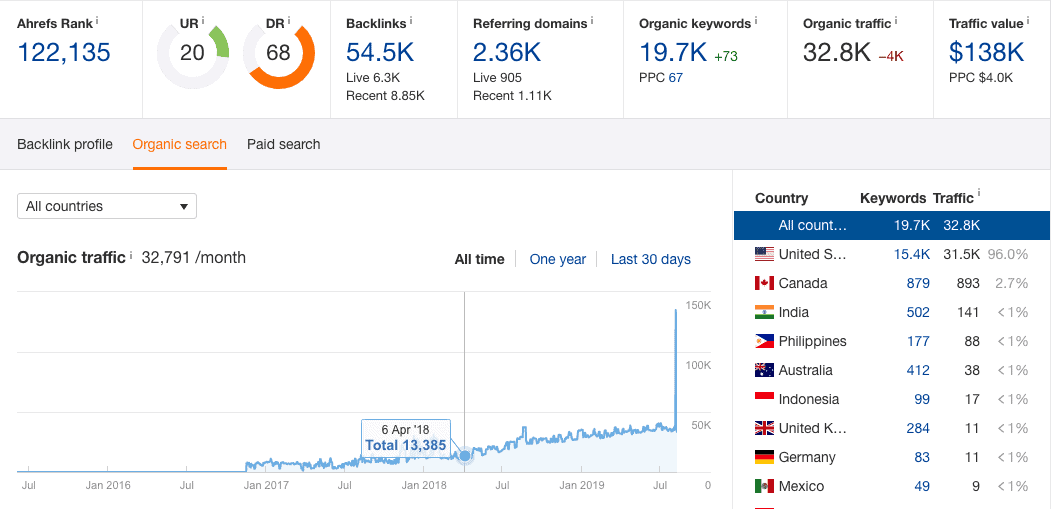 We started working with them in April 2018, growing from around 13k visitors a month up to the 35k mark.
You can check out more of our link building case studies here.