Affiliate sites need backlinks to rank on Google for competitive keywords. While you may be able to rank for some low volume terms without them, the most profitable ones always need links.
Coupon site WeThrift is a great example of how link building can drive exponential search traffic to an affiliate site. Despite operating in a competitive niche, an effective backlink strategy helped it jump to over half a million monthly organic search visitors in just over two years.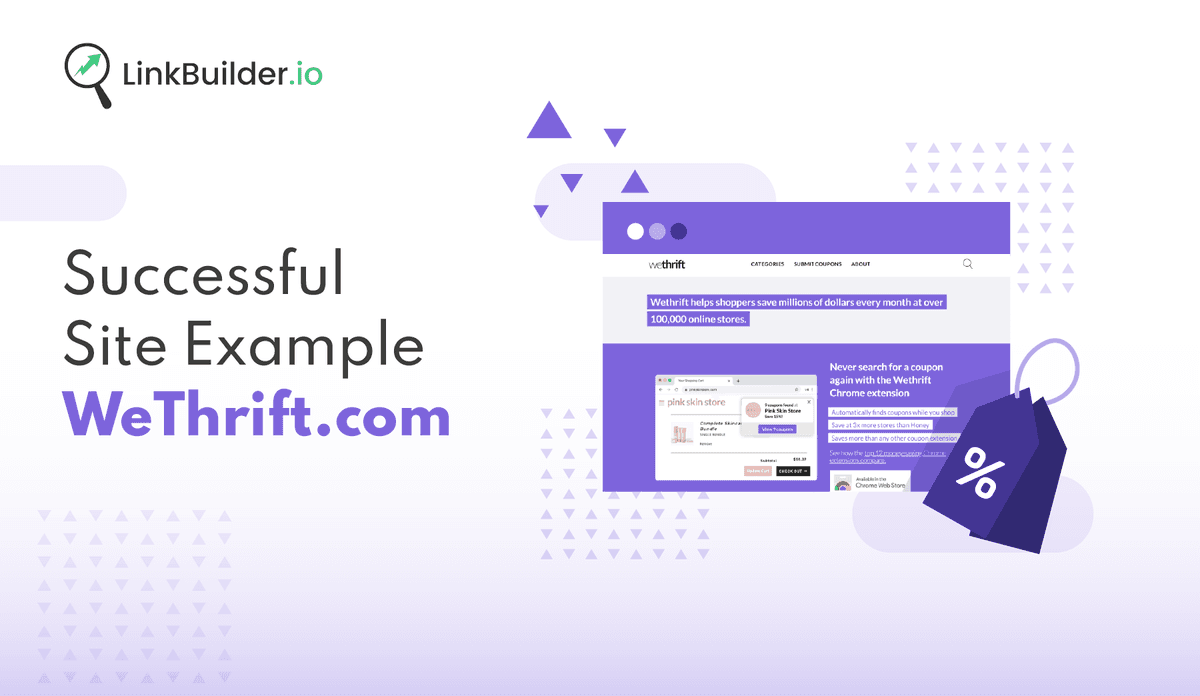 You can see the relationship between referring domains and organic search traffic in the screenshots below. Especially notable is the increase in links in the final months of 2019, which preceded a huge jump in traffic at the start of 2020.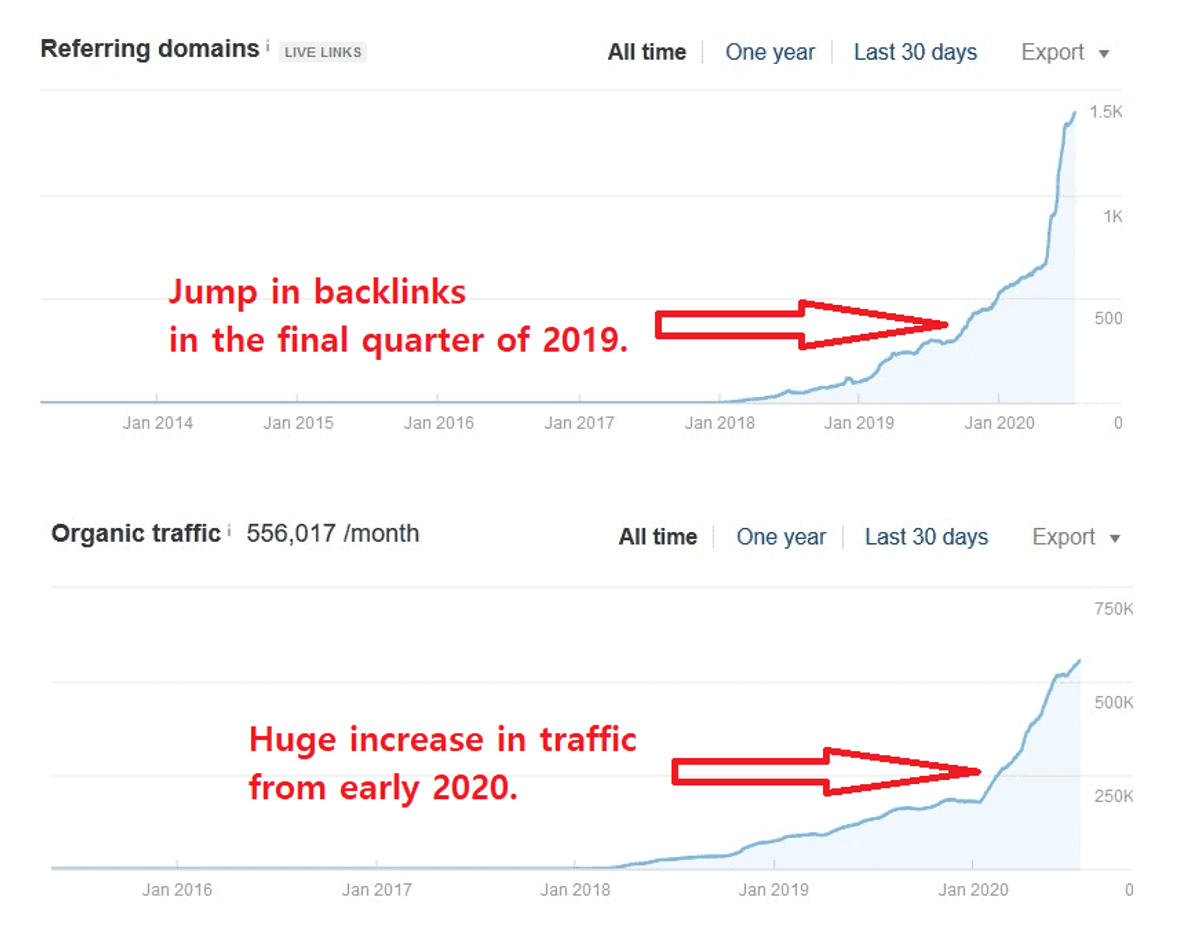 The site has continued to grow exponentially in both backlinks and organic traffic, growing its authority very quickly.
While the jump in traffic isn't solely down to building links — content is also essential — it is a significant reason behind the site's success.
If you want to see this kind of result on your own site, you'll have to put in place an affiliate marketing link building strategy. The good news is there are plenty of techniques you can use. We will explore the most effective ones in this article.
What is so Impressive About WeThrift's Link Strategy?
The site went from zero to half a million monthly organic traffic in just over two years.
It has over 1,000 referring domains and 800,000 live links as of July 2020.
WeThrift ranks for 582,000 organic keywords.
Ahrefs estimates that the monthly value of the traffic value is an astonishing $356,000.
The coupon site niche is incredibly competitive.
Link Building Strategies that Work for Affiliate Sites
Affiliate site owners face several unique backlink-related challenges. The zero-sum nature of Google search results — where one site improving its ranking directly results in another losing theirs — can make it difficult to attract links from competitor sites. Another roadblock is the expectation for paid links in many niches.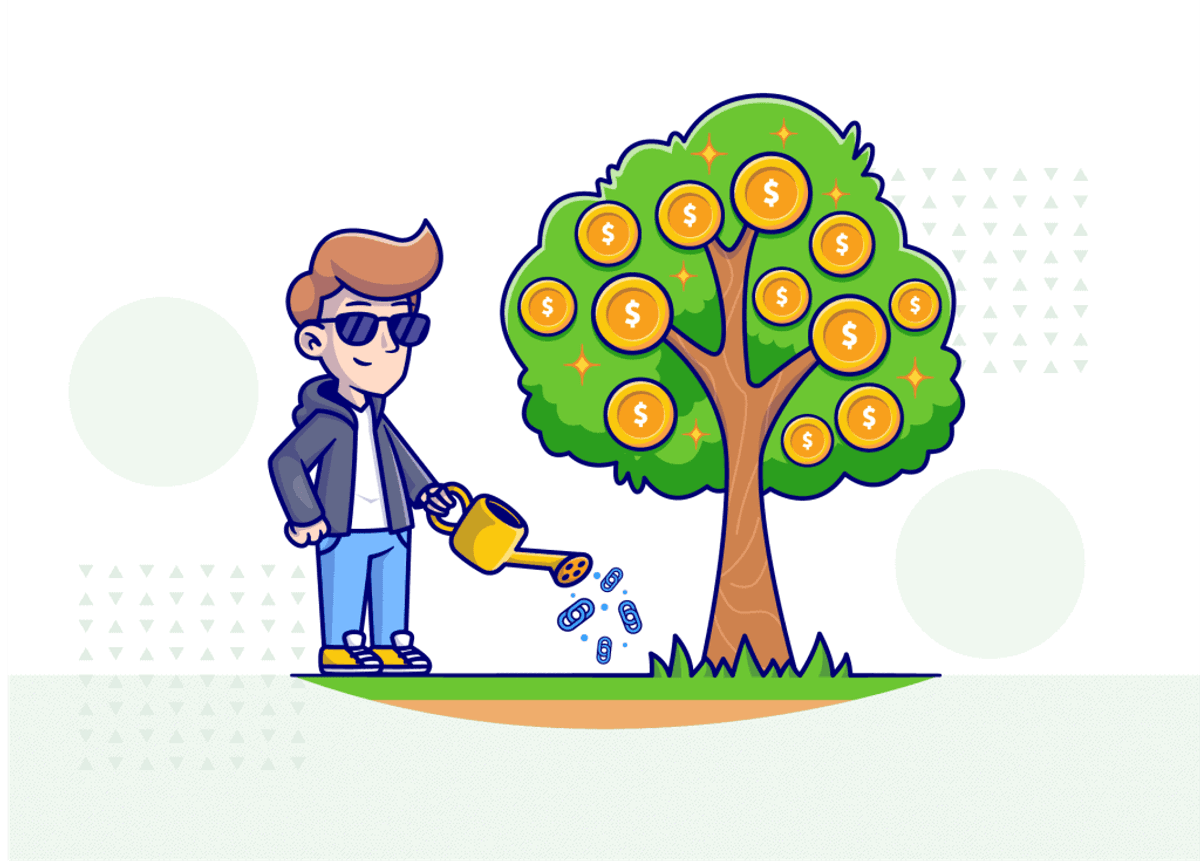 Site owners also tend to focus on money articles, such as reviews and best-of lists, which often don't attract links as well as other types of content.
The four affiliate marketing backlink strategies in this article deal with the above issues. We particularly recommend building a linkable asset to build many backlinks, fast.
To get the most from these tips, it will help if you have access to an SEO tool like Ahrefs.
Creating and Building Links to Assets
People will only link to your site if you have content worth linking to. Unfortunately, typical affiliate articles — reviews, best-of lists, comparison pieces, etc. — are not great at attracting links. This means you may need to create a new piece of content with the purpose of attracting links. We call this a linkable asset.
For this strategy to be effective, your asset should be about a theme or topic other sites are likely to link to, and it should be high quality and authoritative, so people trust linking to it.
🧐 How to Find What Other Sites are Linking to
As an affiliate site owner, you likely already have a good idea about the type of content people link to. If you don't, or if you are stuck for ideas, you can perform competitor link research to get ideas.
One way to do this is to search for a competitor in your niche on Ahrefs. By heading to the "Best by Links" section of the site, you'll see a list of the site's pages that attract the most links.
In the screenshot below, you can see the most linked to content on the hosting affiliate site hostingfacts.com.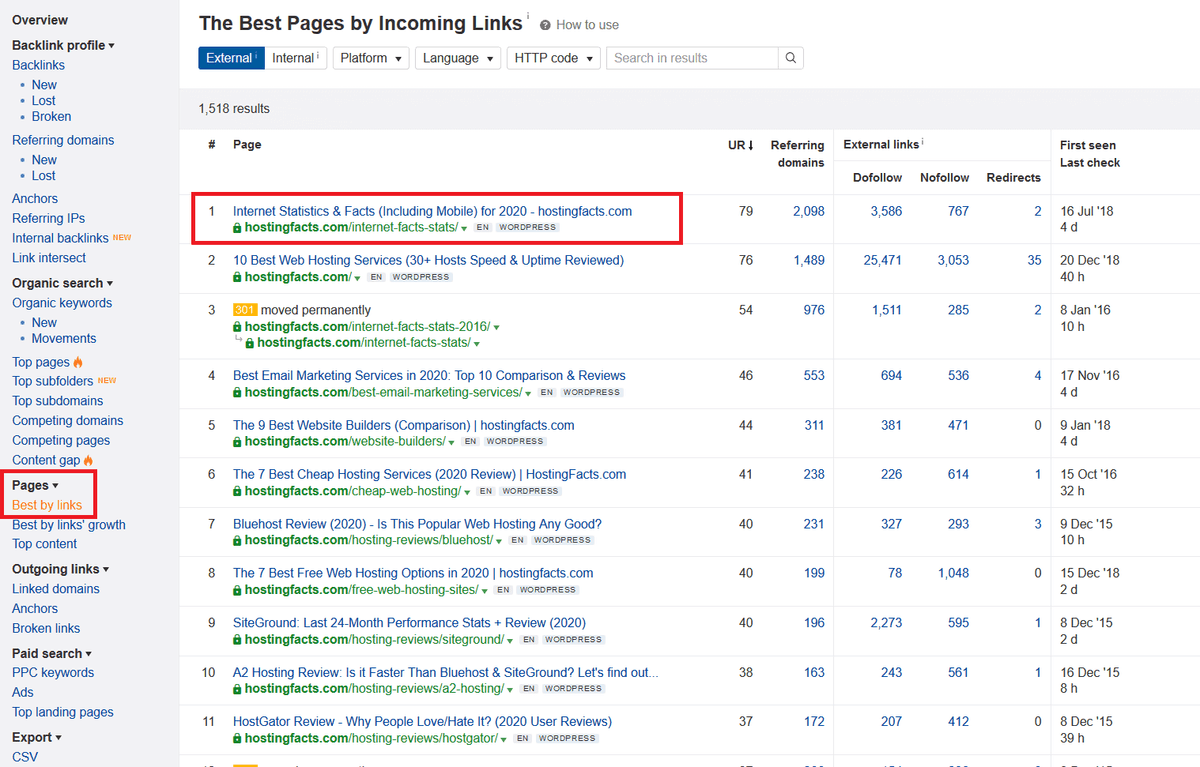 The "Internet Statistics and Facts" page has links from over 2,000 referring domains, the most out of any content on the site. This suggests that you may be able to get links by producing something similar.
Tip 💡
Perform the above competitor research for several sites in your area and make a list of the types of content that attracts the most backlinks. This will provide you with a list of ideas you can use to dictate your content creation process.
You may already have a linkable asset amongst your existing content. Perform the above search for your own site to see if any pages have attracted links naturally. If they have, this content could be a great place to start a link building campaign.
Link-Worthy Content Ideas
👉 Great Examples of Linkable Assets for Affiliate Sites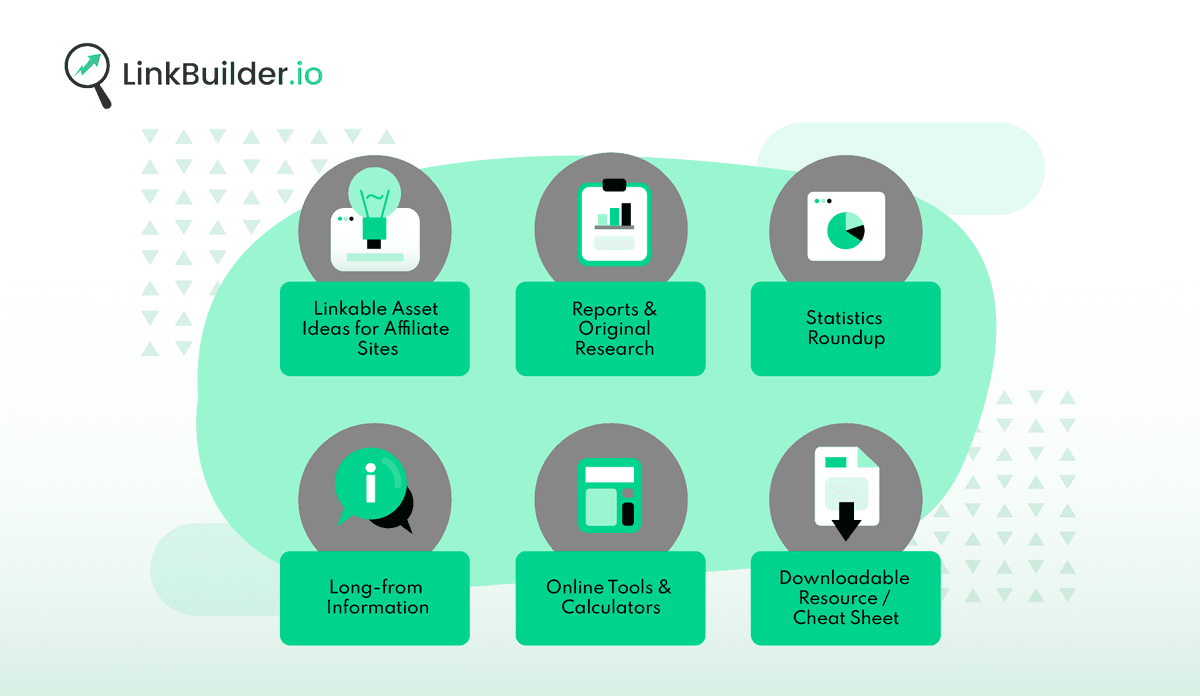 You're going to need to ensure that your piece of content is World-class - meaning it's better than anything else out there like it. To see what a quality resource is, check out the type of content that already exists and aim to make yours better.
Some ways to do this include offering new information or research, making your article more in-depth or better written than existing ones, or by adding more media such as videos, images, or infographics.
There are many types of content that you can use as a linkable asset. The best one for your project will depend on your site, your expertise, and the industry you work in. Here are some common types of assets, although any way of adding value to an existing topic can work.
📂 Reports and Original Research
Original research can be a great way to get backlinks as every time someone references your work they should link back to your site. The downside is that it can be time-consuming to create this type of post. Is It Wp's list of large websites that run WordPress is a good example that has 50 backlinks, according to Ahrefs.
🧮 Statistics Roundup
Stats roundups are a good way to get backlinks if you don't have the resources to do original research. Just collect as many stats as you can about your chosen topic and list them in an article. The idea is that when companies need to reference a statistic, they will do so by linking to your article, rather than the original report. Here is an example from Urban Bean Coffee. It has 71 backlinks, according to Ahrefs.
This article from Merchant Savvy about remote working statistics is another excellent example - They now get probably 3-5 links every month without even lifting a finger! Journalists who are looking for information around the topic simply find the article on Google and link to it. Ranking a data/statistics based page like this can give you incredible returns, because you'll get tons of people naturally linking to the page over time as they cite your source.
Another example is this article by WebHostingProfessional on "80+ Powerful UX Statistics For A Successful Website" — this post has been recently updated and, according to Ahrefs, they've acquired 6 new links in the last two weeks, which is definitely a good result.
📘 Long-form informational content
Long-form informational content goes into a particular topic in great detail. If you are the best resource on the subject, you may be able to convince people to link to your page. This page about different types of wood fence on Own The Yard has 14 links, according to Ahrefs.
⚒️ Online Tools
Tools are a great way to encourage backlinks if you have the expertise to create them. Just find a problem people in your space struggle with and create a software solution that helps. This water intake calculator from Fitness Verve (web archive) has 30 links, according to Ahrefs.
Again, this keto macro calculator from Perfect Keto has attracted over 100 links, and we were personally involved in earning a ton of links to this particular page.
🎓 Downloadable Resource/Cheat-sheet
Providing users with a useful resource they can download can earn backlink love. These are similar to long-form content, except in the way it is presented. This HTML cheat sheet from Hosting Facts has 144 backlinks, according to Ahrefs.
We found a cool example of downloadable cheat sheets from this website: Test-guide.com. On the face, they look like a company who simply offers free sample test sheets for various exams, but in reality they earn a lot of affiliate commission by referring people to courses. They have attracted hundreds of links to their 'practice test' pages, and it's worked very effectively as a long term link building strategy for them.
How to Perform Backlink Outreach
Now you have your resource, you need to share it with people who might link to it. You need to find websites or blogs that have written about your topic and suggest your asset as a resource they could link to and improve their page.
The simplest way to do this is to search for your term on Google and list all the sites that publish content in your industry. Then, take one of these sites and look at its main competitors in Ahrefs to get more information. Just search for the domain in "Site Explorer" and then click "Competing Domains" in the menu on the left.
The below image shows all the golf-related websites that compete with mygolfspy.com. This list highlights potential outreach targets for a golf-related asset.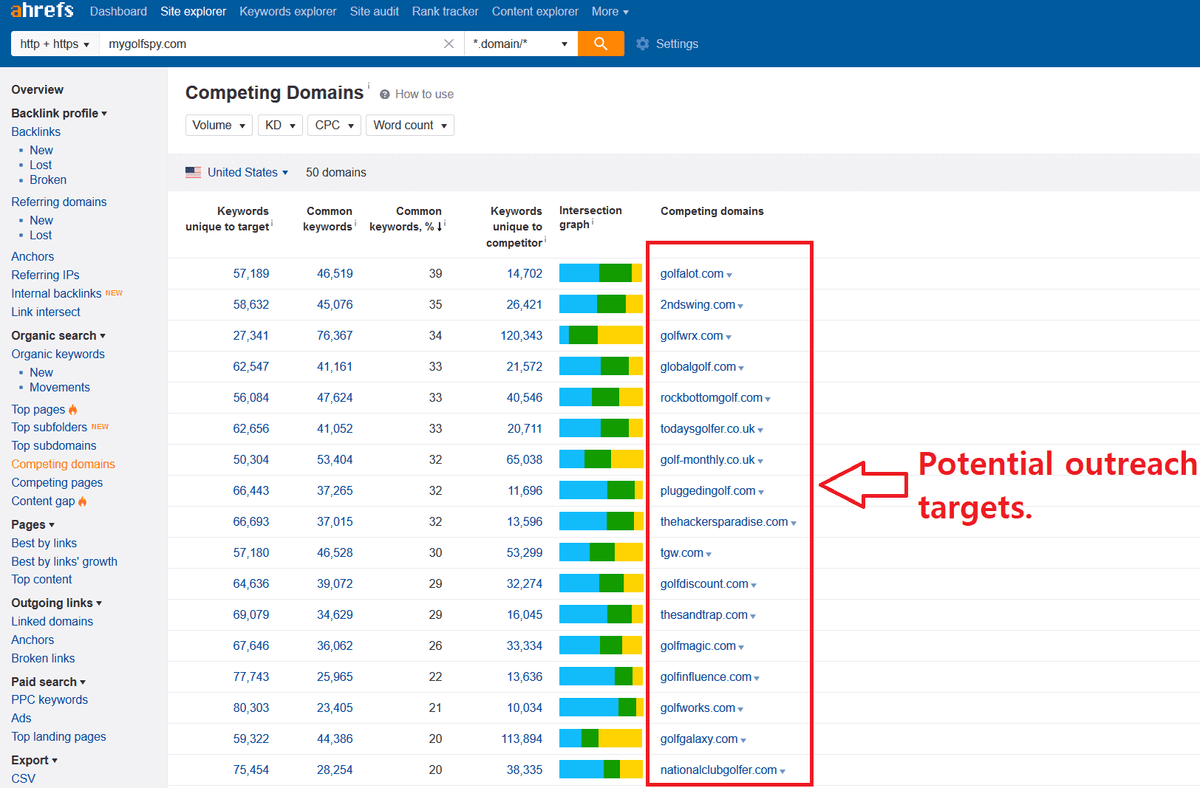 Another way to find good outreach targets is to take an existing asset that is similar to the one you have created, and look at which sites link to it. After all, if a site links to another asset, it may also link to yours.
You can find which sites link to a page by searching for the URL on Ahrefs and then clicking on "Backlink profile." Add the sites you like the look of to your list of outreach targets. The screenshot below shows the backlink profile for the Hosting Facts page on internet statistics.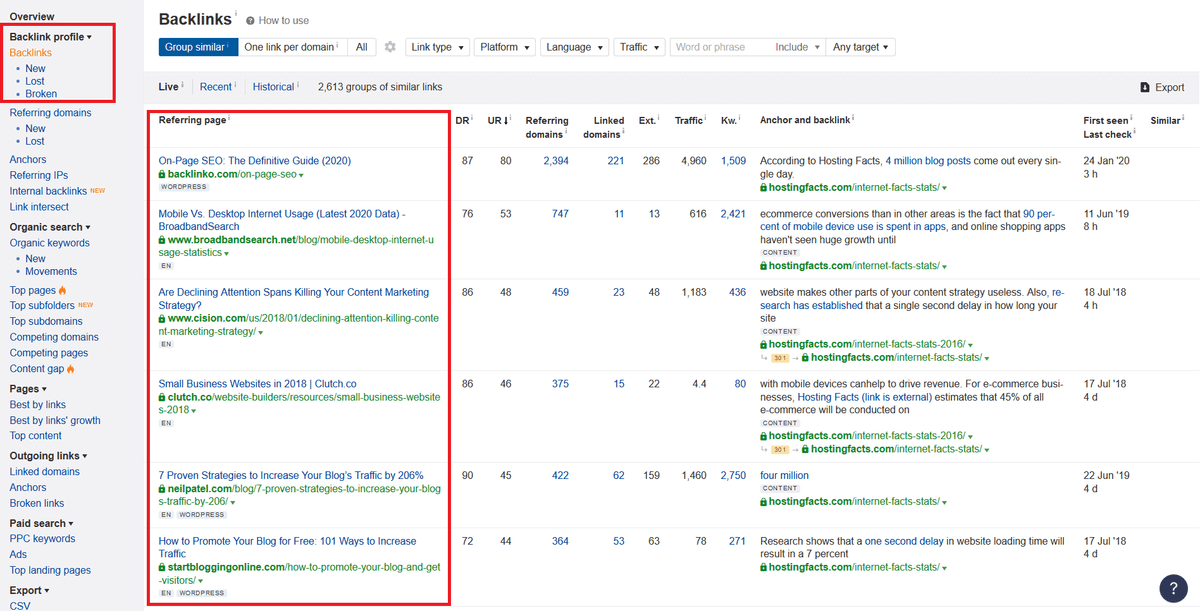 Once you have your list of targets, you need to find an email address. You can do this manually by searching on the site's "About Us" or "Contact" page. Or, you can use a tool like Hunter.io's bulk email finder to automatically discover contact details for a large number of domains simultaneously.
Guest Posts
Guest posting is a hugely popular link building strategy. The idea is simple: find a list of websites that publish content related to your niche, reach out to people at these sites, and then submit an article containing a link back to your website.
Unfortunately, there are several challenges. The sheer number of people trying the strategy means that website owners are often inundated with requests, leaving them either unwilling to accept guest posts, only willing to accept them for a fee, or only willing to accept them with the condition the link is "no-follow."
Warning about paid guest posts...
While paying websites to publish guest posts is a common strategy, it is technically frowned upon by Google and may result in a penalty.
You should be very careful that any site you pay for posts on meets some basic criteria:
Post doesn't include 'sponsored by' tag
Post shouldn't include 'guest post by' tag especially on sites which have huge numbers of these
Ensure the site isn't clearly selling lots of links to every man and his dog
Having said this, there are ways you can make guest posting work. The most effective of which is to forget about guest posting as a way of getting backlinks, and instead look at it as a way of producing quality articles for authoritative sites.
This means pitching interesting article ideas to the site you want to be featured on. Go for high-quality publications rather than smaller blogs that don't have authority. Try to come up with a unique story or angle that showcases your unique expertise on a topic.
In this post on Niche Pursuits, Jessica Larrew shares her tips about creating an online course. It works because:
There is a clear overlap between the audience of Niche Pursuits and the content about creating a course.
Jessica Larrew has experience in creating a successful online course.
It is a well-written, interesting article with lots of useful tips.
NichePursuits is an authoritative site in its industry.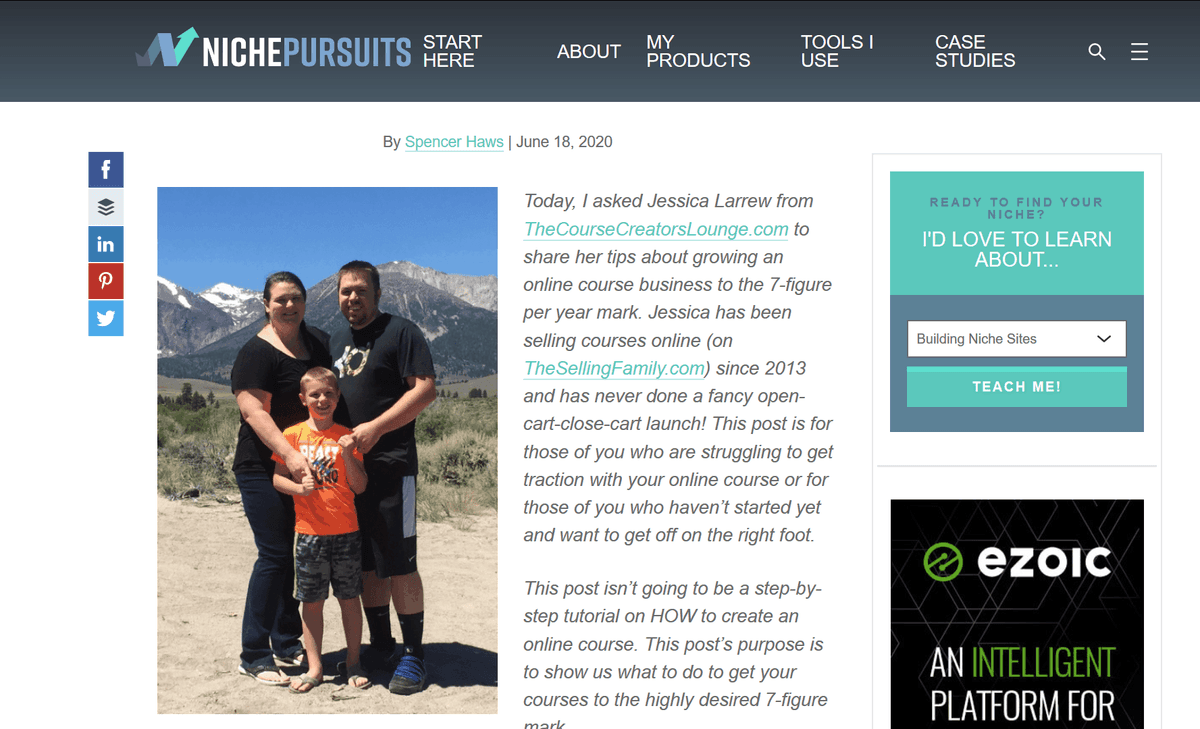 When it comes to outreach, there are several things you can do to increase the chances of your guest post being accepted.
Writing a personalised message helps, as does ensuring you are contacting the correct person and that you have followed any specific guest post-related instructions a site may have. Including a detailed brief that explains your article will also help editors decide if your idea is a good fit for their blog.
We also like to include a value proposition in our outreach emails. For example, highlighting ways we'll promote the post when it goes live.
There are plenty of techniques you can use to find websites. Performing Google Searches for related sites plus "Write for Us" is one method. Another is to reverse engineer the link profiles of competitor blogs and articles. The idea is to find out where your competitors are guest posting and target these sites.
Site Quality Checks ✅
High domain authority
Highly relevant to your subject matter
Preferably strong editorial standards and guidelines
Should be a site you would happily read content from – that's always the best smell test
Website earns lots of organic traffic from Google
Website creates lots of content which is clearly not limited to other people who have paid for guest posts
Has a safe outbound vs. inbound link ratio
Niche Edits and Link Insertions
Niche edits is when you find a piece of content on another site that is relevant to the page on your website that you want to build links to. You then reach out to the website owner and suggest that they link to your content on their article.
There is a very slim chance that they will agree to do this for free. In most cases, though, you will have to pay them to get the link.
There are many benefits to link building in this way. It requires far less work than building an asset or writing a guest post. Also, it's easy to get a large number of links quickly — you're only limited by your budget and your ability to find a website.
It's also a great way to build links to pages that wouldn't traditionally be link magnets. As you are paying for the link, you can choose which page you want to be promoted.
There is bad news, however. Some sites won't accept payment as they don't want to risk a punishment from Google. This is even though the risk is small and paying for links is a common practice. The other risk is buying a referral from a spammy site that has too many paid links. Always be careful when choosing which websites to buy from!
Cherry Pick Pages for Link Placement 🍒
My favourite thing about using niche edits is the ability to place links on pages that already either have:
Lots of backlinks going to them
Lots of organic traffic
Using Ahrefs, we can identify pages on our target sites that we love (either because they get lots of traffic or links) and work out a deal with the editor to place our link within that highly performing page.
EXAMPLE: If I was approaching techjury.net to pay for a link insertion to my marketing agency, I'd use Ahrefs to figure out which pages have the most links.
They have a blog post with 335 links all about SMS marketing statistics, which is a perfectly relevant opportunity for me to place a link.
Reviews
As an affiliate site, a large part of your business model is likely writing reviews. One way to get backlinks is to show these reviews to the companies producing the products you are writing about and tell them to feel free to quote your review on their website. Depending on the site, this could be through an "In the News" or "Testimonials" section on the website.
👉 Here's an example of this in practice:
Mueller is a company that makes kitchen products such as coffee machines, knives, and juicers. If you go to their homepage, you can see that they have a "What People Are Saying About Us" section that includes reviews from affiliate sites TopRateTen, Pinch of Yum, and Happy Happy Vegan.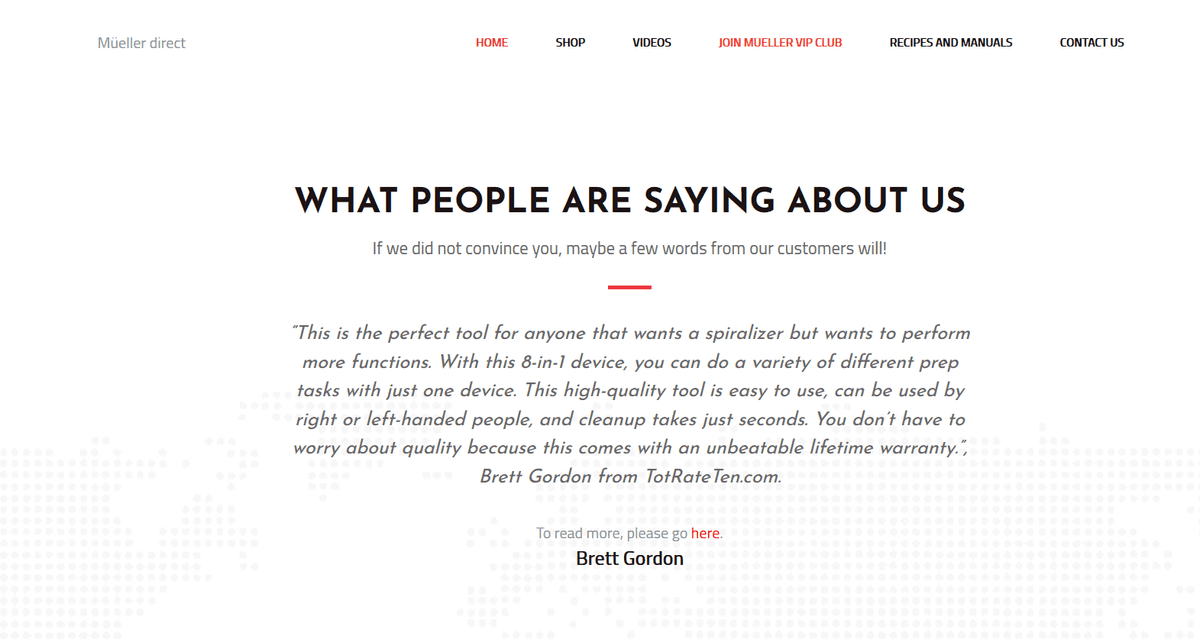 When targeting websites in this way, be aware of the type of company that is likely to benefit from these recommendations.
If you are in the kitchenware space, a multinational like Tefal or Phillips is unlikely to be interested in linking to your review. A smaller company like Mueller, on the other hand, will be happy with the increased exposure and added brand value.
Media Requests
When journalists or bloggers write articles, they often use media request platforms to gain access to expert input. Answering these requests and becoming a source in articles can lead to backlinks.
Help a Reporter Out (HARO) is the most well-known of the media request services. People who sign up to the service receive three emails every day with the latest requests. Just keep an eye on these emails to look out for relevant requests.
The great thing about HARO is that writers use it at some of the world's top publications, so getting high authority links from incredible websites is to be expected. Getting linked to by one of these sites can really move the needle in terms of your profile. The downside is that you aren't guaranteed to be featured even if you spend time crafting an informative reply.
There are some things you can do to increase the chance your answer is chosen:
Reply quickly.
Follow all instructions, especially relating to word count.
Only answer relevant requests where you are a genuine authority.
Provide informative, well-written answers.
HARO isn't the only media request service. SourceBottle (and its Twitter account), ResponseSource, and Qwoted are other platforms you can join. In some industries, you may also find opportunities by following relevant people on social media sites.
Underrated Strategy 🧠
Using tools like HARO is a super underrated technique, and I would strongly advise using this when building up initial authority for your affiliate site and a base of links to the homepage.
Case Study: Two Sites that Could Benefit from Link Building
Next, we'll look at two sites we think would see real gains from link building and explain why this is the case. If your site has any similar characteristics to the ones below, you should seriously consider building some links.
Golf Span
GolfSpan.com is one of the new kids on the block in the golfing affiliate industry. It has seen seriously impressive organic traffic growth since its launch at the start of 2019, and now receives over 40,000 organic visitors per month. The site has a comprehensive content strategy which includes informational, educational, and commercial content.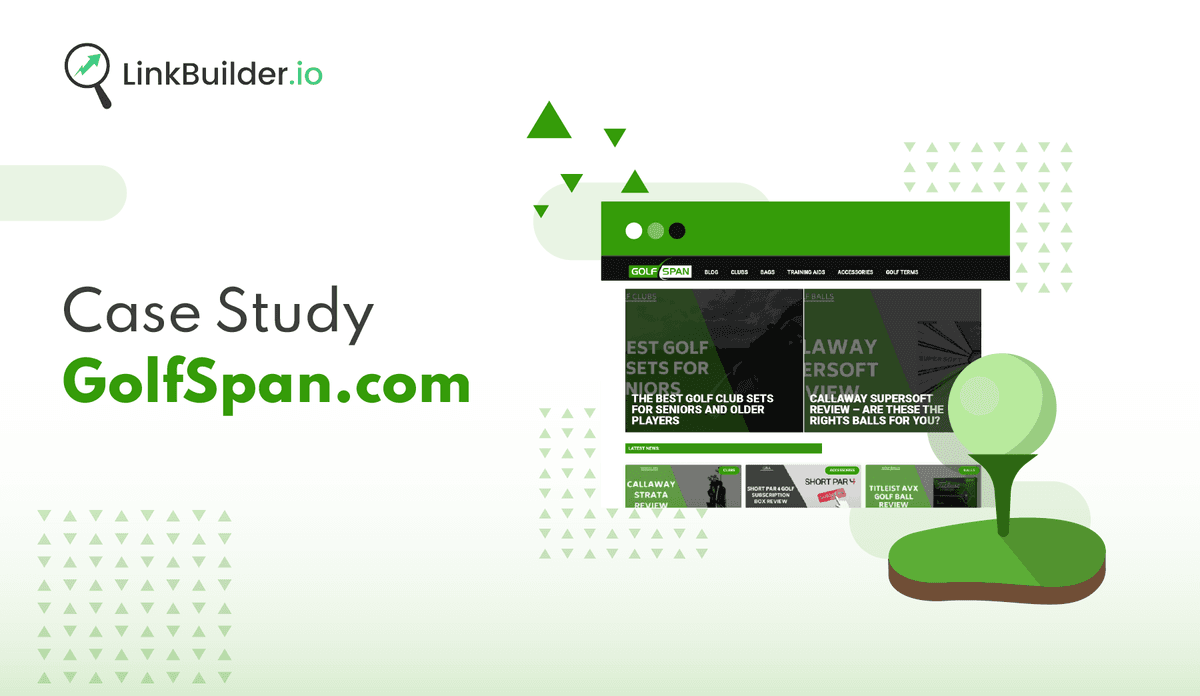 Golf Span vs. Key Competitors
What Could Golf Span Do Better?
Develop a content strategy to target more keywords: The owners could use a content gap analysis strategy to compare the keywords the site ranks for versus the competition. They can then cherry-pick terms they have a good chance of showing up for on Google but haven't yet targeted.
Or they could look for smaller, overperforming sites in the golf niche and write content for the terms that bring these sites traffic.
Create more linkable assets: To reach the heights of sites like GolfDigest, Golf Span needs to create more linkable content to attract high-value backlinks.
This article which calculates how much top golfers earn per shot from Noobnorm.com — another upcoming golf affiliate site — has 48 referring domains. It is an excellent example of the type of creative content that can help new websites attract quality links.
Build more targeted links: Guest posts and link insertions are a good way to build as many niche-relevant links as possible from websites about golf, sports, leisure, and hobbies.
The site owner should send the links to various pages, including commercial and educational pages. They should ensure the context of the links is natural and relevant, something which a lot of affiliate sites owners fail to do correctly.
All That SaaS - Software Affiliate
All That SaaS is a seriously interesting proposition. The online software as a service (SaaS) industry is growing exponentially every year. It is one of the few sectors which has been positively impacted by coronavirus as companies look to leverage tools that enable remote working.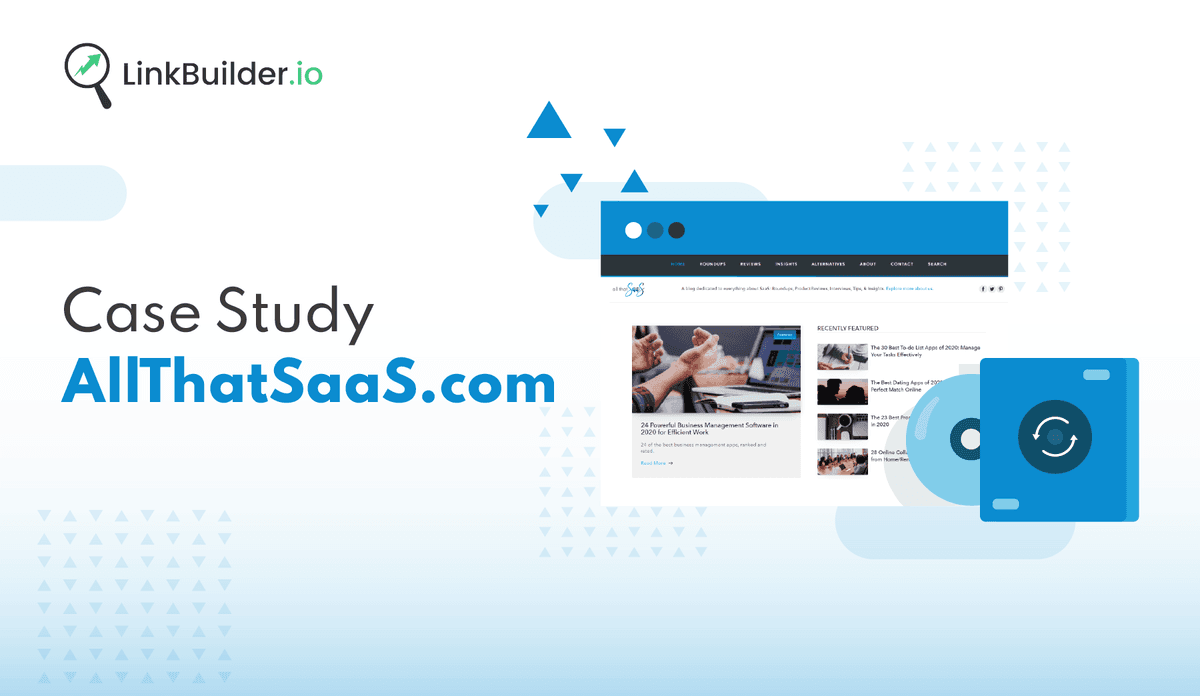 The website already has over 9,000 organic visitors per month according to Ahrefs, and a traffic value of over $20,000 per month. That's impressive considering it has a DR score of 30, and that the website was launched less than seven months ago at the time of writing (July 2020).
All That SaaS ranks for keywords relating to a variety of SaaS services including:
#5 - Best Journal App
#3 - Best Add-Ons for Google
#3 - Hospital Management System
SaaS is a fantastic space to get into, especially if you can create an authority-style website which spans different software niches. This seems to be what All That SaaS is trying to do.
All That SaaS vs. Key Competitors
What Could All That SaaS Do Better?
Target low hanging keywords: Many of All That SaaS's major competitors don't have content-based landing pages. Instead they have an automatically generated list of software products based around various topics. All That SaaS may gain an edge by looking at gaps in their competitor's keyword strategy.
Improve design and branding: Right now, the site looks quite amateurish. The owners could improve this by either using a premium WordPress theme, or getting a design from a service like ManyPixels or 99designs and then hiring a front-end developer to implement it. We always recommend WordPress because it's so easy to manage, and some of the most famous brands around use Wordpress.
If you can't afford a front-end developer, then consider using a platform like Kubio's wordpress site builder.
A professional design will improve their branding which can help attract natural links, and also show they are serious when approaching software providers for custom affiliate deals.
Create more linkable assets: The site owners need links which means they need to create assets. This article on mobile payments statistics from MerchantSavvy is a great example of the content they could build. As the article contains many easy to read and access stats about payment terminals, the page will attract links from journalists and researchers when they reference the figures in their articles.
Build more targeted links: The site owners should figure out which types of software earn the most affiliate revenue and then build relevant, targeted links to commercial pages in these sub niches.
Linkbuilder.io Customer Case Study: Drifted Motorsports
At Linkbuilder.io, we leverage the above techniques to improve client results with our all encompassing link building services. Below, we've laid out a case study from one our most successful clients Drifted.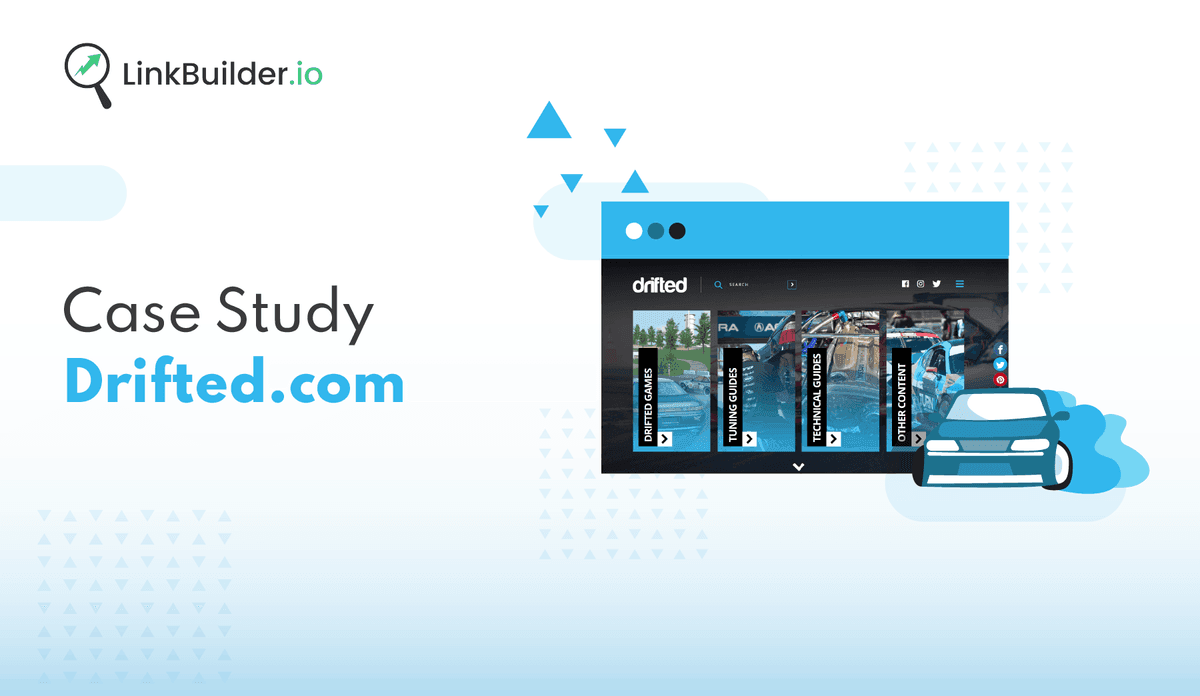 One example is drift car website Drifted.com, a site we build over 30 links to per month. This was part of a strategy that resulted in a massive increase in organic traffic, from around 2,443 when we came onboard in March, to over 20,000 visits per month at the end of September.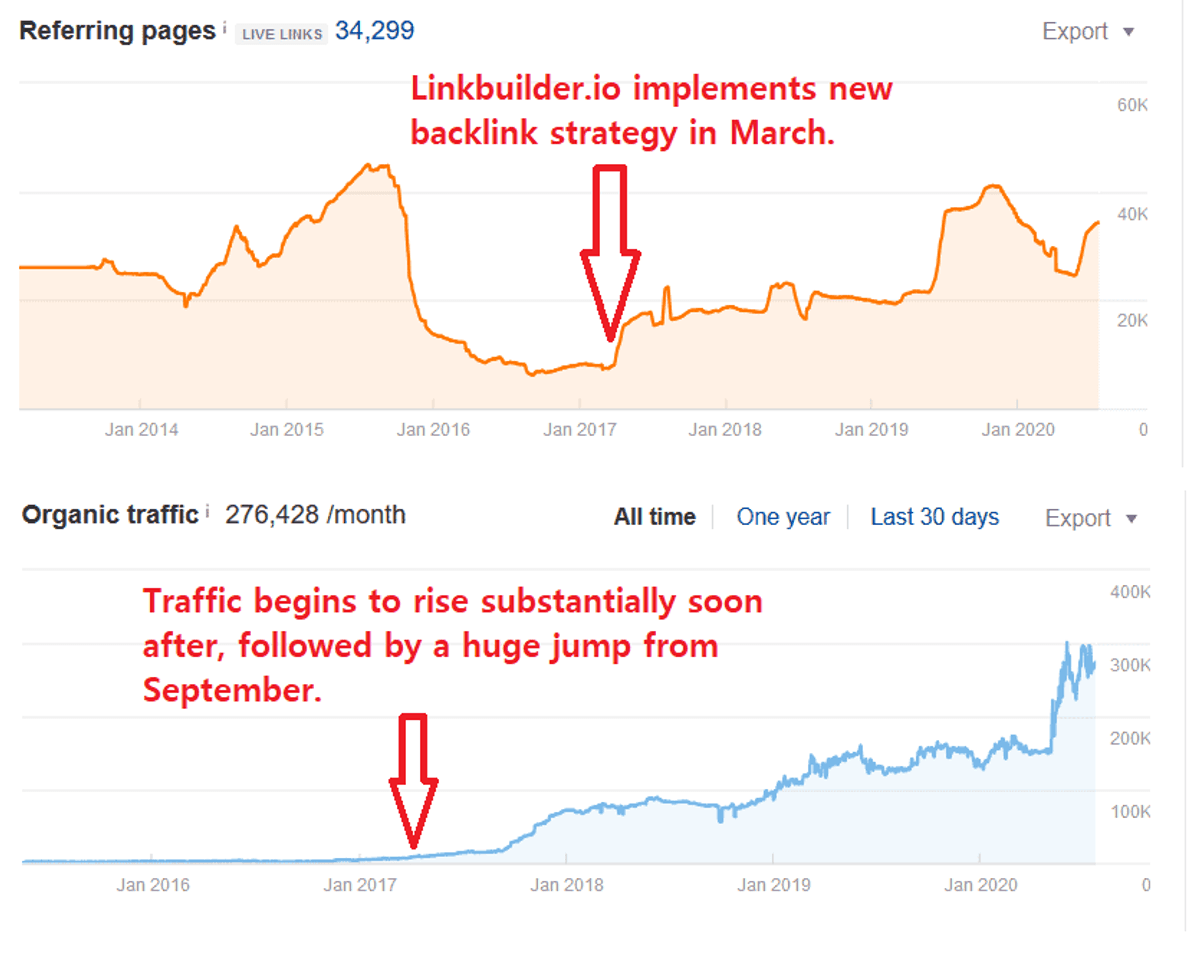 After building links, the site was able to rank for far more competitive keywords, and new content typically ranks in the top five almost immediately.
Here is how we achieved these results:
We audited the content already on the site to find high-value pages to build links to. We settled on an in-depth article about a drift car driver called Keiichi Tsuchiya.
We then built a list of websites that mentioned the driver or linked to his Wikipedia page.
We then emailed the owners of the sites mentioning that we had seen they had an article Tsuchiya and pointed them towards the resources we had built.
We included a quality value proposition in the offer. We said that in exchange for a link, we would promote the piece on the website's active social profiles.
Interestingly, only around 20% of the people who added the link also wanted us to share the article on our social profiles. Nonetheless, it showed we were willing to add something to the relationship.
The overall response rate for the campaign was around 20%. We put this high number down to personalising each email and the quality of the content we shared.
After finding success with this strategy, we doubled down by doing the same thing for other author pages on the website.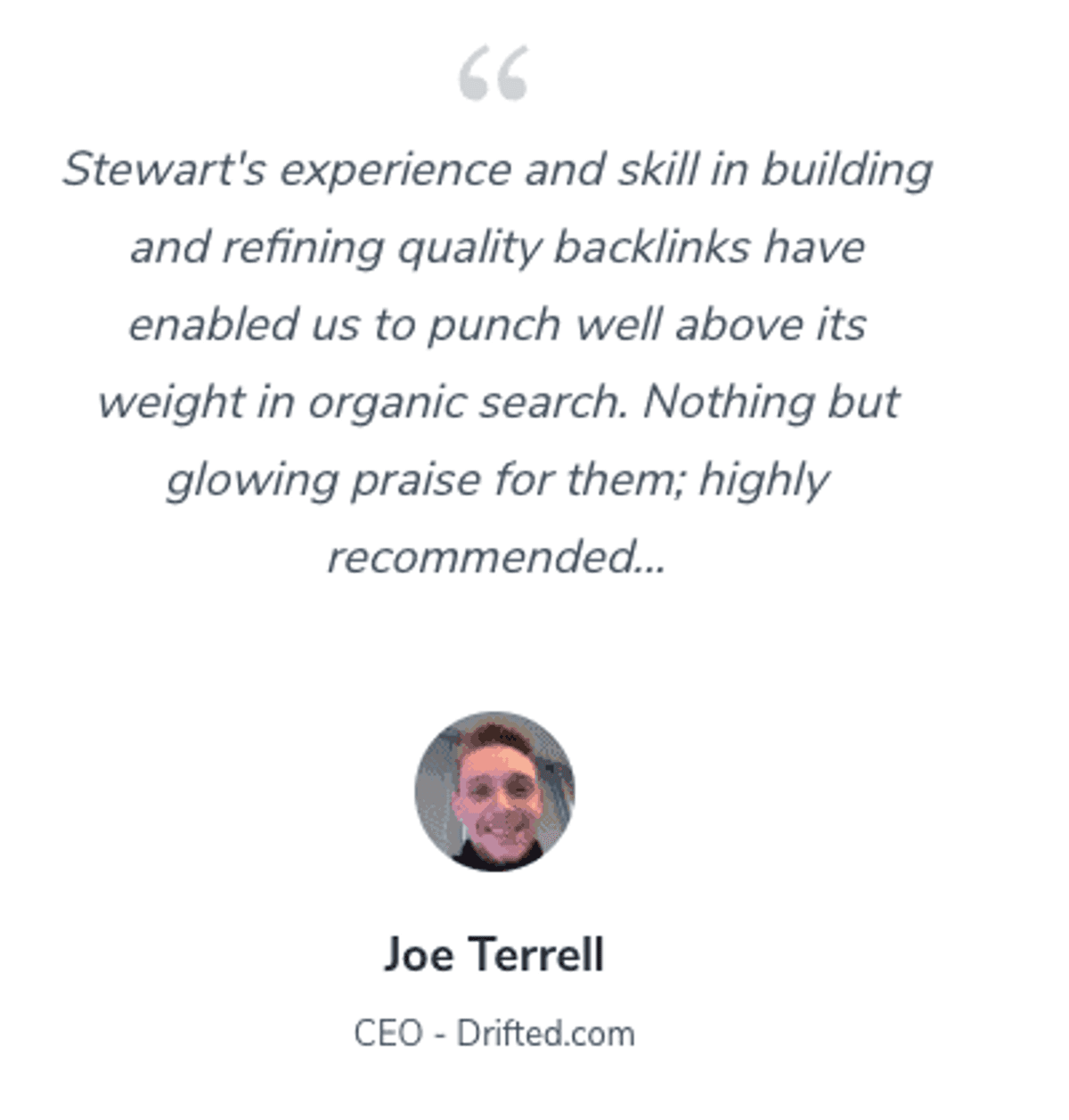 The techniques listed in this article are proven to work, we know because we use them with our clients. However, they can be time-consuming, especially if you don't have experience building links. If you want someone to take care of the process for you, feel free to reach out via our contact page.