What Is Link Building?

Link building is the practice of getting other websites to provide hyperlinks to your website.
Earning a relevant link from a great website provides a trust signal to Google, telling them that your website is a worthy source on a certain subject. If you have enough quality links, then Google deems your website trustworthy to show to their users.
By actively acquiring backlinks through various strategies such as email outreach, you'll gain them faster than if you wait for people to link to your site naturally.
When done well, link building is very effective. We've seen huge ranking increases when building links for clients.

Why Is Link Building Important?
There are four main reasons link building is important. They are:

It helps your website rank higher - High-quality links are important for increasing your search engine rankings. They're a major ranking factor and let the likes of Google know that your site is trustworthy and informative.
It drives traffic to your website - Placing relevant backlinks on high-traffic websites will encourage people to visit your website.
It improves your authority - By linking to your content, other website owners are saying that they think your content is of high quality and trustworthy. Their audience will see you as an authority on your subject.
It helps you to build relationships in your industry - Link building involves reaching out to other website owners, pitching ideas, and collaborating on content. It's therefore a great way to meet other experts and content creators in your niche. If they want an expert to feature in their content in the future, they may come to you.
Why Do People Build Links?
As mentioned above, the main reason people build links is because they allow web pages to rank higher on search engine results.
Search engines like Google use a website's backlink profile—which is a combination of the number of links it has and the quality of the links—when deciding where to rank a web page.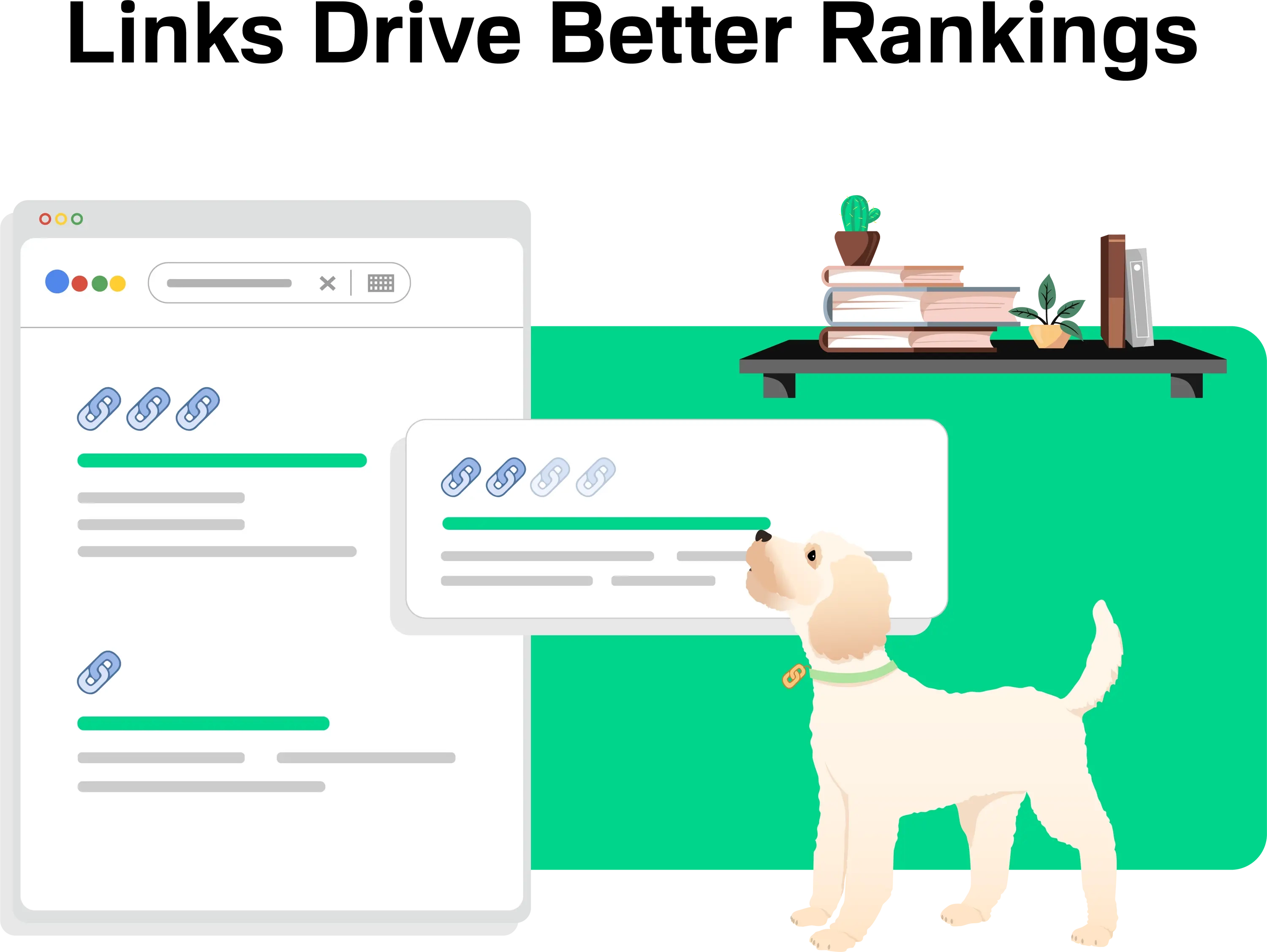 Links aren't the only ranking factor. But all other things being equal, the page with the best backlink profile will usually rank higher for its target search term.
The idea behind link building is that websites usually link to noteworthy content. If a piece of content has many links, the search engine's algorithm can be fairly sure that it is an article worth pushing up in the rankings.
The ranking impact of links makes them very valuable. Many businesses rely on attracting search visitors to grow their presence online, from professional services to software providers and online publishers.

Why Not Attract Links Organically?
People link to other content organically, too, and you can just wait it out and cross your fingers in the hope that people might find and link to your website.
But generating backlinks organically can be a painfully slow process. It's kind of like needing experience to get a job, but needing a job to get experience.
And if your site is new or doesn't get much traffic, people won't find your content to link to it anyway—leaving your website somewhere in the depths of the Google search results.
A much better strategy is to actively build links to the content you want to get ranked highly. You'll gain links far faster than you would otherwise.

What Makes a Good Link?
Not all inbound links are equal. Many types of links will have little or no effect on your rankings at all—for example, links on social sites, directories, spam sites, or brand-new sites. And some links can even harm your rankings (more on that later).
When building links, you should make sure that you spend time attracting the ones that will provide the most significant ranking boost.
These are the signs we look for when generating links for clients.
Domain authority - Domain authority plays a significant role in the effectiveness of your link. A link from a site that Google's algorithm trusts, is worth more than one from a site it is less sure about. In real terms, this means that a link from a famous brand like The New York Times is more impactful than one from a local news website.

Page authority - The specific page on a domain also influences how effective the link is. Links from authoritative pages tend to be more influential than links from weaker ones—even if both pages are on the same domain. It's very difficult to get authoritative pages to link to your own website. But if you get a link on a new page that becomes authoritative, you'll reap the same rewards.
Website relevance - You should try to attract links from sites that talk about topics similar to your own. This can be difficult, as sites in your niche may be competing for similar keywords, meaning they may be unwilling to link to a competitor.

Anchor text - Anchor text is the word or phrase that the link is attached to. Google uses anchor text to decipher the context of the links.
For example, if your link is attached to the phrase "best antivirus software", Google will guess that your article is about the best antivirus software
What Are Common Strategies for Building Links?
There are many link-building techniques.
Some of them are tried and tested methods that have been around for years. Others are newer strategies that have recently become popular.
Some of the most common link-building tactics include:

Guest posts: This is when you write a blog post for another site and then link back to your page. It's an excellent way to generate high-authority links, but you're limited to the speed at which you can create articles.

Help a Reporter: Help a Reporter Out (HARO) is an email newsletter that connects journalists with expert sources. If you become a source, the journalist may link to your site. HARO competitors include Qwoted, SourceBottle, and #journorequests on Twitter.

Niche edits: This is finding web pages you want links from and then asking the website owner to place a link to your site. You typically have to pay for these links.

Linkable assets: This is when you create a noteworthy page, tool, or story on your site and then share it with relevant websites. If they like it, they may link to it. You can then add internal links to the asset to pass rank to other pages on your site.

Broken link building: This is when you find broken links on a website, tell the owner, and ask them to link to your site instead.

Link exchanges: This is when you agree with other website owners to link to each other. If one (or both) of you have multiple sites, you can do this in a way that hides the exchange.
Should you ever buy links?
The honest answer is that it depends. You definitely shouldn't buy low-quality links. But if the only thing stopping you from getting a link on a quality site is a placement fee, you should consider it.
And remember, while you'll hear a lot about how you shouldn't buy links, the reality is that in some competitive niches, it is almost impossible to generate links without doing so. Find out more about the pros and cons of paying for links here.
Search Engines Hate Spam Links
Before you rush online and start generating links, you need to be aware of the risks. Building the wrong type of links can have the opposite effect on your site's ranking—it will harm rather than help it.
That's because Google knows that many SEOs try to game the system through private blog networks (PBNs), directories, link farms, comment spam, and other forms of artificially generated links.
The search engine hates these types of links, and if it discovers that you've used one—even if you did so unintentionally—it will punish your site's ranking.
Because of this, you should only build links that appear natural to Google and other search engines. This will increase the chances that your site's rankings grow in the future.