As SEO practitioners and site owners, it can be extremely useful to check what your DA (domain authority) is.
We've put together a list of the best free and paid DA checkers available, so that you can test the various options and see which one feels best.
Finding the right domain authority checker is crucial to understanding how your website and content will rank on Google.

7 Best DA Checker Tools
These are some of the biggest players in the field. They have developed their own algorithms and metrics to estimate domain authority.
1) Moz

Moz coined the term "domain authority." It is used to predict a website's ranking potential for the SERPs.
Domain authority is calculated by evaluating:

Domain capabilities.

Domain linking.

Inbound links.

Keywords ranking.

Anchor text.

Top search engine pages.
It offers a free "Domain Analysis" tool. Simply type a URL into it to find out its DA score.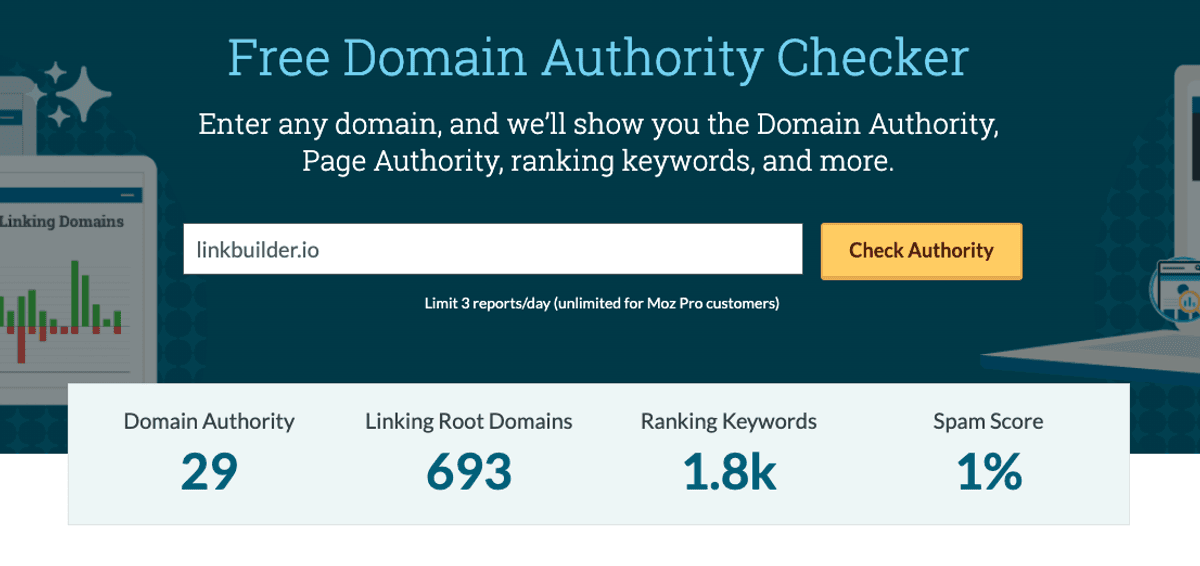 Their domain analysis tool will not only show your domain authority score, but also:

Linking root domains (number of inbound links).

Number of ranking keywords.

A spam score (presented as a percentage).

Top pages (by page authority).

Top domains linking to you (by domain authority).

Top ranking keywords.

Top search competitors.

Top questions.
Not bad for a free tool.
Price for a full subscription: $99.00.

2) Ahrefs
It's important to note that Ahrefs's proprietary ranking is called domain rating (DR), and is also scored as 0-100.
To calculate domain rating, Ahrefs looks at:

How many unique domains link to your website.

The authority of linking domains.

The number of unique domains each linking site also links to.

Total search traffic potential.

Search traffic potential of the topic.

Level of competition for the topic.

General website quality.

Quality of content and on-page optimizations.
The Ahrefs "Website Authority Checker" is a free tool for finding out your domain's authority.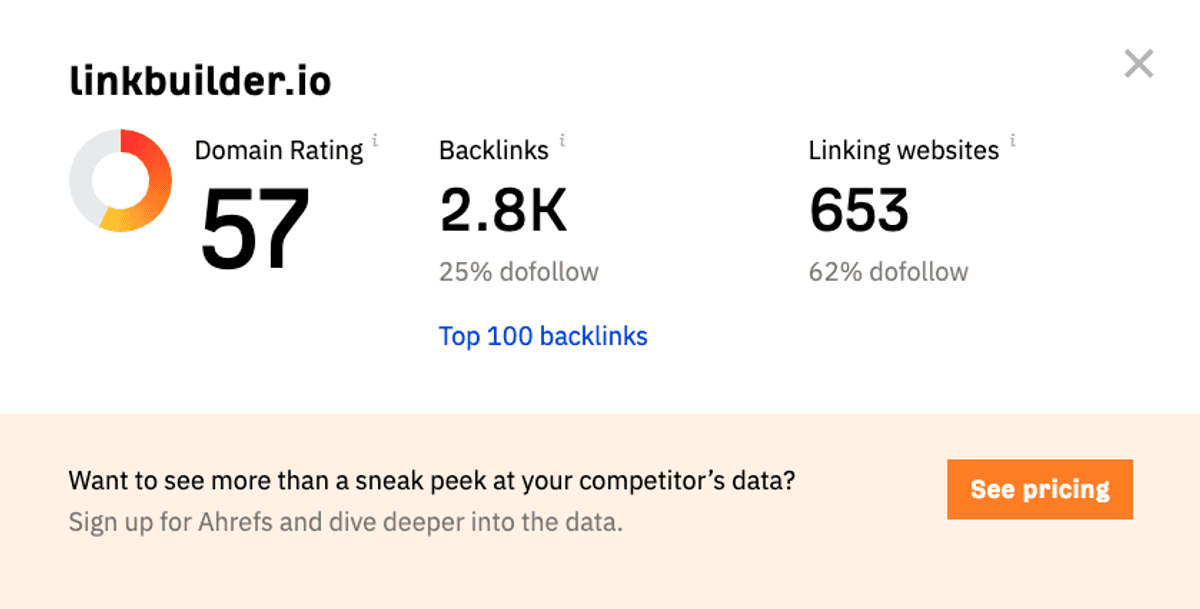 Though Ahrefs's paid subscription is an incredibly powerful SEO tool, their free website authority checker only provides very general data, namely:

Domain rating.

Number of backlinks.

Number of linking websites.
Price for a full subscription: Starts at $99.00.

3) SEMRush
SEMRush uses its own unique proprietary ranking called authority score (AS).
SEMRush calculates authority scores using organic search data, backlink data, and website data. This helps it understand why popular sites rank as they do.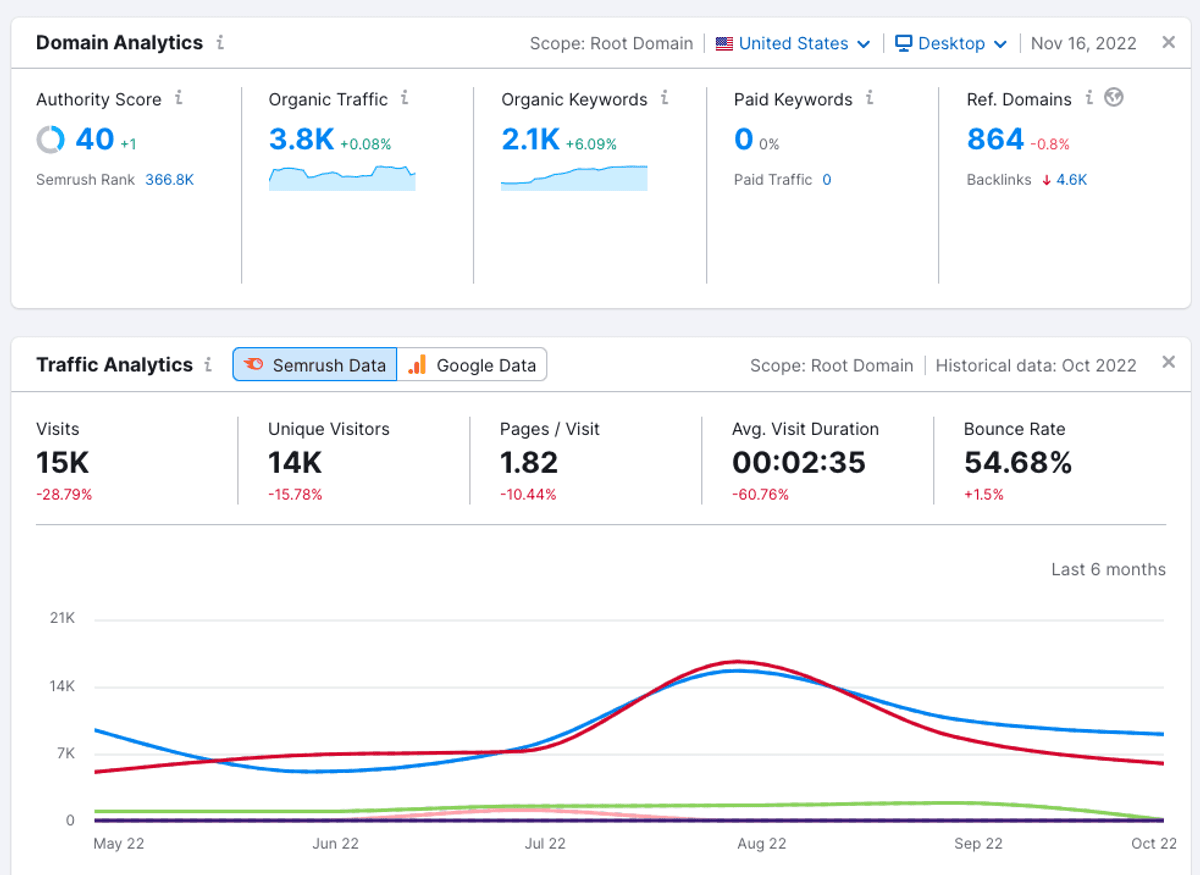 It also separately uses backlink data to determine how a website's authority score is influenced when it gains links.
The metrics in this calculation include:

The number of people linking back to your website.

Referring domains.

Monthly visitors.

Number of outbound links.

Number of keywords you're ranking for.
With a free subscription, SEMRush will give you 10 free requests to view a domain's authority score, as well as other information.
Price for a full subscription: $119.95.

4) Majestic
Majestic offers a number of useful ranking scores. These are:

Trust Flow.

Citation Flow.

Topical Trust Flow.

Visibility Flow.

Search Flow.
Their two best-known scores are Trust and Citation Flow.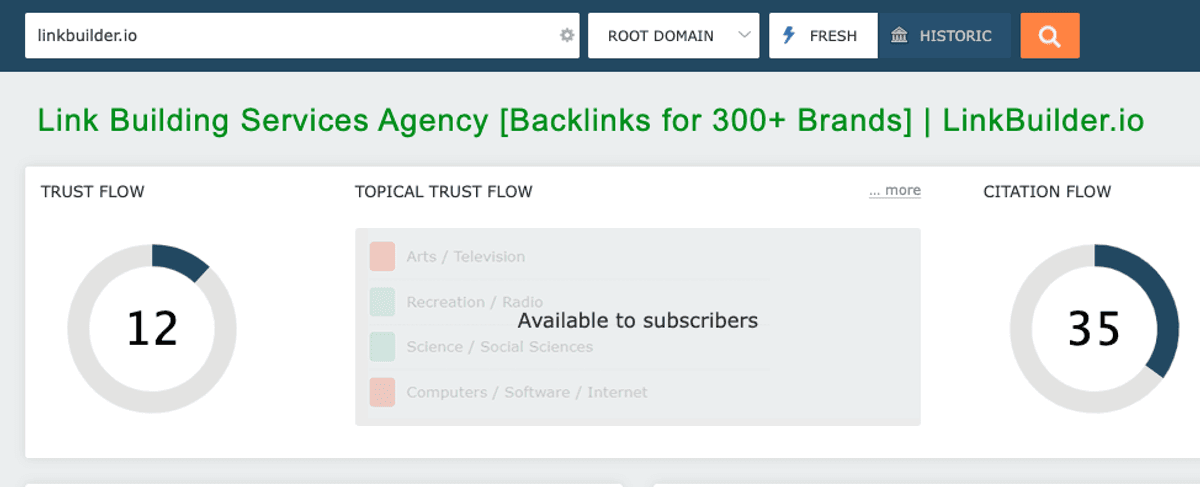 Majestic has developed its own metric to help predict the trustworthiness of a page based on the quality of its backlinks, known as Trust Flow.
Citation Flow, on the other hand, is largely calculated based on the overall volume of links.
Majestic designed these two metrics to work together. They suggest that an ideal TF:CF ratio is 1:2.
A paid subscription gives users access to Majestic's link profile graph, which visualizes the Citation Flow and Trust Flow of all of the inbound links to a page or website.
This can be helpful in comparing a site against its competitors and could inform your SEO strategies.
You can gain access to Majestic's Flow Scores through a free sign-up, but you'll have to subscribe to access all of its amazing visualizations.
Price for a full subscription: Lite option, $49.99.

Free Domain Authority Checkers
Here are some honorary mentions of domain authority checkers that are completely free. Keep in mind that they often piggyback off of the bigger platforms and use their metrics.
That being said, for anyone on a budget these are some great tools to give you an idea of your domain authority.

5) Website SEO Checker
A great free tool, its Domain Authority Checker will give you access to several Moz scores, including:

Domain authority.

Page authority.

MozTrust.

Spam score.

Number of external links.

6) SEO Review Tools
A search of any domain using their free Website Authority Checker will give you its:

Domain authority.

Page authority.

Number of external links.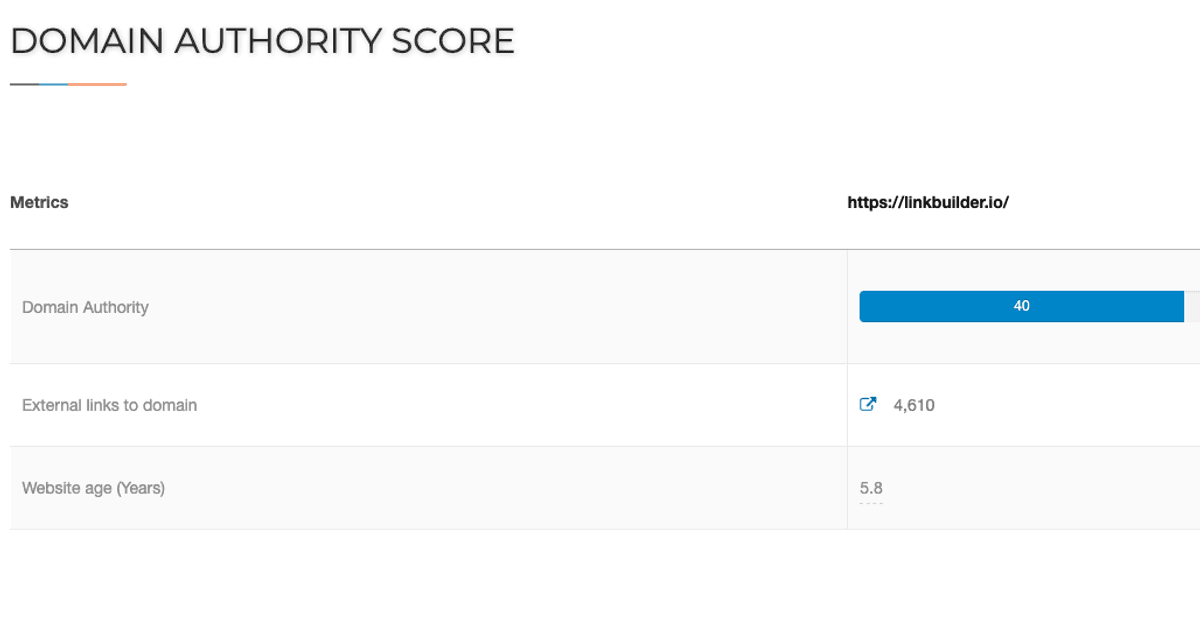 7) SmallSEOTools
This site is famous for its huge selection of free SEO tools, so give it a visit.
Its free Domain Authority Checker uses Moz metrics, like:

Domain authority.

Page authority.

Moz rank.
It also allows you to check up to 10 domains at a time, making it easy to do a competitor comparison.

What Is Domain Authority?
Domain authority—or website authority—refers to the "strength" of a domain.
It's usually given as a score of 0-100, indicating low to high authority.
A high domain authority shows a good likelihood of your website ranking near the top of the SERPs and receiving more organic traffic.
Domain Authority vs. Page Authority
You'll come across both these values while using a domain authority checker.
Page authority determines how trustworthy and authoritative a webpage is, and its likelihood to rank in its given topic.
Domain authority helps you determine how authoritative and trustworthy your entire website is.

What Is a Domain Authority Checker?
Domain authority checkers are tools created by third parties that try to calculate your site's domain authority (DA) based on Google's guidelines.
So how do they calculate your domain authority?
Google uses over 200 factors to rank a domain. Though it keeps its algorithm secret, SEO tools have figured out some of the essential factors that go into determining a site's authority.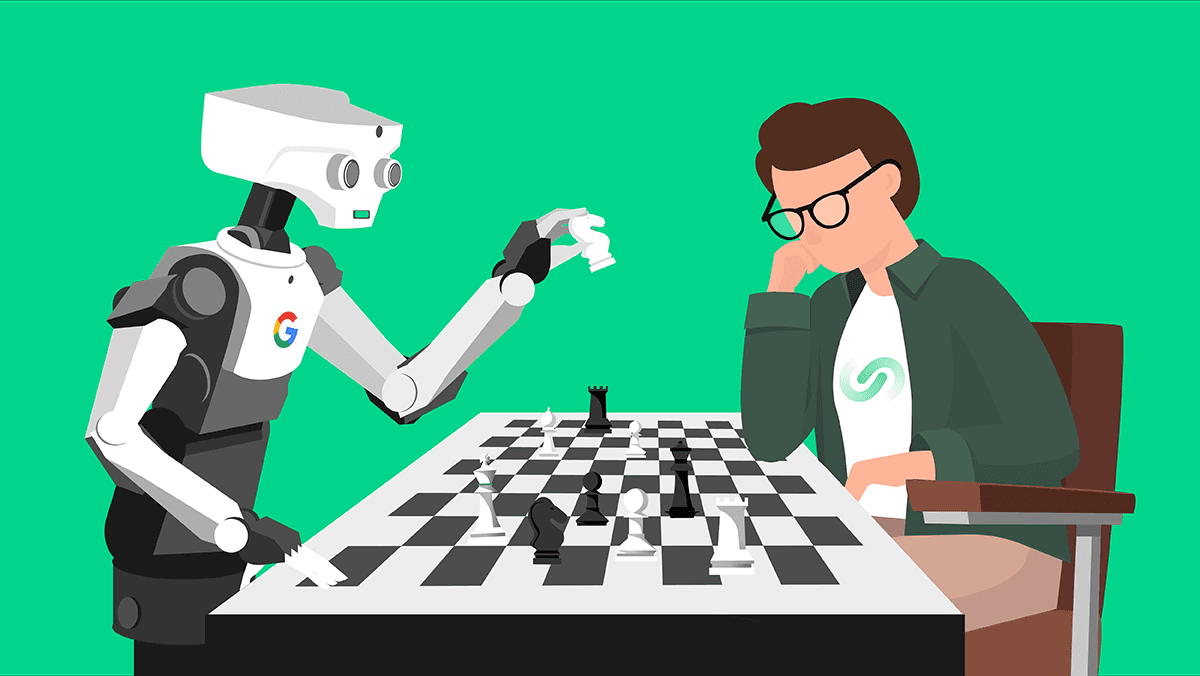 Some of these factors are:

Site age.

Page load speed.

Relevance of the content.

How frequently the content is updated.

The reliability of the information.

Keyword strength.

Site structure.

Number of inbound links.

Authority of linking websites.

Number of outbound links on referrer sites.
DA is not a direct ranking factor
It's important to remember that the domain authority score is an estimate made by a third-party company and NOT Google. The Google search algorithm doesn't consider domain authority scores when ranking websites.
A Note on Domain Authority Scores
Though all of the above domain authority checkers are trying to provide you with the same insights, they undoubtedly use different algorithms and calculations.
Here's an example of how domains rank across the four major metrics: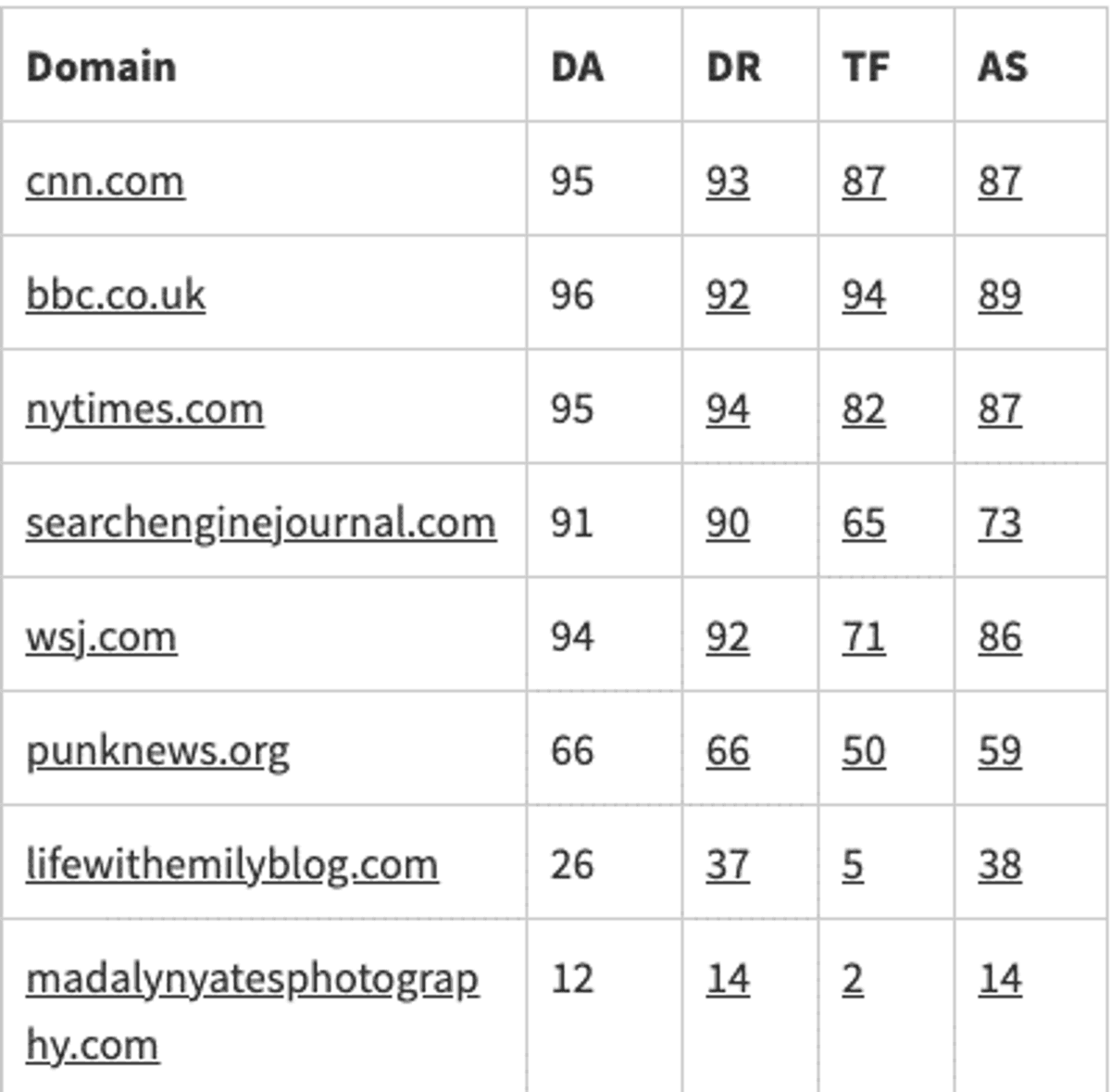 As you can see, though there are variations, they all share similarities regarding which sites they give high or low domain authority scores.
So, what does that mean for you?
Use domain authority checkers as indicators of how your website is doing.
Remember:

New websites and pages always start at 0 and need time to gain authority.

50-60 is considered a good score across most metrics.

Don't aim to get to 100. What's far more important is to compare your domain authority to those of your competitors. If they are higher than yours, ask yourself why and how you can do better than them.
Why Is Using a Domain Authority Checker Important?
Knowing your domain authority score is incredibly useful for SEO and link building.
The DA score may be an estimate, but it can still give you valuable insights, such as:
1) Benchmarking against your competitors
Comparing your domain authority to other websites in your niche can indicate whether your competitors will rank better or worse than you.
If your domain authority is higher than your competitors', it shows that your links are more popular. This makes it easier for your content to rank higher than theirs.
If they're doing better, it may be an indication that you need to improve your website's authority.
This might come in the form of:

Improving your content.

Improving your backlink profile.
Check out our article on how to increase your domain authority.

2) To measure the success of your SEO and link-building efforts
After an extensive link-building campaign, you'll want some way to measure the results of your efforts.
Although it's by no means the only indicator, an increasing domain authority score can tell you that you're on the right track.
Keep in mind, new sites with a low score can see a significant increase after a little bit of link building. The returns become more difficult as your domain authority increases.

3) Website owners use domain authority when deciding which keywords to target
It's difficult to dislodge sites that rank for a particular term if they have a higher domain rank than you.
But, if you have a similar or higher domain authority than your competitors on the SERPs, you have a better chance of outranking them with a well-optimized piece of content.

Conclusion
Using a domain authority checker is an essential part of maintaining a website or practicing good SEO.
The most important thing to remember is that these tools only estimate how websites and content are likely to rank on Google.
That being said, there is a significant correlation between sites that have a high domain authority score and how they tend to rank in the SERPs.
Choose a domain authority checker that works for you, and gain invaluable insights on your ranking potential.