Pillow link building is the perfect foundational strategy for a new website.
You need to build links to get your new site to rank on Google. But when you build links manually, your link profile may appear unnatural to the Google algorithm.
This may be because all your links have keyword-optimized anchor text, are all dofollow links, or all point to the same pages. Whatever the reason, pillow link building will help diversify the types of links that point to your site.
What Is Pillow Link Building?
Pillow link building is when you build white hat links to diversify your link profile. It's a useful strategy if you have built many links in a particular way and you want to attract different types of citations.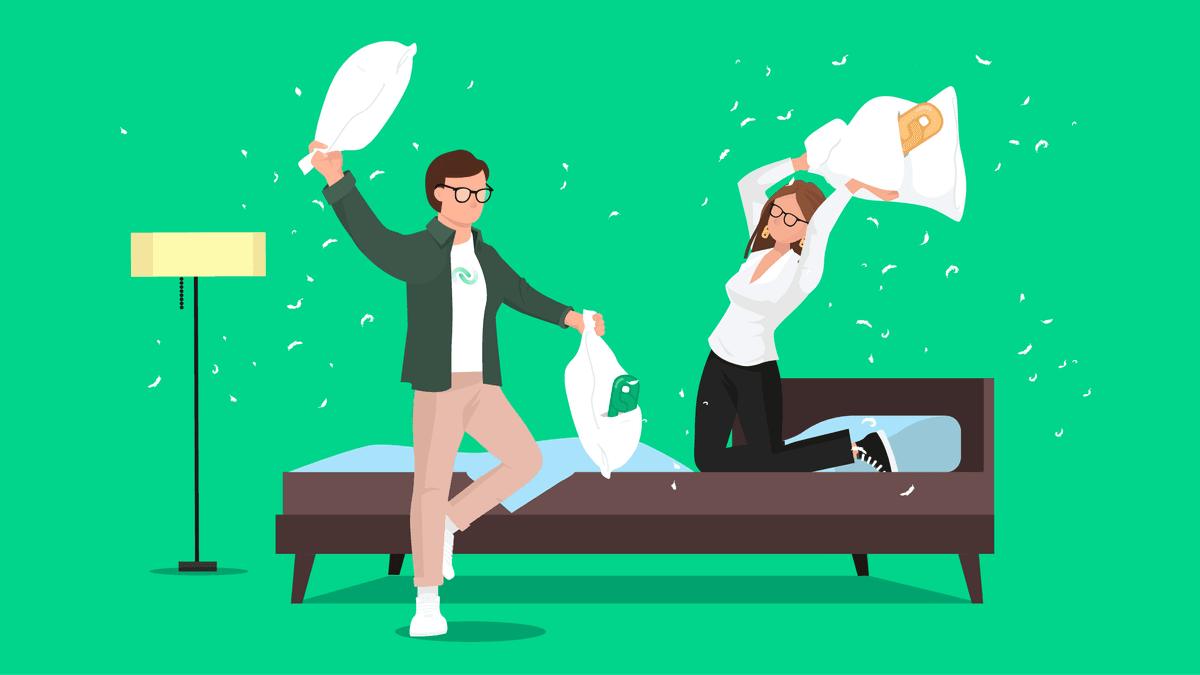 Pillow links are typically the low-hanging fruit of a link-building campaign, and they won't increase your domain authority. But they are the type of links that most domains have pointing to them and are thus an essential part of any link-building strategy.
Here's a quick example of when you'd build pillow links.
Imagine you have a new site that you've been building guest post links to.
You want to make the most of these posts, so you've been adding dofollow links to your money page with keyword-optimized anchors.
So far, so good. These are high-quality links that will make a difference to your ranking.
The problem is that if you only build this type of link, your link profile will appear unnatural. In fact, Google warns explicitly against large-scale guest posting campaigns with keyword-rich anchors.
You can therefore use pillow links to diversify your profile by building white hat links that:

Don't use exact match keywords.

Point to different pages.

Are nofollow links.

Come from social profiles.
When to Build Pillow Links
You can build pillow links before, during, or after your regular link-building campaign. Here is a look at the pros and cons of each strategy.
Before Link Building - Some people like to build pillow links before any other form of link building. By building links when your site is new, you'll build a base of links that means you won't have to worry about your profile appearing unnatural later in its development. They will show the Google algorithm that you exist, send social signals, and potentially generate referral traffic.
During Link Building - Other people like to build pillow links and regular links at the same time. After all, why wait until you have built pillow links to create the type of powerful link that will help your site?
After Link Building - People typically build pillow links after their regular link-building campaign to fix a potential issue with their site's profile. For example, you may realize that you have too many backlinks with exact match anchors

Why Build Pillow Links?
People typically build pillow links to improve their anchor ratio and their dofollow/nofollow link ratio. You can also use them to diversify the pages that links point to.
Anchor Text Ratio
Anchor text is the text on a page that you attach a link to.
In the above sentence, we linked to our guide to anchors on the phrase "anchor text." People who click on the link expect something related to anchor text, and that's what they get.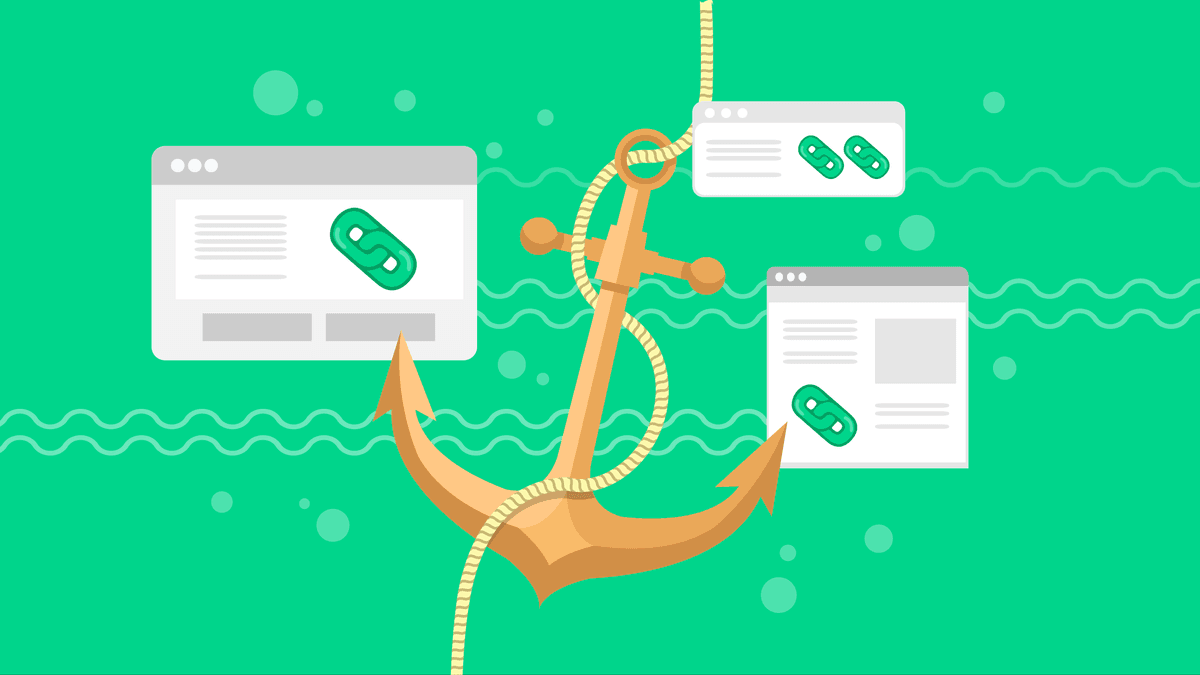 Relevant anchors can help your page rank for its target keywords. That's because it tells the Google algorithm what the page you are linking to is about.
It also benefits the person reading the page. Relevant anchors show them they can discover more information about the topic by clicking on the link.
As the anchor you use can affect search ranking, most SEOs attach their links to keyword-optimized phrases—when they have a choice.
While this is good practice, if you do it too much you'll have an unnatural link profile where all (or most) of your links have optimized anchors.
Websites that have built links naturally tend to have backlinks with many types of anchor text.
As well as keyword-optimized text, you'll have:

Branded anchor: The name of your website.

Naked URL anchor: Links attached to the URL.

Title anchor: Links attached to your page title.

Other anchors: Links attached to non-related phrases.
When building pillow links, you can add different types of anchors to your links—diversifying your profile and making it appear more natural.
Use your regular links for high-value optimized anchors and your pillow links for unoptimized text.
Dofollow/Nofollow Ratio
Dofollow links are highly valued in SEO and they can make a big difference to your ranking. Most link builders heavily prioritize dofollow links.
The issue is when a page on your site only has dofollow links. As websites and pages tend to attract both types of links, Google's algorithm may consider pages that only have dofollow links to be suspicious.
The good news is that nofollow links tend to be far easier to attract than dofollow links, precisely because they aren't as valuable. Most types of pillow links are the former, making this problem an easy fix.
Diversification
If the majority of your links go to the same money page or informational page, your domain's link profile will appear unnatural. Use pillow links for pages that you don't target with your regular link-building campaign.

Pillow links help by diversifying the type of link you have pointing to your page. Besides guest post links, you have links from social sites, directories, forums, and more.

How to Use Pillow Links to Fix Your Backlink Profile
If you want to use pillow links to fix potential problems with your link profile, first you need to find out what these issues are.
To do this, you can look at the link profile of pages that rank for your target keywords and then ensure your page's profile is similar.
Use Ahrefs to discover the type of backlinks a page has. You can see:

The anchor text used to link to a page.

The number of dofollow and nofollow links pointing to a page.
Let's take the term "Best Hiking Boots for Wide Feet." The top-ranking site on Google is one from a website called Footwear News.

By clicking on the overview of this page you can see that it has six backlinks, 33% of which are dofollow. In terms of anchors, three are exact matches, one uses a URL, and one has no text at all.


By checking all the top posts that rank for this keyword, you'll better understand the link profile of the pages that rank for this keyword.
You can then compare it to your own page.
Say all the posts that rank for a keyword have a dofollow ratio of between 30% and 40%. If your site has a higher percentage of dofollow links, you can build nofollow pillow links to lower your ratio.
How to Build Pillow Links
Pillow links tend to be those that you can attract quickly and with little cost or effort. Here are some of the most common ways to build pillow links.
1) Social Links
Social links are a crucial part of any natural link profile. They don't take long to build, and there are many platforms you can use to generate social signals.
To get started, just create profiles for your business on the leading social platforms. Add your homepage URL to these profiles. You'll build social signals each time you share one of your posts on these platforms.
Here's an example of a pillow link to our homepage on the Linkbuilder Facebook page.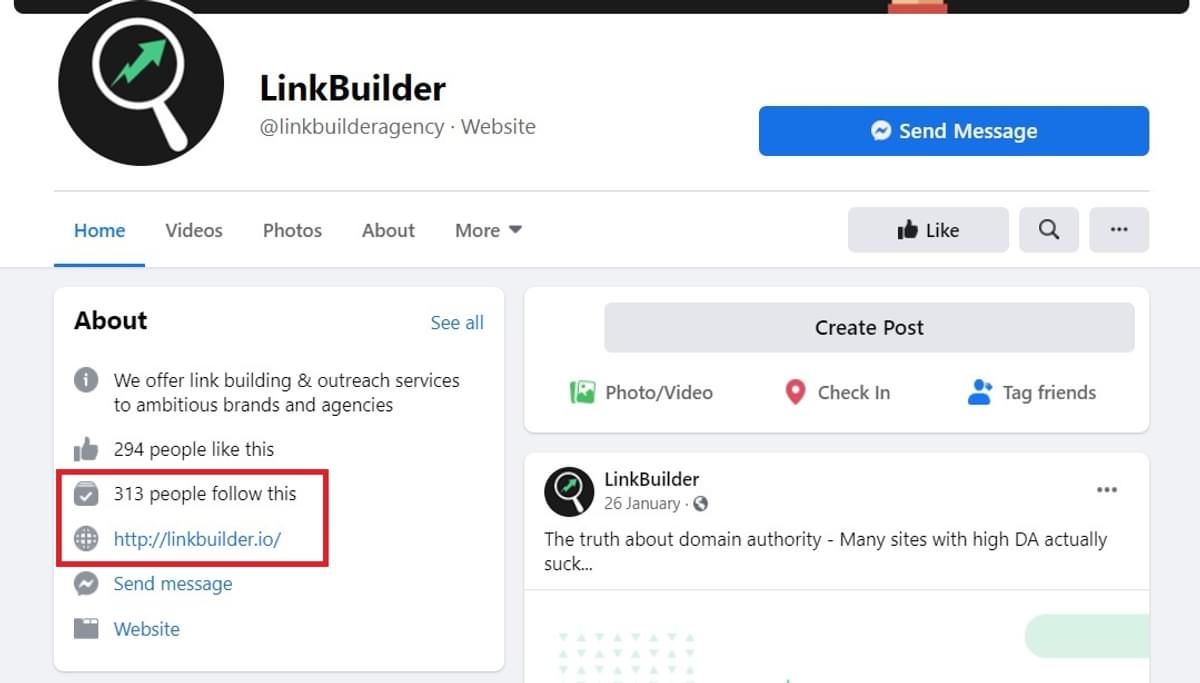 Is Google going to give you a boost by having a Facebook profile? Probably not. But put yourself in Google's shoes - It makes sense that they would prefer to rank websites with real people and social profiles behind them, and it, therefore, makes sense that you'd get a small boost from this.
If you're comfortable doing so, add and share posts on your personal profiles for more social signals. If you have employees, encourage them to do the same.
Sites you can build social profiles on:

Facebook

Twitter

Pinterest

Instagram

Linkedin

Youtube
Building Social Profiles Has Benefits Beyond Pillow Links
Creating social profiles isn't just good for building pillow links. It's also good practice to claim your brand name on these profiles as you're building out your site.
You'll make sure other people can't claim these profiles. And even if you don't currently have plans to become active on these sites, you never know what the future will bring.
Another benefit of social profiles is that you'll start to build relationships with other bloggers and writers when you become active in the communities around your niche.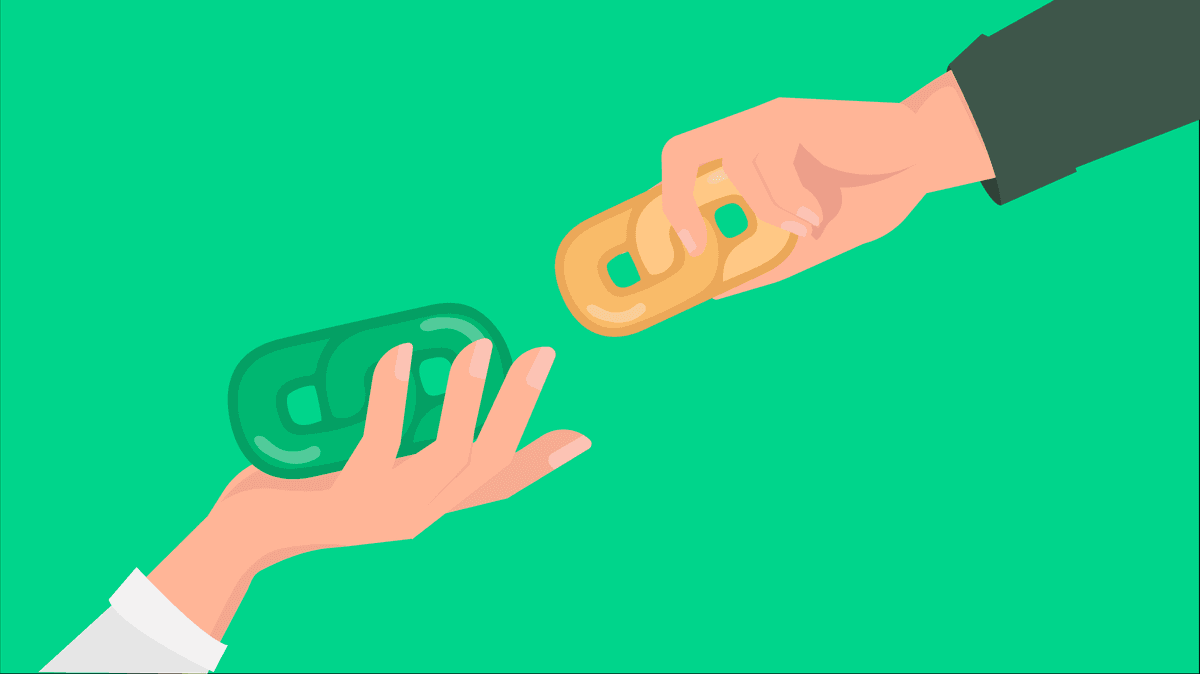 Building relationships is at the core of any successful link-building campaign. You'll get your brand name out in front of more people, and you could even earn real backlinks from other sites.

Blog Comments
Blog comments are another easy way to attract pillow links from specific sites related to your niche, making them a useful form of pillow link building.
Just search for keywords related to the page you want to build links to on Google and see which of the ranking articles have a comment box.
Drop comments on all the posts that allow you to do so.
Often, you'll be allowed to add a no-follow link back to your website.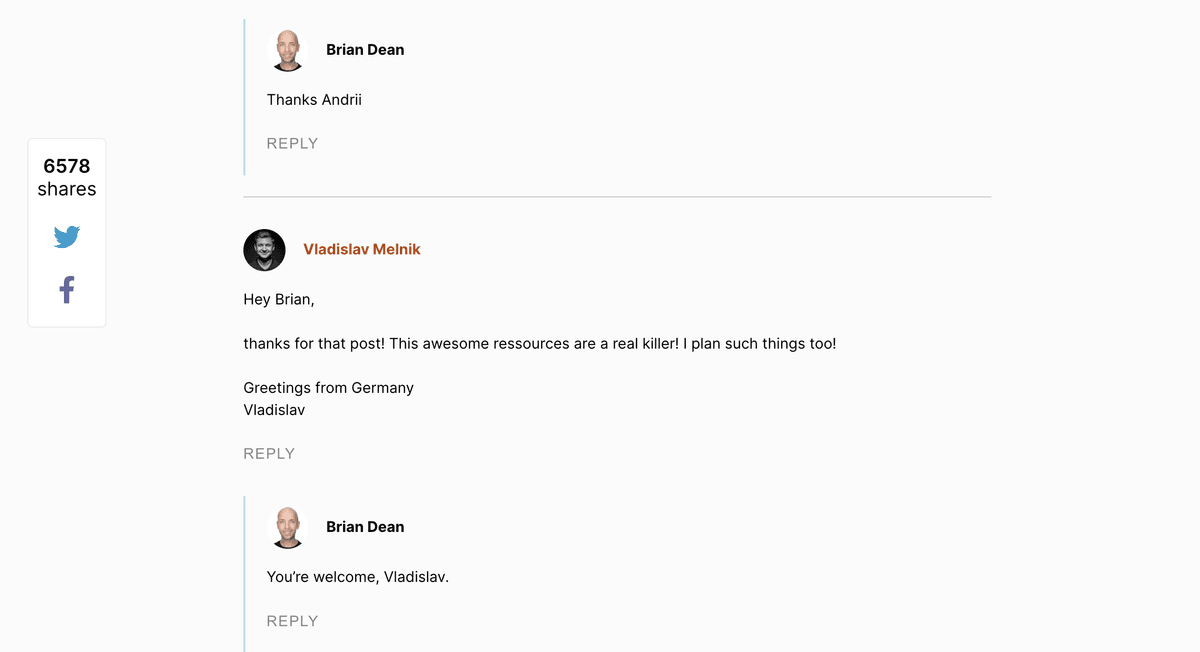 The positives to building blog comments are that:

They are quick to find and write.

You can choose which URL you link to.

Quality blog comments on the right pages can result in referral traffic.

You can build niche relevant links.

You can use comments to build relationships with other bloggers in your niche.
Unfortunately, there are some downsides to link building via comments.
The majority of blog links are nofollow. They pass little authority, and they are unlikely to have any effect on your site's ranking.
Comment spam is also prevalent—which you'll know if you run a blog that allows comments.
It's easy for sites that allow comments to become overrun with spam, meaning they will typically have an approval process. If your post fails to meet the standards, it won't be published.

Directories
Directories are another easy way to build pillow links. You just have to find ones that cater to your niche and then add your site. Most of the time this is free to do and doesn't require much effort on your part.
While directory links won't do much to your ranking, they will diversify your profile and can drive traffic to your site—making them useful for pillowing.
There are two types of directories. The first are general directories that allow sites in any niche or industry to add a listing.
These include sites like:

Then there are niche-specific directories that only allow certain types of sites.
For example:

Many different niches have similar directories, for example in the legal space. The key is to search on Google for those that are relevant to your business.
Clutch is a particularly great directory for any SEO agency.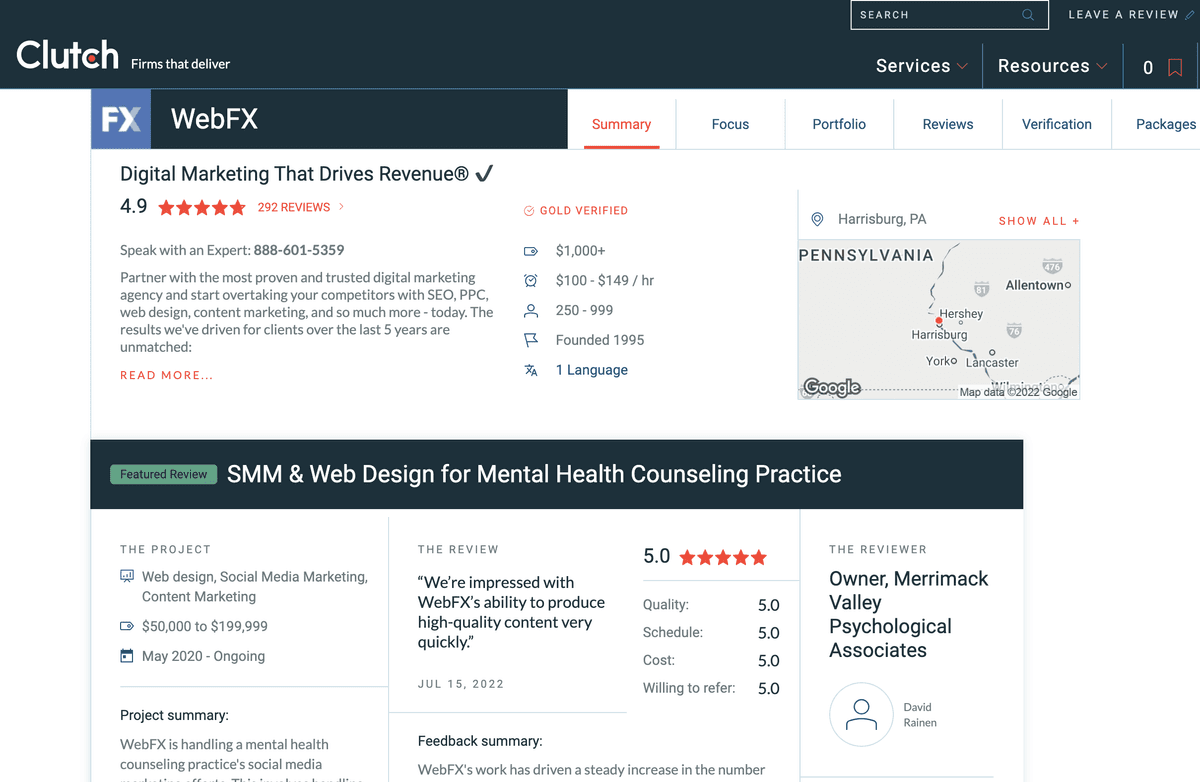 If you want to learn more about adding your site to web directories, Search Engine Journal has an excellent list of 21 different directories you can add your site to.

Benefit of Directories
Niche-relevant directories like Clutch are an incredible place for pillow link building.
They help drive relevant visitors and potential customers to your website as well, particularly if you're a service-based business.
Blogging Sites
Blogging sites are those that allow anyone to sign up and write blog posts.
We're talking about sites like Medium and Quora where you write and publish posts on the site's platform, rather than platforms like Blogger that let you create your own websites.
Other sites you can publish blog posts on include:

The great thing about using these sites for pillowing is that you have complete control over what you write. You can choose your target pages and anchors, making it great for diversifying these metrics.
You can typically sign up and start publishing straight away, meaning it doesn't take long to get a link.
Massive Potential for Referral Traffic
Posts on the above blogging platforms can result in significant referral traffic, meaning you have the chance to get more than just a pillow link.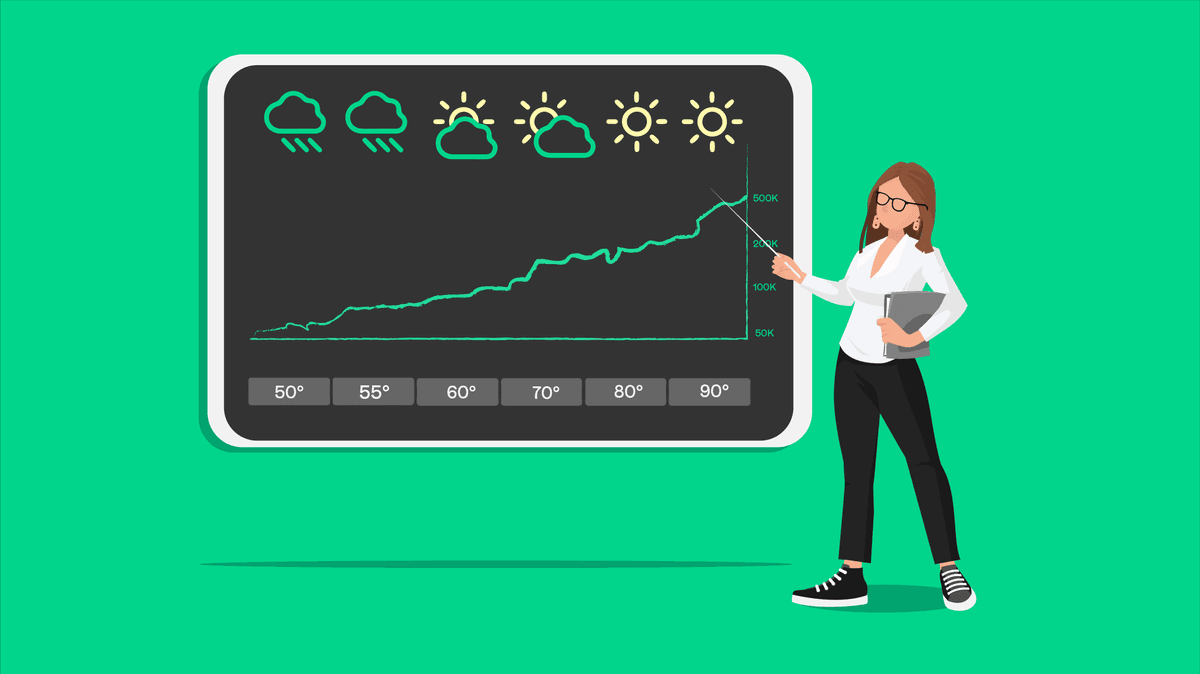 For example, articles picked up by Medium's algorithm can get tens of thousands of views which can result in click-throughs to your site. Quora also has a vast audience that can end up seeing your post.
Posts from both these platforms can also rank on Google, which generates additional traffic.
The downside is that you will have to write an article. This can take a similar amount of time as guest blogging, but you won't benefit from a do follow pillow link.
The other option is to publish a hastily written piece or excerpts from existing blog posts. You'll still get the benefit of a pillow link, but you're unlikely to get any referral traffic.

Forum Posts
Forums certainly aren't as popular as they once were. But there are still plenty of niche-relevant communities around the web that you can use for white hat link pillowing.
Building links on forums is helpful because it allows you to:

Choose your own anchor.

Decide which pages you link to.

Generate referral traffic by showing links to a community that is interested in the subject you discuss.

Get a dofollow link on some forums.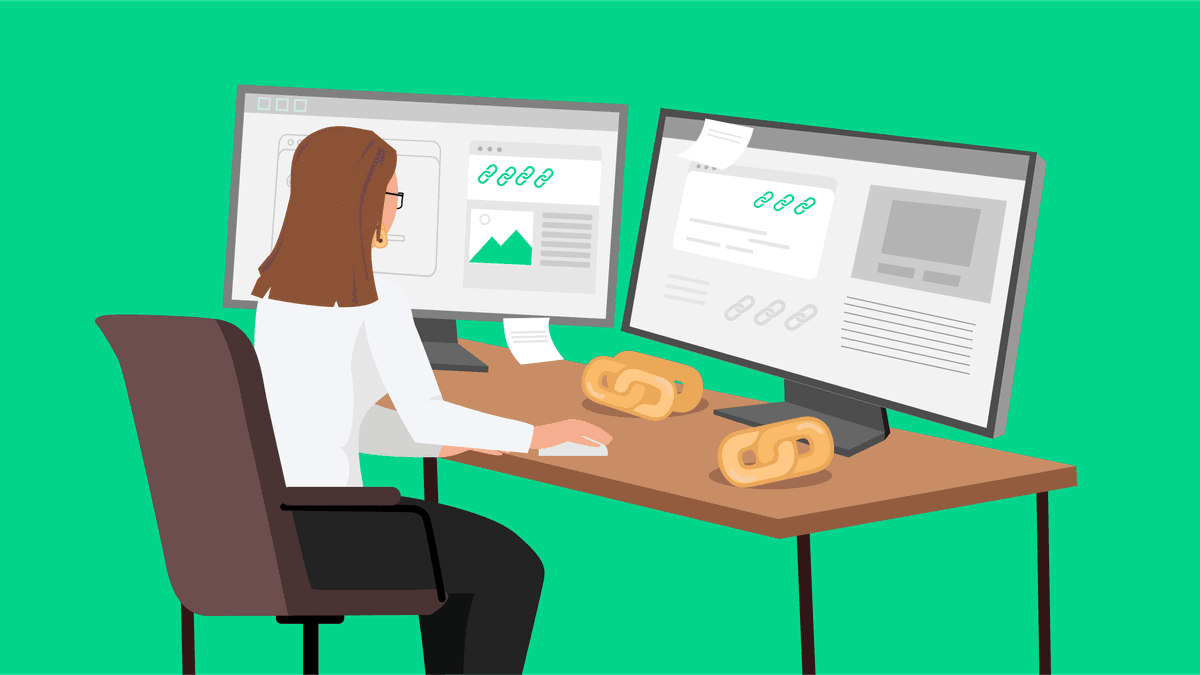 There are some downsides, though.
First, Google warns explicitly against using overly optimized anchor text in forum comments and profiles.
The other issue is that most forums are wise to link builders. They often hate spam and will call you out if they think your post isn't offering value.

Moderators may delete your posts as a result. Even worse, it can affect your reputation in the community you are trying to serve.
Authority Hacker mentioned a technique you can use to get forum links on its podcast. While the post was related to Reddit, the same tactic would work on any forum. It also only works when you are working on an article but haven't yet published it.
Here are the three steps:

Make a post on the forum related to the topic you are writing about. For example, "Hey, I'm thinking about buying the Sony noise-canceling headphones. Has anyone tried them out?"

This will generate a discussion about the topic.

Later on you leave a comment thanking everyone for their help and explaining that you decided to go ahead and buy the headphones. Then post a link to your review.
This is a good strategy because it generates valuable discussion in the community. People who took part in the discussion may also click on your review.

Link Pillowing—Building a Solid Base of Links
Pillow links are an easy way to diversify the type of links that point to your site. While the links themselves won't provide many ranking benefits, they make Google aware of your site and provide a base you can use for other link-building activities.
You don't want to spend too much time building these links. But because they are white hat and easy to get, it can be worth a small investment.