Posting on forums is one of the easiest ways to generate backlinks to your website. You just have to find communities, create an account, and add your links to your profile or in the comments.
The problem is that even the best forum links offer little-to-no SEO value. And building these links using spammy techniques can even negatively affect your website.
But, forum backlinks do provide other benefits and therefore can be worth generating. You just need to build them correctly and understand their limitations.
This article will look at why forum backlinks aren't good for SEO, what they are suitable for, and how to generate them.

Key Takeaways
Forum backlinks are links to your website from forums or online communities.

These links have very little SEO value.

They can provide other benefits, such as increased traffic and brand awareness.

It is a good idea to be active in communities around your niche.

Make sure you add value when linking to your website.
What Are Forum Backlinks?
Forum backlinks are links to your website from forums or online communities. The link could be in your user signature, as part of your profile, or as a user comment. These backlinks are super easy to generate as anyone can sign up to a forum and post links to their site.
There are many different types of forums. They can be anything from niche discussion sites and brand support communities, all the way up to large platforms like Reddit or Quora. The key is that all the platforms enable users to start and join discussions.
Are Forum Links Good for SEO?
Forum links aren't great for SEO, and they don't provide a strong ranking benefit compared to other types of backlinks. This has been confirmed by Google representatives, but of course we know that they're not always wholly truthful in these statements.
It should be noted that spamming online forums with links to your website can harm your SEO efforts. Google warns against building links intended to manipulate "a site's rankings in Google search results." The company specifically says that you should not use forum comments with keyword-optimized links in the post or signature.
Forum backlinks may provide some firsthand benefits, especially if lots of users are mentioning your brand naturally within forums.
There are also plentiful secondhand SEO benefits. For example, if more people see your content due to a post in the forum, they are more likely to visit your site and, ultimately, link to it.

Avoid Services That Sell Forum Backlinks
When browsing Google or freelance marketplaces, you'll likely come across services that promise to generate a large number of forum backlinks for a small fee.
Avoid these services at all costs. Not only will you waste your money on links that have no SEO value, but you also risk getting links on spammy forums that are little more than backlink farms. Being associated with these sites could result in a manual penalty.
Are Forum Backlinks Nofollow?
The majority of forum backlinks are nofollow—meaning Google's search crawlers ignore them, and they don't pass on link juice.
That's because website operators know that offering dofollow backlinks is likely to attract spammers and black hat link builders.
Despite this, some online forums offer dofollow links—those search crawlers follow, therefore building your website's authority.

Here's how to check if a forum link is nofollow or dofollow:

Right-click the link.

Choose "Inspect" from the pop-up menu.

Check to see if the link is marked as "rel="nofollow" as per the image below.

If you see the above marking, the forum gives nofollow links. If you don't, it provides dofollow links.
Remember that even these dofollow links are unlikely to provide much SEO benefit. That's because Google's algorithm can almost certainly identify and ignore them.
Forum Link Building Has Non-SEO Benefits
Despite not being great for SEO, linking to your website from forums is a valuable marketing tool for other reasons.
These benefits center around the fact that linking to your website in a forum puts your content in front of a highly targeted audience.
This is the same for all types of pillow links - they offer a ton of non-SEO benefits as well.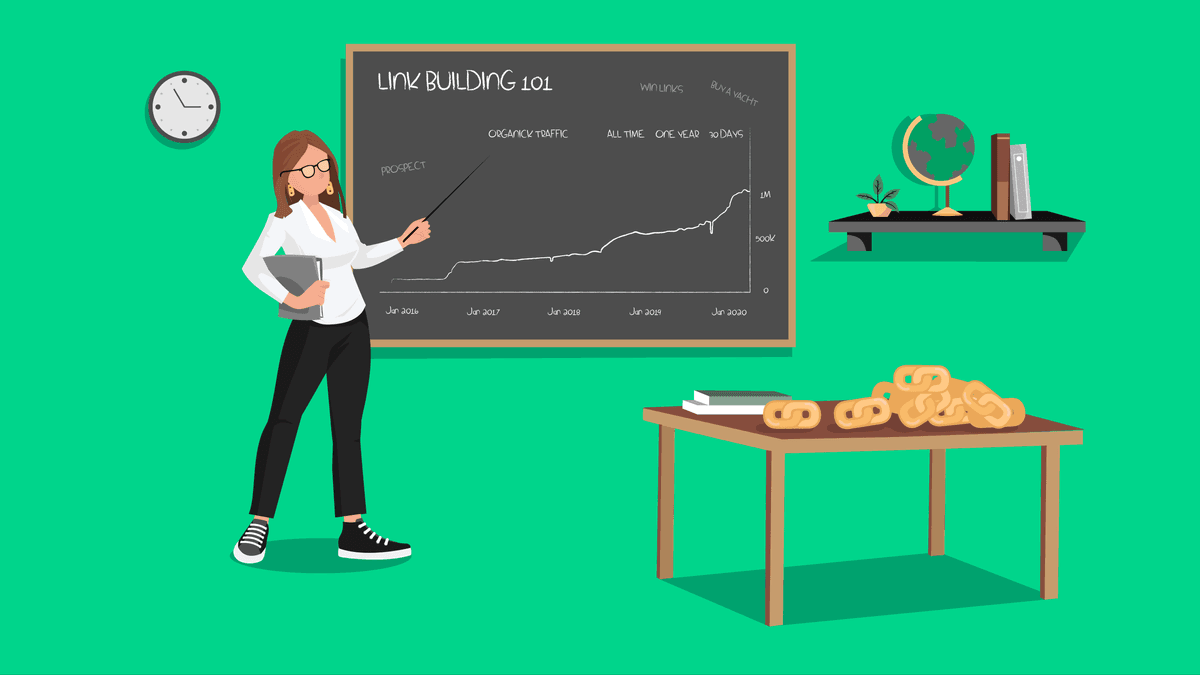 Increased brand awareness
When you link to your website in an online discussion site, you introduce the community to your brand. More people will discover your website because of this exposure.
You'll increase targeted traffic to your website when people click on the link. It may also cause people to visit your website directly as they become familiar with your brand name.

More customers
It's possible to use forum posts to drive customer growth. Writing posts about your e-commerce store, course, SaaS product, or service can result in sales if you direct people to your website.
You just need to find forum sites that are used by people interested in your product. You can then join relevant community discussions to promote it.
More newsletter signups
Forums can be an effective way to generate newsletter signups. The key is to answer forum questions and subtly promote your newsletter as you do so.
This post on Indie Hackers explains how doing this on Quora was part of a strategy that saw the author reach 120,000 newsletter subscribers.
Meanwhile, Sam Parr, who founded a business newsletter that now has over 2 million subscribers, has admitted that links on Reddit helped power early subscriber growth.
Build brand authority
Being active in an online community or forum can help you build your brand authority. If you consistently add value to discussions, people will start to view you as an expert in your field.
This can result in more brand awareness, and may ultimately lead to more backlinks, website views, and customers.

How to Use Forums for Backlinks
Forum backlinks are one of the easiest types of backlinks to generate. Here are four steps you can take to build them.
1) Find forums in your industry.
The first step is to find forums in your industry. Start with the big platforms, such as looking for relevant subreddits or following related topics on Quora. These are good places to start because these platforms have many users and the right link can result in significant traffic.
You can also find communities by searching on Google. The easiest way to do this is to search Google for your industry alongside keywords like "forum" or "community." If any exist, this is the best way to find them.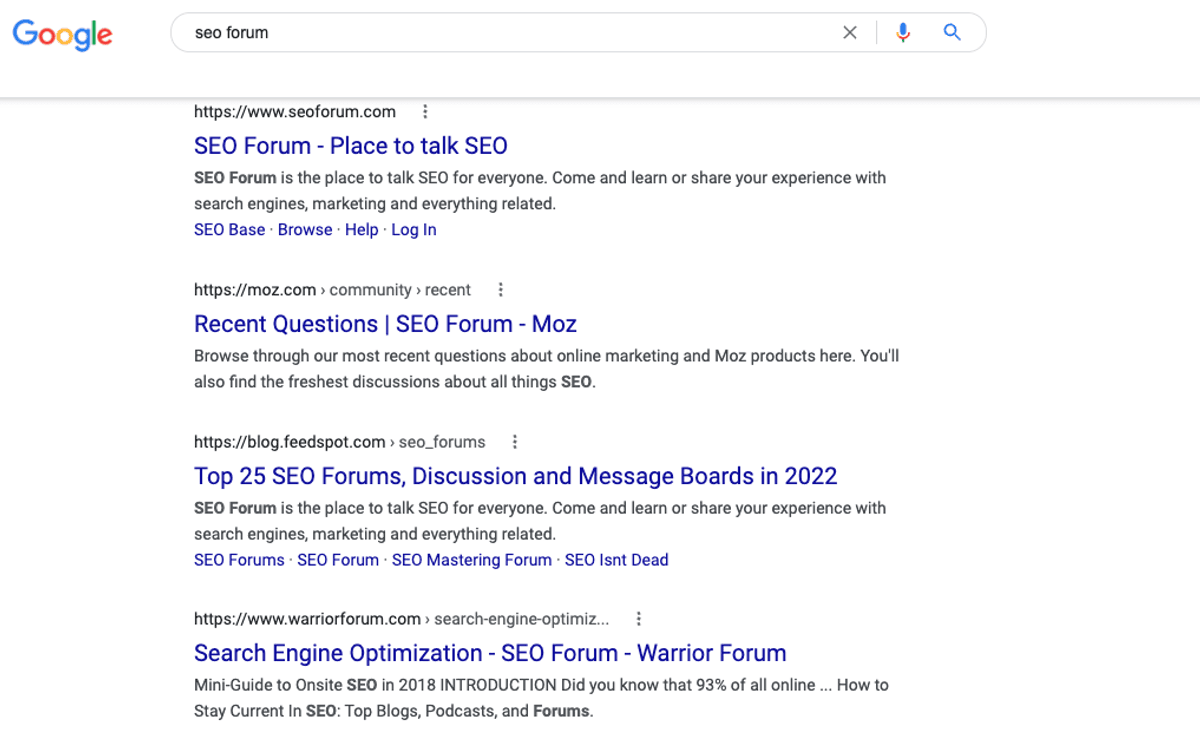 If you can't find any communities in your niche, consider broadening your search or exploring related niches. For example, a site that focuses on a specific sport could expand its search to general fitness niches.
Look for Quora & Reddit Groups
Let's be honest, forums are a dying breed nowadays. Many more users are far more active on Reddit and Quora, so it's always worth starting there.
However, many brands, especially SaaS platforms, run active communities for users. These spaces often have channels where members can discuss topics related to the industry but not directly related to the product.
If you're struggling to find forums, consider searching for brands in your niche to see if they run this type of space. You can then use these groups to link to your website.

2) Rule out inactive communities
When looking for communities, be sure to rule out any that aren't active. While you may be able to generate a backlink on these sites, no one will see them.
Instead, you need to look for forums with active participation so people will interact with your posts and links. Look for signs of forum activity like other recent posts, views, and comments. Some forums even show the number of current active users.
3) Understand the community guidelines
Before you start posting in the forum, make sure you understand the rules and guidelines.
In most cases, simply adding links to your site in posts and comments will be seen as spam and could result in you being banned from the community. Additionally, any links you add before being banned may be deleted. This type of strategy will also annoy the people in the community, which isn't good for building your brand.
Instead of spamming the forum, spend some time being active in the community to understand what is and isn't acceptable. You can then place links in a way that adheres to the forum's guidelines.

Don't Be Discouraged by Strong Guidelines
Many communities have strong guidelines to stop website owners from spamming them with links and content. While this makes it harder for you to post links, communities with proper guidelines and moderation are more likely to be active. When you do post a link, people are more likely to interact with it.
4) Add your links
Once you understand the type of links that are acceptable in a community, you can start to add your own.
The exact way you do this will depend on the community.
Common options to look out for include:

Adding a link to your home page in your profile.

Introducing yourself and adding a link to the project you are working on.

Creating valuable posts and adding links to content that provides further information.

Adding links to content in channels specifically designed for promotion.

Replying to posts with relevant information and adding links to your posts for further details.
The key is to add links in ways that both add value to the community and adhere to the community guidelines.
Some communities are relatively open about the types of links you can post, while others will take issue with almost any kind of self-promotion. The key is to adjust your strategy to the needs of each community.

Forum Backlinks Can Be Valuable
There are many reasons to generate backlinks from forums. But, increasing your website authority for SEO isn't the primary one. Forum links are more pertinent for genuine referral traffic & brand awareness.
Instead, you're much better off using regular link-building strategies.
If you're new to link building, using HARO or searching for guest post opportunities are easy strategies to start with. You can also find out more about how to generate high authority links in this article.