If you run or own a website, you'll need a backlink strategy to increase traffic to it.
However, one of the hardest parts about link building is finding websites that are open to linking to you.
Many website owners simply ignore outreach requests, and it's no use contacting sites if that's their policy.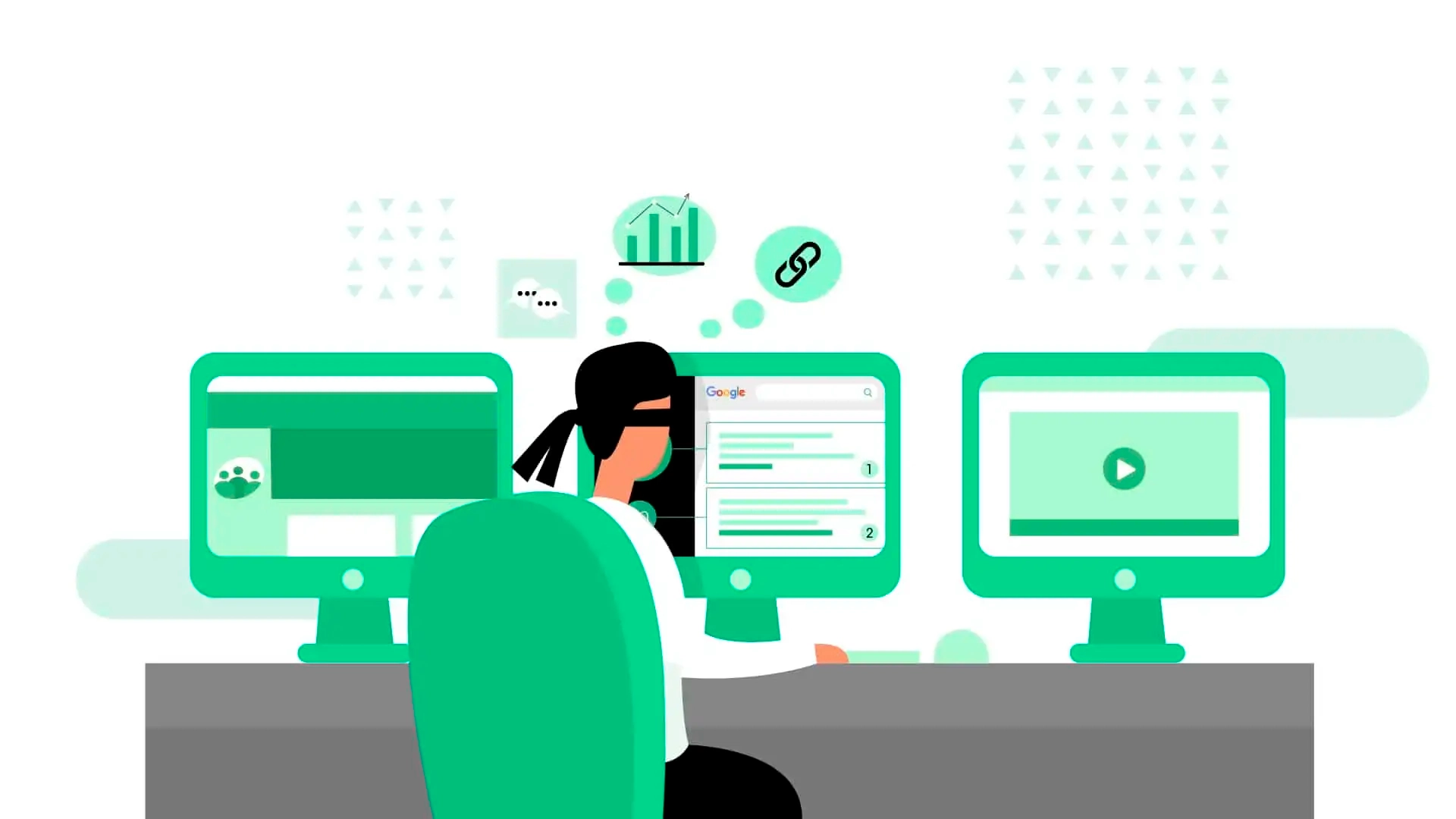 A backlink analysis of your competitors is a simple strategy that will show you sites that are known to link out to sites like yours.
You can then focus your link building efforts on these websites specifically rather than having your outreach requests ignored.
In this article, we will discuss:
➡️ How to do a competitor backlink analysis and find competitor backlinks.
➡️ How you can use competitor backlinks to your advantage.
➡️ How to examine a competitor's backlink profile so you can replicate backlinks.
➡️ The backlink tools you can use to uncover your competitors' links.
What Is a Competitor Backlinks Strategy? 🤔
A competitor backlink strategy is when you analyze and check the backlink profile of the websites that compete with yours to see which sites link to them.
You then reach out to these websites, asking for links.
This is an effective strategy because the websites you will discover have a proven track record of linking to sites similar to yours.
You can even see the exact situations in which they provide backlinks. This allows you to tailor your outreach to appeal to them. It's a simple backlink strategy and one that is known to work.

We Use Competitor Backlinks with Many of Our Clients
At LinkBuilder, we conduct competitor link analysis for our clients.
For example, analyzing competitor backlinks was part of a strategy that led to a 5,329% traffic increase for PDF Simpli.

How to Find Competitor Backlinks in Five Steps
The following five steps will show you how to analyze your competitor's backlink profiles and find different link building opportunities.
1) Find your competitors 🕵️‍♀️

Before you can find out who includes backlinks to your competitors on their websites, you need to determine who your competitors are.
You may already have a good idea about some of the websites you compete with, but it's always worth uncovering as many as possible.
After all, the more competitors you can analyze, the more link building opportunities you will discover.
You can split your competitors into two groups:

Group One: Page-Level Competitors
Page-level competitors are the websites that compete with specific pages on your website.
They may compete with other queries in your niche, or they may be unrelated websites that compete on that single topic.

Group Two: Domain-Level Competitors
Domain-level competitors are websites that publish content in the same niche as yours. They compete with your site for a variety of different keywords.

Here's an example to help you differentiate between page-level and domain-level competitors:
Imagine you start a running website and want to compete for the query "best running shoes." Searching for the term on Google reveals the following websites: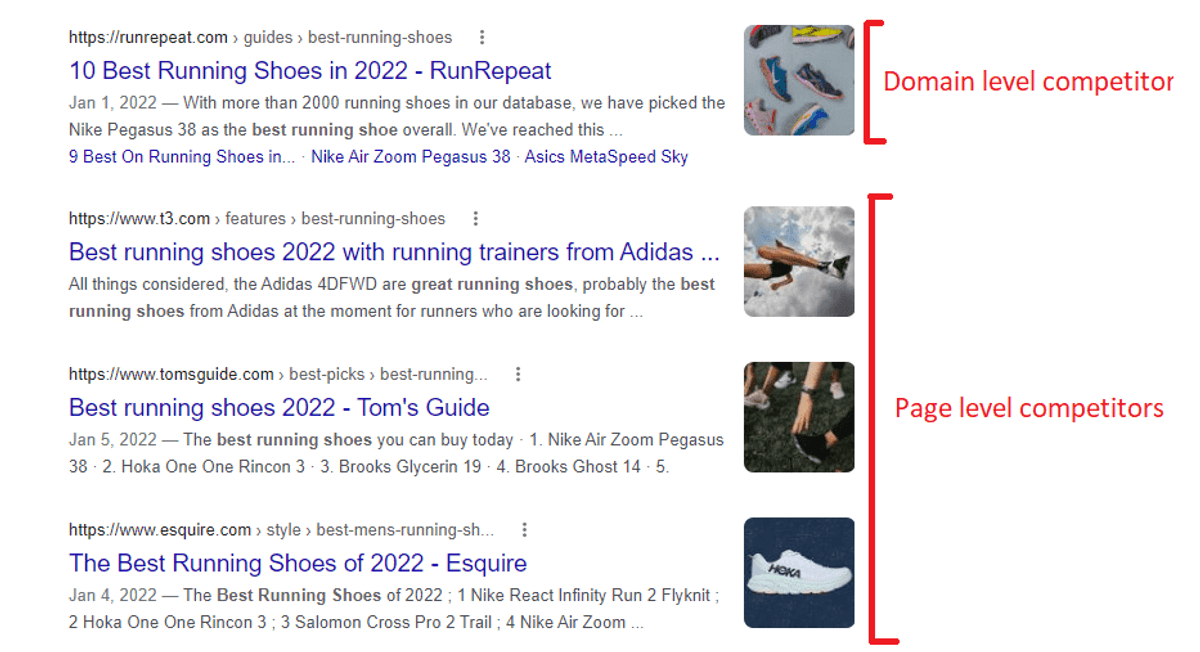 The top site is a website about running. This is a domain-level competitor because it will compete with your site across many of the same keywords.
The subsequent three sites are not specifically about running. Two are mainly technology websites, and one is a men's lifestyle publication.
These are page-level competitors. They compete with you for the specific keyword but not on other running-related terms.

How to Check Competing Websites
The easiest way to discover page-level competitors is to:
Head to Google
Search for the keywords you rank for
Note down all the websites that rank on the top couple of pages
If you do this for a few different terms, you're sure to find a ton of competing websites.
The best way to check domain-level competitors is to use a search engine optimization (SEO) tool's competitor backlink analysis feature.
This feature automatically analyzes the keywords your website ranks for and highlights websites that rank for similar or the same keywords.
Here is what the report looks like on Ahrefs: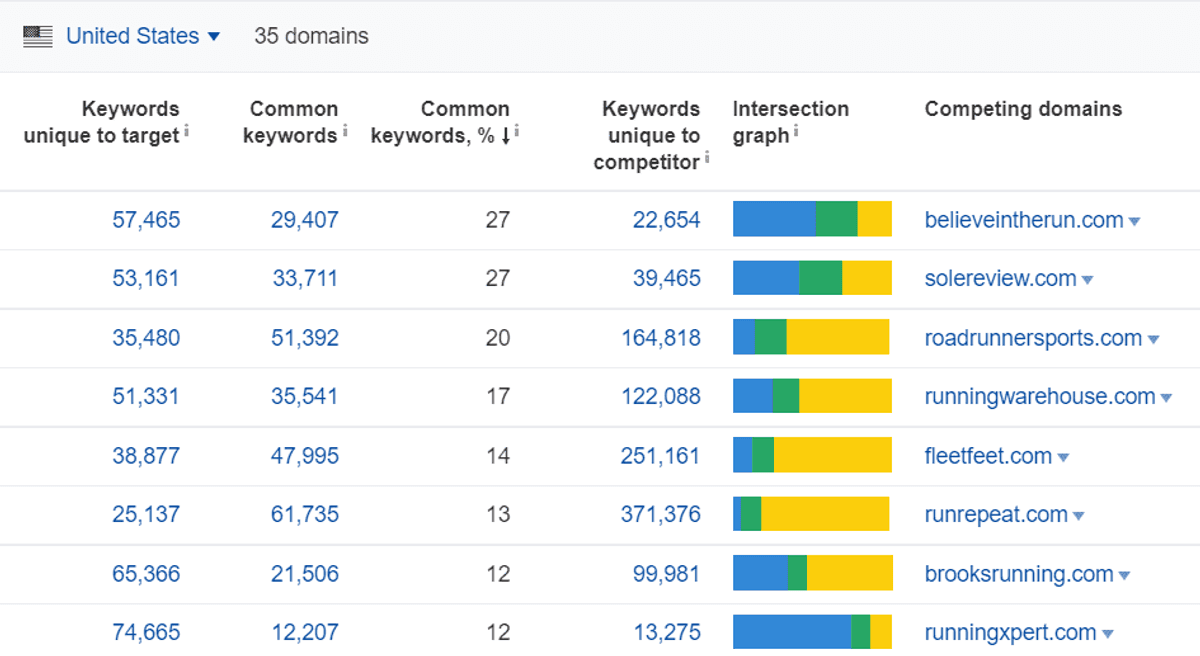 The report highlights 35 different competitor domains. It also shows how many keywords the sites have in common with yours and how many keywords each one ranks for that you don't.

2) Perform a Competitor Backlink Analysis 👀
The next step is to put these competing websites and pages into an SEO tool to discover which websites link them. You should perform an in-depth backlink analysis.
Most SEO tools have this backlink checker functionality, including Moz, Ahrefs, Ubersuggest, and Majestic.
A backlink checker tool will likely also have features that help you filter competitor links based on specific criteria. This is essential if the site has been around for a long time and has acquired many links.
To help you out with this, we have put together a list of the best backlink checkers on the market.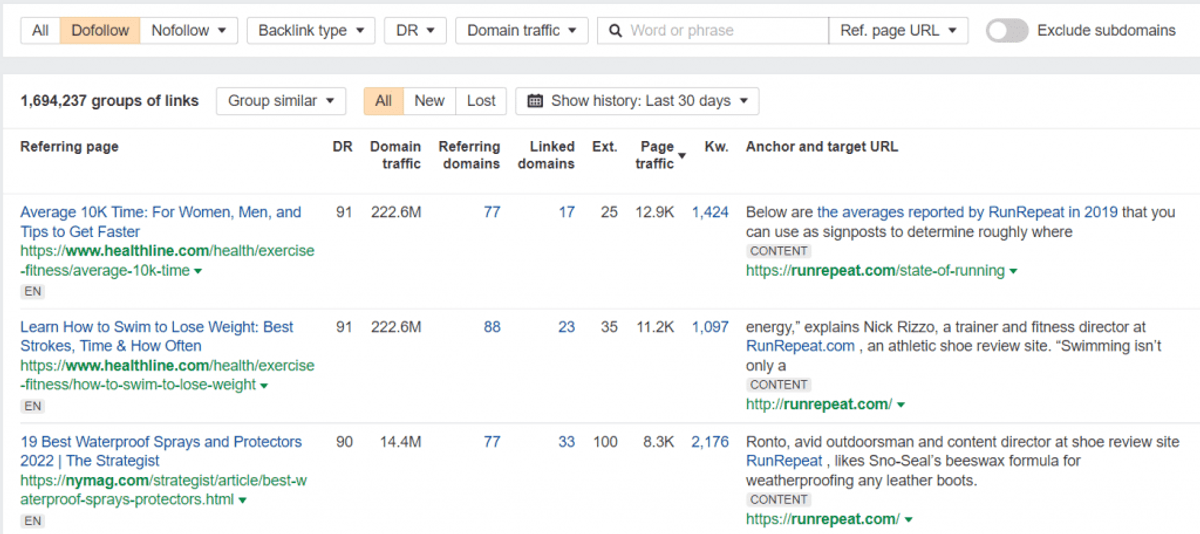 Some of the most helpful filtering options include:
New links: A link building opportunity that existed five years ago may no longer exist. Searching for new links shows the freshest opportunities.
Authority: The best links come from authoritative websites. Sort the links by domain authority to discover the most impactful opportunities.
Dofollow: Dofollow links are the only type that pass on link juice. Be sure to filter out any nofollow links.
A backlink analysis tool will also allow you to search for websites that link to multiple competitors but not your site.
This is useful because linking to more than one competitor suggests the site is especially open to linking to other domains.
On Ahrefs, this tool is called Link Intersect.
Just choose two or more websites to analyze, and the tool will find all the links they have in common.
You can also add your site to exclude domains that already include your backlink.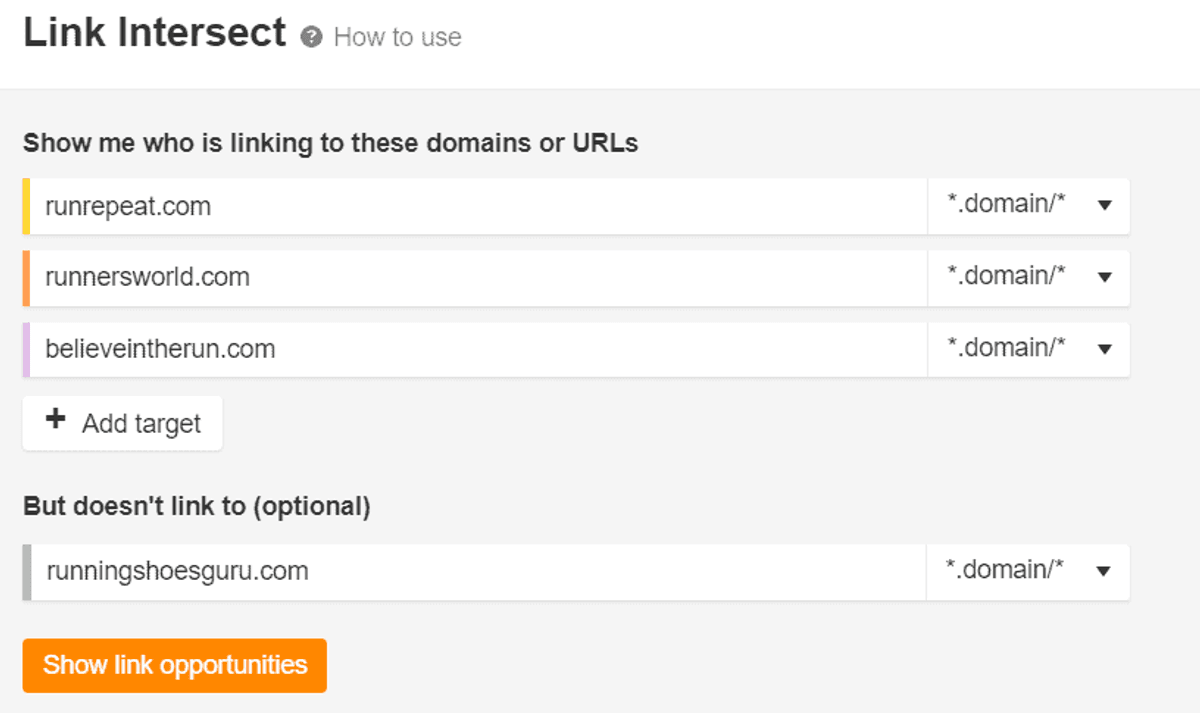 Clicking "Show link opportunities" highlights all the domains that link to your competitors but not to your site.
The report highlights information about the domain and the number of backlinks to each site.
Clicking the dropdown menu shows information about the links.

3) Discover Competitor Link Strategies
Now that you know your competitor's backlinks, you need to analyze them closely to find out how they went about acquiring backlinks.
This allows you to replicate the link building tactics they have used successfully.
Here are six examples of types of links to look out for and how you can use this information to attract links to your site.

Expert Roundups
Expert roundups are articles where the writer asks a group of experts for input on a topic. The writer will typically link back to each expert.
There are two ways you could use this information to get links to your site.
You could reach out to the website owner or writer and ask them to add your input to the article.
They may be willing to do so, especially if you can offer something in return—whether that's payment, links, or social media shares.
Often, website owners will be unwilling to make changes to existing articles. In this case, you could ask to be considered for future expert roundup articles.

Niche Edits
Sometimes, you'll notice a website has seemingly random links in blog articles and other pages.
This could be a sign of a niche edit or a paid link.
In this case, you could reach out to the website and see if they would be willing to link to your site too.
Many website owners think you shouldn't pay for links. Doing so is against Google's Webmaster Guidelines, so they have a good reason for this stance.
But we don't think the issue is quite so cut and dry. Paying for links is common practice, and in industries like finance or casinos, it's the only way to compete.
You can read more about the pros and cons of paying for links in this article.

Blog Roundups
Blog roundups are articles with lists of the best blogs in a particular category. If your competitors have inbound links from this type of page, you can ask the owner to include links to your site.
Sometimes the writer will be happy to add your backlink. At other times, they may want some form of payment.

Guest Posts
If the competitor has links from guest posts, you can reach out to the websites they published articles on and pitch your ideas.
This is a good way to get backlinks pointing to your website from high-quality publications. The downside is that it takes time to develop these ideas and write the blog post.
Sometimes, a guest blog post will be published on guest post farms, so you need to be sure about the quality of the website before reaching out.
Our final point will highlight some signs to look out for.

Find Guest Post Opportunities
One of the most effective ways of checking competitor backlinks is discovering all the websites competing sites have published guest posts on.
An easy way to find this information is to head to Google and search for the name of one of your competitor websites alongside the term "Guest Post."
You can run the same search but swap out the website's name for the name of the founder.
Here's an example:
Wisepops is a SaaS tool that helps people build website popups.
Searching for "Wisepops guest post" brings up several websites the tool landed guest posts on.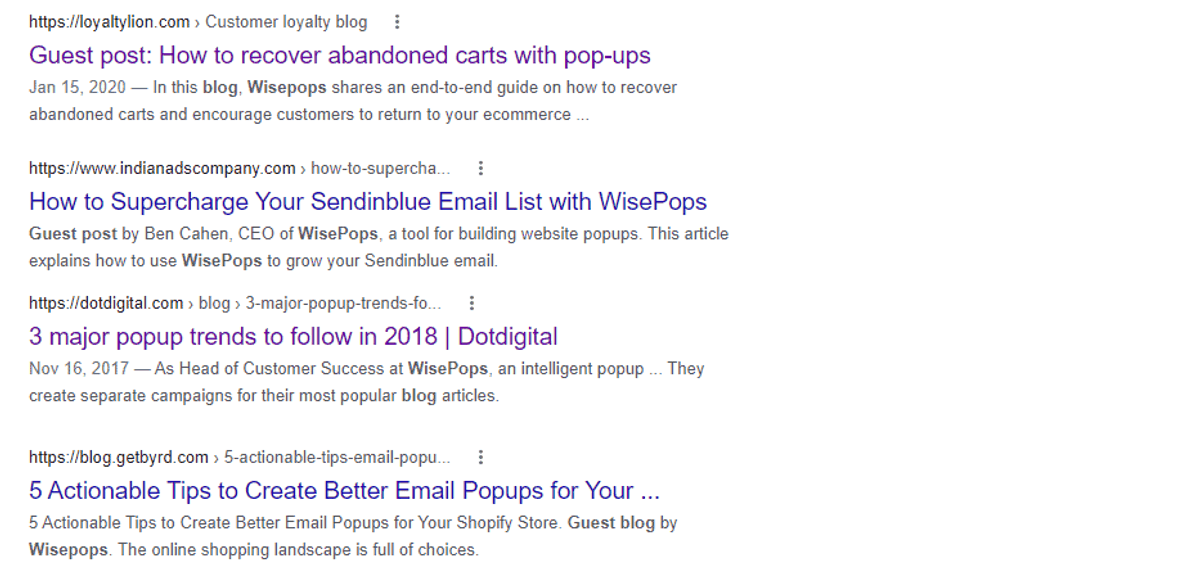 Searching for the names of people in the marketing team plus "Guest Post" brings up several more.

These websites are a good target for a guest post outreach campaign because you already know they accept these posts.
Perform this search for several of your competitor websites, and you'll end up with a long list of potential guest posting targets.

Pitch Your Ideas
Just because you know the sites on your list are open to guest posting, it doesn't mean they will necessarily accept your post.
To increase the chances of success, you need to pitch good ideas for posts. Take some time to consider the type of post that would benefit the site's audience.
The main reason Wisepops' link building strategy was successful is that the team performed manual outreach that was specific to the type of post they pitched.
Being specific is essential if you want to get guest posts accepted on high-quality websites.

Here are the steps the Wisepops team used when outreaching to websites.
They checked the type of content the blog published.
They found the contact details of the people likely to make decisions about whether to accept guest content (e.g., Head of Content).
They performed manual outreach targeted to each person.
They suggested blog posts that used the company's expertise and matched the content already published on the blog.
They provided examples of the type of content they had already produced.
You can read more about Wisepops' guest posting strategy in this blog post.
Directories and Forums
Links from directories and forums are unlikely to affect your rankings much.
But if you notice that a competing website has links from this type of site, it can still be worth creating an account and generating these links.
Even if the link doesn't affect your ranking, it could be a good way to increase awareness about your site. And it may even generate some traffic.

Use This Information to Inform Your Strategy
Analyzing your competitors' backlinks isn't only helpful in finding the exact websites that link to your competitors. You can also use the strategy to gain general insight into their link building strategy.
For example, if the website has many links from expert roundup articles, it could be a sign that the site owners are building backlinks by answering requests on HARO.
Instead of reaching out to the sites that have already published the roundup content, a better idea could be to start answering HARO requests yourself.
4) Do a reverse image search
The above strategy for finding guest posting opportunities works because it searches Google for signals that point to backlinks.
Another way to do this is to perform a reverse image search for headshots. The reason this works is that people often use the same headshot when writing on multiple posts.
Here's an example of how to do it using SEO blogger Neil Patel.
The first step is to head to your competitor's site and open an article. Navigate to the author box to find the writer's headshot.
Not all web pages have this box, but many do.

Then you need to right-click on the image and click "Copy Image Address."
Head to Google Image search, click on the camera sign, and then paste the image URL into the box that says "Paste image URL."

Clicking "Search by Image" will bring up all the search results with the same image. If the author uses the image when guest posting, you will see all the places where they have been published.
You'll come across many websites that offer guest posting opportunities. Add the ones you like to your outreach list.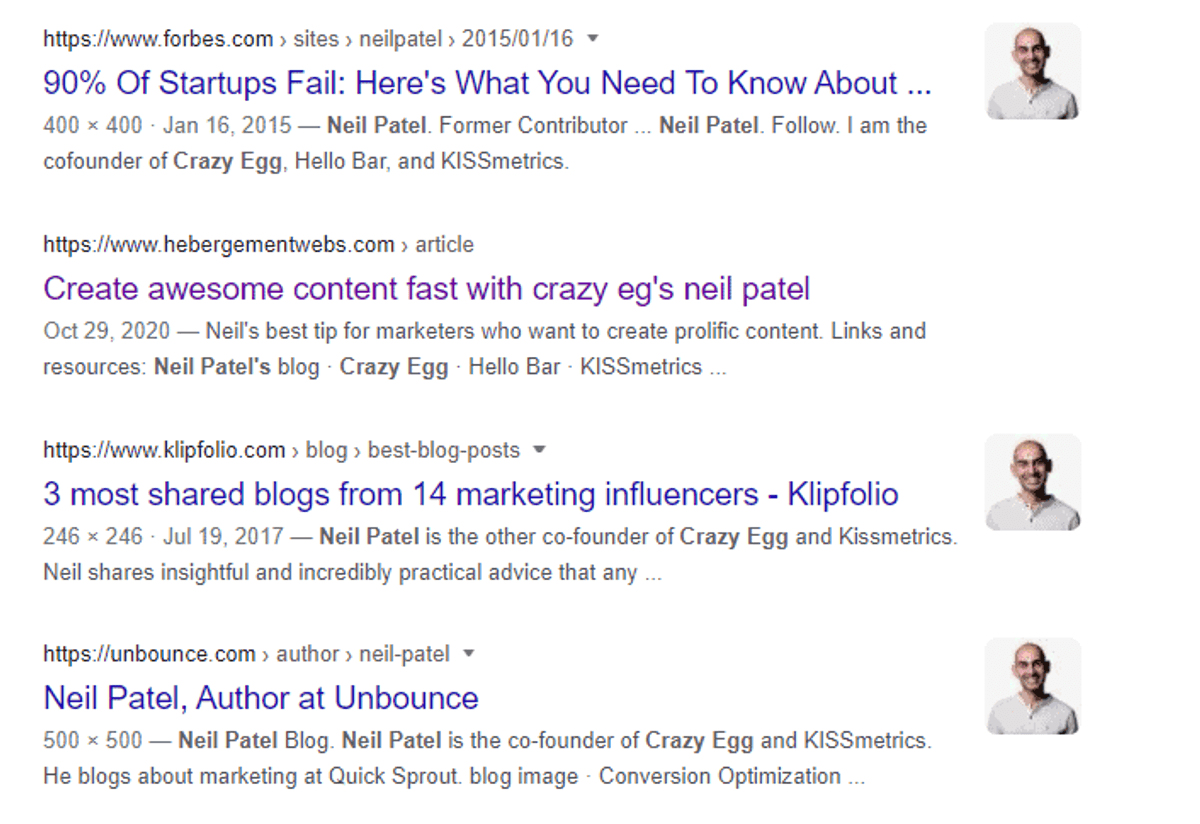 5) Narrow down your targets by focusing on quality websites
Analysing your competitor's backlink profile can generate a lot of backlink targets. But not all backlinks are quality backlinks.
If your competitors are generating spammy links that don't drive results, copying their backlink strategies will result in the same thing.
You can use several signs to differentiate high-quality backlink opportunities from spammy ones.
Some of the most important ones to look out for include:

Content Quality
The easiest way to get an idea of a site's quality is to look at its content.
If the site publishes original, well-written articles with unique images, it is usually a good backlink target, which will result in high-quality backlinks.
But if the articles are poorly written, don't offer any original insights, and the site's design feels generic, it could be a sign to avoid it.
Another sign to look out for is articles on seemingly random topics. This suggests that the site is a link farm, especially if the articles have suspicious outbound links in them.

The website's domain authority (DA)
Domain authority is a good sign to look out for. The most common way to measure a domain's authority is through metrics like DA and DR, which you can easily check using several backlink tools.
These metrics are offered by the SEO tools Moz (DA) and Ahrefs (DR). They analyze a site's backlink profile and give it a score out of 100. A higher score means the site has lots of backlinks from authoritative web pages.
The issue with these metrics is that your competitors can increase these scores artificially. For example, previously authoritative sites can be turned into private blog network (PBN) sites or link farms.
Because of this, you should always look at other metrics alongside domain authority when choosing sites.

Organic Traffic
High search engine rankings and organic traffic are surefire signs that Google's PageRank algorithm likes a website.
You can use an SEO tool to estimate a site's traffic. When building links at LinkBuilder, we always look for at least 1,000 monthly visits.
Checking Your Competitors' Backlinks is an Effective Link Building Strategy
Analyzing your competitors' backlinks is a highly effective link building strategy. It helps you identify sites with a proven track record of linking to other web pages and the exact reasons they do so.
All that's left to do is to go about replicating competitor backlinks to generate inbound links of your own.
If you're not sure where to start when it comes to a competitor backlink analysis or you require a solid SEO strategy, we're here to help.
Visit our website to learn more about our backlink services and how we can assist you with analyzing your competitor's backlinks to build the ultimate SEO strategy to crush your search engine results.