Links insertions is an extremely underrated strategy that allows us to get insanely powerful links in existing content articles for very cheap.
💡 Here's a quick video showing exactly how link insertions work in practice...
Remember all those times we showed people content and they asked for some cash? Those are the guys we want, provided their websites are good quality.
Why Do Link Insertions Work So Well?
If you were a website owner, would you rather chat in depth with a writer about a guest post subject, spend time editing the article, formatting and posting? Or would you rather take instant cash to your PayPal account and stick a link in an existing article?
It's a simple method to earn money.
Often when we reach out to people using other techniques, we're hoping that they simply love and enjoy our content so much that they link to it out of the kindness of their heart.
However, with this strategy they're actually earning money just for adding our link! It's simply a much greater incentive for them.
It's also very easy for them to add a link to an existing page.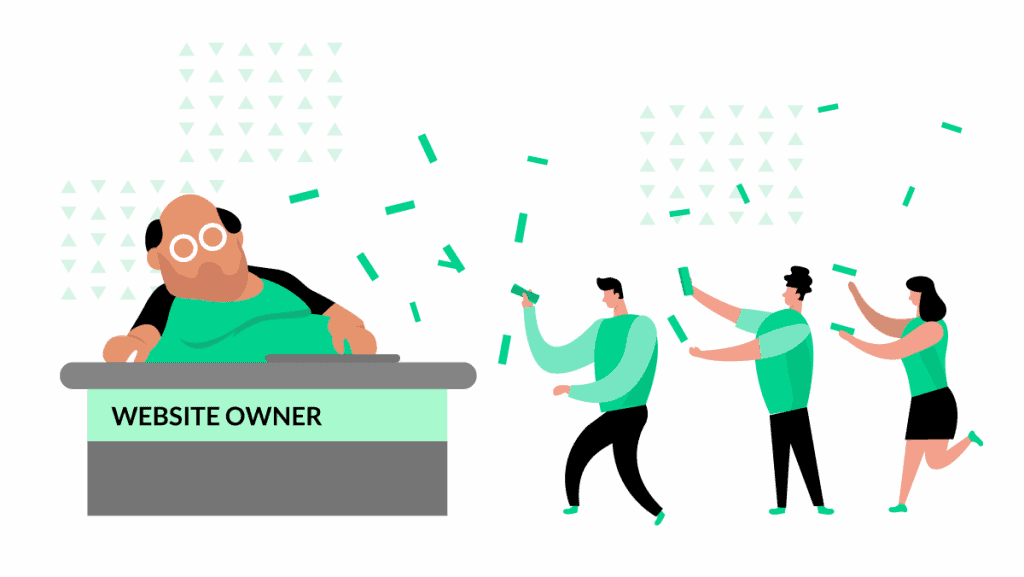 How Do I find People for This?
There's 3 ways to find people for this:
Grab paid guest post opportunities - If someone's willing to take money for a guest post, then there's almost 100% chance they're willing to take money for a link insertion, which is even easier for them to complete.
Launch a new outreach campaign - We simply go to relevant websites on our niche, identify the page on their website that we'd like a link from and offer them some cash. Here's some tips on how to find link opportunities.
Below: Classic link insertion request

IMPORTANT NOTE: For these methods, we NEVER want to reveal our URL unless we know a deal can be negotiated. This is because some webmasters are against this style of link building and we want to protect ourselves from negative publicity - That's why we would never write an email from an account tied to our domain asking to pay someone for a link insertion.
How to Negotiate and Close Link Insertions
Important - For these links, we don't ever pay more than $50 for a link. We want to keep the price between $20-30 as much as possible.
Step 1) Get a price
If the website asks what our budget is, play dumb. Get them to make the first move and give a price. You can say something like "I'm not head of this department, can you tell me how much guest posts are and I'll check with them"
Step 2) Negotiate
They might come back and say $80 for a guest post. At this point we play the 'pity party' approach and let them know we simply can't afford it. I'd love to make it happen but my manager won't agree, as we've been paying a lot less lately. However, take a timid and friendly approach….
Then suggest something which might make things a whole lot easier for them...
Instead of a guest post, we ask them if we can do a link insertion instead.
It makes life easier for them - they don't have to review content, they can do it instantly and it's completely hassle free.
Step 3) Close the Deal
As soon as they agree to a link insertion offer - we go aggressive on them. Ask them for their PayPal address and tell them we'll pay within the next few hours. Note: At this stage you HAVE NOT yet revealed what site they'll be linking to. We always negotiate the deal and the price and conclude payment before sending them the URL and anchor texts.
Another option: If we're launching a new campaign, we don't always have to go in pretending we want a guest post.
Once we've established some communication we can say "Could you perhaps do a link insertion into an existing post for $20? Just send me your PayPal address and I'll get that sent before you wake up" - and always get them to accept before they see the website in question, especially if it's in a trickier niche.
Get Link Insertions from Pages with Lots of Links
Check the Ahrefs profile for the website in question, and see if they've got some articles with backlinks pointing to them. If we can get a link on an article that already has backlinks going to it, it's going to be even more powerful for us - far better than a link in a completely new guest post.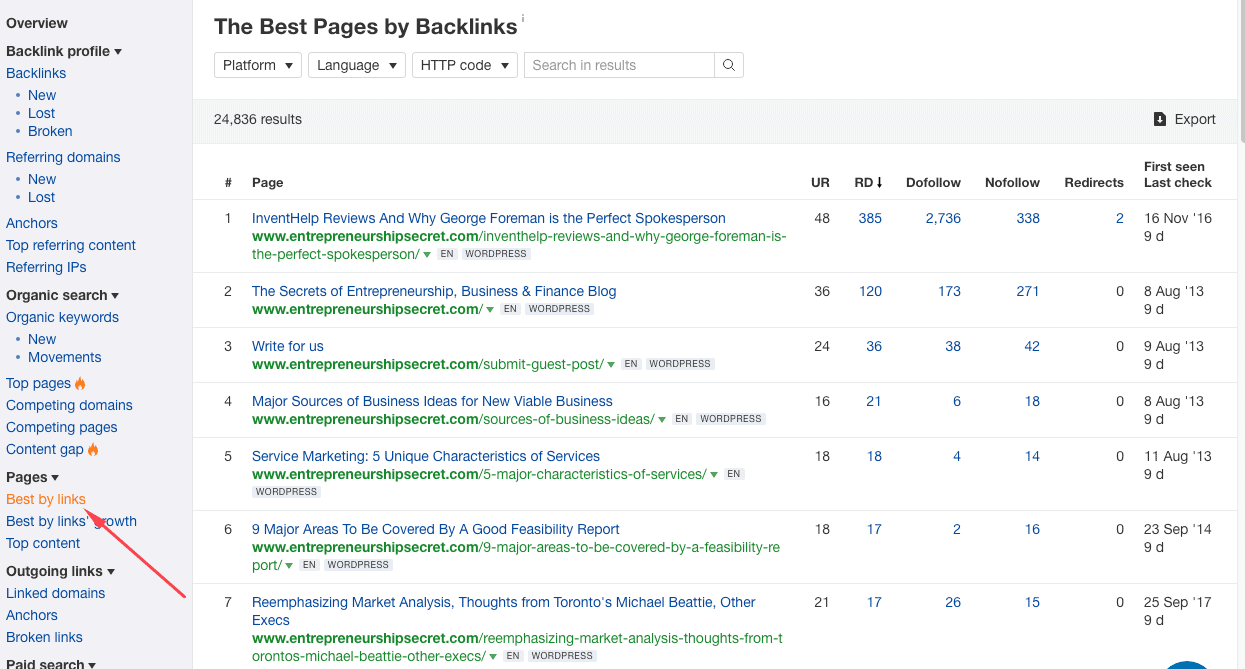 Topical Relevance - Take it Further
Everyone knows that link relevancy is a key facet of link building. You want to build links from content, articles and websites that make sense.
When you're doing link insertions, you want to find content that's super relevant to the article you want a link for.
Example:
Let's say we want to build links to a page called "The best pre workout supplements" - We're going to want to find fitness, nutrition and health blogs right?
But it doesn't stop there, we want to try and find content within those blogs which focus on "pre workout" and "supplements".
How do you do this? Simple - Just go through your target websites and search their existing content for keywords that you're looking for....
Search using keywords like:
Pre workout supplements
Pre workout
Supplements
More often that not, we'll find relevant topics already published on the target website...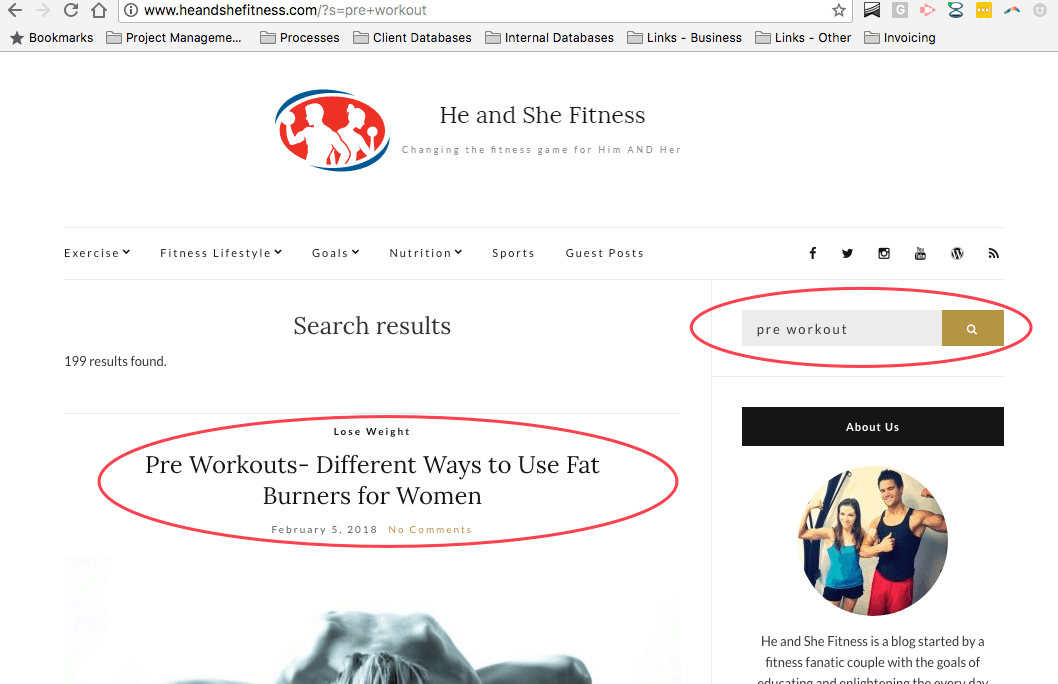 If there's nothing super relevant, try to at least find something somewhat relevant. If you still can't find anything, drop the website and move on.
There's plenty more fish in the sea 🐟
How To Get Anchor Text Right
Firstly, review our guide on how to do anchor texts right for internal pages and home pages - You need education in what makes up a solid, safe link profile that actually ranks web pages.
There's a fantastic resource on Diggity Links which explains this in even more detail: Read it here & bookmark.
How to give instructions to webmasters on link placements:
Referring URL: ohgizmo.com/2012/02/13…
Target URL: realairsoftshop.com… (fictitious website)
Before:

"with nothing more than around $15 in easily available parts."

After

"with nothing more than around $15 in easily available parts. Of course, if you have cash to spend on a real Airsoft gun, it's going to set you back over $500."

Anchor text: a real airsoft gun
Natural Placement - The most important thing is that the link seems very natural! Imagine we had showed a webmaster a piece of content and asked them to link to it in their article...How would they link to it?
If the link does not look or feel 100% natural, we don't want it. "If the link does not look or feel 100% natural, we don't want it"
Note: Sometimes you might want to request adding the link within an entirely new sentence in the article, so just specify where you'd like to add that in.
The End Result
Link insertions offer an extremely easy way to build a ton of relevant links fast. We're selecting the pages we want links from and we're getting the perfect anchor texts that we want on highly relevant web pages.