Link insertion has gotten a bad rap over the years. In the past, those wanting to boost a website's search engine optimization (SEO) had often misused it.
However, link insertion is still a viable and effective way to build links. It's a good technique to get insanely powerful backlinks in existing content.
Not only does link insertion help drive more traffic to your website, but it also increases your brand awareness and establishes you as an authority in your industry—which is an invaluable gain in an already saturated online world.
Provided that a website and its content are of high quality, there is nothing wrong with using link insertion to improve your rankings.
💡 Here's a quick video showing exactly how link insertions work in practice.

What Are Link Insertions in Link Building?
Link insertion is a link-building technique where you get a backlink pointing to your website placed on another website.
This other website would have existing content that is relevant to your website. You can use this to your advantage by asking the website owner to insert a link that provides the reader with further value and insight.
Typically, to gain link insertions, you need to reach out to the owners of relevant websites.

An Example of a Link Insertion Campaign
Let's say your brand is a nutrition and lifestyle product. If you find a good website with a blog post about important nutrition tips, you can reach out to the website owner and ask to have your website's relevant link inserted into this existing content.

The website owner would probably agree to do this because your article will add value to their existing content.
It allows readers to visit your site to gain further insight.
You will also receive a high-quality backlink that is naturally placed in hyper-relevant content.

What to look for in a good website for link insertions
The trick with link insertions is to find the right websites to target.
You don't want your backlink to appear on just any website. You want the placement to be relevant to your niche and related to the content in a natural way.
You also want your link to provide value rather than appear spammy.
Here's what to look for before approaching other websites for a link insertion:
➡️ Decent metrics: Consider factors such as checking domain authority and organic traffic.
➡️ Quality content: You don't want to be associated with a website that has poor-quality content and a low-quality look and feel.
➡️ Topical relevance: You want to choose a website that is relevant to your brand to benefit both you and the reader.
➡️ Search engine rankings: Choose websites that have solid search engine rankings so that there is a better chance of your link being discovered by readers.
Approaching the right websites to gain a backlink will help you rank higher on search engines and receive a quality link that boosts your link profile.

Why Do Link Insertions Work So Well?
There are a few reasons why this link-building strategy is so powerful and also somewhat easier to achieve than other methods.

1. It appeals to website owners
If you were a website owner, would you rather choose to chat in depth with a writer about a guest post subject, and then spend even more time editing, formatting, and posting the article?
Or would you prefer to get instant cash paid into your PayPal account by simply sticking a link in one of your existing articles?

2. It is a white-hat SEO practice
Link insertion is a white-hat SEO method, meaning it doesn't contravene Google's Webmaster Guidelines; therefore, you don't face the risk of receiving a penalty for an unnatural link.
Using black-hat link-building methods can land you in hot water and damage your rankings in the long run. Google will ignore these links, and you'll likely be wasting your time and money.

Sticking to white-hat tactics like, link insertion can not only boost your SEO, but also keep you on the right side of search engines.

3. It's a simple method for site owners to earn money
Often, when we reach out to people using other techniques like broken link building, a link exchange, or guest posts, we're hoping that they enjoy our content so much that they link to it because they love it.
However, with this strategy, other websites benefit by earning money just for inserting links to your site.
It's simply a greater incentive for them.
It's also very easy for them to add your link to an existing page.
How to Find Link Insertion Opportunities
Although link insertion is a relatively easy and straightforward way to build backlinks, it does require some effort. Here are some steps to follow to get it right.

Step 1) Identify the right website
Your starting point is to recognize the correct website to aim at. Verifying the authenticity of a website and ensuring it matches your intended purpose necessitates taking appropriate actions.
Step 2) Analyze the website's metrics
Check the Ahrefs profile of the website in question and see if they've got some articles with backlinks pointing to them.
If you can get a link to an article that already has backlinks pointing to it, it's going to be even more powerful and work far better than a link in completely new content.
Here is how we have used Ahrefs to analyze a potential target website: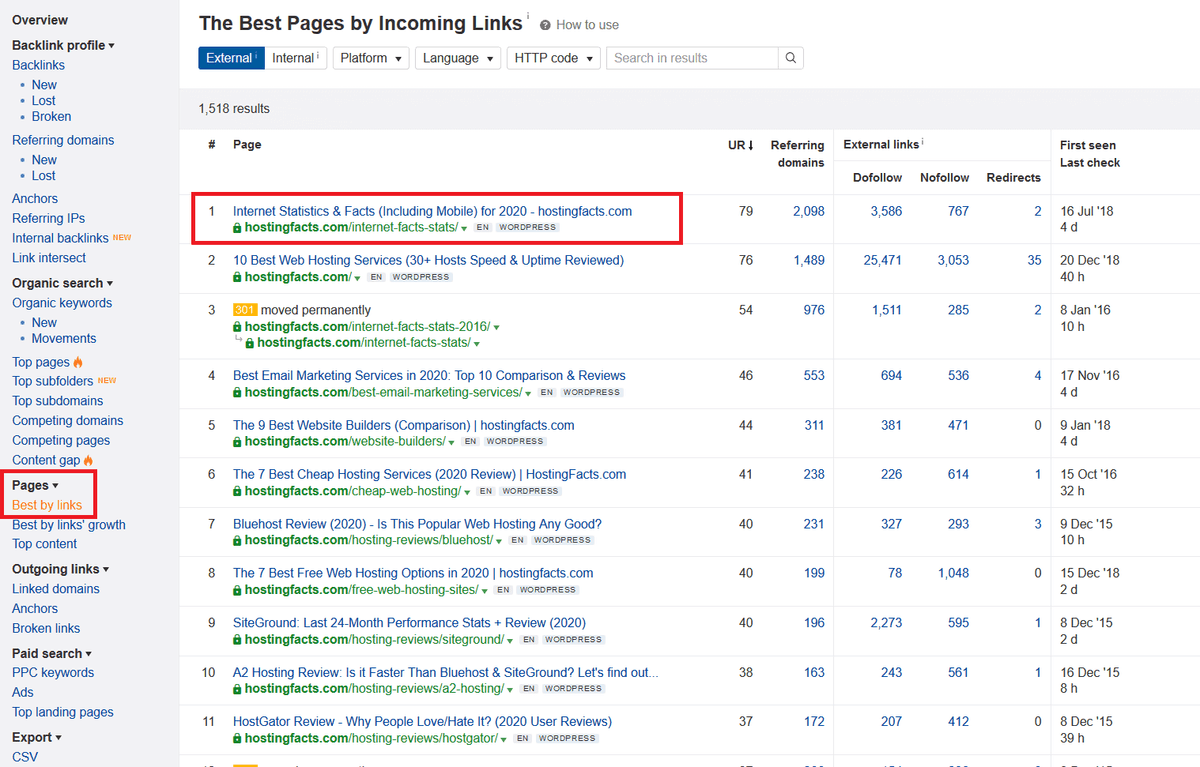 Step 3) Seeking other options for link placement
Another way to identify a link insertion opportunity is to look for relevant websites that clearly accept payment in return for a guest post. There's almost a 100% chance they would be willing to take money for a link insertion, which is—as an added incentive—easier for them to accomplish than guest posting.

Step 4) Setup an outreach campaign
Now, as part of your link insertion campaign, you need to make contact with site owners and offer to buy link insertions.
Below is a response we got to a link insertion request:

We have put together a complete guide to finding link opportunities, which you might want to take a look at.
An Important Point
When we use link-building strategies like link insertions, we never reveal our URL to site owners—unless we know a deal can be negotiated.
This is because some site owners are opposed to this style of link building, and we want to protect ourselves from negative publicity.
That's why we would never write an email from an account tied to our domain asking to pay someone for a link insertion.

How to Choose Relevant Websites
Relevancy is a key facet of effective link building. You want to build links from content from an article or blog post with topical relevance on websites that make sense.
So, an important step in link insertions is to find content that is hyper relevant to your link.
Finding the right website
Let's say we want to build links to a page called "The best pre-workout supplements."
We will want to find a popular blog that focuses on fitness, nutrition, and health.
But it doesn't stop there. We want to try and find content within those blogs that focuses on "pre-workout" and "supplements."
How do you do this? Go through your target websites and search their existing content for keywords that you're looking for, such as:

Pre-workout supplements.

Pre-workout.

Supplements.
More often than not, we'll find relevant topics already published on our target website.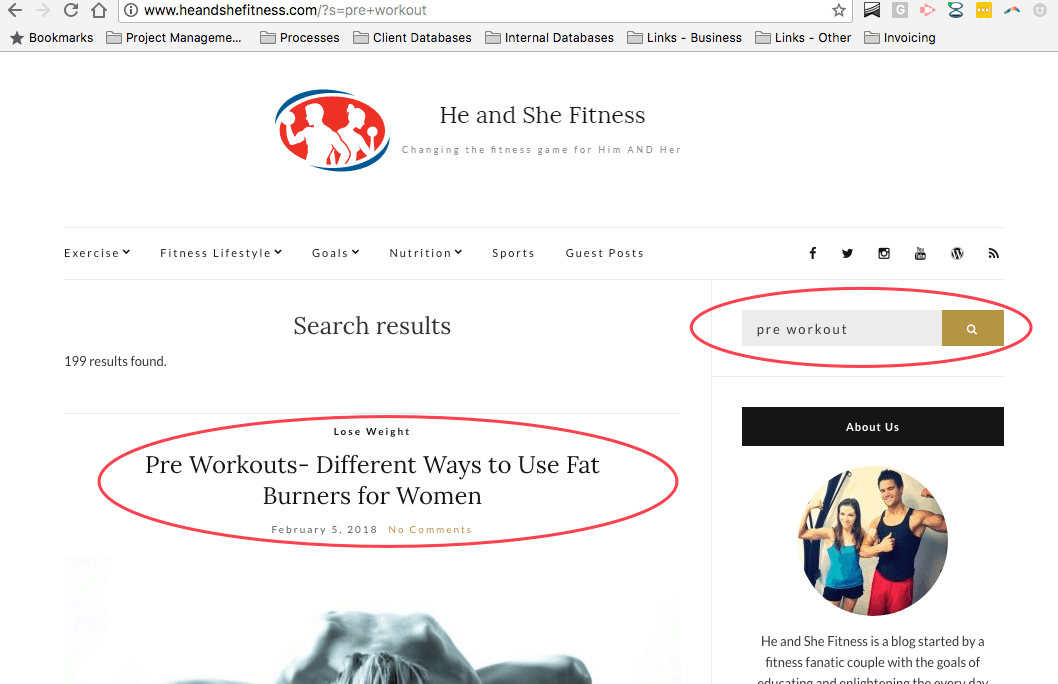 If there's nothing super relevant there for you to target, try to find something somewhat relevant at the very least. If you still can't find anything, drop the website and move on. There are plenty more fish in the sea 🐟

How to Negotiate Link Insertions with Topically Relevant Websites
You now know what kinds of websites to look for and how to identify opportunities for link insertions. Next, we need to discuss how you can seal the deal with a link request.
Firstly, for these links, we don't ever want to pay more than $50 for a link. We ideally want to keep the price between $20 and $30.

Step 1) Get a price
If the website owner asks what we pay for link insertions, play dumb. Get them to make the first move by asking them their price.
You can say something like, "I'm not head of this department, can you tell me how much a guest post would cost, and I'll check with them."
Step 2) Negotiate
They might come back and say they would want $80 for a guest post.
At this point, we play the 'pity party' approach and let them know we simply can't afford it.
You could say something along the lines of, "I'd love to make it happen, but my manager won't agree, as we've been paying a lot less lately."
Then suggest something which might make things a whole lot easier for them. Instead of a guest post, we can ask them if we can do a link insertion instead.
Link insertions make life easier for them as they don't have to review content, they can do it instantly, and it's completely hassle-free.

Step 3) Close the deal
As soon as they agree to a link insertion offer, we ask them for their PayPal address and tell them we'll pay within the next few hours.
Once we've established communication, we can again, at a later stage, suggest: "Could you perhaps do a link insertion into an existing post for $20? Just confirm your PayPal address, and I'll make the payment."

How to Get Anchor Text Right
Anchor text is an important aspect of link insertions. You want your link placement to be hyperlinked to your website using the right text—which is called anchor text.
Communicating with site owners

To get the anchor text right, you would need to walk the site owner through how you want your link placements to be hyperlinked.
If your referring URL is ohgizmo.com/2012/02/13 and your target URL is realairsoftshop.com (fictitious website), you would want your anchor text to be something like "a real airsoft gun."
Sometimes you might want to request adding the link within an entirely new sentence in the article, so just specify to the site owner where you'd like to add that.

Natural link placements
The most important thing is that the link seems like it's placed naturally.
Imagine we had shown a webmaster a piece of content and asked them to link to it in their article. How would they link to it?
If the link does not look or feel 100% natural, we don't want it.
This is why it is important to choose a target website that contains content where your link would appear naturally, providing value to the reader.
Link insertions that aren't natural can look spammy, giving your website a bad reputation and getting on Google's bad side—which can result in an unnatural link penalty.

Wrapping Up on Link Insertions
Link building is time-consuming and hard to get right—especially when you're aiming for high-authority websites.
Compared to other link-building strategies, however, link insertion is relatively easier to achieve.
As long as you're choosing the right target website and providing guidance to site owners on what your anchor texts should look like, you can achieve getting highly relevant links on authoritative sites.
If your goal is to insert external links on a topically relevant target website, we can help. As link-building specialists, we know all the best practices for link insertions and how to get them right.
We'd love to tell you more about our link-building services and how we can help you with link insertions and other powerful link-building strategies.