How To Disavow Backlinks
Backlinks are probably the most important factor for driving search traffic to your website.
They are essential for building your reputation and trustworthiness and helping your site rank on the SERPs (search engine results pages).
However, some backlinks do more harm than good and it might become necessary to disavow them.
But disavowing links is the SEO last resort and should be used wisely.
Consider this a guide on how and when to disavow a link, and perhaps even more importantly, when not to.

Key Takeaways
Disavowing backlinks is when you request for Google to ignore chosen links to your domain.

Knowing which links are the right ones to disavow could be crucial for the health of your website.

Disavowing backlinks has the potential to negatively impact your traffic.

If you use black hat link building practices, submitting a disavow file may help Google profile the links you build as bad.
What Is a Backlink Disavow and Why Would You Use It?
So what exactly does it mean to disavow a backlink?
It's when you ask Google to ignore chosen links to your domain.
If the link disavow is successful, it won't be counted for or against you when determining ranking in the search results.
Keep in mind that Google treats requests as suggestions, and isn't obligated to accept your request.
So why would you want Google to ignore certain links?
Because not all backlinks are made equal.
Most are an asset, a vote of confidence from other websites, vouching for your trustworthiness and the quality of your content.
But there are some links that can harm how you rank.

Google is good at ignoring bad links
Though Google's bots have become incredibly sophisticated and good at ignoring low-quality links (and the sites they come from), it is still possible that some links to your website are harming your ranking. For this reason, you should only really disavow links as a last resort.

What Are Spammy Links?
Sometimes known as toxic backlinks, these are bad backlinks that make your website appear less reputable to Google.
Many of these types of links come from black hat SEO tactics—unethical efforts to game search engine algorithms and gain higher rankings.
Google is good at spotting websites that use black hat link building techniques and will ignore their content or sometimes even issue a rankings penalty. In fact, they recently released the new SpamBrain link update which aims to completely ignore and devalue these types of links.
Most toxic backlinks are gained from:

Buying backlinks from shady SEO sites.

Intentional backlinking schemes utilizing a private backlink network (PBN).

Using link farms.

Links from incredibly spammy sites.

Being the target of a negative SEO attack.
Negative SEO attacks
Though rare, negative SEO attacks refer to any attempt to sabotage the search rankings of a competitor's website.
An example is by pointing bad links to a competitor's website from sites created solely for the purpose of housing useless, spammy, unrelated links.

Below is an example of an SEO attack. The user identified an unusually high number of links targeting a small number of pages.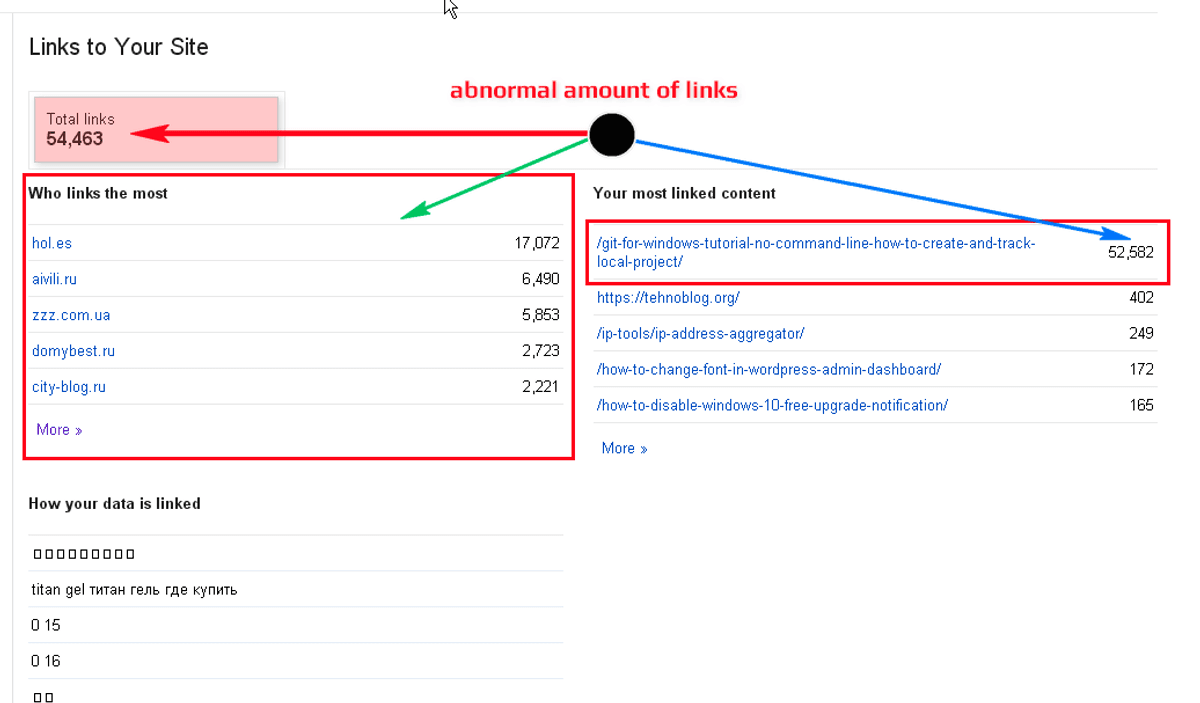 How to Find Spammy Links
Knowing which links are the right ones to disavow could be crucial for the health of your website.
That's why having the right backlink auditing tools is essential.
SEMRush, Moz, Ahrefs, and Majestic all offer a backlink audit feature. SEMRush and Moz also include a Spam Score. These features assess all the domains that link to your site and highlight any that the tool considers toxic.
Here is an example of an Ahrefs backlink audit identifying a potential SEO attack: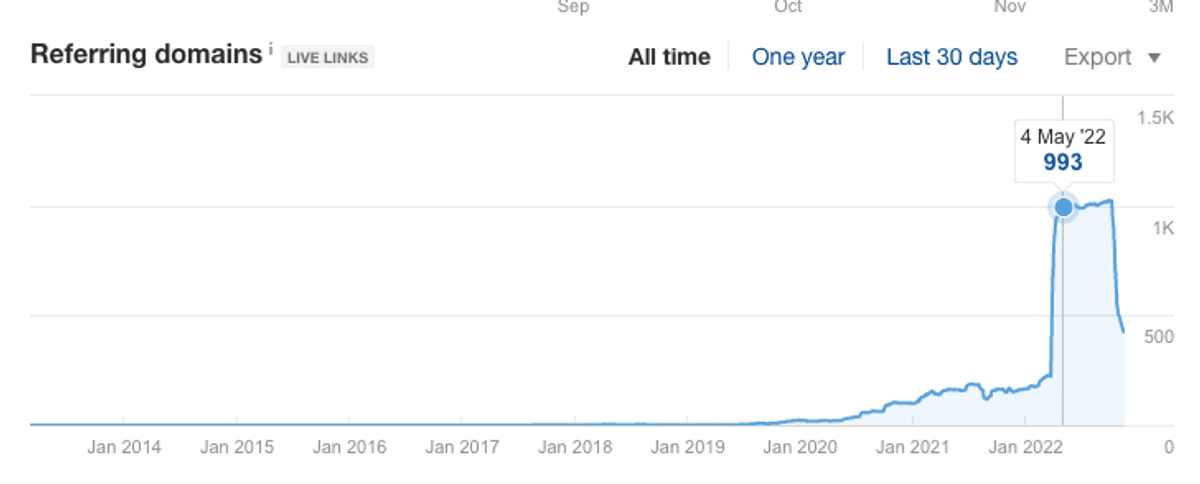 Some telltale signs of toxic backlinks include:

Low-quality sites.

Unnatural links.

Keyword match anchor text.

Unrelated anchor text.

Low organic traffic.
See our article about toxic backlinks for more info.

When to Disavow Links
It's important to remember that disavowing backlinks shouldn't be done lightly. It has the potential to negatively impact your traffic. This is because you could disavow backlinks that are contributing to your site's authority.
So when might it be necessary?
You Have a Manual action
Though extremely rare nowadays, receiving a manual action from Google is an immediate call to start disavowing toxic links.
A manual action is when a Google Search evaluator assesses the links on your website and decides that they break the company's quality guidelines.
This is the worst possible outcome of having used dubious backlink building techniques.
Sites that have received one will most likely see a severe decline in rankings and traffic.
Google Search Console provides examples of why a site has received a manual action, and suggestions on how to rectify it.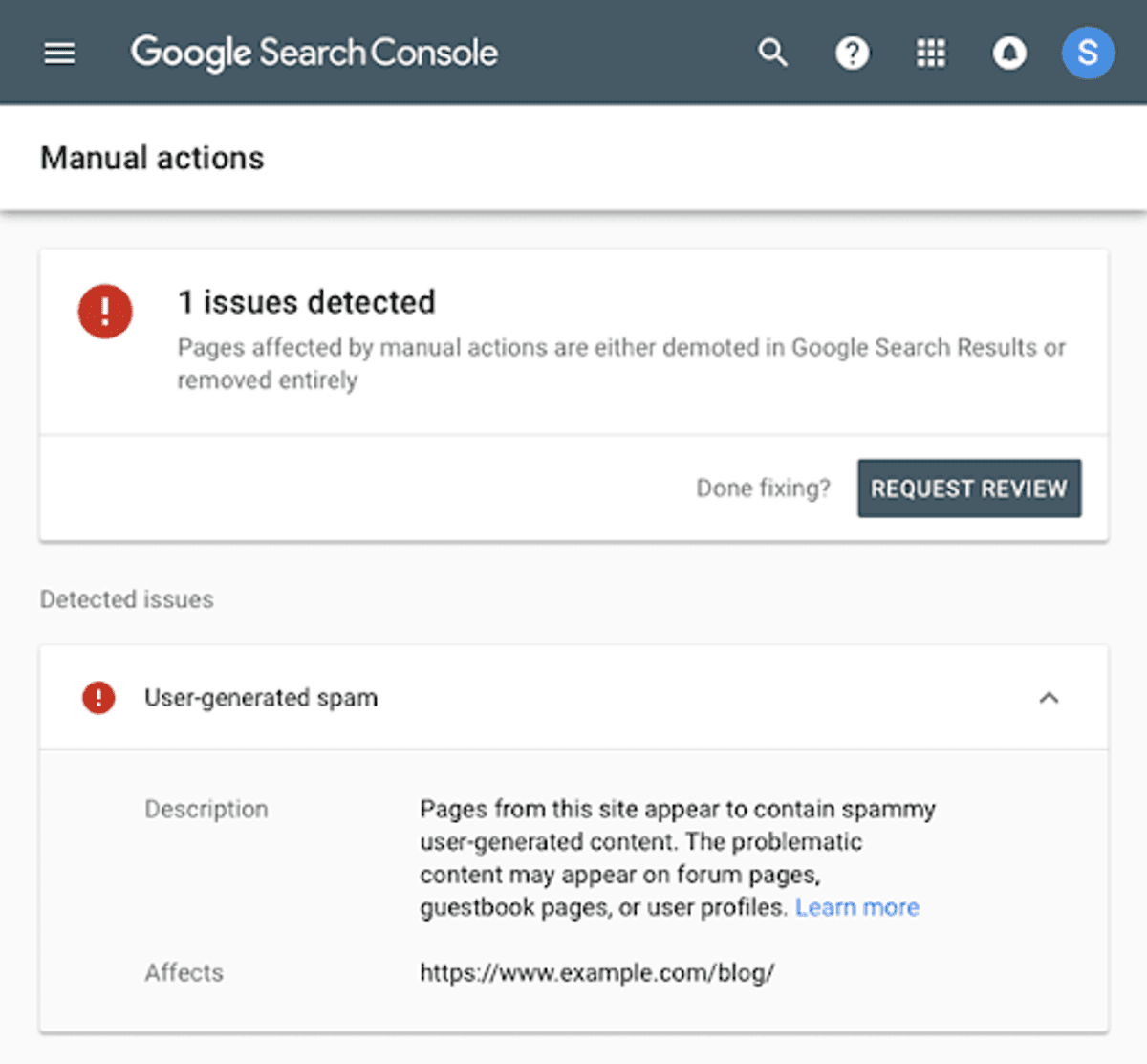 Sudden traffic or ranking drop
It is possible that search engines might silently penalize your site for link building practices that contravene its policies.
If you notice a sudden drop in your traffic or rankings, and your link profile is looking a little shady, it is more than likely that you are being penalized for toxic backlinks.


Be careful to consider if there has been an algorithm change, or if your competitors have improved their sites and are drawing your traffic.
Proactive disavow
Maybe your site is doing fine but you're still worried that your backlink profile will cause issues.
For example, maybe you used a link building service that you now regret using because the links to your site are pretty spammy.
Or maybe you believe someone is deliberately building spammy links to your site to harm it.
Whatever it is, if you believe that you have toxic backlinks in your profile that Google is bound to target in the future, it might be best to err on the side of caution and proactively disavow them.
However, it's best to be limited in how proactive you are. As the saying goes, "If it ain't broke, don't fix it." Be sure to only disavow backlinks that are of the most concern.
If you are aware of bad SEO on your part, it is best to contact site webmasters and ask them to remove the links. Disavowal should be a last resort.

How to Disavow Backlinks Using Google Search Console
Before you disavow, make sure it's absolutely necessary that you do so.
If you've made the final decision to proceed, then use the following steps. It's incredibly easy and won't take long!
Step 1 - Create a list of links to disavow
Write a list of pages and domains you want to disavow and put it into a simple .txt file. You will upload this to Google Search Console.
Here's how to assemble your disavow list:

Put each page or domain that you want to disavow on a separate line.

You cannot disavow entire subpaths, like: linkbuilder.com/en/

Prefix domains and subdomains with "domain:", for example: domain:linkbuilder.com

Include any comments you have by starting a line with a hash symbol. Google will ignore these lines.
Notes on creating a disavow file:
Make sure the disavow file is encoded in UTF-8 or 7-bit ASCII

The disavow file name must end in .txt

The maximum URL length in a disavow file is 2,048 characters.

The maximum size for a disavow file is 2MB and 100,000 lines—this includes blank lines and comment lines
Step 2 - Upload the disavow list
Once you have your disavow link file, go to the Google Search Console disavow links tool.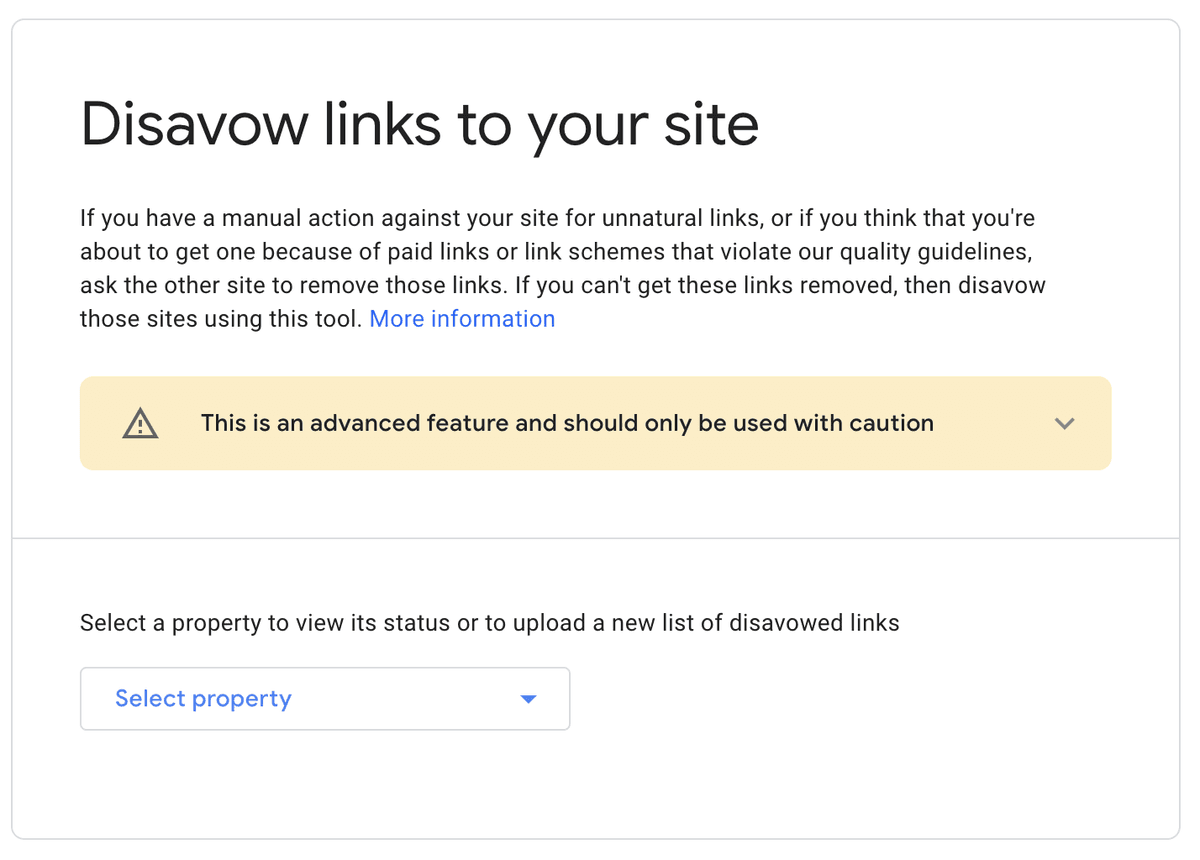 Then, select your website ("property") from the drop-down menu.
Finally, upload the disavow backlinks file you created in the previous step.
Once you upload the file, the links should appear in the disavow links tool interface, and you're all done.
If you've previously disavowed any backlinks for a site, uploading a new list will replace the existing one.

How Long Does It Take to Disavow a Link?
Uploading the disavow file is a relatively quick process. Once you've done this, it can take up to three months for Google to start disavowing the highlighted backlinks. Although, sometimes it can be as quick as just a few days.
You should then start to see a rankings benefit within about a month.
If four months have passed and you have seen no benefits then it is likely that Google has chosen to ignore your disavow request.

Considerations Before Using the Disavow Tool
One of the dangers of using the Google disavow tool is that you can't be sure which of your links are harmful—if any.
Some apparently bad links could even be helping your rankings.
Plus, submitting a disavow file may alert Google to any nefarious link building practices that you may have used in the past.
The search engine may then think that all the backlinks you build are bad links. This makes it harder for you to improve your backlink profile in the future.
The benefits gained when you disavow backlinks are uncertain, poorly documented, and very hard to test.
Another issue is false attribution. You might disavow some bad links and see your backlink profile improve. But for all you know, this could be a coincidence caused by something else.
Some of the things that could really be responsible for your rankings increase include:

Google Core Updates.

Competitor changes.

Offline marketing initiatives.

New content.
As mentioned above it's very difficult to prove what is responsible for individual changes to a webpage's rankings.
Can You Undo Disavow Links?
Can you reinstate a link once you have disavowed it? Yes, you can.
And it's surprisingly easy to do.
Just go back to Google Search Console and delete the link in the disavow file you uploaded.
But you still need to be careful about which links you disavow. Here's why:

Google might keep a copy of your disavow file, even if it doesn't show up on Search Console.

Google Search Console treats undo requests as suggestions too, meaning they might not reinstate the link.
Disavowing links isn't something to be done lightly. Only do it if you have to and when you do, exercise caution—be sure before you disavow.