You can use many methods to generate backlinks. But while strategies like guest posts, niche edits, and exchanges can work well, the best links come when people link to your website simply because they like it.
Here's everything you need to know about this valuable type of link...
The Holy Grail of Backlinks 🏆
These links—known as editorial links—can be hard to come by. But there are strategies you can use to increase your chances of attracting them from super high authority sites, which is what we're here to discuss.
What Are Editorial Links?
Editorial links are links people add to their content when it adds value. They often occur organically, although there are strategies you can use to increase your chances of getting this type of link.
You'll typically find editorial links on news sites, opinion pieces, and even on blogs. Below is an example of an editorial link in tech publication The Verge.

The journalist who wrote the story added the link to Fireside because it is relevant to the story. People reading who want to discover more information can easily do so by clicking the external link.
Organic editorial links are those you receive without contacting the website that links to your site.
You don't perform outreach or speak to them in any way. The author simply discovered your content, liked it, and decided it was worth linking.
To attract editorial links in this way, you'll need:
Great content: Any type of quality content can attract links. But new research, statistics, free tools, unique opinions, and interesting stories are especially effective.
An audience: People can only link to your content if they see it. Ranking well on Google or having a large social following will help.
A bit of luck: You need some of the people who see your content to decide to link to it.
You can be more proactive in your attempts to attract editorial links.
Sending press releases and answering journalist questions are two common ways to attract editorial links. We'll go into more detail about these strategies below.
Acquired Links vs. Editorial Links
Acquired links are those you generate when you perform outreach with the specific goal of attracting links.
They differ from editorial links in that they aren't added to a website solely due to their value to the story.
Tactics for building acquired links include:
Niche edits: Contacting website owners and asking them to place links to your site. These are typically paid links.
Guest posting: Writing a blog post for a website and linking to your own site.
Broken link building: Discovering links that point to non-existent content and asking the site owner to link to your site instead.
Should You Buy Backlinks?
In our opinion, you will miss out on getting quality links if you refuse to pay for backlinks. And in some industries, the practice is incredibly common. Read more about whether or not to buy backlinks.
What Are the Benefits of Editorial Links?
We all know that quality link building can improve your Google search rankings.
The search engine considers backlinks from other websites to be votes of confidence for a particular piece of content. Many types of inbound links—both acquired links and editorial—can provide these benefits.
But editorial link building strategies have several advantages you don't get with other types of links.
Here are some of the most compelling:
Get Featured in High-Quality Publications
The most authoritative websites aren't receptive to typical link building campaigns: you won't get a guest post on the New York Times, and the BBC won't add a niche edit to one of their stories.
Many local publications and high-quality niche blogs have similarly high editorial standards. It can be tough to get links on these sites with acquired techniques.
Editorial link building is the only way to get featured in some high-authority publications.
Lower Risk of Google Penalty
Editorial links are always placed in an article because they add value to the reader. Even if you reached out to the publication first, it still chose to link to your site because the link benefits the reader.
This is the type of quality link building that Google likes best, so it comes with the lowest risk of penalty.
On the other hand, Google warns against link building methods like paying for links, excessive guest posting, and link exchanges.
These strategies may result in penalties from search engines if you aren't careful.
Build Your Brand
Editorial links are great for brand building for two reasons.
First, the link will associate your company with the publication. You can use this to build trust when people first visit your site. That's why you'll often see a "featured in" section on a website homepage.
Below is an example from the blog of Ryan Robinson. Anyone unsure of who the blogger is will see that he has been featured on multiple sites they already trust. When they see this, they may trust him more too.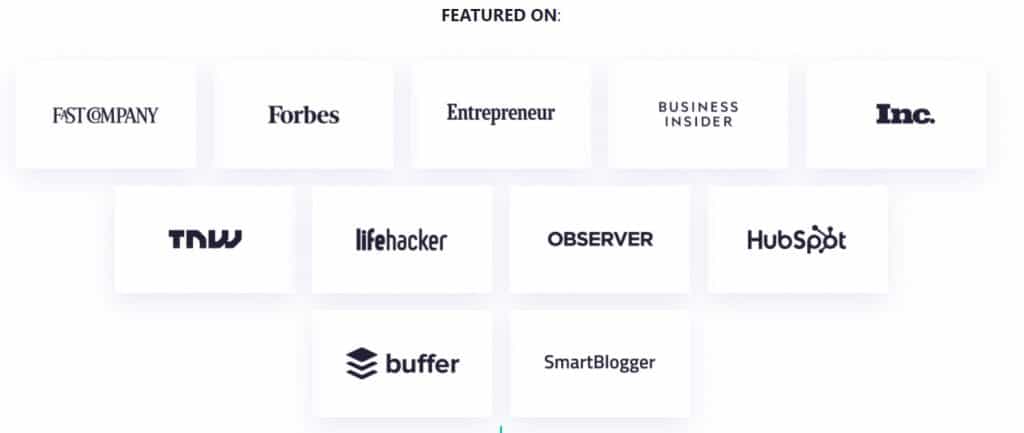 The second is that the type of websites that publish editorial links often have large audiences.
When they publish an article that mentions your brand, you'll be exposed to potentially thousands of new people. This is great for building brand awareness.
A Scalable Method of Attracting Links
Some editorial link building strategies are highly scalable.
It can take a lot of energy to do something worthy of an editorial link. But once you've done the work, you may find that lots of people want to link to you.
Think about what happens when you create quality content like a survey or perform new research. If the survey is interesting enough to be covered by one website, others will likely think the same.
An example of this is the below competition by 247Blinds. The company promises to pay people to sleep during the day to research sleep patterns. Multiple high-authority news outlets in the UK picked up this quirky story.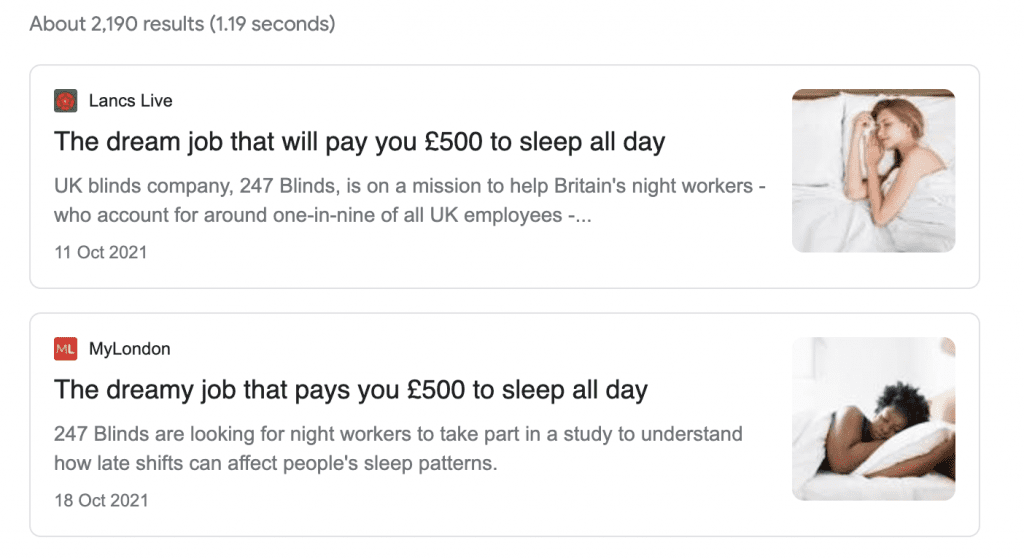 You can see from the Ahrefs screenshot below that the page with the job offer has attracted nine links in just nine days!

How to Get Editorial Links

Here are four of our favorite strategies for generating editorial links.
1) Research and Statistics
Publishing original research and statistics can be a great way to get editorial links. That's because bloggers and writers often rely on statistics to support their arguments. They may use your findings in their articles.
The difficulty is getting your findings into a place where writers can find them.
One way is to create statistics pages and rank them on search engines. When people search for a relevant term your page will show up, and the writer may decide to use your stats and link to your page.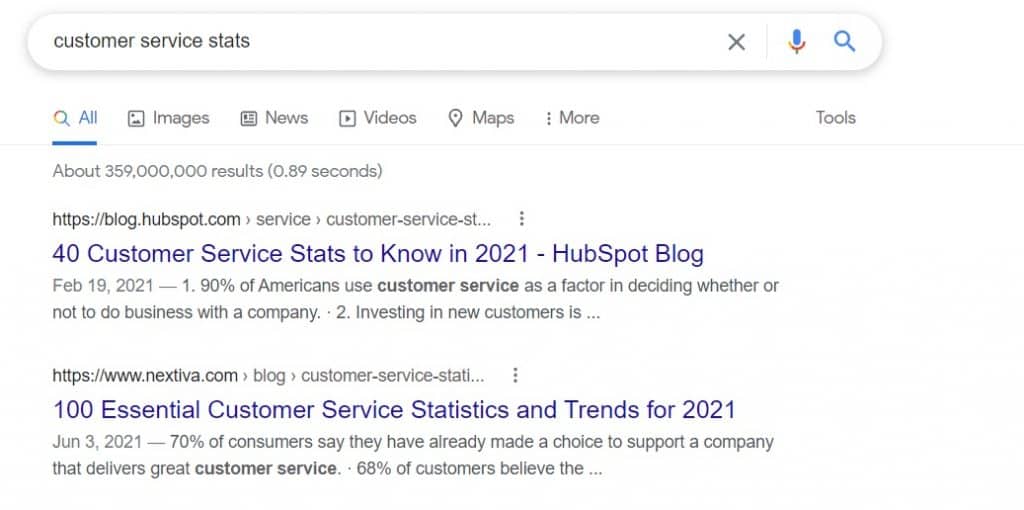 The issue is that it can be difficult to rank these pages. And if they don't rank, people won't discover your stats.
Another option is to actively promote your findings. Here are some methods you could use:
Send your findings to websites that already rank for relevant terms and ask them to add your results to their pages.
Post about your survey in relevant online communities.
Make posts on social media sites like Twitter or LinkedIn.
Promote your stats page using Google Ads.
Ahrefs used the latter strategy for a search traffic study they ran. It resulted in seven referring domains for just $540 in ad spend.

2) PR Backlinks
Sending out press releases is an established way to generate media coverage and backlinks.
The hardest part of this strategy is creating stories that are worth covering.
LinkBuilder has a history of creating this type of unique content for our clients. You can find out more about PR backlinks and how we help you get.
Here are three techniques you can use...
Release New Products

Sending out a press release when you launch new products (or product updates) can be effective. For example, whenever Apple releases a new iPhone it generates tons of press coverage.
You don't need to be as famous as Apple for this to work. You just need to find relevant publications and pitch your idea to them.
Web browser Vivaldi gained coverage and links from niche tech news websites when it released an update.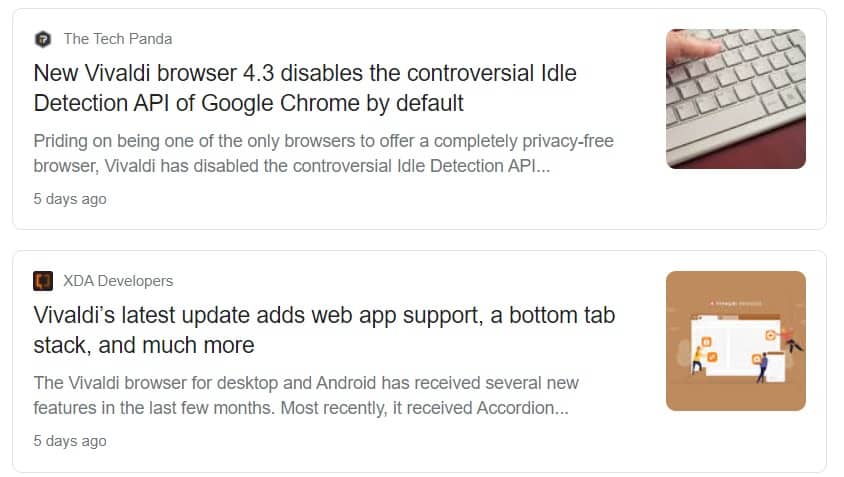 Do Something Newsworthy
Doing something interesting is often the best way to generate backlinks via press coverage.
When thinking of ideas, consider the types of stories that online publications cover and do something likely to appeal to their editors.
Look to stories the outlets have covered previously to get ideas.
The section above mentioned how a company that sells blinds generated backlinks with a competition to get paid to sleep.
This wasn't a new idea! In fact, a mattress company received significant press attention in May this year for an almost identical campaign.

Create Unique, Quality Content
The third way is to create unique content. The Trump Tax Fraud Campaign we ran for one of our clients is a great example of this.
This piece was a factual look at Donald Trump's history of tax evasion. It ultimately generated over 150 backlinks, including from high authority sites like Slashdot and Mashable.
3) Become a Source
Becoming a source for articles is a great way to generate editorial links. Journalists and bloggers use your expertise on a particular subject to improve their stories.
This is a common method for generating backlinks. It's also one of our favorite ways to get high authority backlinks.
How to Become a Source
There are several ways you can connect with journalists and bloggers to become a source for their articles.
Help a Reporter (HARO) and Similar Services
Help a Reporter (HARO) is by far the easiest way to connect with journalists. The service is a daily email newsletter filled with requests in various categories.
All you have to do is read through each email and then reply to relevant requests. If the journalist likes your answer, they may feature you in their story.
While HARO is the most well known, other platforms offer a similar service. For example, SourceBottle and Qwoted.
Follow Journalists and Bloggers in Your Industry on Online Communities
Journalists and bloggers often use online communities and social media to connect with sources.
Twitter is a great place to look. Just follow people who write about your industry and get in touch when they ask for sources. Following #journorequests will also highlight when writers are looking for opinions.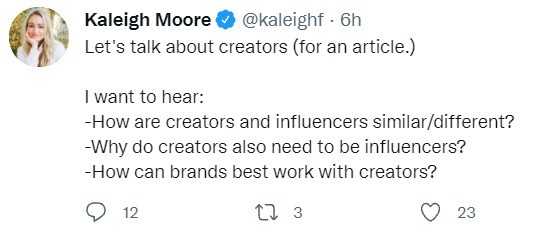 Facebook groups, Slack communities, and private niche communities are also good places to look. Just join relevant groups and check them for source requests.

4) Unlinked Mentions
Unlinked mentions is a link building technique that has been around for a long time. The idea is that you look out for times when people mention your brand but don't link to it, and then ask them for a link.
Here's how it works:
Head over to Google Alerts
Set up notifications for your company name, product, or any branded terms.
Choose how often you want to be notified.
When you receive a mention, head to the page to see whether the site linked to you.
If it didn't, contact the person who wrote the article asking for a link.
Editorial Links Are Crucial to SEO Success
Editorial links are extremely valuable. If you can master generating this type of link by making your content link-worthy, it won't be long before your site is rising up the search results.
Need More Editorial Links?
Let LinkBuilder run your campaigns for you. We have a long history of generating high-quality editorial links for our clients. Get in touch to find out what we could do for your site.