Linkable content is a great way to get high-quality backlinks to your website.
But there is no one way to do it and the range of possible content ideas is limitless.
We're going to show you 13 tried & tested ideas, along with some concrete examples for your next link building campaign 💡

What Is Linkable Content?
Linkable content is content on your website that you have created to attract backlinks.
The idea is to create something so compelling that journalists, website owners, other content creators, or even the public want to tell others about it.
Link-worthy content is usually:

Original

Valuable to readers

Engaging

Appealing to a broad audience

Relevant to your website
Creating linkable content differs from creating keyword-focused content. The aim of the latter is to attract organic search traffic from search engines.
This is done by optimizing the content to rank for search queries that have high levels of traffic but little competition from other websites.
It can be useful to create linkable content that is optimized for SEO. But it's not vital, because you'll most likely be promoting it yourself.

Why Do Search Engines Like Linkable Content?
Google's guidelines state that you should attract links naturally.
In other words, people should link to your content because they like it, not because you paid them to or because you've agreed to exchange links with them.
Google is good at identifying unnatural links. If it does, it will ignore them when deciding where to rank your website on its results pages.
As a result, you may not rank as high as you could and your link building efforts will go to waste.
Google may even issue you with a penalty, which could mean you won't rank at all.
People only link to linkable content because they like it and want to recommend it to others and are happy referring to it on their own website. This means that it is a great way to earn natural backlinks.

13 Types of Linkable Content to Boost Your Link Building
1) Compile interesting statistics pages
A statistics page is a roundup list of research and facts from across your niche.
You don't need to perform the research yourself. Instead, you link to other credible sources.
Statistics pages work because they make life easier for other content creators in your niche who may be looking for a statistic to back up a point they are making.
Your statistics page acts as a menu of the best research from your niche. This means they don't have to trawl Google themselves—you've done that for them—instead, they will just scroll down your page.
Not only are they likely to link to your statistics page in their article, but they will probably bookmark the page for future reference.
And, if your page becomes popular, you'll find that it updates itself. By this, we mean that website owners will start sending you new research to link to as part of their own link building strategies.
Here's a great example from
Close
. It's interesting to note that the page groups facts based on different sales mediums—for example, email stats, call stats, follow-up stats, etc.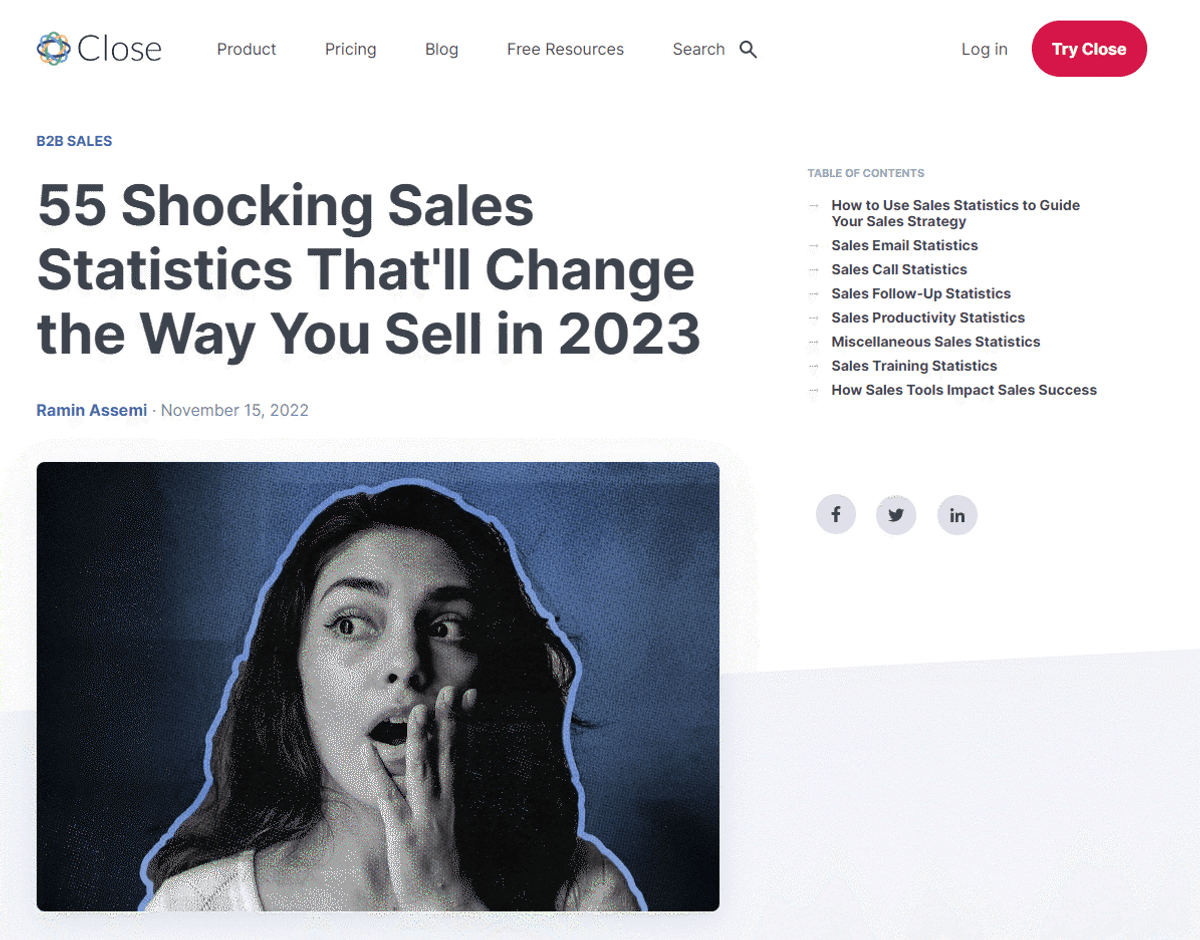 This likely reflects their audience's areas of interest and helps them to navigate the research to find what they are looking for.
You should think about how you group and structure statistics when making your own page.

2) Write detailed how-to guides
This is when you teach people how to do something you're an expert in.
For example, if you work in social media marketing, you might write a beginner's guide to Facebook advertising.
This works because guides are genuinely useful. But they also help writers out.
Continuing with the example above, say a different writer is producing a piece on advanced Facebook marketing. They don't want to waste their word count explaining the basics or bore their more advanced readers, so they link to your article instead.
Here's an example of exactly what we have been talking about. A beginner's guide to Facebook advertising from dropshipping app provider Oberlo.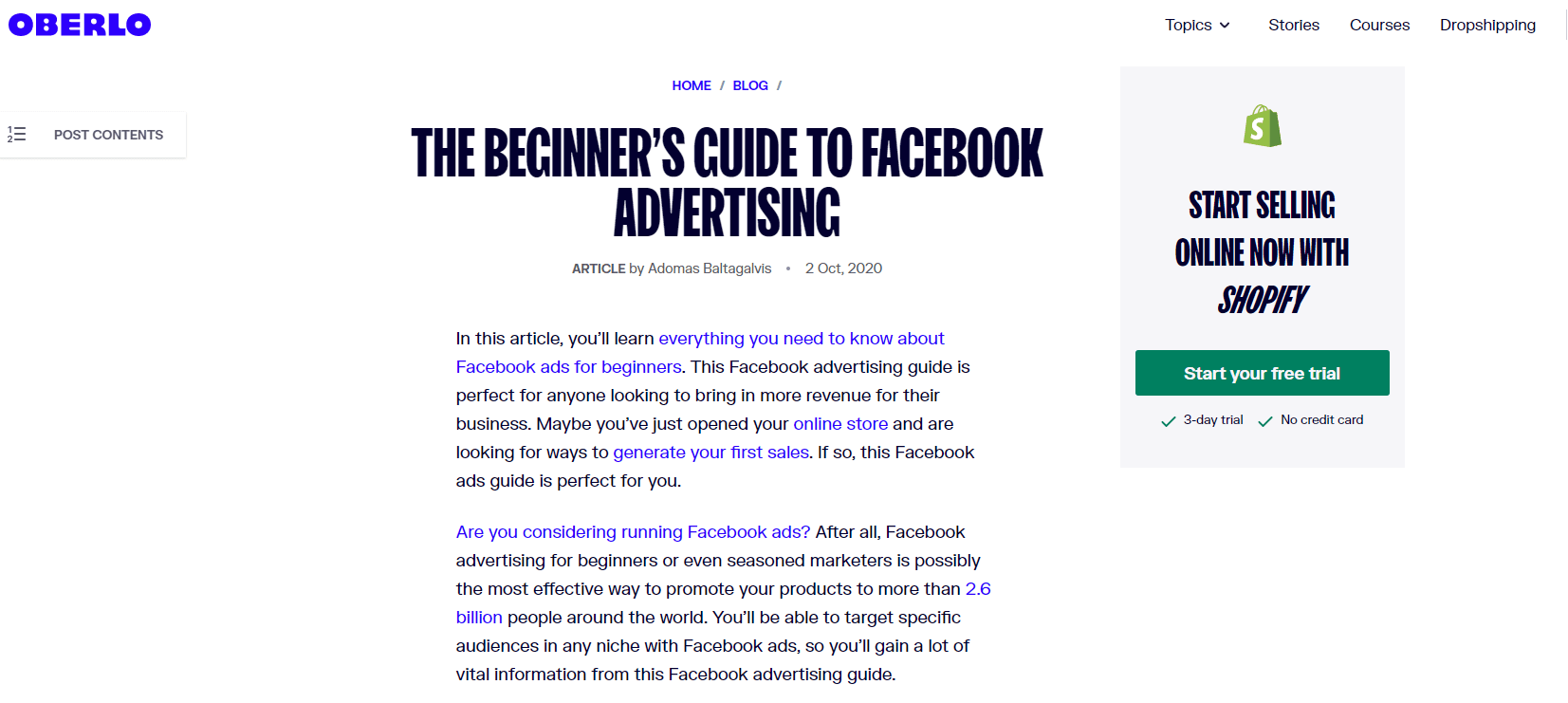 3) Create engaging infographics
Infographics are widely shared because they can quickly and effectively communicate a message to an audience.
Often this message consists of one or more interesting stats that are relevant to your industry.
This makes them perfect for sharing on social media and other online platforms, which helps generate backlinks for your website.
If you have a compelling infographic then other websites will want to share it. You can gain links by contacting other relevant websites and telling them they can publish it as long as they link back to your website.
Here's a good example from Vennage. We know this works because we've referenced it in one of our own articles to highlight why infographics are an effective tool for image link building.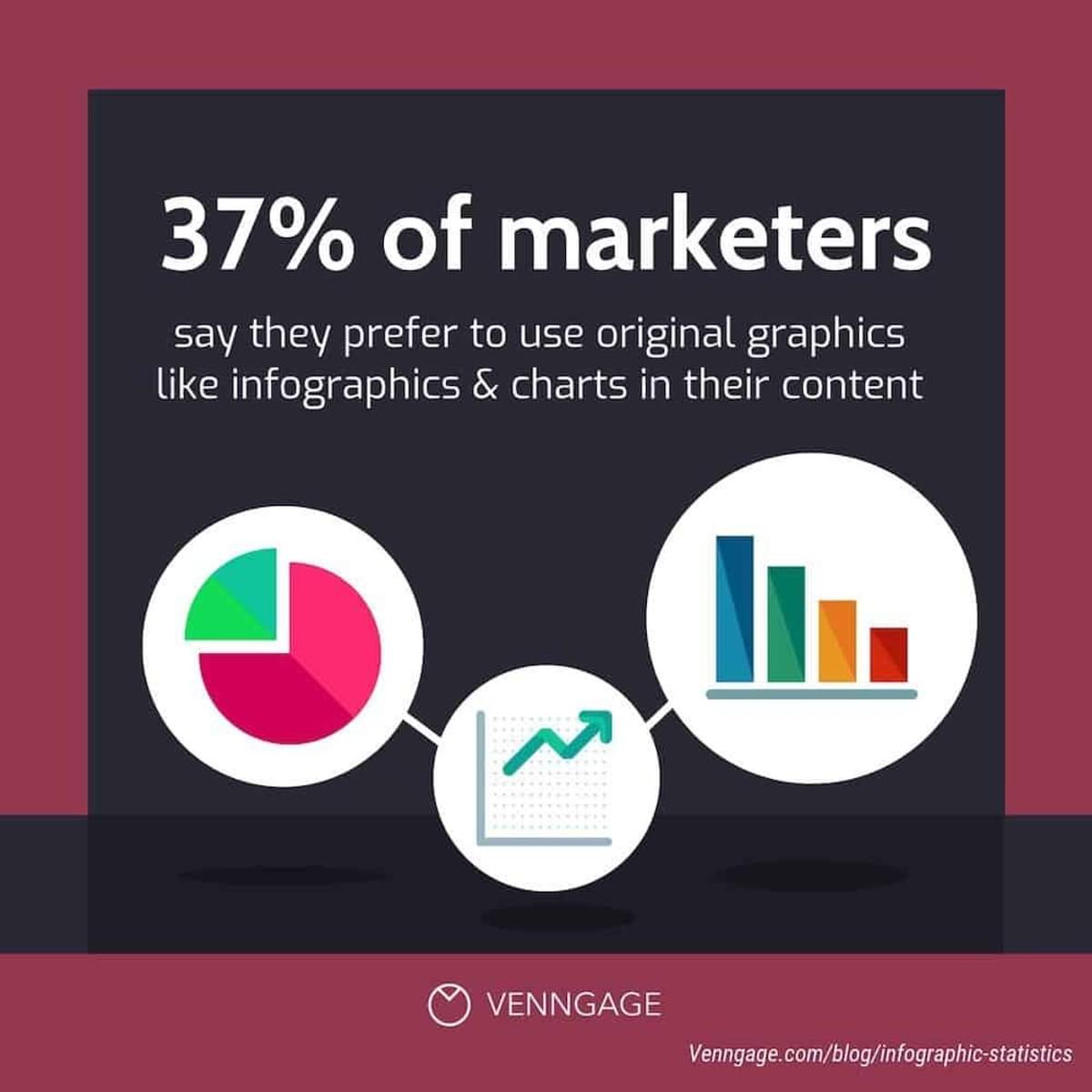 Check out our complete guide to infographic link building for more information.

4) Develop useful tools
If you can create a tool that your industry will find useful, you could attract a ton of links and traffic.
Take a look at this free electric guitar tuner from Fender, for example.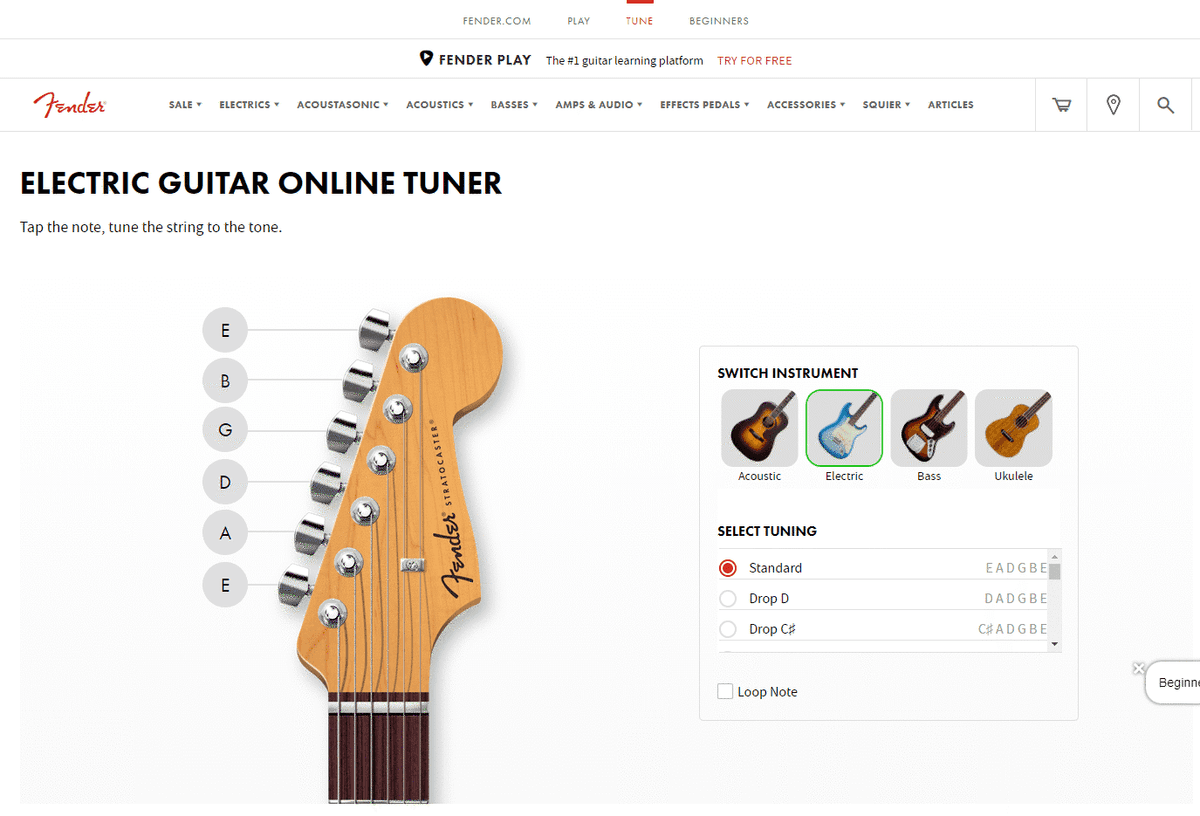 It has 424 backlinks and 13.3k traffic.

Examples of common tools that are suitable for link building include:
📱Calculators
📱Name generators
📱News apps
📱Mapping tools
📱Habit tracking apps
Not only will you get traffic and links, but you'll also get better brand awareness as people will interact with your company more often.
However, creating good quality tools that people will want to use and share isn't easy.
You'll either need to know how to code or develop an app yourself or you'll need to hire someone who can. The first option is time-consuming, while the second is expensive.

5) Start your own awards
One easy way to gain links—as well as improved brand awareness and industry kudos—is to set up your own annual awards.
This works because you're providing the winners with a good source of free PR. If they win, they are likely to tell people about it on social media and via their website to boost their brand.
You don't necessarily need to have a glitzy event. In fact, the whole thing can be performed online.
But what you do need to do is give your awards decent publicity. You'll also need to put a fair amount of effort into organizing it. You'll need to set up judging criteria, appoint a panel, and maybe even set up a new microsite.
The downside to awards is that not everyone can pull them off. If you don't have a good level of credibility in your niche then the winners will be less likely to publicize it.
Here's a good example from marketing and media news website, The Drum.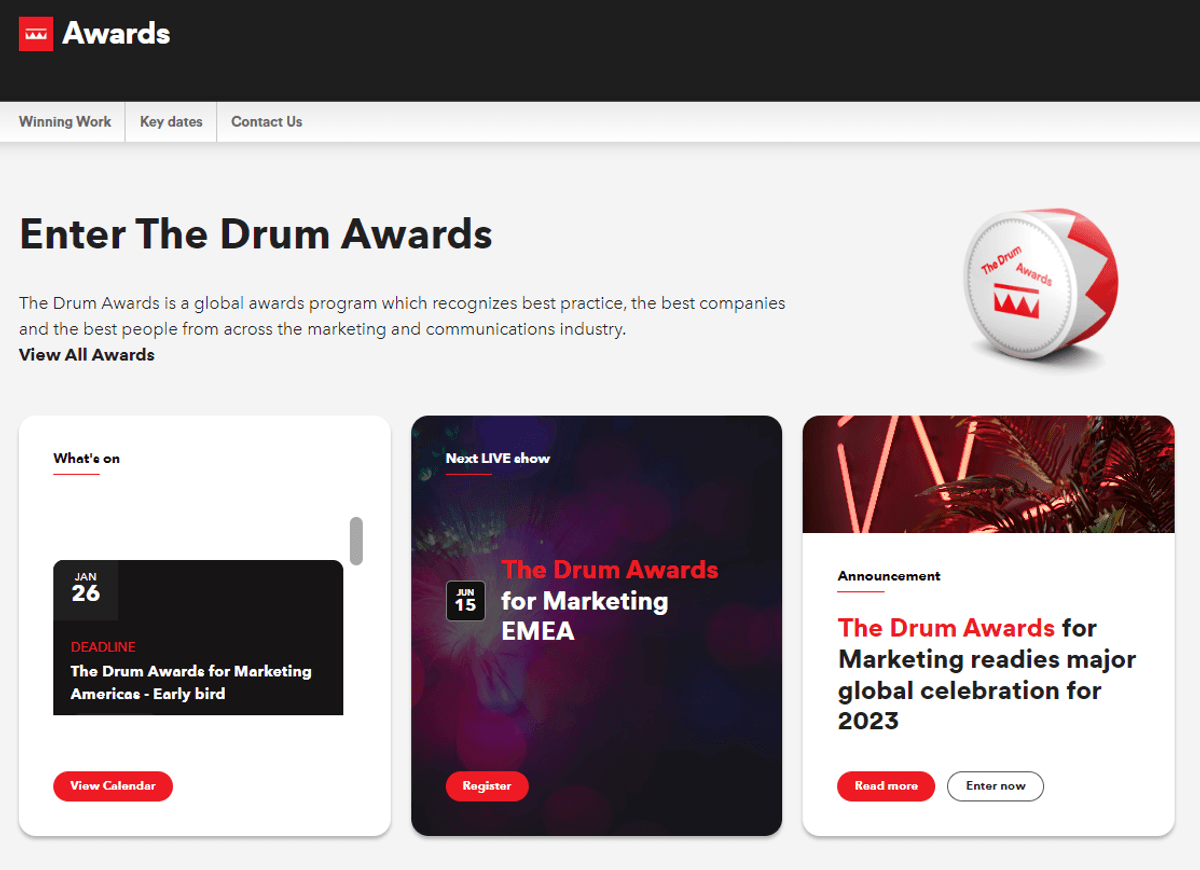 The website is well respected in its industry and so you need to enter the awards to stand a chance of winning.
The page has an incredible 2.2k backlinks from 302 domains.

6) Conduct original research
Blog writers love to have good statistics to back up their points. So if you produce original research then it is likely to get links.
There are two main ways to find research topics:

Find out-of-date research and do your own study. You can then reach out to websites that linked to the old study and ask if they would like to link to your shiny new research instead.

Find a topic people are writing about but not already linking to. Once you have conducted the study, you can then reach out to the blogger and ask if they would like to link to your research.
Here's a good example from LinkedIn Learning. It publishes its Workplace Learning Report each year.
It's a hotbed of facts and stats for writers in the human resources, training, and education sectors.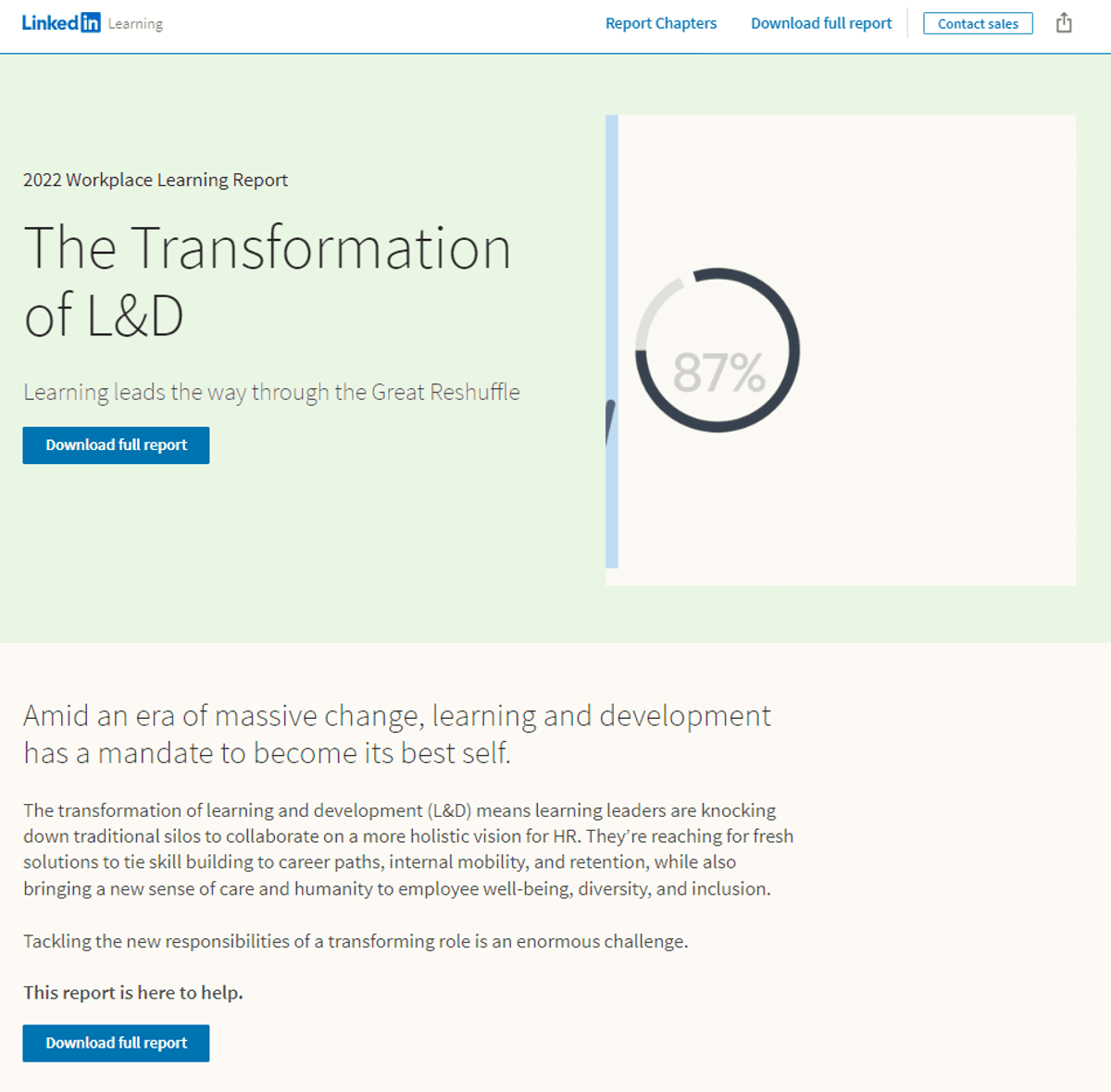 The report page has a whopping 13.5k backlinks from 1.2k domains. This helps explain why Ahrefs gives it a domain rating of 98!

7) Share expert opinion
This is a page where you list the opinions of well-known experts in your industry on a certain topic.
This works because the experts you quote will be flattered to have been included. Being listed alongside other big names in the industry boosts their credibility and so they will be keen to link to the page.
It's also a great way to build relationships with key industry figures. Expert roundups are a good way to make first contact. In the future, you could ask to interview them or offer to write a guest post for their website.
The downside to expert roundups is that it might be difficult to get big names to provide a quote until they see who else appears. This means you might need to start off with some lesser-known people or those with whom you have an existing relationship.
Here's an example from us. We asked 19 link building experts to share their strategies for 2023.
8) Coin a term
This is where you name or develop a unique concept and then become known for it.
If your concept is adopted by the wider industry, then people who write about it will link to your website—especially if you have a page explaining what it is.
A good example of this is the skyscraper technique. This is a link building strategy created by Brian Dean, founder of Backlinko.
The technique is now used by most link builders (including us!) and is a well-known term.
Brian's original blog post on the topic has over 14,000 backlinks.

Most of these link to the page to credit Brian for creating the Skyscraper Technique.
Here's one such example from Coschedule's blog.

Coining a term will massively boost your link profile as well as your credibility. But it's very hard to do.
First, you need to come up with an idea that is truly revolutionary, and that the whole industry can get behind.
That's easier said than done. Often it takes a true expert to come up with something that's so effective that competitors start using your term.
Secondly, you need to get people talking about your idea and make sure you get recognition for coming up with it.

9) Get resource page links
Resource pages or resource centers are roundups of useful online resources. The sorts of things you might include are largely on this list: guides, videos, templates, tools and more.
They can either be external links to other websites or resources you have produced yourself.
Resource centers attract backlinks because they provide a one-stop shop for everything someone in a certain role or industry might need.
This makes resource centers incredibly valuable and so people are likely to link to them to recommend them to others.
HubSpot's business and marketing resources page is a good example of this. It has a vast amount of free resources, ordered by topics and content type.
Most of the resources are from HubSpot, but some are links to external websites.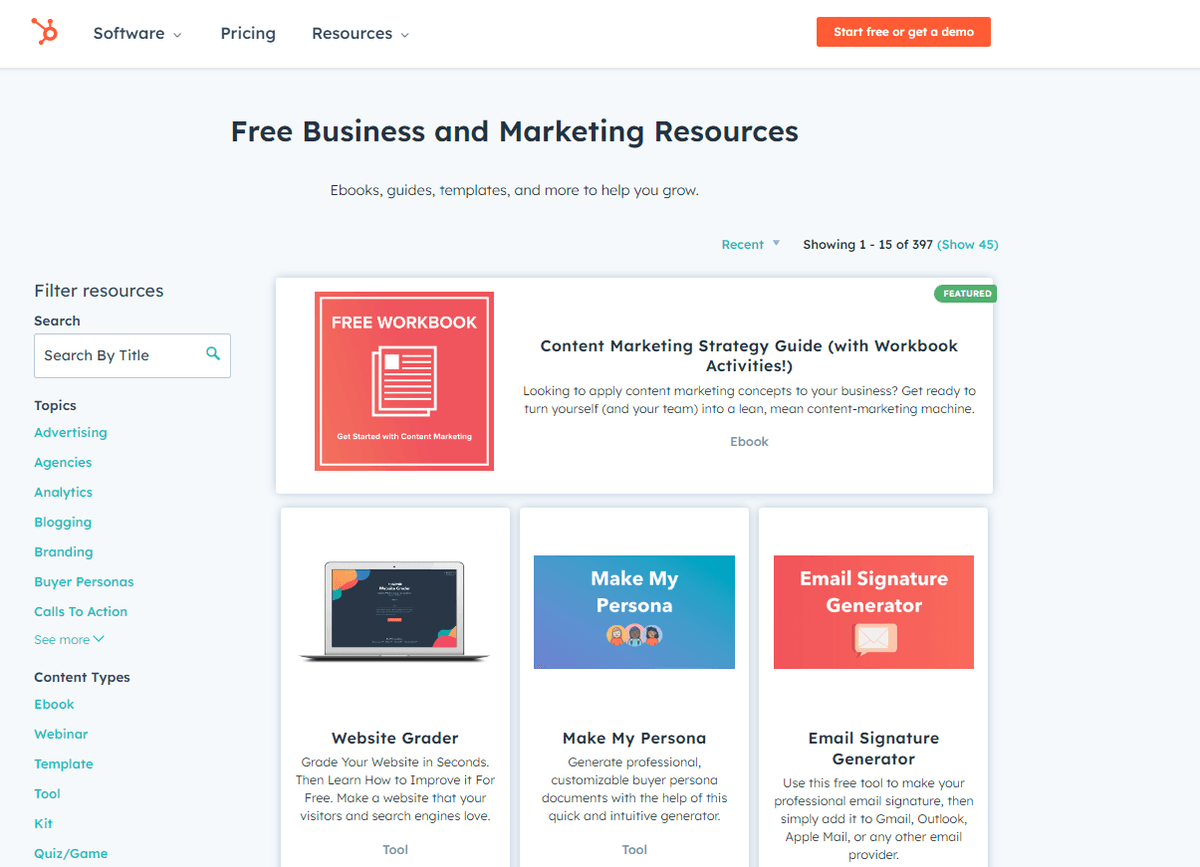 10) Offer compelling case studies
You might think that case studies are for sales and marketing but they can also help attract backlinks.
Why? Because, much like statistics and research, case studies help to back up a writer's point.
For example, for this article, I might try to find a case study about how one company used linkable content to increase website traffic.
Doing so allows me to provide a real-world example of how the ideas I discuss are put into practice, rather than just explaining things in theory.
Creating a case study is relatively easy. Just choose a project with a client that you have recently worked on that was really successful.
Then explain step-by-step what you did and back it up with as much data as possible.
Here is a great example from affiliate website training provider, Authority Hacker.
It explains how they used the techniques that they teach to boost an affiliate website's traffic and value and sell it for a profit.
The case study provides plenty of data. It is a useful reference for anyone writing about how to be successful in affiliate marketing or selling a website.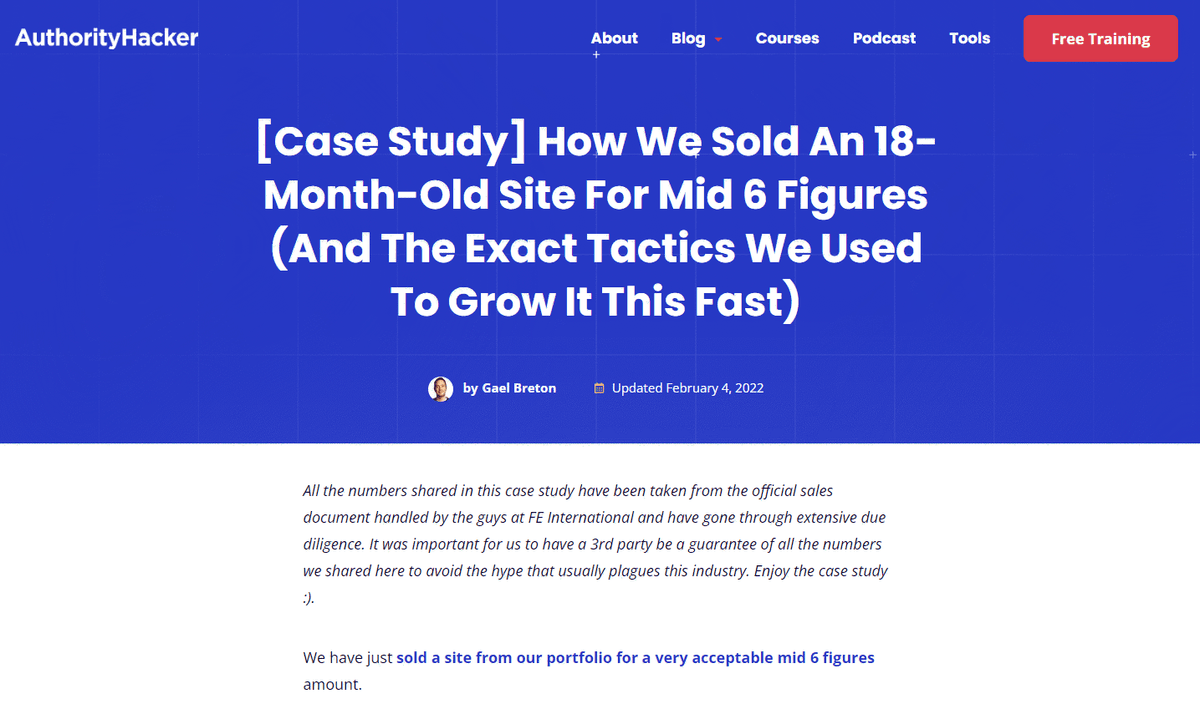 The case study has proven successful at attracting backlinks. It's less than a year old and has already got 121 backlinks.

11) Provide free templates
Templates make people's lives easier, especially if it's for something that's not easy to produce yourself.
Because of this, people will usually share them—especially if they are good quality.
Here's a good example from Thomas Frank. He's a well-known YouTuber. One of his websites is dedicated to training people to use Notion productivity software.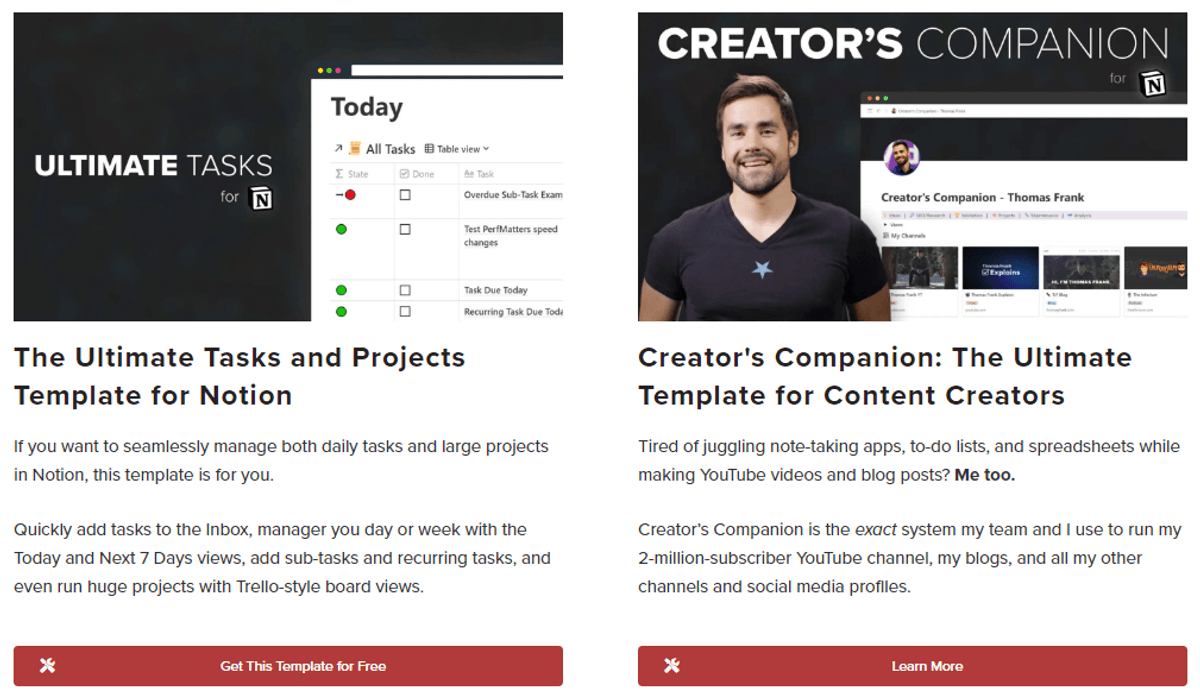 He's made a whole range of different project management and life management tools that anyone can download for free.
Not only does this get him links from Notion users but it also allows him to capture contact details for marketing.
The page is very successful and has attracted over 1.6k backlinks.

12) Pique curiosity with list posts
Sometimes known as listicles, these are the bread and butter of most blogs.
And for good reason. List posts might not be very sophisticated but people love to share them.
That's because audiences know what to expect from them—they're easy to read and they attract curiosity.
A good example is 25 Best Places to Visit in Europe by U.S. News. It simply lists cities and countries and provides links to find out more, get hotels, or book flights.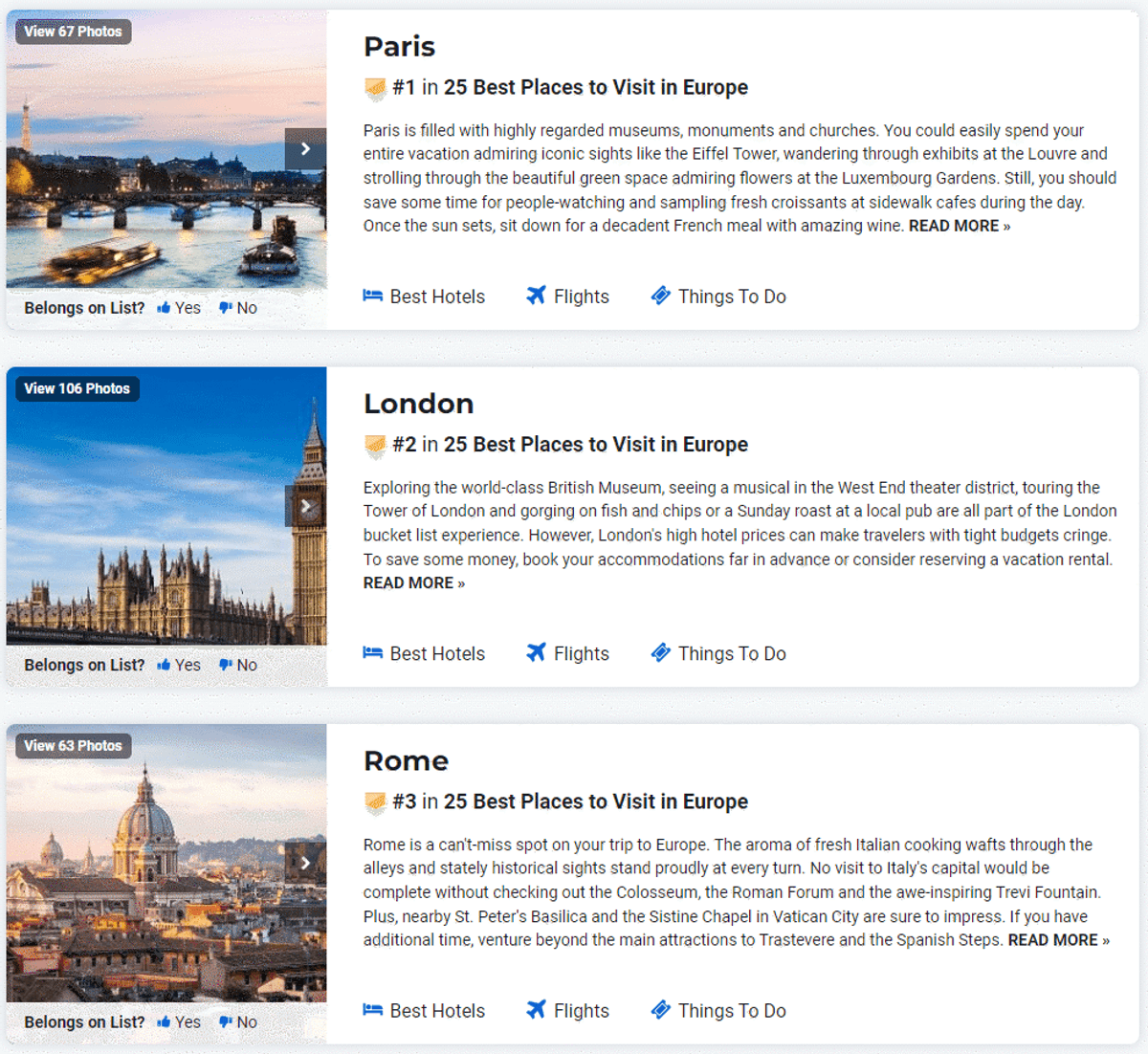 However, it has more than 700 backlinks from very authoritative websites like Business Insider, MSN, and PR Newswire.

13) Solve customer problems with video
Video is a hugely popular medium these days so it seems obvious to say that it attracts backlinks.
But certain types of video are more linkable than others.
For example, if you can solve a customer's problems with an informational, non-promotional video then it's likely that other people in your niche will link to it. They might even embed it on their own website.
This video by Neil Patel is a great example. In it, Neil provides three tips to rank number one on Google.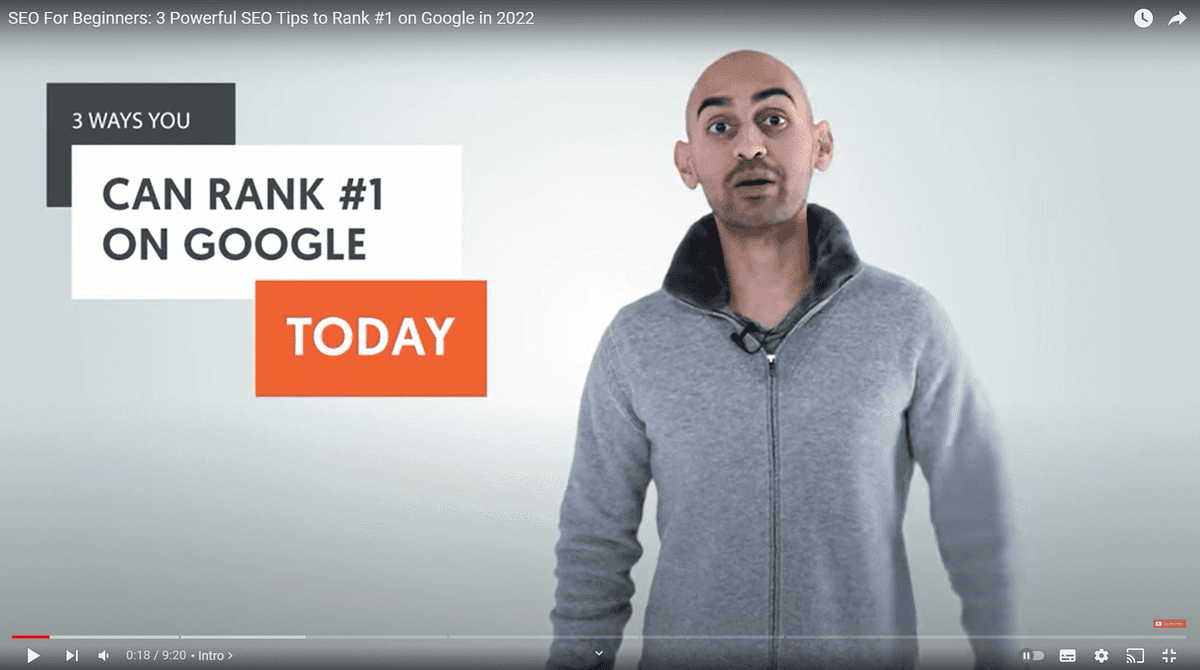 The information given is very valuable but he doesn't try to sell anything. Instead, he links to his website and other videos. This video has 6.7k backlinks.

A Final Word on Creating Linkable Content
The main aim when you create linkable content should never just be about building links.
The whole reason people build links is because they find the content they are linking to valuable.
The best way to create linkable content isn't to think about what will draw links but to think about what your target audience needs.
You need to understand your audience, as well as be creative and original.
If you need help creating linkable content then speak to us. Our team of link builders and content specialists can help you create quality content marketing campaigns to boost your brand and search engine rankings.