We asked link building experts working in the trenches to come up with their favourite link building strategies. Of course, as a link building company ourselves, it's in our best interest to know what other experts are doing!
For this article, I received over 100 responses from various people who are actively link building in a ton of different industries.
I've only selected responses and ideas which I found more innovative and got me thinking, versus the same examples of the same strategies we've all heard of before, like guest posting and 'the skyscraper technique'.
Hopefully these responses will stimulate a few new ideas, and if you have any fresh ideas you'd like to add then please get in touch.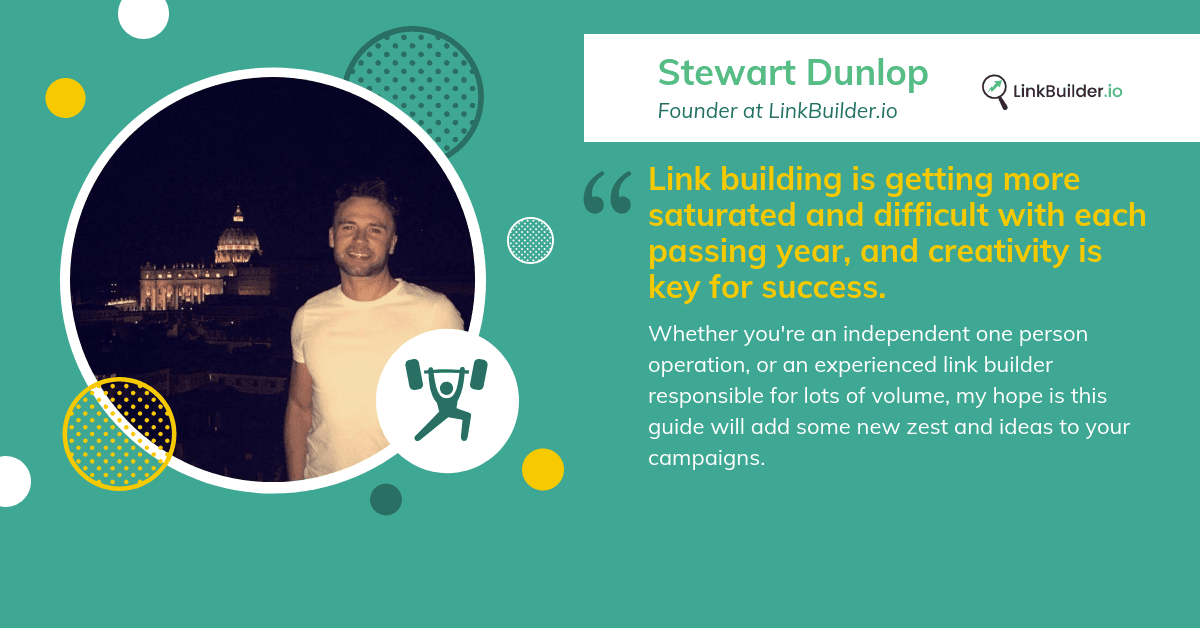 Now Onto The Experts...
Please enjoy our responses and please feel free to leave any feedback or suggestions as we'll likely add it in?
Broken Link Building on Repurposed Sites
Expert – Aaron Anderson
Founder @ LinkPitch.io
Highlight- "I've done this in a variety of niches and found some amazing link opportunities."
My tip is a variation of broken link building.
This entails finding broken link opportunities where the sites aren't actually broken. Lots of really amazing opportunities out there aren't actually on "broken" pages, but are on pages that no longer exist - they just don't serve up a 404.
So, you won't find them using any sort of broken link tool.
Like, this site for example - https://www.meldium.com/
It used to be a password manager tool, but probably became an expired domain at some point and now has a generic blog on it.
To find these types of opportunities, this is what I do: I look for list pages highlighting whatever tool it is I'm targeting.
So, for Meldium, I used this list of remote resources, because that's kind of a hot topic right now - https://kickofflabs.com/blog/30-tools-for-managing-a-remote-team/
Then, I went through and manually clicked and opened (in a new tab) all of the tools they were suggesting and quickly looked through them. Yeah, I know it might sound like a manual process, but you'll be surprised at how fast you find a few opportunities.
I've done this in a variety of industries and have found some really amazing link opportunities this way.
Adjacent Niches & Fun Lingo
Expert – Amit Raj
Founder @ Amitdigitalmarketing.com
Highlight - "While this doesn't look like much, you can often uncover adjacent niches which you didn't think of, and which would be relevant – with the right content piece or link to 'bridge the gap'."
Here's what I do to find more targets in adjacent (but relevant) industries?
Find the top 3-4 competitors.
Pull out a backlink report on Ahrefs (filter for nofollow and dofollow) for each of them, and take out all the spammy looking/low authority/low relevance URLs.
End up with a final list of URLs and just make a list of Industries or Niches that said targets would come under.
We'll then focus in on each industry and create keyword lists out from those.
and use those keywords during our prospecting to create more targets from a similar niche.
While this doesn't look like much, you can often uncover adjacent niches which you didn't think of, and which would be relevant - with the right content piece or link to 'bridge the gap' .
Here's an added thing when creating an outreach email for a niche - I'll use a bit of industry lingo or puns to give the outreach an added kick. E.G. when reaching out to motorcycle enthusiast blogs
Using some humour and poking fun at the tough biker stereotype!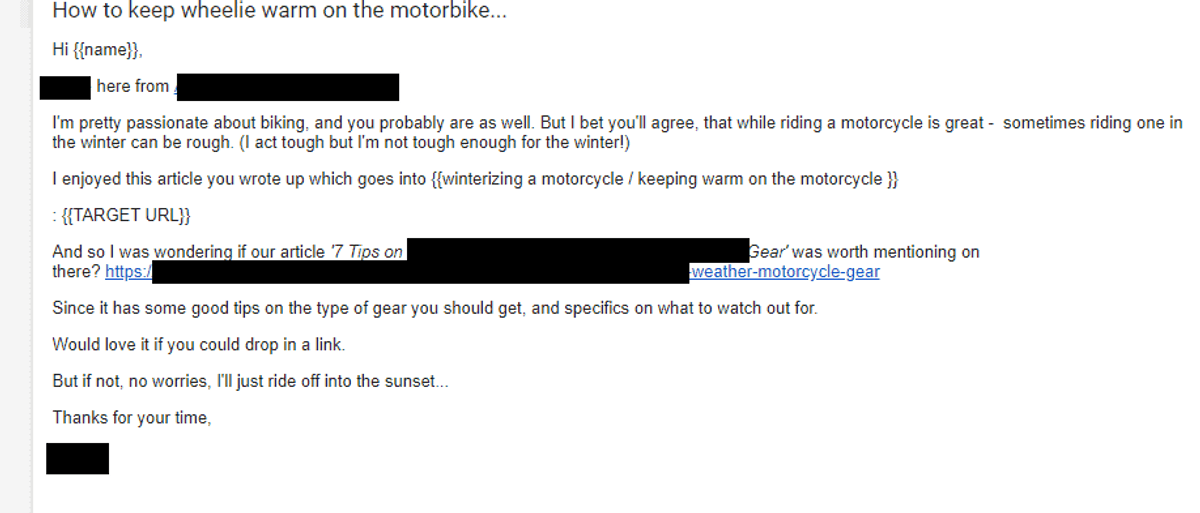 And subtle hints of knowing the lingo - only a biker would know a "Beemer" is actually the term for a BMW Motorbike.

Stop Thinking Like a Link Builder
Expert – Bibi the link builder
Founder @ Bibibuzz
Highlight - "We're so stuck in a box about all aspects of link building. Who we should reach out to, what to write, which type of content to create."
I think the most important thing for 2021 is to stop thinking like a link builder.
We're so stuck in a box about all aspects of link building. Who we should reach out to, what to write, which type of content to create.
When everyone operates within the same limits, they just repeat the same thing, and results will diminish. So don't be like this guy (though, he's cute AF):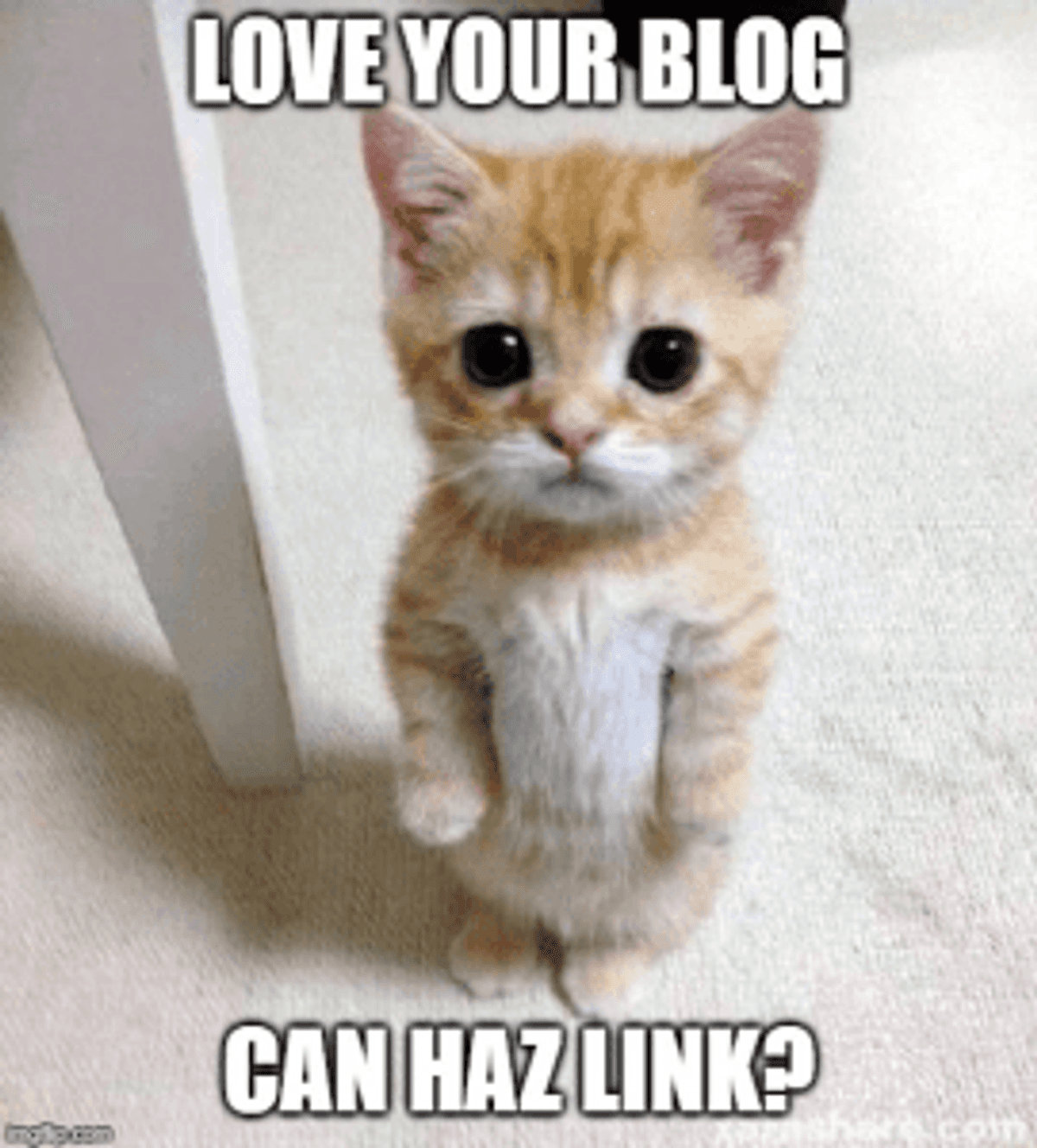 One way to get "unstuck" is to disrupt the expectations that bloggers and other prospects have of link builders. As soon as you start to sound like a link builder, most people stop reading your email.
Just try some crazy shit out, go wild with your outreach and see what happens.
This can be done with hyper-personalised emails, but also with creative, unexpected generic ones. Or change it up with non-text elements or through channels other than email.
Another way is to re-define stakeholders in your client's company and involve them in link building.
Especially with some of my bigger clients there are sooo many great link opportunities lost. And while they're strong brands, they're losing rankings to smaller sites on profitable, long-tail keywords.
Everyone should be aware of possible links and take action. Not just after the fact, but as a standard aspect of their business processes. Is the PR team getting the company mentioned somewhere? Have them include a link. Is Purchasing procuring new tech? Let them arrange an announcement on the tech's blog (with link).
So for 2020, stop being the predictable (and slightly annoying) link beggars. Become writers pitching a story, company representatives building relationships, and more. Stretch the definition and start being involved in all parts of a company where links can be had :)
Flickr / Image Link Building
Expert – Jason Thibault
Owner @ Massive Kontent
Editor's note - Jason uses a very cool and legitimate strategy which I've not heard of many link builders testing!
Image link building is an awesome strategy if done right.
I've had a good deal of success building links with Flickr. Here you're link building via Creative Commons images. Each month I upload a series of my own custom free stock photos to a Flickr account with the permissions default set to 'Some rights reserved' (or CC by 4.0). Blogs and newspapers regularly use Creative Commons searches for images to accompany their articles.
I have the Flickr account synced up to the Pixsy platform - which automates your reverse image lookups. Each month I go in and scan the image matches that Pixsy has retrieved from other sites across the web. If they haven't included proper linked attribution I send out a polite outreach email requesting that they please do so. This yields a 75-85% success rate in link placements.
I've managed to pick up 4-6 links a month utilizing this method. After assessing which images are getting the most reposts - you can then replicate that success and truly scale up this tactic. Sometimes you'll get followed links from DR/DA 75+ sites.
Jason Thibault is the founder of the content marketing agency Massive Kontent and has been creating "link getting" content assets for 5 years.
Get Creative With Guest Posting
Expert – Oli Baise
Owner @ Massive Kontent
Editor's note - Oli mentions a common trap for people launching guest post campaigns – Don't get tunnel vision, and think outside the box! I think this is essential for any blogger outreach campaign.
If you do not have a good linkable asset on your site, guest posting is always a workable option ?
However one problem with guest posting in 2021 is that, because it is so heavily used, websites with guest posting footprints (such as a write for us page) now generally ask for money in return for a guest post.
A better strategy for guest posting is to find websites that are in adjacent industries to yours, and offer a post for their blog. As the industries are adjacent, you can offer their customers a new insight into whatever problems they may be facing.
An example of this strategy would be a real estate agent approaching an architect to offer a post about how remodelling can add value to your home.
Build a Tool (E.G. Calculator)
Expert – Tony Mastri
Digital Marketing Manager @ Marion.com
Editor's note - Calculator building has worked well for Tony, and this translates to other useful tools for a certain industry as well.
Calculator building is one of the most successful strategies that I've used recently to attract links from relevant websites. Most industries accommodate the creation of some sort of free calculator for use by potential customers and stakeholders. For example, I've helped implement a child support calculator for a family law firm, a money judgment calculator for a judgement collection attorney, and a plant spacing calculator for a land maintenance equipment dealer.
Upon creating these free tools, create a press release letting the community at large know that they are available ?
This calculator/press release combination typically results in genuine interest by relevant parties, and is a great way to attract links from pertinent websites.
Help a Reporter (HARO)
Expert – Mark Aseltine
Founder @ UncorkedVentures.com
Editor's highlight - "I have links from spots like Fortune, Forbes and the AP from my short time on HARO, those are the types of links that you simply cannot ever obtain as a small business that no one has heard of, without a PR team etc."
There are definitely more sophisticated link builders than I am, BUT.....any link building suggestion really does need to include the HARO link building strategy. I'm seriously flabbergasted when it isn't included, largely based on my own results. I have links from spots like Fortune, Forbes and the AP from my short time on HARO, those are the types of links that you simply cannot ever obtain as a small business that no one has heard of, without a PR team etc.
Why in 2020 though? Content is becoming more important by the day and with some of the drastic changes happening to freelancers especially with AB5 in California, I suspect we will see a wider variety of writers publishing on well known platforms. Those newer writers also are less likely to have established sources, thus the need for spots like HARO.
According to this survey from Authority Hacker, HARO is now the third most popular link building tactic.
Lastly, in regard to my experience. Well, when we started our small business, we hired SEO firms. Got penalized. Received little to no results. Now, I handle link building and SEO strategy myself. Without a significant budget for it, it can be a challenge, but at least I am in control of what's happening now, even if the ramp up isn't as quick as I might like.
Mark Aseltine - Founder @ UncorkedVentures.com
Local, Niche Specific Websites
Expert – Jacob Landis-Eigsti
Owner @ Jacob-le.com
Editor's highlight - "Doing this one task has raised the overall domain authority every time I've done it."
I've used a number of strategies, but for local link building this one has had the highest impact. I put all of my competitors' website into a tool like Ahrefs or SEM rush. Then, I'll look through all of their backlinks looking for potential do follow link opportunities.
There are often quite a few websites where you can register your business and link to your website. For a local Colorado video production business, there were websites like Film in Colorado, Colorado videographers, and Denver metro businesses that provided good quality do follow backlinks. It's easy to create 15-20 of these profiles and links in less than a day. You want to avoid low quality or spammy websites. Doing this one task has raised the overall domain authority every time I've done it.
Journo Requests via Twitter
Expert – Benjamin Houy
Founder @ Growwithless.com
Editor's highlight - Journo Requests is a lot less saturated than HARO and makes for higher conversion rates.
I have been building links for 10 years and my favorite link building strategy for 2021 is to use Twitter to find journalists, bloggers and content creators who are looking for experts to quote in articles. To do this, I use the #journorequest and #journorequests hashtags and then select the best opportunities. This works like HARO but there is a lot less competition which makes getting featured in articles a lot easier.
I have written more about this strategy here: https://growwithless.com/journorequest/
Data-Rich Content
Expert – Benjamin Houy
Outreach Team Lead @ Digitalthirdcoast.com
Editor's highlight - "We look for writers and publications who cover that subject and present it to them as new research or a study."
One of the more effective marketing strategies our agency has used for earning links in 2021 is by creating proprietary data on a given subject and turning that into long form content and shareable graphics. Think content marketing, but with original data. We do this by creating surveys on a given subject and then create infographics and other visual assets built around that data and combine that with a longer form blog post on the subject?
Why this works?
Publishers want new story angles to cover on a subject even if they've covered it a billion times before. Having proprietary data allows us to have that unique angle and presenting it with shareable graphics makes it easy for them to share. We look for writers and publications who cover that subject and present it to them as new research or a study. We've found higher than average click through rates presenting it that way in the subject lines. Good writer's with engaged audiences won't need much incentive to share unique and interesting data and they will source that data back to you with a backlink to your research. We've earned backlinks on thousands of high authority publications by using this method to earn backlinks and have find this an effective way to earn media coverage and backlinks in 2020.
Statistic Roundup Articles
Expert – Levi Olmstead
Director of Marketing @ 2ndkitchen.com
Editor's highlight - Levi recommends driving well researched articles that round-up all of the statistics in a given niche. Editorial side-note – I noticed an Ecommerce company earn over 300 links last year, just from re-publishing a survey report that someone else had created and writing their own opinion on it!
Certain types of content drive links organically over time. For me, a growth hack has been to write statistic-roundup articles?
When other writers are then looking for stats to quote in their new content, they're citing statistics from your article, regardless if you ran the survey yourself.
Hyper Targeted Outreach
Expert – Brooks Manley
SEO Specialist @ Brooksmanley.com
Editor's highlight - "While the shotgun approach may have worked a few years ago, our targets are becoming wiser."
My top strategy for 2021 is hyper targeted outreach. While the shotgun approach may have worked a few years ago, our targets are becoming wiser. Even those not in the marketing industry can sniff out an automated email template from a mile away. Instead of sending a general article to 500 people and getting a 0.5% success rate, I recommend manual outreach with a personalized pitch?
No more: Hey *FNAME*, saw you were in marketing, check out my article on marketing. Much more: Hey Susan, I saw you guys recently posted on x. Awesome articles throughout the site by the way, I also enjoyed y and z. We recently wrote an article on some research we did awhile back. I think the stats we uncovered will better bolster some of the claims you made in x. Take a look and let me know what you think!
Creative Broken Link Building
Expert – Stewart Dunlop (Me!)
Founder @ LinkBuilder.io
Editor's highlight - "While this doesn't look like much, you can often uncover adjacent niches which you didn't think of, and which would be relevant – with the right content piece or link to 'bridge the gap'."
Broken link building has been around for years in various forms, but there's so many opportunities out there to get creative with it.
Here are 2 examples...
Cryptocurrency blog link building - We developed an article with an informative timeline about Bitconnect, which was essentially a ponzi-scheme that conned people out of $2.6Bn. The Bitconnect website went completely dead, so we reached out to all of the blogs and people who had been linking to the site, and suggested that they link to our info page instead. The page now has links from 134 unique domains, including some big sites in crypto. It was a very easy campaign to set up, with quite a predictable outcome.
Charity link building - In order to build links to one of our charity clients, we discovered that there are a ton of 'one off' event websites setup for various Worldwide social events. Think along the lines of International day for the eradication of poverty. In many cases, these websites are fleeting and often go dead after the event, leading to hundreds of broken links. Our strategy was simply to create evergreen pages which detail the history of the event, and any upcoming events which people may find interesting. Using this method we've built hundreds of extremely high quality backlinks to client websites.
Infographic Creation
Expert – Nicolas Straut
Senior SEO Associate @ Fundera.com
Editor's highlight - "While this doesn't look like much, you can often uncover adjacent niches which you didn't think of, and which would be relevant – with the right content piece or link to 'bridge the gap'."
One of the tried-and-true strategies I would recommend to other link builders for 2022 is infographic creation and outreach. By creating infographics, even using a simple tool with templates like Canva or Venggage, displaying useful information or statistics related to your business, and hosting them alongside a thorough, optimized article on your blog, you can acquire organic links through visitors.
You can also do outreach to blogs and outlets that write about topics related to the infographic that publish graphics asking if they'd consider sharing your's along with a blurb. Infographics are a great source of easily-digestible information for these outlets especially when well designed and pitched.
Topic Based Prospecting
Expert – Tom English
Senior Outreach Strategy @ From the Future Agency
Editor's highlight - Tom advises using keyword intent tools to help find relevant people & websites, rather than contributor pages.
Our main strategy is topic based link prospecting over using advanced search operators to find 'Write for Us/Contributor Pages.' When using keyword/search intent tools, such as Keyword Keg and Answer the Public, you can find exactly what people are searching for and the sites that are creating content to answer those searches. We reach out to those sites to pitch topics similar to the content already hosted on their site. You can use the prospected page as part of your outreach, too.
Create Content in Less Competitive Areas
Expert – Evan Porter
Founder @ Words By Evan Porter
Editor's highlight - This tip is extremely valuable for considering different content angles in order to build links in highly competitive industries. I've seen a company use this exact strategy to great effect in the online loans space.
One strategy that's been working well for me in highly-competitive and over-saturated niches is to create content you can easily promote in less
competitive areas.
For example, if you're running a personal finance blog, good luck with traditional Skyscraper outreach for your "How to save more money" article! But if you create a great resource around, say, budgeting tips for knitters or sewers — people who spend a lot of money on their craft or hobby — you might have great success promoting that piece outside of your direct niche?
And, bonus points, it might actually rank and get traffic, even if the link-building campaign is only moderately successful.
Different Campaigns For Different Pages
Expert – Quincy Smith
SEO Manager @ Ampjar.com
Editor's highlight - Link building experts occasionally rely too heavily on 1-2 different types of link building. Remember, it's extremely important to balance homepage links with internal links.
My advice for 2021 is to know which links work for which parts of your site. For example, we use HARO exclusively to build links to our homepage but still rely on guest posting to build links to internal pages - running both in tandem allows us to grow our site authority + help our core pages climb in the SERPs.
Additionally, when it comes to guest posting - you need to work doubly hard to stand out. I'm sure everyone reading this post gets templated, poorly copied outreach pitches every week. We also do guest post outreach regularly but spend a lot of time researching the site, seeing what their competitors rank for, and pitching them on a topic that will have SEO value to them and is in our subject matter expertise wheelhouse.
Hone Your Outreach Emails
Expert – Shaurya Jain
Editor's highlight - It's very easy to get complacent when it comes to outreach, and this tip from Shaurya ensures you'll keep things fresh, and response rates high.
One of the most overlooked strategies is getting your outreach approach solid! We recently ran a test was to see how including the name of the recipient effects the open rates.
We discovered that just by using someone's first name in a very simple subject line with all lower case wording, we achieved a response rate of >75%?
No matter how personalized your emails are, the recipient first needs to open it to read it. And the recipient makes the decision to open the email based on the subject line. By including the first name of the recipient, you personalize it the subject line too and the open rates go off the roof.
Piggyback on Someone Else's Reputation
Expert – Matt Tutt
Freelance SEO @ Matttutt.me
Editor's highlight - By interviewing experts within your industry, you can pick up valuable links, build relationships and create collaborations like guest posts.
Some of the best links I've picked up have come as a result of just interviewing other experts within my industry. For example, within the field of search engine marketing I was lucky enough to speak to Mike Blumenthal, a local SEO expert based in the US. This interview ended up picking up many valuable links on the web, as well as being featured in the Moz Weekly newsletter which delivered lots of traffic to the site.
Whilst the piece wasn't necessarily about me, I was still able to piggyback on someone else's reputation (so to speak!) and it ended up being a well received piece of content too - which always helps! ??
So my advice for link building in 2020 would be to look at featuring other experts within your industry, or other companies that don't necessarily compete directly with yours, and leverage their expertise to create valuable content. It's likely you'll end up tapping into their market too, as they may end up sharing it with their own network too.
Relationships with SEO agencies & bloggers
Expert – Aida Grigoryan
Content Strategy @ Incredo
Editor's highlight - Aida recommends putting time and effort into building relationships with other link builders in order to maximize efficiency.
One strategy we do is doing manual outreach to content marketing & SEO agencies and bloggers and trying to build long-term relations with them.
Agencies and bloggers write regularly for several websites. And we write regularly too.
So we can link to their post an X client's web site and expect a link from their post on Y client's site. It helps us avoid direct link exchange.
We make sure we get links from high-quality sites that are close to the topics we write about. That's a top priority.
We hope you've at least gleaned some inspiration from these link building experts that could work for your business, and I truly hope they've led you down a rabbit hole to get creative with your efforts?️‍
Want to contribute?
If you have any ideas for strategies that are working well for your and would like to contribute to our link building experts panel, then please drop me an email. If the tip is strong and actionable, there's a very good chance I'll add it in here!