Local link building is essential for smaller businesses looking to achieve strong SEO success in their immediate local area. This article will show you effective methods of generating backlinks for local websites.
By building high quality links to your website there's a strong chance you will outrank the competition, since most local companies aren't investing much time or effort in link building.

This article will explore what local link building is and then provide 14 tactics you can use to build backlinks to your local business.
What Is Local Link Building?
Local link building is when you attract links from websites with the same local audience as your own. This could be local publications, blogs, business sites, or directories.
These websites typically have a smaller audience and lower domain authority than national or international publications. But links from these sites are beneficial due to their extreme relevance.
Here are three reasons why you should consider building local links...
1) Better Audience Targeting
By building links on locally relevant websites, your website gets in front of people who may buy from you.
Think about local link opportunities…
Imagine you're an accountant based in a small east coast town. It's great if you can get an industry-relevant link from a high DR publication. But if the publication's audience is mainly people in California, it's unlikely to result in much business.
On the other hand, a link from a publication with an audience of people in your region may pass on less domain authority, but it can result in you attracting clients.
That doesn't mean you should ignore the first type of link. These are still a tremendously effective way to increase your domain authority and search engine rankings. Focus on both regular and local links.
2) It's a Good Source of Backlinks
It can be difficult to find people to link to your site. But local backlinks are an often untapped source—even small areas tend to have hundreds of opportunities.
Think about all the businesses, bloggers, and publications that cater to your area. Each of them has a website that you can try to get a link from.
Additionally, major websites are used to receiving a large number of link building and outreach messages. They often ignore this type of request.
But local companies may be more willing to help, especially if your business is in the same area as they are.
3) You'll Build Real Relationships
Local link building is also a chance to build real relationships with other local businesses.
Instead of sending out mass emails, you can call the business from a local number to discuss your ideas. You may even be able to drop by in person.
While building relationships may not have a direct SEO benefit, it can certainly help your business succeed.
4) Local SEO Is Important
You may not realize it, but search results differ hugely depending on where you are based. That's because Google tries to show locally relevant results to searchers. This has led to the rise of optimization for local SEO.
You can see an example of how local SEO affects search results in the screenshots below. On the left are the top three local search results for the term "Moving Company" when the internet connection is routed through a Las Vegas-based IP address. On the right is the same search but through Chicago.
As you can see, different websites rank for the term.

We don't know for sure whether Google uses a link's local relevance to determine local search results.
But considering the search engine uses link relevance in other ways, we wouldn't be surprised if it did.
Ultimately, we think a link building strategy that targets sites in your area is good practice for any local SEO strategy.
How to Find Local Link Building Opportunities

Later in this article, we'll introduce you to 11 local link building strategies. But first we'll show you how you can find link building prospects by monitoring your competitors' backlinks.
The strategy involves finding competitors and then using SEO tools to discover which sites link to them.
The idea is that this points to backlink opportunities.
For example, if a site has links from a particular forum or directory, you can create profiles on these sites. Or if it has a guest article in a local publication, you may be able to write a column for the same one.
There are two steps to competitive analysis:
Finding competitors
Checking their backlinks
Here's how to perform each step...
Discovering Competitors
You probably already have a good idea about who your competitors are. But you can find more by searching for the terms you want to rank for on Google and seeing which sites show up on the results page.
Below you can see the local search results page for the term "Accountant London."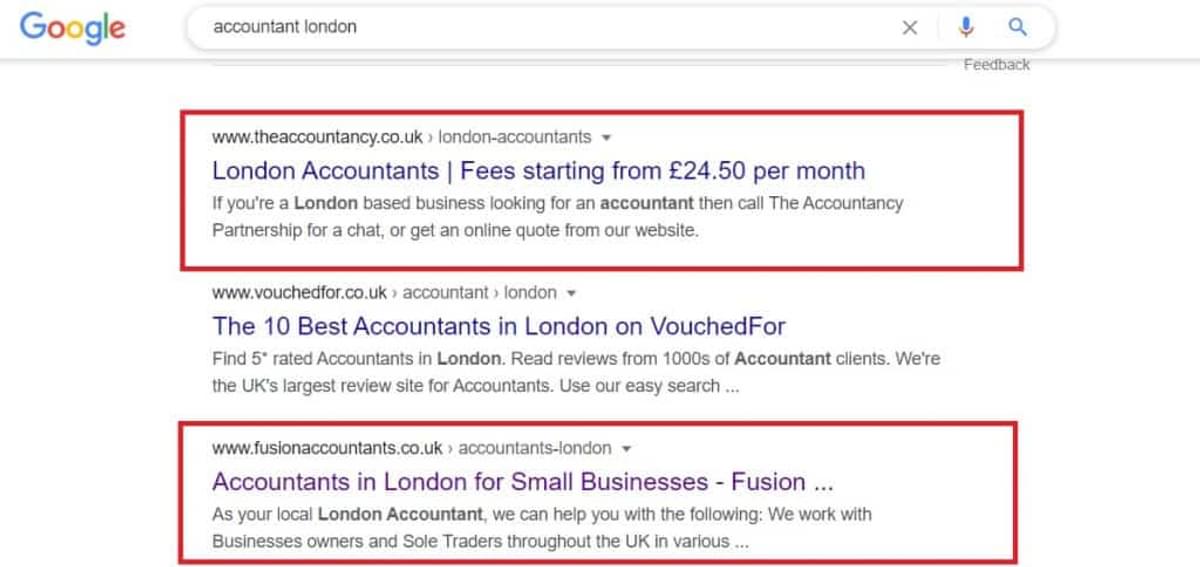 The two results highlighted are the websites of accountancy firms in London. These are good places to look for backlink opportunities.
The middle site is a national directory of accountants, not a local accounting firm, so we won't use it in this example.
Search for all the different terms you want to rank for and make a list of relevant sites.
You then need to see which sites link to them.
Checking for Local Backlinks
Finding which sites link to your competitors is easy, as long as you have access to an SEO tool.
At LinkBuilder, we use Ahrefs. Here's a more in-depth guide on how we run backlink analysis.
Examples of great local links
Using the accounting websites displayed in the image above, we found they had some great local links.
Fusion Accountants had links from LondonLovesBusiness, a London-based business publication.
TheAccountancy had links from Nottingham, Brighton, and Kent Universities.
TheAccountancy had a link from We are the City, a London-based women's networking group.
Both sites had various links from UK-based business directories.
Both sites had links from other UK-based business publications.
Analyzing the backlink profile of several websites in your area should reveal some local websites you can get links from.
Just add the URL to site explorer and then head to the backlinks section.
The next step is to approach the website about getting a link.
Look at how the website in question attracted the link. Maybe it was through a guest post, a partnership, or sponsoring the site. Use this information to influence your outreach strategy.
14 Local Link Building Strategies
The following list is a guide to some of our favorite local link building strategies.
They aren't all suitable for all types of business. For example, a professional services firm may get links from local colleges or universities but struggle when targeting a local tourist board.
Just choose the tactics that best suit your business.
1) Add Your Business to Local Directories
This should be the first port of call for any local business looking to improve their link profile.
Online business directories don't provide the strongest local links but they are typically quick and easy to get, so they can be worth finding. Additionally, many local businesses don't even need more than directory backlinks in order to rank pretty well.
There are tons of directories out there, including plenty of area-specific ones.
Get creative when searching, as no single term brings up all the directories you want.
Terms you can try include:
"[your area] small business directory"
"[your area] business directory"
"[your area] [business type] directory"
As well as the city or state you are based in, try neighboring towns or areas.
When searching for London business directories we also found several that specifically target Camden, an area of London.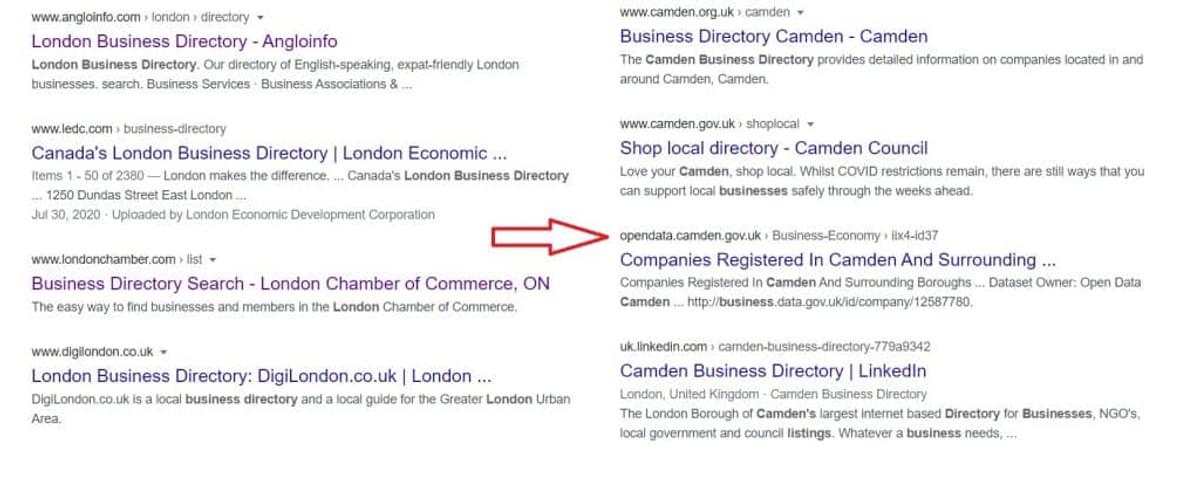 Large directories such as Yelp, Yahoo, and Foursquare often make it easy for you to add a listing. But this might not be the case on local listing sites.
If you can't find instructions to add your site, email the directory owner for more information. You'll typically have to add your name, address, and phone number alongside a link to your website.
Some sites may try to charge you for business listings. If this happens, consider the site's traffic, search engine presence, cost, and directory quality when making a decision.
2) Reach Out to Local Media
Contacting local media is a good link building strategy. These sites often have large audiences, and most areas have several high-quality publications you can target.
You probably already know many of the publications that serve your area.
However, it's worth heading to Google to see if you can find any niche opportunities you haven't already considered. You may be surprised by what you find.
For example, searching for "Manchester Newspaper" reveals an extensive list of publications. I bet most people in Manchester don't know about all these publications.

Don't restrict yourself to newspapers. Magazines and industry publications often write stories about local businesses. Radio stations may also publish local news.
Once you have a list of contacts, you need to reach out to get your business featured.
Unfortunately, local media outlets often have strict requirements about the stories they cover.
But it can be worth the effort if the publication has high domain authority or if many local people read it.
3) Send a press release about newsworthy events.
Online publishers are often happy to publish stories about local businesses. After all, the more articles they publish, the more views they are likely to receive.
The problem is that you need to do something that publishers will find interesting enough to feature.
This should be more than an introduction to your business. Instead, try mentioning unique concepts, charity work, or events.
Remember to tailor the story to the publication you are targeting. What's interesting to local trade publications is unlikely to be interesting to a local lifestyle magazine.
4) Become a trusted source.
Becoming a source is a brilliant way to get featured in the press. You provide quotes for stories about your area of expertise, which gives articles more authority.
HARO link building is a similar strategy, although not limited to the local press.
The biggest challenge is building relationships with journalists. Contact people in your network to see if any of them know writers who may be interested.
Another good option is to head to Twitter. Many journalists are active on the platform, which makes it an excellent place to build relationships. Other social media platforms can also be helpful.
Alternatively, go straight to the publications you want to feature on. Let journalists and editors know about your expertise and that you are willing to be featured in articles.
Below is a great example that shows how journalists and local businesses benefit from this link building tactic.
Fusion Accountants provided its expertise in an article about factors limited companies should consider when choosing an accounting firm. The firm got a backlink, and the site was able to write a more authoritative article.

5) Write guest articles.

As a business owner, you have particular expertise that may be interesting to others. You can use this to write columns or guest posts for the local press.
The strategy is similar to that of guest blogging. You make a list of local outlets that publish stories from contributors and then pitch ideas to their editors.
This article is a great example. The director of mixology at a London bar wrote a story about the margarita's origin in a London food magazine. The piece links to the bar's website.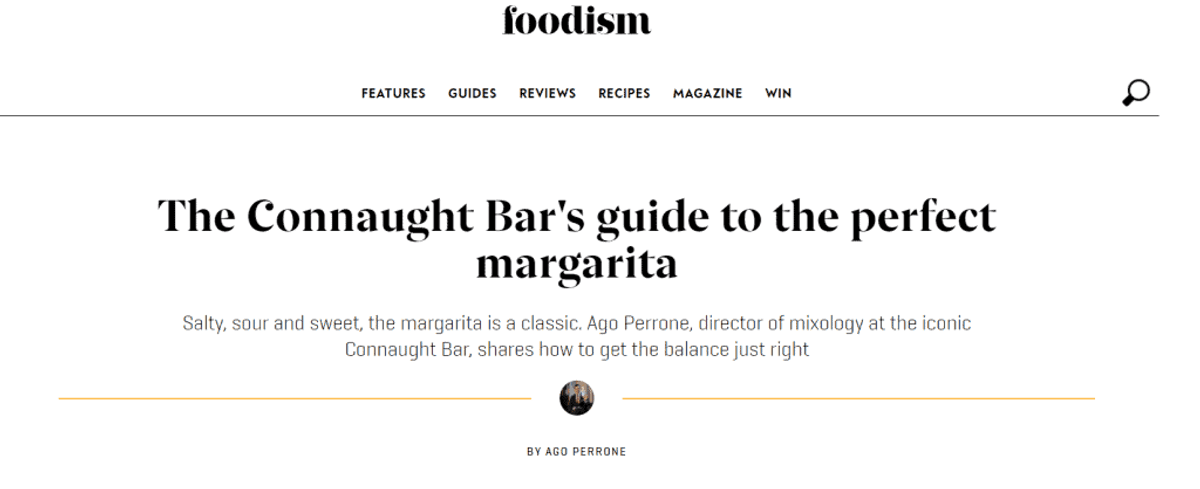 A Word of Warning about Local Publishers
Be aware that some local publishers (particularly ones that focus on news) won't link to your site even if they mention your business in a story.
You'll still gain exposure, and other publications may pick up the story and link to you. But if your main reason for attracting press coverage is to get a link, be sure to check whether the sites you are targeting provide them.

6) Contact Local Bloggers

It can be easier to get attention from bloggers than local media. And these sites can still have large, highly targeted audiences.
The key is to find relevant websites and then connect.
People blog about a wide range of topics, so there is a good chance that you'll be able to find something relevant.
Just head to Google and start searching. Ideas you could try include:
[Your area] bloggers
[Your area] [your industry] blog
[Your area] best blogs
Another way to find relevant people is to head to social media sites like Instagram or Twitter.
Here you may find bloggers whose websites didn't show up in your initial search.
Once you have a list of publications, get in touch with the owners and suggest they link to you. Be sure to offer something in return for a link.
For example, hobbyists may appreciate freebies or event invitations. Meanwhile, business blogs may respond if you can show how your offer benefits their business.
Some bloggers may ask you to pay. The fee could be to insert a link in an existing post (a technique known as niche edits) or publish a guest post.
Google warns against paying for links, but it is a common link building practice in many industries. Consider this when deciding whether or not to pay.
Different types of blogs
People blog for many different reasons. Three common types of blog you may come across include:
Hobbyist bloggers who write about topics they enjoy. These are typically small and focus on leisure activities like food and drink, sports, or culture.
Business blogs that are attached to a company website. These typically write about the business's industry. They are used to generate industry-specific authority and website traffic.
Niche sites are small websites about a particular local topic. They differ from hobbyist blogs in that the owner runs the site as a small business.
7) Create a Local Guide
Creating linkable assets is one of our favorite link building tactics.
To implement this strategy successfully, you need to create a piece of content or a resource with the specific intention of attracting links.
At LinkBuilder, we use linkable assets in many of our campaigns. For example, this helped us deliver over 30 links in a single month to Drifted.com.
Linkable assets also work in local link building. You just need to create an asset that appeals to blogs and websites in your area.
There are many types of assets you could create. Make sure to choose one that is relevant to your business.
Some ideas include:
A directory of other local businesses.
A guide to local food and drink hotspots.
A searchable map of local attractions.
A local events calendar.
A page about local statistics.
Once you've created your resource, you have two options for how it can generate local links.
The first is to hope people find it and link to it organically. This may happen if your resource is good enough and if it ranks on Google.
The second (better) option is to promote the resource.
Send it out to local publications and bloggers and share it on your social media feeds. If you've featured other businesses in your guide, let them know and tell them you'd appreciate it if they add a link on their website.
If the guide is valuable enough, website owners will be happy to share it with their audience.
8) Sponsor Local Organizations
Sponsorships aren't just an excellent way to generate publicity. They can also be an effective way to generate local links.
The idea is that when you sponsor a group, event, or team with a website, they will link to the businesses that sponsor them.
You can see an example of this in the screenshot below.
Local business marketing firm Agnes Marketing received a local link by sponsoring a Liverpool-based networking event.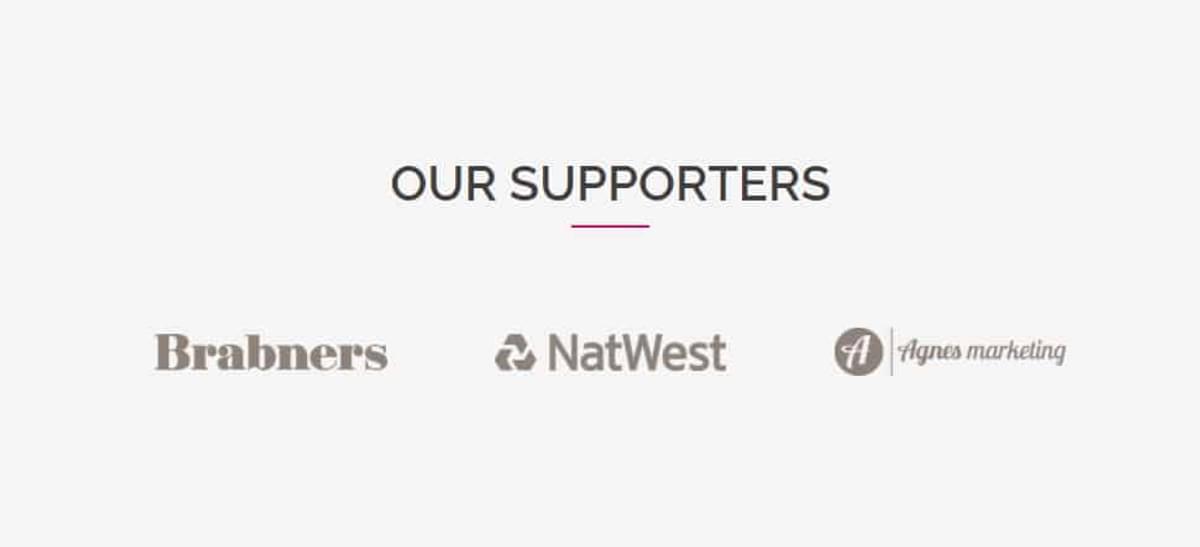 The key is to balance choosing a sponsorship for link potential and for the exposure it could bring.
9) Offer a Scholarship
You can generate links from high-authority educational domains by creating a scholarship for students in your area.
Until recently, this was a prevalent SEO strategy. It's less common now because some educational institutions realized that websites were using the strategy for backlinks. Despite this, the technique can still work.
Here's how:
You create a scholarship related to your business. This is a good guide on how to do so.
Reach out to local schools and colleges to tell them about the opportunity.
They promote it on their website's scholarship page.
It can cost a lot of money to offer a scholarship. But doing so can generate multiple links, so the cost may be worth it.
It's possible to estimate the potential return on your investment. Just search for websites that list scholarships in your area. Use this to estimate the number of local links you may be able to generate.
Our guide to law firm link building contains an excellent example of scholarship link building.
The firm in question generated links from 49 referring domains to its scholarship page. It attracted links from colleges with high domain rating websites like the University of Illinois, Eastern Kentucky University, and Indiana University.
Your scholarship link building efforts can go beyond trying to get featured on scholarship pages. Make sure to send out a press release to local media publications that may be interested in the story.

10) List Your Business on Alumni Pages

Sticking with the education theme, listing your business on alumni pages is another good way to generate local links.
Universities and colleges will often promote former students' businesses, whether in individual articles or on alumni pages.
If you attended a university in the area where your business is based, this could be a good form of local link building.
Search on the college's website for alumni business pages. If you find one, reach out to see if they will feature your company too.
Here is the example on the NYU website. It even has a form alumni can use to suggest their local business.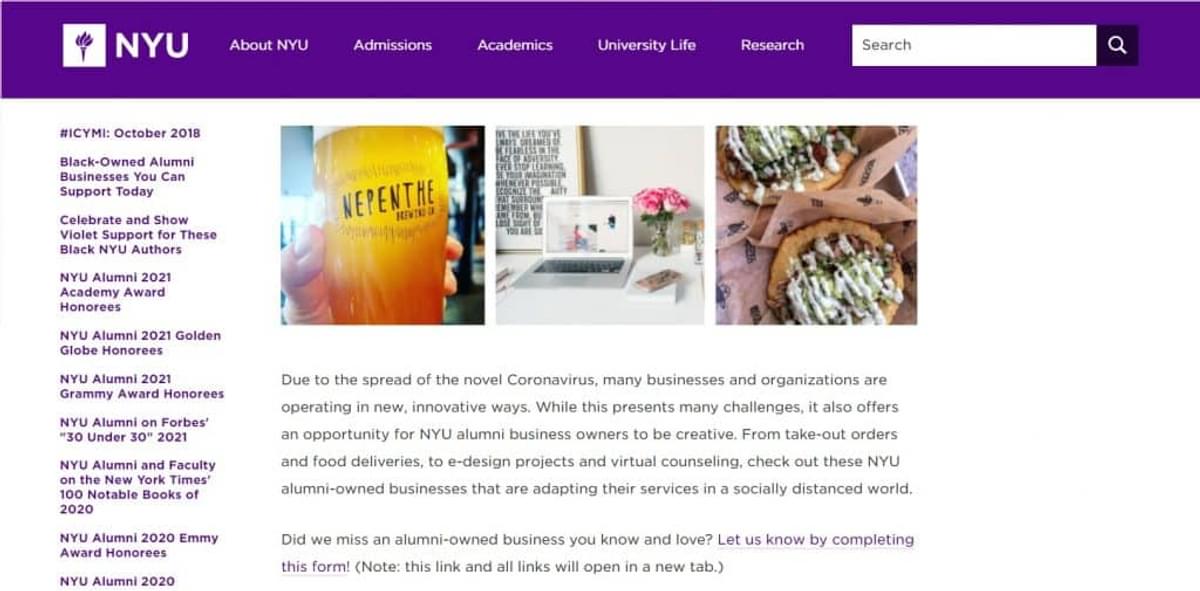 University websites are not only locally relevant but can also have strong domain metrics. The NYU website has an Ahrefs Domain Rating of 90.

11) Become Active in Local Forums

Forums aren't as popular as they once were. And links from forums aren't particularly authoritative.
However, they can still be an easy way to generate local links to your website. And active forums can be good places to build relationships with those in your area.
The first step of this strategy is to find forums. Google is your friend here, so head to the search platform and start searching for relevant terms.
If you can't find any general forums related to your area, search for local sports teams. Many still have active fan communities.
The biggest challenge is dropping links without appearing like you are spamming the community.
Some forums allow you to include a link in your bio or signature. This is the least intrusive way to link to your site.
If you want to add links to threads or comments, only do so when they are highly relevant and add genuine value to the readers.
An extra benefit of forum links is that they can generate significant relevant traffic to your site.
12) Offer to Provide Testimonials
Testimonial link building is when you provide a positive review to a local business or service you have used.
The business adds your recommendation to its website and links to your site. You benefit from the link, while the business benefits from showing potential customers how great its service is.
To use this form of link building, make a list of local businesses you are happy to recommend.
You can then reach out to them, asking if they want to use your review.
Keep an eye out for local businesses that already feature case studies, testimonials, or customer stories on their website. These are good targets as they have a proven track record of linking to sites.
Businesses that don't already have these sections may still be willing to feature you. You just have to convince the local business owner of the value of testimonials.
Here's a great example:
This case study on the website of an accounting firm explains how it was able to help a local business receive a government grant.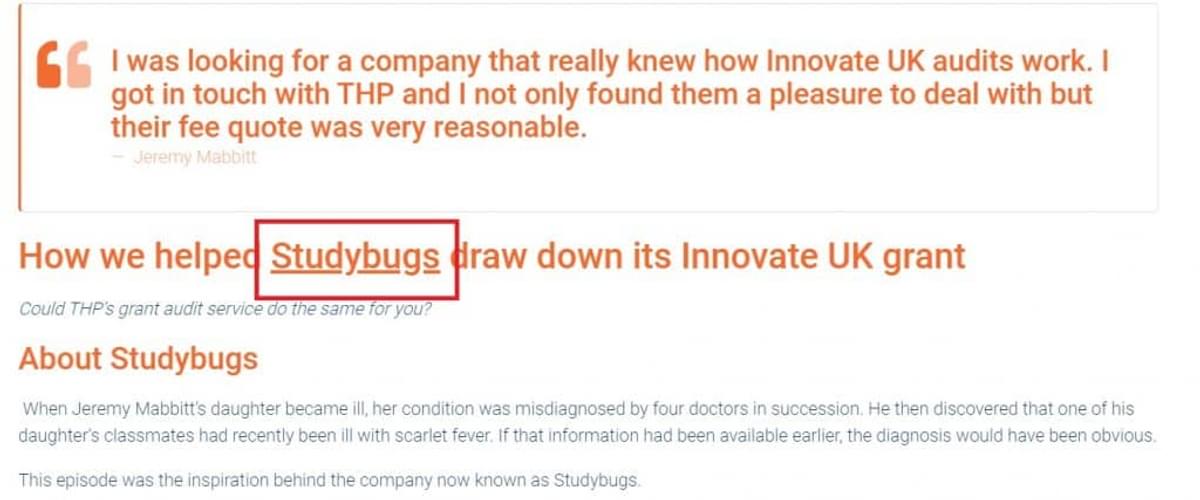 Everyone involved is a winner. The firm can show off its expertise, and the local business received a link.
13) Contact Your Local Tourist Board

Tourist boards are often happy to promote local businesses that visitors may find interesting. If your business appeals to tourists, this is a good form of link building.
It's not just hotels and tourist attractions that can benefit. For example, the Cheshire tourist board website has listings for a whole variety of businesses, including:
Hotels
Restaurants
Bars
Shops
Local events and festivals
Wedding related businesses
Golf courses
And more
Featuring on this website would not only bring a backlink, but it would also be a good opportunity for tourism-related businesses to gain exposure.
Sites often have contact forms you can use to suggest your business. If you can't find one, send a message to the marketing team.
14) Monitor Unlinked Mentions
This is a simple link building strategy in which you ask website owners who mention your business to add a link to your site.
It sounds like a lot of work, but the process is easy to automate using Google Alerts. Just head to this link, and set up an alert for your business name.
You can adjust settings, including how often Google sends you alerts and the type of sources you want to be notified about.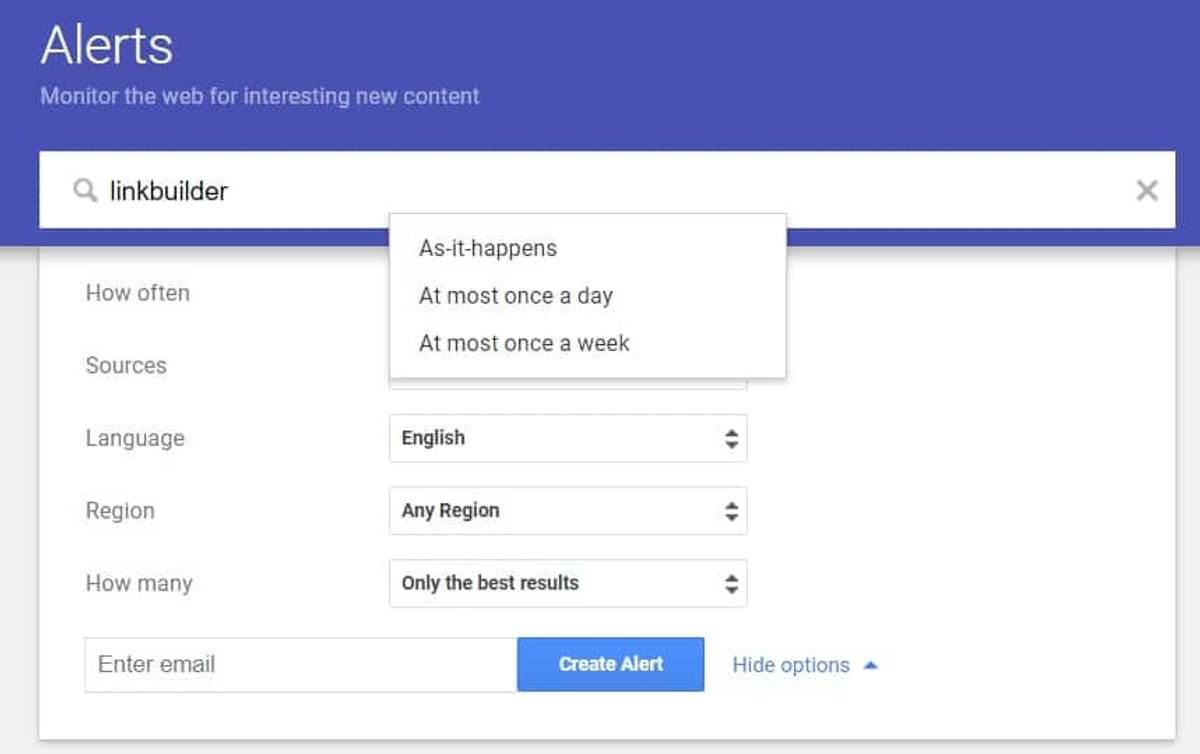 If your business is well-known already in your local area, you may be generating a lot of mentions.
When you get an alert, all you have to do is check whether the site links to you. If it doesn't, ask the owner to do so.
This local link building technique is also an excellent way to monitor mentions of your brand. It will provide visibility into what people think of your company.
Wrapping up
This list of local SEO link building tactics contains plenty of ways businesses can attract links. But the easiest way to build links is to leave it to the experts.
At LinkBuilder, we have a proven track record of using white hat link building tactics to generate quality links for ambitious companies.
You get the high-authority links you need to build your local business without having to generate them yourself.