A good link building strategy can push law firm websites to the top of Google for lucrative keywords in the legal sector.
While getting links is never easy, lawyers have a distinct advantage — access to expert knowledge and topical authority that is out of reach for many. Law firms that leverage this expertise correctly can attract links from high-authority publishers.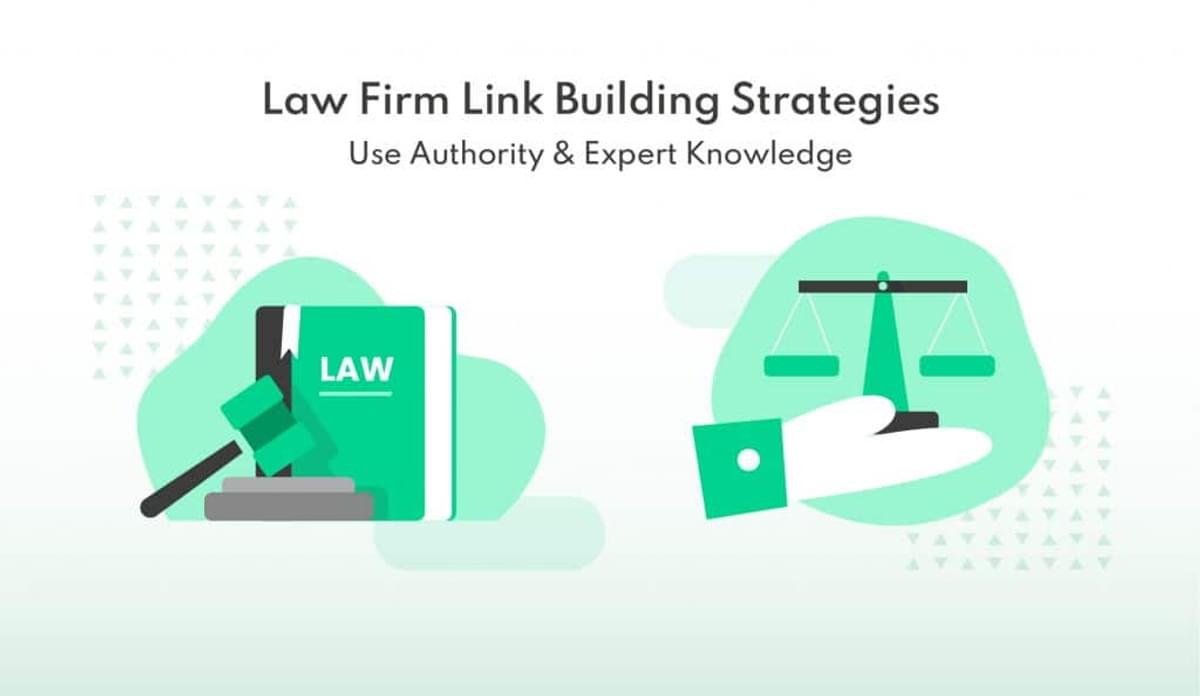 Shook and Stone is an example of a firm that appears to have benefited dramatically from link building.
While the firm's backlink profile was growing nicely (but slowly) since around 2016, the business saw a massive jump in backlinks in May 2020 that has continued throughout the year.
Referring domains grew from 226 at the start of January to 332 in September. During this time, the site also saw a huge jump in traffic, jumping from around 1,670 monthly visitors in April to over 6,000 in August.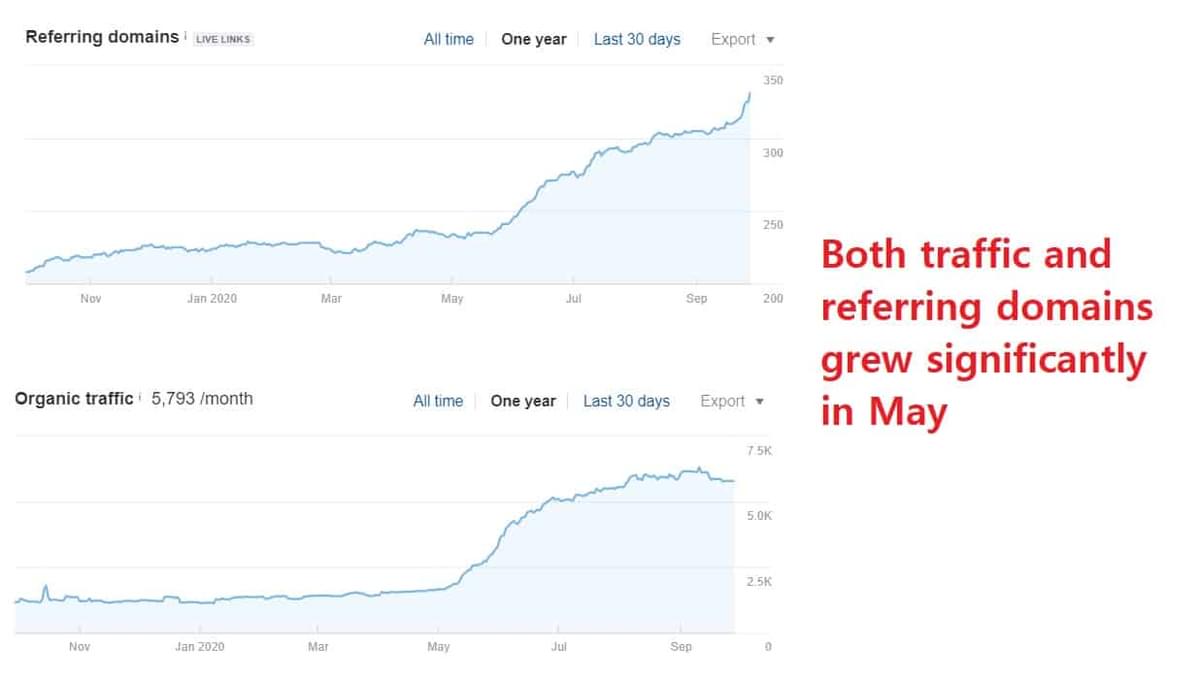 The website has links from several high domain rating websites such as Eastern Kentucky University, Law Technology Today, and KTNV Las Vegas. It also ranks well for competitive keywords such as:
Number one for "disability attorney Las Vegas."
Number one for "disability lawyer Las Vegas."
Number one for "Nevada motorcycle helmet law."
Number four for "Nevada laws."
Number three for "medical malpractice attorney Las Vegas."
Number one for "can the police stop you for loud music."
Number one for "social security lawyers in Las Vegas."
Multiple factors likely contributed to these results, not just a link building strategy. For example, increasing the amount of content on the site would also contribute to a rise in visitors. Nonetheless, the clear correlation suggests that link building played a part in the site's ascent.
Link Building for Law Firms
There are many strategies law firms can use to build links. Among the most effective are creating authoritative resources on complex topics that website owners can reference in their articles. Guest posting is another effective strategy, as are forms of digital PR.
Link building can happen naturally when journalists or website owners link to content because they find it useful. But many firms prefer to attract links as doing so proactively gets faster results.
When targeting sites to build links from, law firms need to consider several factors:
The authority of the site. A link from a high-authority site like the New York Times will have a bigger effect on your website ranking than one from a small blog. Use tools like Ahrefs to see how authoritative a website is.
The relevance of the site. It's commonly thought that a link from a site that discusses topics relevant to yours will hold more power than one from an unrelated site with equivalent authority. For example, a link from a law news publisher will typically be better than one from a business site for law firms, which will also be better than one from a crafting blog. That said, links from all types of websites can improve your profile.
The quality of content on the target site. You want your link to come from authoritative sites that publish well-written, original articles. Before starting outreach, check the content on the websites you plan to target. Avoid a website if its posts seem poorly produced.
The profile of the links you already have. The best link building strategy uses multiple methods to ensure a natural link profile. While you may see success with niche edits or free directories, try to mix in some guest posting or digital PR too.
How to Build Law Firm Backlinks: 10 Strategies
Here are ten strategies you can use to build backlinks to your legal firm's website. These are tactics we know work due to our experience of increasing law firm search visibility through building backlinks.
If you want to discover more about our service, check this case study. It details how we used link building to drive a 551% increase in organic traffic to a Canadian law firm's website.
1. Create Linkable Assets and Perform Outreach
Our first strategy involves creating high-quality content designed to attract links and then reaching out to relevant websites, asking them to link to your page.
If the editor thinks your content will benefit its audience, they may agree to link to your site.
This type of content also attracts links naturally once it ranks on Google and people start to find it when looking for authoritative resources.
You can create many types of linkable assets. Here are some that are already bringing in backlinks for other law firms:
In-depth guides: Law firms have access to a trove of specialist information. Writing posts that make this knowledge easy to understand may result in writers or journalists referencing your content to back up their arguments.
For example, this piece explaining Coronavirus furlough measures in the UK by Farrer & Co. has been referenced by high authority sites such as Wired, Analytics in HR, and the Institute for Family Business. You can see how the link looks in the screenshot below.

Useful resources: Irwin Mitchell has a page with a long list of resources people can use when facing public law and human rights issues. The resources include easy to understand fact sheets, as well as letter templates people can use when making requests or complaints. The page has backlinks from 44 domains, including non-profit and government websites.
FAQ Pages: FAQ pages give readers all the information they need about a particular topic. They also attract backlinks from non-experts who want to reference an authority in their post.
This article about the legal implications of banning the app TikTok in the US has 272 referring domains, including high domain rating sites like Gizmodo, The Conversation, the Y Combinator Blog, and Yahoo.
Statistics Pages: Journalists or web content writers often look for statistics to back up points in their articles. When they use a statistic, it's good practice to reference the source. By creating a list of statistics relevant to your sector, people may link to your page.
This article about divorce numbers in the US by Wilkinson & Finkbeiner is a great example of how effective the strategy can be. It has links from 451 domains including sites like The Balance, Metro, Inc., and Yale University.
Original Research: People love linking to original research. This article suggesting divorce applications are increasing during the pandemic has links from Business Insider, New York Post, and Fox News.
Outreach Increases the Chance of People Linking to Your Content
People may organically link to your resource once you create it. But, you can gain traction by actively reaching out to websites and telling them about your asset.
Here is the strategy we use at LinkBuilder.io to find other websites that may be interested in linking to us.
Create a list of websites to target. We do this by:

Searching on Google for relevant websites that may find the content useful.
Looking for articles similar to the one we want to create and using Ahrefs to discover which websites link to the content.
Put the websites discovered using the first two tactics into Ahrefs and use the "competitors" feature to find even more relevant sites.

Make a list of all these websites and search for the contact details of each one.
Send the site owner or editor a message highlighting our content and why the audience may find it useful.
Ask for a backlink and offer something in return, such as a social media share.
Sometimes websites will agree to link to your page but only for a fee. If this is the case, you'll have to decide if the price is worth the link.
Also, be aware that while a common practice, Google frowns upon paid links, and agreeing to these links may negatively affect your search rankings if discovered by the search engine. You can read more about Google's position on paid links in its webmaster guidelines.

2. Guest Post on Other Websites

Guest posting is a brilliant way for lawyers to get backlinks on high-authority, relevant sites. Lawyers can use their expertise to provide a unique perspective on many issues.
Guest posting is when you write an article for another website and include a link to your site. Not only do you get a backlink, but exposure from quality blogs can increase your industry authority.
The key is to define a list of websites to target and then think of interesting story ideas. You could:
Provide industry opinion on law-related blogs and websites
Discuss relevant topics on publications for other industries
Provide interesting stories for general interest websites
Publishing interesting stories can result in backlinks from high-authority sites. This opinion piece about the potential for divorce rate spikes at the end of the coronavirus resulted in Stutman Stutman & Lichtenstein getting a backlink from Business Insider.

3. Become a Source for Journalists

Journalists and bloggers are always looking for expert opinions to give their stories authority. If you can provide this, you may receive a backlink.
Traditionally, journalists would have a relationship with sources and reach out whenever they needed input. For example, if they required quotes in an article about new legislation or the implications of a court case currently in the news.
Forming relationships with journalists is still a good idea. However, sites like Help a Reporter Out (HARO), ResponseSource, and Qwoted have made it easy for anyone to add to stories by providing a platform that connects journalists and sources.
Here's how HARO works:
Head over to the homepage and sign up to be a source. You can choose to receive all requests or just those specific to a particular industry.
The site sends out emails three times a day at 5:35 am, 12.35 pm, and 5.35 pm ET with requests. Each email contains a list of opportunities split into different categories. If you see one you like, click on it for more information. The image below shows the list of requests and then the instructions from a HARO email.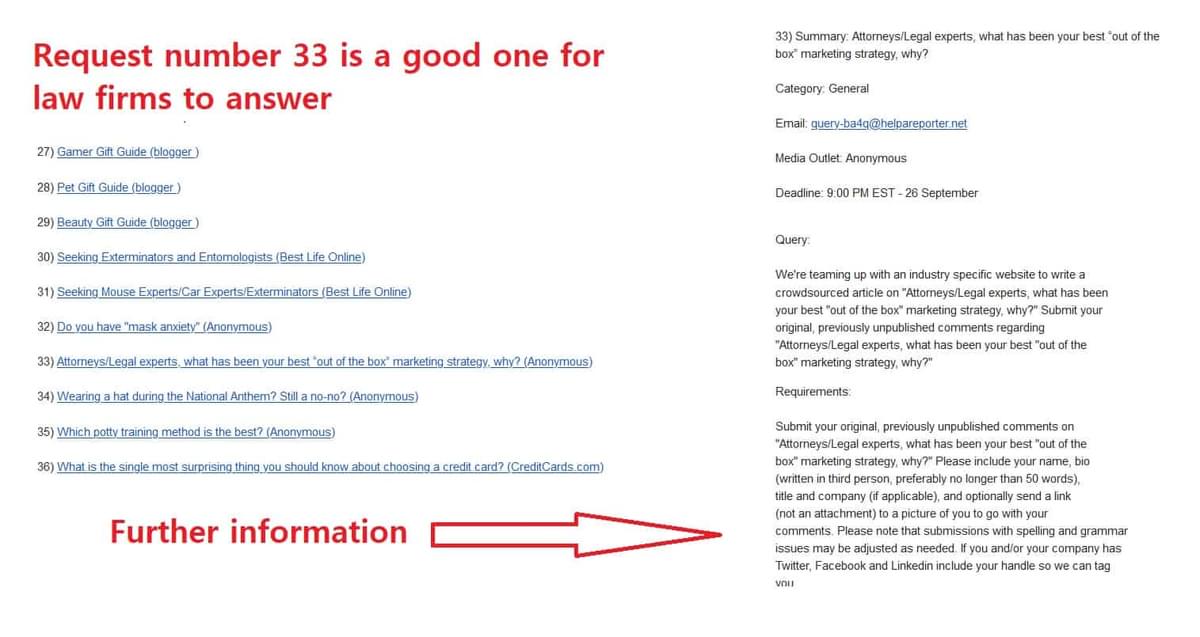 You can then reply to any opportunities where your expertise is relevant.
Key tips for HARO:
Reply to requests quickly
Follow all provided instructions
Only answer requests where you can provide useful insight
Don't restrict yourself to law-related topics
Look for opinion roundup posts as these accept multiple requests
Write answers so they require little editing
4. Community Mentions
Community mentions is a simple strategy that can be an easy way to get backlinks. Just ask people in your network or those you have previously worked with to link to your website. It's an easy way to get relevant links for work you have already done.
Here are some times when it may be appropriate to ask for a link:
Offer to provide testimonials to businesses you have worked with or that have provided you with a service. Ask them to link to your site if they use the testimonial.
If a client writes a blog post mentioning their work with your firm you can request that they add a link to your site.
Take advantage of collaborations by agreeing to write about the partnership on your respective websites. Include a link.
Events and conferences often have websites. If your firm attends one, you may get a backlink when the site advertises your attendance.
If you sponsor a group, event, or team they may link to your firm on their site.
5. Provide a Scholarship
Scholarship link building is an expensive strategy, but one that has a high potential for getting many links from authoritative .edu websites.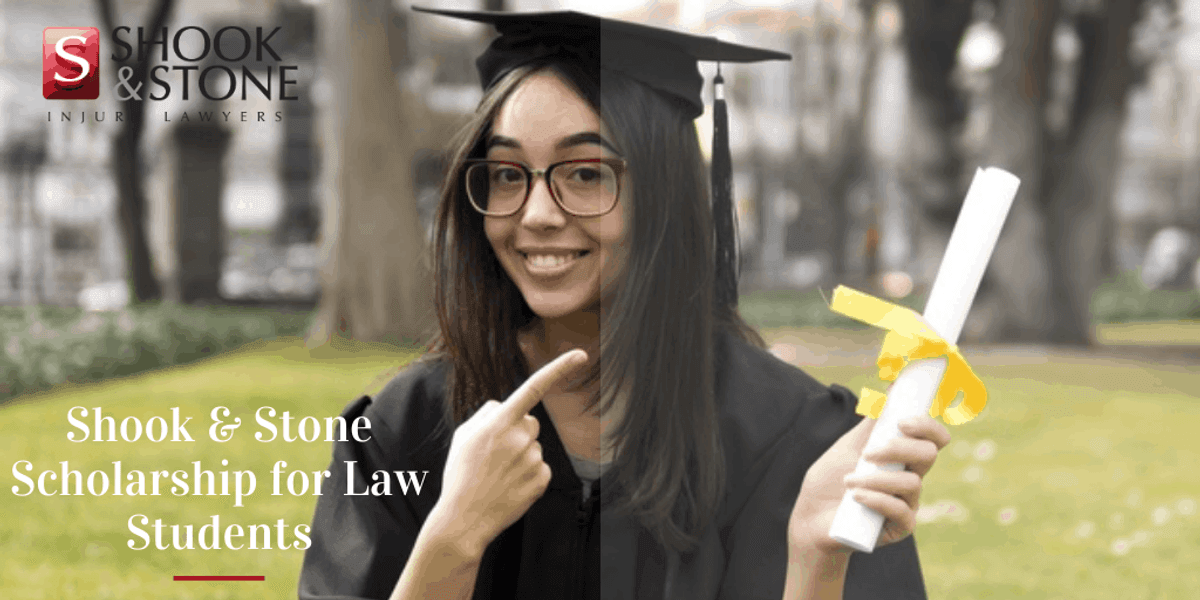 The basic idea is that you create a page on your website advertising a scholarship. You then reach out to colleges in the area and other relevant publications telling them about your offer.
As a scholarship helps students, these institutions will usually be more than happy to link to your website.
Before creating your scholarship, there are several factors you should consider.
How much will you offer? Look at other similar scholarship opportunities to see what an appropriate amount might be. Consider whether this is worth it to you as a link building strategy.
Are there many backlinking opportunities? Check out local universities and whether they have pages advertising scholarships. Also, check to see if the links on the page are follow or nofollow. Make a list of all outreach targets.
Your scholarship requirements? You should put some thought into how you will choose who gets the money. Also consider if you have the time to go through applications.
How to make the most of the scholarship? While it can result in links, this is not solely a link building strategy. Think about other ways you can make the scholarship work for you, such as in marketing or recruitment.
Law Firm Scholarship Link Building Example
Shook and Stone is an excellent example of a law firm that has earned backlinks by offering a scholarship.
The firm offers a generous $2,500 scholarship to students with a GPA of over 3.0 who submit a video or essay about personal injury attorneys.
The page has 483 backlinks from 49 referring domains, including websites with a high domain rating such as Eastern Kentucky University, the University of Illinois, and Indiana University.

6. Get Easy Wins From Free Directories
Directories are a phenomenal source of links for any law firm looking to improve their local link building efforts.
Free directories are probably the easiest way to get backlinks, and there are plenty that law firms can list on. These include:
A Google search will bring up more options, including this article, which lists 87 websites.
Also look for smaller, area-specific directories. Local news publishers, embassies, colleges, or blogs may have sections where you can list your firm.
Perhaps the best way to find link opportunities is to check out your competitor's backlink profile on Ahrefs.
Just search for the website on the software's "Site Explorer" tool and then head to the backlinks section. This will show you all the websites that are linking to the site. If the firm uses directories, you'll see a list of all the ones they are listed on.
Discovering a competitor's backlink profile has uses that go way beyond just finding directories.
You can also use it to:
Discover which content attracts a lot of backlinks on competitor sites. Use this information to influence your linkable asset creation.
Discover which sites link to competitors. If a site links to another law firm, it may also be willing to link to you.
Find guest posting opportunities. If a firm has a guest post on a particular website, it shows the site is open to accepting guest posts from law firms.
The downside is that directories typically won't provide much link power. The links will often be marked as "nofollow," which means Google's algorithm may not consider them when calculating where your page ranks.
Nonetheless, they are easy wins, which you should take advantage of. Regardless of backlink potential, they can also be a good source of new clients.
Nofollow links
Nofollow links are those with a tag that tells Google's bots to ignore the link. This causes the search engine to drop the referral from its map of the web, meaning these links won't increase your website ranking. You still get the benefits of potential referral traffic and more exposure which can lead to more backlinks.
7. Discover Unlinked Mentions
This is a straightforward strategy to implement that can result in significant returns.
When other websites mention your business, they will typically link to your website. But, sometimes they forget to do this. If you can spot when this happens you can ask for a link.
Discovering unlinked mentions is simple. Just head to Google Alerts and sign up to receive an email whenever someone releases an article that mentions your firm.
You can then check if the article links to your site. If it doesn't just send over a quick message thanking them for the mention and saying that you'd appreciate a link.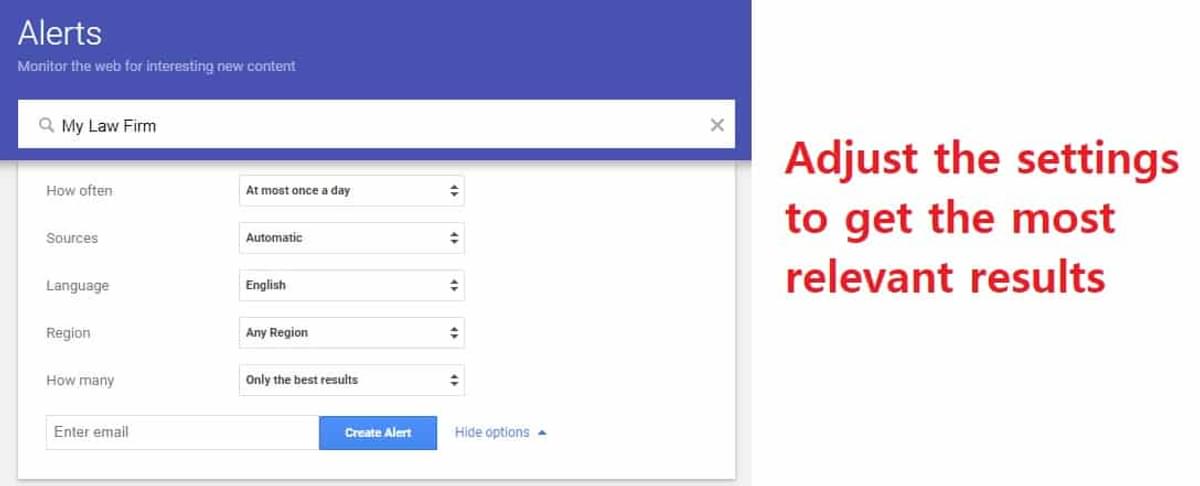 8. Leverage Your Contacts

Sometimes simply asking is the best way to get a link. You are sure to know a few people or businesses that own websites that may be willing to link to your firm.
Try to provide some value in return, for example, by writing a post or sharing their website amongst your social media followers.
Make sure the links are contextual and provide value to the reader to avoid the chance of Google's algorithm marking them as being part of a link scheme. While a link in an article mentioning your company is ok, you should avoid random links in unrelated posts.
9. Start a Blog
Blogging is an excellent way to attract links, assuming what you write about is useful.
The Insights section on the Kingsley Napley website is a great example of this. By producing high-quality content written (or ghostwritten) by the firm's experts, other websites link to the content when referencing the topic.
These authoritative posts on trending topics have attracted links from high domain authority sites including Wikipedia, Yahoo, The Guardian, and The Conversation.
You can see some of the high-authority backlinks that the Kingsley Napley blog has attracted in the screenshot below. The top link is to an article on employment law, while the bottom two are for an article on the differences between divorce laws in France and England.

Starting a blog has other SEO benefits and when combined with a good link building strategy can seriously increase your website traffic.
That's because the articles you write help you show up for a wider variety of keywords, while the links increase your authority and push the posts higher up the search engines.
10. Use Niche Edits
Our final tip is niche edits, which is when you contact another site with a relevant piece of content and ask them to place a link to your page in the article.
The website owner may agree to your request if they think the link provides a lot of value to their readers. Often they will ask for payment.
Niche edits can result in a large number of backlinks quickly. This is because you don't have to spend time creating content. It is also a repeatable strategy with the only limit being your budget and the number of sites that agree to place your link.
You can also use this strategy to build links to pages that wouldn't usually attract links such as those advertising your service.
There are downsides to this method. The biggest is that despite being common practice, Google doesn't like paid links. This means there is a risk of Google's algorithm penalizing your site if it thinks you have paid for links. If this is the case, you could see your search rankings fall.
Reduce the chances of this happening by using niche edits as one part of an overall link building strategy. Also, be careful when choosing which sites you buy links from. Choose quality websites even if it means paying more.
Further reading: How to get backlinks with these effective strategies that work.
Law Firm Link Building Case Study: How We Built 300+ Links for Heer Law

Heer Law is an intellectual property law firm based in Canada. We worked with them for two years using many of the above tactics to build links. During this time, we built links from well over 300 domains, and organic traffic to the site increased by 551%.
Our link building strategy involved:
Analyzing key competitors to discover which sites link to law firms.
Developing outreach campaigns targeting high-authority websites.
Building links to service pages and supporting informational pages.
Taking a long-term view to build high-quality links over time.
Not only were we able to increase traffic, but we did so to valuable pages targeting competitive search terms. We achieved top rankings for keywords including:
"Patent lawyer Toronto"
"Trademark lawyer Toronto"
"IP lawyer Toronto"
"IP valuation"
You can read the full case study which explains our approach and results in greater detail here.