In the dynamic landscape of digital marketing, YouTube remains a powerful platform to captivate your audience with visual content.
With over 2.9 billion global users—of which 62% use the platform daily—it's clear why YouTube has evolved into the second-largest search engine in the world.
Now more than ever, content creators use YouTube to drive traffic to other platforms, increase sales, and improve their online presence.
You might be wondering how you can optimize your YouTube channel to do the same or where you need to start with your SEO strategy. This article has got you covered.
In this article, we will discuss:
➡️ What exactly YouTube backlinks are.
➡️ How they impact your search engine rankings and visibility.
➡️ The importance of high-quality backlinks.
We've also included a list of expert-approved tips to help you build high-quality backlinks and outrank your competitors.

🤔 Firstly, What Are YouTube Backlinks?
A backlink is a link from one website to another that typically references similar content that the reader might enjoy. They serve as digital references that connect web pages across the internet.
YouTube backlinks are links in the description of a video that point users to other platforms or websites.
These links can:

Enhance your video's visibility and engagement.

Improve your overall ranking on YouTube.

Boost your position in search engine results pages (SERPs).
These backlinks are essential for search engine optimization (SEO) because they indicate that your YouTube content is valuable and authoritative.
You can apply a variety of different backlink strategies to optimize your YouTube content to drive more traffic to your channel. We'll go into more detail about these strategies a bit later.

💡 What Are the Differences between DoFollow and NoFollow YouTube Backlinks?
To maximize your backlinks on YouTube, it's important to understand the differences between a nofollow and dofollow link.

Dofollow backlinks are hyperlinks that can contribute to your web page's SEO. They typically indicate to search engines that the linked content is trustworthy and valuable, which may increase the page's ranking in search results. Dofollow YouTube backlinks involve linking back to your website or other social media platforms in your video's description.
Nofollow backlinks indicate to search engines that they should not follow the link to the original page. These links are usually used when people want to link to a page without endorsing its content or vouching for its quality. Nofollow links are commonly used for user-generated content and paid links, especially on YouTube. They also don't impact the SEO and ranking results of a website.
A balanced, natural, and diverse backlink profile should ideally contain a combination of both these types of links, depending on your goals and overall strategy.
📊 The Impact of YouTube Backlinks on SEO
If you use YouTube backlinks correctly, it could have a pretty significant impact on your SEO ranking, traffic, and even sales.
Let's look at some of the benefits of YouTube backlinks in more detail.
Increase your ranking
One of the primary benefits of YouTube backlinks is their potential to boost your channel's ranking on search engines like Google.
When authoritative websites or content creators link to your channel, it signals to search engines that your videos are valuable and relevant to the target audience.
Over time, search engines will index your content and may rank it above similar pages because it provides more value.
This helps more people find your content, which may increase the traffic to your channel, website, and other platforms—what's not to love?

💡 Will Backlinks from YouTube Increase Your Domain Rating (DR) or Domain Authority (DA)?
Domain Rating (DR) is an SEO metric developed by Moz that evaluates the overall authority of your website.
It's typically calculated by considering the total number of backlinks that points to your domain and the quality of those links. Websites with a high DR may be more likely to rank at the top of SERPs.
Backlinks from your YouTube channel to your website may have an impact on your DR, but this isn't always significant.
Search engines consider many factors when ranking your website, such as the authority of your backlinks.
Smaller and newer YouTube channels may also carry less backlink weight compared to larger ones, so this also impacts how much backlinks from your profile will affect your DR.

Better discoverability
YouTube backlinks act as digital pathways that lead users to your content. They expand your reach beyond the platform and make your videos discoverable to a wider audience.
By attracting viewers from external sources, you increase the chances of your content being seen by others—both within and outside of the YouTube community.
Improve your backlink profile
A diverse and high-quality backlink profile is essential for SEO rankings and discoverability.
Strong backlink profiles positively impact your overall website or channel authority, which makes a difference to your visibility on the Internet.
YouTube backlinks can contribute to your profile by providing a diversity of linking domains—including websites, social media, forums, and blogs.
Increase referral traffic
YouTube backlinks are not just about SEO; they also drive valuable referral traffic—and potential customers—to your platforms.
When users follow these links from external sources, they are directed to your content, where they will be encouraged to watch and interact with it.
This can increase your video views, watch time, and engagement.

💡Is It Easy to Earn YouTube Backlinks?
Although the quality of your content still needs to be high, it might be easier to earn YouTube backlinks compared to landing other types of backlinks.
This is largely because you don't need to create long-form, written content or be an SEO copywriting expert to create YouTube backlinks.
However, you need to ensure that your videos are informative and entertaining for your target audience to watch while incorporating relevant links throughout.
Adding links to your end screens, cards, and video descriptions is also pretty straightforward to do and goes a long way toward building your YouTube backlink profile.

🔗 Types of YouTube Backlinks
There are a number of different types of YouTube backlinks that you can add to your channel to boost your rankings. Let's take a look at what those are.
👉 Video description links: Video description links are URLs and keywords that you include in the description box of your video. These can be links to your website, social media profiles, or affiliate products. In the image below, the creator has linked to relevant YouTube videos that their audience might enjoy and directed them to their website to drive traffic.

👉 Profile links: These links are found in the description of your YouTube profile and they direct people to your other relevant pages, such as social media or websites. Profile links are helpful for driving traffic to additional content you've created on different platforms.
👉 Comment links: These backlinks can be found in the comments of your own or other people's videos. They are an excellent self-promotion tool that can direct traffic to similar content or encourage users to interact with it.
👉 End-screen links: YouTube allows users to add clickable elements at the end of their videos. These end screens can be used to promote other content and can help keep users engaged with your channel for longer. You can also link to your website or other social media platforms to drive traffic to them.
👉 Card links: Cards are interactive elements that you can add to your videos to promote content, merchandise, other channels, and websites. You can display these links at specific points in your video, and they are clickable.
👉 Custom links: You can create a custom YouTube channel URL once your channel meets the requirements for it. A custom YouTube URL is usually more user-friendly and easier for your fans to remember, factors that help establish your brand.

💪 How to Build YouTube Backlinks
Now that you know a bit more about the benefits and types of YouTube backlinks, here are some expert-approved ways to start building them.
✅ Create great content
The foundation of building YouTube backlinks begins with creating high-quality and engaging content. This means your video should provide value, entertain, and inform your audience.
High-quality videos are more likely to be linked to by others in the same industry, too. However, creating these videos takes time.
Make sure that you do proper research on what viewers want to see within your niche to ensure your content is relevant to them.
You should also do some keyword research and optimize your video for SEO, which make it more likely that search engine crawlers will find and index it. We'll go into more detail about this a bit later.
If your video appears in search results, it shows that your content is valuable. This increases your chances that other websites will link to your content because they would regard it as trustworthy.

💡 What Is a Search Engine Crawler?
A search engine crawler—also known as a bot or spider—is an automated software program designed to index and discover new web pages on the Internet.
They are constantly 'crawling' the web by following links and collecting information about pages. This information is used to build a search engine's index or results.
Once a web page has been crawled and indexed, it becomes discoverable through searches and starts to feature on results pages.

✅ Optimize your channel profile
Your YouTube channel's profile is a valuable asset for building backlinks. By optimizing your channel, you can create trustworthy dofollow links that will increase traffic to your website or other platforms.
Here are some things you can do to optimize your channel profile:

Do keyword research before choosing a name for your channel to determine what kind of branding would work within your niche.
Spot-check your channel, social media, website, and any other content creation platforms to ensure brand consistency.
Align your channel name with keywords found on your website or other social media platforms.
You can also use tools like TubeBuddy that are specifically designed to give you access to resources that can help you grow your channel.
TubeBuddy is a Chrome browser extension and trusted YouTube SEO tool that connects to your channel dashboard. Once it's been installed, it upgrades your dashboard with productivity tools that easily help you boost your SEO.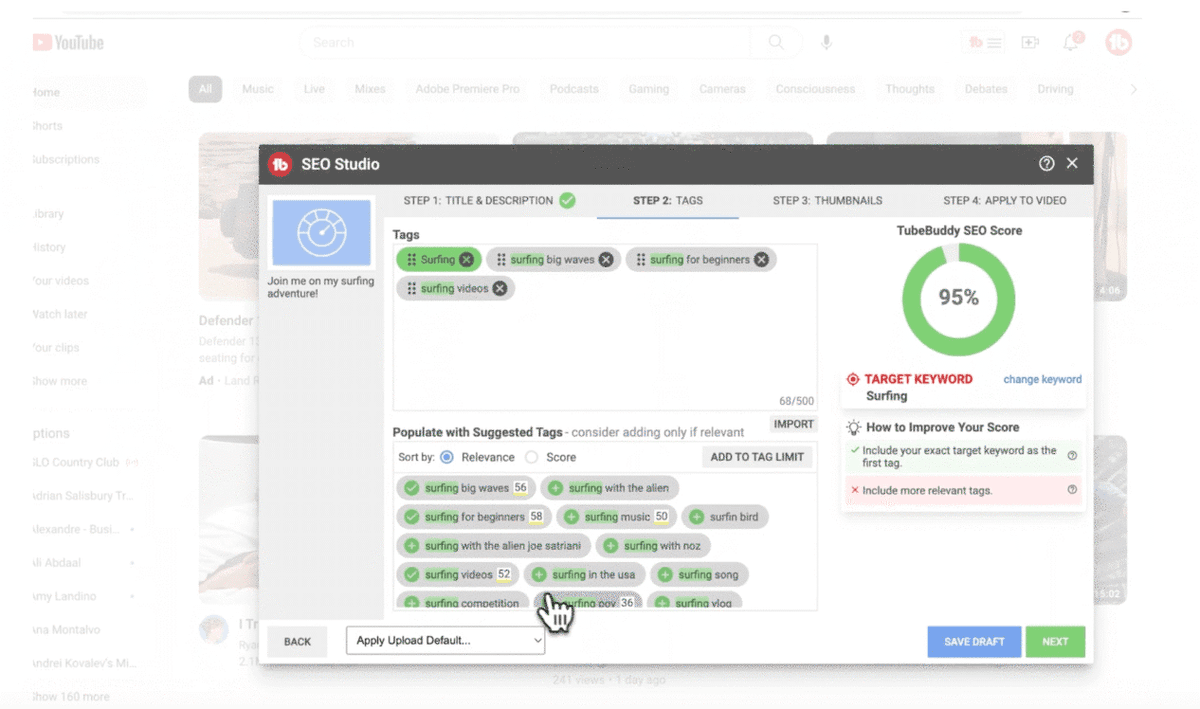 ✅ Collaborate with other content creators
Collaborating with other content creators within your niche is another effective way to earn YouTube backlinks.
When you agree to collaborate, these creators feature you in their videos and link to your content. They may also talk about and link your videos to their other platforms to encourage their audience to interact with them.
Collaborations are a great way to expand your audience and reach new users as your content will be seen by a more diverse group of people.
This method of building backlinks is mutually beneficial for both parties involved, because you'll also be linking to your fellow creator's videos and driving traffic to their channels.
When this happens, crawlers can see that both your and your collaborator's content is valuable, which is likely to improve your search engine ranking.
A few ways you can collaborate with another creator, include:

Featuring in guest appearances where you engage in a discussion about your niche.

Cohosting videos or producing a series of videos together.

Doing challenges or experiments together.

Featuring playthroughs if you're both in the gaming community.

Producing educational content such as webinars, courses, or tutorials within your niche.

Offering giveaways that require your audience to engage if they want to win a prize.
Remember that successful collaboration comes from working with creators with a similar target audience.
Working together should also be genuine and add value for your viewers, which would give you the best opportunity to build your YouTube presence.
✅ Use YouTube Cards
YouTube cards are interactive elements that you can add for link building throughout your videos. These can be used to link to similar videos on your channel or to those of other content creators.
While these videos can't usually be used to link directly to your website or other platforms outside of YouTube, these cards can still be helpful to improve your backlink profile and video reach.
Here's how to add cards to your video: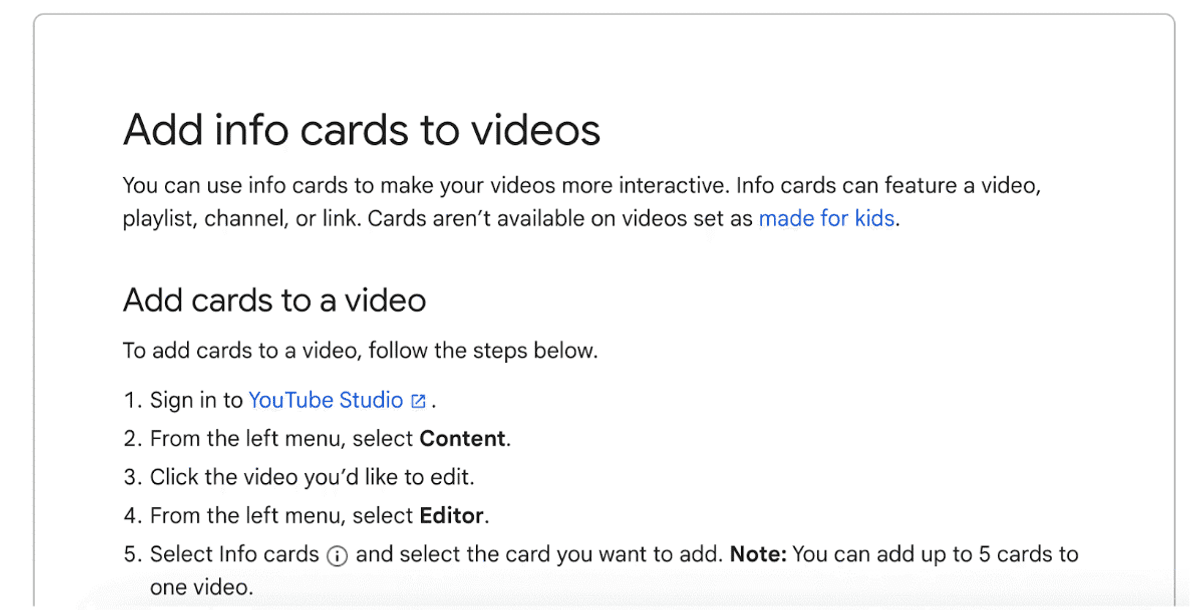 Once you've added your cards, you have a few different options to use them:

Videos: Allows you to link to a public YouTube video for your audience to interact with.

Playlist: Links to a public YouTube playlist.

Channels: Links to a YouTube channel that your viewers can engage with.

Link: Allows you to link to an external website or platform. You'll only have access to this feature if you are part of the YouTube Partner Program—this gives you more access to video resources, allows you to monetize your content, and connects you to support teams.
When viewers see engaging YouTube cards on your videos, they may feel encouraged to interact with them to explore more of your content. Over time, this increases referral traffic and helps build your backlink profile.
✅ Use YouTube video end screens
YouTube end screens offer a great opportunity to drive more clicks to your website. End screens appear when a video is finished playing and typically feature multiple elements displayed in a tile format.
You can add clickable graphics to your end screen, which allows viewers to stay engaged without being directed to suggested content that drives them away from your channel.
Take a look at this creator's end screen to see how they utilized this YouTube backlink strategy: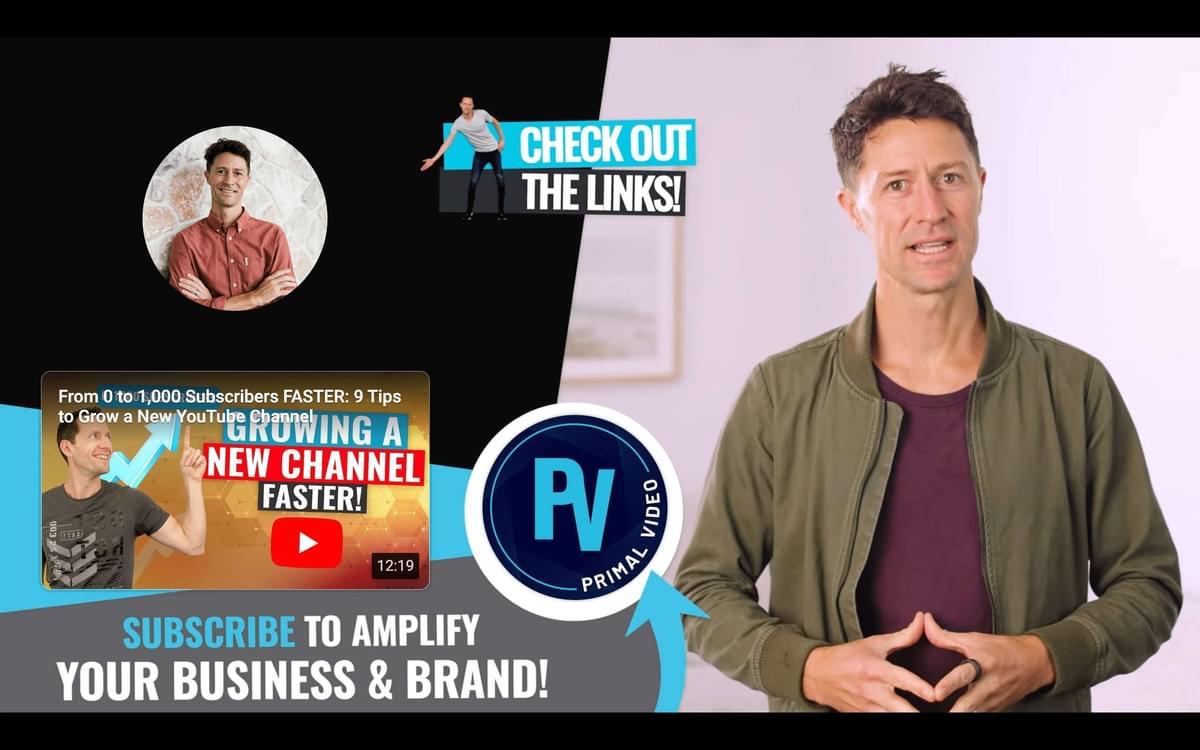 End screens can include up to four elements, which can be:

A subscribe button for your channel.

Links to previous or similar videos.

A call to action (CTA) button.

Links to your website.
This tool is great for linking to platforms outside of YouTube, especially if you're not part of the Partner Program we mentioned before.
✅ Share videos on other social media platforms
If you use other social media platforms or run a website, it's important to share your YouTube links on these platforms.
When you share a video link, you increase your chances of attracting new viewers and backlinks from other blogs or websites.
You can also engage with your social media audience and encourage them to share your content, which is especially beneficial if they have authoritative pages.
When trustworthy creators link to your content, it has a positive impact on your YouTube channel and overall search rankings.
Another method is to embed YouTube videos into blog posts or any other qualifying content. This may help generate backlinks to your YouTube profile without have to rely on higher organic search traffic or referral links.
Wrapping Up on YouTube Backlinks and Boosting Your SEO Strategy
Even though it can be a time-consuming process, putting effort into your YouTube backlinks can be a game changer for your SEO.
Once you understand how powerful this approach can be, you can leverage YouTube backlinks to drive traffic to your website, increase sales, and reach your SEO goals.
To learn more about how we use the strategies highlighted in this article and gain from our industry expertise, visit the LinkBuilder website and blog to help improve your website visibility.
You can also contact us to find out how we help brands build natural, high-quality backlink profiles across various platforms.