Marketing and search engine optimization (SEO) professionals of all kinds, will benefit from being part of online communities.
Whether it's a LinkedIn group, Slack Community, or online forum, marketing communities can help you build ideas, catch up on the latest innovations in your field, and—perhaps the best part—build links.

Link building is hard—there's no denying this. From developing a solid SEO strategy to conducting outreach, gaining high-quality backlinks from authoritative websites is no easy feat.
However, with the help of a few good Slack communities, also known as Slack groups, you might find new link-building opportunities that make life a little simpler.
In this article, we will discuss:
➡️ What Slack communities are.
➡️ The five best link-building and marketing communities on Slack.
➡️ Other types of marketing communities that may be worth joining.

What Are Slack Communities?
You may have heard of Slack before. You may even use it every day.
Slack is a communication platform that allows you to connect with your colleagues via channels, direct messages, and group chats. The tool lets users share files and hold voice or video calls.
Perhaps what makes Slack such a popular tool is that it allows integration with just about any other app you can think of, from Google Calendar to Zapier.
The Slack you work on within an organization is called a Slack workspace. However, the tool has also launched Slack communities, as mentioned above.
A Slack Community is a collection of users who share a common interest or goal. For example, a group of digital marketers looking for conversion rate optimization (CRO) growth hacks.
The idea behind a Slack Community is that it brings people together from around the world who wouldn't necessarily have the chance to collaborate in the same way elsewhere.
While Slack workspaces are typically managed by your organization, Slack communities are often created and managed by users worldwide to provide a place where people can connect with others.
There are now thousands of Slack communities of like-minded people available for you to join today, with topics ranging from cooking to job openings and even—you guessed it—link building.
How are Slack communities formed?
For a Slack Community to be created, an organizer needs to create a new Slack workspace by signing up for a new account with Slack.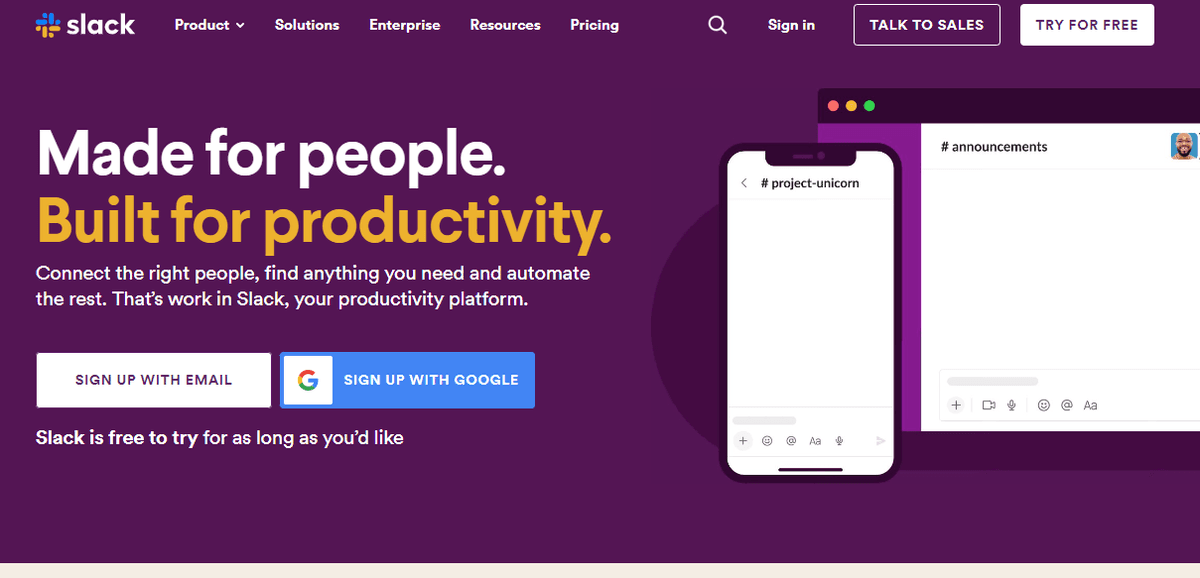 After the workspace has been created, the organizer can invite other members to join the community by either:
✅ Sharing an invitation link.
✅ Sending an email invitation.
The organizer also has the ability to set up multiple Slack channels within the community to organize chats around specific topics or trends.
They can also create rules and guidelines for Slack Community members to follow.
What are the different types of Slack communities?
💬 Public communities: This is a free community on Slack that anyone can join via a link. These communities are usually listed in public directories and are dedicated to a specific topic or interest. Naturally, a public community means you'll have people from diverse backgrounds to network with.
💬 Private communities: A private Slack Community can only be accessed if you have a specific invitation to join. You may also need to get approval from the organizer before you can become a member. There may also be membership requirements like being an expert in a certain field or being part of a certain organization.
💬 Paid communities: A paid Slack Community is one where you need to pay a fee to be a member. This could be a one-time fee or a recurring subscription. Often, these communities are of higher value as they may offer exclusive video content, sought-after networking opportunities, and access to valuable resources.
💬 Invite-only communities: An invite-only Slack Community is one where you need to be invited by a member to join. You often require a referral or recommendation from an existing member. An invite-only community is usually a tight network of professionals.
How a Slack Community can help with link building
A Slack Community specifically centered around link building includes other link builders like yourself, digital marketers, guest bloggers, website owners, and SEO professionals.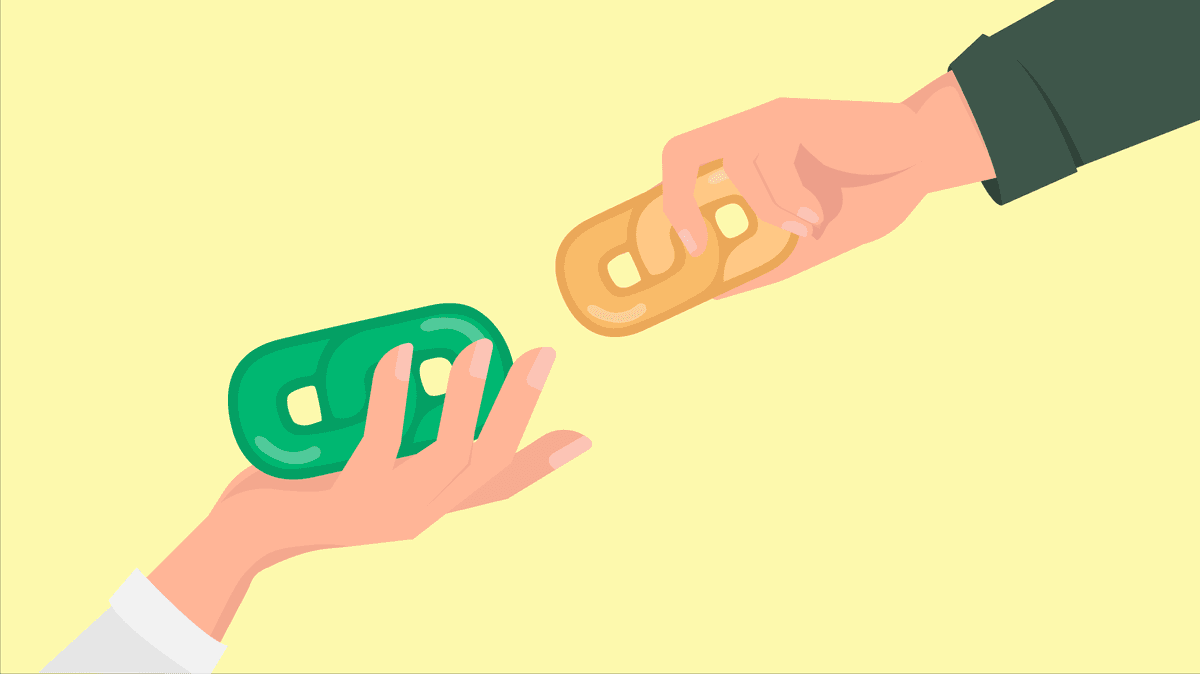 In these communities, you'll get opportunities to:
✅ Build relationships that could result in backlinks to your website.
✅ Write guest posts or find guest post writers.
✅ Find link-building job postings.
✅ Gain industry-specific insights that you may not get elsewhere.
✅ Chat with industry experts who can help you perfect your link-building strategy.
✅ Generate content ideas for your content marketing efforts.
✅ Openly exchange ideas and get real-time feedback from other SEO professionals.

The 4 Best Link-Building Slack Communities
Now that you know more about Slack communities and how to leverage them when building links, let's look at some of the best backlink communities you can join.

➡️ Marketing Lad's Link Building Slack Community
Aimed at helping members build partnerships and collaborate with like-minded people, this SEO Slack group helps you scale your link-building efforts by networking with real brands.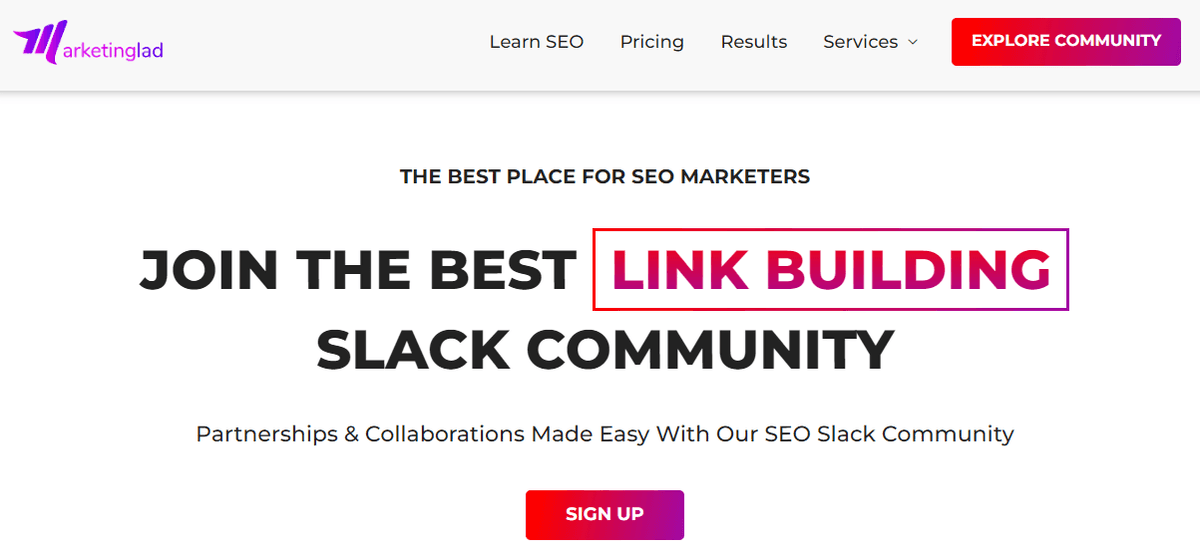 The purpose of this Slack Community
The Marketing Lad Slack Community is a paid community that allows members to collaborate on content marketing, pitch their ideas to brands, and get responses faster than email outreach practices.
Why join this community
According to their website, Marketing Lad's Slack group will help you build high-authority links from sites like Visme, G2, SocialPilot, and ClickUp and promote your blog posts and content.
Additionally, the community is trusted by more than 700 brands, including Wordable, uSERP, and ContentStudio.
Who should join this community?
This Slack Community is aimed at SEO marketers, link builders, bloggers and guest posters, and startup and SaaS founders.
How to join this community
This is a paid community, meaning you will need to make a $20 payment via Paypal to join. However, there is a 24-hour refund policy if you're unhappy with the community.
To join, you would need to make your payment and fill out the form on their website. Your application will then be reviewed by Marketing Lad, and you will receive an invitation to join if you are successful.
➡️ The Backlinks Slack Group by brainspin
Founded by a Utah-based digital marketing studio called brainspin, the Backlinks Slack Group allows members to engage with website owners and industry experts from across the globe.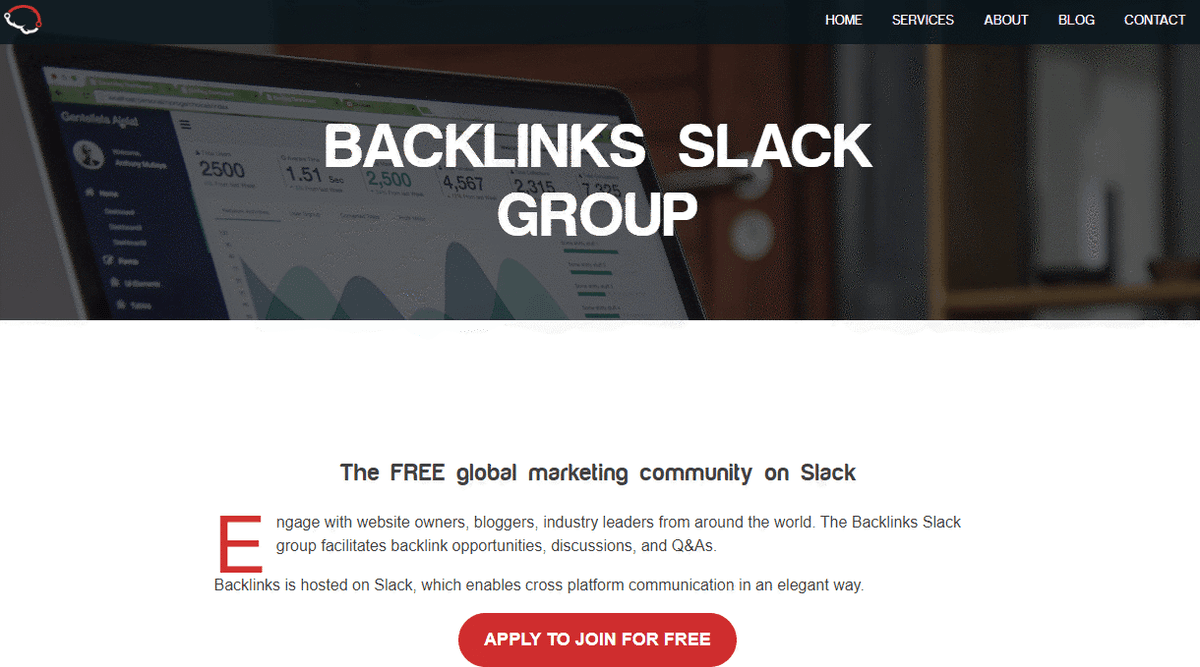 The purpose of this Slack Community
It seems brainspin's Slack Community is aimed at helping everyone from business owners to SEO specialists to find better ways to build links.
Their Slack Community allows you to ask marketing-related questions and find potential opportunities to build links to drive traffic to your website.
This Slack Community has something for everyone, from technical SEO discussions to social media marketing.
Why join this community
What we particularly enjoy about this marketing community is that brainspin has organized it into specific Slack channels, each with its own notification preferences.
This means you only need to subscribe to the Slack channels you're interested in, rather than the entire community (and being bogged down by notifications all day).
Who should join this community?
According to their website, this community is perfect for business owners, SEO specialists, and industry leaders interested in marketing industry-related topics.
How to join this community
This is a free-to-join community, meaning anyone can become a member. Simply visit the website and apply to join for free.
➡️ Traffic Think Tank
Traffic Think Tank (TTT) is an academy for SEO specialists who want to grow their skills, network with other digital marketers, and build a career.
If you join their academy, you'll get exclusive access to their Traffic Think Tank Slack Community, which currently has thousands of members.
According to their website, this is the 'inner circle' of SEO.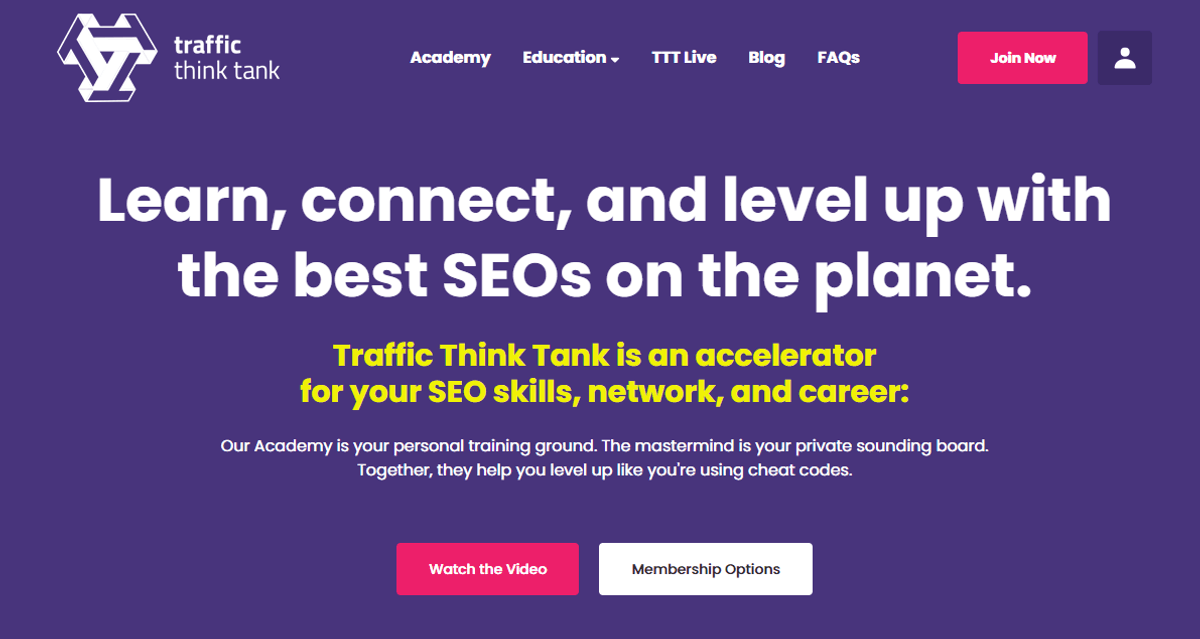 The purpose of this Slack Community
The Traffic Think Tank Slack Community won't only help you level up your SEO game, but you'll also be joining a very active community of internet marketers sharing industry-specific insights.
Although this group isn't aimed at actively building links, it's certainly an excellent resource if you are in the link-building industry.
Why join this community
As a link builder, you need to be at the forefront of the latest developments in your field. This exclusive Slack Community allows you to find seasoned mentors you can turn to anytime.
Additionally, the digital marketing field is constantly evolving, and to stay on top of things, you need to rub shoulders with those who know what they're talking about. This exclusive Slack Community helps you do just that.
Who should join this community?
You can only join the Traffic Think Tank Slack Community if you are a member of the TTT academy.
The academy is for SEO specialists who need expert guidance and want to stay current and collaborate.
How to join this community
To join, you first need to join the TTT Academy by choosing one of their monthly packages, which are currently between $99 and $119 per month.
Their membership packages include access to the Slack Community as well as expert-led private webinars, Q&A sessions, and over 200 hours of training that you can do at your own pace.
Visit the TTT website to choose a membership package and get access to one of the best Slack communities.
➡️ uSERP's Link Building HQ
uSERP is an SEO agency specializing in link building. They have their very own Slack Community specifically for link-building purposes.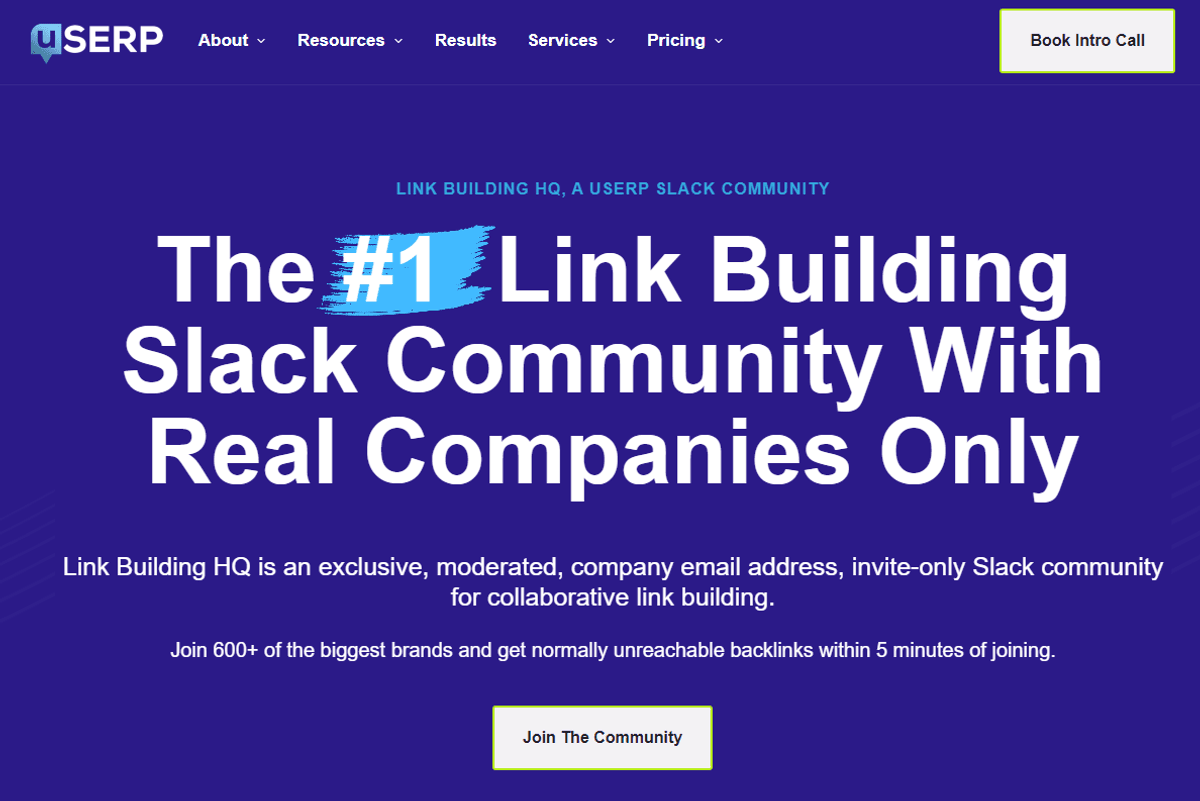 The purpose of this Slack community
Link Building HQ is a marketing community where you can exchange backlinks and guest posts and get published by high-authority sites.
Why join this community
The community promises the potential to get backlinks from sites like Forbes, HubSpot, Entrepreneur, and Crazy Egg.
Additionally, some of the world's top brands are members of Link Building HQ, meaning you get access to your dream target websites.
If you're looking to partner with some of the world's greatest SaaS brands, this is the best Slack Community to join.
Also, you'll be joining a group where each member has been carefully vetted before being accepted into the community. So, you're getting access to top-notch people and world-class brands.
Who should join this community?
According to their website, this community is for content marketers, guest authors, SEO executives, link builders, journalists, and SaaS founders.
How to join this community
To join this exclusive community, you need to fill out a Google Form on the uSERP website to apply for membership.
There is one catch, though. uSERP asks that you provide them with a backlink on your website to join their community.

How Slack Handles Link-Building Communities
Up until now, Slack has taken a relatively 'hands-off' approach to communities, allowing group organizers to manage their members as they please.
So, unless a Slack Community has someone in charge who strictly implements certain guidelines, there are no rules. This can result in chaos.
Recently, Slack had to take a closer look at how their communities are run when they picked up on some hate groups that were promoting violence, harm, and discrimination.
They now pay closer attention to communities and remove workspaces that violate their policies.

Other Types of Communities for Link Building
Although Slack communities for marketers are an excellent place to find backlink opportunities, there are other digital marketing and SEO communities out there that can help you in your link-building efforts.
Some other types of communities you may want to investigate include:

LinkedIn and Facebook groups: There are many groups on Facebook and LinkedIn that focus on marketing and SEO specifically.

Online platforms: Online communities like GrowthHackers and Inbound.org include discussion forums, articles, and resources.

Moz Community: Run by one of the world's largest SEO tools, Moz, this community is made up of a forum where SEO pros can hold discussions.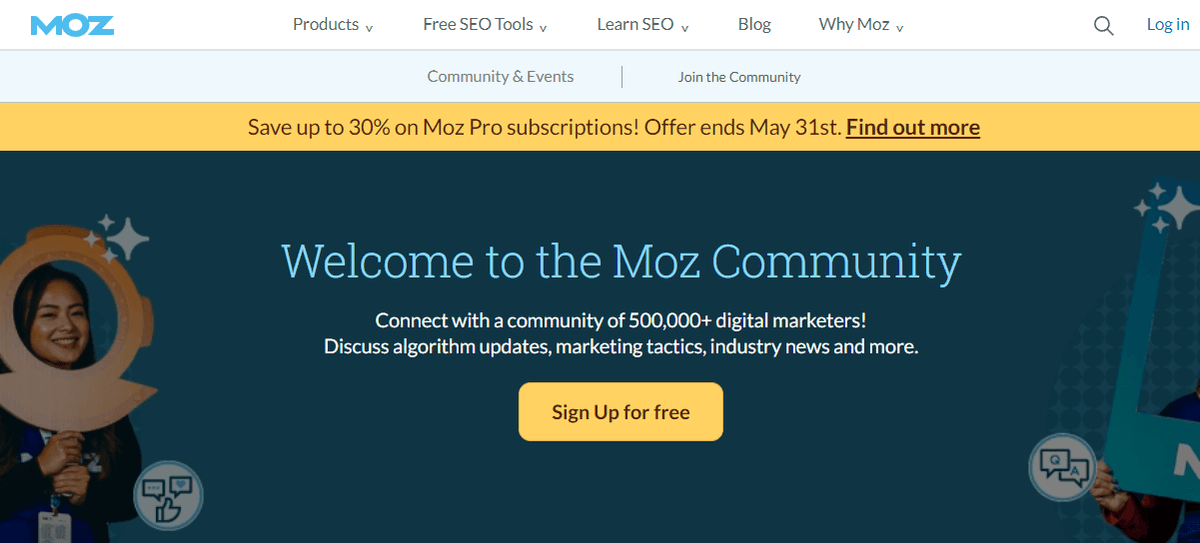 Wrapping up on Slack Link Building Communities
In the world of digital marketing and SEO, there's nothing more valuable than an opportunity to learn and collaborate.
A Slack Community gives digital marketers and SEO pros the opportunity to build links and so much more. You get access to a global community where you can engage in link exchanges, guest posting, and seek advice on the best link-building opportunities.
Additionally, a Slack group gives you a place to show off your own success stories, run your ideas by industry experts, and even host Q&A sessions to help improve your current projects.
If you're looking for new ways to find opportunities for link building and to network with other professionals in the industry, Slack is a great place to start.
Join these Slack Communities to learn about link-building from some of the world's leading experts and to find opportunities to boost your rankings, organic traffic, and brand awareness.