I found it incredibly difficult to find a resource with the most up to date Google ranking factors (considering the vast number of Google updates in the last few years), which is what motivated me to create this post with efficiency in mind.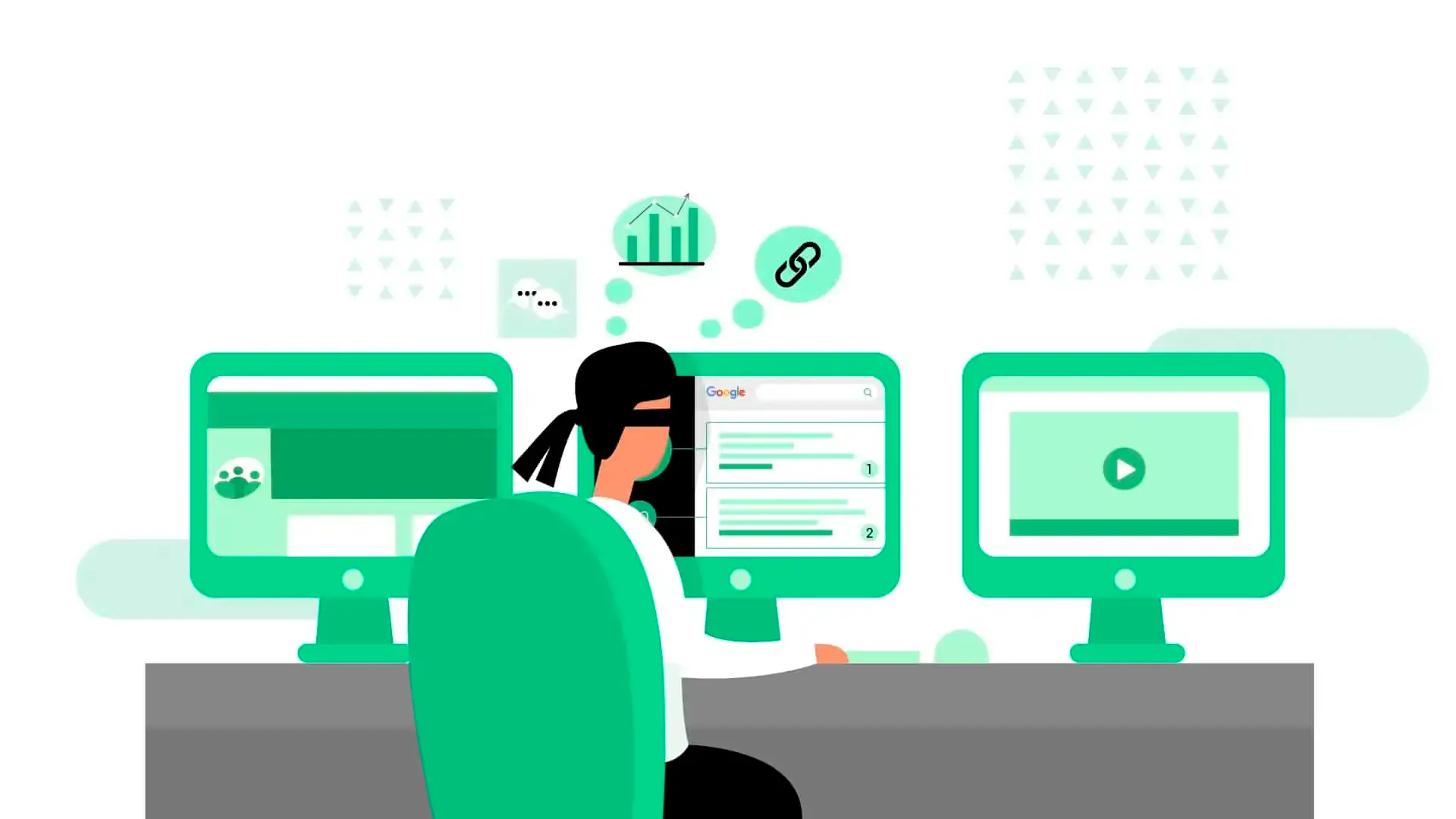 It's essentially a compilation of the most up to date and on-point sources I could find on the internet, with the goal of helping SEO's understand the most fundamental ranking factors.
For each of the ranking factors, we've always taken a combination of SEO experts opinion alongside the official stance of Google, to give a balanced view on each factor.
Google's algorithm uses hundreds of data points to decide which pages rank in which position.
These ranking factors are constantly evolving as the search engine tweaks its algorithm to provide the results searchers are looking for.
The last year alone has seen two major updates: Google's Core Web Vitals and product review releases change how sites rank.
With this in mind, this article analyzes eleven of the most important Google ranking factors that matter today.
We've looked at various sources, studies, and reports — along with what Google says about each subject — to highlight everything you need to know about increasing your ranking.

Sources used for this article
A study by Brian Dean's Backlinko that looked at over 11 million search results to come to 11 conclusions about ranking factors.
A study by Authority Hacker that analyzed over 1 million search results and produced some interesting insight into the type of content that ranks.
Google's SEO starter guide, Search Quality Guidelines, and Search Central web pages provided insight into what the search engine looks for.
An Ahrefs article that contains useful insight into what makes content rank.
A series of articles from the Search Engine Journal that looks at individual ranking factors in detail.
A resource from Marie Haynes that highlights all known Google algorithm changes and what they've targeted.
We've used several other resources to back up statements used in this article. We've linked to them where relevant.
Google's algorithm uses hundreds of data points to decide which pages rank in which position.
These ranking factors are constantly evolving as the search engine tweaks its algorithm to provide the results searchers are looking for.
The last year alone has seen two major updates: Google's Core Web Vitals and product review releases change how sites rank.
With this in mind, this article analyzes eleven of the most important Google ranking factors that matter today.
We've looked at various sources, studies, and reports — along with what Google says about each subject — to highlight everything you need to know about increasing your ranking.
11 Key Google Ranking Factors (Experts vs. Google)
1) Content Quality & Depth
This is the first obvious one. Without content, you literally cannot rank for anything no matter how many of the other factors you get right.
After all, Google is a robotic algorithm trained to read web pages and decide whether it's a suitable fit to the user based on their search query.
There's a lot of discussion in SEO circles about how the length of an article affects its ability to rank.
There was a time when it seemed like longer articles were more likely to rank than shorter ones. Studies even found a correlation between article length and ranking.
Nowadays, simply writing a longer article is unlikely to help you rank.
Backlinko found that word count is evenly distributed among the top ten results, with the average first page result being 1,447 words long.
But, while word count now seems irrelevant, the depth of your content — how sufficiently your content answers the searcher's query — can affect your ranking.
🕵️‍♂️ What SEO Experts Say
Backlinko found that content with a high content grade as measured via Clearscore "significantly outperformed" content with lower scores. The study also found that increasing content grade by one approximates to a one position ranking increase.
Ahrefs also mentions content grade as one of its top rankings factors. It suggests that websites should look for commonalities in other ranking websites and then ensure their articles cover the same points.
🧠 What Google Says
Google's Search Central guide advises website owners to create comprehensive content.
It uses the example of a recipe, saying it should include a "complete recipe that is easy to follow rather than just a set of ingredients or a basic description of the dish."

👉 Verdict: Content is Incredibly Important
Content depth appears to affect your rankings. But it doesn't mean that you need to make your article as long as possible. Rather, you need to ensure it covers all the points a searcher may be looking for when they type in this query.
You can use tools like Clearscope or SurferSEO to ensure your content covers all the points. Simply looking at what the pages already ranking in the search results include in their articles will also help.
2) External Links Pointing to a Page
All the resources we looked at agreed that the links pointing to a page (or website as a whole) affect its ranking.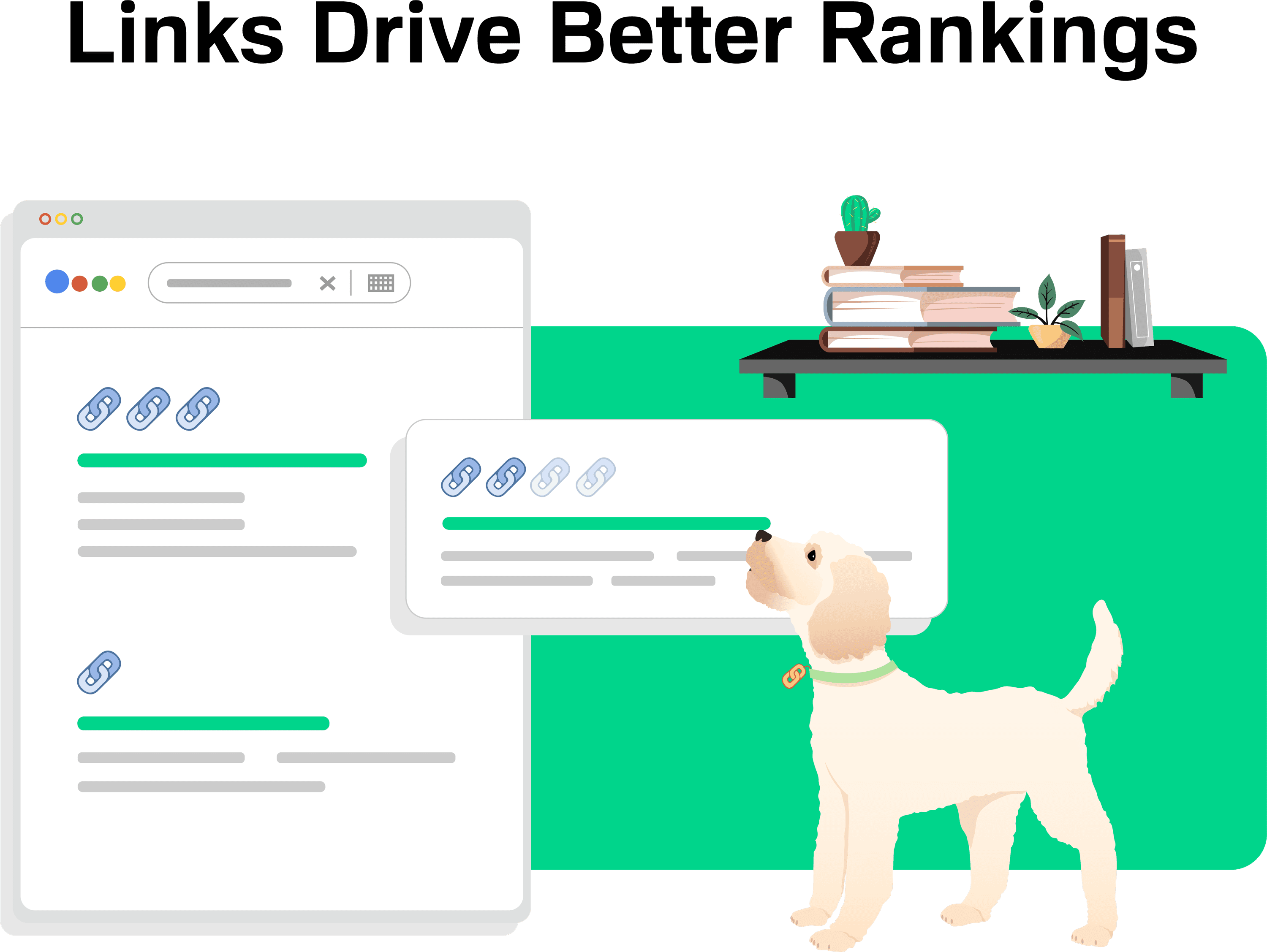 Backlinks are vital because they act as a sign from one website that the content on another page is worth linking to. And if the content is worth linking to, it then may also be worth showing in the search results.
Backlinks were an essential part of Google's original PageRank algorithm, and authoritative backlinks continue to be important to this day.
We advise engaging in expert link building services to help achieve sustained success with your backlink strategy.
🕵️‍♂️ What SEO Experts Say
Backlinko found that the "number one result in Google has 3.8 times more backlinks than those in positions two to ten."
Ahrefs goes further, calling Backlinks "arguably the most important ranking factor." The brand's study of over a billion web pages found a clear correlation between the number of backlinks a page has and the amount of organic traffic it receives.
Authority Hacker said that backlinks are "the most strongly correlated factor for SEO success."
🧠 What Google Says
Google has long confirmed that it uses backlinks in its ranking algorithm, without stating exactly how important they are.
John Mueller from Google did state that relevancy and quality of links is much more important than volume of links.

👉 Verdict: Links Are an Important Ranking Factor
Pointing quality links to a page undoubtedly helps it rank better, especially for competitive queries where the other pages also have links.
Links can't make up for other shortcomings, like irrelevant or poor-quality content. But if your content is good, they can make a big difference.
3) Searcher Intent

Matching searcher intent is when you ensure your content contains the information someone searching for the target keyword is likely to be looking for.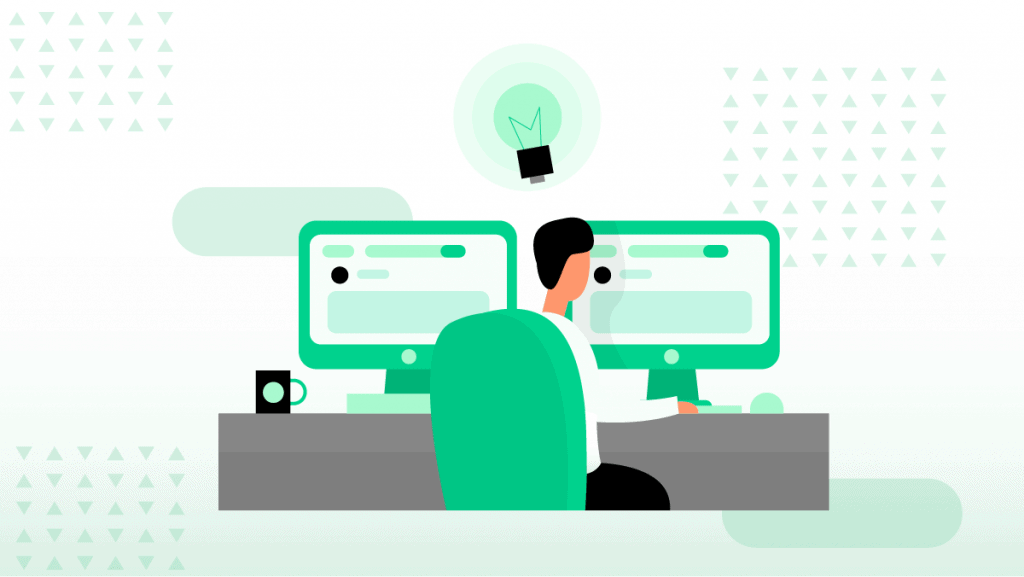 It's why when you search for the "Best laptop" you get a list of the best laptops, and when you search for "How to fix a laptop screen," you get articles about common screen issues and how to solve them.
Alongside backlinks, intent is the factor most experts agree is the most important to ranking.
This makes a lot of sense — Google wants to show the best answer to a question in its search results.
🕵️‍♂️ What SEO Experts Say
It's hard for studies to measure how important searcher intent is. But, there is wide agreement that you can only rank if you answer the question posed by the searcher.
Ahrefs highlights searcher intent in its list of ranking factors. Meanwhile, Search Engine Land says SEO should "Start with optimizing for intent," and Backlinko says "Satisfying searcher intent is ultimately Google's #1 goal."
An example of the importance of searcher intent is shown in the Authority Hacker report. It found that when people search for brands, the company's website consistently ranks at number one regardless of other factors.
🧠 What Google Says
Google clearly acknowledges the importance of intent by dedicating a whole section of its Search Quality Guidelines to discussions around the topic.

👉 Verdict: Matching Searcher Intent Is Essential to Ranking
Matching searcher intent is essential if you want to rank. It's almost impossible to rank for terms if you don't answer the searcher's question.
It's easy to see searcher intent and adjust your article to match it; just head to Google and see what type of content is already ranking. You can then change your content to meet these needs.
From this base, you can start to follow some of the other tips in this article, such as building links, to increase your rankings.
4) Topical Authority
Topical authority is how relevant a domain's content is to the search query.
For example, a food and drink website has a high topical authority for recipes, but a low topical authority for B2B software reviews.
🕵️‍♂️ What SEO Experts Say
Ahrefs mentions topical authority as one of its top ranking factors. It suggests this could be due to pages having more internal links from relevant topics. This could increase the page's authority and provide Google with context on what it is about.
A study by FirstPageSEO put niche expertise as the fourth most important ranking factor. The report specifically highlights how a hub and spoke strategy can result in higher rankings.
🧠 What Google Says
Google says websites should "cultivate a reputation for expertise and trustworthiness in a specific area" and that content on the site should be "created or edited by people with expertise in the topic."
This suggests that the search engine is looking for ways to rank content based on topical authority.
👉 Verdict: You're More Likely to Rank for Content Relevant to Your Website
You can see examples of topical authority as a ranking factor on pretty much every search engine ranking page.
We can be very confident that you are more likely to rank for content on topics that Google considers you to have some authority in.
5) Internal Links
Internal links go from a page on a website to another on the same site. They differ from backlinks, which go from a page on one domain to a page on another.
Most websites nowadays are designed to naturally link internally to important pages via menus, but most aren't doing this to the best of their ability.
It's important to again remember that Google is a robot and not a sentient being. It needs a path to tie websites & pages of content together, and linking your pages together correctly is vital to SEO success.
🕵️‍♂️ What SEO Experts Say
Ahrefs calls internal links "crucial for SEO success."
Ninja Outreach claims to have increased organic traffic by 40% by doing nothing more than improving internal linking.
🧠 What Google Says
Google has confirmed that it discovers new pages to index by following links from known pages.
A Google representative also said that internal link anchor text provides context about the page's topic.
Google told Ahrefs as recently as 2018 that it still uses PageRank as part of its ranking algorithm. Internal links are known to be part of this algorithm.
👉 Verdict: Internal Linking Helps Google Find Pages and Gather Context
Creating a good internal linking structure for your site is good practice, and Google has confirmed that it can impact your ranking. This is backed up by other evidence, such as the Ninja Outreach case study.
Linking to your own pages is also something you can control, is easy to do, and doesn't take much time. There's really no reason not to use internal linking.
6) Keyword Optimization (E.G. Title and Headers)
One of the easiest possible optimizations you can make to improve SEO performance is to simply optimize your title tag, URL and page headers.
After that, keyword optimization within the page is key. If you want to target "Best laptops" you'll include this exact phrase in your article.
Keywords have been important to getting content to rank in the past. But the issue is far more complex nowadays and many people consider general topics to be more important than specific keywords.
🕵️‍♂️ What SEO Experts Say
Backlinko says that the "majority of title tags in Google exactly or partially match the keyword they rank for." They, however, found no correlation between using a keyword and ranking higher on the first page.
Authority Hacker found a correlation between the number of keywords in the content and ranking. It also found that keywords in H1 and title tags had a stronger correlation, while keywords in the URL were "somewhat relevant."
Kyle Roof is a huge advocated of keyword density and placement, saying that Google is essentially an algorithm who is scanning keywords to find obvious clues about a page. We can't argue with this.
🧠 What Google Says
Google's keyword-related advice revolves around avoiding "keyword stuffing." It says that stuffing irrelevant keywords into an article can negatively impact your rankings.
👉 Verdict: Studies Show Correlation Between Keywords and Ranking
It's hard to know exactly how much keywords matter. The above studies show that there is plenty of correlation between keywords and ranking.
In most situations, it will be hard to write an article about a particular topic without at least hitting some partial match keywords.
Just be sure to avoid keyword stuffing. Your keyword use should be natural and you should only include them when it makes sense to do so.
7) Page Experience Signals
Page experience signals suggest a searcher has found the information they are looking for on the web page. They include factors like dwell time, bounce rate, and click-through rate.
The theory is that Google is more likely to rank content that excels in these metrics because it suggests they answer the user's question.
🕵️‍♂️ What SEO Experts Say
Backlinko found a strong correlation between time on site and rankings.
Ahrefs speculates that Google has some other way of measuring user satisfaction, even if it's not any of the metrics mentioned above.
🧠 What Google Says
Google says it does not use any interaction metrics as a search engine ranking factor.
👉 Verdict: Google Doesn't Use Specific Metrics (like dwell time) to Rank Content
Google says it doesn't use metrics like dwell time and click-through rate to influence its rankings, so you should believe them.
But, these metrics can be a sign of content quality.
If Google Analytics shows you have a high bounce rate and a low time on page, it could be a sign that you need to improve your content, which could ultimately lead to a better ranking.

8) Core Web Vitals

Core Web Vitals is a set of three tests that Google uses to measure the experience a user has on a page.
These are:
Largest Contentful Paint (LCP), which measures how long it takes for the largest content element to load.
First Input Delay (FID), which measures how long it takes for the browser to respond when a user interacts with the page.
Cumulative Layout Shift (CLS), which measures how much the position of content on a page shifts as the page loads.
🕵️‍♂️ What SEO Experts Say
Core Web Vitals is a relatively new ranking factor and there isn't much research into it. Most SEO experts seem to agree that it is a minor ranking factor, which goes along with Google's own advice.
🧠 What Google Says
Google representatives have confirmed that Core Web Vitals is a ranking factor. They said that improving pages from "need improvement" to "good" may result in ranking increases.
👉 Verdict: Good Core Web Vitals Scores Can Help You Rank
Core Web Vitals is a ranking factor and poor scores may negatively affect your site. Improving a poor score to a good score can result in a ranking increase.
But, these will only impact your ranking if your content is relevant and competitive in other ways. Additionally, if your score is already good, further improvement is unlikely to make a difference.
9) Page Freshness
Page freshness is how recently a page has been published or updated. This is a ranking factor, although its importance depends on the query.
News-related terms will typically show content that has been updated in the last few days or hours. Check out the screenshot of the term "UK News" below.
News changes multiple times per day so these pages need to reflect this.
Other terms still consider freshness but don't require you to update your content quite so often.
For example, the term "Best CRM" contains articles that have mostly been updated within the last month or two. This reflects the fact that CRM products update and change on a relatively slow timeline.
🕵️‍♂️ What SEO Experts Say
Ahrefs includes freshness as one of its major ranking factors, assuming it's relevant for the query.
Plenty of SEO experts, including Search Engine Journal, have reported ranking increases after updating and refreshing old content.
🧠 What Google Says
Google has confirmed that it uses content freshness as a ranking factor for breaking news, recurring events, current information, and product queries.

👉 Verdict: Freshness Is Essential for Some Terms
Freshness undoubtedly plays a part in rankings when it is relevant.
When deciding whether or not to update a page, look at the other results in the SERPs to see when they were last updated and decide based on this.
10) Quality Product Review Content
A product review is a specific type of article that targets people looking for reviews of products.
In 2021, Google made big changes to how it ranks this type of content. This was done to promote high-quality reviews.
Google specifically mentioned that reviews should include:
Evidence of your experience with a product, such as images, video, or audio
Links to multiple sellers of the product
🕵️‍♂️ What SEO Experts Say
Search Engine Land reported significant ranking fluctuations after the algorithm change went into effect.
Marie Haynes's update tracker reported significant turbulence in the SERPs in the two weeks after the review update was released.
🧠 What Google Says
Google confirmed that it released an update with the aim of promoting quality review content.

👉 Verdict: Google Is Targeting Low-Quality Reviews
Google confirmed that it released an update targeting low-quality reviews. There have been reports of SERP fluctuation after the algorithm rollout, suggesting it has a material impact on results.
If your website publishes reviews, you should try to meet the guidelines provided by Google.
11) Domain Authority
Domain authority is a term used to refer to a website's overall backlink profile. It differs from the above point, which relates to links pointing to a specific page.
Websites with a high domain authority have many links from authoritative sites. Those with a low authority tend to have fewer links in general and fewer from authoritative sites.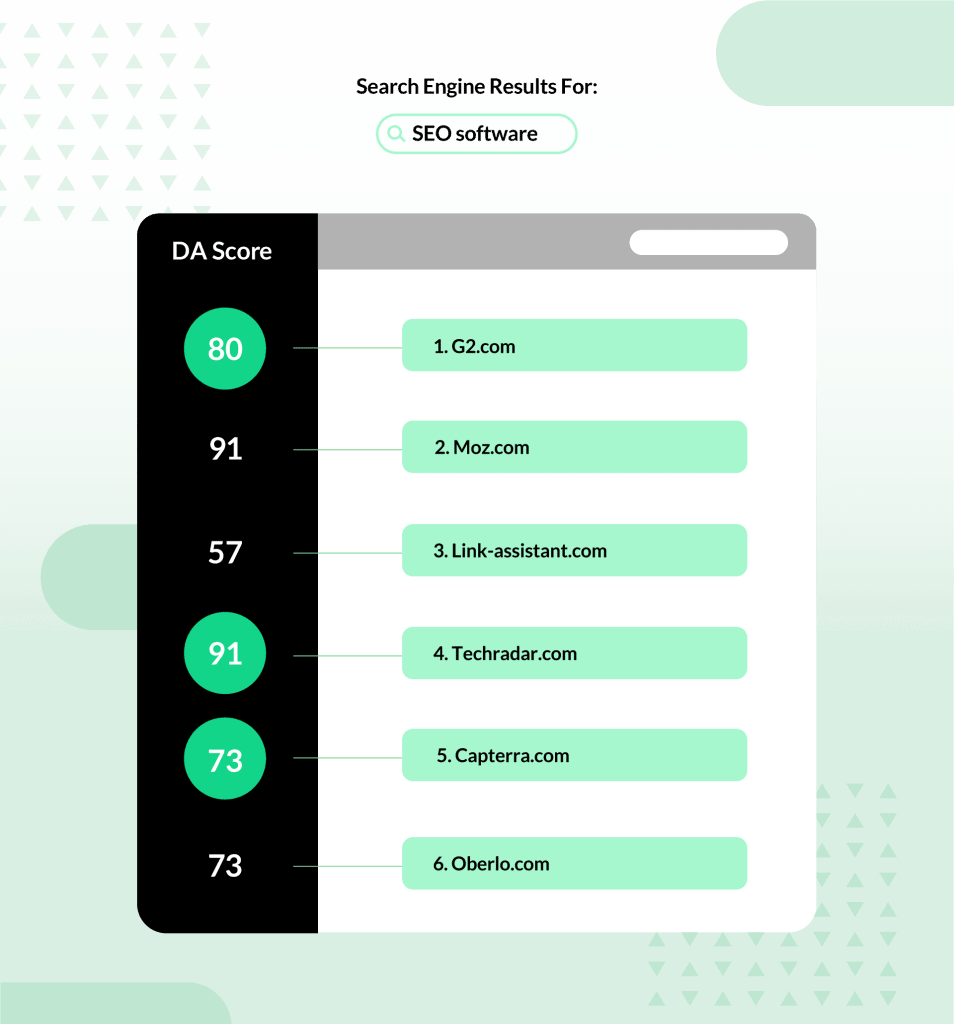 Several SEO tools attempt to measure domain authority. Some of the most common metrics include:
Moz's Domain Authority (DA)
Ahrefs' Domain Rating (DR)
SEMRush's Authority Score
Each of these tools analyzes the quantity and quality of the links that point to a domain to give it a score out of 100.
The scores are calculated on a logarithmic scale, which means it becomes harder to move up a level as your domain authority increases. They are also relational, which means your score can drop if the websites around you increase their backlinks faster than you do.
🕵️‍♂️ What SEO Experts Say
Backlinko found that a website's Ahrefs Domain Rating "correlates to higher first page Google rankings."
Authority Hacker says that Domain Rating seems "somewhat relevant" to a page's ranking.
Ahrefs says that while page authority has a higher correlation with rankings than domain authority, domain authority can influence rankings indirectly by using internal linking to pass link juice to other pages.
🧠 What Google Says
A Google representative said the company doesn't have a "website authority score."
Google has also said there are times when they look at a website to understand where new pages should rank.
👉 Verdict: Domain Authority is not a ranking factor, but does correlate with Rankings.
We should be cautious to note that Domain Authority is a third party metric which can easily be manipulated with links which will not benefit your website.
This could be due to the site's backlink profile, how link juice is spread to new pages, or the fact that Google has more context about the website due to the content it has published previously.
Authoritative sites seem to have an easier time ranking new pages than new ones. That's why high authority sites dominate the most competitive terms.
Other Key Technical Factors

There are other ranking factors beyond the ones in the list above. These are factors that you should ensure your site meets to stand the best chance of ranking.
Three of the most important include:
HTTPS: This is a protocol that encrypts data sent between a browser and a website. Google has confirmed it is a lightweight ranking signal.
Mobile friendly: Google has used mobile-first indexing since 2019 and how well your site performs on mobile is a ranking factor for both mobile and desktop searches.
Proper indexing: Google can only rank your website if it is indexed properly. If you're struggling to rank a new site, this is one of the first things you should check.
Keep in Mind Google's Ultimate Goal for Long-Term Success
When trying to improve your ranking, you ultimately need to focus on Google's ultimate goal: Highlighting the best content to answer each query.
Using as many of the above practices as possible will help. Do so, and you'll end up with:
Articles that include high-quality, clear content that thoroughly answers user questions.
A website that shows authority in a particular area.
A website that provides visitors with a pleasant browsing experience.
And while specific Google ranking factors may change, as long as you focus on the above points, you'll likely continue to see ranking success.