Links are one of the most important factors when it comes to ranking on Google's search engine results pages (SERPs).

But link building is also time-consuming.
That's why many website owners prefer to hand over responsibility for building backlinks to someone else.
In fact, 36% of in-house marketers say they outsource their link building campaign.

What Are the Pitfalls of Using a Freelance Link Builder?
On the surface, paying someone else to do your link building seems easy.
Simply give them your expectations and budget, and you're likely to have new backlinks within a month.
The difficulty is knowing whether the freelancer you hire will provide you with high-quality links or toxic backlinks.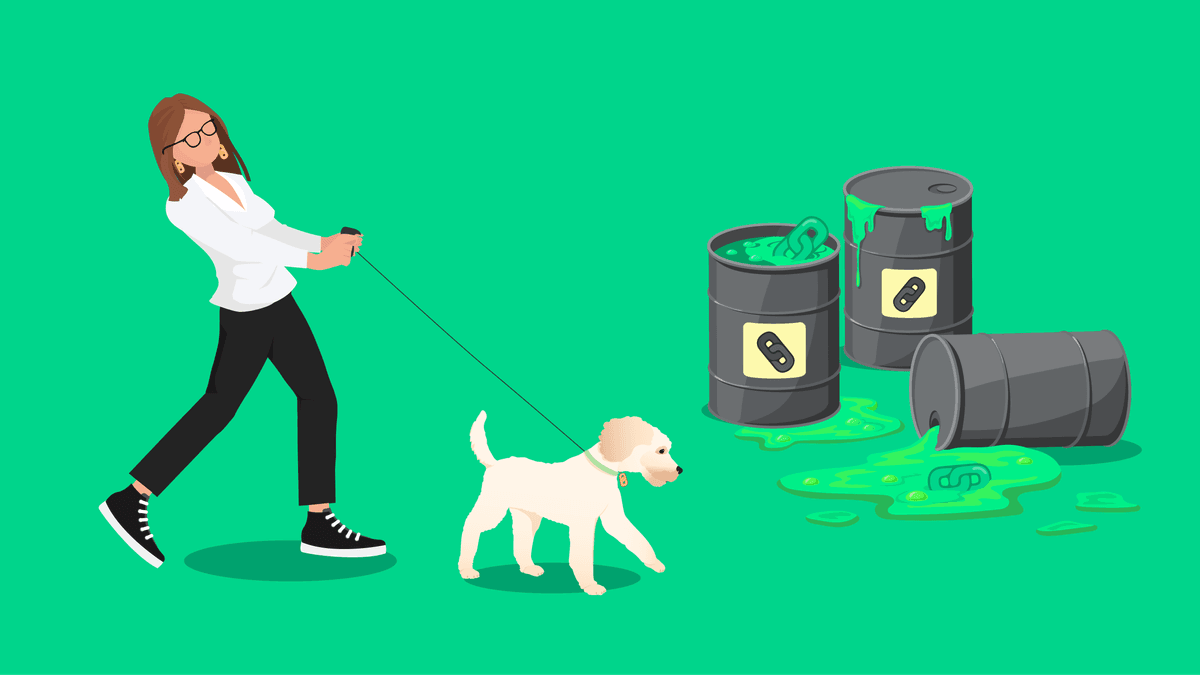 💡What is a high-quality backlink?
There's no precise definition of what makes a high-quality backlink. But usually, they are:
Relevant to your website.

They are contextual—in other words, they complement the content they are placed in.

Built using best practice link building techniques (sometimes known as white hat link building).

On a "real" website - in other words, not one that exists solely to build links - that has its own sources of organic traffic.
If they don't provide you with decent links, then you may be wasting your money and even damaging your site.
And there are A LOT of poor-quality link builders out there. Here's why:
Website owners know how valuable backlinks are and they are willing to pay good money for them.

There are people out there who use the high demand for links to quickly and easily build low-quality links via link farms and other low quality link building strategies. These links often have very little impact on a website's ranking and so are relatively worthless.

It can be difficult to spot a bad backlink. For example, many scammers will buy a credible site and use that credibility to sell cheap, poor-quality links.
It's therefore vital that you find a freelance link builder that uses trusted techniques to build high-quality links to your website.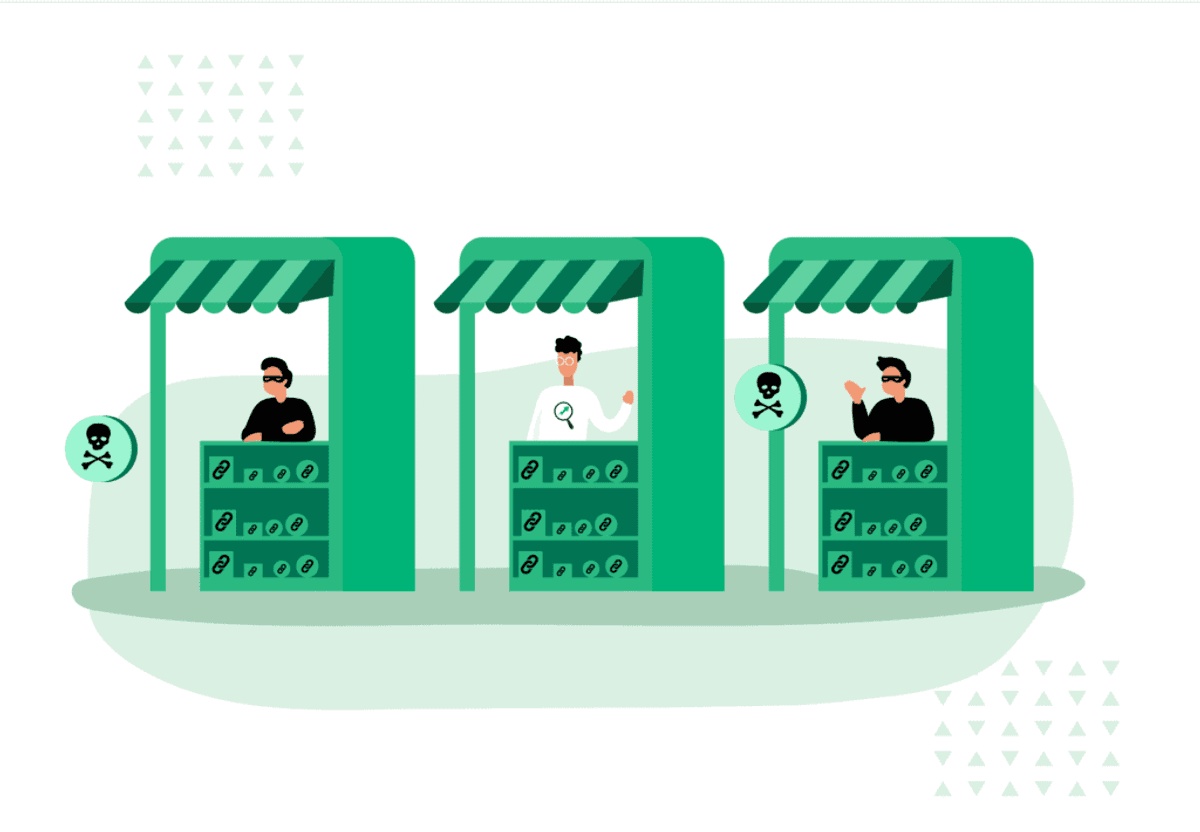 When Should I Outsource Link Building?
Outsourcing your link building can be challenging. It's usually only a good idea to find a freelancer to do it for you if:
You have enough spare budget and resources to fund and manage a freelance link builder adequately.
If search engine optimization (SEO) isn't one of your core skills and you need an expert to guide your link-building activities.
If you're not yet big enough to warrant employing an in-house link builder.
Preparing to Hire Freelance Link Builders
There are a few questions you should ask yourself before you begin hiring a freelancer.

Do I understand link building?
If you understand the basics of link building then you'll be able to see how it fits in with your wider SEO or marketing strategies.
It also allows you to assess freelance link builders better or know if you are getting value for money.
Our article on landing high-authority backlinks explains more about the basics of link building.
Is my website ready?
You won't get value for money from link building if the rest of your website isn't in good shape.
Make sure that you have the basics in place before you start link building.
This could include:
You have a decent amount of content (usually 50-100 pages).
Your website is well-designed and has a user-friendly experience.
Google has indexed your site.
You have some traffic coming to the website already.
If these are in place, look for the signs that it's time to start link building. These include:

You know how link building fits your SEO strategy.
Your content and keywords are already ranking and you want them to rank higher.
Your competitors' websites have greater authority than yours.
The pages or websites that rank above yours have more links.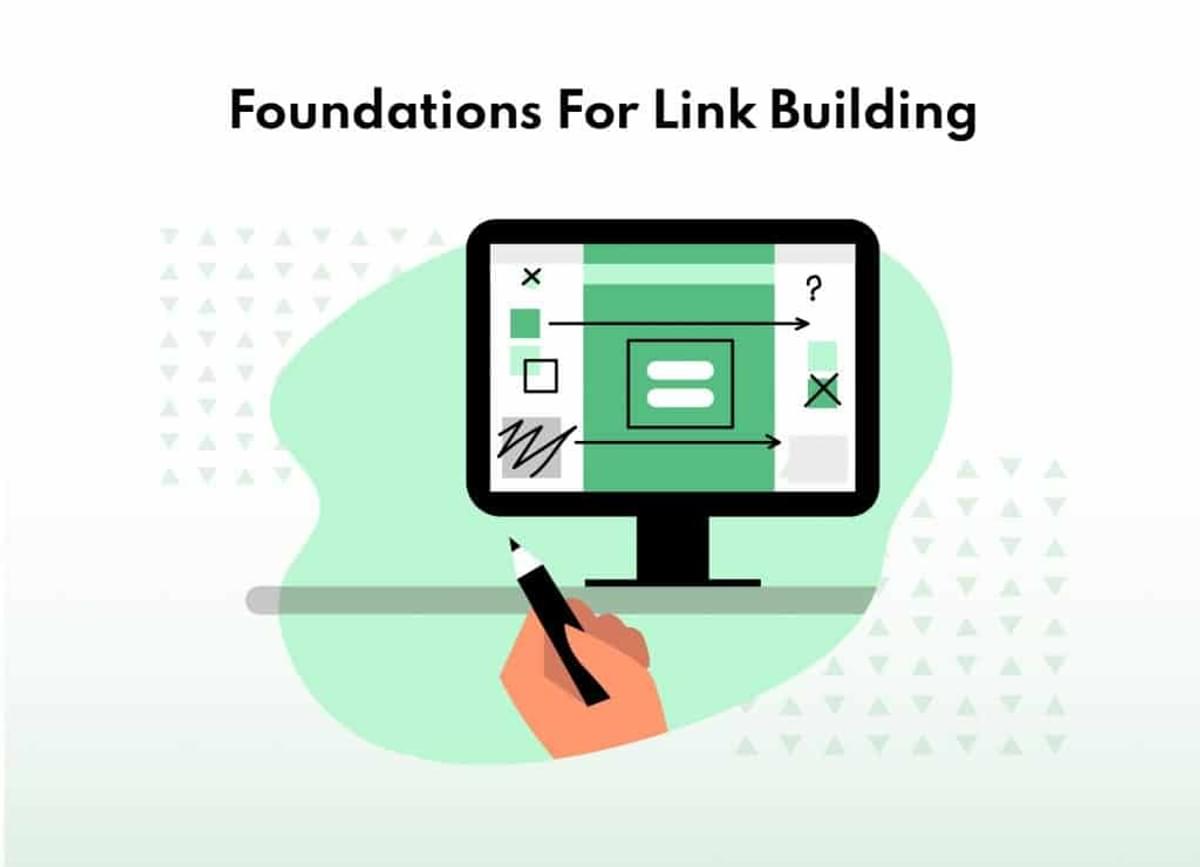 What is your link building strategy?
Before you begin the hiring process, you need to know what you want to achieve with link building and how you will make it happen.
For example, if your business makes money from affiliate links, then getting search traffic is fundamental to you making money.
Getting links will be a cornerstone of your SEO strategy. You'll probably need a lot of links on each page to rank on Google.
On the other hand, if your business makes money from selling products or services, you may only need to build links on a few pages.
These factors will affect your decision-making.

What is your budget?
Link building pricing is a bit of a sliding scale. Most freelancers usually charge $50–100 per hour for link-building.
Pay more and you'll get good-quality links and great service. Pay less and one or both of these factors will decline.
In general, you usually end up paying more for higher-quality links. In fact, some link builders charge based on the domain rating (DR) of the sites they place links on.
Another factor is the industry that you work in. Link building is harder in competitive niches like VPNs and finance. This means you'll probably end up paying more for links in these industries.
Be wary of link builders offering lots of links for a very low cost. They are usually selling bad backlinks.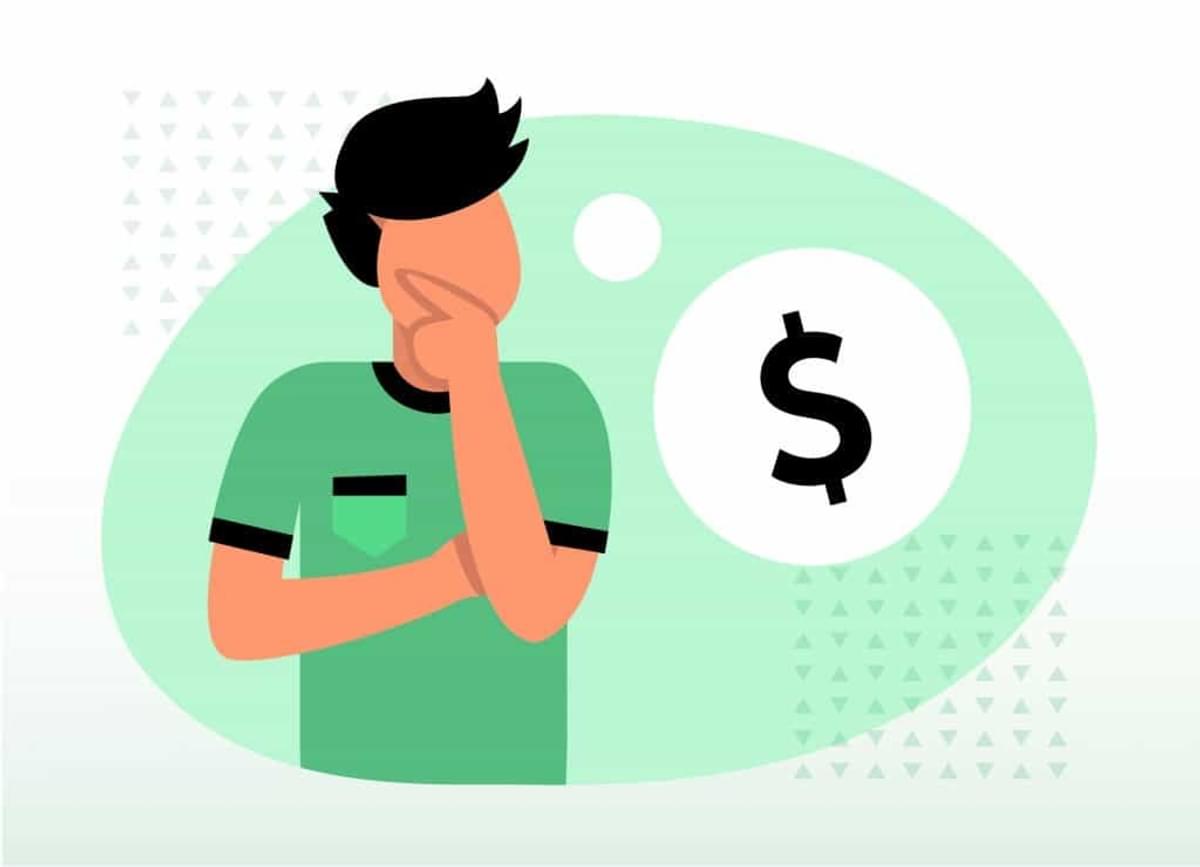 How to Hire Freelance Link Builders
Now you've got everything in place, it's time to start searching for the perfect freelance link builder.
Here's a step-by-step guide:
1. Write a job ad
First up, you need to write a job post that details your ideal link builder. Ask for the following link building skills:
Strong understanding of SEO principles
Excellent communication skills
The ability to build relationships with other site owners
The ability to identify high-quality linking opportunities
Strong copywriting skills
Creativity and the ability to come up with linkable content ideas
The ability to negotiate with website owners
Remember to state how many link building projects you want them to work on and how many hours per week you expect from them.
2. Post your job ad
Now it's time to post the ad.
These days, the best place to find freelancers is via online freelancing platforms like Upwork and Fiverr.

These platforms give you access to thousands of freelance link builders worldwide.
It's highly competitive, which means that you'll be able to find good freelancers for a lower cost. It's also easy to assess the quality of freelancers, as each person gets a rating and can upload examples of their work.
There are a few downsides to using these platforms. First, the best link builders are in high demand and charge higher fees. The ones with high availability tend to be less experienced and offer poor-quality service.
Also, freelancers on these platforms are used to working independently. They might not work well as part of a larger team.
So if you need someone to regularly dial into calls or work with an SEO consultant, consider hiring a freelancer via LinkedIn or a general jobs board like Jooble.

3. Vet candidates
Once you get some applications, it's time to narrow down the list to the candidates you want to interview.
Look out for:
Examples of well-written articles that are relevant to the client's niche and the linking website. Also, ensure that the links themselves are relevant and don't feel "shoehorned."
Examples of outreach emails that are personalized and persuasive. They should clearly communicate what value they will offer the website.
Links placed via editorial means. Avoid link builders that provide a list of websites that they will place links on. This shows that they have pre-existing relationships with these websites or that they are paying them—which in turn indicates that they won't build natural editorial links for you.
Case studies and testimonials. If the freelance link builder can prove how they build links and show results, it's a good sign. Testimonials are also helpful but make sure they come from someone with technical expertise—like an SEO manager.
A willingness to engage. A good freelance link builder should want to understand your business and strategy before they start working with you. This allows them to place links that are relevant to what you do and that will meet your aims.
You should also watch out for the signs of poor-quality link building practices. These include:
Promising a fast turnaround. Building good quality links properly takes time. If someone promises to place links in days then it means they are probably placing them on a link farm.
Low costs. Low cost also suggests that the link builder has an agreement in place with a link farm.
No transparency. If the link builder won't or hasn't shared examples of successful work with you, it could indicate that they don't want to reveal their poor-quality links.
Specific guarantees. There are no guarantees in link building. Specific promises signify that the agency might place your link on a PBN site or link farm.
4. Interview candidates
Arrange a video call so you can meet the link builder face-to-face.
This is a great way to remove any scammers from the process, as they usually see anything other than building bad links as a waste of their time.
It also gives you a chance to build rapport with freelancers and find out more about how they work.
Here are three interview questions to help gauge their level of expertise:

What is your industry experience?

Talk us through your link building process.

Tell us about some link building mistakes that you have made.
5. Test candidates
It's often worth setting candidates a small paid link building exercise to test if they are as good as they say they are.
Here's how to do it:
Ask them to place three links.
Once the links are placed, take a look at the articles and check they are relevant, well-written and in context with the text around them.
Review the quality of the website the link is placed on. Ideally, this should be performed using a tool such as Ahrefs or Moz.
If the article is poor quality or you suspect the candidate used a link farm, reject their application.
Alternatives to Hiring a Freelance Linkbuilder
Hiring freelancers isn't the only way to build links. This section lists some other options.
Build links yourself
This can be very time-consuming, especially if you haven't done it before. In fact, for many website owners, it might be unrealistic.
But there are some benefits to building your own links. Firstly, it saves money—assuming that your link building time isn't eating into the time you spend on core business activities.
But more importantly, it helps you get an in-depth understanding of link building.
Furthermore, because you know your business and its niche better than any link builder, you should be able to create some really great content and place it on some relevant websites. You'll also be able to build personal relationships with others in your industry.

Employ an in-house link builder
If your company is large and has extensive digital marketing skills in-house then it might be worth employing a link builder.
An in-house link builder will learn your digital strategy inside and out and develop a good understanding of your business.
Also, 100% of their time will be spent link building.
These benefits mean that in-house link builders can generate some really high-quality backlinks.
The downside is that the costs can be very high. According to Glassdoor, the average salary of full-time link builders in the U.S. is $54,360.
To make this worthwhile, you'll have to be confident that your link building projects will deliver increased revenue.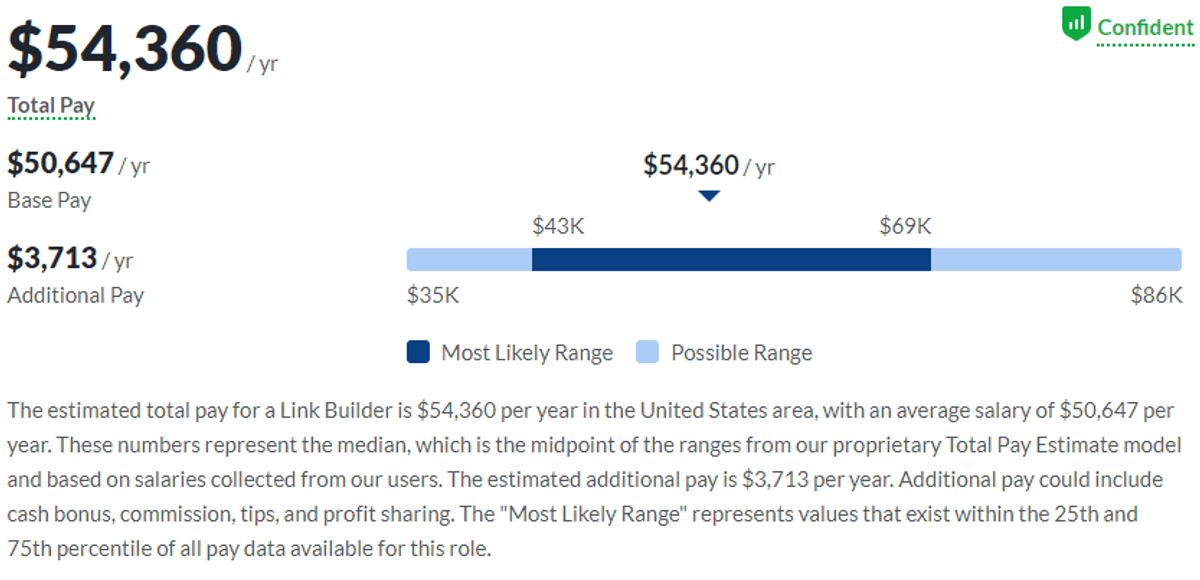 Outsource to an agency
Link building agencies can build better links on a bigger scale than freelancers. They also tend to be more reliable.
This is because agencies employ lots of very experienced people. For example, at LinkBuilder, we have a full-time team of strategists, content writers, designers, and outreach specialists.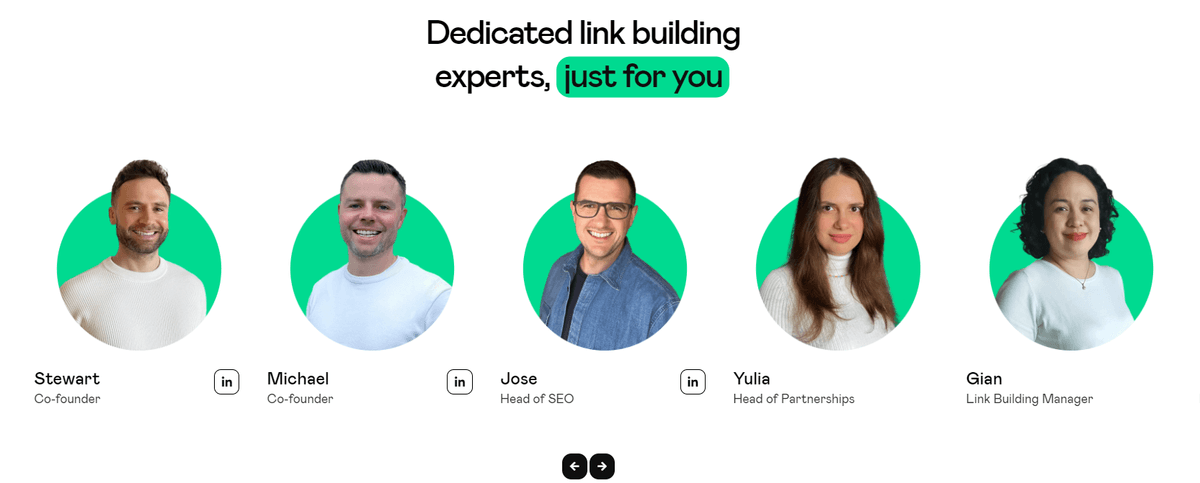 Agencies are generally more expensive than freelancers. For example, our pricing starts at $5,999 and goes up to $9,999 for our monthly recurring subscriptions.
But this is more flexible than hiring an in-house link builder. Plus, the quality of the links we build will generally be much higher as well.

Final Thoughts
Hiring a freelance link builder is a good idea if you want to increase your SERP rankings and the number of visitors to your site from paid search.
But there are many pitfalls to finding a good freelancer. You'll need to make sure that you thoroughly vet your candidates and that you are getting what you pay for—high-quality backlinks.
If hiring a freelancer sounds too high-risk or time-consuming, then try using a link building agency like ours.
We offer an expert link building service. We'll take the time to learn about your business. We'll then explain how we can help you grow your website's authority, increase its traffic, and help you build your online brand.