Backlinks are great. They send loads of organic traffic to your site and seriously boost your brand awareness—what's not to love?
Whether you're a novice or a total pro, navigating the world of building links can be tricky, especially with so many types of backlinks for you to choose from.
It can become difficult to decide which types of backlinks to build to help you meet your business objectives.
Your backlink profile should also be diverse to achieve success, but determining the level of diversity needed to achieve success with these links can be hard to figure out.
With 92% of the top 100 ranking domains having at least one backlink to their web pages, it's crucial that you get to know the different types of backlinks so you can rank as high as these pages and reap the rewards.
In this article, we will discuss nine different types of backlinks and how to build them so that you can choose which ones to include in your link-building strategy.

The Different Types of Backlinks That Could Boost Your Search Engine Rankings
Although knowing what types of links to build can be confusing, the upside is that there are so many forms of backlinks that there's something for everyone. This means you can find the perfect balance of links for your brand.
You're bound to identify links below that will support your business objectives and search engine optimization (SEO) strategy.
It's worth noting that this isn't an exhaustive list of all the types of backlinks available. Instead, we've narrowed it down to the links that will likely get you the best results.
Before we dive in, it's important that you understand two key terms:

🤔 What Are Nofollow and Dofollow Links?
There are two different ways in which a linking site can place your backlink on their website:

Dofollow links: These are hyperlinks that allow search engine bots to crawl a page. They pass link juice from one website to another. They're considered a vote of confidence for your website, especially if the linking domains are already high-authority websites.
Nofollow links: By using a nofollow tag, website owners use nofollow links to indicate to search engine crawlers that they shouldn't follow them. This means no link equity will be passed on to the page being linked.
As you can see above—regardless of the type of backlink you choose to build—you'd want it to be tagged as dofollow to fully benefit from it.

With that said, let's dive in!

🔗 Editorial backlinks
Editorial backlinks are a great option for you to consider if you're looking for a way to build:

Trust with your customers.

Your authority as a brand.

Strong connections within your industry.
They're also a solid tactic for building relevant, valuable links and creating diversity in your backlink profile.
➡️ What are they?
An editorial link is when a backlink pointing to your site is placed within the content of another web page.
Search engines approve of editorial links. This is because they're a signal that your website is worth linking to.
Usually, an editorial backlink is placed in a website's content at the site owner's discretion.
This means someone has actually thoughtfully and consciously placed a link to your site within their content, which is a nod that your website is worth linking to.
A website owner is more likely to link to your site if they feel that your site or content is:

A valuable addition to their own content.

Informative or that it supports the point they are making.

Provides educational value to their audience.

A way to provide their readers with an expert opinion.

Good enough to support and improve their reader's experience.
➡️ How do they work?
Much like any other types of backlinks, editorial links work in two ways:

A website owner finds your content organically and decides to link to it to improve the quality and value of their content.
You can approach owners of sites that are relevant to your specific niche and ask them to link to you.
Waiting for someone to discover your content and link to it can be frustrating as you may have to wait an indefinite period of time for this to happen.
Your content would already need to be ranking well in search engine results pages (SERPs) for it to be discovered by website owners.
For this reason, outreach is your best strategy if you want to acquire backlinks like these.
➡️ How can I build these backlinks?
There are three main things you need to focus on if you want to gain backlinks that fall into the editorial category:

Develop high-quality content: The content on your website needs to be impeccable and truly worth linking to. Don't rush this part of the process. Investing time in developing content that is irresistible to other website owners is worthwhile.

Create link-worthy content: Focus on developing content that is shareable in nature. These content types include infographics, detailed research reports, or original studies.

Build relationships: Once your top-notch content is ready to rumble, it's time to start establishing relationships with journalists, bloggers, influencers, and website owners in your niche. For example, you can start by engaging with them on major social media platforms. If you get the relationship-building part of your strategy right, you should easily land editorial backlinks.
Here's a high-quality, link-worthy infographic by Hired:

🔗 Guest blogging backlinks
This type of backlink is probably one of the more common ones found in any SEO strategy. Why? Because they're significantly easier to achieve than spending loads of time trying to get website owners to link to your content organically.
➡️ What are they?
Guest blogging backlinks are links that you achieve by writing a blog post for a website that publishes guest-written content.
Often, these are news sites or blogs that invite writers to create this content.
In writing your guest post, you can construct it to naturally link to your website.
Guest post links are beneficial to your website in the sense that they typically appear quite naturally—if you're doing it right, of course—and they are relevant to the reader.
Your aim should always be to build high-quality backlinks; guest blogging is a great way to achieve these.
You can find a massive list of guest blogging sites to consider on our blog.
➡️ How do they work?
Websites that publish guest content will often have a section on their site where you can propose or submit content that you've written.
Of course, to turn your guest post into a backlink, your content should include a link to your website.
This link should be directly relevant and appear naturally in the content, providing the reader with added value rather than just driving them to your site for the sake of traffic.
Perhaps the main downside to building these types of links is that they take time, as you will have to create the content yourself. But this investment in content should pay off in the long run, so it's well worth the time.
➡️ How can I build these backlinks?
Typically, there are three main things you'll need to do to get guest blogging right:

Identify sites in your niche: You'll want to find websites that accept guest posts that are relevant to your specific niche. Websites that cover almost every topic you could think of, are typically low-quality and basically just a link scheme or private blog network (PBN)—which are dodgy websites built solely for building backlinks. Look for websites with a good reputation and a focused cluster of topics.

Apply or pitch: Once you've found the right websites, you need to send them an application or pitch with your idea and why you're the right person to write a guest post. Your pitch should be clear and to the point and should motivate why your contribution would add value for their readers.

Write epic content and include your backlink: Lastly, you need to create world-class content for your guest post that grabs readers' attention and gets them to follow your backlink.
Here's the submission portal on a guest blogging website called TechWyse: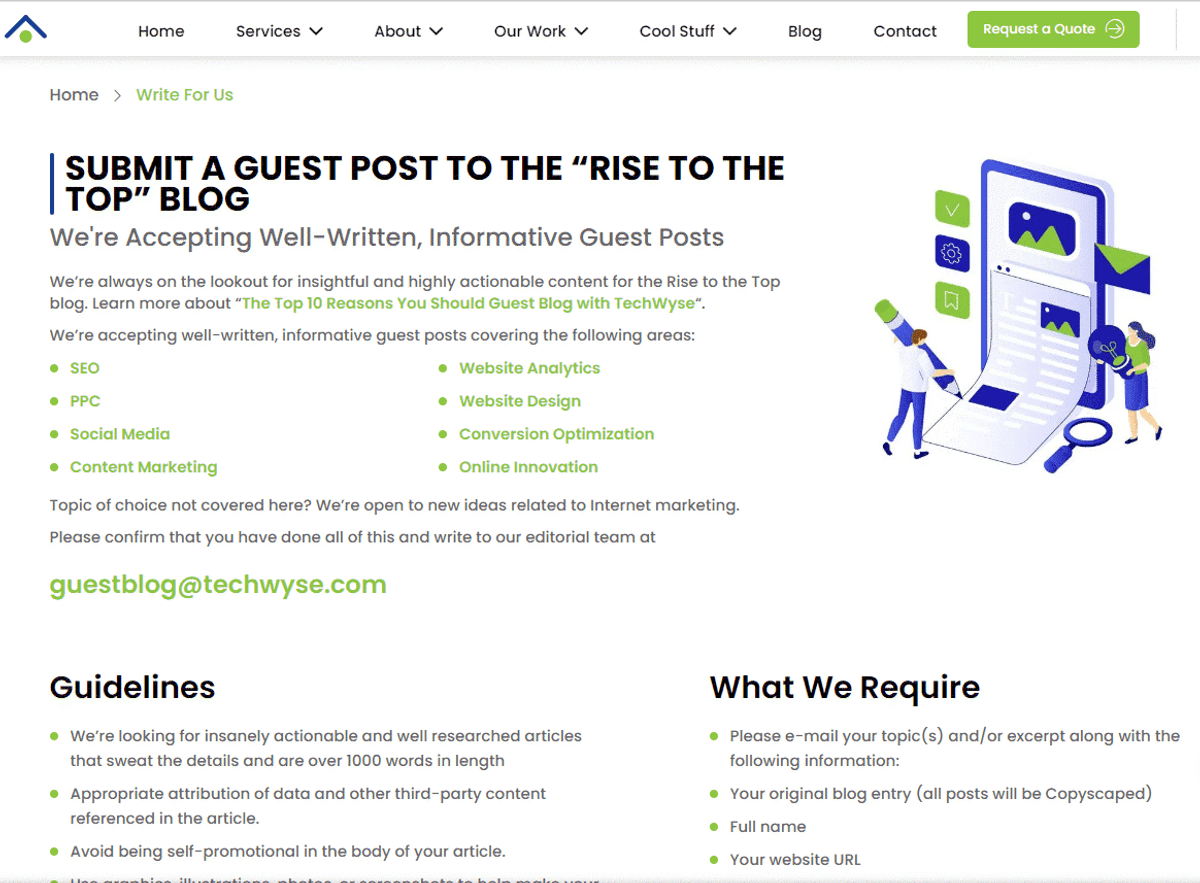 ✍️ Placing Your Backlink in a Guest Post
Here are a few pointers for including a backlink to your website in your guest post:

The placement should seem natural and make sense.
Avoid making your links look spammy, as this makes it less likely that people will follow your backlink.
Ensure the website tags your backlink as a dofollow link.
🔗 Acknowledgment backlinks
This type of backlink is an excellent choice if your strategy is to build credibility and authority in your industry. However, they can be hard to come by if you're a relatively new business.
➡️ What are they?
Acknowledgment backlinks are when a website or a specific piece of content mentions, credits, or acknowledges you as a source.
They could mention someone in your company who is perceived as an expert on a particular topic, or they could link to your company.
These backlinks are less about promotion and building links and more about:

Sites showing you or your brand respect or appreciation.

Being referenced and acknowledged.
➡️ How do they work?
These backlinks can appear in blog posts, articles, news pieces, research, social media posts, podcasts, or even videos. In effect, any form of content can include an acknowledgment backlink.
➡️ How can I build these backlinks?
Building your reputation is the most important part of building this type of backlink. Interact daily on social media, relevant industry forums, and any other platforms that work for your niche.
The more people get to see your content, the more likely you'll get acknowledged in their work.

🤔 What are Guest Post Bio Backlinks?
Did you know that you can earn acknowledgment backlinks through guest blogging?
Often, guest blogging sites allow an author (you) to include a bio on their website or within the content you write for them.
Usually, a guest post bio will allow you to include a link that points to your website.
And just like that, you have an acknowledgment link that gives you credibility, both in your industry and in the eyes of search engines.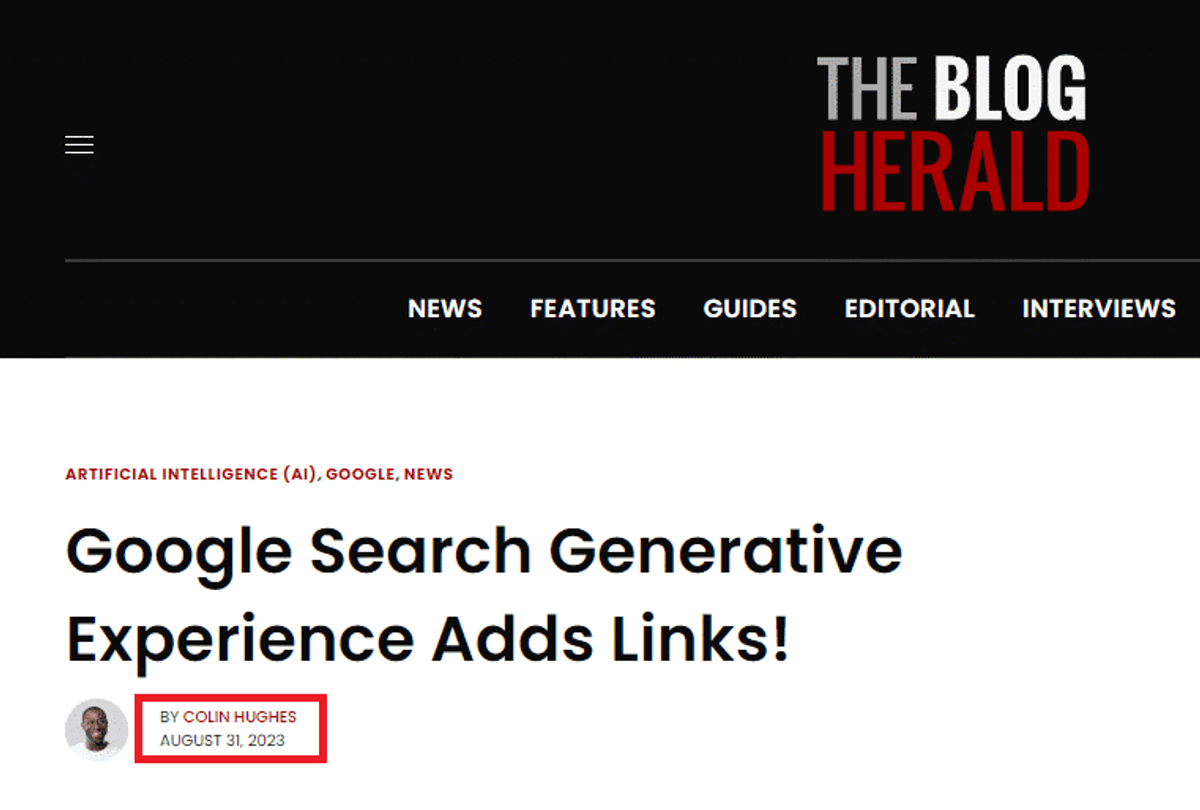 🔗 Paid backlinks
Often, when link-building efforts aren't going well, and you just aren't seeing results, link builders will turn to the practice of buying links. Paid links are a great way to boost your backlink profile and achieve results fast.

⚠️ A Quick Word on Paid Backlinks
Before we go any further in our discussion on buying links, we must warn you up front that Google's algorithm isn't a fan of paid links. This is because they view it as an attempt to manipulate your rankings. Failing to handle the paid backlinks process carefully can result in a Google penalty.
A Google penalty or manual action is when a human reviewer deems your paid links as breaking their Webmaster Guidelines (now referred to as Google Search Essentials) and manipulating the search engine.
Usually, manual actions only occur when reviewers believe you are purposefully manipulating Google to rank your page higher in search results through underhanded practices.

➡️ What are they?
Like any backlink, these are links on a website that point to your own site. The difference is that you have paid for them.
The benefits of paid links are pretty obvious: you acquire backlinks quickly and without much effort—which is great!
➡️ How do they work?
First, let's look at the difference between paying a website owner and paying a service provider for links:

Paying a website: Many website owners know just how valuable a backlink is these days, which is why they're happy to accept money in return for placing a link to your website in their content.
➡️ How can I build these backlinks?
Paying a website owner for a backlink is a relatively straightforward process:

You find a website or provider that's offering paid links.

You negotiate a price with them.

You and the website owner decide on details such as your anchor text and the specific page where your link will be placed.

You'll then need to pay them, and your link will (usually) go live within a couple of hours.
There is a lot more to the world of paid links. We suggest you read our full guide on buying links so you can truly benefit from your new paid backlinks.

🔗 Press release backlinks
Digital public relations (PR) is a robust way to build links, and it can immensely impact your online brand awareness.
Digital PR agencies and professionals are experts at building links through press releases.
A great thing about press releases is that they don't just appear in search results, they may also be listed on Google News: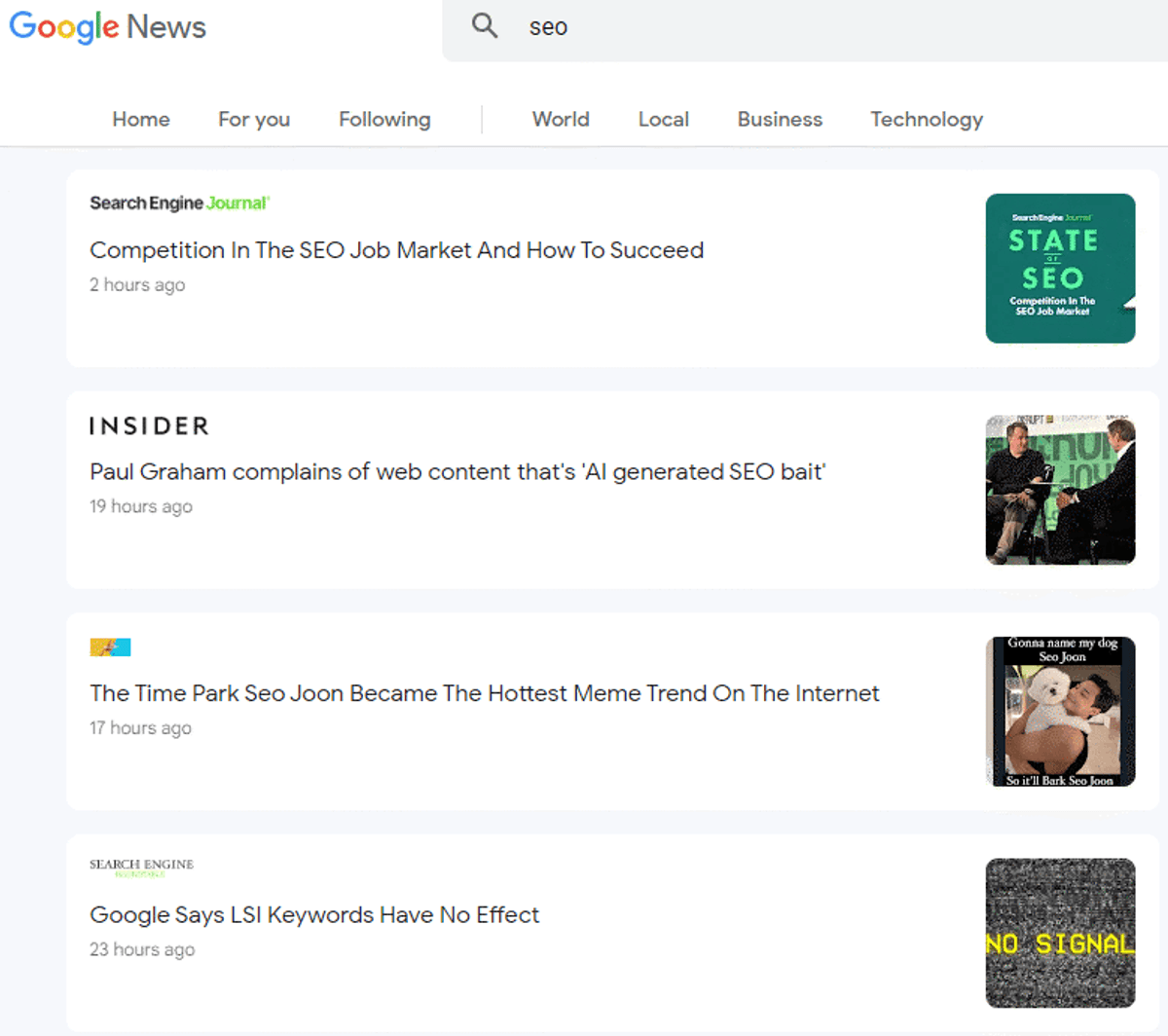 ➡️ What are they?
Press release backlinks are when you or your PR agency develops a press release that, when published, will contain a link to your website.
These releases are often part of a tactic called newsjacking. This is when a brand jumps on a hot news topic and adds an expert opinion or advice. This is a bit of a piggyback move, but it's a great way to use press releases to your advantage.
➡️ How do they work?
These releases are typically distributed to online media outlets, press release distribution services, or news websites.
In the press release, your brand or website would be positioned as an authoritative source and this will encourage readers to visit your site.
Additionally, news outlets may pick up on your press release and either:

Publish it in its entirety: Some media houses publish press releases as is, which will include your backlink. This is a beneficial scenario because you get backlinks from a highly authoritative website.
Use quotes from it: A journalist may come across your press release and publish parts or quotes from it to back up a story they are writing. They may see the backlink in your release and include it in their piece, or you can approach them to do so once they've published their story.
🤝 Reaching Out to Journalists to Include Your Backlink
If you've distributed a press release that a journalist quoted as a source in an original piece of online content, you can pretty much jump for joy. You've just opened the door to potentially earning a backlink on a major website with loads of authority.
The problem? They haven't included your link in their content. This is called an unlinked mention.
The best way to handle this situation is to approach them and explain the value they would add to their article if they included your backlink.
Be sure to keep this conversation professional and polite!

➡️ How can I build these backlinks?
There are a few steps you'd need to follow to acquire press release backlinks. Of course, if you have a digital PR firm, they can handle most of the steps we've mentioned below on your behalf:

Create a press release: The copy in your release should be extremely well written with no spelling mistakes or grammatical errors. It should be high-quality content that adds value and engages the reader.

Distribute it: Choose a reputable press release distribution platform or service. Many of these are paid platforms, but it's well worth the investment if your release gets picked up by a major news source.

Publication and syndication: Ideally, news websites and other publication platforms will publish your press release as an article or blog post.
💡 Our Top Tips for Writing Excellent Press Releases:
Your release must naturally be newsworthy and should genuinely add value, especially if your niche is already drowning in information on the topic.
Use keywords that are relevant to your brand and niche to improve your chances of ranking in SERPs.
Ensure the backlinks you're including take the reader to the exact page or piece of content that will back up the information in your release.
As part of your link-building efforts, spend time building relationships with journalists and bloggers. When you have press releases you want published, you can then reach out to them because you have already established a relationship.
🔗 Comment backlinks
This link-building tactic is when you include your backlink in a comment on a blog post or news article.
However, it's worth noting that Google often ignores blog comment backlinks. This is because they've long been a spammy tactic that link builders use to achieve backlinks quickly and with ease.
➡️ What are they?
Bloggers and news site owners often enable a comments section in their website design to allow people to share their views and opinions on the content they've published.
These comment sections are often moderated, and not all of them allow people to post links in their feedback.
➡️ How do they work?
By posting a comment with a link to your website on a blog or news site, you've earned a backlink.
Check out this comment on a blog post published by ProBlogger: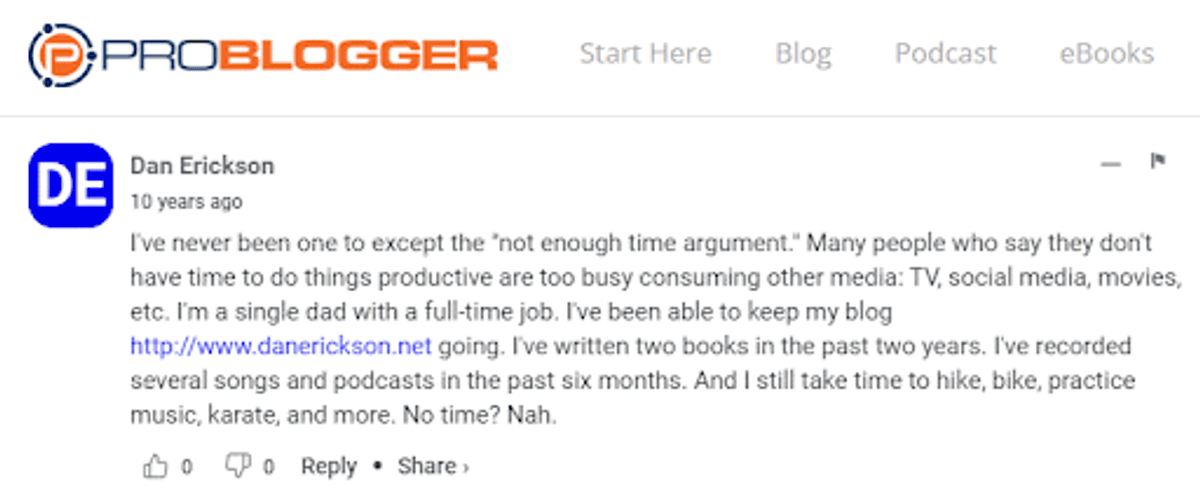 You can also apply this same methodology on review sites as a way to earn backlinks.
While it is certainly a tactic worth considering, this type of link-building should be done ethically and with caution.
➡️ How can I build these backlinks?
The first rule of blog comment links is to ensure you're not coming across as being spammy. For this reason, you should:

Only comment on blogs that are hyper-relevant to your niche.

Avoid excessive self-promotion.

Respect the website's policies on comments.

Write quality and thoughtful comments that add value for readers.
It's very easy for a blog comment to seem spammy, so be sure to err on the side of caution here.

🔗 Niche edit backlinks
If creating original and well-written content isn't your specialty, niche edit backlinks may be something to consider adding to your strategy.
➡️ What are they?
Also referred to as link insertions or curated backlinks, niche edits are when links are placed in a piece of existing content that is relevant to your niche or industry.
➡️ How do they work?
Rather than creating new content, this tactic involves carefully seeking out existing news articles or blog posts and asking their owners to include a link to your website in what they've already written.
You would need to research and look for websites with content that is relevant to your brand and what you want to promote. Remember, good backlinks are those that appear in a place where you would expect them to be found—in a natural way.
You can use SEO tools like Ahrefs to find articles and blog posts that are currently ranking well, or search within industry-specific communities like groups on LinkedIn.
➡️ How can I build these backlinks?
Once you've identified a website that you feel is ideal for a niche edit backlink, you'll need to contact the owner or author of the content through outreach.
Your outreach has to strongly and clearly communicate how adding your backlink will add value to and elevate their content. You'll need to emphasize how a link to your website could enhance their readers' experience on their site.

🔗 Reciprocal backlinks
If you have spent time building relationships with other people in your niche or industry, then it becomes more than possible to build this type of backlink.
➡️ What are they?
Often referred to as link exchanges or swaps, this type of link building is when one website owner agrees with another to link to each other's content.
In other words, you link to their content, and, in return, they link to yours.

❌ Avoid Excessive Reciprocal Linking
Remember what we said earlier about Google penalties? When done to the extreme, reciprocal linking can quickly land you in hot water with search engines.
Search engines could view excessive link exchanges as you trying to manipulate your rankings through malicious tactics.
We'd recommend about two to three link exchanges per month to avoid any negative consequences.

➡️ How do they work?
Ideally, you would rely on a relationship you already have to reach a mutually beneficial agreement to swap links.
Once you've both agreed to an exchange, you'll either need to create the content where the link will be placed, or add the link to existing content as per your agreement.
➡️ How can I build these backlinks?
Building relationships where you can suggest such an agreement can take time. This tactic can be difficult if you haven't built a name for yourself in your industry yet.
However, if you do have relationships with industry players who are willing to help you (and help themselves in the process), then this is a tactic you may want to explore in your link-building efforts.

🔗 Directory backlinks
This is another link-building activity that link builders abused significantly in the past, especially around the time when SEO first became common practice.
As a result, Google often ignores backlinks that stem from directories. Irrelevant directory links are viewed as nothing but spammy backlinks.
However, super relevant and well-placed links in professional industry directories may just land you on Google's good side.
➡️ What are they?
This type of backlink is when you approach a (professional and reputable) online directory and ask them to list your business information on their platform.
Most directories will include a link to your website in your business listing.
Some directories let you upload a listing yourself, although these are more likely to be one of those spammy ones we spoke about earlier.
➡️ How do they work?
If the directory you've chosen is truly reputable, you'll have to go through a process to earn your backlink.
Typically, you'll have to make a submission that is good enough for the directory to consider it as a valuable addition to their platform and its users.
These submissions are usually reviewed to ensure they meet the directory's requirements. If approved, your listing will be published on the directory website with a link to your site.
➡️ How can I build these backlinks?
There are a few simple steps to follow to go about directory backlinks in the right way:

Identify relevant directories: Again, you'll want to find directories that are worth their salt and that are extremely relevant to your business.

Create a compelling listing: Your listing needs to be compelling and accurate enough so that readers will actually follow your backlink.

Follow guidelines closely: Before submitting, double-check that you're following the directory's exact guidelines.

Use descriptive anchor text: Many directories allow you to choose the anchor text you use for your listing. Be sure to use descriptive anchor text that accurately represents your website. Avoid spammy anchor text practices at all costs.
Here's a business listing on a reputable directory called Better Business Bureau: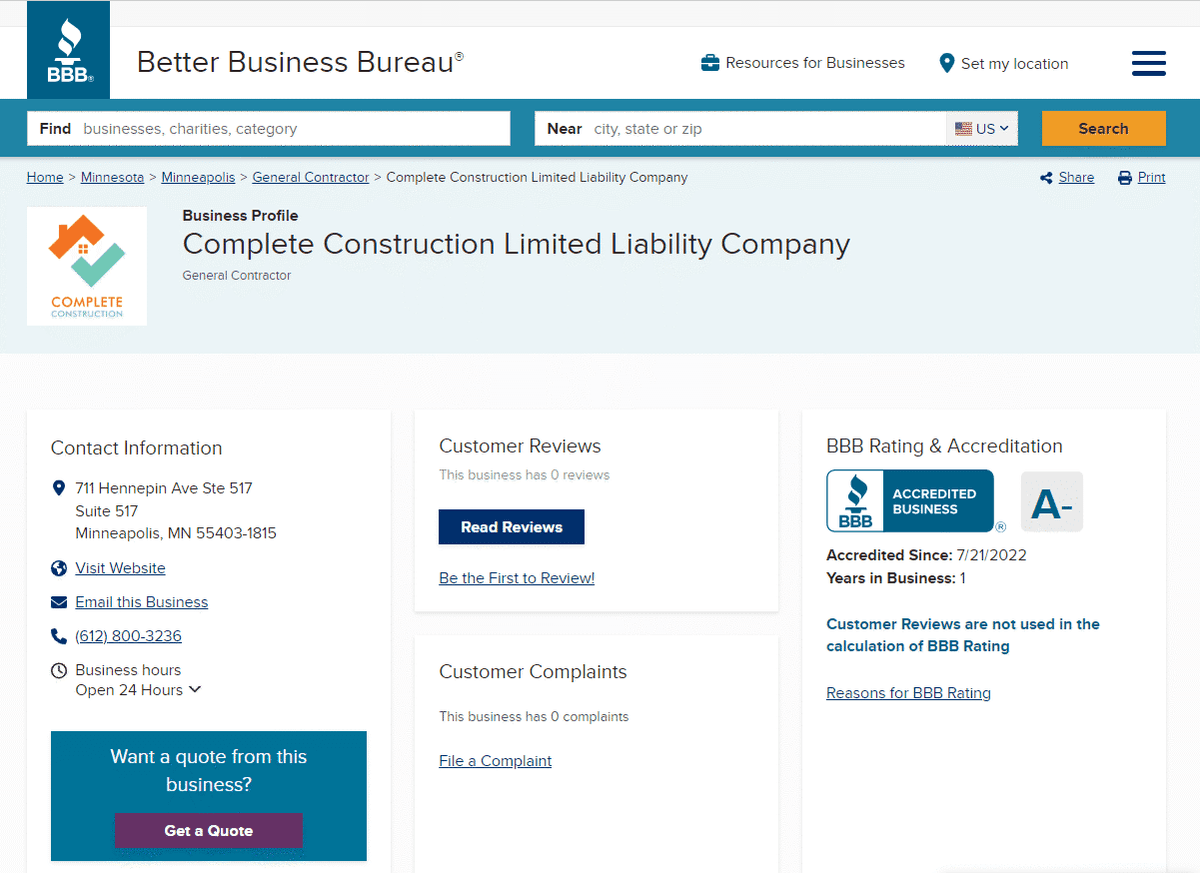 Wrapping Up on Different Types of Backlinks
With so many different types of backlinks to choose from, it can be challenging to figure out where to place your focus.
While most of these links can boost your search rankings, it's difficult to know what's right for your brand.
Here at LinkBuilder, we know exactly how to determine which links best match your business objectives.
We make it our business to get to know your brand inside and out, and we then develop a hyper-focused strategy based on the specific types of backlinks that will drive growth.
If you're interested in working with an agency with the experience to know the types of backlinks that'll work for you, visit our website to get in touch. We'd love to help!