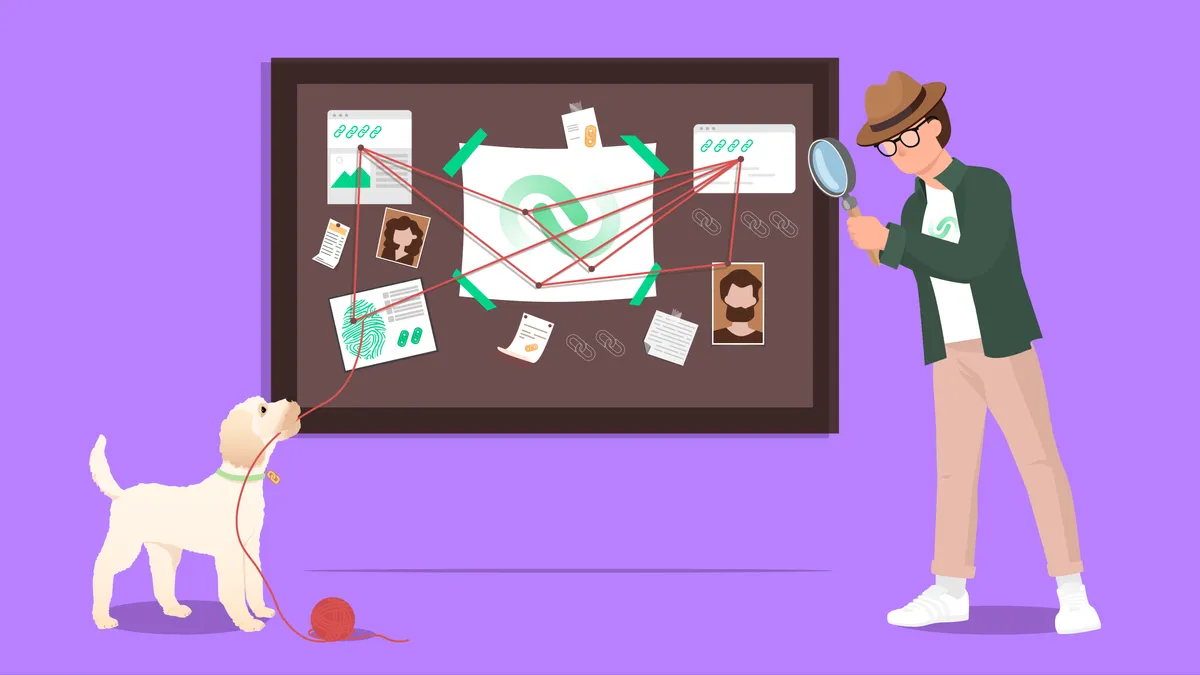 8 min read
Guest Blogging Prospecting: How to Find More Opportunities When You've Tried Everything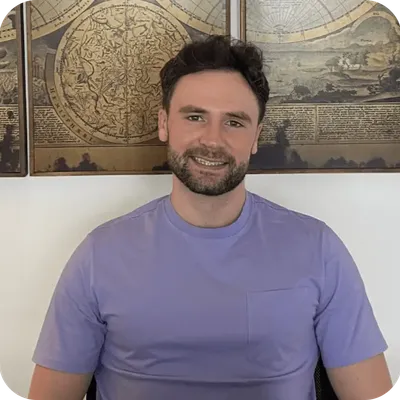 Link building starts with search. Do you want to run a guest blogging campaign? Find prospects. Willing to launch a resource page campaign? Find prospects. Planning to earn more links with another skyscraper campaign? Find prospects.
Sounds like a tedious but simple task… at least at first. We're going to show the inner workings of exactly how our renowned guest posting service works. We use this strategy to help rank affiliate sites as well primarily, since we can control the anchor texts. These are the inner workings that separate us from competitors.
Now imagine this:
You have a client who needs a regular influx of links. Quality links, of course. And the client prefers building links from guest posts. Okay, first you'll search for a list of websites who accept guest posts, run campaigns, earn links. Then, when more links are required, you'll do the same. You'll repeat the process as many times as needed.
But how long will it take before you'll run out of options? How long before you've exhausted the relevant websites in your niche?
Yes, search is easy in the beginning, but when you are looking for new websites in your niche for the hundredth time, that's when it starts to get really tedious.
In this article, I'll share strategies for finding more opportunities for your guest blogging goals and not dying of boredom (or desperation, in the very end).
Using "tried and tested" search queries is good. To a particular extent
I'm sure you've tried this too. You googled 'search operators for guest posts' or 'search operators for link building' when you were sick and tired of a well-known keyword + "write for us" operator.
And when you google this, you have an immense choice of options. Have a look at this: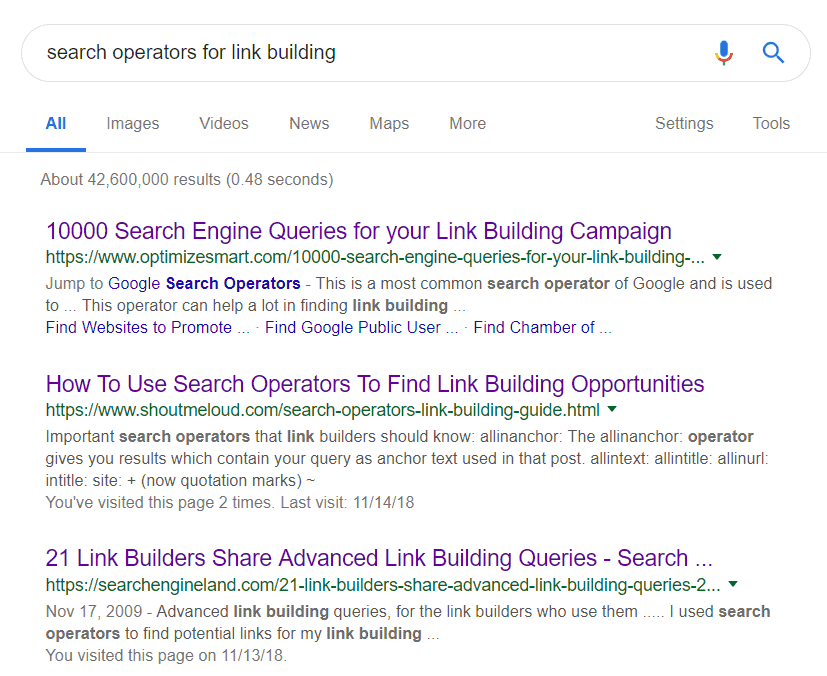 1000 queries for your link building campaign!
Can you imagine that? Now we're gonna rock our link building!
Are we?
Well, not really.
Of course, variants of search queries allow us to discover more opportunities, but do we really need 10, 100, 1000 of them?
I decided to test that.
I took 11 popular guest post search queries, used them in a formula "keyword + search query", added every first 20 results to Google Sheet, and checked those pages.
The keyword I chose was "cycling tips". So my search queries list looked like this:
cycling tips + "guest post"
cycling tips + "write for us"
cycling tips + "guest article"
cycling tips + "guest post opportunities"
cycling tips + "this is a guest post by"
cycling tips + "guest contributor"
cycling tips + "want to write for"
cycling tips + "submit blog post"
cycling tips + "guest column"
cycling tips + "become a contributor"
cycling tips + "guest post courtesy of"
And my Google Sheet looked like this: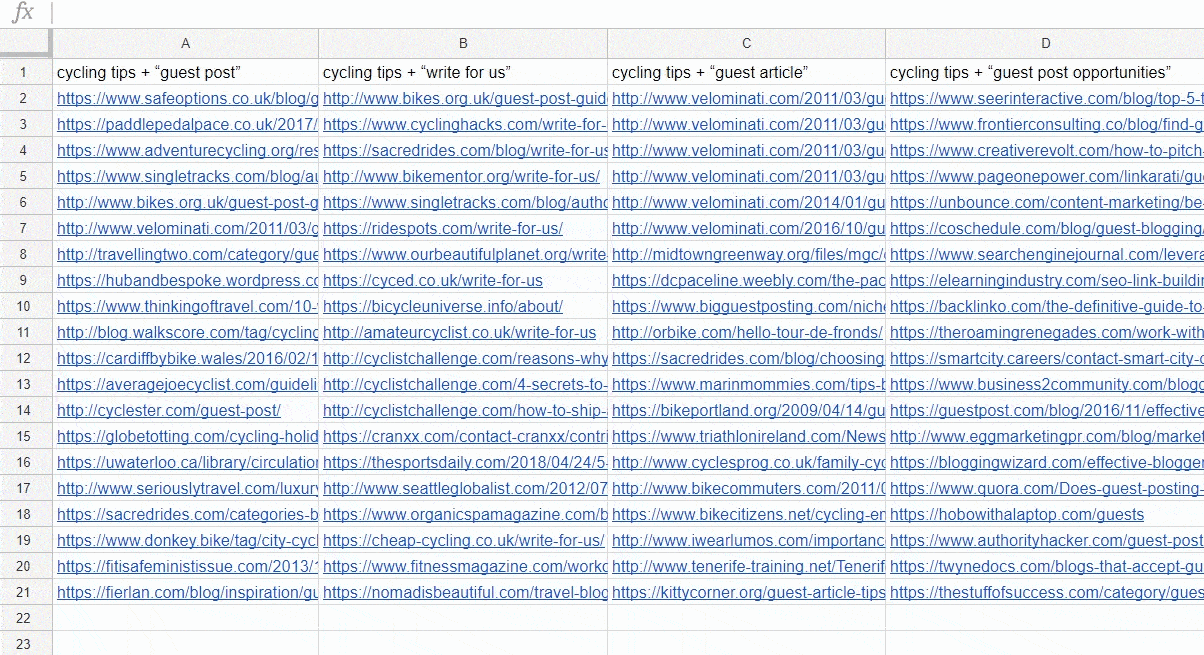 The next task was to check every single page to make sure it's a good find. As a result, I identified three types of pages that weren't relevant:
Guest post articles that have no connection to the topic of cycling as well as links from quora/forums - those I highlighted in red
Marketing guides about guest posting techniques - I made this a separate category as it was an interesting find, and highlighted them in yellow
Not working or broken pages, which I highlighted in grey.
After the check, my list looked like this: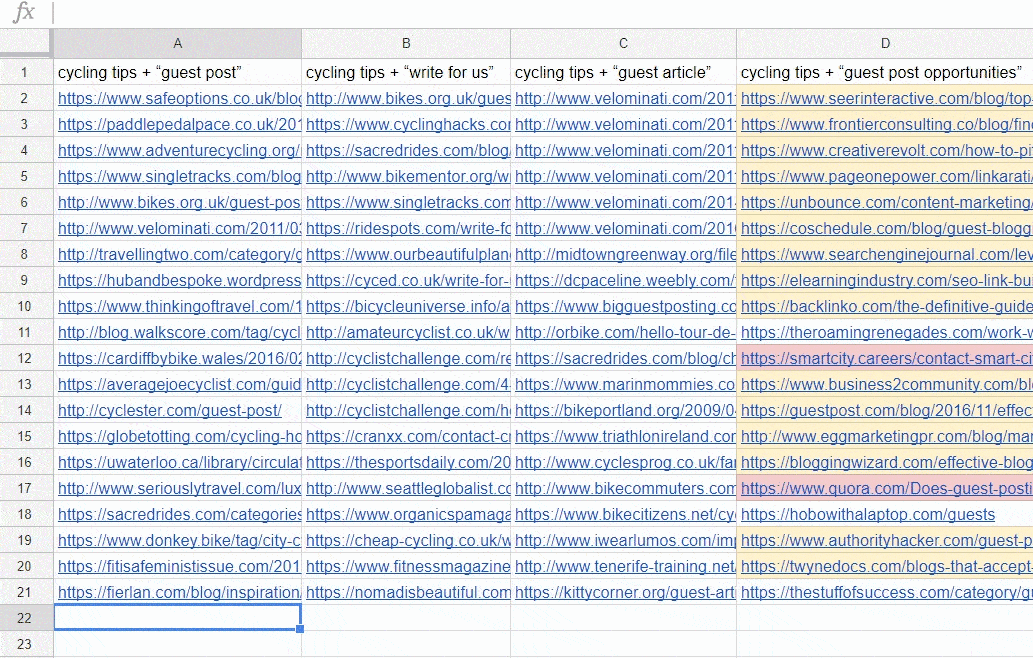 The last thing to check was duplicates. To identify them, I copied all 220 websites to another tab and used a script that would highlight duplicates in purple. Here's the result: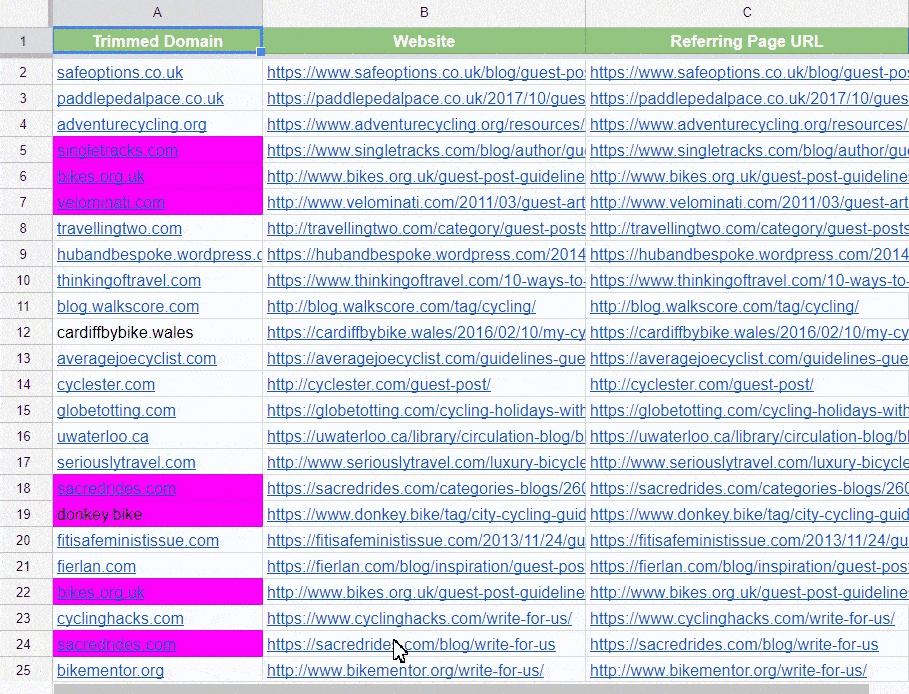 So, out of 220 opportunities found using 11 search queries:
62 are duplicates
85 are not relevant
We have 73 opportunities left and almost three hours spent on their search and check. Which means only 33.2% of all guest posting sites could be used for blogger outreach.
Analyzing results
This quick and simple test helped me understand that we don't need lots of search queries options. And here are the reasons.
First of all, we'll be seeing one and the same websites from time to time. In my opinion, this happens because websites who decide to optimize themselves for guest posts-related keywords will, sooner or later, be optimizing for the same set of keywords. As a result, we're seeing the same websites even when using different search operators.
Second, we'll be seeing irrelevant websites for less popular operators. I assume that most websites choose the high volume and popular queries like 'write for us', 'contribute' to optimize their pages for. Thus, my test proved that cycling tips + "guest post", cycling tips + "write for us", cycling tips + "guest article" are the most efficient for finding relevant websites while such queries as "cycling tips + guest post opportunities" and cycling tips + "want to write for" turned out to be more of a waste of time.

Moving forward
So what are we supposed to do when we need more prospects but we've tried all efficient search operators and we know there's no use in trying all those 10/100/1000 queries?
I'll tell you what.
Long-tail and low-volume keywords
Once again, let's imagine you need to find guest bloggers for your next campaign for a blog on cycling. What your first keyword ideas would be?
Mine would be "cycling" and "cycling tips". I'd start with the simplest variants. Then, after these are not enough, I'd use synonyms or something like "cycling for health".
Every time, our brain will try to find the easiest keywords. Why does it happen? We're so used to the simple "keyword + write for us" formula that even on practice we tend to make this search query nice and short. Also, I once read that our brain would always try and choose the easiest variants first.
That's why I suggest using our wits a bit and coming up with a list of very specific long-tail keywords in cycling niche.
Why would we do that?
Simple SEO answer here. We all know that big websites are usually ranking for high-volume and popular keywords. And in most cases, we use those high-volume keywords only for our guest posting prospecting. Which means we're limiting our search to the websites that rank for this high-volume keyword only.
My idea is to broaden the search and use long-tail and low-volume keywords to make sure we're seeing websites that are ranking for these keywords only and have no chance to appear on SERP for popular keywords. This way, we'll have a wider range of options to choose from.
Okay, so how do we find those keywords?
We could use Google Keywords Planner for this. For example, let's say I'd like to find low-volume keyword variants for the topic 'winter road cycling'. I'll do it this way:

I'll look for keyword ideas for 'winter road cycling' and will sort them by competition from low to high. Now, among those low competition keywords, choose something specific, with 3 and more words, and use it as your search term. Using a similar strategy, I've chosen three different keywords for my search:
"mountain bikes for snow riding"
"biking to work in winter"
"leg exercises for cycling at home"
And these are the websites I've found using these search strings:

None of these websites is on the initial list of guest post opportunities.
What's more:
All of the websites I found were relevant and connected to the topic of cycling. Of course, there would be some repetitions of popular websites (in the case with cycling, the website road.cc is usually on every list), but you remember this website and you won't add it to your list more than once. So what is left for you is a nice list of opportunities that you wouldn't have found using the standard guest posting search queries.
You can see my working file here to check everything for yourself: finding guest post opportunities - work file.
Now you may ask me:
You suggest using long-tail keywords only. But how do I make sure the website accepts guest posts?
I'll tell you a couple of secrets here.
There's no guarantee that the website will accept your article even if they write openly about guest post opportunity on their website. This is not my opinion only, Ahrefs mentions that here as well.
Many websites that don't openly advertise guest posting, will still allow guest posting if your outreach & pitch is strong enough.
From my experience, what really matters is the quality of the website you contact, the quality of your outreach email and of course, the relevance or intrigue of the content you are suggesting.
What do you think of this strategy? How do you find more guest blogging opportunities for your link building campaigns? Let me know down below in comments.