Is broken link building worth it? — that is a question I'm not going to start my article with (as I'm not going to put a broken chain pic for this article's cover).
And here's why:
As a link building agency, we work with different clients who rely on our link services to get results. And I regularly have to look for broken links for outreach.
When I'm sick and tired of my own methods, I start googling other methods. But what I usually find is a 500-word introduction on what broken link building is, why people say it sucks, and why they are going to prove it otherwise.
Well, okay, that sounds cool. But c'mon guys, I googled 'how to find broken links for outreach'. If I'm gonna do outreach, I already know it's valuable so no need for this...
Three strategies for finding 404 pages
Today I'm gonna share three basic search strategies I use for my 404 pages campaigns. I use each strategy depending on two factors:
Time I have for search
And the level of my despair or enthusiasm — call it as you like.
Strategy #1: Nerdy Time Travelling
Required time: Hours and probably many of them
Level of enthusiasm: I feel lucky today!
The strategy is really simple: find places with lots of links and then check for broken links.
What exactly I'm talking about is Resource Pages. If you are not sure, a typical resource page looks like this: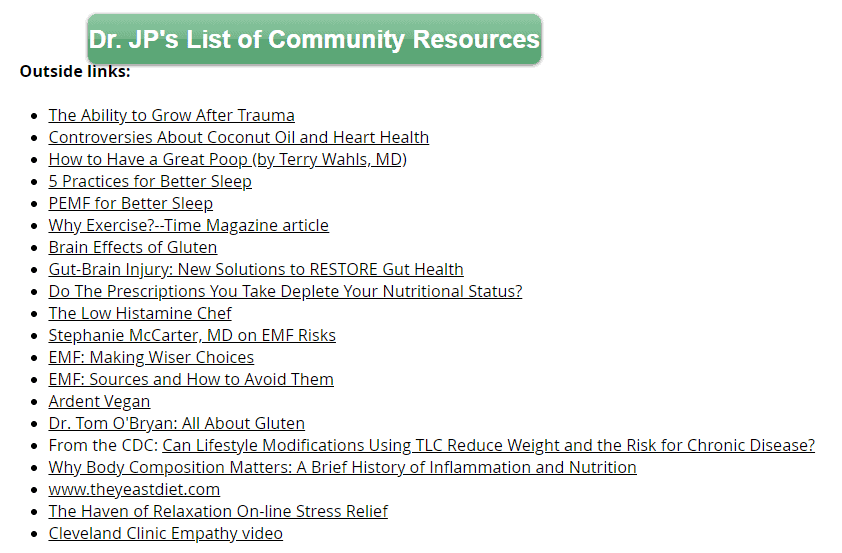 Here is a good guide on how to find resource pages for your outreach from Snappa Blog. I also have a lot to say about resource pages, but the topic of this article is broken links so…
You need resource pages and a Chrome extension called LinkMiner. Once you open a resource page and click on the extension, it will show you if there are any broken links on your page. It will look like this: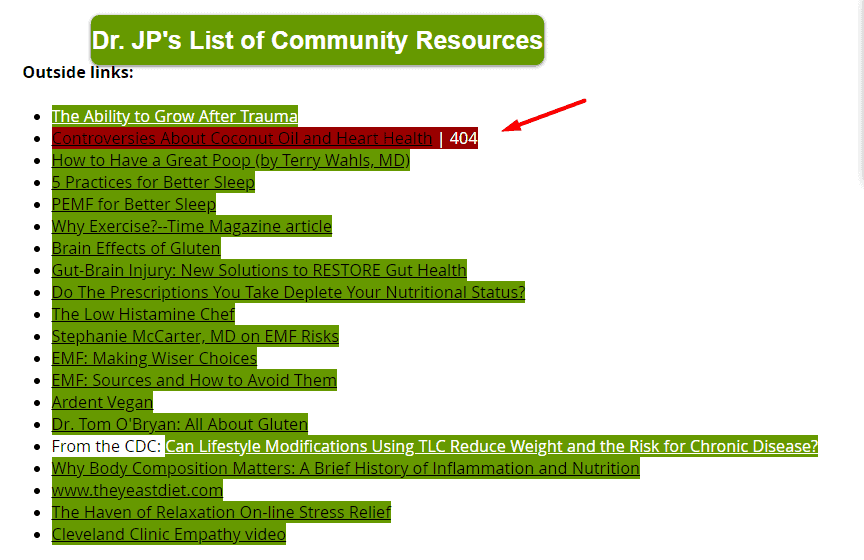 What you have to do next is just check the number of referring domains (RDs) to that broken link and if it fits your campaign. Repeat the process for all resource pages you have until you find what you're looking for. That's it.
Why this strategy is good?
Resource pages are collections of useful links on particular topics in one place which means you have a great chance to find a desired broken link among a huge list of relevant links;
Usually, quality and authoritative articles are placed on such pages. Which means that there's a good chance to find a broken link with lots of RDs and high authority. It's an incredible way to increase your domain authority (DA) score.
LinkMiner is a free extension and it's easy to use.
Why this strategy may be not so good too?
Sometimes LinkMiner is wrong. For example, that Coconut Oil broken link (see screenshot above) is the livest page I've ever seen;
It's time-consuming unless you are lucky to find a great 404 from the first minutes. You never know really.
Want to increase your chances to find a great broken link with this method?
Pro Tip
Look for resource pages from previous years (just choose a date range in Google Search Tools). Sometimes I look for resource pages from the 2000s and it has two advantages:
the higher possibility that some of those old links are broken and
the higher possibility that some of those old links were authoritative ones with lots of RDs.
Well, that's exactly why I call this strategy Nerdy Time Travelling because you have to travel in time to find great 404s and for sure you should be a nerd to complete this process.
Strategy #2: Tricky Star Chasing
Required time: Aiming at 40 minutes max
Level of enthusiasm: Oh, sh*t! I should've done it already!
For this strategy, you will need Ahrefs. I don't know the way of doing it without Ahrefs.
So what you're gonna do now is to find broken links at the most popular websites in your niche. Let's say you are looking for broken links in the health niche (no particular topic). Think about a popular website about health. I just thought about EverydayHealth. Now go to Ahrefs Site Explorer, and check Broken Backlinks for this website. It will look like this:

See, Ahrefs found 19,594 broken backlinks at EverydayHealth. Sounds like a gold mine!
So what do you do next?
Now you start checking all 19,594 broken backlinks hoping to find a perfect one. (Yay?)
Well, that's how I used to do it (*facepalm*).
But I've recently read this guide on broken link building by Ahrefs.com and realised how close I was to a perfect method. In particular, what Ahrefs suggest is to go to Best by Links pages, choose 404 from a dropdown list of HTTP codes, and filter results by the number of referring domains to the page. Looks like this: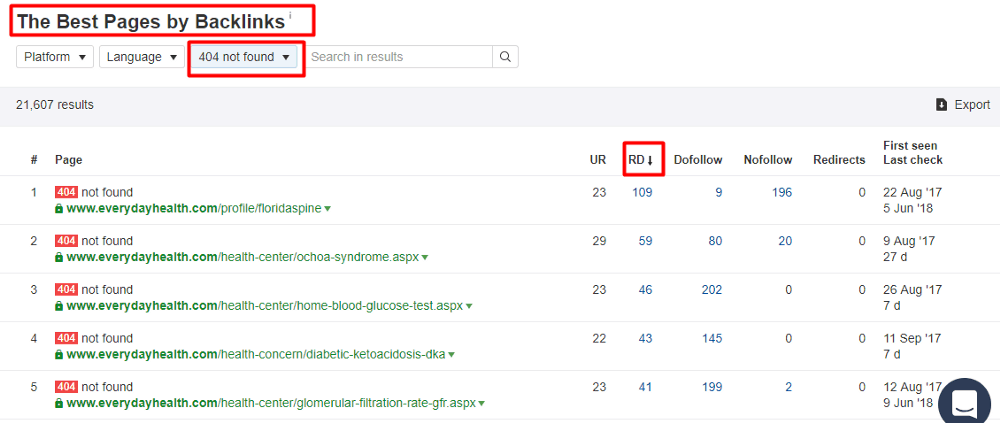 Easy-peasy!
That's really very simple and genius and you can't imagine how happy I was to discover this technique.
Why this strategy is good?
It's the quickest method to find broken links I know;
It's perfect if you are looking for broken link on NOT a specific topic. So, if you just need to find broken link and then take it from there — great, just check popular websites' 404 pages.
Why this strategy may be not so good too?
It might be challenging to find a broken link on a very specific topic. E.g. yesterday I was looking for broken links on 'strength training' only. Gosh, that was a hell and even the popular websites didn't save me! However, certain industries like the health industry has hundreds of opportunities.
The strategy is not to blame here but I get it that not everybody has access to Ahrefs. And if you don't have Ahrefs — you don't have broken links of top websites (*crying face*).
So this is it — Tricky Star Chasing method. I call it Star Chasing because what we do here is chasing stars (big websites) hoping to find their flaws (broken links). And it's definitely tricky because we want to take advantage of other websites' 404s. That's link building, baby.
Strategy #3: Meticulous Hell Exploring
Required time: Doesn't matter now
Level of enthusiasm: Total despair
Finding broken links on resource pages and famous websites were just the first circles of hell. What are we gonna do now is explore all aspects of Dante's circles with meticulous precision.
(sounds like I enjoy this… but, well, I really do!)
This third strategy encompasses two different paths. So the first one is to make the most of those famous websites and their broken links.
We have already checked top websites' backlinks. But what about their outgoing links? Probably you got it already. What I'm talking about is that you should not leave Ahrefs but continue your research by checking Outgoing Links →Broken links. It looks like this: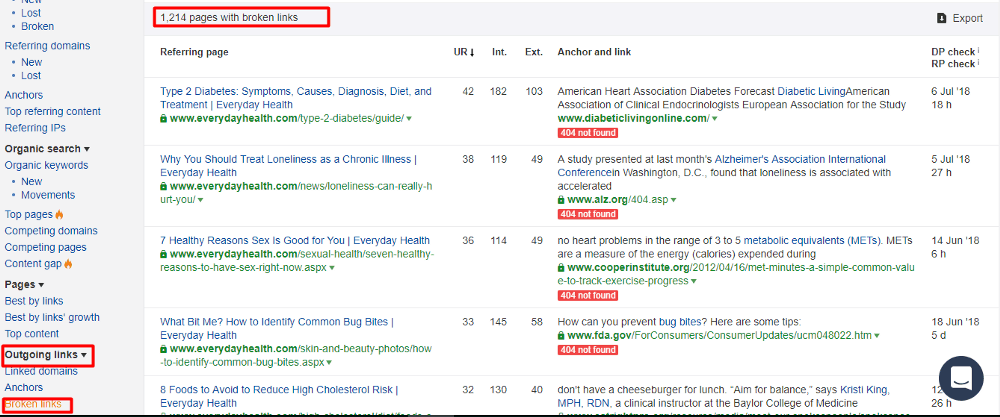 You see that EverydayHealth are linking to 1,214 broken pages. And have a glimpse at those 404s — they are coming from authoritative websites and you know what it means (lots of RDs, just in case).
There's one more recommendation in that Ahrefs guide I adore now about how to deal with lots of outgoing broken links. They say we should export all broken outgoing links, then copy paste them to Quick Batch Analysis tool and then see which of them have most RDs. The important thing is that you can paste 200 links maximum for one check.
Yes, that's also nice and simple but it didn't prove to be really useful for me.
And here's why:
From what I tried so far, I realised that if the website has lots of outgoing broken links (e.g. more than 10K), there will be lots of repetitions and useless links to useless affiliate programs and old projects of that same website.
Pro Tip
What works for me is to check first 5–10 pages manually for great broken links. If there's nothing great in the beginning — it's unlikely you'll find something even if you bulk check all of them.
Finally, the other way to explore all circles of broken link building hell is to check backlinks of everything. Found a great resource page? Check its backlinks for more broken links. Found a cool 404 page with lots of RDs? You can always do more — check backlinks of that broken link for more broken backlinks.
You see where I'm heading?
My point is that you never know when you will meet a perfect broken link. And if you have time and motivation (or if you have a task and no motivation but a desire to be paid) — you will do your best and explore all backlinks of all backlinks of backlinks.
Happy broken link building!