Link building is a proven way to improve your Google rankings. But one-off links won't make much of an impact. Consistently building links over time is a much better solution.
You could build links yourself. But the easiest way to generate multiple links is to purchase a link building package.
Here is the advantage of buying a link building package:

Affordable: Link building packages have a cheaper per link price than one-off links. And they're far lower cost than hiring an in-house team to build links. You also avoid any risks associated with hiring full-time employees.

Impactful: Go with a company that has a proven track record of generating high-quality links that move the needle for leading brands. Our links have helped increase the domain authority, search rankings, and organic traffic of brands in SaaS, e-commerce, services, and affiliate marketing spaces.

Low-risk: Top companies only build links on authoritative websites. At LinkBuilder.io, our expertise means we can spot a Private Blog Network (PBN) or link farm from a mile off. You only get high-quality links with our service.

Complete service: When you buy one of our backlink packages, you get a complete service that includes everything from tailored strategies to reporting. It's like having your own in-house team of link builders.
How Our Link Building Packages Work
At LinkBuilder.io, we offer multiple link building packages at different price points. Each one includes a guaranteed number of links on sites at various levels of authority.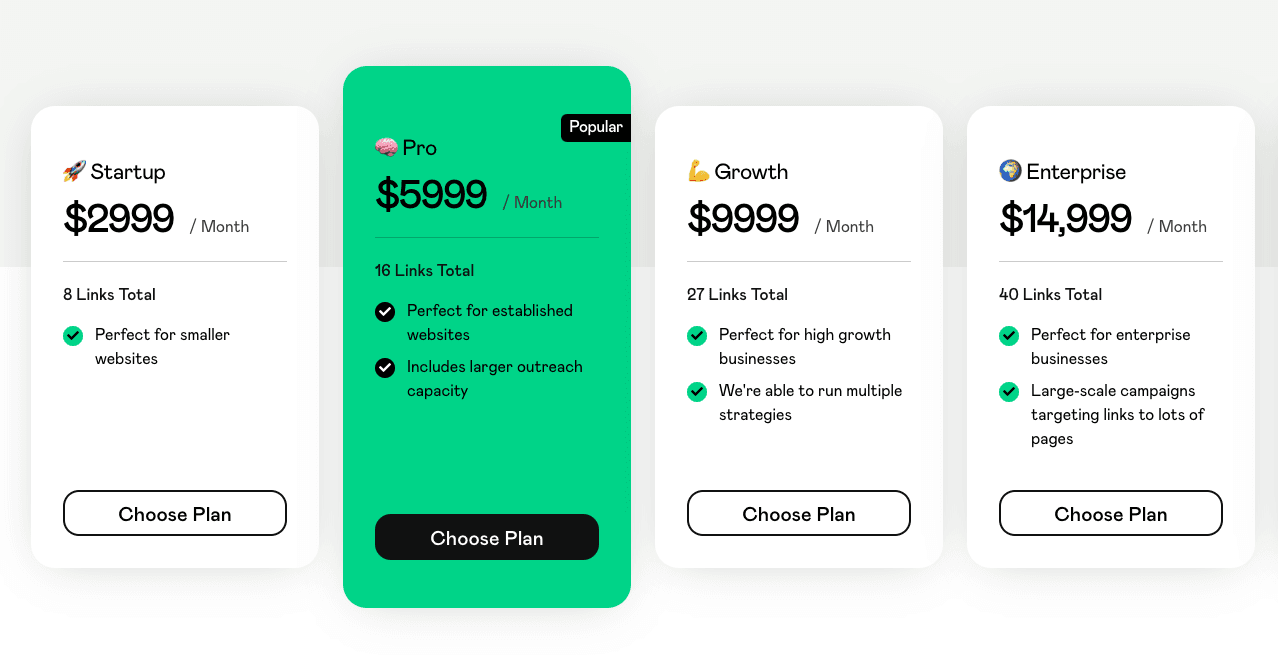 This ensures that no matter which plan you choose, you will get both a high volume of links, and links on authoritative websites.
Startup
Perfect for smaller websites
8 links per month spread across pages
Variety of different DR levels for a natural link profile
Pricing - $2,999 per month
Professional
Perfect for established websites
Includes a larger outreach capacity so that our team can uncover better opportunities
16 links per month spread across pages
Variety of different DR levels for a natural link profile
Pricing - $5,999 per month
Growth
Perfect for high growth, ambitious businesses
27 links per month spread across pages
At this level, we're launching some very ambitious outreach campaigns!
Variety of different DR levels for a natural link profile
Pricing - $9,999 per month
Enterprise
Perfect for enterprise level businesses
40 links per month spread across pages
Variety of different DR levels for a natural link profile
We have multiple team members working on this, driving amazing links daily
Pricing - $14,999 per month
Why Buy Link Building Packages Over One-Off Links?
Link building packages have many benefits over buying individual links.
Here are some of the benefits:
💰 They are cheaper.
The price per link is far cheaper when you buy a link building package compared to when you buy individual links. If you plan to grow links to your website for the long-term, you'll save a ton of money buying links this way.
✍️ You get a tailored strategy.
When you purchase one of our link building packages, we work with you to implement a complete link building strategy. We'll audit your backlink profile, assess your competitors, audit your content, and find the most impactful backlinking opportunities.
📈 You get consistent links.
One-off links rarely succeed when it comes to increasing rankings. But, when you build links consistently over time, you will increase website authority. This can lead to huge traffic gains when combined with an effective content strategy.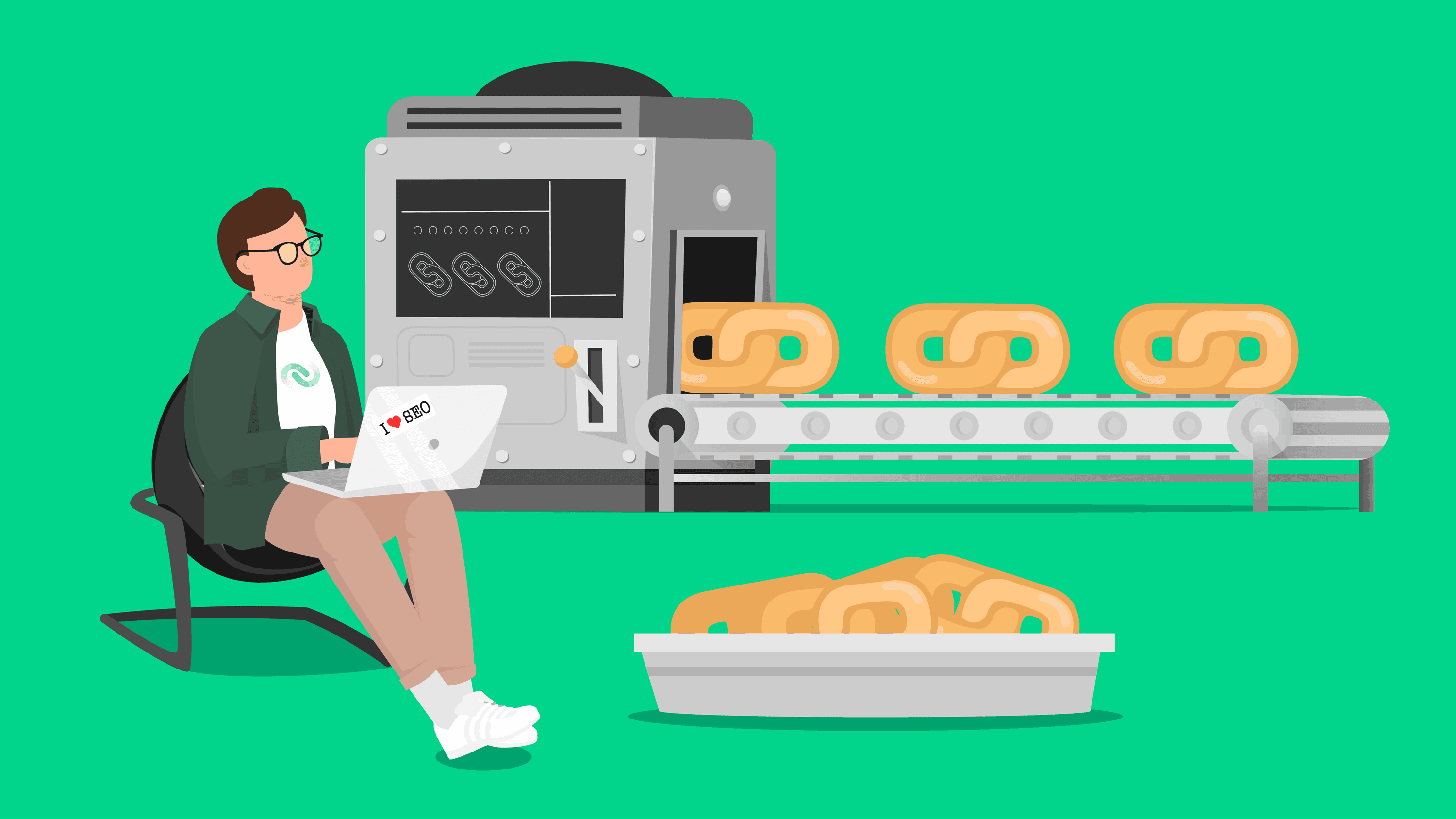 Link Building Packages That Deliver
Our link building service has a proven track record of delivering results. Here are some of the outcomes we consistently deliver for clients.

Increased authority
More links means more website authority. We have experience at improving the authority of all kinds of websites—from rapidly increasing the Domain Rating (DR) of new sites, to pushing those with an already high DR through plateaus.
We took PDF Simpli from DR 39 to DR 65.
Follow Up Boss went from DR 60 to DR 71 during our time working together.
We pushed a leading online course site from DR 90 to DR 91.
More traffic
We work with you to generate links in ways that can maximize traffic, such as by looking at your page's current rankings to discover which ones will benefit most from links. When link building happens alongside an effective content strategy, the results can be incredible.
We helped SnackNation increase monthly traffic by over 100,000 visitors.
A machinery e-commerce store increased their traffic by 599% in the 16 months we worked together.
Our link building services helped Heer Law increase traffic by 664%.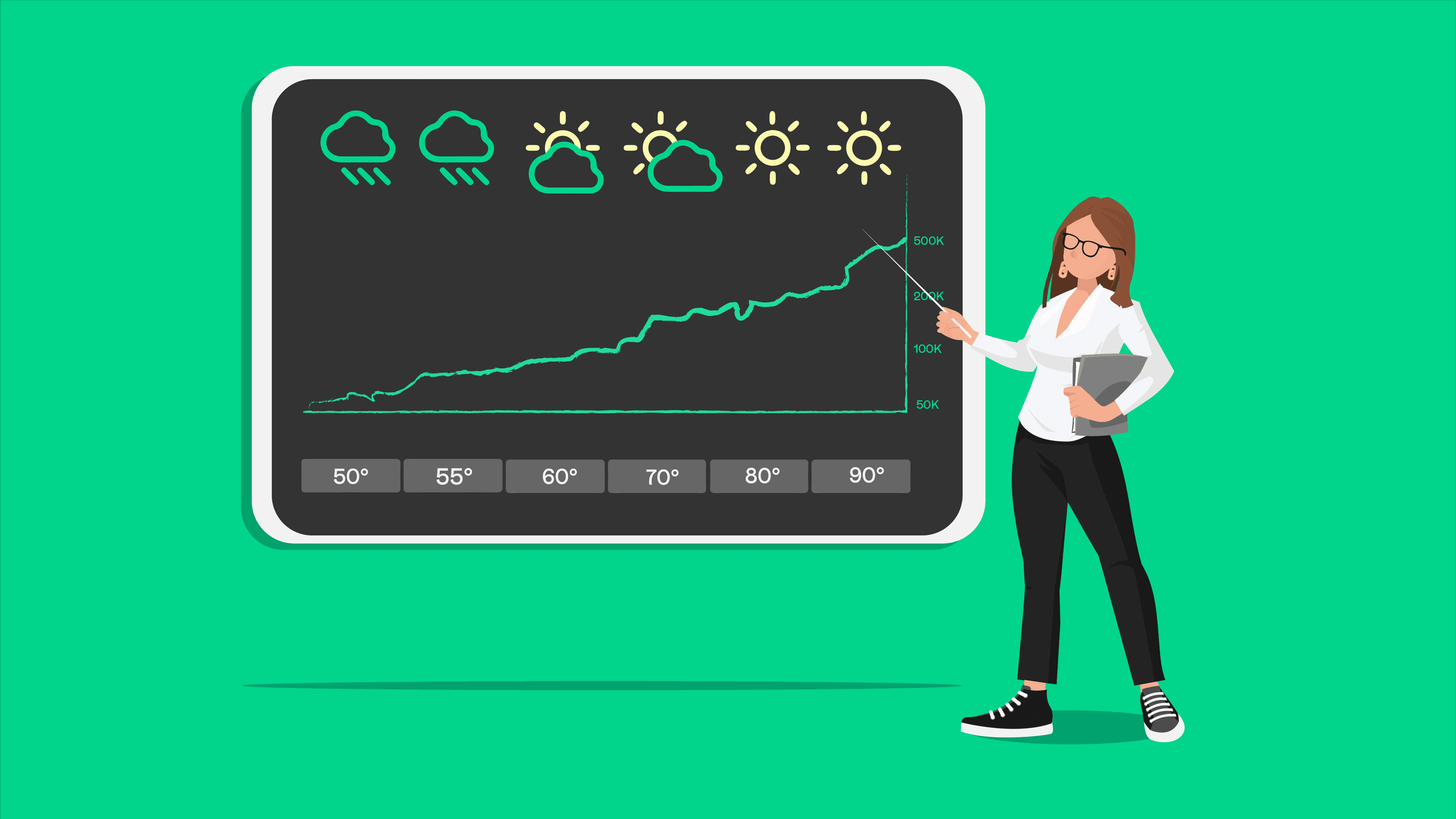 Our 7-Step Link Building Process
Our monthly link building packages are completely done-for-you services. We take care of the entire link building process, from analyzing your website and industry to coming up with a custom link building strategy suitable for your needs.
Here's how we do it (or watch the video):
Step One: Content audit.
We start by heading to Ahrefs to perform a content audit. This gives us a strong understanding of your website's strengths, weaknesses, and potential opportunities.
During this time we work with you to decide the pages we want to improve search performance for. These are typically those that are valuable to your business and also have strong ranking potential.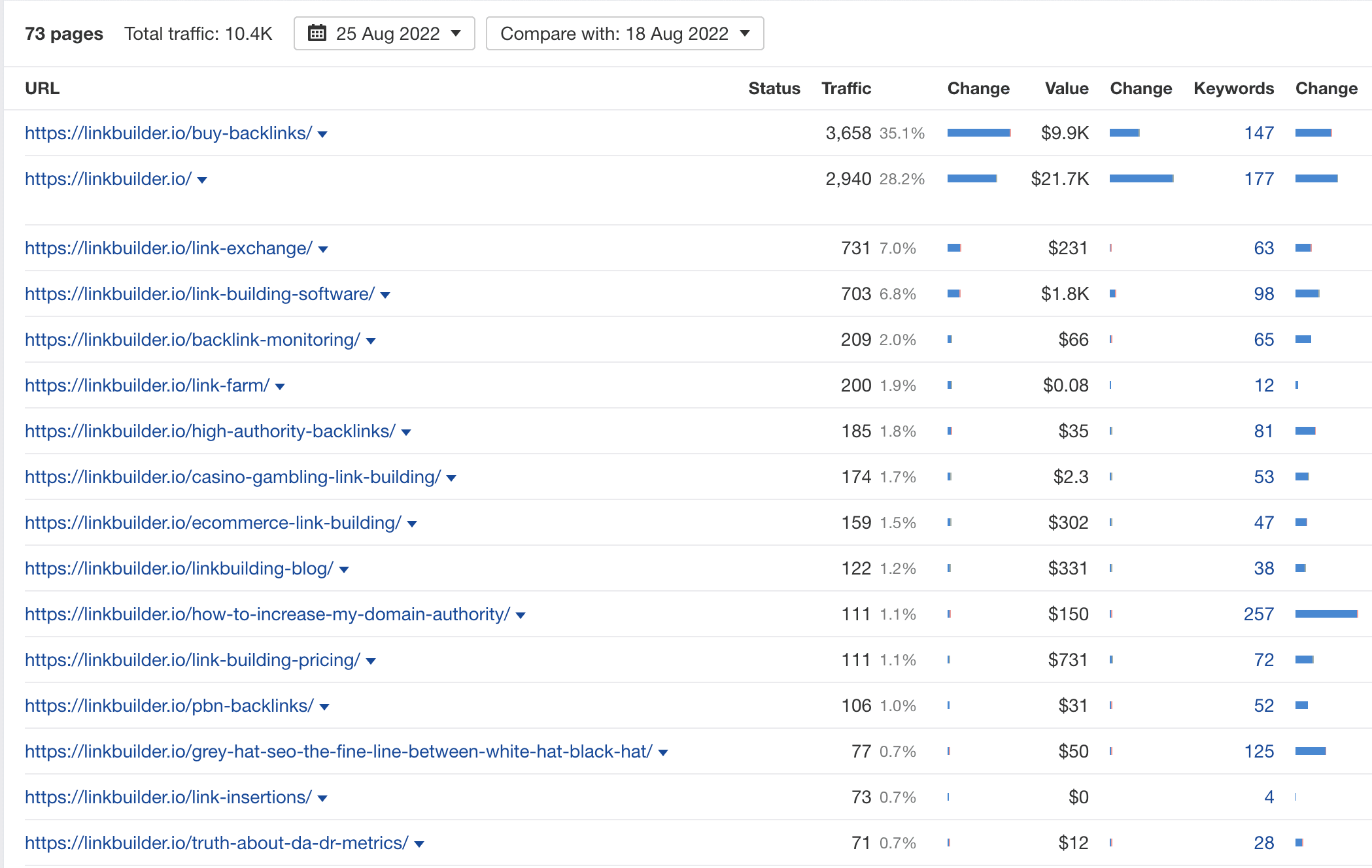 🎯 How We Identify Page Targets
One way we identify target pages is to look for content that ranks in positions four and below for high-volume keywords. It only takes a slight authority increase on one of these pages to see big traffic increases.
Step Two: Identify competing pages.
Once we have identified pages to build links to, we analyze the pages that compete with those we want to target.
We do this because analyzing their backlink profile shows us the types of links we should generate. It also highlights the types of websites and content that is likely to bring the biggest results.
Step Three: Perform a link audit.
Next, we go back to your site and perform a link audit. This shows us the types of websites and pages that already link to you.
This also highlights the content on your website that attracts the most links. We can use this knowledge to either create similar pages which may generate more links, or use this content in outreach campaigns.
Step Four: Competitor analysis.
We next perform a site-wide competitor analysis. We aim to discover who your top competitors are, especially those that rank well.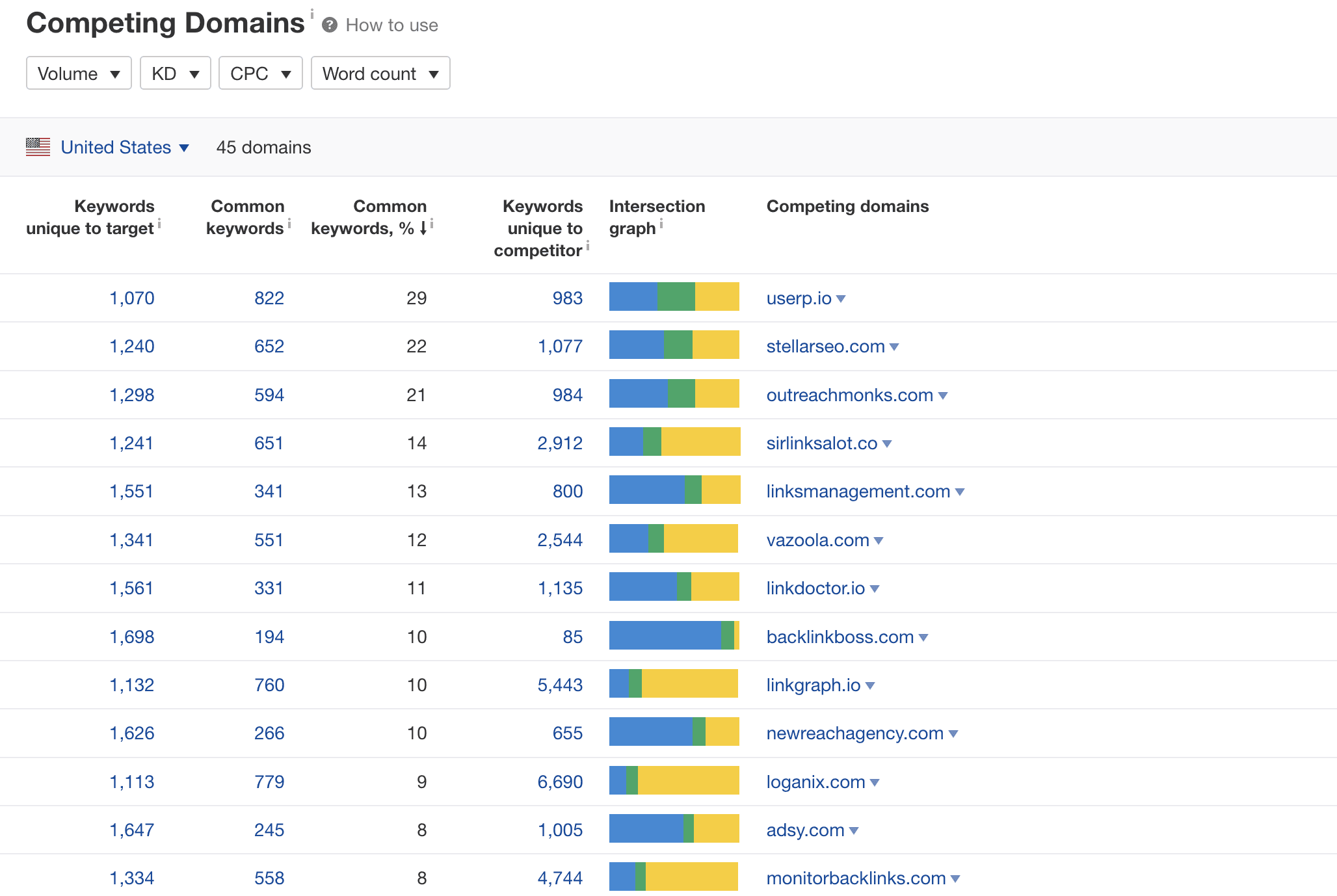 Using tools like Ahrefs, we can find websites that share common keywords and then identify how they generate backlinks. This gives us an idea of the types of links we should be building.
Step Five: Start prospecting.
The next step is to start prospecting. We start with a list of websites and then apply filters around factors such as domain rating and traffic.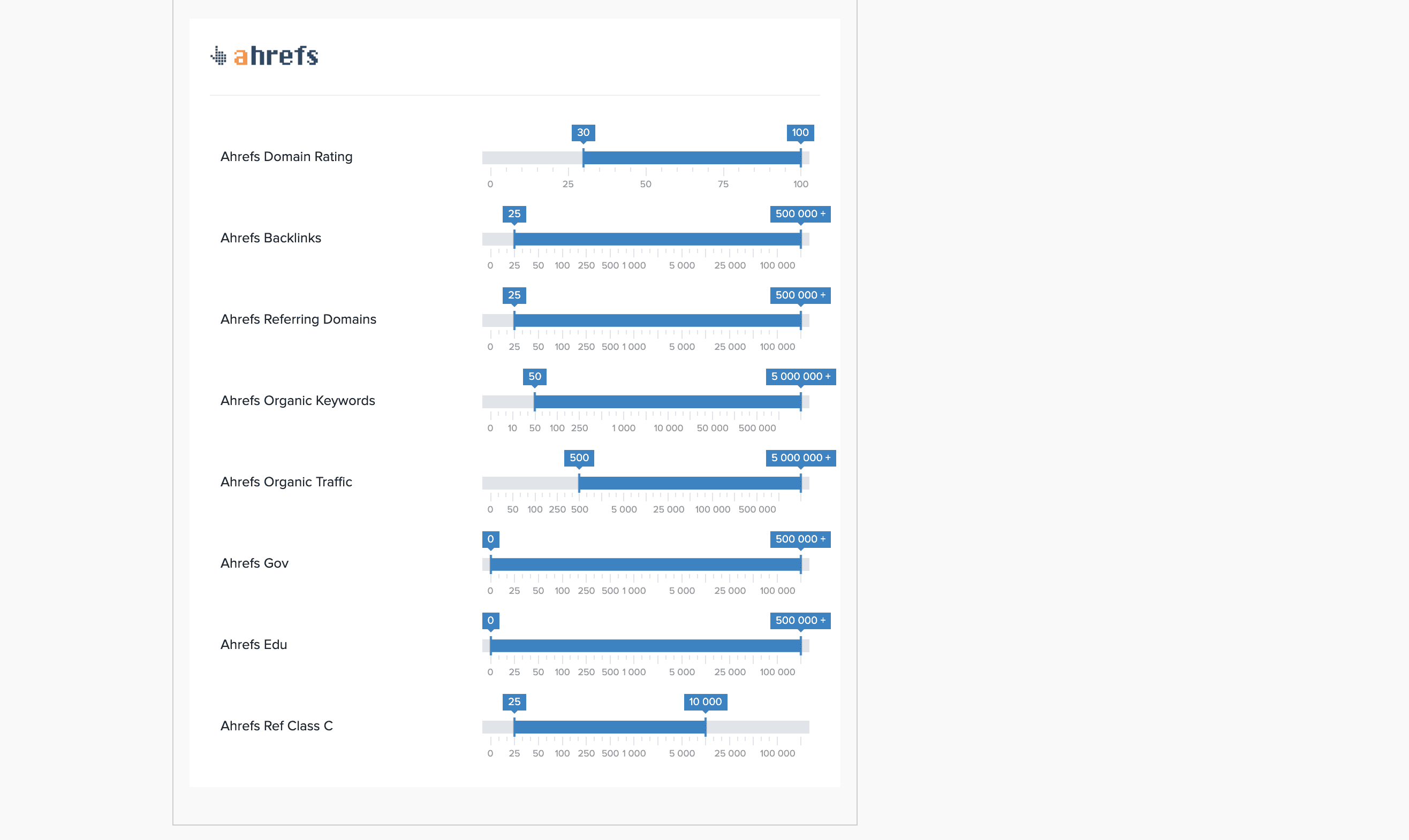 This ensures we only contact high-quality websites. We later perform further checks on the website's content quality and editorial standards.
Step Six: Launch our outreach campaign.
Once everything is in place, we launch outreach campaigns. We use Pitchbox to manage our campaigns and generate data on what is and isn't working.
For example, we can discover which types of websites are most responsive to our campaigns and perform further outreach in this area.
When we start to hear back from these websites, we communicate with the owners to generate the link placement. If required, we will create guest posts written by high-quality writers and place the posts for you.
Step Seven: Report back to you.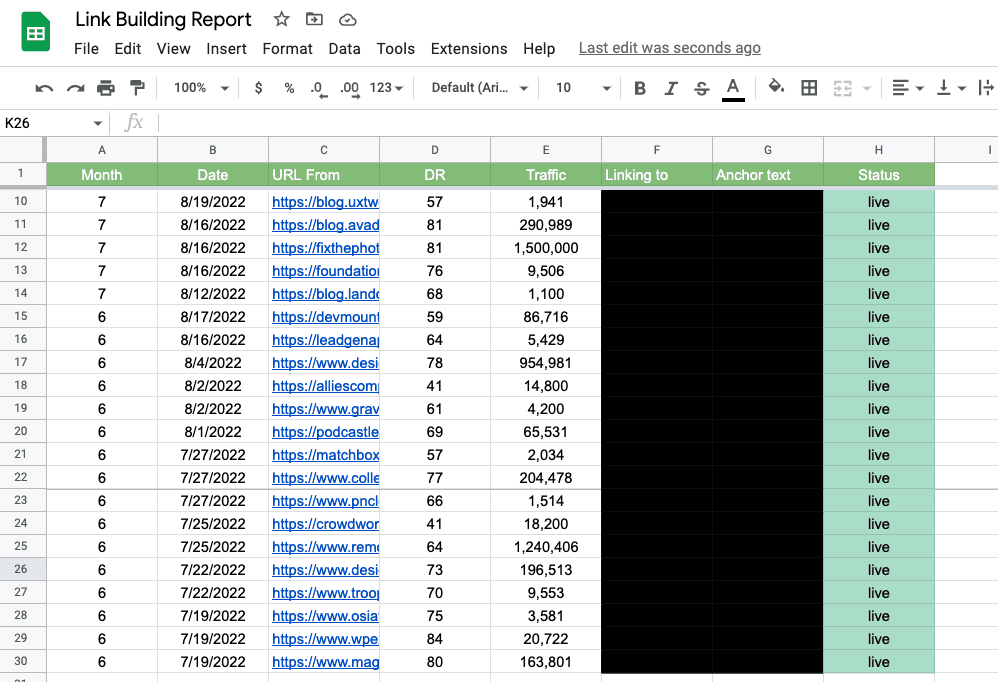 As we earn links, we add them all to your project tracker file. You can see information about the exact links we are building, including the website's traffic, the DR, the date the link went live, the anchor text, and the URL the link points to. This allows you to track the impact of our campaigns easily.

Focus on Quality Links
At LinkBuilder.io, we work with leading brands who don't want to have their sites associated with spammy link building practices.
Because of this, we have strict safeguards in place to ensure we only build links on high-quality websites.
Factors we check before building links include:
Monthly traffic volume: We only place links on websites that meet our minimum organic traffic requirements. This is important because traffic from Google is a sign that the search engine likes the website.
Traffic consistency: We look out for websites with growing or consistent traffic. We avoid those with large recent drops in traffic as this is a sign of a Google penalty.
Domain rating: We have Domain Rating targets for all the websites we place links on. These start at DR 40, although the exact DR will depend on your plan.
Content quality: Checking content quality is the easiest way to see if a site is legitimate. We look for original, in-depth content on a focused topic.
Link Building Packages FAQ
What are link building packages?
Link building packages are a way to buy links in bulk. Instead of paying for a single link, you buy multiple links at once.
The benefit of this is that the per link price is lower than it would be otherwise. And building a relationship with a link building service enables them to understand your site better, thus resulting in better links.
What link building strategies do you use?
The strategies we use depend on your website, as different types of businesses suit different types of link building.
We use over 16 different link building strategies. These include guest posting, editorial outreach, broken link building, digital asset promotion, and resource page outreach.
When will we start to see links?
We only reach out to real websites we don't have any control over. This means the exact time it takes for links to go live depends on the editorial process of the websites that agree to place links to your site. The first links typically go live within a month.
How long does it take to see results?
Links are a key Google ranking factor. They can have a significant impact on your search engine rankings when built alongside an effective content strategy. Our customers typically see results in around three to six months of a link building campaign.
For more information, check out this article about how long link building takes to generate results. This post includes a real-life example of how rankings can grow over time as links start to take effect.
Are your links white hat?
The exact definition of white hat link building depends on who you ask. We build all our links via outreach campaigns that create relationships with bloggers and website owners. This is a natural way to build links that has worked wonders for many top brands.
We always avoid black hat techniques, such as link farms, PBNs, comment spam, and social bookmarking.
Why shouldn't I use a cheaper link building service?
There are many link building services that cost less than ours. But these often result in low-quality links. At best, bad links will be an ineffective waste of money, and at worst they can harm your website.
Getting links from high-quality sites isn't cheap. At LinkBuilder we hire experts in areas such as strategy and content production. This allows us to generate extremely high-quality links for our clients. But, of course, it also increases costs.
Read this article for more about link building pricing.
Is there a monthly contract?
There is no contract or commitments when you sign up for one of our monthly link building packages. If you like our service, you are free to keep hiring us, and we have long-term relationships with many of our clients. But you are also free to stop working with us at any time.
Do you offer refunds for link building packages?
Absolutely. You can receive a refund minus any service costs accrued during the period at any time.
How do I find out more?
To learn more about how our service can help your brand, send us a message to get in touch.