I've built hundreds of links using infographics. They're a tried and tested method for link building, but the problem is that so many other people have started doing it and the quality of infographics in general has become so diluted that it is more difficult.
Building Links with Infographics is not easy
So whether you're an agency, brand or individual, before embarking on this journey to build links with infographics, PLEASE don't be naive enough to think that creating a nice, pretty little graphic with some fact card information is enough to generate you any links - You have to create something that real people can actually be 'Wow'd' by. It takes a lot to impress people nowadays.
However, If you follow this guide step by step and put in some real effort into researching an infographic concept that you know will attract links, then you're setting yourself up for success.
---
For the purpose of this blog post, I'm going to use an example - Let's say our client sells wedding planning services.
Finding an infographic concept
1) Go to visual.ly/tag/wedding (Change tag depending on niche) and filter to find the most favorited infographics for that tag.
2) Make a list of all the Visual.ly URLs for each infographic. You should also find the original source of the infographic (the original page on the website who created it) and also take a note of this. You should start building a list that looks like this…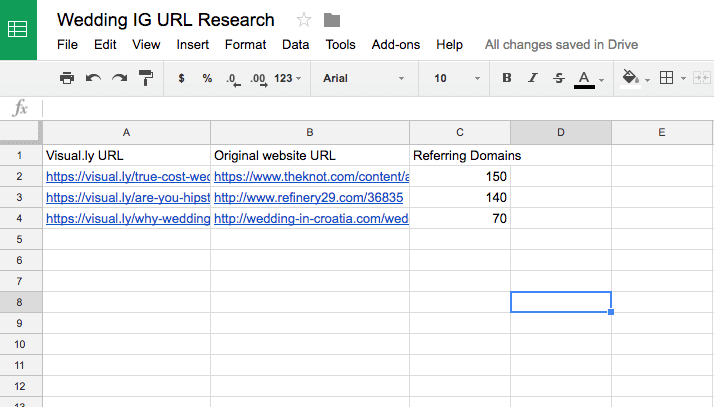 3) Go to Ahrefs content explorer and type in 'wedding infographic' (obviously swapping out for your relevant niche) and then filter by 'referring domains'. The idea here is that we pick 4-5 infographics that we know have already been incredibly successful in attracting a ton of links.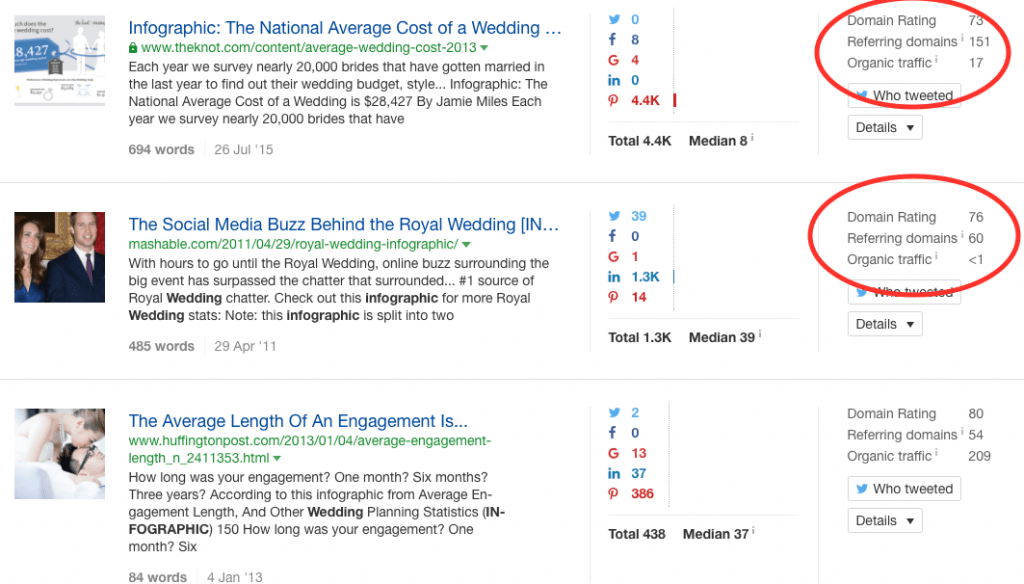 Now add all of these to your master list of URLs (from step 2).
4) Now we need to settle on our concept / title. My advice would be to brainstorm a few ideas taking the best parts from your list of successful infographics. I tend to pull 2 or 3 ideas together and try to merge them into one super infographic.
Researching data
Now that we have our infographic title and concept ready, we need to make a list of all the data points and information we want to have on our infographic before we hand it over to a designer. There's some services out there who will do this whole process, but I've had far greater success doing it myself as 3rd party services will cut corners in the research process.
There's 2 ways to grab your data points:
Use data from existing infographics
Find your own data sources using Google search - Simply type in your keyword followed by 'data' or 'trends' or 'statistics' and you should have some nice results and data points that you can pull into your infographic brief.
You should now have a brief ready to hand over to your infographic designer (Which we'll get to in a moment) that looks something like this: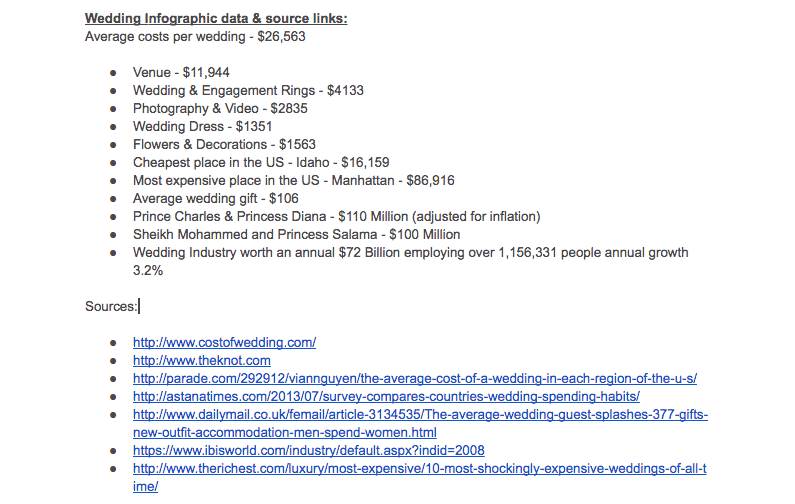 Tip: Remember to add all of the relevant source URLs and attributions - These give your infographic more authenticity and people will like the fact that you've researched multiple data sources and websites, which will ultimately help us to win links!
Creating the infographic
Use UpWork.com to find a freelancer (or another 3rd party service)UpWork freelancer
Clearly write out scope of the project - Give them the attachment with all of your key data points
Show examples of designs you like - I typically just show them a couple of examples from the ones I discovered in my initial research. A clean, easy and readable design is generally preferable
Set up a job and invite a number of reputable looking freelancers to apply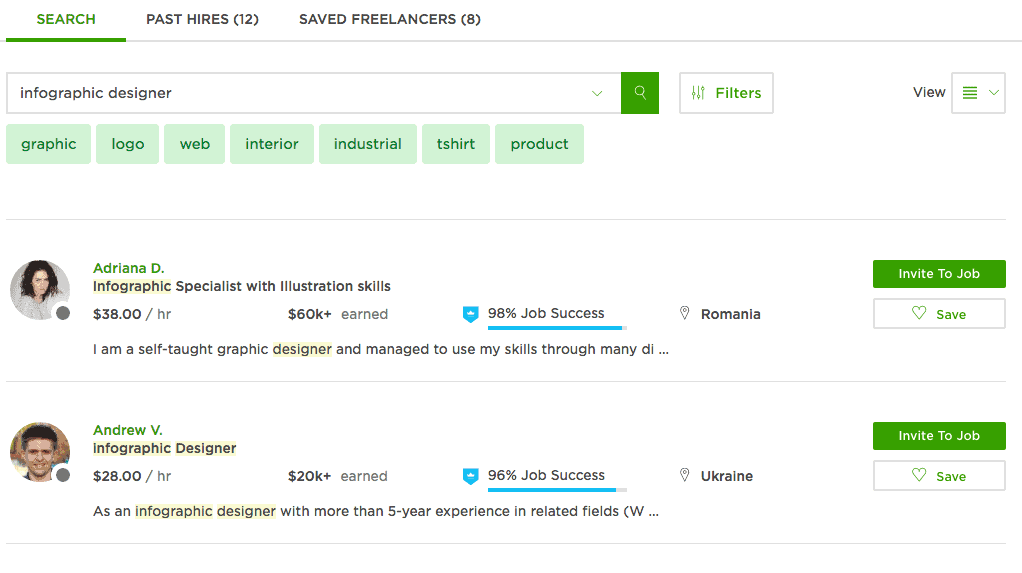 Note: I'm sure there's fantastic infographic creation services out there, but I prefer using a freelancer from UpWork because there's better flexibility, communication and you generally get better value for money. Your money goes into Escrow and you work on as many iterations as it takes (within reason) until you're happy with the end product.
Now, we have a finished infographic!
The Outreach Process
Now that we've got our infographic ready and published on our website with surrounding text, we're going to need to build a list of outreach targets and get the infographic in front of them in order to build some links.
1) Ahrefs site explorer - Now get out your list of 'successful infographic URLs' and plug them one by one into Ahrefs site explorer.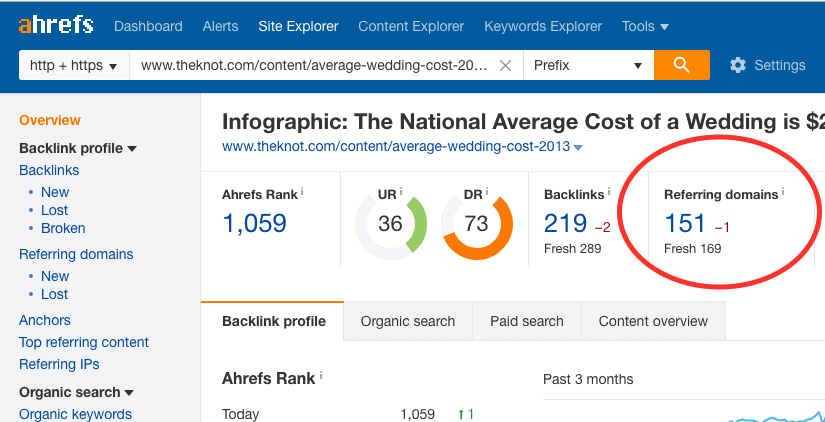 2) Export to CSV - Filter for one link per domain and export the backlink profile to CSV. After you've downloaded the CSV file, you're going to want to grab both the referring domain URL (homepage) AND the referring page URL (the exact page that referenced the infographic) so that we can add both of these to our outreach list.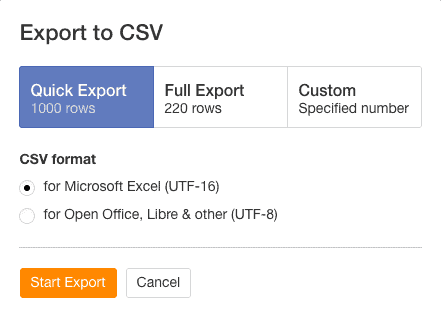 3) Build the outreach list - As you're building your outreach list it should look something like this...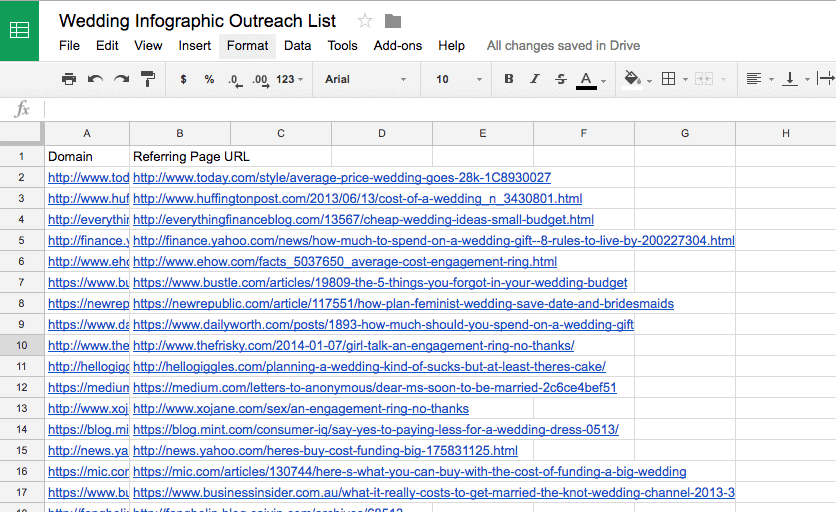 4) Upload to outreach tool - At this point I'll upload my complete outreach list to an outreach tool called Pitchbox. If you use a different outreach tool (like Buzzstream) or if you use no tools at all then no problem, it all still follows the same process.
I'll make sure that I've got all of the personalized data I want to include to make sure that my email templates look awesome.
This includes…
Recipient email address (duh)
Recipient first name
Recipient website (not the URL!) so that we can include in the subject line
Below - a screenshot of Pitchbox during the personalization stage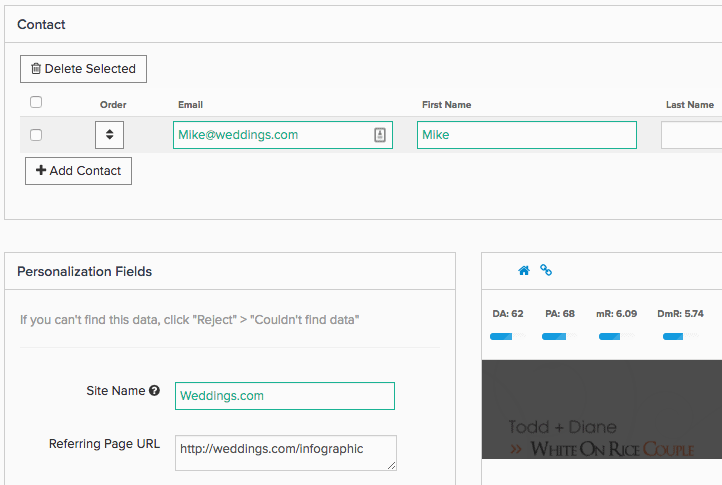 5) Templates - Once we've got our outreach campaign prepared, we'll need to create the email template.
Here's a standard template that you can adjust and tweak for your own purposes:
Hi [Name],
My name's Rebecca, an independent graphics designer hoping to further my career by getting my work published on some important blogs.
I recently created an infographic on the cost of weddings in 2017 - It's super well researched and I think your readers would enjoy. I noticed you guys had previously published a wedding infographic (REFERRING_PAGE_URL) so thought you might enjoy this too!
You can see a preview here.
I'd be more than happy to write some exclusive text to introduce the graphic to [SITE_NAME] readers.
Please let me know if you'd be interested in sharing with your audience.
Kind Regards,
Rebecca
---
Key Points for Outreach Templates
I give them a link to my infographic hosted on Imgur as a preview - just gives you a nice neutral destination to host the graphic. You can upload to your website CMS if you prefer
With regards to sharing an embed code - I'll send this over in the follow up to let them know that it's really no trouble to get this on their website. It also means that our infographic image will be linked!
You can use this tool to easily generate your infographic embed code: https://www.siegemedia.com/embed-code-generator
Don't worry if they don't use the embed code - If they simply upload our image directly to their website, then we can often ask for a homepage citation.
Always set at least 1 but preferably 2 follow ups! Keep them very short and very natural, and always try to include the content from the previous email rather than sending a new email chain
Final Considerations
Infographic link building is a numbers game! If you need more outreach opportunities, then you can use standard prospecting methods to find more relevant websites in your niche.
If you have some amazing original data that you can leverage then great - The more data and insightful information, the more chance that real people will stand up and take notice. And always remember, in this day and age it takes A LOT to impress people.
You need something insightful, groundbreaking, controversial or something that 'solves a problem' - Like an infographic on how to combat Alzheimer's with your diet. Think outside the box and think of things that people will feel motivated to link to - Something which solves a problem or battles against something 'bad' is always a good start.
Get the infographic in front of as many people as you possibly can and I promise you will get the links you crave, provided the graphic is good enough! That's a wrap.