Recently, I was looking for old articles on guest blogging in the hopes of trying to test a new link building strategy that I discovered on Ahrefs blog.
The premise was simple - to find old articles that explain how to guest post, which also have a good number of backlinks pointing to them. From there, I was going to pitch those articles on my new and updated 'guest post success guide'.
Sound familiar?
I'm sure it does. A classic skyscraper approach.
But it was not supposed to be a generic skyscraper, as I focused not on existing articles in the SERPs (with a good number of backlinks but less superior content). Instead, I was looking for articles that are more than 5 years old and I wanted to use their backlinks.
And I did. I made a quick research and discovered so many old articles (some of them were from 2006 and older) with hundreds of referring domains.
I thought it was a gold mine.
But when I started studying all those articles, I figured out the following: most of them shared extremely useful pieces of advice, even 5+ years ago.
And more: most of them shared almost the same pieces of advice we see today in articles on guest blogging.
So I started wondering: Has guest posting as a strategy changed over the last 10+ years?
I didn't expect to see the same templates we use now for guest post pitches in articles from 2008.
So I kick started an investigation to see if guest posting really has changed as a strategy since 2005.
In this article, you will find a timeline of the development of guest posting as a link building method. Moreover, I'll be analysing major trends in link building year by year and share those findings here. You'll be surprised to see what changed, what seems to never change and how history repeated itself in the last 14 years.
We've adapted our guest post strategy over the years, and we now offer a tailored service to our clients to land powerful posts on highly trafficked sites.
The Approach
You may scroll down right to the main part of the article if you want to. In this paragraph, I'd like to share my approach to finding all those articles and analysing them. This is important so you can see I've tried to minimise any bias.
I used the following keywords for my search to find content:
And I also used the keyword string "list of websites that accept guest posts" because I was curious when people started using this clever strategy to attract visitors to their websites.
That's it. I didn't use any other keywords. Why?
Because those are main phrases that describe precisely what I'm willing to learn and they can be used for all periods of search. Thus, there are articles ranking for these keywords both in 2005 and 2015.
Of course, I could have used more keyword variations for recent years. But, in my opinion, this would not be a fair approach (as most of those keywords simply didn't exist in 2005).
So basically, I analysed the top Google results for those keywords for the period of 2005-2018. I used custom date range to analyse results year by year.
Read the full version of the article right after the infographic.


2005: Let the story begin
This is the year when all of this began. Guest posting truly became a new method for building backlinks.
It's mentioned as a possible way to get links to your website in this article (web archive):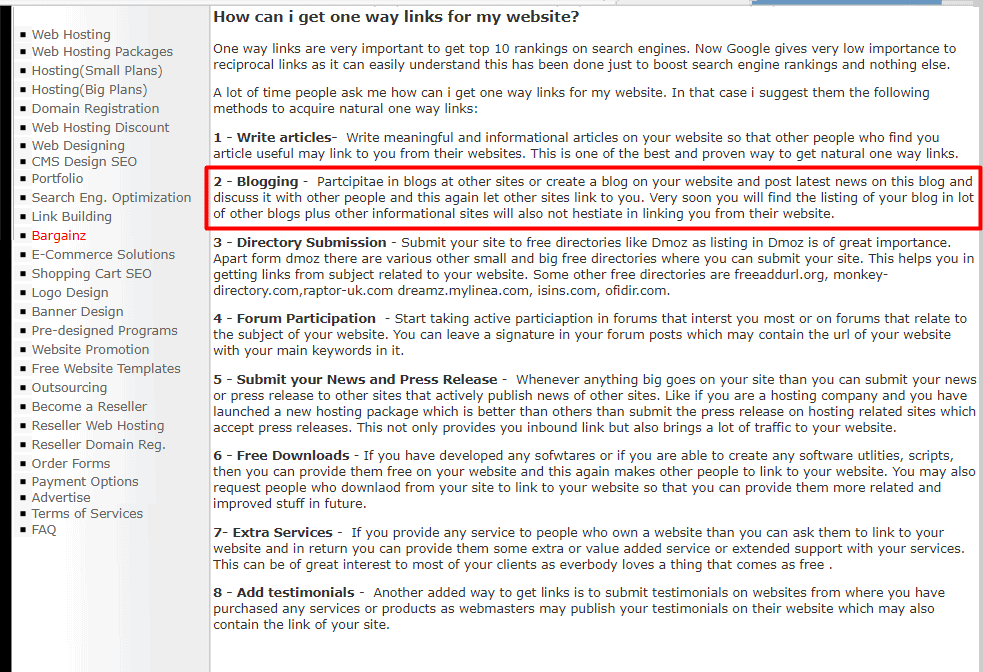 You see, it's very ambiguous mention as it says 'participate' in blogs (which may be both commenting or writing articles). But it's just the beginning.
I have also found a post on StreetDirectory that describes submitting articles as a way to promote business. It's very basic and it mentions the general steps of guest posting but I was surprised to see their tips for writing: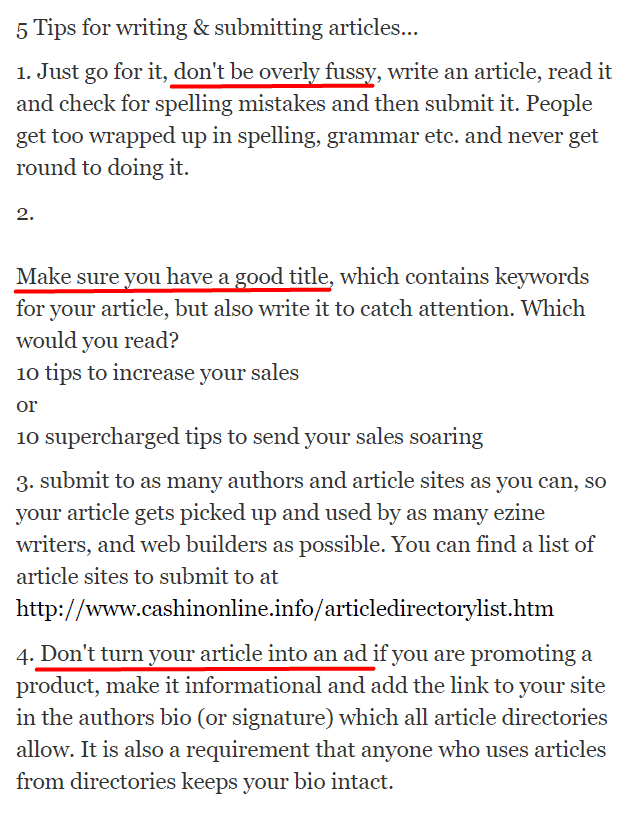 In fact, those are the tips we see today in almost all guest post "How to" articles. The difference is that modern articles have more details and nuances.
Thank you, Douglas Titchmarsh for putting this together!

2006: The year of social bookmarking
The year of 2006 was very fruitful for link building strategies.
In this article on 101 Ways to Build Link Popularity Aaron Walls describes such strategies as expert roundup, "in the news" strategy, content syndication, quality link swap for link building. And it's 2006. Insane!
And social bookmarking… yes. That was a big thing. A lot of articles mention the use of Digg and Del.ici.ous as best ways to promote your articles and get links. In particular, these methods are described here and here.
Concerning guest posting, it is mentioned in this PDF guide by Yaro blog. This is what they write about guest blogging:

It's interesting to see that they suggest having a ready article before pitching the website which is a big no-no today.

2007: The cultural definition of "guest"
It's funny that in 2007 articles the so-called "attract guest bloggers" perspective prevailed. People wrote about how to attract guest contributors to their websites (and this is so much different from what we have now!).
In particular, I adore this article by Lorelle Vanfossen, who shared the cultural definition of "guest" in the article The Art of Guest Blogging: Should You Pay Guest Bloggers to Blog?:

Isn't that nice?
People start writing more serious articles on guest blogging as well. The example is Get the Most Out of Guest Blogging post in which you can find a description of how to do a research of relevant blogs and how to contact the blogger: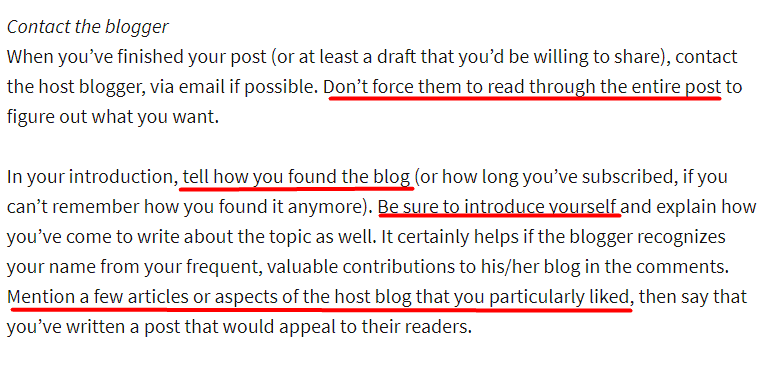 You may see that all of these recommendations are the same as we have now. It's crucial not to force people to do anything and explain to them who you are and what you want.
However, this article still recommends writing a post before the actual submission.

2008: Guest blogging be serious
In 2008, articles like How to Recruit High Quality Guest Bloggers are still popular meaning that guest blogging is not overly used yet.
However, articles on guest posting are more sophisticated and detailed. For example, in this article, Linda Bustos mentions (for the first time!) the need to use the first name of the person you're reaching out to. She also shares a sample of templates to be used for a pitch.
And guess what?
The template is no different from what we loved and massively shared in 2014 (and believe it was fairly ingenious at the time).
In the same article, Linda shares a priceless piece of advice on "warming up your target":

I think this is a mistake a lot of people make even today when they pay too much attention to the "warming up" strategy.
But that's not all for 2008. In this article (web archive), the author mentions a follow-up via comment on blog as a way to remind about yourself:

Finally, the first mention of search queries to be used to look for blogs is described in the article here: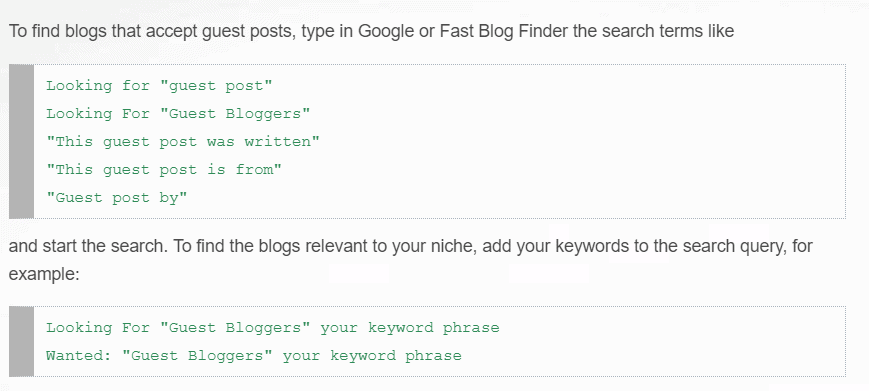 It's only 2008 but it looks like all main aspects of guest blogging have been already discussed. I didn't expect that, honestly. But things are just starting to get funnier.

2009: Calm before the storm
More and more websites continue to mention guest posting as an efficient link building tactic (e.g. TopRankBlog and Jim Westergren).The strategy is actively developing. For example, SEL share more advanced search queries in their article:

In this article, Ramit Sethi emphasizes the need to pitch article ideas before actually writing your guest post (which was not the case in previous years). He also discusses a lot of other typical mistakes people do when working on guest post campaigns. Finally, he shares a great template for a guest post pitch (please bear in mind that the article is updated and I'm linking to its current version in the beginning of this paragraph, but the screenshot is taken from its 2009 version):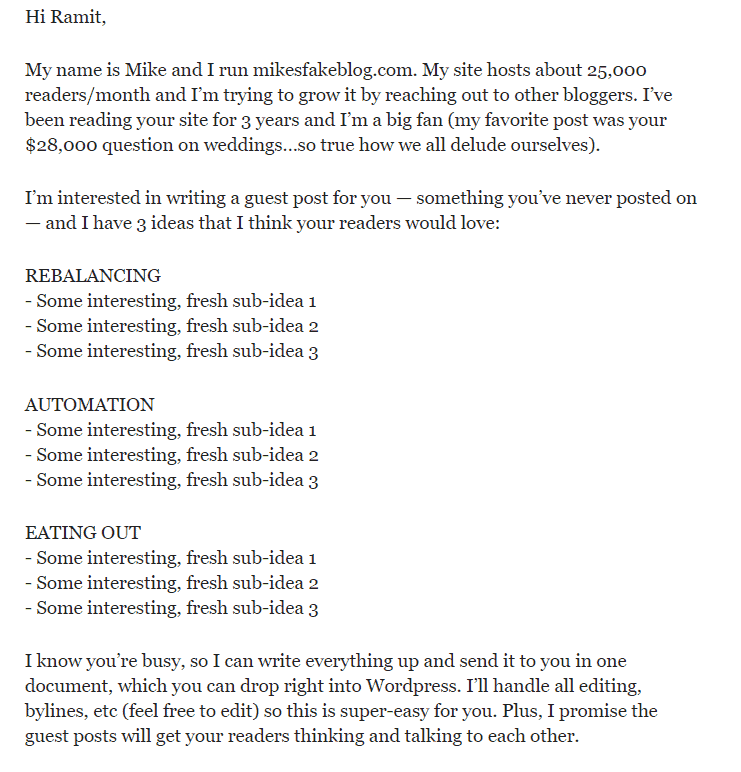 2010: The game changes
Up till now, we've seen how bloggers tried to attract contributors to their websites. This changes dramatically in 2010. People start writing about the quality of guest post pitches and campaigns in general.
In his 2010 article, Rand Fishkin writes:
And Rand is not the only one to raise this question in 2010. This is what Kelly Diels says about using guest blogging exclusively for link building purposes:

Harsh Agrawal mentions the same problem in 2010 version of this article.
What does that mean?
We've seen the growth of guest blogging, we've watched people sharing better recommendations and great pieces of advice.
And it looks like people start overusing it massively. No one writes about attracting contributors to their website anymore. People are tired of low-quality pitches.
At the same time, a new type of content arises. For example, Social Media Examiner wrote an article Busting The Top 3 Guest Blogging Myths where they discuss the problem of low-quality guest blogging and explain that it's not dead, it just needs to be taken to a new level.
Oh, and yes, 2010 is a year where I encountered the first article that curated a list of websites that accept guest posts (web archive).
In general, 2010 is a year of massive change of perspective. Quality is put over quantity. And here what happens next.

2011: The rise of case studies
Things are developing rapidly from now on. Several trends of guest posting appear.
The first trend I've noticed is the rise of detailed case studies. In this article (web archive), Bamidele Onibalusi analyses his top five guest posts and some of the key facts about results of his campaign:

And just in case you're wondering how do I know for sure the publication date is 2011, I've checked it in their article source:

The second trend is that websites started using content on guest posts as a way to promote their services. Nothing new for us now, but definitely something new for 2011. Basically, those are successful case studies with CTAs at the end of the article. The good example is this Case Study: How I Used Guest Blogging to Grow a Site's Search Traffic by 342.35% in One Year.
And people start making the most of lists of websites that accept guest contributions. The example is 100 Sites to Submit Guest Posts (daymarkinteractive.com/2011/10/16/100-sites-to-submit-guest-posts/ — no longer available) article with 66 referring domains. Not bad for 2011.

2012: New level of guest blogging
In 2012, guest blogging is taken to a new level. It is not simply a way to get one more link to your website. Marketers start using it strategically for their business goals. For example, Ramsay Taplin mentions that guest posts should be a part of marketing funnel.
Guest posting becomes more sophisticated. In this article by Moz, James Agate discusses the results of various theories testings (such as the usage of female or male persona in email communication). Carol Tice also shares examples of successful email pitches that got the gig.
Finally, niche-relevant guides to guest posting appear (e.g. this one is written for travel blogs specifically).

2013: The year of everything ultimate
There should have been some buzz around the word 'ultimate' back in 2013. Just see how the Google's top for keyword "guest blogging" looks like: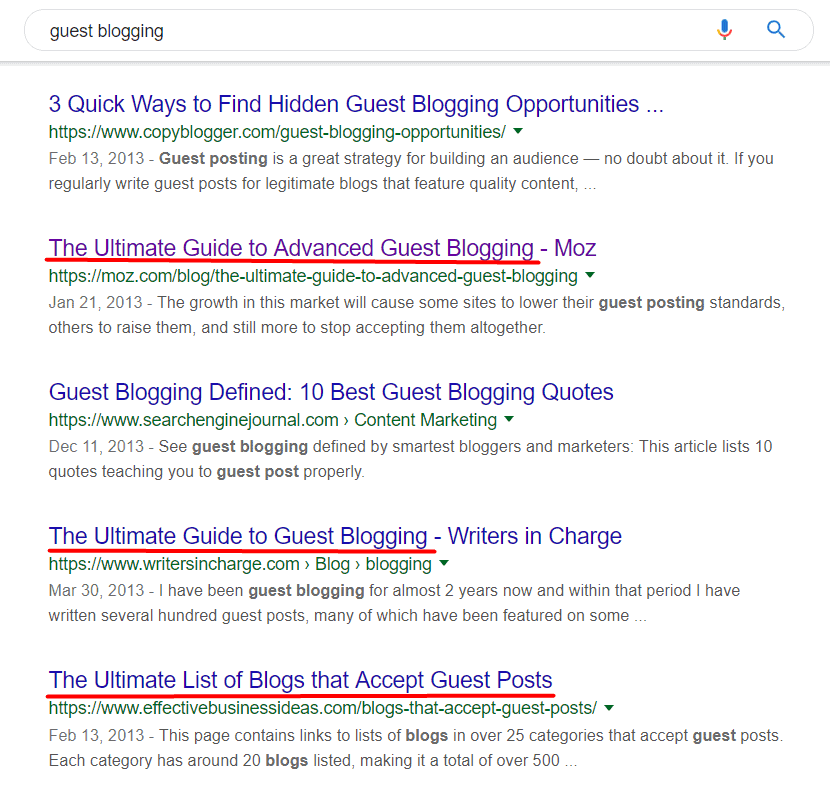 In addition to the emergence of some of the biggest and still relevant guides (like this infographic on Quicksprout), the content that focuses on safe guest blogging is prevailing.
This is a direct consequence of Penguin update in 2012 that influenced massively the online community. Quality is taken even more serious. And post-Penguin content is popular as a result:

2014: The decay of guest posting
This is the year when Matt Cutts made his famous announcement that guest blogging is done:

As a result, articles on guest blogging focus on quality even more. For example, in the article Guest Posting - How to Do It THE Right Way, Jessica Knapp discusses the link spam problem and shares her thoughts on how the quality strategy should look like. Also, Kevan Lee writes an article How to Become a Columnist - The Ultimate Blueprint for Guest Blogging and Syndication, which suggests an absolutely new approach to advanced guest blogging.
It is logical to assume that people were afraid to continue doing guest posting after Matt Cutts' statement. As a result, such articles gain popularity:

2015: Going advanced
Under the influence of 2013-2014 articles against guest posting, the need for contributed content increases again as we see these articles on launching guest blogging program and creating guest post guidelines (web archive) on top.
Also, websites realize that building quality relationships (web archive) is key to successful link building campaigns: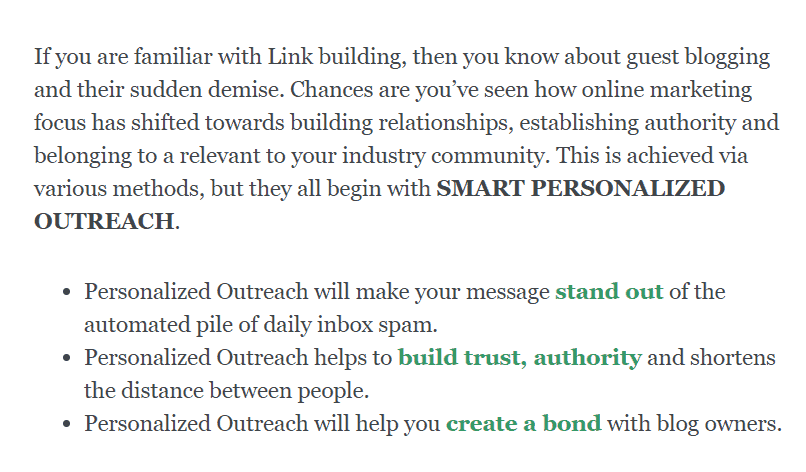 This is also seen in case studies as they no longer focus on the SEO benefits of guest blogging alone. Instead, you can see they really start to focus on such benefits as thought leadership, relationship building and quality content sharing. For example, in this article, thought leadership is called a number one benefit of guest blogging. In older articles, the number one benefit would be traffic growth as a rule.
2016: Negative results are also results
In 2016, all of these are in top for "guest posting":
Looks like people realised the potential of these curated lists and won the top with them. Smart move, of course.
Case studies are becoming more detailed too. They emphasise the importance of networking and research for successful guest blogging. Additionally, both success and failure stories appear giving more opportunities to better analyse guest posting as a strategy. For example, Neil Patel describes here how he grew his email list to 36K with guest blogging while Tim Soulo shares negative insights from campaign that resulted in 53 visits from 300 published guest posts.

2017: Going highly competitive
The top posts in 2017 cover the same topics as in 2016 but the players change.
What does it mean?
We see a highly competitive environment which is more or less established now - we know we need quality guest posting, we know what it means and we'll try to compete for these keywords.
In 2015-2016, we've seen that people shifted their focus from merely gaining more traffic from guest posts to building quality and long lasting relationships. In 2017, case studies again demonstrate how this method of link building can be used to drive traffic to your website: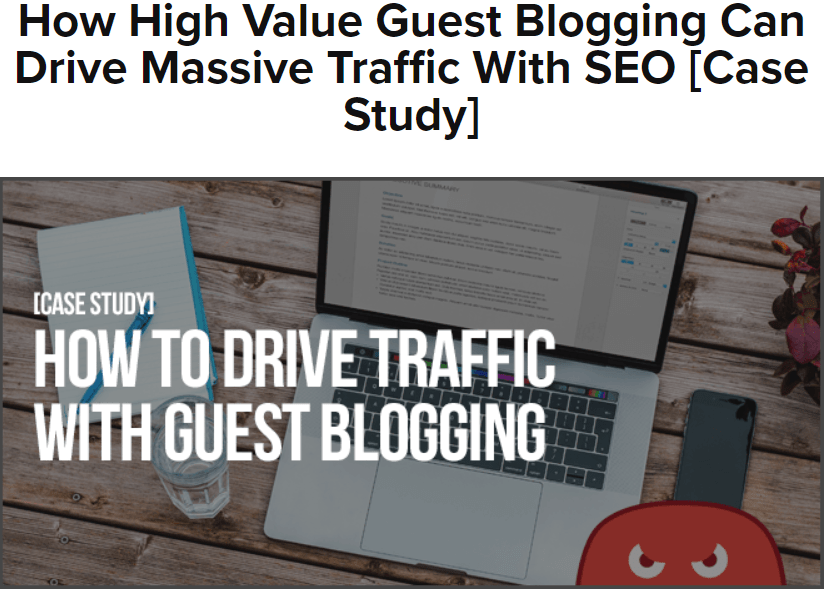 The same is with 10 Case Studies: How to Increase Organic Traffic with Blogging and Guest Blogging: 7 Steps to Generate 8000 Visitors With One Post
In my opinion, history repeats here. In 2010, as in 2015-2016, articles emphasising the need to do quality guest post campaigns are prevalent. And in 2017, as in 2011, case studies with focus on traffic increase in popularity again. In 2012, guest blogging was taken to a new level with more advanced tips such as writing a perfect pitch or choosing great opportunities.
Did we see it in 2018?
Let's check ?

2018: Ethical link building
The top article for keyword "guest posting for link building" describes the so-called ethical approach to link building. It emphasizes that the aim of your guest post is to "educate and add value to your target audience":
SEJ also share recommendations on how to do guest blogging for natural looking link building and their article focuses on the choice of good target based on an established system of metrics.
And a new trend emerges. It focuses on the word "scalable". The need for link building and guest blogging increases. And people start doing it on a large scale.
Case studies are all about scalable and impressive results as well:
I'd say that yes, guest blogging is taken to a new level again. We learn how to do it on large scale but still aim to educate and add value. We understand the importance of building relationships and promoting quality content.
So what comes next? Will we see 'yet another' decay of guest posting? Or will it thrive and grow as a scalable and quality link building method?
Time will tell.